Road Trip from Austin to San Antonio
Whether you're dreaming of visiting The Alamo, or your mouth is watering at the thought of some Tex-Mex cuisine on the River Walk, a road trip from Austin to San Antonio is one that captures the imagination. Dotted with museums and parks, this short but sweet journey is the perfect Texan adventure!
The 210-mile road trip from Austin to San Antonio takes 4 hours to drive nonstop. You'll get to visit Fredericksburg, Blanco, Kerrville, Bandera, and Boerne on the way. Or you can take a more direct route via Gruene, New Braunfels and Seguin.
Keep reading to find out more about the routes you can take, our favorite places to stay, the best time to visit, and the top things to see and do, depending on which way you drive on this Austin to San Antonio road trip.
How far is San Antonio from Austin, and how long will the road trip take?
Comparison of road trip routes between Austin and San Antonio

| Route | Distance | Driving Time |
| --- | --- | --- |
| The Direct Route | 100 miles | 2 hours |
| The Scenic Route | 210 miles | 4 hours |
The Direct Route to travel to San Antonio from Austin takes around 2 hours to complete and covers approximately 100 miles with only a slight detour from the fastest possible route.
Taking the alternative Scenic Route instead is a bit longer in terms of both distance and time, with this journey covering approximately 210 miles and taking roughly 4 hours before arriving in San Antonio.
While both trips could be completed within a day, there is so much to see and explore on the way that we suggest taking at least two days to get the most out of the experience.
Best road trip route from Austin to San Antonio
The Austin and San Antonio road trip, whether chosen via the Direct Route or the Scenic Route, is packed with Texas charm. However, each route offers a distinctly different experience, making your choice dependent on your personal preferences and desired sights.
The Direct Route provides a more straightforward journey. Beginning in Austin, you will drive through charming towns like Gruene, home to Texas' oldest dance hall in Texas, Gruene Hall.
You will also get to visit New Braunfels, a city deeply rooted in German Texan heritage and an excellent spot for a culinary stop, and Seguin, where you can marvel the quirky sight of the World's Largest Pecan among other historical sites.
The Scenic Route emphasizes the journey as much as the destination, delivering a treasure trove of small-town charm, scenic landscapes, and a tranquil glimpse into Texas Hill Country.
You will drive through scenic cities like Blanco, Kerrville Comfort and Bandera, beautiful state parks and the famous wineries of Fredericksburg.
How to drive from Austin to San Antonio
The map above shows our suggestions for the best road trip routes between Austin and San Antonio, Texas. Keep reading for detailed descriptions of both routes, where to stay on either, and the best things to do on the way.
The Direct Route
Setting off from Austin, you'll take Interstate 35 (I-35) South, which will lead you to your first stop, the historic town of Gruene. Known for its iconic dance hall, Gruene offers a taste of old-world charm amidst the scenic beauty of the Texas Hill Country.
Afterwards, head to New Braunfels, a city with rich German Texan heritage. Your journey then proceeds to Seguin, a town famous for its extensive pecan orchards. Finally, on I-10 W, you'll arrive at the vibrant city of San Antonio.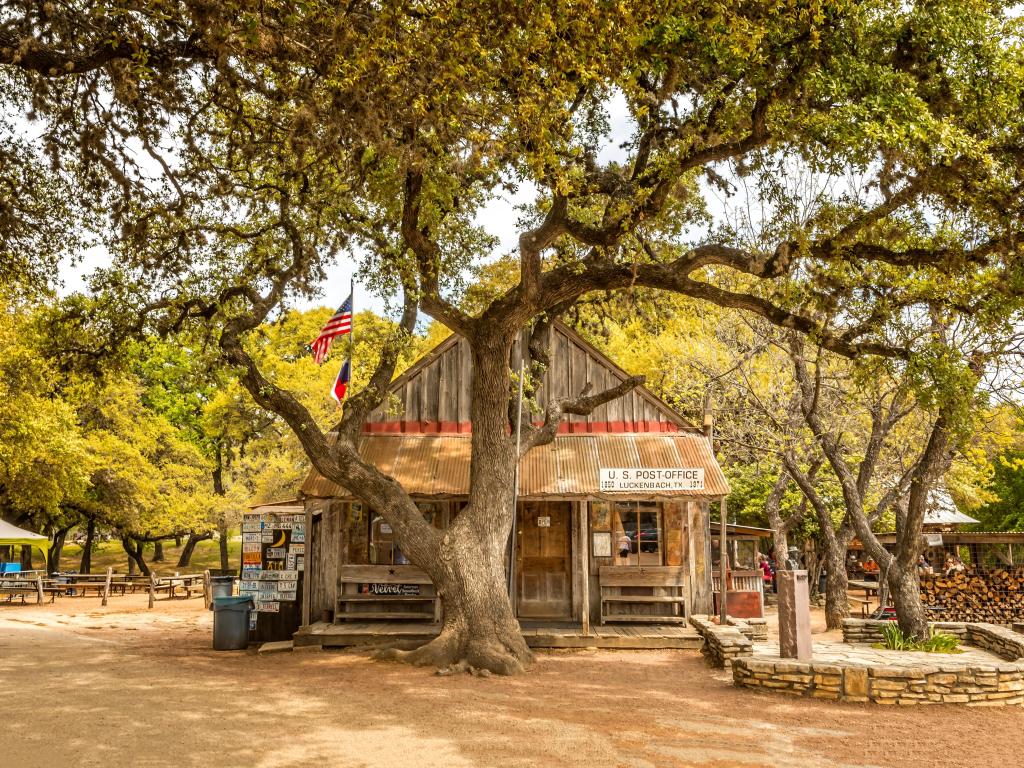 The Scenic Route
Starting from Austin, you'll head west on US-290 until you reach the town of Blanco. Known for its stunning natural beauty, Blanco provides a peaceful start to your journey, with lush landscapes and the serene Blanco State Park.
From Blanco, you continue on to the small community of Luckenbach. Famous for its country music heritage, Luckenbach offers a glimpse into the simpler days of yesteryears.
Your journey continues on to the historic city of Fredericksburg, famous for its local wineries. Afterwards, you'll pass through Kerrville, a city set along the Guadalupe River and known for its picturesque parks.
Then continue through the charming towns of Comfort and Bandera, each offering its own slice of Texas history and culture. Finally, after a short drive, you will arrive at Boerne, before reaching your final destination, San Antonio.
Best places to stop between Austin and San Antonio
While you could technically complete this journey in a single day, we think you can only do a road trip justice if you take your time, bed down in a new location and really experience the local area with an overnight stay.
We've chosen our favorite hotels - one on either route - that will really elevate your experience and transform it into a serious road trip. Read on to determine which option best suits you and your traveling companions.
Step into the past in Gruene
Gruene, Texas, is a historic district nestled within the city of New Braunfels, located on the Direct Route an hour into the drive. Renowned for its preserved 19th-century architecture and vibrant cultural scene, Gruene offers a delightful peek into the heart of Texas history and charm.
A must-visit attraction here is Gruene Hall, the oldest continually running dance hall in Texas. Still hosting live music, Gruene Hall has seen performances from the likes of Willie Nelson, Lyle Lovett, and George Strait. It's not only a place to enjoy some fantastic music but also to step back into a bygone era.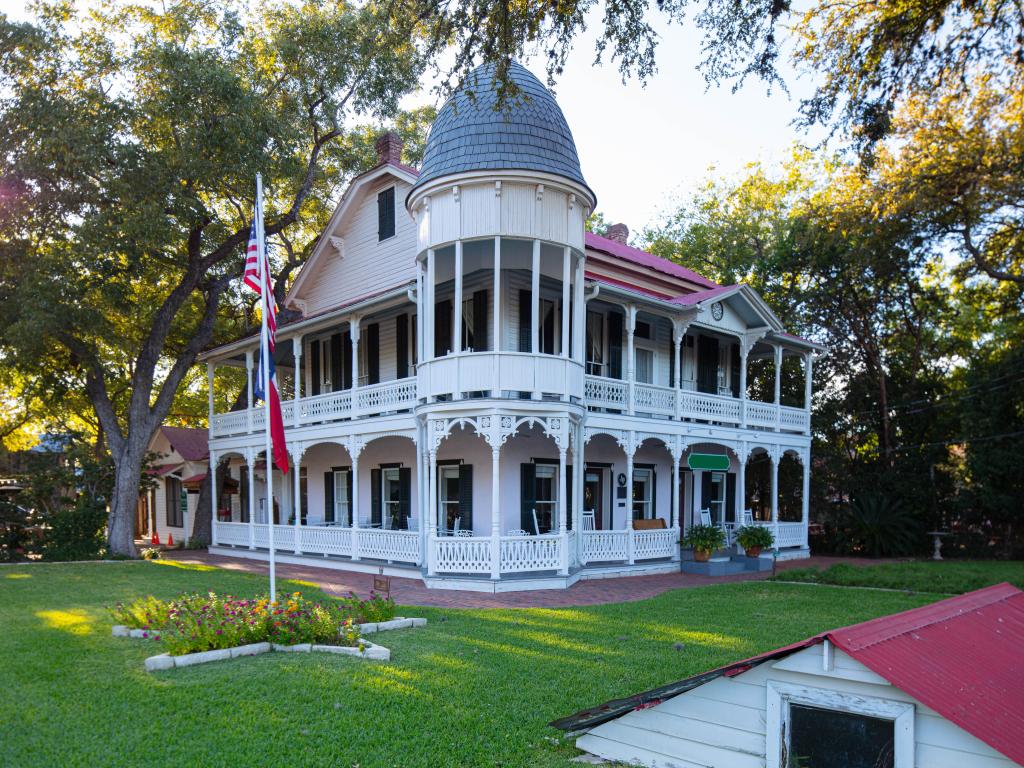 You'll also want to spend some time exploring the Gruene Historic District while you're in the area. The district is lined with well-preserved buildings that now house boutique shops, restaurants, and wine-tasting rooms.
To continue the upscale, refined theme, try a stay at Gruene River Hotel & Retreat. This adults-only boutique hotel enjoys an incredible riverside setting, which is perfectly complemented by its historic architecture.
The hotel's tastefully designed rooms feature copper slipper bathtubs and four-poster beds, which provide a truly luxurious experience. And what's more, you'll be within walking distance of Gruene's historic attractions.
For something a little more offbeat, you could try your hand at tubing on the Guadalupe River. This popular pastime for locals and visitors alike involves floating down the river on an inflatable tube, offering a relaxing and fun way to beat the Texas heat.
Sit back and relax in Comfort (Texas)
Comfort, Texas, is a small but charming town known for its significant historical downtown area, located 2 hours and 30 minutes into the Scenic Route.
One of the top things to do in Comfort is to visit the Comfort Historic District. Take a leisurely stroll down High Street, where you can admire the beautiful architecture, explore a variety of shops, and enjoy a delicious meal at one of the eateries.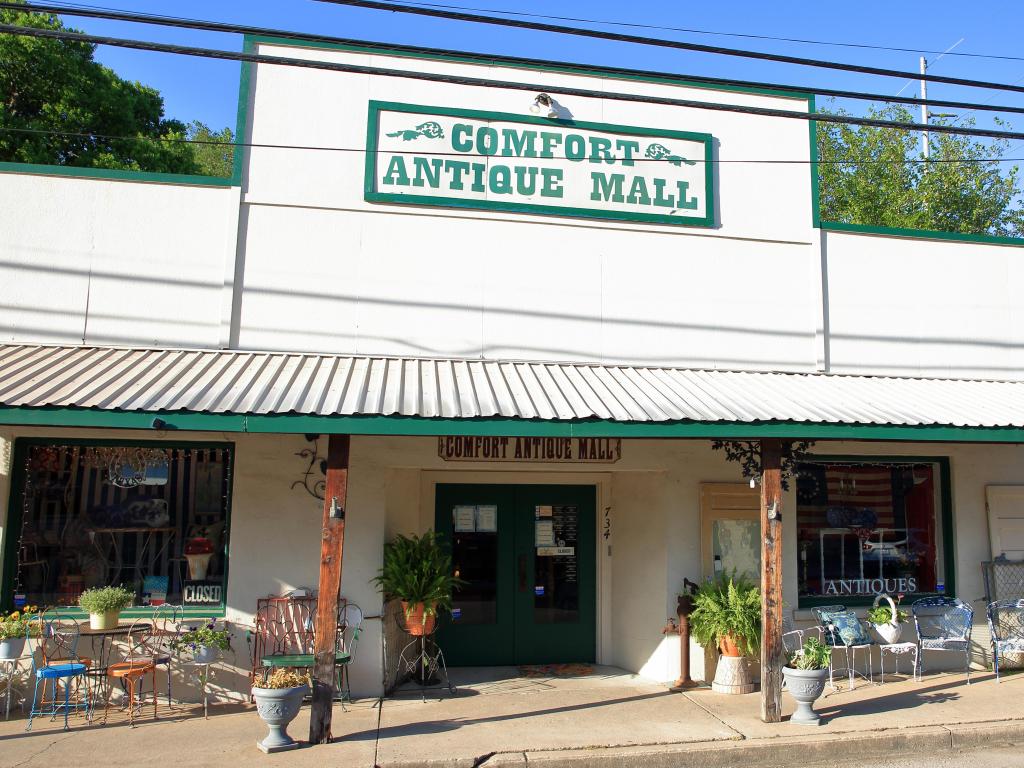 Another major attraction is the Flat Rock Ranch, a popular spot for outdoor enthusiasts. It's particularly well known among mountain biking communities for its challenging trails that offer beautiful views of the surrounding Hill Country.
For something a bit more offbeat, you could visit the Treue Der Union Monument, one of the only memorials to the Union in the former Confederate States. It's a little-known piece of Texas history that offers a fascinating insight into the complexities of the state's past.
Our favorite place to stay in Comfort is the quaint yet luxurious Meyer Inn. This new boutique hotel blends rustic Texan style with upscale design finishes that really elevate the experience.
Relax on the Meyer Inn's beautiful front porch, laze in the shade of its majestic oak trees, or retreat with a book to your own private, screened seating area. This is the perfect escape in aptly named Comfort!
Where to stay when you reach San Antonio
We suggest finding somewhere to stay in the heart of San Antonio, especially as you'll be able to ditch your car and explore the city on foot.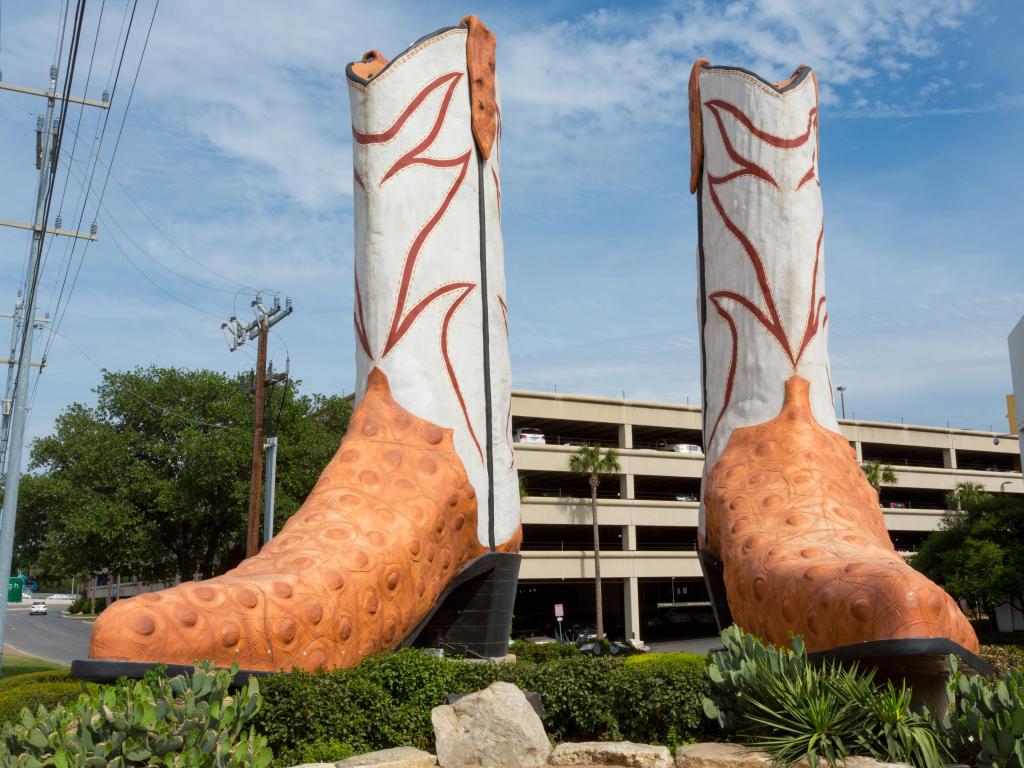 The 5-star Thompson San Antonio Riverwalk gets our vote when it comes to accommodation here, thanks to its fantastic location and stylish, luxurious feel.
You'll find yourself within walking distance of The Alamo and Ripley's Believe It Or Not Museum if you choose this hotel, plus you're right next to the River Walk with its great selection of restaurant options.
Take in views of San Antonio from the hotel's stunning rooftop and enjoy the outdoor pool as you relax after this short but action-packed road trip.
Things to see on a road trip from Austin to San Antonio
To help sway you in either direction, we've set out our top tips for things to see and do on the Direct and Scenic Routes. From historic gems to outdoor thrills, we've got you covered, so take your pick!
The Direct Route
Gruene Hall - Gruene Hall stands as a timeless monument to Texas' rich cultural heritage, remaining the state's oldest continually operating dance hall. Its rustic charm, combined with an impressive lineup of live music performances, make it a must-visit.
Tube on the Guadalupe River in Gruene - On sweltering summer days, nothing beats a tranquil tube ride on the refreshing Guadalupe River. Drifting along the gentle currents, you can bask in the beauty of Texas' lush landscapes, creating a wonderfully relaxing outdoor experience.
Gruene Historic District - Stepping into the Gruene Historic District is like journeying back in time, with its meticulously preserved 19th-century architecture housing a variety of boutique shops, restaurants, and wine tasting rooms.
Natural Bridge Caverns - Located near New Braunfels, discover breathtaking limestone formations, ancient fossils, and other natural wonders forged over millennia in these magnificent underground chambers.
Landa Park - Landa Park serves as a refreshing oasis of fun and relaxation with diverse offerings such as paddle boating, mini-golf, and an endearing miniature train ride.
McKenna Children's Museum - At the McKenna Children's Museum, kids are encouraged to interact, learn, and play through a wide array of captivating exhibits.
New Braunfels Railroad Museum - Housing an array of exhibits, including vintage rolling stock and railroad artifacts, the museum provides fascinating insights into the locomotive era that significantly shaped Texas and its industries.
ZDT's Amusement Park in Seguin - Owned and operated by a local family, ZDT's Amusement Park offers a myriad of rides catering to thrill-seekers of all ages.
Seguin Downtown Historic District - Seguin's Downtown Historic District invites visitors on a picturesque walking tour of well-preserved 19th-century architecture. These remarkable buildings, with their timeless charm, offer a glimpse into the area's rich history and the architectural trends of a bygone era.
Visit the World's Largest Pecan - A testament to the town's fondness for pecans, the World's Largest Pecan is an iconic, quirky roadside attraction in Seguin. This colossal statue never fails to spark amusement and awe, making for an unforgettable photo opportunity.
Sebastopol House Historic Site -This Greek Revival-style limecrete house from the 1850s, known as the Sebastopol House, is an architectural marvel and a beautifully preserved piece of history.
The Heritage Museum - The Heritage Museum showcases Seguin's dynamic history, featuring exhibits spanning from prehistoric times to the present day.
Los Nogales Museum - A visit here offers a unique perspective into early life in Texas, with its period furnishings and historic artifacts providing an authentic snapshot of the past.
Son's Island at Lake Placid - With its sandy beaches and crystal-clear water, the island exudes a tropical vibe, making it a favorite summer destination.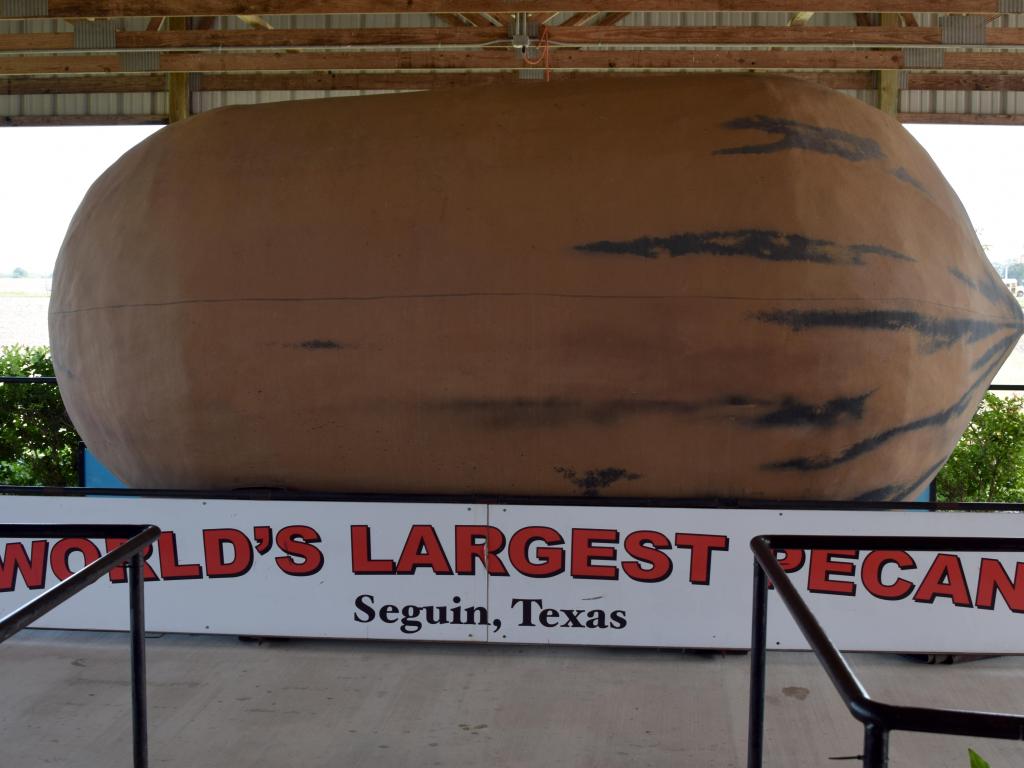 The Scenic Route
Blanco State Park - Whether you prefer casting a line for fishing, setting up a tent for a night under the stars, or simply enjoying a picnic amidst nature's beauty, Blanco State Park is a must-visit.
Old Blanco County Courthouse - Erected in 1886, the Old Blanco County Courthouse stands as a remarkable testament to Blanco's rich history. Visitors can explore the stately building on guided tours, and it also serves as a vibrant hub for community events.
Luckenbach - Renowned for its country music heritage, Luckenbach is a slice of authentic Texan culture. From its iconic post office/general store, visitors can send a postcard home, a tangible memento of a visit to this musical heartland.
National Museum of the Pacific War - The National Museum of the Pacific War, located in Fredericksburg, provides an immersive exploration into the Pacific Theater of World War II.
Fredericksburg Historic District - As you stroll through the Fredericksburg Historic District, you're treated to a wonderful array of local shops, art galleries, and restaurants. The district's enchanting ambiance blends its historical charm with a thriving contemporary culture.
Wildseed Farms - Located in Fredericksburg, Wildseed Farms is the largest working wildflower farm in the United States. You can witness a riot of color as various wildflowers bloom across the fields, offering a unique and vibrant spectacle that changes with the seasons.
Fredericksburg Wine Road - The Fredericksburg Wine Road invites wine lovers to experience the rich viticulture of this Texas region. The road winds through numerous vineyards and wineries, where you can sample an array of locally produced wines.
Enchanted Rock State Natural Area - Just a short drive from Fredericksburg, the Enchanted Rock State Natural Area boasts a massive pink granite dome that beckons to adventurous hikers. T
Kerrville-Schreiner Park - This tranquil park, situated along the Guadalupe River, offers a variety of outdoor activities such as camping, hiking, and wildlife viewing.
Comfort Historic District - Strolling through Comfort's Historic District allows visitors to immerse themselves in the charm of the town's late 19th-century buildings. Housing a variety of unique shops and eateries, the district is a lovely blend of historic ambiance and modern delights.
Treue Der Union Monument - The Treue Der Union Monument in Comfort is an offbeat attraction that pays homage to the pro-Union German Texans who lost their lives during the Civil War.
Cibolo Nature Center - Located in Boerne, the Cibolo Nature Center offers a wonderful combination of education and recreation. With its hiking trails, birdwatching opportunities, and exhibits about local ecosystems, it's a delightful destination for nature lovers of all ages.
Cave Without a Name - As a living limestone cave in Boerne, Cave Without a Name offers a mesmerizing exploration of nature's underground artistry.
Boerne Historic District - The Boerne Historic District invites visitors to explore its lively blend of shops, restaurants, and historic landmarks. From shopping for unique finds to dining in local eateries and appreciating architectural beauty, there's always something to discover in this charming district.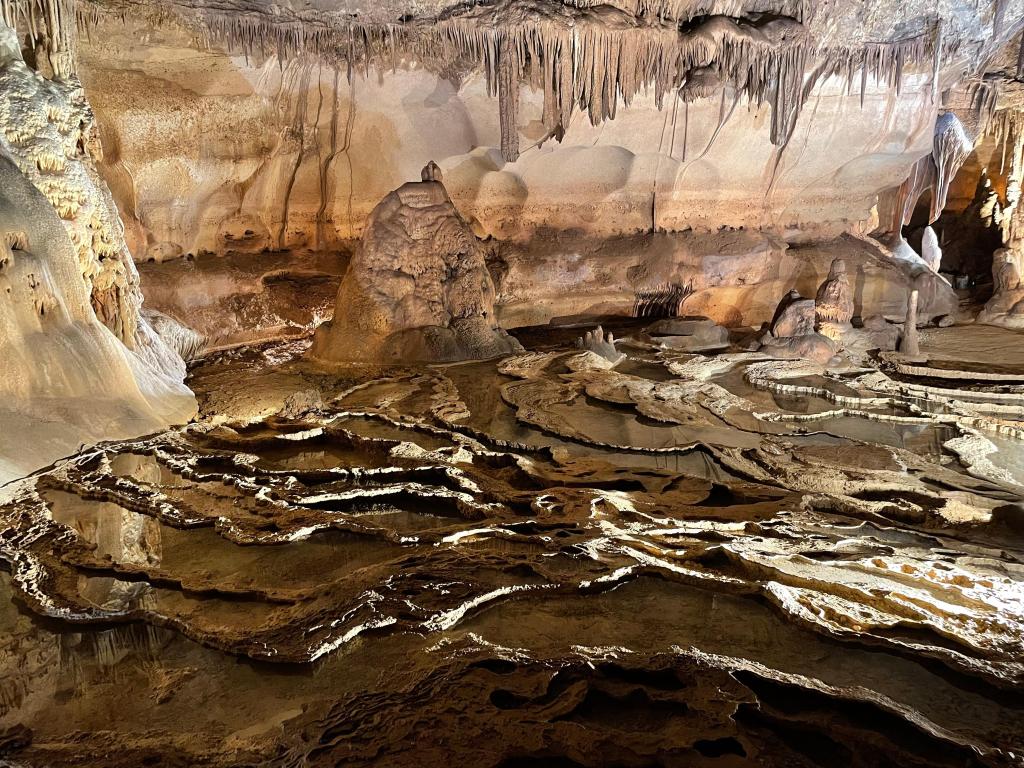 Best time to go on a road trip from Austin to San Antonio
Austin and San Antonio, like much of Texas, can be visited year-round, but the experience of your road trip can vary depending on the season.
We wouldn't recommend taking this trip in the height of summer, as Texas can get quite hot, with temperatures often soaring into the high 90s or even low 100s degrees Fahrenheit.
In contrast, winter temperatures are mild during the day but can drop near or below freezing overnight. Unless you're a fan of cooler weather, the winter months may not be the ideal time to embark on this journey, particularly if you're planning to enjoy outdoor activities.
Spring and fall are the optimal seasons for this road trip, with more comfortable temperatures typically ranging from the 70s to 80 degrees Fahrenheit. Late spring and early fall are especially delightful, providing pleasant weather and avoiding the more intense heat of the summer months.
If you choose to travel in the spring, consider timing your trip to coincide with the Kerrville Folk Festival, held annually from late May through early June in Kerrville.
One of the most popular annual events in San Antonio that could influence the timing of your trip is Fiesta San Antonio, typically held in April. This city-wide, multi-day festival is a vibrant and lively celebration of San Antonio's rich and diverse cultures.
For a fall road trip, aim to be in New Braunfels for Wurstfest, a ten-day celebration of German culture, food, and music that typically takes place in the first two weeks of November.