Road Trip from Austin to Waco
Dive into a truly Texan adventure that takes you from Austin to the colorful city of Waco. Experience a captivating blend of natural beauty and small-town charm on this quick drive in the heart of the Lone Star State. And what's more, you'll finish up in a city with more fizz than a bottle of its famous Dr. Pepper!
The 130-mile road trip from Austin to Waco will take 2 hours and 30 minutes to drive nonstop. En route, you can visit Round Rock, Killeen, Belton, Temple, Marble Falls, Gorman Falls, Belton Lake, Lake Whitney, Lake Buchanan and Kimball Bend Park.
Read on to find out about the best route options to follow, where to make overnight stops and explore, amazing things to see and the best time to visit Waco on a road trip from Austin.
How far is Waco from Austin, and how long will the road trip take?
Comparison of road trip route options between Austin and Waco

| Route | Distance | Driving Time |
| --- | --- | --- |
| The Direct Route | 130 miles | 2 hours 30 minutes |
| The Scenic Lakes Detour | 290 miles | 5 hours 40 minutes |
If you choose the straightforward and efficient Direct Route from Austin to Waco, you can expect this to take approximately 2 hours and 30 minutes, covering a distance of about 130 miles.
Opt for the alternative, the Scenic Lakes Detour, and you will cover a longer distance of about 290 miles and take significantly longer to complete the drive - approximately 5 hours and 40 minutes if driven non-stop.
Both routes offer unique experiences and sights to see - a direct, faster path versus a winding, scenic adventure. To fully appreciate both, we suggest allowing 2-3 days to take in all the sights and experiences along the way.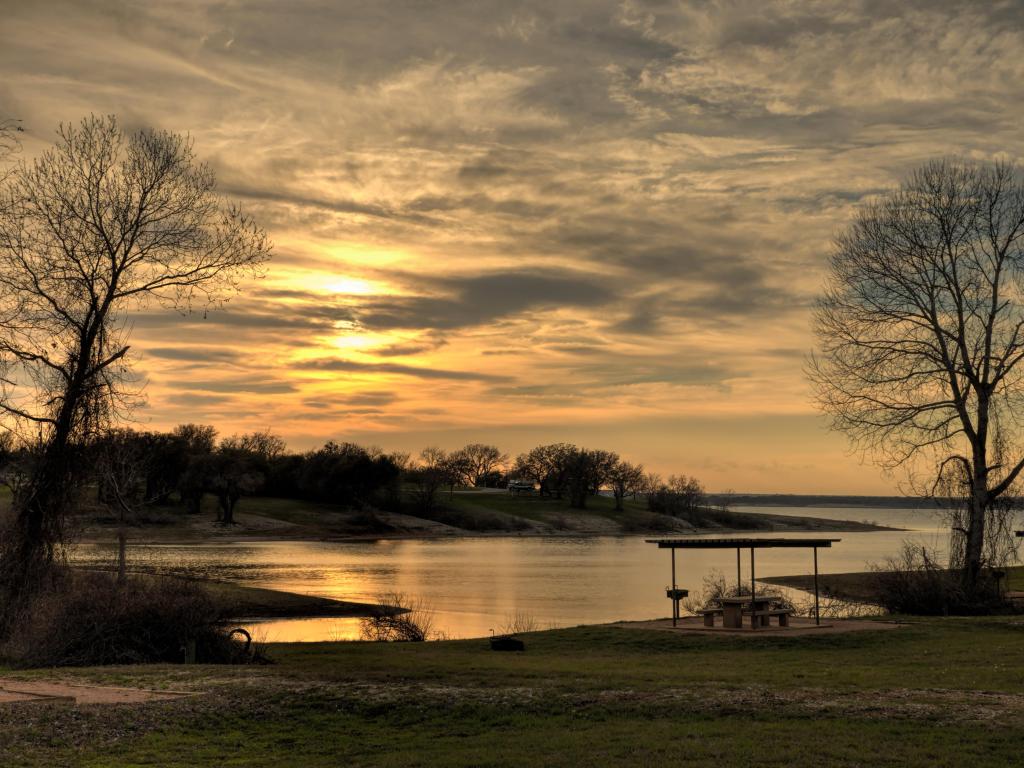 Best road trip route from Austin to Waco
Deciding between the Direct Route and the Scenic Lakes Detour from Austin to Waco provides two distinct, yet equally exciting road trip experiences, each filled with its own unique offerings. So, the best route for you will depend on how much time you have and what you'd like to explore en route.
Embarking on the Direct Route from Austin to Waco puts you on a fast and convenient path that meanders through the heart of Texas, offering a string of vibrant towns like Round Rock, Killeen, Belton, and Temple.
These stops are brimming with historical sites and southern hospitality. This route also offers a great opportunity to immerse yourself in Texas's military history with the presence of Fort Hood in Killeen, along with a variety of local food and shopping experiences in each town.
On the other hand, opting for the Scenic Lakes Detour will lead you on a winding journey through Texas's picturesque hill country and along its stunning lakeshores.
From the beautiful scenery of Marble Falls to the impressive Buchanan Dam and the awe-inspiring Gorman Falls, you'll be met with plenty of natural wonders that show off the beauty of central Texas.
If water activities and outdoor exploration are your callings, this route will not disappoint. Lake Whitney, with its clear blue water and rugged cliffs, serves as the perfect backdrop for various recreational activities and provides a stunning prelude to your arrival in Waco.
How to drive from Austin to Waco
The map above shows our suggestions for the best road trip routes between Austin and Waco. Keep reading for detailed descriptions of both routes, where to stay on either, and the best things to do on the way.
The Direct Route
Begin your journey in Austin and head out of the city along Interstate 35 (I-35) North, taking you towards Round Rock, known for its outdoor activities and historic sites.
Continuing north, you will soon reach Killeen. In Killeen, you will find the 1st Cavalry Division Museum on the Fort Hood base, a must-visit for military history enthusiasts. Killeen also offers several parks and outdoor areas for you to stretch your legs and take in the Texan sun.
Your next stop will be Belton, a charming city in Bell County. Here you can visit the Bell County Museum to get a glimpse of the area's rich history. If you're up for a walk or a hike, visit the beautiful Miller Springs Nature Center nestled between Belton and Temple.
A short drive on the interstate will take you to Temple. Visit the Czech Heritage Museum and the Railroad & Heritage Museum to delve into the city's rich past before continuing on to your destination in Waco.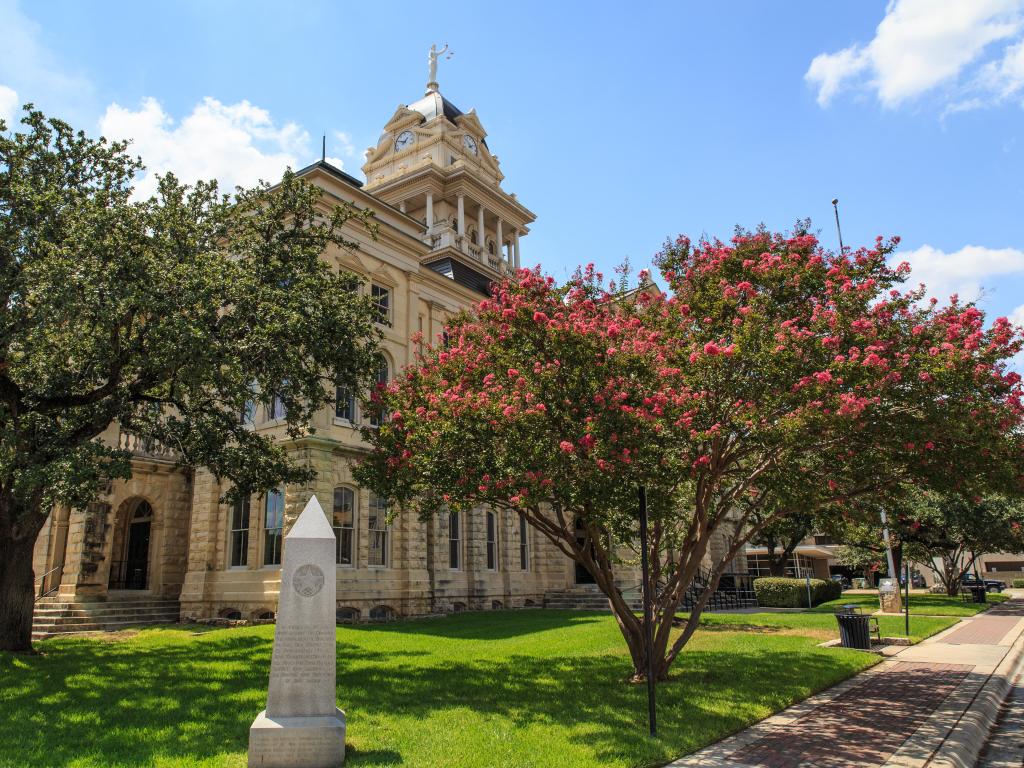 The Scenic Lakes Detour
Kick off your journey in Austin and head northwest to reach the charming town of Marble Falls, known for its vibrant arts scene and proximity to nature. Don't miss the chance to explore local art at the Highland Arts Guild and Gallery.
As you continue north, you will reach Buchanan Dam, home to the historic Buchanan Dam itself, and Lake Buchanan, one of the largest lakes in Texas. Spend a day here fishing, boating, or simply enjoying the stunning lakeside views.
Then, venture towards Gorman Falls. Located in Colorado Bend State Park, Gorman Falls is a lush waterfall and a beautiful hike. From here, journey northeast to Lake Whitney.
Known as the "Getaway Capital of Texas," Lake Whitney is a beloved destination for all kinds of outdoor recreation. Whether you're interested in fishing, boating, or simply basking in the sun, Lake Whitney offers a serene setting for relaxation.
Finally, continue north on I-35 to reach your final destination in Waco.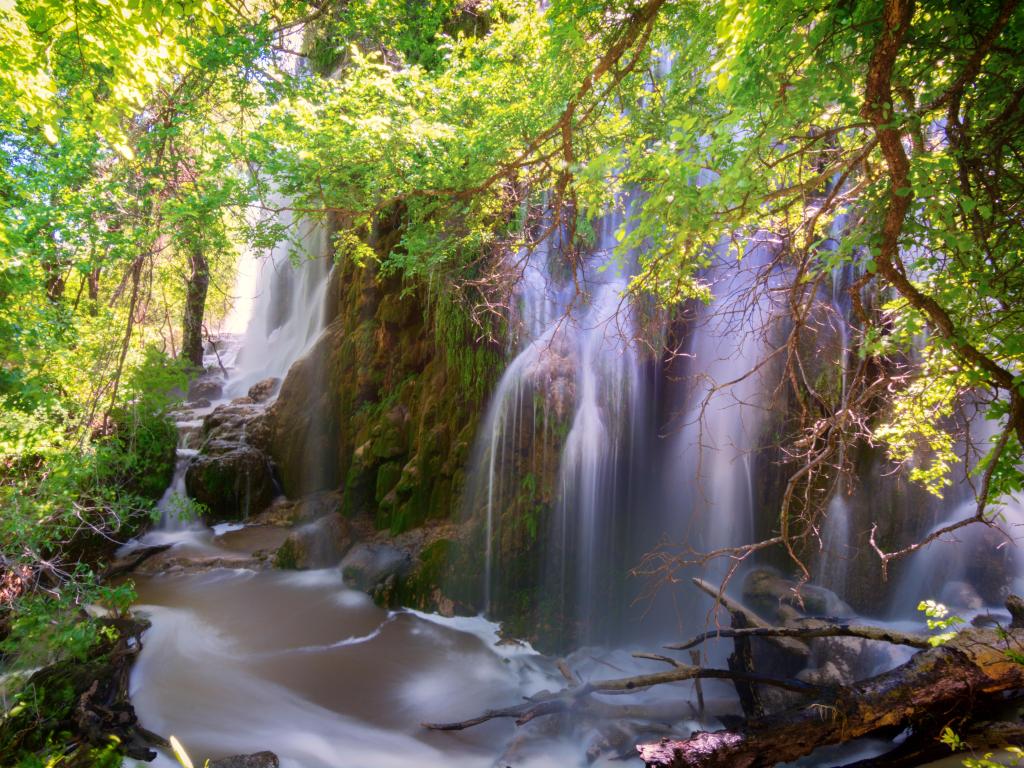 Best places to stop between Austin and Waco
There are many museums, historic sites, and scenic lakes to explore on the Austin to Waco road trip. To make the best of your time on the road, we suggest setting aside a couple of days for this adventure. Here are our favorite places to stop for an overnight break.
Explore Killeen and sleep under a canopy of stars in Copperas Cove
Recognized for its military history, Killeen, Texas, makes an ideal stopping point on the Direct Route on this Austin to Waco road trip, located only about an hour from Austin.
One of the must-visit attractions in Killeen is the Fort Cavazos (formerly known as Fort Hood) military base, the largest active-duty armored post in the United States. Here, you can learn about military history at the 1st Cavalry Division Museum.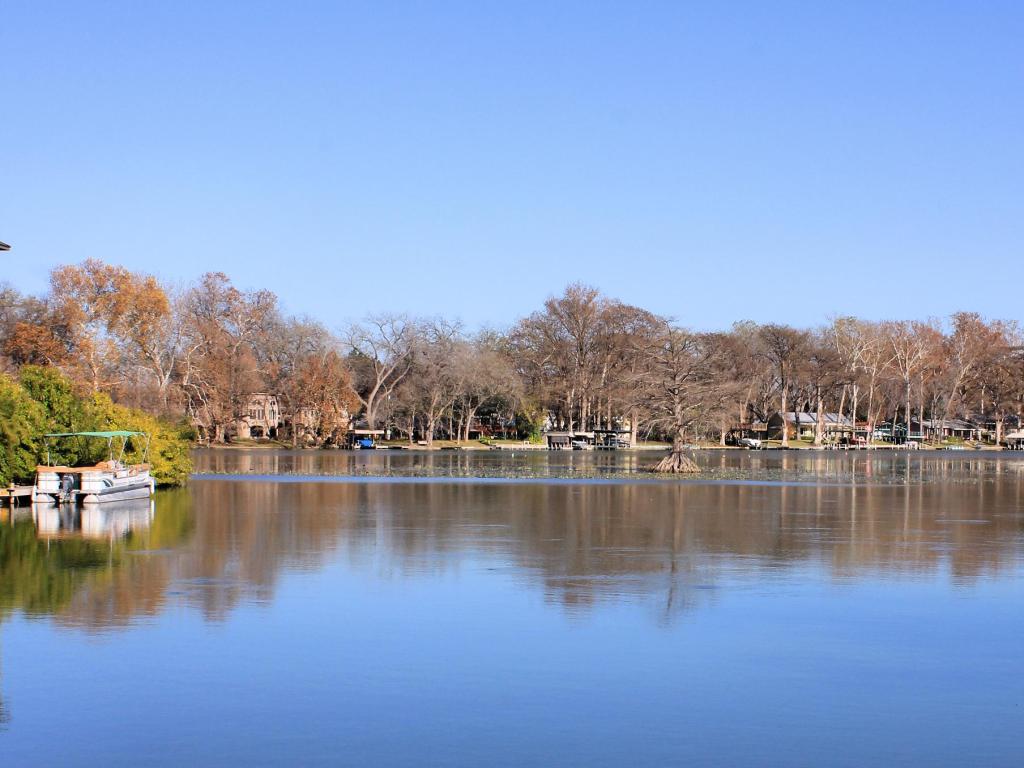 If you're a nature lover, a visit to Chalk Ridge Falls Park is a must. The park, located just outside Killeen, offers beautiful trails, a suspension bridge, and of course, the eponymous waterfall.
The Killeen Civic and Conference Center is also worth a visit. It hosts a wide variety of events throughout the year, including music concerts, art exhibits, and theatrical performances, offering a lively and diverse cultural experience.
A short drive that is less than 30 minutes from Killeen, Copperas Cove provides the perfect natural retreat you might need after setting off from the buzzing heart of Austin.
If you are looking to reconnect with nature while having access to great amenities that a campsite normally wouldn't have, Tentrr Signature Site - Big Texas Sky Campsite is an amazing place to stay.
You will be sleeping in a stylish luxury tent (which is included in the nightly rate), and get to admire the beautiful stars glittering above you without any light pollution, so make sure to bring your binoculars. Tentrr Signature Site is also only a short drive from Copperas Cove City Park.
Admire the river views in Marble Falls
Known for its scenic location on the banks of the Colorado River and enchanting waterfalls, Marble Falls is an essential stop along the Scenic Lakes Detour, located an hour from Austin.
A must-visit spot is the Falls on the Colorado Museum. Housed in a historic granite school building, the museum offers insights into the rich history of Marble Falls and the Highland Lakes area, making it a valuable stop for history buffs.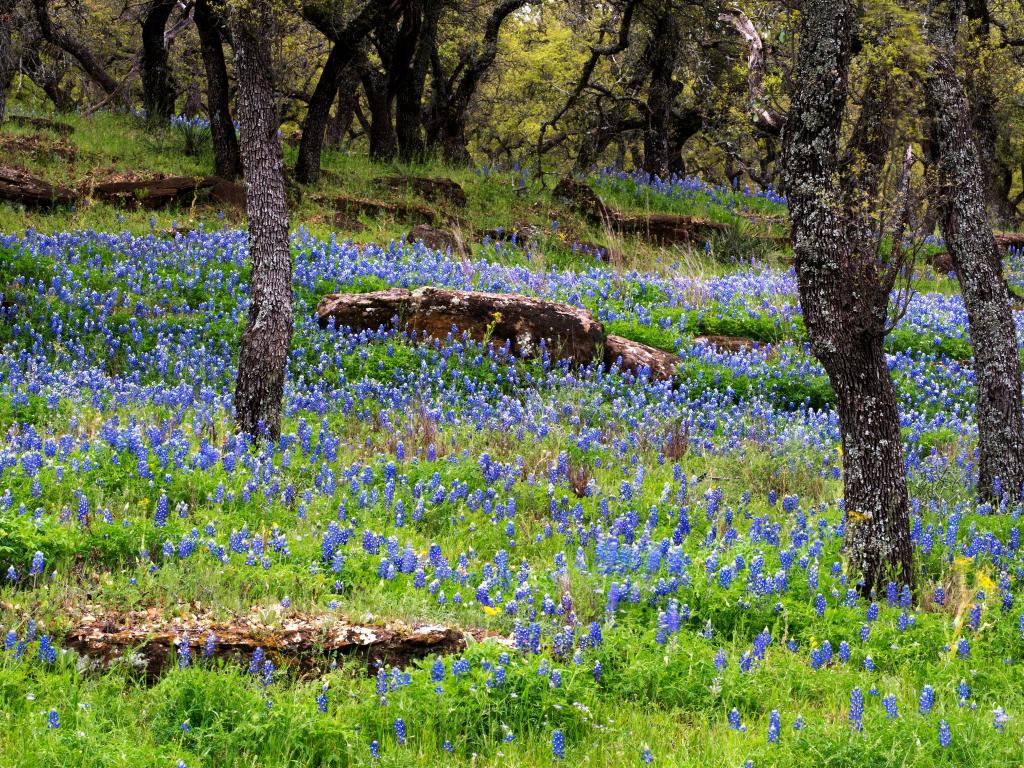 One of the city's namesakes, the actual Marble Falls, is now submerged but the town has cultivated a beautiful series of cascading falls in the heart of the city. Enjoy a stroll in the park, complete with a view of the waterfalls.
A top highlight is the Marble Falls Walkway of Lights, an annual event where the entire community is lit with stunning holiday lights. This event, usually held from November to January, attracts visitors from all around to enjoy the spectacular lights, music, and festive atmosphere.
While visiting Marble Falls, our favorite place to stay is WorldMark Marble Falls. This beautiful hotel has stylish rooms that feature balconies that will allow you to admire the views of the Colorado River while sipping your coffee and reading a book.
The hotel has a fabulous outdoor swimming pool, which is the perfect place to unwind after your drive or exploration. Some rooms come with a kitchen and a fridge, so you can take advantage of your stay here by enjoying a delicious meal in the comfort of your own room.
Where to stay when you reach Waco
Waco is known for its beloved Magnolia Market at the Silos, a popular lifestyle brand and shopping complex developed by Chip and Joanna Gaines from HGTV's "Fixer Upper".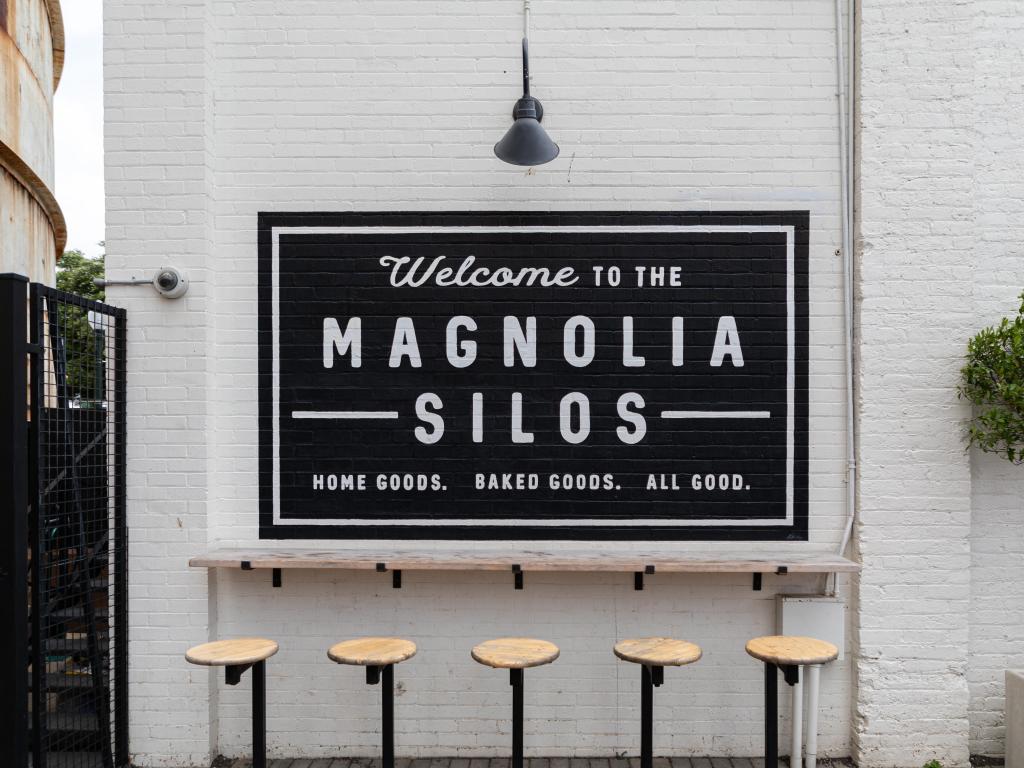 The color city is also known for its rich history, which can be explored at various sites like the Texas Ranger Hall of Fame and Museum, and the Dr. Pepper Museum.
While in Waco, we recommend staying at the chic Pivovar Hotel. Located downtown, this fantastic hotel is home to a Czech brewery, a beer garden and a restaurant.
You will be located just steps from Magnolia Silos, the hotel is also a short distance from McLane Stadium and Waco Convention Center. This hotel will get bonus points from train enthusiasts as it is located in an industrial building formerly used as a train station.
Things to see on a road trip from Austin to Waco
Even though this road trip is a relatively short one, you will be impressed by the number of amazing things to see on each route, from gorgeous lakes to quirky stops and historic museums. We have listed our suggested things to see below to make your planning easier:
The Direct Route
Round Rock Premium Outlets - This outlet mall in Round Rock offers a variety of brands at discounted prices. It's a shopping paradise for bargain hunters and fashion enthusiasts.
Round Rock Donuts - Known for its oversized, orange-yellow glazed doughnuts, this iconic bakery in Round Rock provides a tasty treat for travelers.
Old Settlers Park - This large park in Round Rock offers a variety of recreational activities including sports facilities, picnic areas, and a small lake for fishing.
Round Rock's "Hairy Man" Road - This Round Rock road is named after a local legend of a 'hairy man' who haunts the road. The city even hosts an annual "Hairy Man" festival.
1st Cavalry Division Museum - Located in Killeen on the Fort Hood base, this museum showcases a rich military history. It's a must-visit for history and military enthusiasts.
Mayborn Planetarium and Space Theater - This facility in Killeen offers space-themed laser shows and star-gazing opportunities. It's an ideal destination for science and space lovers.
Bell County Courthouse - A historic building in downtown Belton, the courthouse showcases architecture from a bygone era. It's a beautiful spot for a leisurely walk.
Bell County Museum - Situated in Belton, this museum gives visitors an insight into the local history and culture. A great stop for history buffs.
Bell County's Dead Man's Hole - Despite its ominous name, this natural sinkhole in Belton was used as a burial site during the Civil War. It's a quirky and slightly eerie local historical site.
Miller Springs Nature Center - Nestled between Belton and Temple, this outdoor attraction offers numerous walking trails and beautiful scenery. It's perfect for nature lovers.
Belton Lake - This popular outdoor destination near Belton offers fishing, boating, camping, and hiking opportunities. It's a haven for outdoor enthusiasts.
Czech Heritage Museum - Located in Temple, this museum celebrates the rich Czech culture and history of the region. It offers an interesting exploration of Central Texas's European roots.
Railroad & Heritage Museum - Also in Temple, this museum delves into the area's rail history. It's a must-visit for those interested in the evolution of American railroads.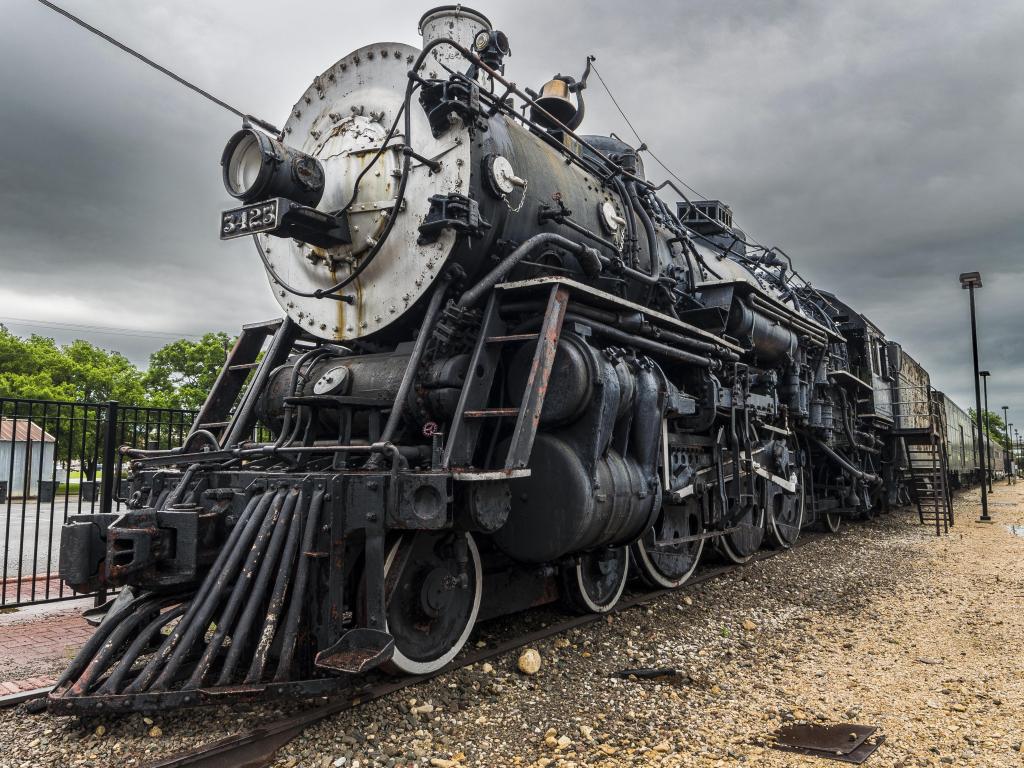 The Scenic Lakes Detour
Hidden Falls Adventure Park - This off-road park in Marble Falls offers over 200 miles of trails for dirt bikes, ATVs, and full-size vehicles. It's a paradise for off-roading enthusiasts.
Lake Marble Falls - A reservoir on the Colorado River, it's great for boating, fishing, and water sports. Don't miss the annual LakeFest drag boat races held here.
Sweet Berry Farm - A seasonal attraction in Marble Falls, where you can pick your strawberries, pumpkins, or engage in a variety of family-friendly farm activities. It's a fun, hands-on experience for all ages.
Inks Lake State Park - This state park is perfect for camping, swimming, fishing, and hiking. The view of Inks Lake at sunset is truly breathtaking, so try to plan your visit accordingly.
Buchanan Dam - As one of the largest multi-arch dams in the U.S., it's a sight to behold. The dam's power plant tour is a unique educational experience.
Longhorn Cavern State Park - Explore fascinating cave formations on a guided tour. The park's history, from Comanche Indians to Confederate soldiers, adds a historical depth to your visit.
Gorman Falls - A beautiful, spring-fed waterfall located in Colorado Bend State Park. The hike to the falls is equally gorgeous, offering a chance to experience Texas' diverse ecosystem.
Lake Buchanan - It's one of the largest of the Highland Lakes in Central Texas, ideal for fishing and boating. The Vanishing Texas River Cruise offers scenic views and wildlife sighting opportunities.
Lake Whitney State Park - The park offers activities like fishing, hiking, bird watching, and camping. Sunsets over the lake make for some incredible photo opportunities.
Kimball Bend Park - A hidden gem on the Brazos River, it's great for picnicking, boating, and fishing. It's also a peaceful spot for camping before you arrive in Waco.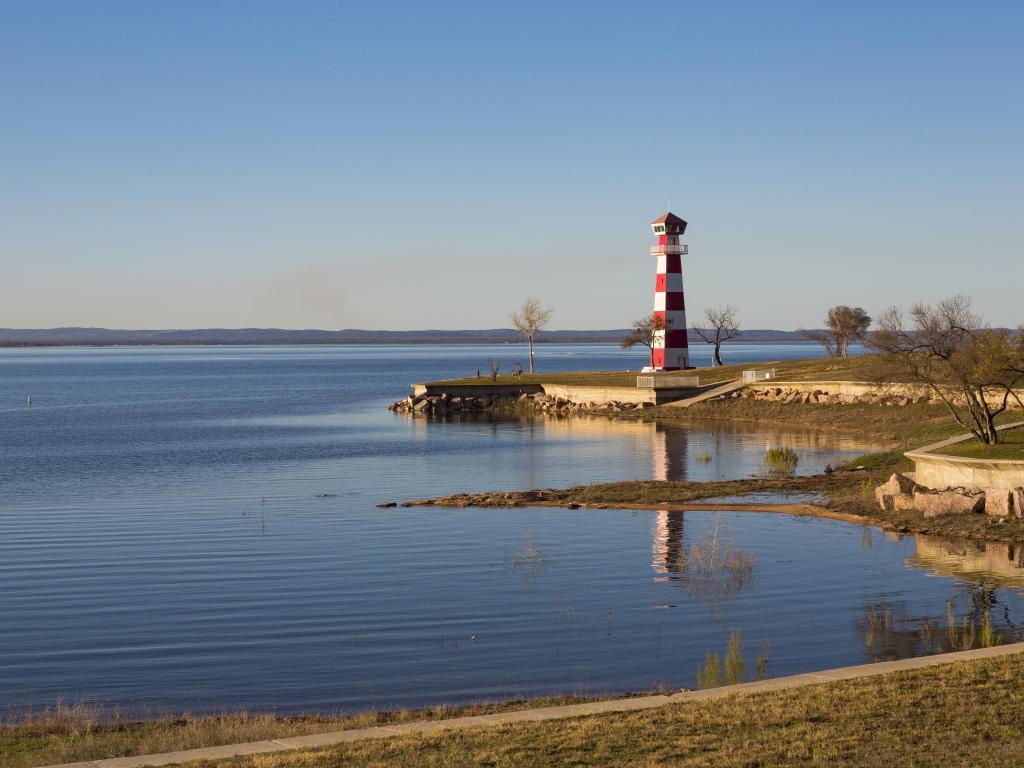 Best time to go on a road trip from Austin to Waco
The Austin to Waco road trip can be undertaken year-round, as Texas has a fairly temperate climate. However, the "best" time to embark on this journey largely depends on your personal preferences for weather and activities.
Waco is quite beautiful in both the spring and fall seasons. In spring, the city comes alive with blooming wildflowers, including the famed Texas Bluebonnets, creating a picturesque setting.
The weather is also usually quite comfortable, with average high temperatures ranging from the low 70s to mid-80 degrees Fahrenheit, making it an ideal time for outdoor activities. Fall brings similar conditions with average highs varying from 70 to 88 degrees.
In the spring, you can catch events like the Brazos Night concert series. Fall brings the Waco Wild West Bicycle Tour and Heart O' Texas Fair & Rodeo and the Waco Cultural Arts Festival.
Summers in Waco can be hot, with average high temperatures in the 90s Fahrenheit, often peaking over 100 degrees. Despite the heat, summer remains a popular time to visit, especially for families taking advantage of school vacations.
Activities on or near the Brazos River, like boating, fishing, or visiting the Waco Riverwalk, can provide a cool escape for a laid-back way to relax.
Winter in Waco, on the other hand, is generally mild with average high temperatures in the 50s and 60s Fahrenheit. The city lights up around the holidays with festive events like the Waco Wonderland and Christmas on the Brazos.
The Cameron Park Zoo also hosts special winter events and can be enjoyed even during the colder months.
The winter months also tend to be quieter in terms of tourist traffic, which might be a plus if you prefer a more solitary travel experience. Remember to check local weather forecasts before your trip to account for any unusual weather conditions or events.