Road Trip from Austin to Yellowstone National Park
This incredible journey from Austin to Yellowstone National Park will take you through exciting destinations and breathtaking landscapes. Travel through the American West, Rocky Mountains, and some of the most beautiful and iconic national parks in the USA.
The 1,750-mile road trip from Austin to Yellowstone National Park will take 28 hours to drive. The route highlights include Albuquerque, Santa Fe, Taos, Vail, Grand Teton National Park, Amarillo, Colorado Springs, Denver and Bighorn National Forest.
Take this road trip of a lifetime and see the best of America's mountains and desert landscapes. Read on to learn more about our recommended routes, best places to stay, and top things to do and see along the way.
How far is Yellowstone National Park from Austin and how long will the road trip take?
Comparison of road trip routes between Austin and Yellowstone National Park

| Route | Distance | Driving Time |
| --- | --- | --- |
| Denver Route | 1,750 miles | 28 hours |
| The Albuquerque Route | 1,870 miles | 32 hours |
We've selected two great routes that will take you from Austin to Yellowstone. Each route is full of adventure and unbelievable scenery.
The first route is the Albuquerque Route, where you'll drive 1,870 miles and 32 hours. You'll pass through the high deserts of America, beautiful national parks, and culturally rich cities.
The next route is the Denver Route. This route will take you 1,750 miles through Colorado's famous cities and towering mountains. On this route, you'll have 28 hours of driving time.
Whichever route you choose, we recommend taking five to six days to complete the drive. This way, you'll give yourself enough time to see and experience all the incredible sights along the way.
Best road trip route from Austin to Yellowstone National Park
The Albuquerque Route takes you from the plains of Texas and New Mexico to the majestic landscapes of the eastern Rocky Mountains before reaching Yellowstone National Park.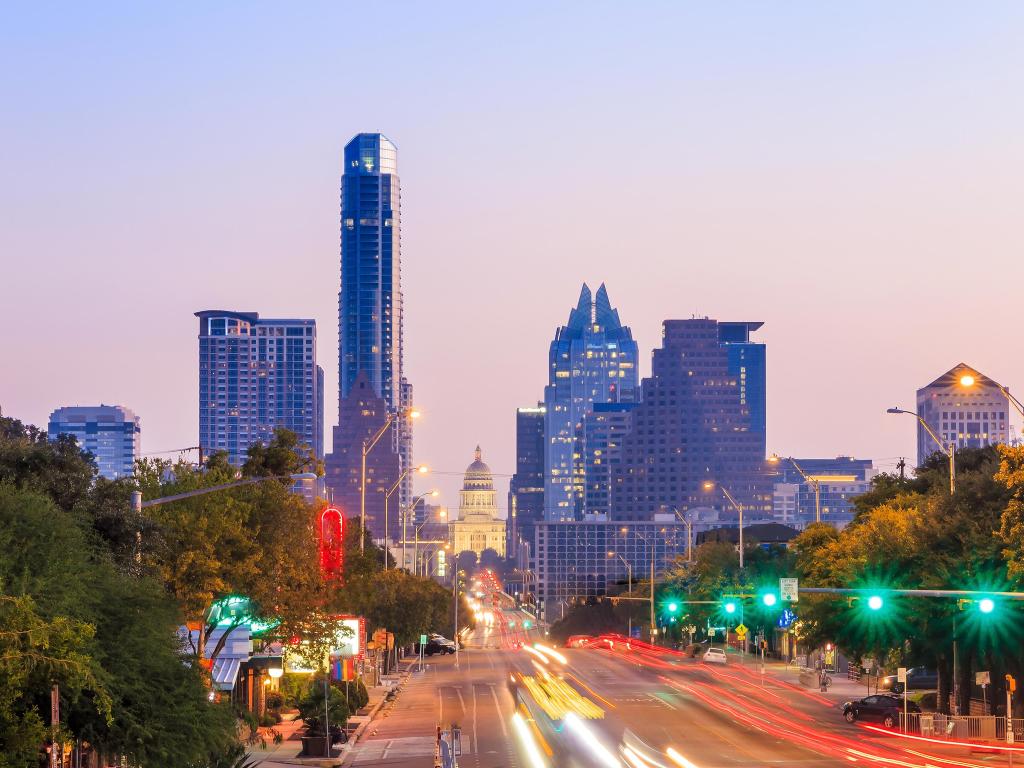 You'll pass through historic sites along the way, such as Albuquerque's old town and the centuries old adobe houses in Taos.
Also, you can visit world-renowned national forests, mountain peaks, and famous National Parks along the route.
The Denver Route takes you through plains and river basins in Texas and Colorado, past the easternmost peaks of the Rocky Mountains, to their sister mountains and Bighorn National Forest before reaching Yellowstone National Park.
This route is slightly faster than the alternative route, and you'll drive along Interstate 25 for much of the way, a major north-south highway through New Mexico, Colorado and Wyoming.
The Albuquerque Route
From the music city of Austin, head north into the desert landscapes of the Texas panhandle. Continue on into the great state of New Mexico. Drive along I-40 into Albuquerque. After seeing the city, take a quick drive north into Santa Fe.
Enjoy the capital of New Mexico and continue on route to the city of Taos. After that, get on US-285 and continue north into Colorado.
Continue on through the great national parks and natural areas of Colorado. Drive through the beautiful town of Vail and the incredible Rocky Mountains.
Head north into Wyoming and take I-80 west. Hop on US-191 and drive through the wonderful rural landscape of Wyoming.
Continue on past Grand Teton National Park and make your way into Idaho and Montana. From here, head south into Yellowstone National Park.
The Denver Route
From Austin, head north through the Texas panhandle. Drive north and hop on I-25 into Colorado.
Drive along the eastern slopes of the Rocky Mountains. Make a detour into Cañon City. Get back on the route and check out Colorado Springs.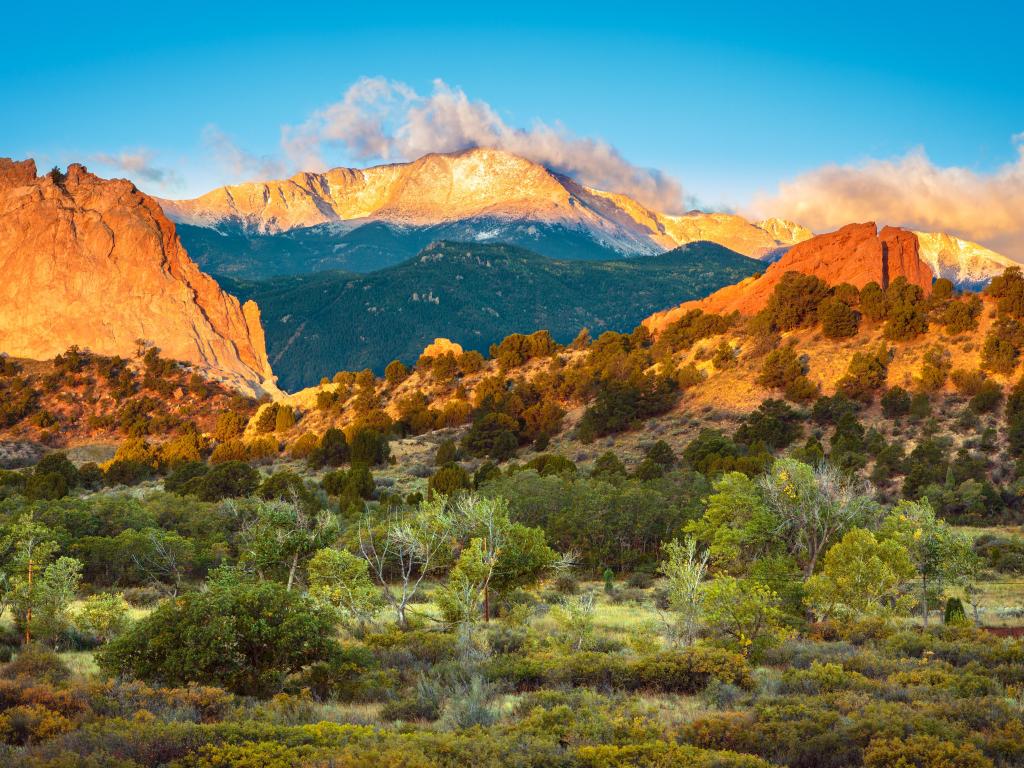 Get back on the route and drive into the city of Denver. After spending time in one of America's most iconic cities, get back on route and drive into Wyoming.
Make your way through the beautiful rural landscapes of Wyoming and into Bighorn National Forest. Continue on along the mountainous edge of southern Montana and into Yellowstone National Park.
Best places to stop between Austin and Yellowstone National Park
There is so much to see and do along the way. To help you break your trip up and get the most out of your journey, we've chosen our favorite places to stop along both routes.
Explore art, history, and cuisine in Santa Fe
Along the Albuquerque Route, just over one-third of the way, is the city of Santa Fe. The capital of New Mexico, Santa Fe is a beautiful city where you can relax or enjoy the rich culture, amazing cuisine, or sightseeing.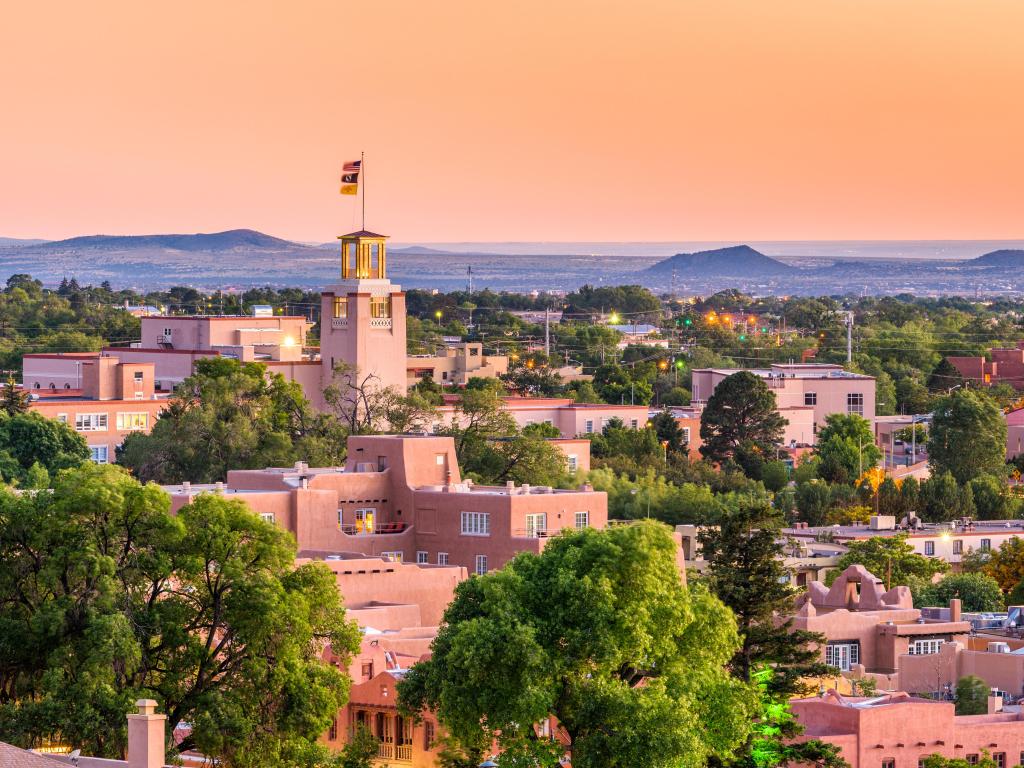 Santa Fe is a historically fascinating town known for its art and architecture. Make sure to visit the Plaza, which is a square next to the Palace of the Governors, the historic seat of the government built in traditional adobe style.
If you're a lover of art, visit the "Museum Hill" area. Here, enjoy many fascinating art and history museums, including the New Mexico Museum of Art and the Museum of Contemporary Native Arts. Another great area for art is the Canyon Road arts area. Here in this area, you have incredible galleries and artworks for sale.
Located just outside of Santa Fe is Valles Caldera. This area is an amazing natural site to visit, with hot springs, volcanic domes and fumaroles, so make sure to check it out either before or after your stay in the city.
Once you reach Santa Fe, we recommend staying at the Inn on the Alameda. This hotel is beautiful and peaceful with traditional Santa Fe decorations.
There's a tequila bar if you'd like to spice your trip up after sightseeing and a genuine New Mexican breakfast for guests to enjoy at their convenience. Take advantage of the ¥free parking and hot tub to relax after your long drive.
From this hotel, you can walk right into the heart of the city and the famous Plaza. Here, you can shop till you drop and eat at the many restaurants which consistently rank among the best in the west.
Visit the Mile High city of Denver
About halfway on the Denver Route is the city of Denver, Colorado. The city is near the base of the towering Rocky Mountains, about a mile above sea level. This metropolitan city is a convenient stop that offers beautiful vistas of the surrounding mountains and all the amenities a traveler could wish for.
Denver is known for its rich culture and the beautiful location at the base of the Rocky Mountains, earning it its nickname "The Mile-High City". There's plenty to do and see here so make sure to explore.
First, check out Larimer Square, a historical part of town with 19th-century buildings. Around this area, you'll have the chance to enjoy many restaurants, bars, and cafes.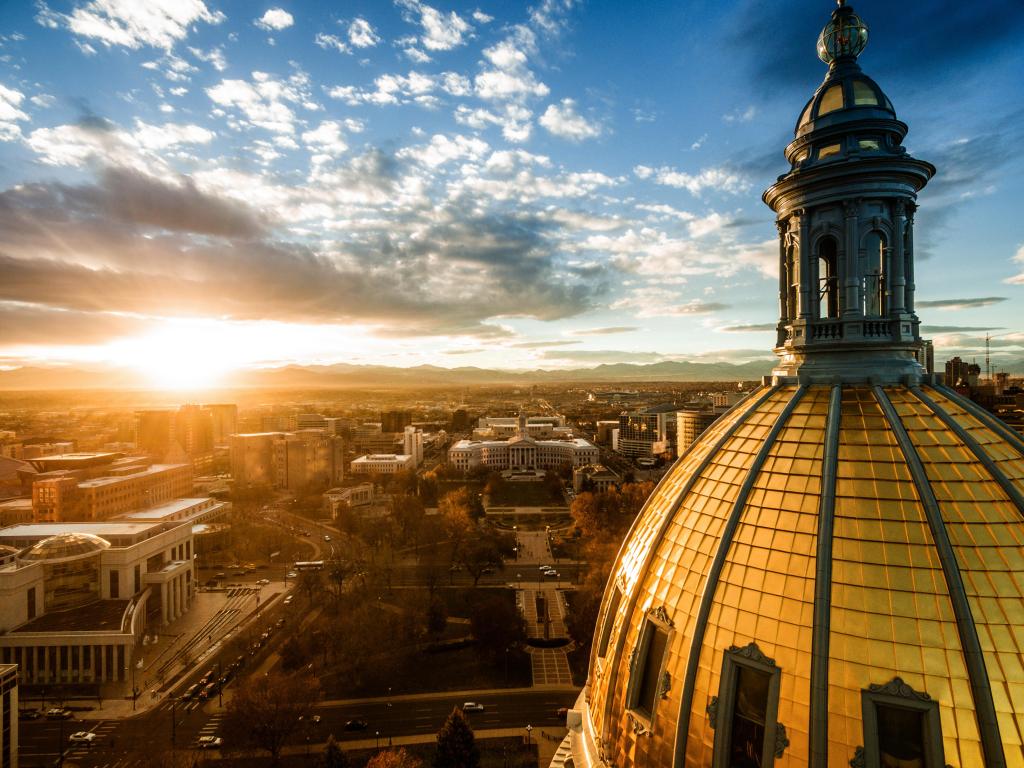 If you love art, head to the Denver Art Museum. This modern art museum has tons of collections of priceless indigenous art. On the other hand, if you are the outdoorsy type, there are few cities that compare to Denver. Head out and enjoy the peaks and hiking trails of the Rocky Mountains, a stone's throw away.
Our favorite place to stay here is The Oxford Hotel Downtown Denver. This grand hotel has stylish and historic decor, offering a comfortable stay close to the city's main points of interest, yet easily accessible from the interstate.
The Oxford Hotel is within walking distance of Larimer Square historic quarter, the Museum of Contemporary Art, shopping malls and other points of interest. A host of local breweries and restaurants are also nearby, so set aside enough time to enjoy yourself.
Where to stay when you reach Yellowstone
Once you reach your destination in Yellowstone National Park, we recommend staying at the Yellowstone Gateway Inn. This comfortable, well-maintained, and charming small hotel is very close to the north entrance of Yellowstone National Park and full of excellent amenities.
Free parking is available, and from here it is easy to explore the viewpoints, mountains, valleys, wildlife and geysers of Yellowstone National Park.
Close by you can also do hiking, horse riding, canoeing and other outdoor activities. The staff are always available to help you choose the right activity and get to know this one-of-a-kind area, making this inn the perfect base for your adventures.
Things to see on a road trip from Austin to Yellowstone National Park
These routes will bring you through some of the most beloved regions of the United States. There's no limit to the adventures you'll be able to have. Below, we've listed our favorites to help you plan your perfect trip.
The Albuquerque Route
Albuquerque - New Mexico's largest city. Albuquerque started as a Spanish colony in the 18th century.
Santa Fe - A beautiful city known for art and interesting architecture.
Taos - Taos is home to a famous World Heritage Site, Taos Pueblo, where you can see the traditional architecture of the Puebloan Peoples.
Great Sand Dunes National Park - Take in these magnificent dunes and play in the sand while stopping to explore this National Park.
Pike and San Isabel National Forest - Including Mount Elbert, the highest point in Colorado, this forest area offers amazing hiking trails to explore, wildlife to view, and sights over mountainous landscapes.
Vail - Vail is an atmospheric town, and home to Colorado's largest ski resort, Vail Ski Resort.
Medicine Bow-Routt National Forests - Extending from Colorado to Wyoming, this forest region offers spectacular, wild views over the eastern Rocky Mountains.
Grand Teton National Park - Linked with nearby Yellowstone National Park, Grand Teton National Park with its alpine views offers wonderful opportunities for hiking, fishing and climbing. Jackson Hole is a beautiful valley with plenty hotels and restaurants to enjoy.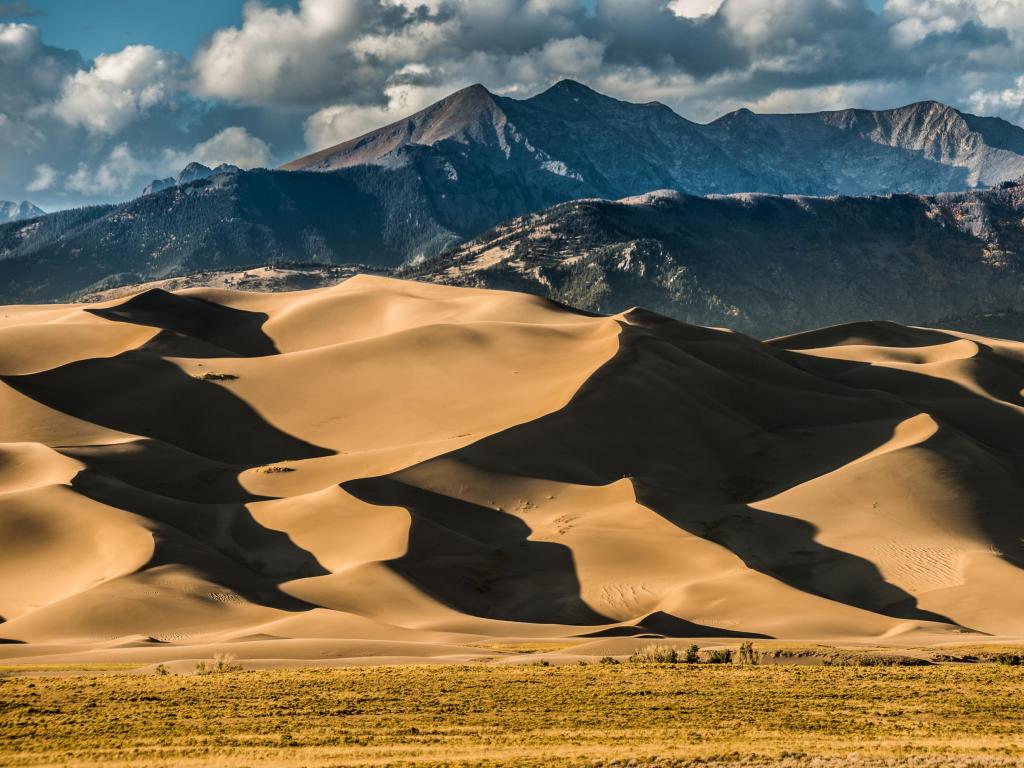 The Denver Route
Amarillo - This city is home to rich art and history. Visit museums, galleries, or the Cadillac Ranch, an installation of graffiti-decorated cars buried partly in sand.
Cañon City - Pop over to Cañon City by the Arkansas River, to view the magnificent Royal Gorge and the railway bridge crossing it.
Colorado Springs - At Colorado Springs, you can view Pikes Peak, a mountain that at 4300 m is the highest peak in the southern Rocky Mountains.
Denver - Visit the city's historic quarter or museums, or enjoy the vibrant city center with restaurants and shopping malls.
Arapaho & Roosevelt National Forest - Spot the beaver, coyote, moose and other wildlife in the forests and wetlands of this mountainous National Park.
Fort Collins - Visit the Old Town, The Fort Collins Museum of Discovery, or the Horsetooth rock formation at this historic location.
Pawnee National Grassland - Observe amazing Pawnee buttes in this natural prairie landscape of Colorado.
Bighorn National Forest - One of the oldest protected areas in the US, Bighorn National Forest is home to various wildlife, including bear, cougar, and pronghorn. You may view alpine meadows, mountains and valleys, or visit historic sites such as the Medicine Wheel National Historic Landmark.
Both Routes
Lubbock - Lubbock is part of the High Plains section of the Great Plains area and is located in an important cotton and grape-growing region. Visit the National Ranching Heritage Center, historic buildings, or the Depot District dedicated to music and nightlife.
Best time to go on a road trip from Austin to Yellowstone National Park
This route offers outdoor experiences in particular, as it passes by several vast national parks, plains and mountainous areas, making it particularly pleasant to visit between spring and fall.
Spring and fall may be the most comfortable times to visit Yellowstone National Park if you wish to avoid the biggest crowds of visitors. However, it is possible to do this road trip any time of the year.
Yellowstone National Park gets most busy with tourists at the height of summer. However, the summer months are still good for visiting the park, especially if you wish to enjoy summer activities such as swimming and hiking. Keep in mind that the hottest months can reach up to 76 degrees Fahrenheit.
Yellowstone National Park has average temperatures of under 34 degrees Fahrenheit in winter months, and it can be as cold as 5 degrees. Despite the cold, the Park can be exquisite to visit in winter, and you may also enjoy the various winter sports the area offers.
It is good to consider that road access in this area may be influenced by snowfall.
April, September, and October are the most favorable times to visit Yellowstone National Park because crowds are thinner, and you may have more chances of viewing wildlife.
There are plenty of fun activities and events to enjoy throughout the year. In May, in Jackson right next to Yellowstone National Park, you can enjoy the Jackson Hole Music Fest. In July-August, the Grand Teton Music Festival also takes place in Jackson.
Throughout the summer, there are rodeos and cowboy-themed events organized in Jackson and other nearby towns in the area. In November, the West Yellowstone MT Ski Festival takes place and gathers cross-country skiers from all across the US and the world.
Different animals may be spotted at different times of the year; while winter isn't good for viewing bears or many other wildlife species, in the spring you may spot more baby animals. In the fall, you can observe the mighty bison doing its migration to lower elevations.