Road Trip from Austin to Zion National Park
Experience beauty and adventure at every corner on a road trip from Austin, Texas to Zion National Park. Travel through the epic American west on this incredible road trip that will take you through stunning natural wildernesses, grand vistas, fun cities, and ancient ruins.
The 1340-mile road trip from Austin to Zion National Park takes 22 hours to drive. On the way, you'll experience places like Lubbock, Santa Fe, Mesa Verde National Park, Fredericksburg, El Paso, Apache National Forest, and the awesome Grand Canyon.
There's so much to see and do in this beautiful corner of America. Read on to learn more about the best routes, places to stay, and top sights along the way.
How far is Zion National Park from Austin, and how long will the road trip take?
Comparison of road routes between Austin and Zion National Park
Route
Distance
Driving Time
The New Mexico Route
1,335 miles
23 hours
The Arizona Route


via The Grand Canyon

1,340 miles
22 hours
There are two routes that will take you through beautiful western landscapes and famous cities and towns. Both routes will take you through vast stretches of desert on your way to Zion National Park.
On the New Mexico Route, you'll drive 1335 miles and 23 hours of driving time. Although you'll miss the Grand Canyon, you'll get to see artistic Santa Fe and the unforgettable Mesa Verde National Park.
The Arizona Route via the Grand Canyon will take you to the mighty Grand Canyon National Park on your way to Zion National Park. You'll travel 1340 miles and the trip will take you 22 hours of driving time.
Whichever route you choose, we recommend taking five days to complete this journey and enjoy all the amazing sights and experiences on the way. Read on to learn more about our recommended routes, the best places to stay, and things to do and see along the way.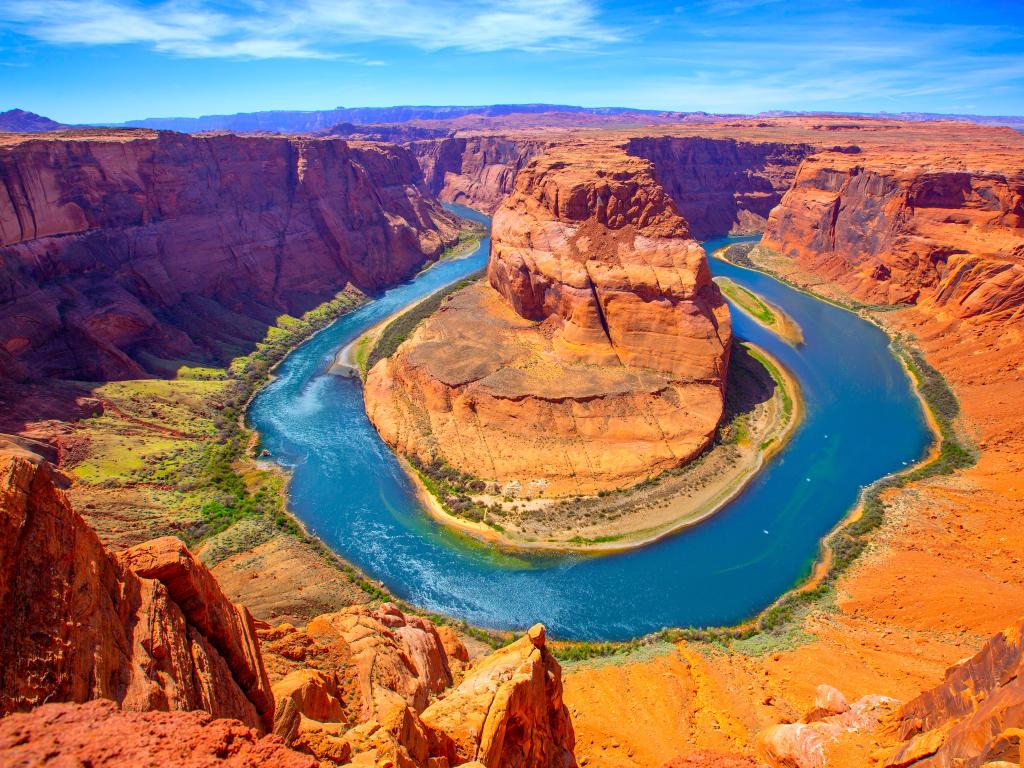 Best road trip route from Austin to Zion National Park
This incredible road trip will take you through a vast array of landscapes, from desert wilderness, to epic canyons and lush forests. You'll also pass through beautiful towns, ancient ruins, and famous cities, as well as see the world famous Grand Canyon.
For a journey mixing history and nature, choose The New Mexico Route. This amazing route will take you through the birthplace of Buddy Holly and one of the world's most artistic cities, Santa Fe.
Besides this, you will get to enjoy the varied landscapes of New Mexico, known to be one of the most diverse states in the USA in terms of nature. You can also make a detour to Taos on your way to Santa Fe.
Take the Arizona Route to experience the Grand Canyon, one of the most famous natural wonders of the world. This route runs through mid-Texas and gives you a glimpse of the Mexico border.
On this journey, you'll experience incredible desert landscapes and their diverse flora and fauna. The scene will slowly change as you pass by Gila National Forest and straight through Apache National Forest. Finally, you'll get to visit the world-famous Grand Canyon.
If you'd like to hike up to Angels Landing, you will need a permit and will need to make a reservation. Check the Zion National Park's website for more details.
The New Mexico Route
Head out on Texas highway 183 and drive north towards the city of Lubbock. Continue on through the vast Texas Panhandle and into the state of New Mexico.
Continue on through the vast open desert on your way to Santa Fe. After spending the day in the artistic state capital, head north into the town of Taos.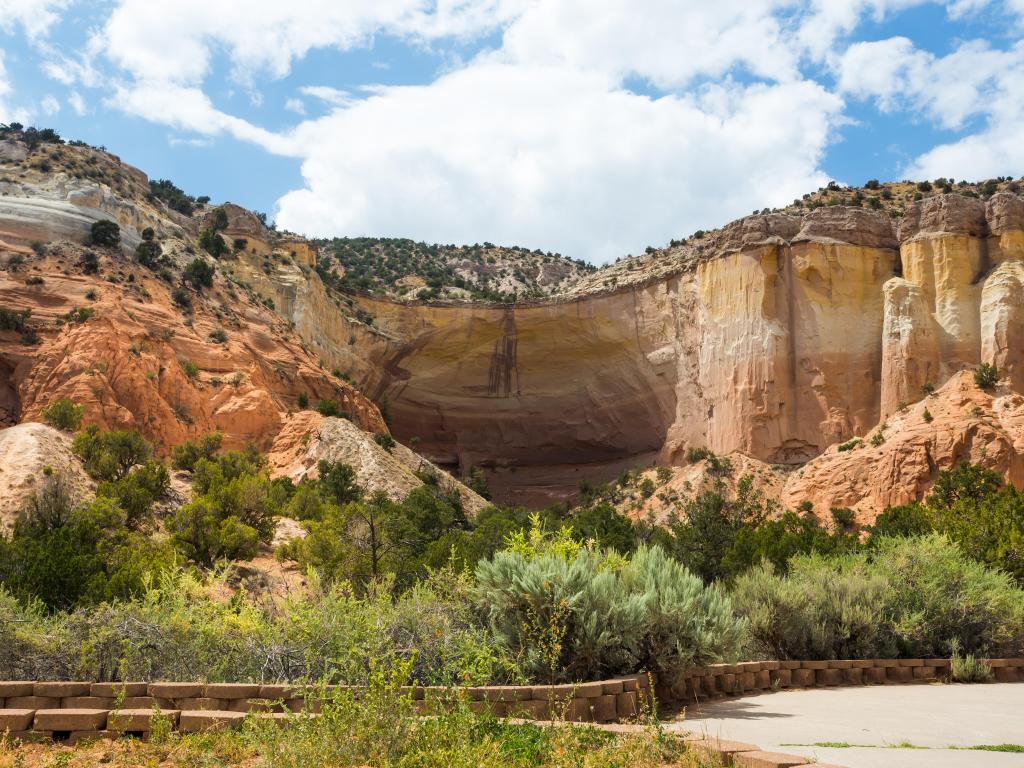 From Taos, drive west through the mountains of Carson National Forest and into the small towns of northern New Mexico.
Head into the state of Colorado and into the town of Cortes to explore the Puebloan ruins of Mesa Verde. After experiencing some of the country's most striking historical landmarks set off through the Four Corners region and the Four Corners Monument.
Drive through Northern Arizona and see the towering red rock formations and endless skies. Continue on into Utah and your destination of Zion National Park.
The Arizona (Grand Canyon) Route
From the city of Austin, drive west on I-10. Continue on through the beautiful open spaces of Texas and into the city of El Paso.
After soaking up the food and history of El Paso, head north into the beautiful state of New Mexico. Drive through the high desert landscapes and make your way into US-180.
From the forested mountains of Apache National Forest, head into the state of Arizona. Hop on I-40 and make your way into the city of Flagstaff.
After Flagstaff, head north and take a detour to the Grand Canyon. Walk along the rim of the natural wonder and take in some of the greatest views of the natural world before heading to your destination of Zion National Park.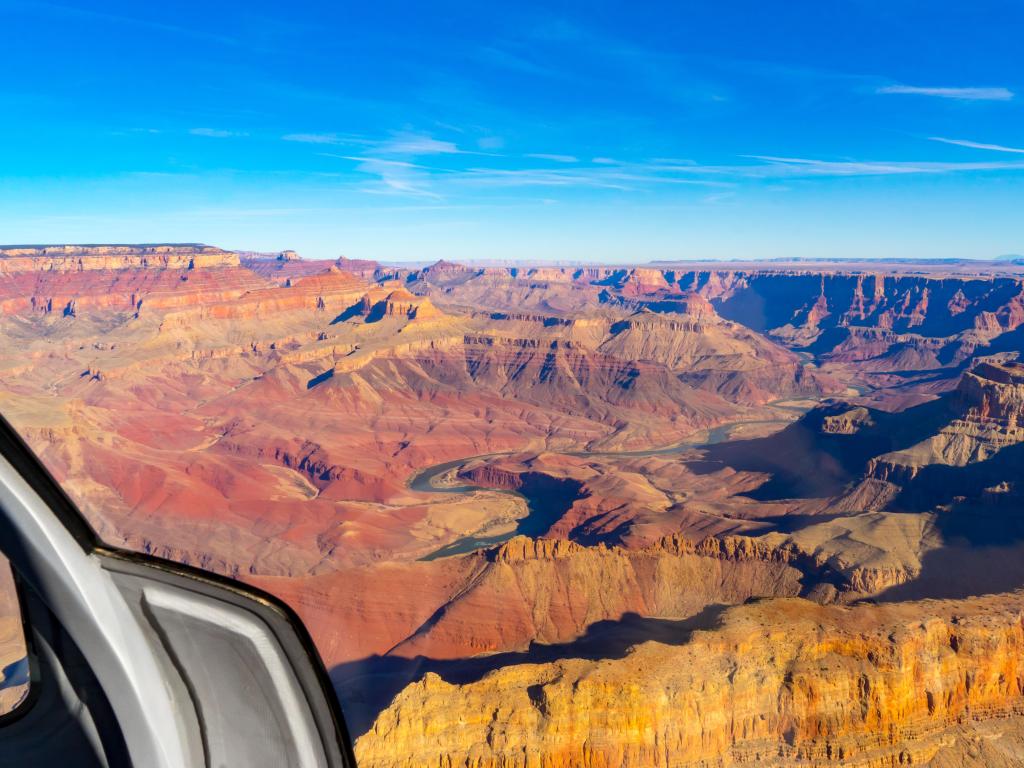 Best places to stop between Austin and Zion National Park
Along the way, there are several destinations that are excellent stopovers. Below are our favorites, plus our recommended hotels to help you rest in comfort and style.
Food, art, and nature in Santa Fe
Just over halfway on the New Mexico Route is the city of Santa Fe, New Mexico. Santa Fe is a charming city world-renowned for its beauty, history, perfect weather, amazing food, and artistic scene.
It sits roughly halfway along the route and offers many attractions. You'll be driving through mostly rural areas on this route, so Santa Fe will be a welcome break.
Santa Fe hosts over 250 art galleries and attracts artists from around the world. It is also known for its beautiful architecture and historical significance, having the country's oldest public building and several other firsts.
There are plenty of sights and experiences to keep you busy in this one-of-a-kind city. On top of these, sample the rich cuisine that has made Santa Fe one of the country's most famous foodie destinations.
One of the first experiences to take advantage of once you arrive is to head up Canyon Road. This road is famous for hosting many art galleries, immersive experiences, and events. Even if you are not interested in art, there will be many amazing and colorful installations catching your eye. This street is also lined with artisan jewelry stores and cute shops, as well as workshops focusing on Native American crafts.
History lovers eager to learn more about the state's long and exciting history should check out the Museum of New Mexico Complex. This complex comprises four museums housed in the former seat of the Spanish Government, dating back to the 17th century.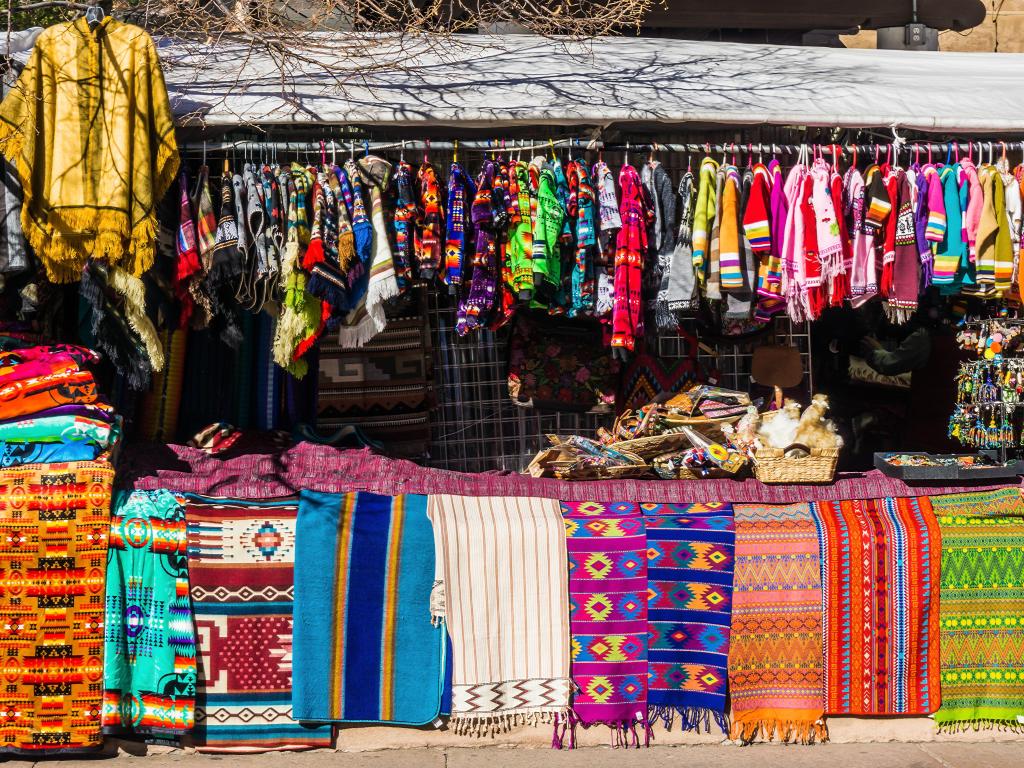 No visit would be complete without seeing the Santa Fe Opera House. Even if you will not see an opera, a visit to this sleek modern building is not to be missed.
Make sure to see the landmark Cathedral Basilica of St. Francis of Assisi. This stunning cathedral dates back to the late 1800s. Its beautiful stained glass is something to behold and the old church house houses a statue that has been standing there since 1626, the oldest in the United States.
Once you've finished sightseeing for the day, we recommend spending the night in the beautiful Eldorado Hotel and Spa. This incredible hotel features artwork and furniture handcrafted by indigenous people, meaning you can experience the history and culture of Santa Fe from the moment you arrive.
Eldorado has an onsite restaurant featuring local ingredients, valet parking, and live musical performances to keep you entertained. With an incredible full-service spa, you can relax your muscles after a few days of sitting behind the wheel.
The hotel is very close to Santa Fe's attractions and only a block away from the historic Santa Fe Square. From the hotel, you can walk through the old town and enjoy many renowned restaurants and bars.
The hotel is only a short drive away from the main city highway, which will easily connect you to your route out of the city when you leave. This way you'll be able to get back on the route quickly and stress free.
Take in the food culture of El Paso
Just under halfway on the Arizona Route is the historic city of El Paso, Texas. The city sits right on the route toward Zion National Park, so is the perfect location for a stopover. It also sits right on the border of Mexico and offers a unique perspective and blend of cultures.
Visitors and locals alike know El Paso for its up-and-coming culinary scene and being close to Fort Bliss. The city is perfect for walking or taking scenic drives.
If experiencing the city for the first time, take the El Paso Scenic Drive. This winding road takes you up to a beautiful overlook where you can watch the city lights of El Paso and can even see as far as Mexico. From here you will see the edge of the Franklin Mountains, making for the perfect backdrop for a picnic or sunset experience.
Art lovers should experience the El Paso Museum of Art. This museum features over 7,000 pieces from around the world, some dating back almost 1,000 years.
Another unique experience is a visit to the National Border Patrol Museum. This interesting museum offers a history of the US Border Patrol, featuring many interesting stories, vehicles, weapons, and uniforms.
For a bit of nature, check out the Franklin Mountains State Park. This is a great area for wildlife spotting and also hosts many scenic drives for those who don't wish to hike.
Once you reach El Paso, rest in luxury at The Plaza Hotel Pioneer Park. This absolutely beautiful hotel offers free parking with 24-hour security and a wonderful on-site restaurant.
The decor of this hotel is simply beautiful and represents the culture of El Paso itself. Inside, the rooms are spacious and luxuriously decorated.
The Plaza Hotel Pioneer Park is located right downtown, so you can walk to the famous sights, restaurants, and bars. Once you leave, you're only a short drive from the main highway and route.
Where to stay when you reach Zion National Park
Once you reach Zion National Park, we recommend staying at the Zion Wildflower. This unique resort experience offers a variety of comfortable options, from luxury bungalows to cabins or even cozy glamping tents, all with great Wi-Fi.
Whichever option you choose, you can expect all the amenities of a hotel, but with a more natural feel. The friendly staff are always available to help you with activities or comforts during your stay, so you'll be able to experience the ultimate stress free vacation.
At the Zion Wildflower, you have access to many hikes and fishing spots. Afterwards, spend your evenings under the never ending stars and take in one of the most naturally stunning places in the USA.
Things to see on a road trip from Austin to Zion National Park
With so much diverse scenery and fun along the way, you'll enjoy every minute of this incredible drive. To help you choose where to visit, we've included our favorite stops and attractions along the way.
On the New Mexico Route
Inner Space Cavern - This amazing cave complex offers a variety of different tour types depending on your comfort level. It will take you on a journey through one of the best-preserved caves in Texas featuring incredible formations, large open caverns, and even prehistoric bones!
Hamilton Pool Preserve - A beautiful natural swimming pool sitting in a stunning canyon and featuring a lovely waterfall.
Skies over Texas Wineries - Although there are hundreds of amazing wineries along this route, this one will not disappoint with its large collection of locally made wines.
Frontier Texas - This fabulous museum will take you on a tour through life in the Old West. Featuring interactive exhibits, personal stories, and life-sized holographic figures, this museum is a great stop for anyone interested in old western life.
Buddy Holly Center - Known to be the birthplace of Buddy Holly, this center has many exhibits about the life and music of Buddy Holly. Not only that, but it also hosts many community programs, bringing art to the town.
The West Texas Walk of Fame - This walk of fame features statues of all the prominent figures from west Texas including Buddy Holly.
Billy the Kid's Grave and Visitor Center - Visit the grave of legendary outlaw Billy the Kid. The Visitor's center provides information and history on this infamous character.
Fort Sumner Site - Here you will learn about the grave history of Bosque Redondo by visiting the memorial site where around 2,000 Navajo were buried and around 10,000 were forced to walk 450 miles to this site.
Georgia O'Keeffe Museum - An art gallery featuring hundreds of works of Georgia O'Keeffe, a legendary painter.
Bradbury Science Museum - With over 35 interactive exhibits across all areas of science, this is a great stop to learn more about the modern world.
Mesa Verde National Park - Witness the 700-year-old history of the Ancestral Pueblo people in this national park. They have lived in thriving communities on the mesas and in the cliffs, so you will be able to learn a lot about their culture.
On the Arizona (Grand Canyon) Route
Schlitterbahn Waterpark - A great place to stop for kids and playful adults alike. Take a plunge in one of the state's most beloved waterparks.
San Antonio Missions National Historical Park - As the only UNESCO World Heritage site in Texas, this national park is a great place to learn about the Spanish heritage of the area and how it changed the lives of the native people.
Cave Without a Name - This interestingly named cave is a National Natural Landmark and offers daily tours to experience the unusual but fascinating formations within.
National Museum of the Pacific War - This museum dives deep into World War II, focusing specifically on the movements within the Pacific.
Meteor Crater Natural Landmark - This impressive meteor crater is 3,900 feet wide and 560 feet deep. It's truly an amazing thing to see whilst imagining the meteors coming down to Earth.
Montezuma Castle National Monument - This five-story castle is an amazing site showing the point where Native Americans switched from nomadic lifestyles to deciding to settle in one place.
Walnut Canyon National Monument - Ancient ruins sitting in a vast canyon showing the cliff-hugging homes of the Puebloan people.
Lowell Observatory - See deep into space and learn about stars, planets, and the universe in this fascinating observatory.
Wupatki National Monument - Ancient ruins of 5 prehistoric pueblos from around 1000 years ago.
Grand Canyon, East Rim Drive - Make sure to take your vehicle along this route to get spectacular views of the Grand Canyon.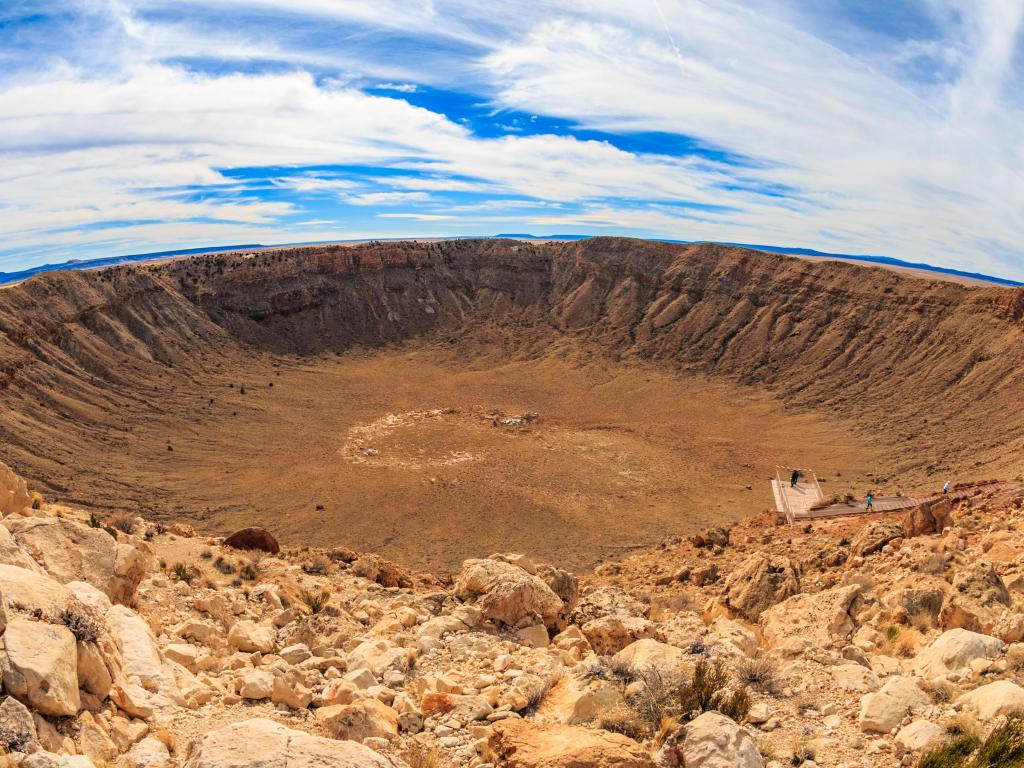 On both routes
Glen Canyon Dam Overlook - This incredible viewpoint offers amazing views of the Glen Canyon Dam, as well as the canyon of the same name and the river flowing through.
Horseshoe Bend - Another fantastic viewpoint where you can see the river making a full turn through the canyon, heading back in a parallel direction.
Little Hollywood Movie Museum - The small city of Kanab is known as 'little Hollywood' due to its history of filmmaking. This museum takes you through this journey.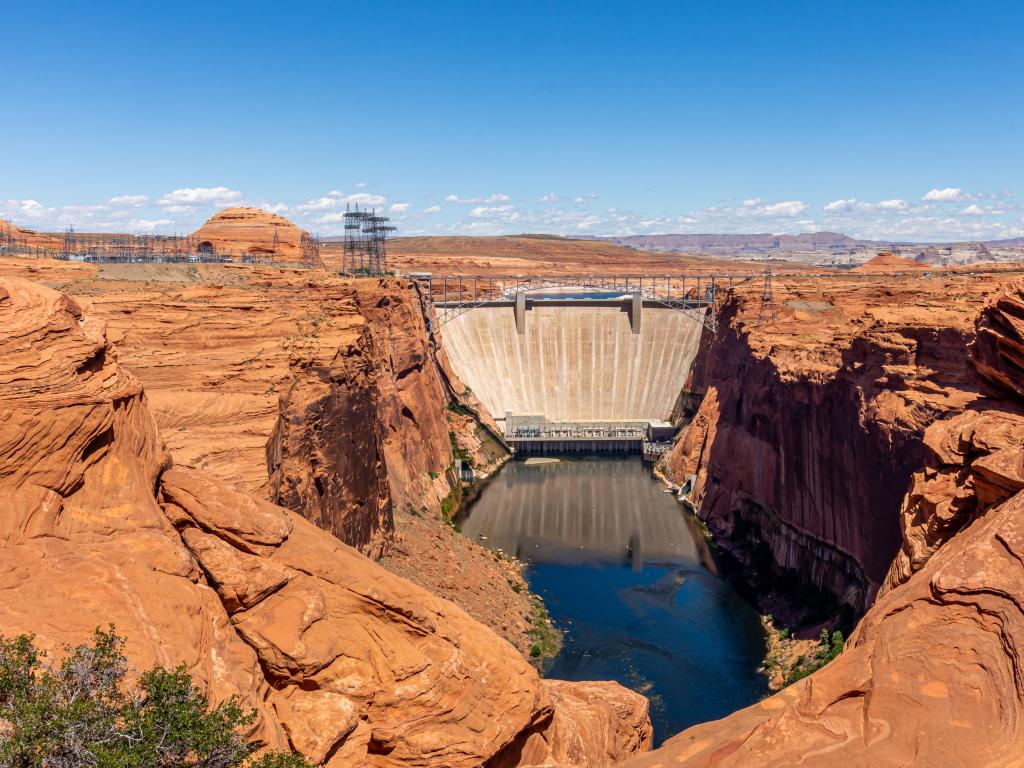 Best time to go on a road trip from Austin to Zion National Park
Although the park is hot in the summer and cold in the winter, Zion National Park really is a year-round destination, with various activities on offer in every season.
Summer is the high season in Zion National Park and you can expect crowds and many people along the hiking trails. That being said, it is a vast area and so if you choose your activities and hikes wisely, you can easily get lost in nature without getting disturbed by other tourists. Temperatures are very hot with an average daily temperature of 88°F and highs of 97°F.
Winter brings fewer crowds and you will have much of the park to enjoy by yourself. It occasionally snows and temperatures average anywhere between 40°F to 60°F with it often dropping below freezing at night.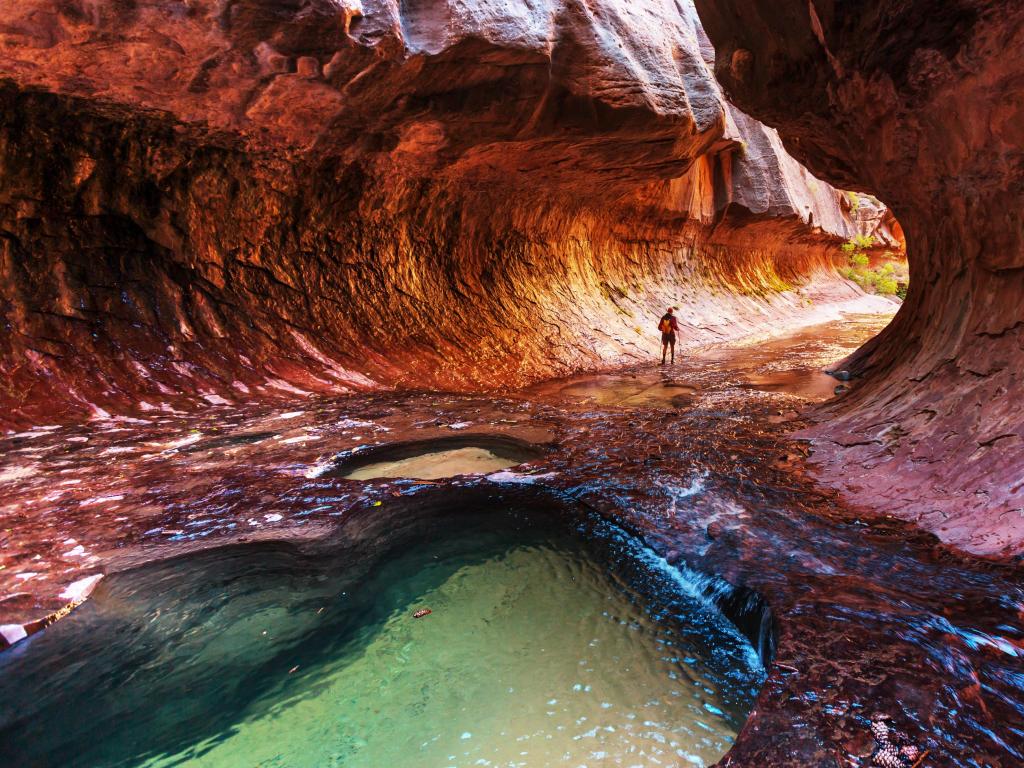 The winters are wet so you will have to bring appropriate clothing. But, as a lot of the viewpoints are accessible by car or only a short walk, you can easily stay dry while exploring the park.
Spring and Fall are the best times to visit Zion National Park, with temperatures being mild and averaging 60°F. There are fewer crowds during these seasons and you can enjoy the mild weather outside without having to fight through the crowds.
Throughout the year, Zion National Park hosts plenty of events and festivities. March sees the Zion Canyon Spring Festival while in April you can enjoy the Zion Canyon Earth Day celebration.
Other events include the Zion Canyon 4th July Parade in July, Zion Canyon Music Festival in September, and the Butch Cassidy 5k/10k in December.