Road Trip from Boston to Cape Cod and Provincetown
If you are looking for one of the most beautiful coastal sceneries in the US, the road trip from Boston to Cape Cod and Provincetown has you covered. This road trip gives you the chance to soak up the sunshine on the beach, hike through natural beauty, and learn all about the sea-faring history of this part of America.
The road trip from Boston to Cape Cod and Provincetown spans 130 miles and will take 3 hours and 40 minutes to drive. Notable stops include Plymouth, Sandwich, Ellisville, and Sagamore Beach as well as Providence and Martha's Vineyard as detours.
Read on for our top tips on the best route, where to stop along the way, the best things to see and do and the ideal time to go on your road trip from Boston to Cape Cod and Provincetown.
How far are Cape Cod and Provincetown from Boston, and how long will the road trip take?
Comparison of road trip routes between Boston and Cape Cod and Provincetown

| Route | Distance | Driving Time |
| --- | --- | --- |
| The Cape Cod Route | 130 miles | 3 hours 30 minutes |
| The Martha's Vineyard Route | 260 miles | 8 hours 40 minutes |
There are two great route options to get from Boston to Cape Cod and Provincetown. The first is the Cape Cod Route. This route will take you 3 hours and 30 minutes, with you crossing 130 miles of distance. While this route is more direct, you miss out on visiting Newport and Martha's Vineyard.
Alternatively, you could take the Martha's Vineyard Route which is significantly longer but crosses the beautiful island of Martha's Vineyard. This route is more scenic, so it does take significantly longer. You can complete this journey in around 8 hours and 40 minutes, crossing 260 miles.
While you could complete this road trip as a day trip, we recommend completing it across two days to be able to fully immerse yourself in the sights and relaxation of this scenic drive.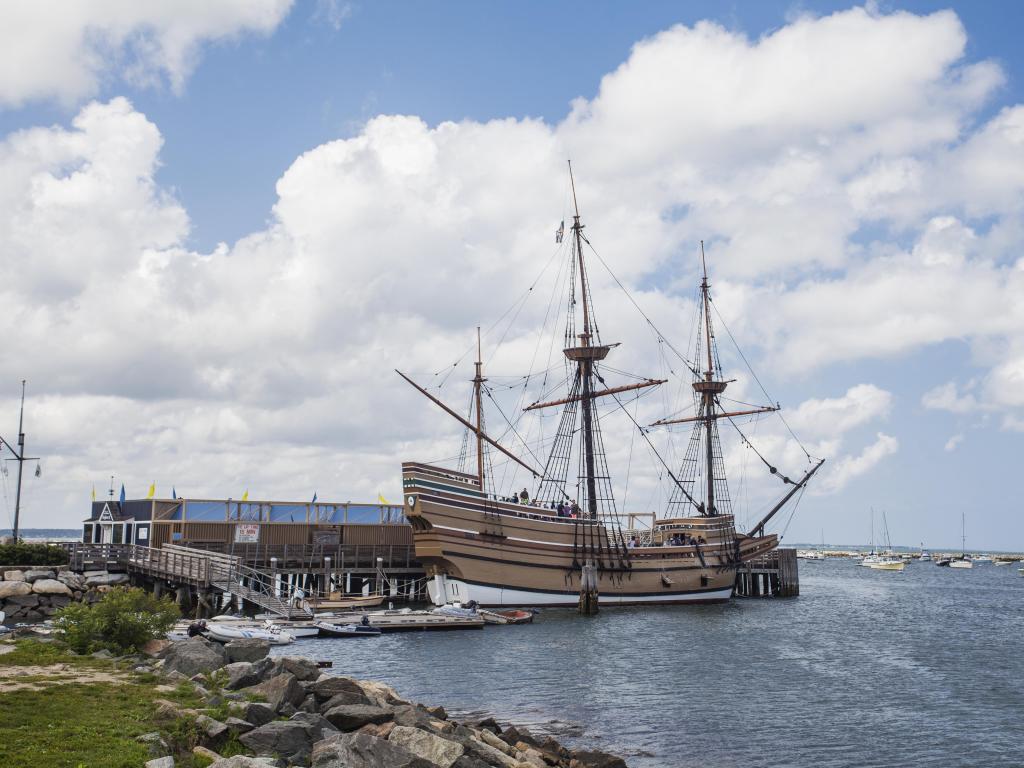 Best road trip route from Boston to Cape Cod and Provincetown
There are a few options for the best road trip from Boston to Cape Cod and Provincetown as it really depends on what road tripper you are. If you prefer a direct route that gets you where you need to be during a day trip, while also having the chance to visit some fun and beautiful sights, our Cape Cod Route is perfect.
However, if you are looking for a scenic adventure which includes sandy beaches and national parks, the Martha's Vineyard route is ideal for your road trip. You will drive through the beautiful cities of Newport and Providence on your way to the sunny Provincetown.
If you would like to experience all the beauty this area has to offer, you can easily follow one route on your way to Cape Cod and Provincetown and the other one on the way back.
The Cape Cod Route
Take Interstate 93 (I-93) S out of Boston and follow it to Quincy Shore Drive, passing Wollaston Beach and Caddy Memorial Park. Turn onto Sothern Artery and then travel through North Weymouth and Hingham.
Once in Marshfield, continue driving south on the MA-3A. The highway will then take you through Duxbury and then towards Plymouth. This is a beautiful coastal section of the drive where you will pass Nelson Memorial Park and Plimoth Patuxet Museums.
Continue to Ellisville, where you will get on the MA-3 S to Bourne and then to Sandwich. Head north-east towards Barnstable until you reach Dennis and drive towards Eastham/Provincetown. From here, simply stay on US-6 E for around you reach Provincetown.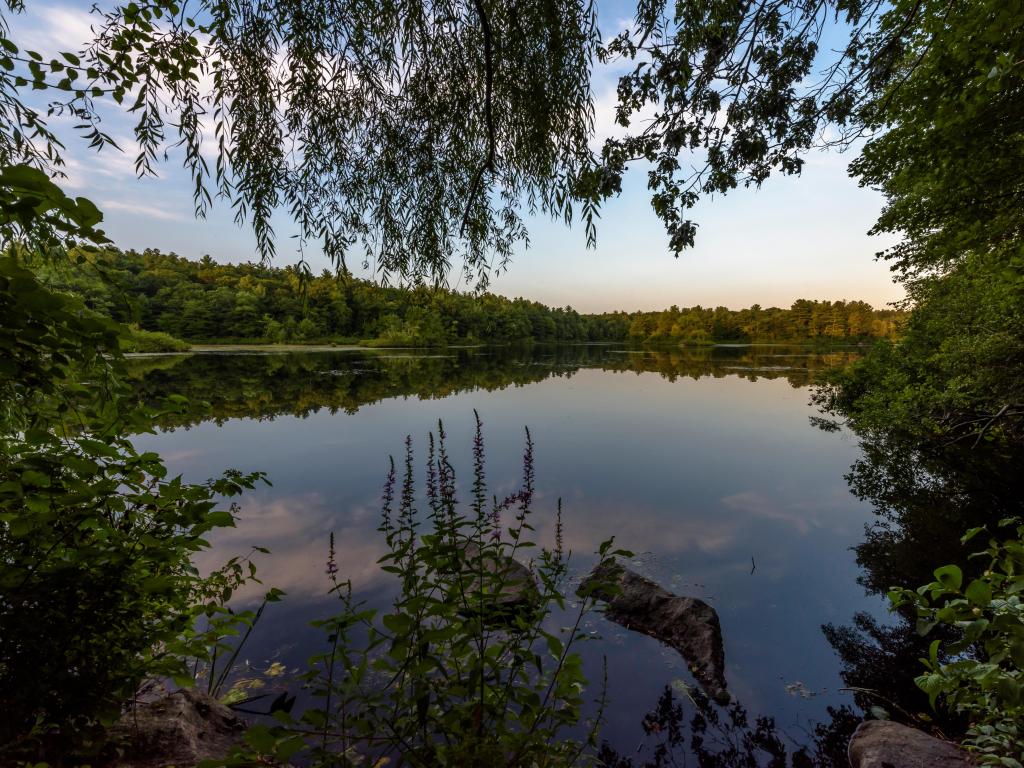 Martha's Vineyard Route
Get on the I-93 out of Boston from Sudbury Street. Follow interstates until you reach the beautiful town of Providence. After you leave this beautiful city, the interstate and state highways will take you to Newport and then to New Bedford.
In New Bedford, take US-6 E to Barstow Street in Mattapoisett to reach Falmouth. Once in here, take Woods Hole Road to Woods Hole Vineyard Haven Ferry. This is where you will take the ferry to the island of Martha's Vineyard.
After spending the night in Martha's Vineyard, once again take Edgartown–West Tisbury Road and Barnes Road to Oak Bluffs. Board the Hyannis–Old Bluffs Ferry to West Yarmouth.
Now you're in West Yarmouth, follow the state highway until you arrive in Harwich. Driving through Chatham, keep travelling north until you reach your scenic destination in Provincetown.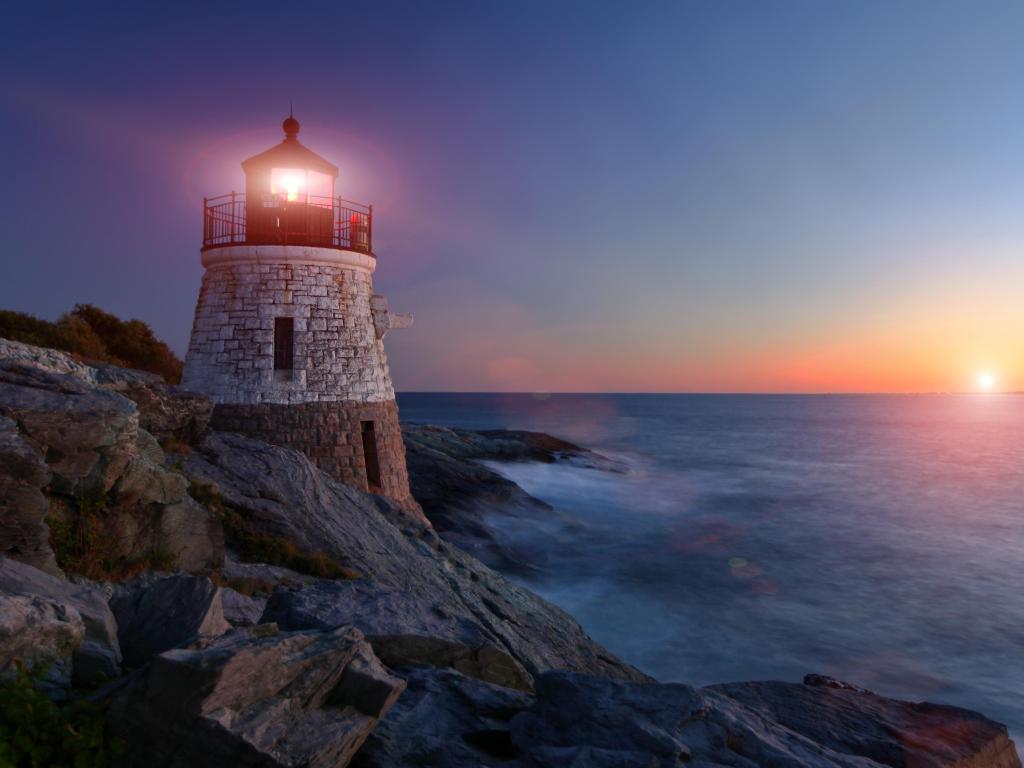 Best places to stop between Boston to Cape Cod and Provincetown
During your road trip from Boston to Cape Cod and Provincetown, you will pass through many stunning towns and cities. To make it easier for you to choose where to stop, you can take a look at our top suggestions below.
Relax in the picturesque town of Sandwich
If you are taking the Cape Cod Route, you will pass directly through the town of Sandwich 2 hours into the drive. While you can make this a day trip, stopping in Sandwich will allow you to enjoy the picturesque views of Cape Cod Bay, as you make the most of this short but scenic journey.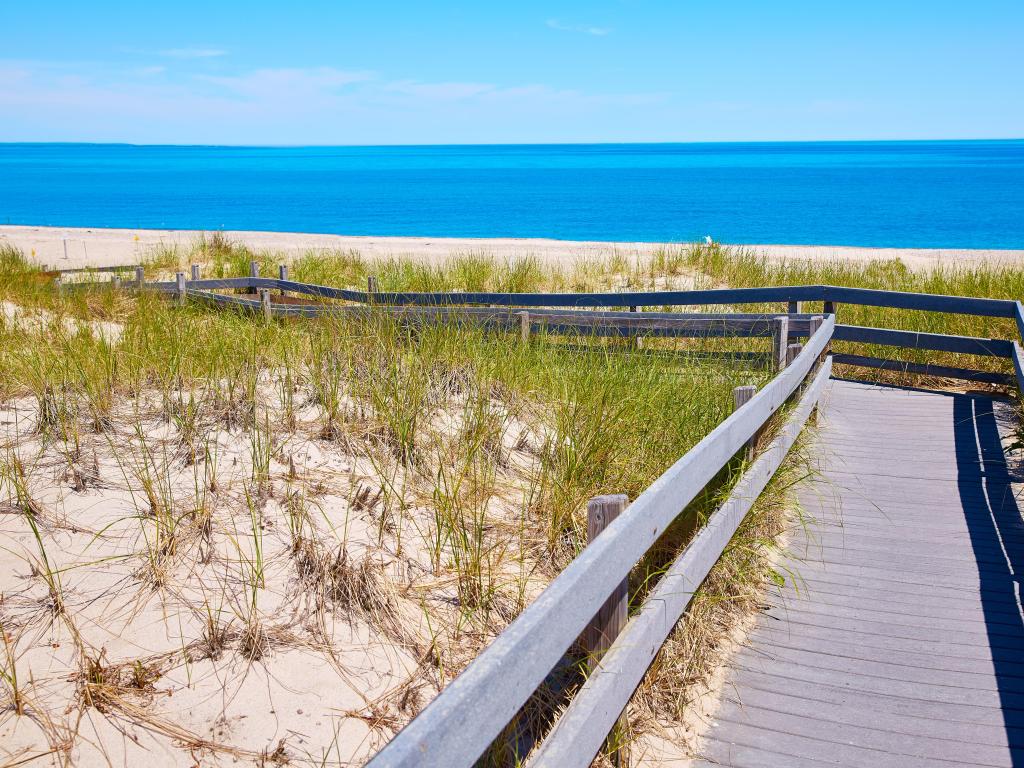 Why not check out the Heritage Museums and Gardens while in Sandwich? 100 acres of beautiful gardens filled with gorgeous flowers, plants, birds and other wildlife, this is one of the top-visited attractions in Sandwich.
You must visit Sandy Neck Beach while you visit Sandwich. This is Sandwich's main beach which has over 4700 acres of beautiful undisturbed coastline for you to relax on. You can go fishing, swimming and paddleboarding on the tranquil waters of Cape Cod.
When staying in Sandwich, we recommend staying in the beautiful Dan'l Webster Inn and Spa. Enjoy a stay in this historic hotel with uniquely decorated rooms and a relaxing, peaceful spa where you can treat yourself to a relaxing massage or beauty treatment.
Take an energizing swim in the outdoor pool and relax in the hot tub after a day on the beach. The hotel has several dining options where the guests can enjoy meals after a long day.
By staying at Dab'l Webster Inn and Spa, you will be in the middle of all the action. This hotel is a short drive from Scusset Beach Reservation, and Sandy Neck Beach. The Sandwich Glass Museum and Heritage Museum and Gardens are around the corner from the property.
A luxurious stay at Martha's Vineyard
If you're taking the more scenic, Martha's Vineyard Route, we recommend staying on the beautiful namesake island, located over halfway and 5 hours into your road trip journey after a ferry ride.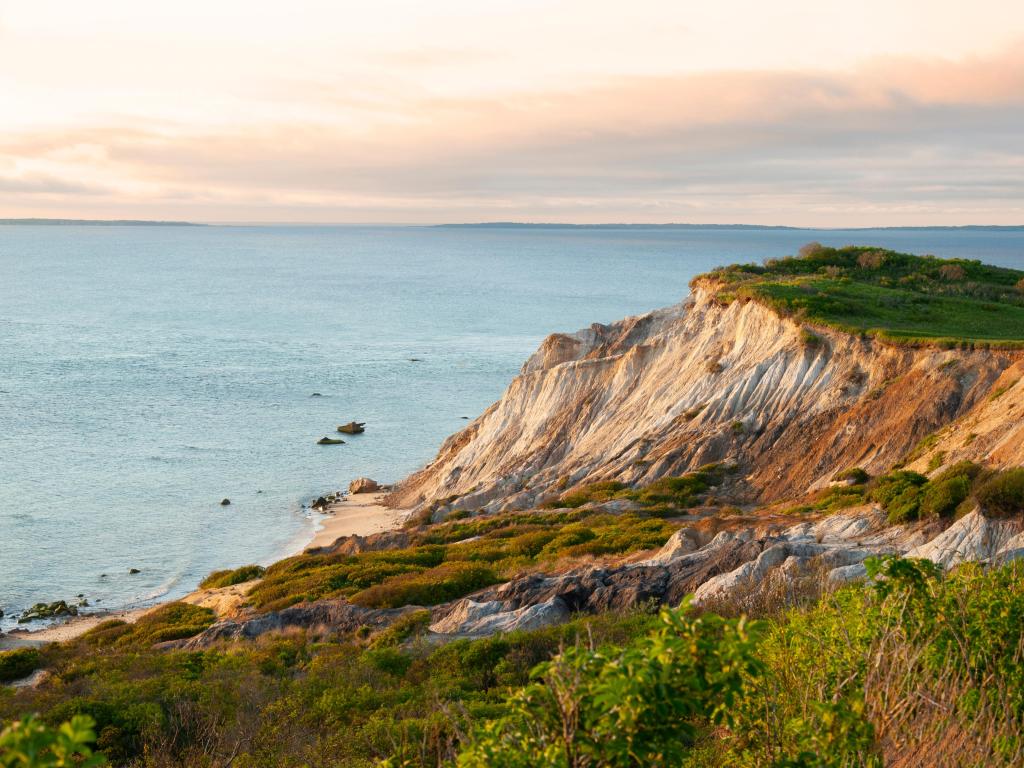 While visiting Martha's Vineyard, the picturesque Katama Beach is a must-see. This is three miles of perfect sandy beach with rough waves to challenge even the best of surfers. This beach is also known for its white sand contrasting with idyllic crystal-clear turquoise water.
Another great attraction to get you outdoors is the Aquinnah Cliffs. These wonderous cliffs are composed of complex layers of different minerals. Enjoy the stunning end result of a hundred-million-year-old work of nature when you visit Martha's Vineyard.
While visiting Martha's Vineyard, we recommend staying at the stunning Lambert's Cove Inn & Resort. After a long day of driving and exploring, relax in this stylish and comfortable 4-star hotel with a relaxing outdoor pool, perfect for a refreshing morning swim.
With a stunning garden and private beach access to Lambert's Cove Beach, this hotel has everything you could need to have a fantastic stay on Martha's Vineyard Island. If you're a fan of exploring, you can also hire a bike to cycle around the quaint pastoral town of West Tisbury.
Where to stay when you reach Provincetown
After a long road trip to Provincetown, treat yourselves to a stay at Brass Key Guesthouse. Enjoy privacy and peace at this adult-only guest house, with spa services and an outdoor pool to relax in.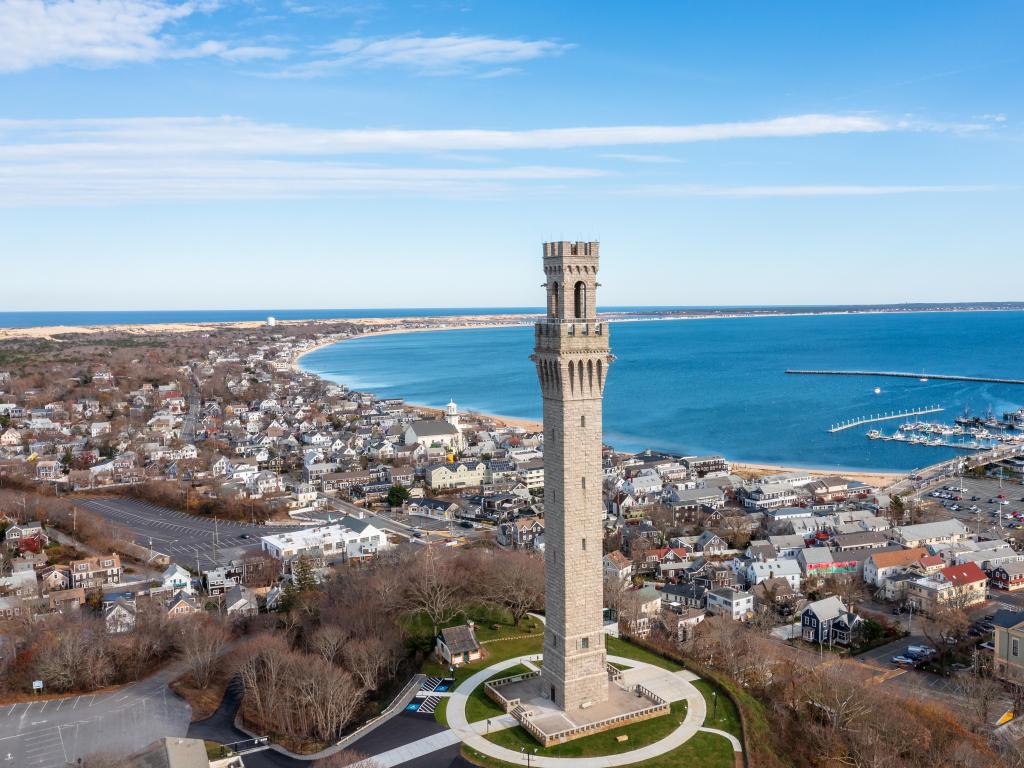 This hotel is a five-minute walk from the center of Provincetown, and less than a mile away from The Pilgrim Monument. Ideal when you have a long day of exploring ahead, guests staying at the Brass Key Guesthouse can enjoy a hot continental breakfast to re-energize before heading out to sightsee.
Wine and cheese are available in the evenings for those of you who are using this road trip as a romantic night away.
Things to see on a road trip from Boston to Cape Cod and Provincetown
No matter which route you choose to take, there are a variety of things to see on your road trip from Boston to Cape Cod and Provincetown. From beautiful beaches to forested national parks, make the most of your day trip by exploring the amazing part of the country.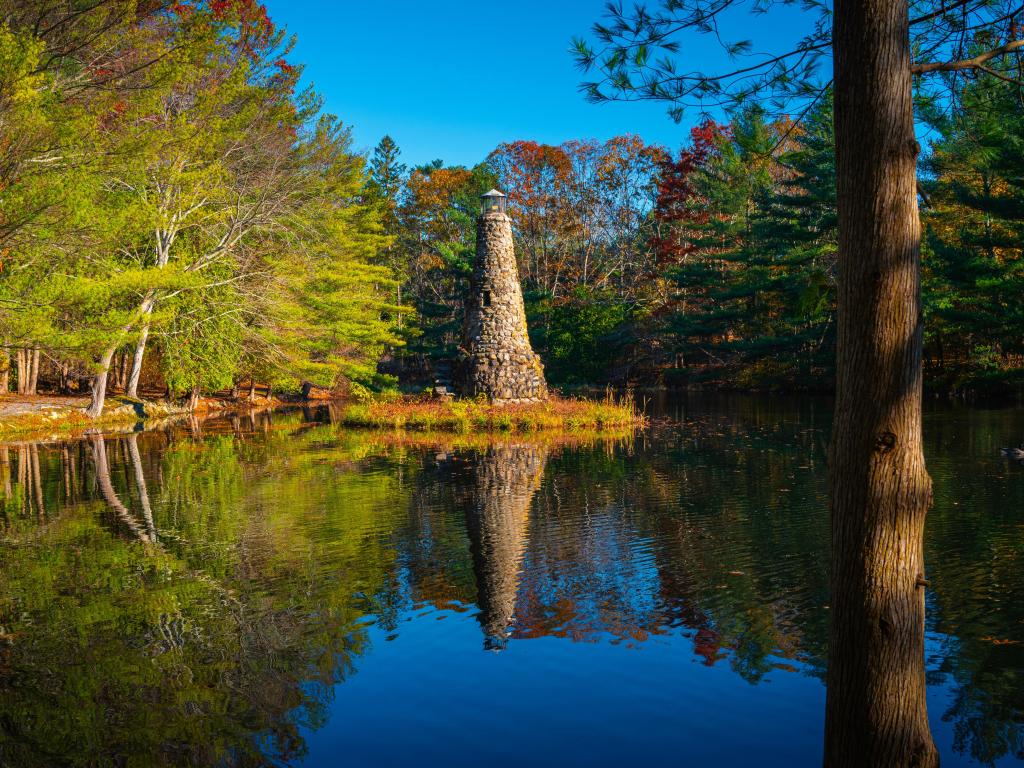 The Cape Cod Route
The United States Naval Shipbuilding Museum - At this interesting museum, you can visit the USS Salem - the world's only preserved Heavy Cruiser. From this visit, you will learn about the history of shipbuilding and the role this ship played during her service.
Wompatuck State Park - Cycle 12 miles of bike trails and many more miles of hiking trails in this beautiful, forested state park. Stretching into four towns, you can enjoy fresh drinking water straight from the source of Mount Blue Spring.
Duxbury Beach Park - A beautiful beach in Massachusetts, this is a family-friendly beach that covers six miles from Marshfield. Enjoy open water swimming, as well as good diving spots for water sports enthusiasts.
Plymouth - Visit Plymouth's namesake rock and visit the site where the famous Mayflower ship landed in 1620 on this road trip. Plymouth is one of the earliest European settlements. Visitors can see a replica of Mayflower II and see how the pilgrims travelled over from Europe.
Historic Patuxet - Continue your pilgrimage through Massachusetts and experience what life was like in a Wampanoag Village. See a Wetu (house) and watch actors work on a mishoon (dug-out canoe).
Myles Standish State Forest - Explore the beautiful forests of Oak and Pine and swim in the sunny lakes hidden in Myles Standish State Forest. This great attraction offers miles of trails for hiking, biking, and horseback riding that take visitors deep into the forests.
Ellisville - Make time to stop in one of Plymouth's oldest fishing villages and see the extensive salt marches that preserve the idyllic and peaceful nature of this quiet town.
Sagamore Beach - A perfect lunch spot, stop here for delicious fish and chips and skimming stones on this picturesque stony beach overlooking Cape Cod Bay.
Sandwich - Spend a day or night here to hike in Scusset Beach Reservation, spend a sunny afternoon on Sandy Neck Beach, and explore Heritage Museum & Gardens.
Barnstable - Visit the other end of the 8-mile-long Sandy Neck Beach which protects the 8000-acre Great Marsh. This is a great canoeing spot where you can try to spot the elusive Blue Heron. If you're visiting in June through September, Barnstable is also a great location for Whale watching.
Mayflower Beach - Take a break from driving in Dennis to visit miles of pristine sandy beaches with a low tide - perfect for wildlife spotting. This is a perfect example of the many beautiful Cape Cod beaches you will see on this road trip.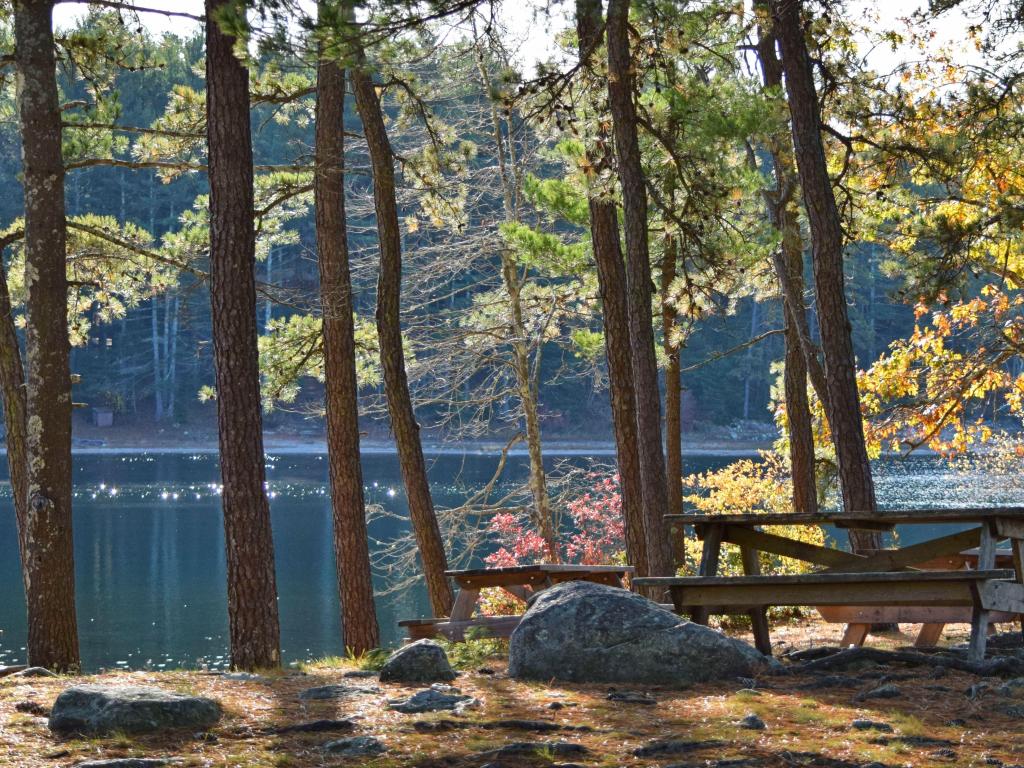 The Martha's Vineyard Route
Quincy Quarries Reservation - Climb up the Quincy Quarries to see colorful graffiti and epic un-spoilt views of Boston as you head out of the city.
Blue Hills Reservation - This park has plenty to offer for avid hikers and casual walkers alike. With 125 miles of forested trails, hike up for more views of bustling Boston.
Providence - Home to Brown University, a prestigious Ivy League College, Providence is a big city with small city charm. Stop here for incredible Italian food in Federal Hill, or vegan food in Pant City, and wander around downtown Providence to see the beautiful and diverse architecture.
Wickford Village - Visit this historic seaside treasure for picturesque streets with totally unique shopping. Originally a fishing village, Wickford has transformed into a waterfront town with irresistible charm.
Gilbert Stuart Birthplace and Museum - Visit the birthplace of one of America's foremost painters, Gilbert Stuart. He is famed for his well-known, unfinished portrait of George Washington.
Jamestown - Swing by Jamestown on this road trip to brush shoulders with some of America's wealthiest. Take your time soaking up the luxurious atmosphere and beautiful architecture.
Newport - Visit the beautiful yacht-filled town of Newport. This gorgeous town is famed for its gilded mansions, some of which are now museums that tourists can visit to enjoy the stunning architecture and interiors.
Newport Car Museum - Celebrating all things cars, this is a must-see stop for motor enthusiasts. With almost 100 cars, this museum celebrates the art and history of cars.
Headwaters Conservation Area - Get out of the city and hike through 100 acres of open space. Get lost in nature and enjoy the impressive array of natural habitats at this beautiful park.
New Bedford - A famous old Whaling port, New Bedford is a proud sea-faring town. A great lunch spot, stop here for incredible views and fresh seafood as you travel through Bristol County.
Mattapoisett - Stop in this small town to snap some photos of the iconic Ned's Point Lighthouse. You can also soak up the views of beautiful Buzzards Bay.
Cape Cod Fairgrounds - Stop off here for some good old-fashioned fun! Fairground rides, farm animals, sweets and treats, this is a great stop for a few hours of fun and laughter.
Martha's Vineyard - Stay the night on this gorgeous Atlantic island to enjoy white sandy beaches, historical museums, and incredible seafood.
Cape Cod Central Railroad - Explore the coast of New England with this heritage railroad. You will pass through marshes, cranberry bogs, dunes, and just overall beautiful natural scenery.
Whydah Pirate Museum - Discover the world's largest pirate collection recovered from a shipwreck at this entertaining museum. You can learn all about the 18th-century ship used for piracy and in the slave trade.
West Dennis Beach and Sea Street Beach - You can enjoy a sandy day out on either of these South Yarmouth beaches. As the road trip makes its way around Cape Cod Bay, you will have the opportunity to visit many stunning beaches.
Chatham - Welcome to one of the most beautiful towns on Cape Cod! Spend some time in this beautiful town; enjoy the calm beaches of Cockle Cove or go bird watching in the Monomoy National Wildlife Refuge.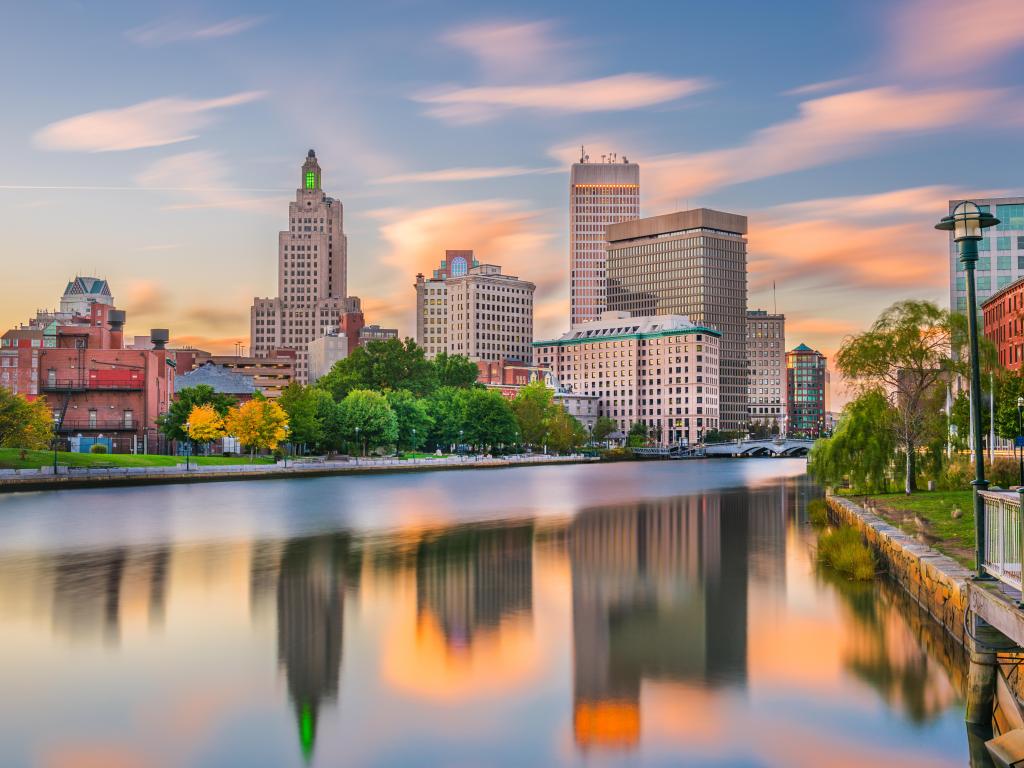 On Both Routes
Nickerson State Park - Enjoy the stunning natural scenery in this expansive state park which covers pine forests and kettle ponds. This is a wonderful park to get out into the great outdoors; hike or bike to make the most of it.
Marconi Beach - While on this road trip, you can also visit beaches on the other side of the peninsula and swim in the bracing North Atlantic Ocean or sunbathe on this perfectly sandy beach.
Cahoon Hollow Beach - This is another beautiful beach on this stunning coastline which looks out on the wild Atlantic Ocean.
Cape Cod National Seashore - Forty miles of pristine sandy beach, this protected national park also covers marshes, ponds, and woodlands. This park encompasses six swimming beaches and picturesque lighthouses.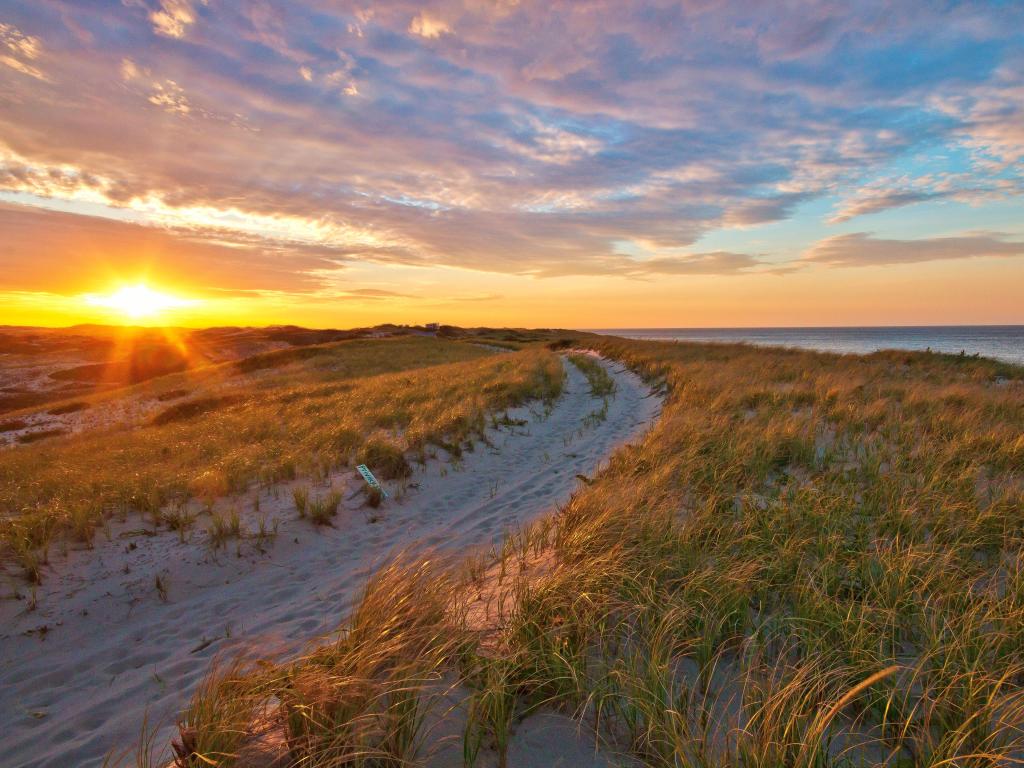 Best time to go on a road trip from Boston to Cape Cod and Provincetown
One of the biggest decisions to make when planning a road trip like this is what time of year should we visit. Luckily, Provincetown is a year-round destination. Like most places, some attractions and restaurants may be closed in the winter due to the large seasonal population.
The town can seem quiet in the off-season, but this just allows you more time and flexibility to visit the most popular attractions.
In the summer, the population of this seaside town explodes to 60,000. The town is filled with parties and parades soaking up the summer sun and ocean waves. Great for sun chasers and beach lovers, daily temperatures in the summer average around 75 degrees Fahrenheit.
Winters here can be cold, windy, and even snowy, with temperatures averaging around 40 degrees Fahrenheit. The town empties over the winter and some things will be closed during this part of the year. However, the hotel prices will be much more affortable.
Spring is a fantastic time to visit Provincetown. To benefit from the comfortable heat while beating the crowds, visit Provincetown in the spring. You may also be able to snap up some deals on hotels and attractions if you visit at the start of the season.
Fall also sees temperatures in the mid-50s, and Provincetown settles into a more laid-back atmosphere, making it the perfect location for an autumnal road trip.
Most importantly, whale watching is also possible in both spring and fall. As temperatures increase in spring, the whales migrate to Massachusetts and remain here until the weather gets cold in October.
Provincetown is known for being an LGBT+ capital with a program of inclusive events planned throughout the year. Particular highlights are the Revolution: Independence Week which is in early July and the Provincetown Carnival which takes place in mid-August.