Road Trip from Boston to Maine
Maine is known for its beautiful coastline and rugged inland scenery dominated by rivers, lakes and mountains. It's a great place to enjoy the great outdoors and is home to some of the country's oldest towns, where you'll find historic squares and quaint redbrick homes on the seaports looking out across the Atlantic.
The 960-mile road trip from Boston to Maine and back takes about 22 hours to drive. On the coast you'll pass York, Portland, Bar Harbor and Acadia National Park; then head inland to Bangor, Moosehead Lake, Greenville, Kennebec Valley and Bigelow Preserve.
This is a trip full of big, beautiful views, magical scenery and charming towns - the perfect ingredients for an unforgettable road trip. So, continue reading on the learn about the best route, our recommended stop and the best time to set off on this scenic adventure.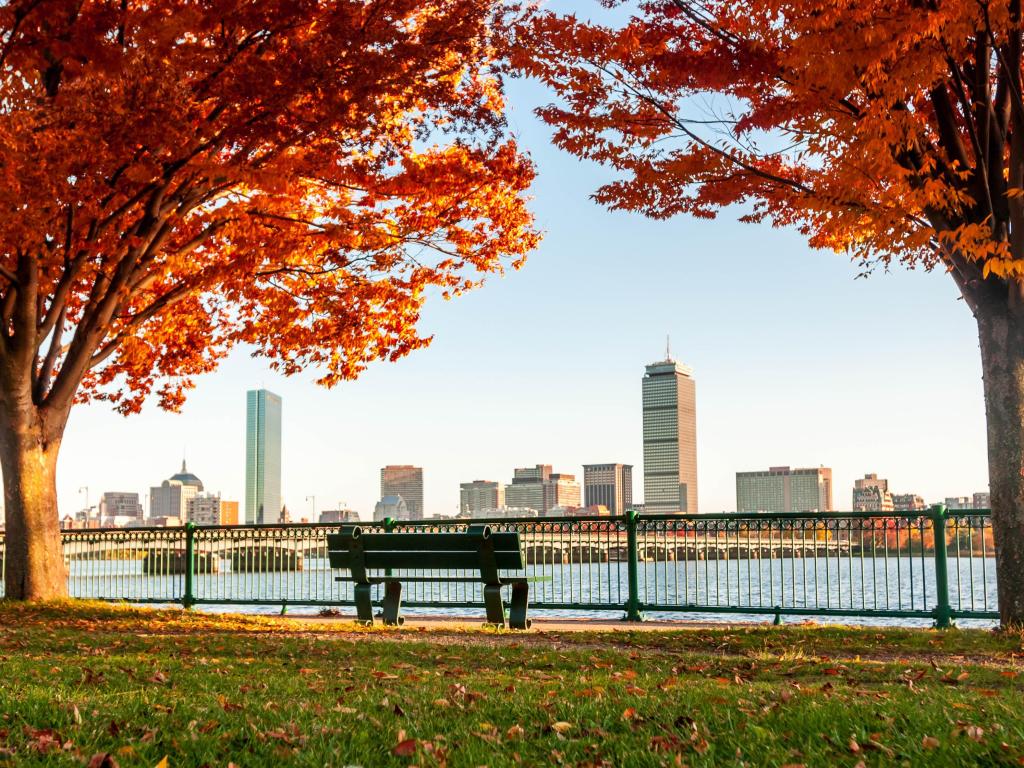 How far is Maine from Boston, and how long will the road trip take?
Boston and Maine are near neighbours, and you can make the 70-mile drive from Boston to York, Maine in just over an hour.
Once you've arrived in Maine, you'll have longer distances to cover, but fortunately, there's so much to see and do in the Pine Tree State that you'll find something to break up even the longest of stretches on your trip.
We'd recommend following our suggested round trip route below, which hugs the coast northeastwards as far as Acadia National Park then swings inland through Bangor to explore Baxter State Park, the Kennebec Valley and Maine Highlands.
This sets you up for a 775-mile circuit around the state which takes around 19 hours of driving, plus a little extra if you're making any extra side trips off our main route.
Add in a couple of hours for the drive back from Sebago Lake to Boston, and you're looking at a total of 22 hours 30 minutes for the complete, 960-mile road trip.
Distances and driving time from Boston to popular destinations in Maine

| Destination City/Landmark | Distance | Driving Time |
| --- | --- | --- |
| York | 70 miles | 1 hour 10 minutes |
| Acadia National Park | 370 miles | 8 hours 35 minutes |
| Greenville | 590 miles | 14 hours 20 minutes |
| Sebago Lake | 840 miles | 20 hours 20 minutes |
To help you with your route planning, we've provided more detailed driving distances further down the page.
You could drive the loop around Maine in just a couple of days if all you want is some great photographs and a lobster roll or two. But with so much to see, and hundreds of half or full-day hikes to choose from, we'd recommend taking at least a week.
Best road trip route from Boston to Maine
If you follow the interstate north from Boston, one of the first places you'll pass in Maine is York. Made up of four distinct towns – you might hear it called 'the Yorks' – it's the perfect place to begin your tour around Maine.
With some of the best Maine Beaches right here, offering long stretches of sand, beautiful bays and stunning ocean views, where better to exit the interstate and begin to explore?
From here, you'll follow the Atlantic coast right the way to Acadia National Park, close to the Canadian border. This is a rugged and beautiful stretch of coast, so take your time exploring the inlets and islands that stretch out to the south of the highway.
Heading inland from Bar Harbor you'll soon find yourself driving through Maine's beautiful interior, where rivers, lakes, forests and mountains create a beautiful backdrop to any trip.
After passing Bangor and Medway you can enjoy views of Mount Katahdin, Maine's highest peak, and endless opportunities to enjoy outdoor pursuits, before the road starts to swing south again through the Maine Highlands and Kennebec Valley, passing Kokadjo and massive Moosehead Lake.
The circuit ends at Sebago Lake, one of the state's most popular destinations, and from here it's just a couple of hours back down the interstate to return to Boston.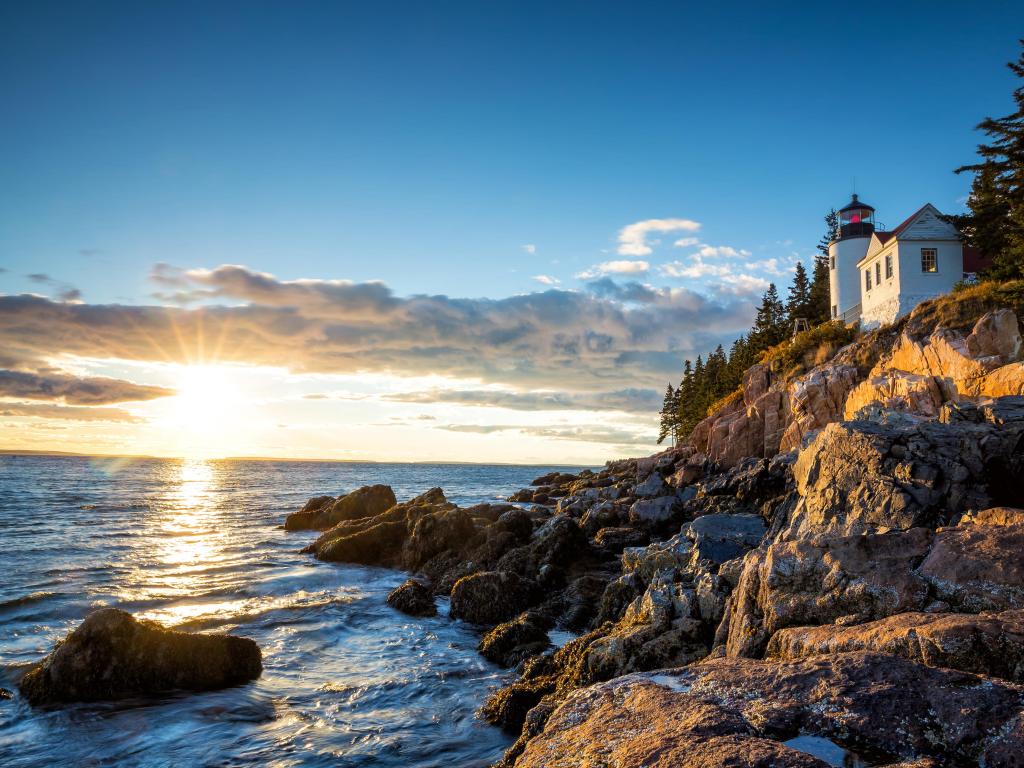 Road trip route from Boston to Maine: a round trip of the state
Follow Route 1 out of Boston then join the interstate heading north. Seeing as it's only a short drive up to Maine, you might like to detour towards the coast to visit Salem, Gloucester or Rockport along the way.
Otherwise, simply follow Interstate 95 (I-95) North all the way across Massachusetts and New Hampshire until you reach Portsmouth, where the Piscataqua River Bridge takes you into Maine.
Road Trip Route from Boston to Maine
Part 1: drive from York to Ellsworth - a road trip through Greater Portland, Mid-Coast and Downeast
Once you've crossed over from New Hampshire to Maine, make your way north eastwards, keeping the coast on your right-hand side. You can either use the interstate here or hop onto the highway if you want to explore at a more leisurely pace.
You'll pass York and Kennebunkport before arriving in Portland, from where you'll take Route 1 to skirt around beautiful Casco Bay.
The highway then takes you on through Wiscasset and Thomaston. You might like to explore the miles and miles of rivers, inlets and rugged coast that sits to the south of the highway here, including Harpswell, Popham Beach, Georgetown Island and Boothbay Harbor.
Carrying on along Route 1 around Penobscot Bay, turn right when you reach Ellsworth and follow the road toward Trenton, where you'll cross the Mt Desert Narrows. Spend some time exploring Acadia National Park and Bar Harbor before returning along the route back to Ellsworth.
If you have a little extra time, detour east along Highway 1 here towards Schoodic Head, where the National Scenic Byway offers more fantastic views. Otherwise, simply continue up the highway from Ellsworth as far as Bangor.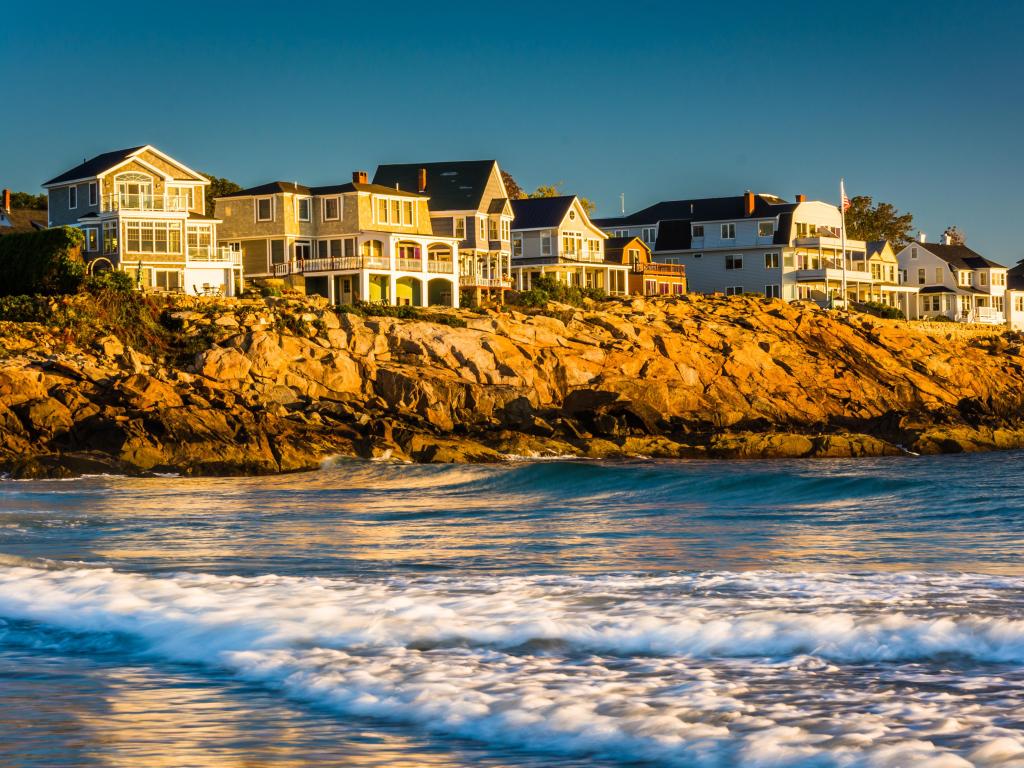 Part 2: drive from Bangor to Greenville - a road trip through the Maine Highlands
From here, rejoin the interstate and follow it north as it runs parallel to the Penobscot River up to Medway. Then turn off the interstate and head towards Millinocket.
At East Millinocket you can take a detour up to North Penobscot to pick up the Katahdin Woods & Waters Scenic Byway, or continue on past Millinocket and join Golden Road on the narrow strip of land that separates Millinocket Lake and Ambajejus Lake.
Golden Road skirts the edge of Baxter State Park, where you'll find Mt Katahdin and dozens of amazing trails. Continue along Golden Road as it starts to swing back south again. When you reach Caribou Lake, which will be on your right, take the left fork and head towards Kokadjo and Greenville.
Here, you can spend some time exploring Moose Lake Scenic Byway, the Maine Highlands and the northern part of the Kennebec Valley, before continuing south through Abbot and Kingsbury Plantation to reach Bingham.
Part 3: drive from Kennebec River back to Casco Bay - a road trip through the River Valley and Lakes & Mountains
Follow the highway south the short distance to Solon, then turn onto Route 201A to cross the Kennebec River before taking Cross Town Road as far as Embden. Here, take Wentworth Road onto ME-16, continuing straight ahead onto Long Falls Dam Road where ME-16 swings round to the west.
With Gilman Pond to your left, continue on Long Falls Dam Road until you reach the southern tip of Flagstaff Lake. Here, you can park up to explore the trails of Bigelow Preserve or continue further along East Flagstaff Road to enjoy views out across the lake.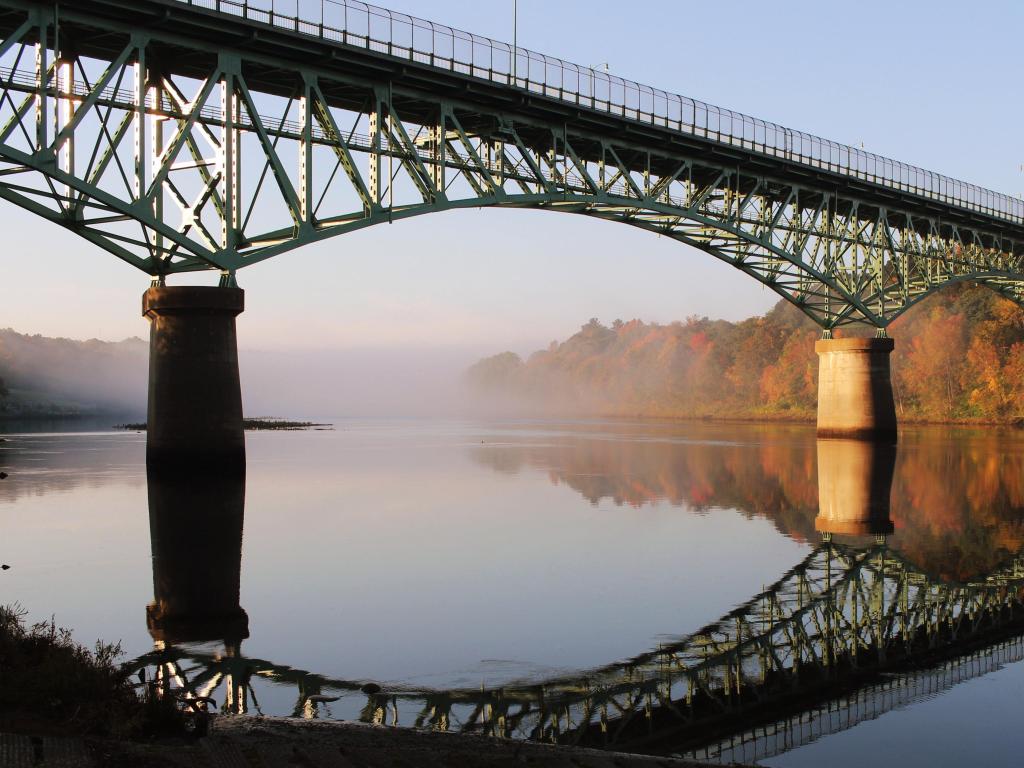 When you're ready to move on, return back along Long Falls Dam Road, turning right to briefly follow ME-16 west before taking a left onto the road to New Portland.
Next, head south past Farmington, Livermore Falls, Mechanic Falls and Casco, before continuing south onto Frye Island to enjoy some time on the shores of Sebago Lake.
From here, return to the highway, following Route 302 south as far as Riverton, where you'll rejoin I-95 to begin your drive back to Boston.
Best places to stop between Boston and Maine
Maine offers a fabulous blend of activity and relaxation, and there are some fabulous hotel stops along the route which let you combine the two seamlessly.
Watch the sunrise over the Atlantic in Bar Harbor
Around 8 hours and 30 minutes out of Boston, Acadia National Park is one of the must-see stops along this route and spending a night or two in nearby Bar Harbor gives plenty of time to enjoy the national park.
Ascend Cadillac Mountain, the first place in the US to see the sun each day (for 6 months of the year), or head to Thunder Hole where waves break impressively into a natural inlet. It's also a great place to see Maine's stunning fall foliage on display.
As well as being a gateway to Acadia National Park, there are great food and drink options in the town of Bar Harbor itself, and beautiful views out over the ocean. If you're lucky you might be able to see whales feeding in the bay here in summer.
One of the top hotels in town is Queen Anne's Revenge, a beautiful location known for its fantastically welcoming team, and for the immaculate design that runs through every room. You can really immerse yourself in the coastal vibe here.
The town was once a summer getaway for wealthy city dwellers, who helped to shape the streets into what you'll see today - take a walk through West Street Historic District to get a feel for the legacy they left behind.
Immerse yourself in nature in Greenville
On the northern stretch of the route, with around 8 hours of driving between here and Boston, Greenville is the perfect place to base yourself for a few days to explore parts of the Maine Highlands and Moosehead Lake.
Moosehead Lake is the biggest in Maine, surrounded by exquisite countryside views, and it offers some unique recreational activities. While you're here you should definitely take a moose-watching tour, where you'll try and track down these gentle giants in the wild.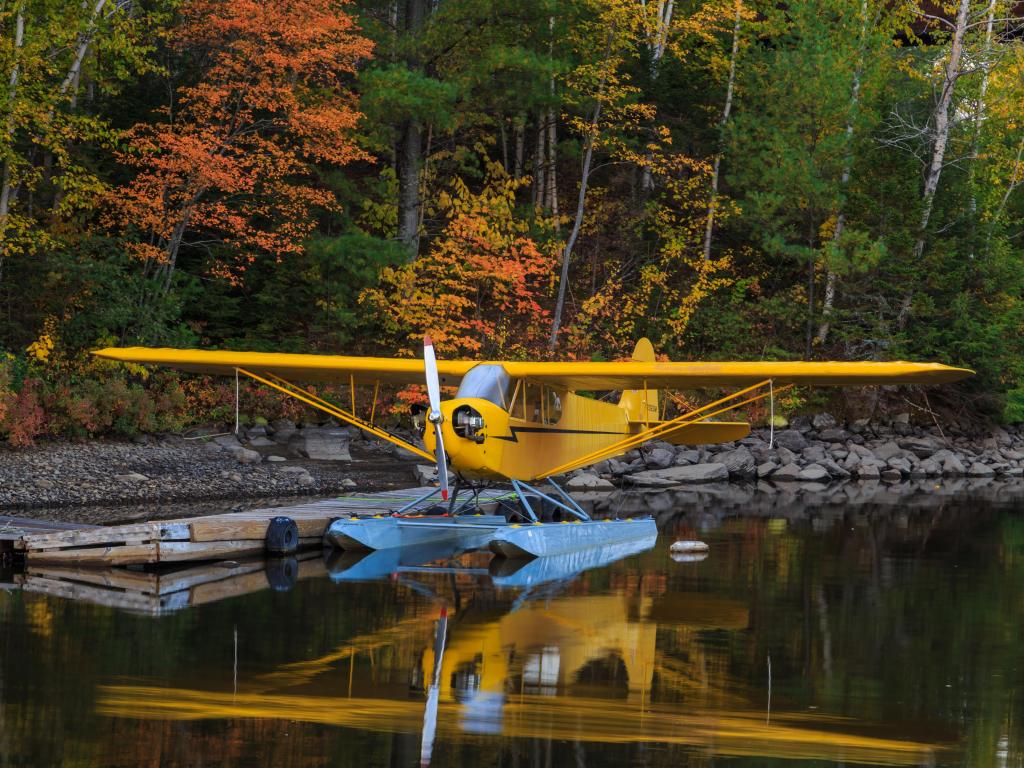 You can take a steamboat cruise on Moosehead Lake to enjoy the views from a different angle, or enjoy boating, kayaking and fishing. Or head a little further afield to explore the Kennebec Valley, where you can go white water rafting or hike up to Moxie Falls.
If you're looking for a luxury retreat as you near the end of your road trip, the kind with sweeping lake views, immaculate design, unbeatable service and an excellent restaurant, then look no further than the Lodge at Moosehead Lake. A stay here really is an experience in itself.
With a luxury price point and a minimum stay requirement, this won't suit every traveler's road trip plans, in which case there are other options in the area.
As an alternative, we'd suggest Leisure Life, Greenville, which is spacious, and easy to get to from the highway. You can enjoy amazing views right out of the hotel and relax after a long day of hiking and driving in the hotel's bar or by the pool table.
Check out the coastal vibe in Portland
Portland is known for its cobblestone streets, red brick townhouses, Victorian mansions and thriving arts scene, so although you might have passed through Portland at the start of your trip, it's also a great place to spend a final night or two before returning to Boston.
Head to the Portland Museum of Art to catch a really varied and thought-provoking selection of exhibitions, ranging from contemporary pieces to works by some of art history's biggest names.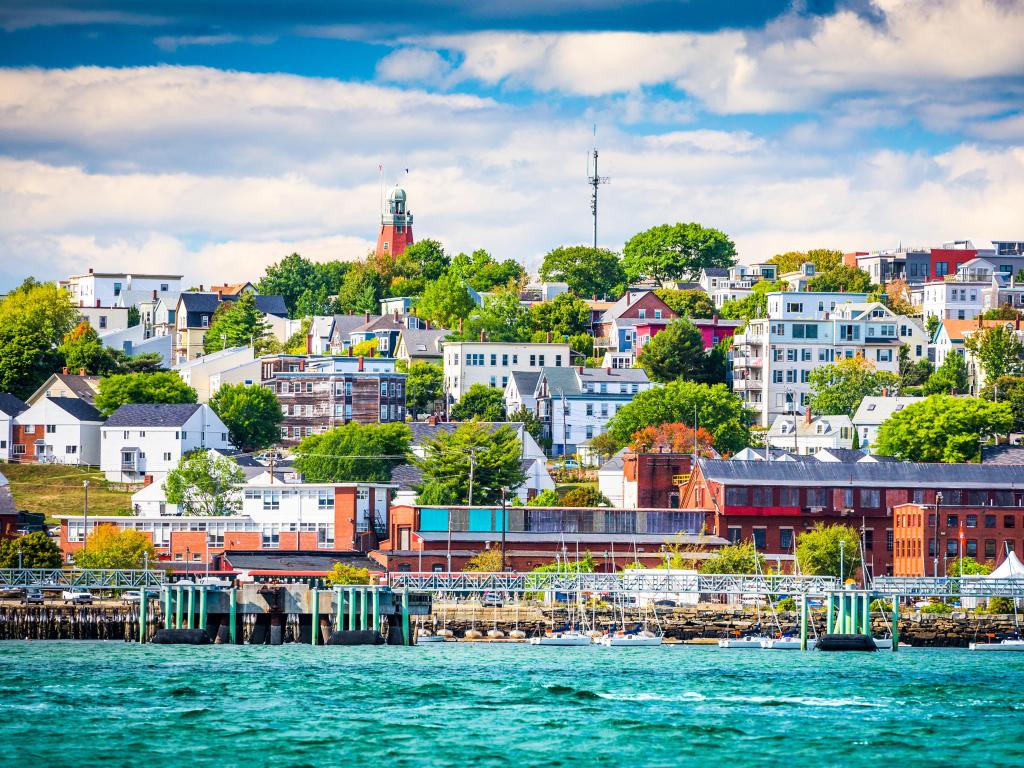 Then head to Portland Observatory. This ocean-facing signal tower is a reminder of Portland's maritime past, and all through summer you can take a guided tour to learn more about the city's ocean-going heritage.
Finally, before you hit the road, make your way to Old Port to enjoy the view out across the water one last time while you watch fishing crews haul in their catch of lobster.
Centrally located Portland Harbor Hotel stylishly combines modern design with hints of coastal chic, and it's a beautiful place to stay while you're in town.
There are some great cafes, bars and restaurants in the immediate vicinity, and most of Portland's main attractions are within walking distance.
Things to see on a road trip from Boston to Maine
You'll be spoilt for choice as you make your way around Maine - whether your preference is to spend time in the city, on the coast or exploring the great outdoors, there's something for everyone on this trip.
We've picked out some of the highlights, but one of the real pleasures of this route is the chance to stop off and explore the small towns, coastal scenery and big views that you happen upon as you drive.
Things to see on the way to Maine
Salem, MA - Known for the infamous 17th century witch trials, this waterfront town has a number of witch-related museums and tours. You can also visit the Peabody Essex Museum, explore Salem Maritime National Historic Site, or head to the historic House of Seven Gables.
Portsmouth, NH - The oldest settlement in New Hampshire is still a working port with plenty of history on display. Tour the historic houses, Strawberry Banke living history museum, or Seacoast African American Cultural Museum for different perspectives on the coast's history.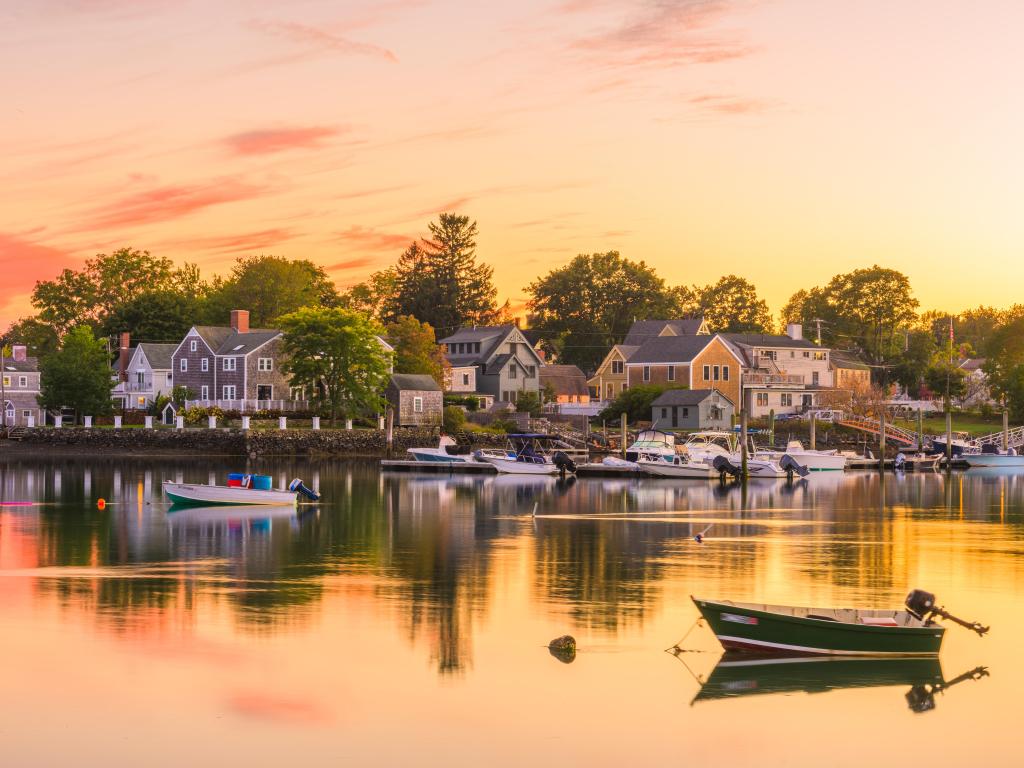 Things to see around Maine
York - Head to York Beach for saltwater taffy and classic seaside fun, with Fun-O-Rama arcade, quirky cafes and live music, all looking out over Maine's beautiful sandy beaches and bays.
Ogunquit - The town's name means 'beautiful place by the sea' so enjoy a coastal walk or a stroll along one of America's best beaches. Ogunquit Museum of American Art is set in beautiful gardens by the sea (summer opening only).
Broad Cove Reserve - Follow one of the walking trails here to enjoy more sea views from the sandy beach.
Popham Beach State Park - Where the Kennebec River meets the sea you can swim, surf or stroll along the shifting sands at this popular state park. At low tide it's possible to walk out to nearby Fox Island, but keep an eye that the tide doesn't cut off the causeway before you return.
Bath - Just outside the 'city of ships' you'll find Maine Maritime Museum, or enjoy a fabulous seafood meal in one of the redbrick downtown restaurants.
Reid State Park - Seabirds come here to nest in the dunes, rocks and sweeping sandy beaches which are also a fabulous place for humans to enjoy the coastline or hike up the headline for views across the park and islands.
Augusta - Visit the Maine State Museum or the Old Fort Living History Museum to find out about the past of Maine's capital city. Then follow the River Rail Trail along the Kennebec River to enjoy beautiful views across the valley.
Kennebec Valley - If you have time to take a fabulous scenic detour, head north from Augusta through Skowhegan, taking your time to explore the lower reaches of the stunning Kennebec Valley.
St George Peninsula - Turn south from Thomaston to explore more of the region's rugged coastline, try some local wine, or visit the quirky Owls Head Transportation Museum.
Rockland - Best known as the home of the Maine Lobster Festival, Rockland is also a meeting point for the arts, with Center for Maine Contemporary Art and the North Atlantic Blues Festival.
Belfast - With its independent galleries, live music and Arts Walks, historic Belfast can be a buzzing place to stop if you're passing through in summer.
Penobscot Narrows - Where the road crosses the Penobscot River, a massive observatory tower offers unbeatable views along the river and out to sea.
Bar Harbor and Acadia National Park - This rugged and wild national park offers fabulous views out to sea, and is a haven for wildlife. It's one of the most-visited national parks in the country.
Bangor - Stephen King is one of Bangor's most famous residents, and fans can take a tour of places that have inspired his work. Maine Forest and Logging Museum give a great insight into one of the state's most significant industries. And Cole Land Transportation Museum is a great place for fans of motor vehicles.
Baxter State Park - To start exploring the Maine Highlands, head up to North Penobscot or Mount Katahdin for hikes to suit different abilities, as well as kayaking, fishing and climbing.
Kokadjo - You'll find more moose per square mile in the area around Kokadjo than anywhere else in Maine – head to this tiny town's Trading Post for directions.
Greenville - Follow the scenic byway along Moosehead Lake, where you can also hike or take a boat cruise.
Bingham - Explore the northern part of the beautiful Kennebec Valley with a detour up Route 201 towards The Forks and Moxie Falls, Maine's highest waterfall. There's also great white water rafting on the river here.
Bigelow Preserve - Faced with the proposed development of a huge ski resort here in the 1970s, Bigelow Preserve was established to protect this undeveloped area, where you can follow the northern part of the Appalachian Trail.
Sebago Lake - This large lake is a popular destination for boating, kayaking, swimming and hiking and fishing – it's more than 300 feet deep which creates ideal conditions for trout.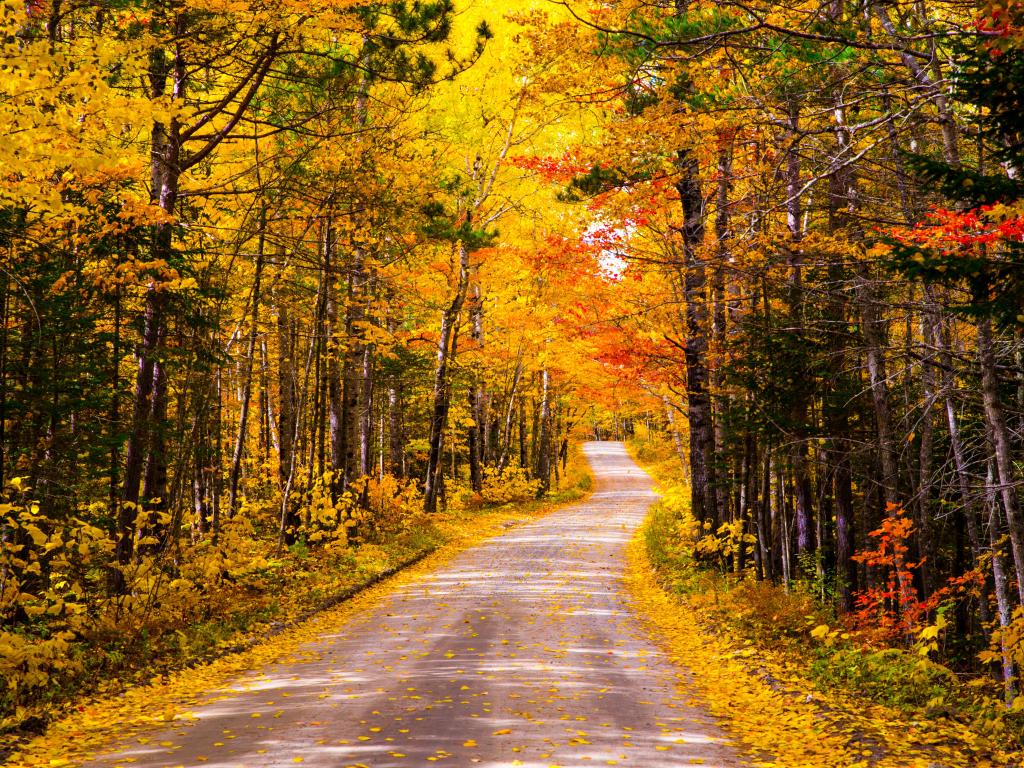 Best time to go on a road trip from Boston to Maine
It's possible to visit Maine all year round, but depending on when you travel you'll have a very different experience. You'll encounter snowfall and freezing temperatures through the winter compared to temperatures in the 80s in summer!
With summer temperatures like these, you have the perfect set-up for hiking and outdoor activities, and although the ocean never gets very warm (60 degrees Fahrenheit), you'll still see people braving the chill.
You can also join in with the celebrations at Maine's many summer events, which include Old Port Festival in Portland in June, and Maine Lobster Festival in Rockland in August.
Don't expect to have the place all to yourself if you visit in summer though - Acadia National Park is one of the most-visited in the US, and popular towns and cities can get pretty crowded in August.
Also, keep in mind that conditions can change quickly along the coastal stretch of this route. There's a chance of big thunderstorms through summer, and it rains often (though usually not heavily).
Jumping forward a few months, there's no avoiding the fact that Maine is very cold in winter. Temperatures on the coast can reach the high 30s Fahrenheit at times, but inland you should expect temperatures below freezing, and as low as 10 degrees Fahrenheit, from December to January.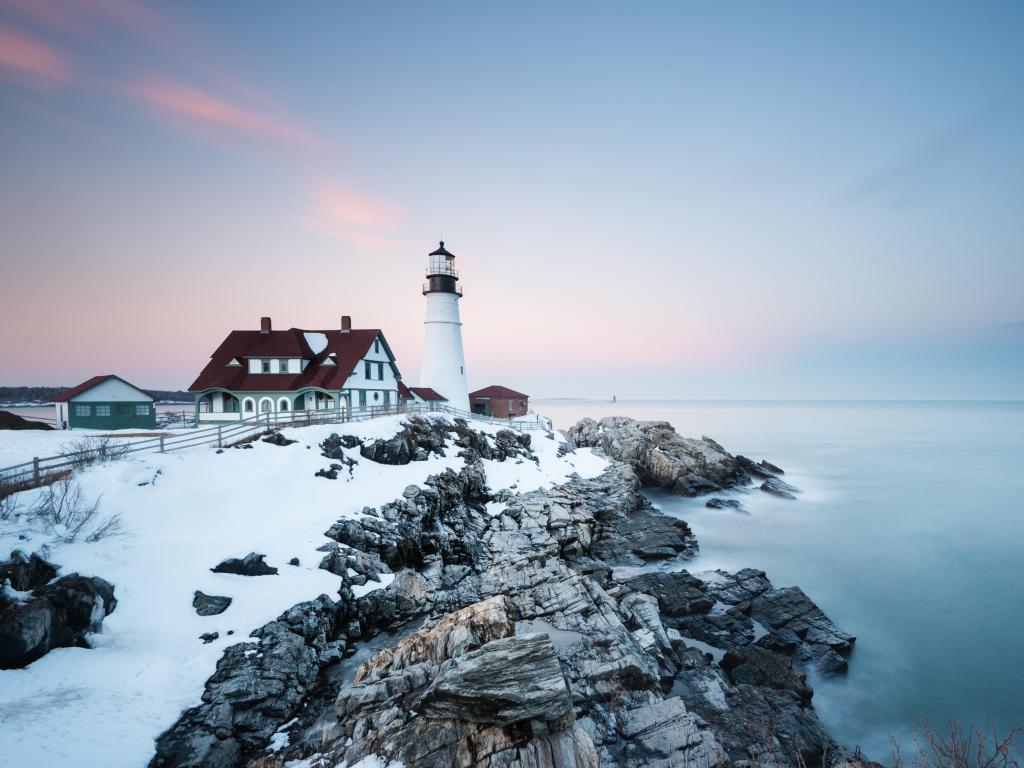 However, all that snow means that Maine is all set up for winter sports. With downhill skiing in the mountains, Nordic skiing through the forests, snowmobile trails and ice fishing, Maine can be a fabulous winter destination. However, some businesses do shut up for the winter, so it pays to be flexible.
Roads are kept as clear as possible, but always drive with the freezing conditions in mind, and apply extra caution if you're used to driving in more temperate parts of the world.
Spring takes a while to warm up and can be extremely unpredictable. Melting snow can bring slushy, muddy puddles, and temperatures in March are still usually below 40 degrees. By May though, you should see warm days (up to 65 degrees) and relatively low rainfall. If you're hiking, pack bug spray, as the rising temperatures bring out bugs that, although harmless, aren't likely to enhance your day on the trail.
If you do travel in spring, check out Kenduskeag Stream Canoe Race which takes place in Bangor in April - people travel from all over the country to join in this huge event. You can also enjoy the Fiddlehead Foodie Fest in Portland, a celebration of some of Maine's culinary delights.
Fall can be spectacular, particularly in the Maine Highlands, but be aware that October sees more rainfall than any other time of year. Daytime temperatures are pleasant, from the mid-70s in September down to around 60 in October, but evenings will start to feel cold.
It is a good idea to pack a warm sweater if you're planning on visiting Harvest on the Harbor in Portland.
September also might just be the ideal time to visit – with reduced crowds, warm days, and low humidity. By November, the foliage has fallen, the weather has turned, but the snow hasn't arrived yet, so we'd suggest this is definitely a time to avoid making the trip.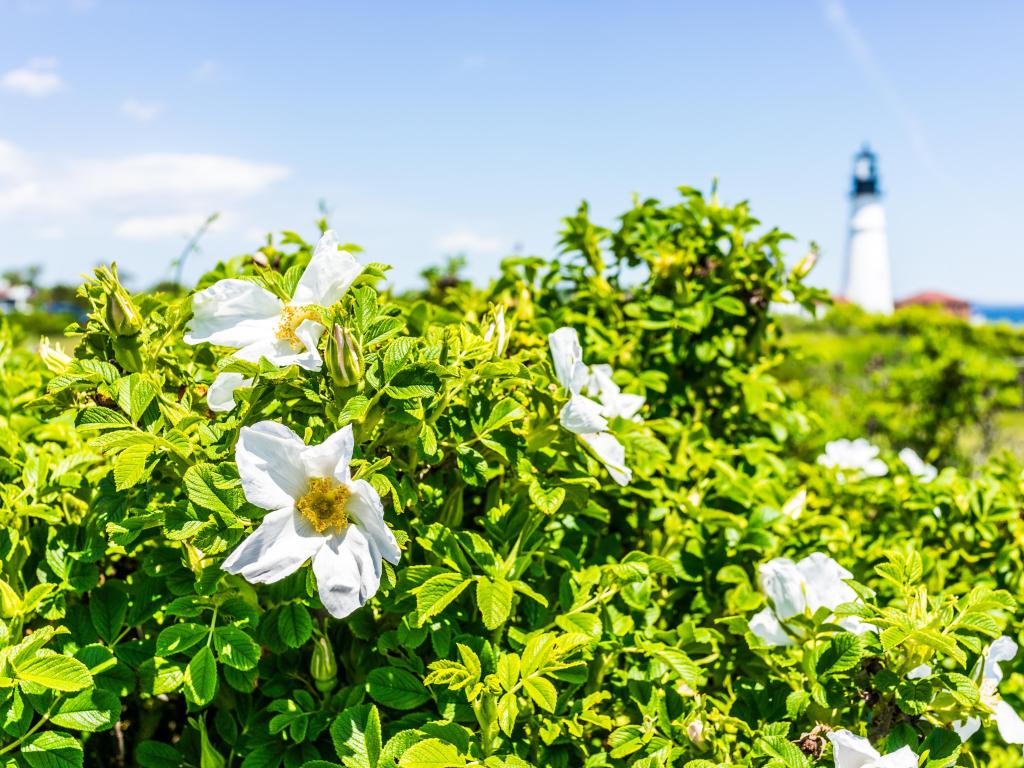 Driving times and distances between Boston and Maine
To help you with your planning, we've included more details about the driving times for the places we recommend trying to fit into your route:
Distances and driving time from a road trip around Maine from Boston

| Destination City/Landmark | Distance | Driving Time |
| --- | --- | --- |
| York | 70 miles | 1 hour 10 minutes |
| Ogunquit | 75 miles | 1 hour 20 minutes |
| Portland | 110 miles | 2 hours |
| Broad Cove Reserve | 135 miles | 2 hours 50 minutes |
| Popham Beach | 170 miles | 3 hours 45 minutes |
| Bath, Maine | 185 miles | 4 hours 10 minutes |
| Reid State Park | 200 miles | 4 hours 35 minutes |
| Augusta | 245 miles | 5 hours 40 minutes |
| Rockland | 290 miles | 6 hours 35 minutes |
| Acadia National Park | 370 miles | 8 hours 35 minutes |
| Bangor | 420 miles | 9 hours 40 minutes |
| North Penobscot | 505 miles | 11 hours 35 minutes |
| Kokadjo | 565 miles | 14 hours |
| Greenville | 590 miles | 14 hours 20 minutes |
| Bigelow Preserve | 680 miles | 16 hour 35 minutes |
| Sebago Lake | 840 miles | 20 hours 20 minutes |