Road Trip from Boston to Nova Scotia
If you're ready for a short but action-packed road trip to explore the outdoors, discover charming towns, and experience New England culture, the road trip from Boston to Nova Scotia is perfect for you. You will also get to admire stunning natural scenery on the way.
The 790-mile road trip from Boston to Nova Scotia takes 13 hours and 30 minutes to drive. Key stops include Portland, and Bar Harbor, Maine as well as Acadia National Park. It also includes a visit to Saint John, New Brunswick, and the Bay of Fundy.
The journey from Boston to Nova Scotia has the perfect mix of lively city life, nature, and adventure. It's everything you want out of a road trip so keep reading for our top recommendations to guide you as you plan.
How far is Nova Scotia from Boston, and how long will the road trip take?
Comparison of road trip routes between Boston and Nova Scotia

| Route | Distance | Driving Time |
| --- | --- | --- |
| The Inland Route | 790 miles | 13 hours 30 minutes |
| The Coastal Route | 660 miles | 14 hours 30 minutes |
The Inland Route covers 790 miles but takes less time to complete in 13 hours and 30 minutes as you will follow highways and interstates in the idyllic countryside of Maine and New Brunswick.
The Coastal Route, while shorter in distance at 660 miles, takes longer to complete due to road conditions, some having only one lane. This route takes 14 hours and 30 minutes and includes two ferry rides.
There are plenty of fun and interesting things to keep you busy on this road trip, so we recommend at least three days for this journey. The less time you spend on the road each day, the more attractions and activities you can add to your adventure.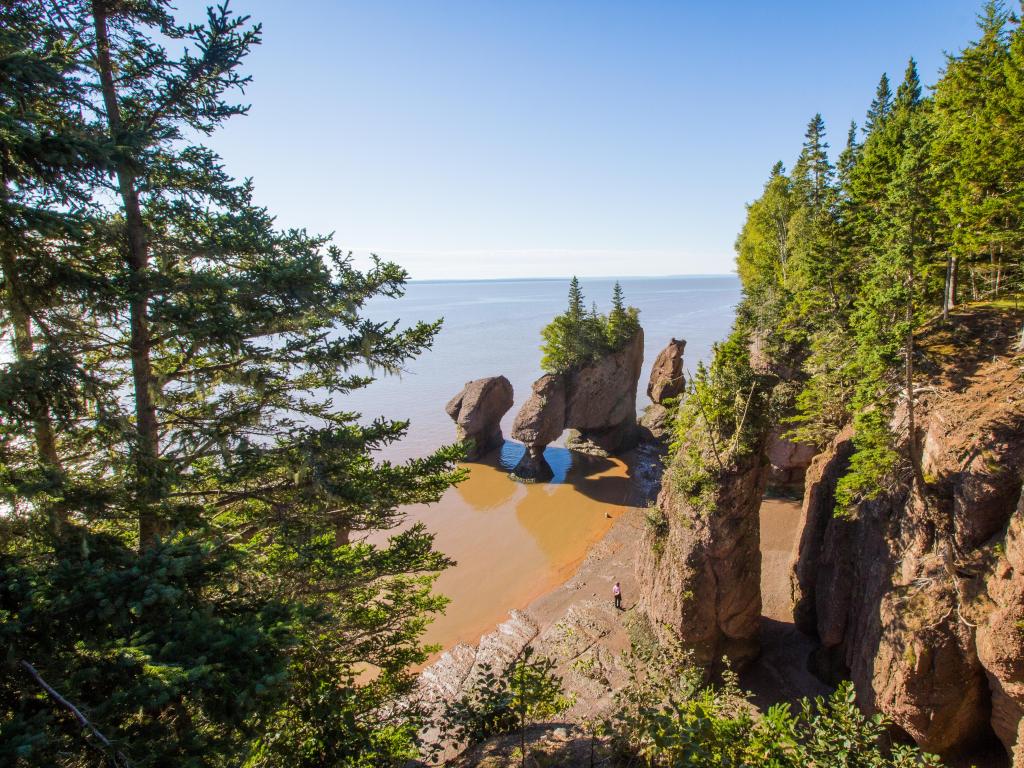 Best road trip route from Boston to Nova Scotia
The Inland Route is the shortest and best for travelers with limited time. This route takes you through the striking heartland of Maine and New Brunswick province.
You can visit any number of vibrant cities and outdoor attractions along this route. Large highways along The Inland Route also make for an easier drive.
For a longer trip, we recommend the Coastal Route. This equally impressive path skirts the peninsulas of southern Maine and New Brunswick province before crossing the Bay of Fundy to Nova Scotia.
Along this route, you will be treated to the rugged coastline, stunning views, and quaint towns. This route is perfect for travelers who love to be outdoors.
Both routes from Boston to Nova Scotia have toll roads and a border crossing, so make sure you have all of the appropriate documentation prepared before starting your journey.
How to drive from Boston to Nova Scotia
The map above shows our suggestions for the best road trip routes between Boston and Nova Scotia. Keep reading for detailed descriptions of both routes, where to stay on either, and the best things to do on the way.
The Inland Route
Take US Highway 1 out of Boston and transfer to Interstate 95 (I-95) outside Peabody. On I-95, you cross into New Hampshire, followed by Maine.
Soon you will head towards Portland. Explore the coastal community of Portland and its lighthouses and beaches before continuing north. Outside Gardiner, you can make a detour in Augusta, the capital city of Maine.
You will pass a variety of unique small towns and the former timber hub of Bangor, Maine. Enjoy the scenic forest drive until you reach Houlton, Maine. This is the border city where you cross into Canada.
In Woodstock, Canada, hop onto Trans-Canada Highway. This scenic highway follows the St. John River with multiple opportunities to visit waterfalls on the route. Stop for a detour in the lively harbor town of Saint John.
After your visit, start following the Bay of Fundy coast. Follow Novia Scotia Highway 104 until exiting onto Novia Scotia Highway 102 outside Truro. Take a detour in Truro to explore its outdoor activities such as hiking and whale watching.
If pressed for time, continue past Miller Lake. This highway brings you to the heart of your destination, Halifax, Nova Scotia.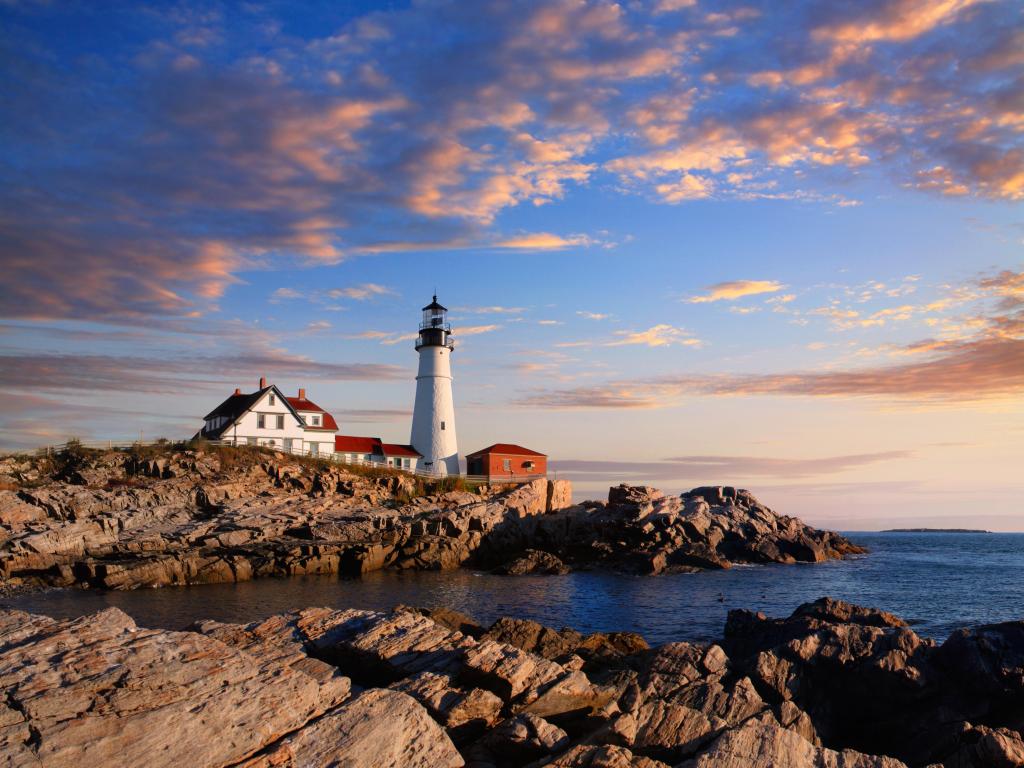 The Coastal Route
Leaving Boston, head to Portland and then Freeport in Maine. This scenic highway crosses numerous waterways and quaint towns such as Brunswick and Camden.
Enjoy idyllic coastal views along this route until you reach Ellsworth, Maine. Here you can take a detour to Bar Harbor, Maine, and Acadia National Park.
When you cross into Canada, take New Brunswick Route 170 and follow the southern coast of New Brunswick province before arriving at the vibrant coastal city of Saint John. After exploring this exciting and historic city, take the Digby Ferry across the Bay of Fundy.
Revel in the magnificent views as you cross the Bay of Fundy. When you arrive in Nova Scotia, take Nova Scotia Highway 101. Follow this route until you pass Lower Sackville.
Transfer to Novia Scotia Route 33, followed by Novia Scotia Route 7. Continue along this highway until you arrive at your destination, Halifax, Nova Scotia.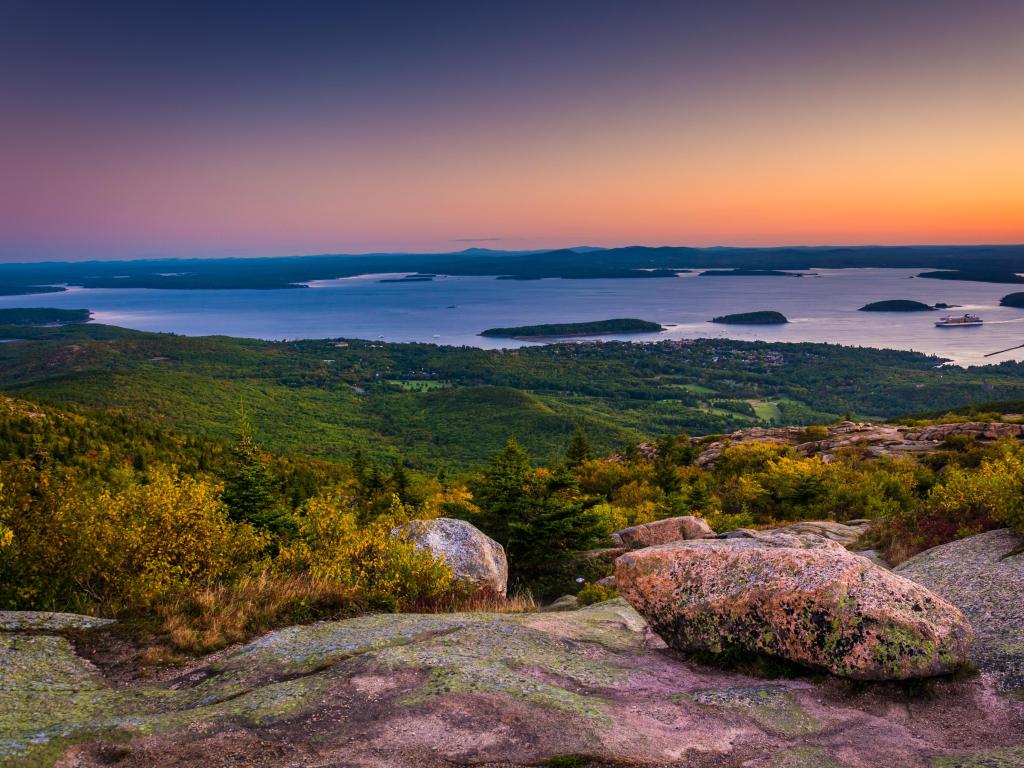 Best places to stop between Boston and Nova Scotia
With so many unique and charming towns along both routes, there are various outstanding options for overnight stops. You need at least one night's accommodation to comfortably span the distance of this journey.
Of all the fantastic hotels along these routes, consider some of our favorites as you plan your road trip from Boston to Nova Scotia.
Enjoy art and culture in Moncton
Moncton falls on the Inland Route and is less than three hours from your destination. This populous and vibrant city in the New Brunswick province is often referred to as the Hub City. This city is full of events and activities making it the perfect place for an overnight stop.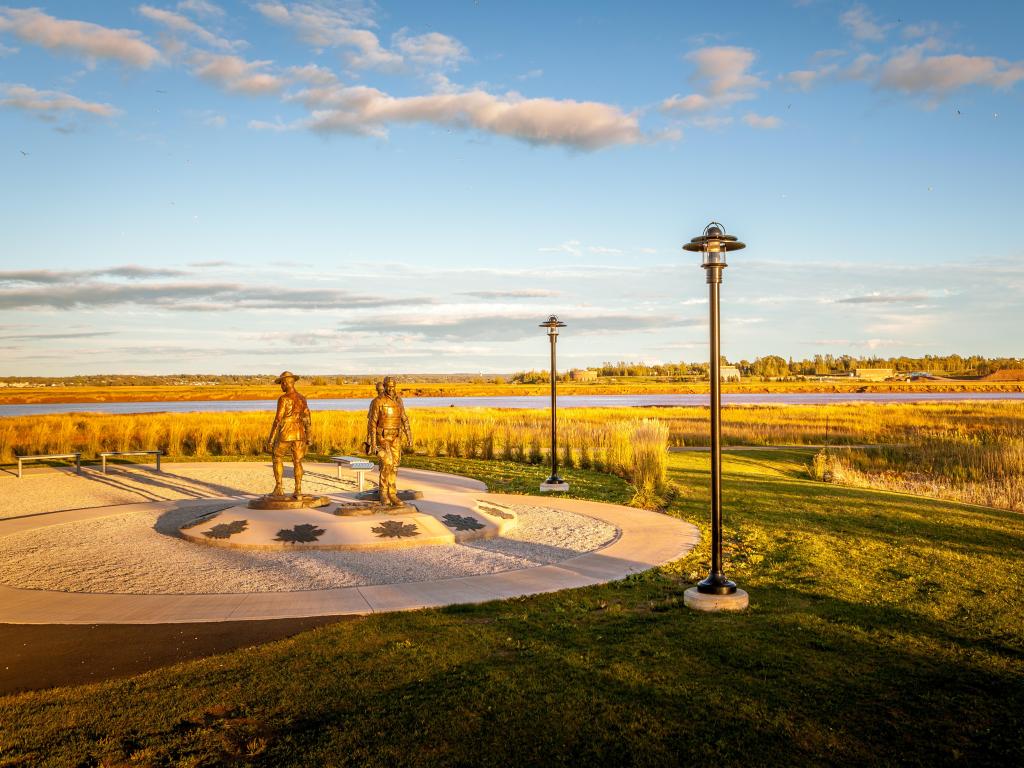 With a prominent arts and culture scene, downtown Moncton is great for spotting unique murals and street art. You can also catch a show at the prominent and historic Capitol Theater.
If you're a history enthusiast, the Thomas Williams House or the MR21 are interesting attractions to learn about the culture and heritage of the region.
The Chateau Moncton Trademark Collection by Wyndham is ideal for a luxurious stay in the heart of the city. This beautiful hotel boasts contemporary décor and stunning views as the Petitcodiac River is located steps from the hotel.
The property is a short drive from Centennial Park, where you can spend a leisurely afternoon. Alternatively, if you are feeling adventurous or traveling with family, SkyZone Trampoline Park is located right across from the park.
Don't forget to get your grab-and-go breakfast as you are getting ready to leave the hotel and set off on your journey for the second leg of your trip!
A mix of nature and luxury in Bar Harbor
Bar Harbor is on the Coastal Route and is a little under halfway into your journey. This peaceful town is known for its proximity to the stunning Acadia National Park, which makes Bar Harbor an ideal stop for nature enthusiasts.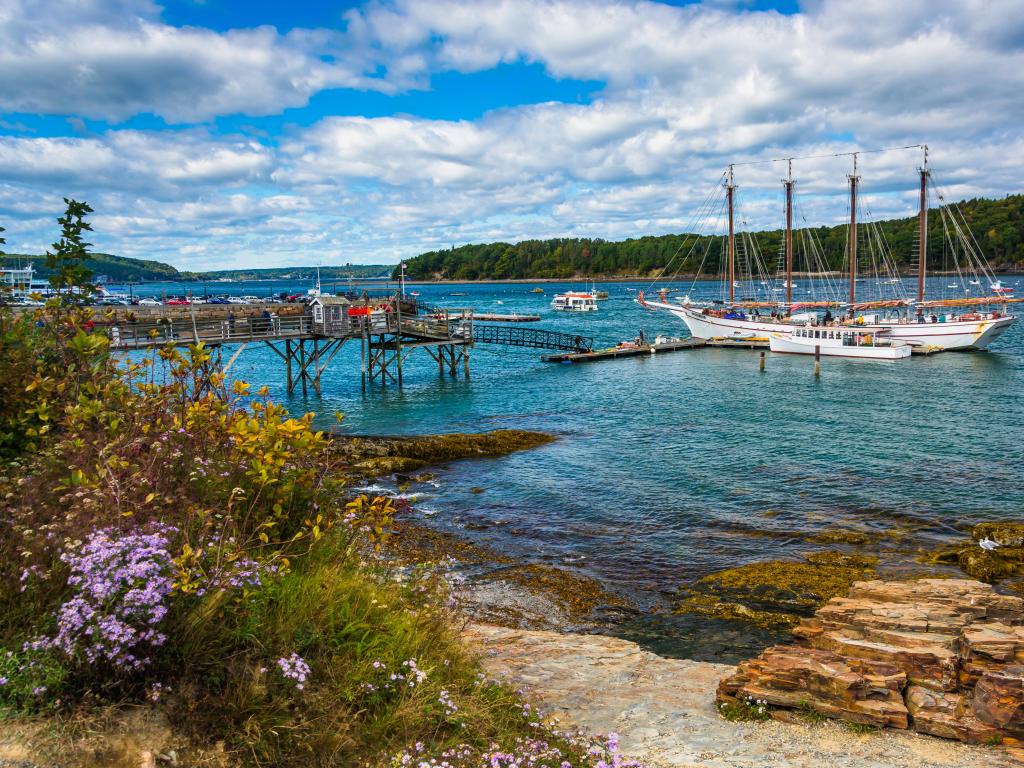 Whether you explore the hundred-year-old Shore Path or the picturesque Ocean Trail, this town is loaded with opportunities to take in stunning coastal views. If you're not in the mood for a hike, consider a sailboat tour and marvel at luxurious yachts.
A stop in Bar Harbor keeps you busy with its appealing attractions. After a long day of exploring, the Chiltern Inn is a charming and historic hotel with a cozy yet sophisticated atmosphere.
The Chiltern Inn is centrally located with easy access to popular attractions. They also boast an on-site theater, library nook, art gallery, and floral gardens, so you might not even want to venture out. You will also be treated to wine and cheese here in the afternoon.
This charming hotel is brimming with historical charm with modern amenities. After your exploration of the area and admiring the coastal views, you can pamper yourself with the hotel's indoor pool and sauna for the ultimate relaxation.
Where to stay when you reach Nova Scotia
The journey from Boston to Nova Scotia spans a considerable distance with no shortage of adventure on the journey. An epic road trip deserves an equally impressive stay at your destination.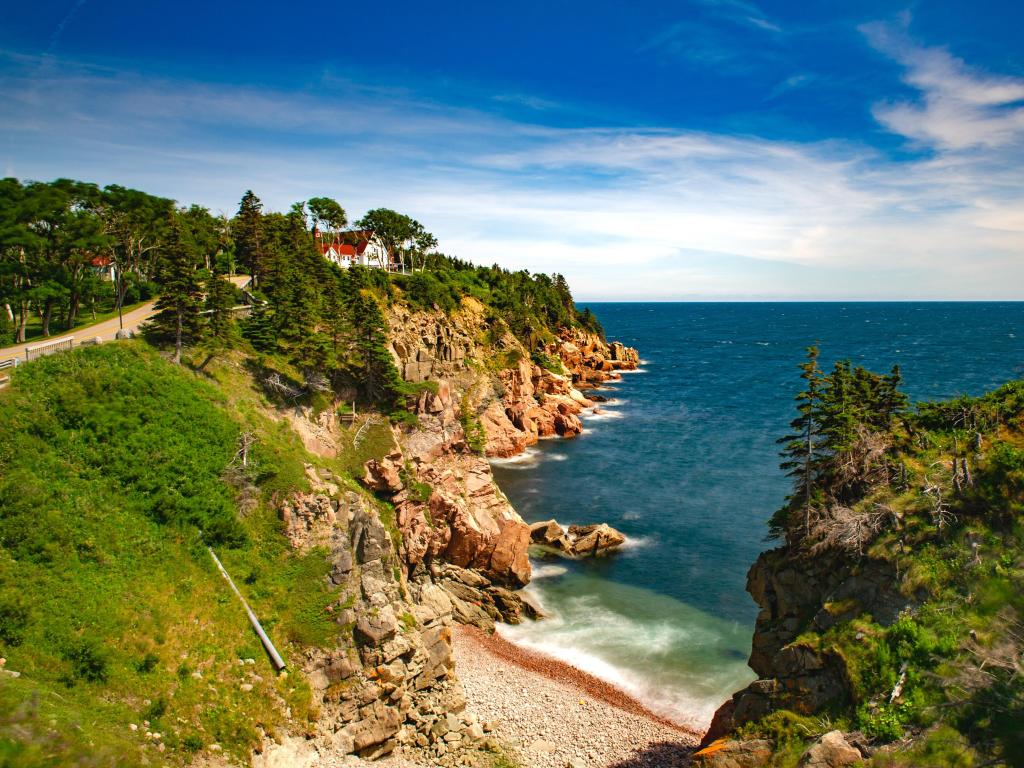 Centrally located in downtown Halifax, Nova Scotia, Hotel Muir is a modern and elevated hotel known for its hospitality. Its rooms are spacious and luxurious with stunning waterfront views.
This hotel includes an on-site fitness and wellness center, premium dining, and a serene full-service spa. Hotel Muir also offers boat tours and a private art gallery. It's easy to see why this is our top pick for your relaxing home away from home in Nova Scotia.
Things to see on a road trip from Boston to Nova Scotia
The road trip from Boston to Nova Scotia is action-packed, with ample opportunities to visit historical, cultural, and scenic outdoor attractions.
You could easily spend a week on this road trip with so many points of interest. If you don't have that much time, we've compiled our top recommendations to help you prepare for the road trip.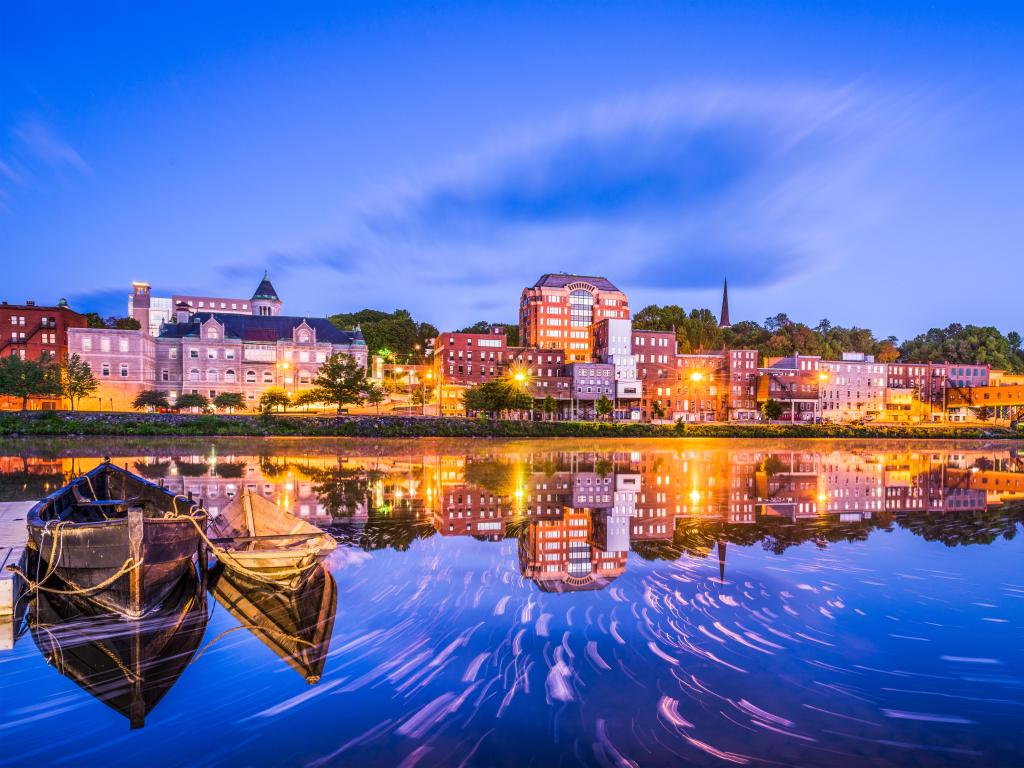 The Inland Route
Augusta, Maine - The capital of Maine with much to discover. A must-see is Fort Western, a British outpost dating as far back as 1754.
Bangor, Maine - A former timber hub with a gigantic statue of lumberjack and folk hero Paul Bunyan. It's a quiet city, and you can take a stroll through Cascade Park to unwind.
Woodstock, Ontario - Known as the "Dairy Capital of Canada," this charming city is home to Woodstock Museum National Historic Site.
Hopewell Rocks - A popular New Brunswick destination featuring unusually shaped rocks eroded by the sea. Visit during low tide to get a close view of these natural wonders.
Magnetic Hill Winery - Savor a taste of New Brunswick and enjoy the local wines at this delightful Moncton winery.
Fort Cumberland National Historic Site - Absorb the local history while exploring the remains of an 18th-century fort. You can also learn more in the nearby museum.
Victoria Park - A relaxing and picturesque park where you can walk alongside waterfalls. There are plenty of photo opportunities to capture the natural beauty.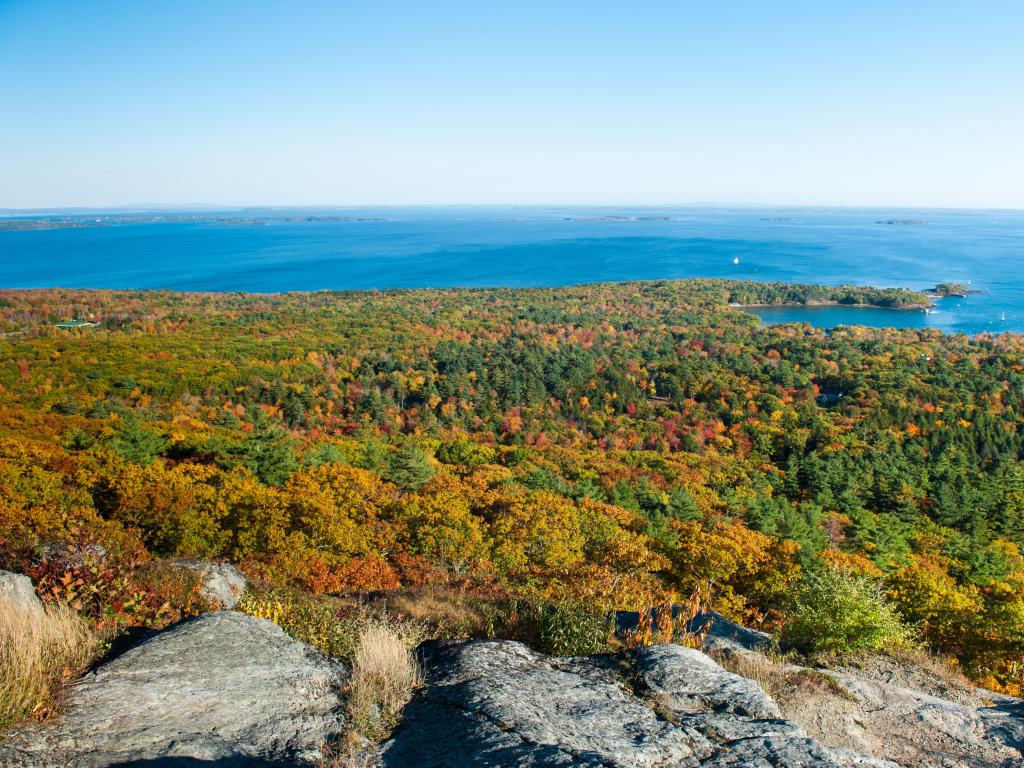 The Coastal Route
Brunswick, Maine - A charming village with museums and art galleries, including the house of American Civil War general Joshua L. Chamberlain.
Camden Hills State Park - State park with mountain hiking trails leading to spectacular views of downtown Camden, Maine, and Penobscot Bay.
Bar Harbor, Maine - Laid-back coastal town with stunning ocean views. You can also easily access Acadia National Park from this city, which makes it a perfect stop for nature enthusiasts.
Acadia National Park - Small but beautiful national park featuring an abundance of natural habitats and gorgeous ocean vistas from its rock viewpoints.
Ellsworth, Maine - Quaint and historic city that fell victim to the Great Fire in the early 20th century. Ellsworth is also home to the unique Telephone Museum.
Columbia Falls, Maine - A small and historic town with attractions such as The Ruggles House, Bucknam House, and the Union Church.
Moosehorn National Wildlife Refuge - Nearly 30,000 acres of protected lands. Take a stroll and keep your eyes open for bears, moose, and bald eagles.
Deer Island Ferry - Open year-round between 6 AM and 10 PM. Take the free ferry from Deer Island, New Brunswick to Letete and partake in a variety of outdoor activities.
Digby Ferry - Cross into Nova Scotia with magnificent views of the Bay of Fundy. Note that the ferry only runs twice a day for a fee.
Wolfville, Nova Scotia - An interesting and vibrant university town. For a unique experience, catch the Magic Winery Bus, which takes you to more than five local wineries.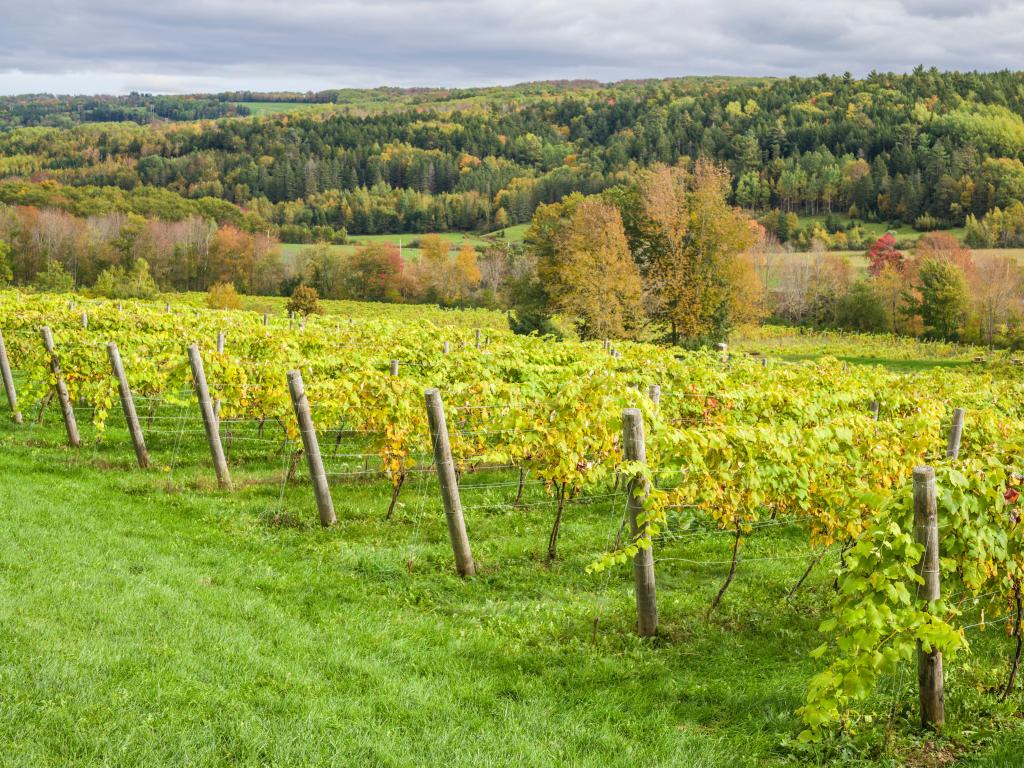 Both Routes
Maudslay State Park - On the Merrimack River, this park is full of natural beauty. Take a calming walk after escaping the hustle and bustle of Boston.
USS Albacore Museum - Located in Portsmouth, New Hampshire, visit this museum for an inside look at the Albacore submarine.
Portland, Maine - Maine's largest and most cutting-edge city. Stroll along the famous warehouses converted into bars, restaurants, and shops.
Saint John, New Brunswick - Don't miss the Skywalk overlooking the Reversing Falls, a natural phenomenon caused by the collision between the Bay of Fundy and the Saint John River.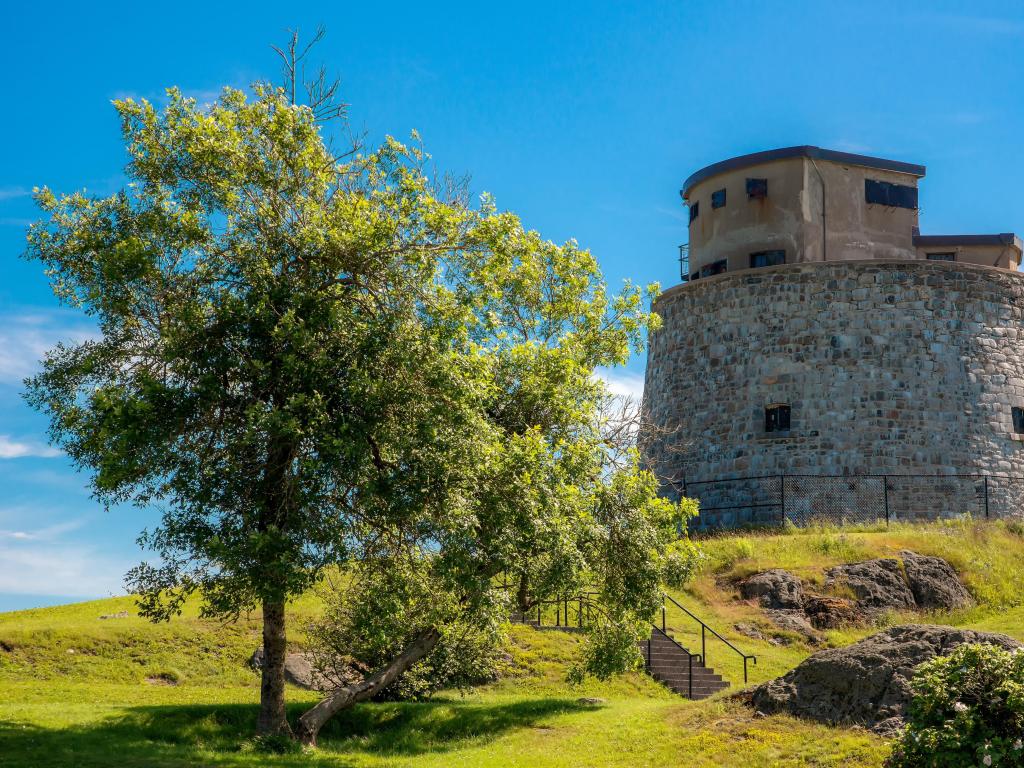 Best time to go on a road trip from Boston to Nova Scotia
Nova Scotia is a year-round destination with exciting outdoor activities that vary depending on the season. However, there are also plenty of indoor activities to enjoy such as art galleries and museums.
Temperatures in December and January range from 35 to a freezing 15 degrees Fahrenheit. If you can brave the cold, the snow creates beautiful scenery and this is an ideal time for winter sports such as snowboarding, skiing, and ice skating.
Spring temperatures in Nova Scotia range from 35 to 60 degrees Fahrenheit and fall temperatures vary between 40 and 70 degrees, which means that the seasons are great times to visit if you're looking for milder temperatures, fewer crowds and cheaper hotels.
The most popular time to visit this destination is during the Summer. Temperatures range from 55 to 75 degrees Fahrenheit, which means you can enjoy popular summertime activities such as sailing, hiking, surfing, and visiting the beaches.
The warmer months are also ideal for chasing waterfalls and indulging in fresh seafood. However, visiting during the peak season will mean higher accommodation prices.
If you are not bothered by the crowds and plan on visiting in summer, July is a popular festival month holding the Halifax Jazz Festival and the Highland Games, which will be an experience to remember!