Road Trip from Boston to Quebec City
The road trip from Boston to Quebec City will take you on an epic journey through the fascinating history and colorful culture of the US and Canada, while passing scenic lakes, awesome hiking trails and stunning waterfalls and travel through quaint towns and bustling cities.
The 390-mile road trip from Boston to Quebec City takes under 8 hours to drive. Key stops include Woodstock, Montreal, Burlington, Portsmouth and Brunswick, plus Chaudière Falls Park, The Forks, Bunker Hill, Parc du Mont Arthabaska and Saint-Georges.
There's a lot to see on this short but scenic trip, including history and culture-rich towns and cities to picturesque trails, waterfalls and lakes. To help you make the most of your drive, we've set out the best routes and places to stop overnight, as well as our favorite places to visit and the best time of year to make the trip from Boston to Quebec City.
How far is Quebec City from Boston, and how long will the road trip take?
Comparison of road trip routes between Boston and Quebec City

| Route | Distance | Driving Time |
| --- | --- | --- |
| The Maine Route | 390 miles | 7 hours 40 minutes |
| The Vermont Route | 500 miles | 9 hours 40 minutes |
There are a couple of different route options you can take when planning a road trip from Boston to Quebec City. The quickest of the two will take you via Maine and covers a distance of 390 miles. You'll need a minimum of 7 hours and 40 minutes to complete the drive.
An alternative route option takes you through Vermont and is slightly longer at 500 miles. This route will take a minimum of 9 hours and 40 minutes to drive without stopping.
While you could complete these trips in a single day, you wouldn't get any opportunities to take a break from the road and explore the many interesting attractions you'll pass along the way. Therefore, we'd recommend you spend at least two to three days on this road trip.
As you'll be crossing from America into Canada, you'll also need to plan ahead and check what documents and proof of identification you'll need before reaching the border.
Best road trip route from Boston to Quebec City
The best route between Boston and Quebec City will largely be determined by how much time you have and what kind of scenery you prefer to see. The Vermont Route offers lush green scenery with ample opportunities for stop-offs at national parks along the way.
As well as great outdoor attractions, our longer of the two routes also takes you through small but exciting towns and cities, such as Woodstock, Burlington and Montreal.
For those road trippers who prefer to see some coast along the way, our Maine Route is perfect. Taking you through south and central Maine, you'll enjoy a stretch along the coast as well as vast green spaces.
This shorter option still takes you through cities, while not well known, are still rich in history and culture, including Portsmouth, Brunswick, Moxie Falls and Saint-Georges.
Given the relatively short distance of both routes, you could always follow one to Quebec City and then follow the alternative option on your return leg. That way you'll get to see all the best places between the two fantastic cities.
The Vermont Route
For the Vermont Route, you'll need to leave Boston on Interstate 93 (I-93) heading north. Continue on this road past Lawrence and Derry, before taking Exit 8 for a stop at Manchester, New Hampshire, a great destination for art lovers.
Continue on I-93 before merging with I-89 North through New London and Lebanon to Hartford. Take Exit 1 for US-4 to Woodstock, a small historic town. Then continue on VT-12 North.
You could stop for a detour to Green Mountain National Forests here or continue through Bethel on VT-107 East before merging back onto I-89 North.
Follow the interstate through several more towns and alongside Mt Mansfield State Forest, where you can stop to stretch your legs. Next take Exit 14W for a stop in Burlington, Vermont - an ideal place for an overnight rest where you can enjoy views of Lake Champlain.
Rejoin I-89 afterwards and continue north. This interstate will take you to the border crossing where the road becomes QC-133. Next, take Autoroute 35 North before taking QC-104 to Saint-Jean-sur-Richelieu.
Next, join A. 35 North before taking Exit 55 to merge with Autoroute 10. Follow this road to Brossard before crossing the St. Lawrence River to the beautiful city of Montreal. After taking in the pretty cobbled streets of this great Canadian city, you'll need to head towards QC-134.
Next take Exit 89E and join Transcanadienne/A 20 E as you pass through several towns. When you reach Exit 210, you'll join Autoroute 955 South to Saint-Albert Quebec. From here join QC-122 East to Victoriaville.
When you're ready, join QC-162 East before merging back with Transcanadienne/A 20 E a final stretch to Chaudière Falls Park. Afterwards, take Autoroute 73 North as you cross the St Lawrence River again. Then take QC-136 East to your final destination of Quebec City.
The Maine Route
Our alternative route takes you from Boston to Bunker Hill, from where you'll need to merge onto I-95 North through Seabrook and to Portsmouth, a great stop for beautiful scenery.
Continue heading north on I-95 and pass through several towns as you follow the coast. You can stop along the way at Old Orchard Beach before taking I-295 through Portland and to Exit 28.
Next take US-1 to Brunswick, Maine with a great selection of shops and restaurants, before rejoining I-295 to Augusta, an ideal halfway point for an overnight stop and rest.
Now heading inland, take I-95 North to Waterville, before joining ME-104 to Skowhegan. Turn right to join US-201, passing by Bigelow Preserve along the way before reaching The Forks, a great place for hiking.
Continue on US-201 before arriving at Sandy Bay Township where you'll cross into Canada. From here the road becomes QC-173. Continue until you reach Saint-Georges, where you'll switch to Autoroute 73.
Follow this road to Chaudière Falls Park, another great outdoor space ideal for hiking and enjoying great views. Afterwards, you'll cross the St Lawrence River to join QC-136 Wast to Quebec City.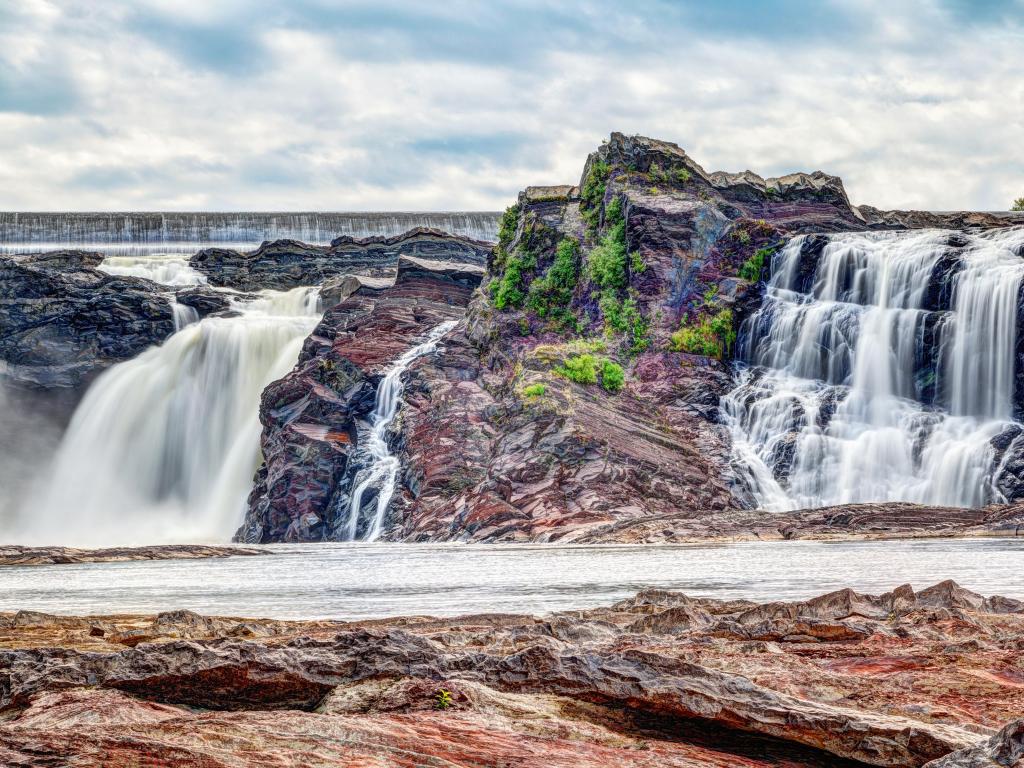 Best places to stop between Boston and Quebec City
While you could complete the road trip between Boston and Quebec City in a single day, a much better idea is to spread it out over several days and include a couple of overnight stops. That way you can enjoy the sights and feel refreshed before arriving at Quebec City.
There are some places you can stop and rest en route, but here is a couple that we think you should keep an eye out for.
Lake views in Burlington
Ideally placed halfway between Boston and Quebec on the Vermont Route, the city of Burlington makes a great practical stop. Not only does the route pass through, but the city also has plenty of bars, restaurants and scenic paths making it a great destination in its own right.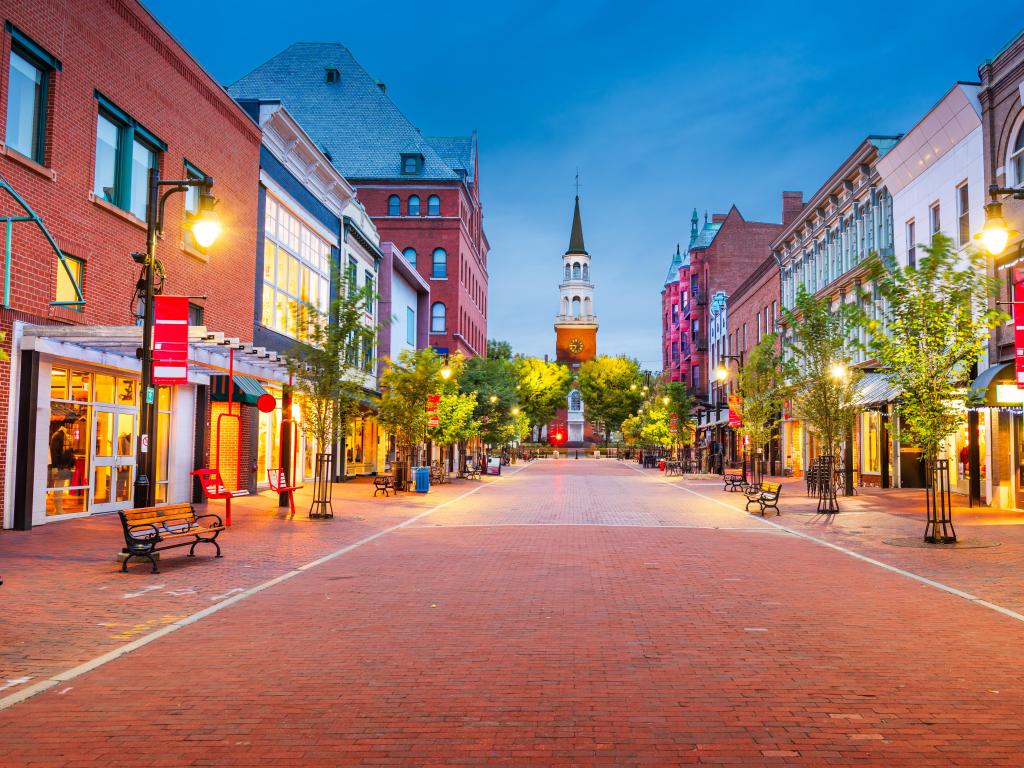 Best known as being home to the University of Vermont, Burlington is also famous for its stunning views of Lake Champlain, of which it is positioned on the eastern shore.
While visiting, make sure you spend some time at its popular Waterfront Park, which has picturesque views of the lake as well as stunning walking and biking trails. You can also enjoy local food and art in Burlington Farmers Market if you happen to visit on a Saturday.
For some great indoor attractions, Burlington has a fantastic downtown where you can explore its Church Street Marketplace, full of historic buildings, shops and restaurants, as well as its ECHO museum, which is known for its science and nature exhibits and has great lakeside views.
For a luxurious stay, you can't beat the Hilton Burlington Lake Champlain. This lavish hotel offers stunning views of Lake Champlain, a great indoor pool and onsite parking.
Situated just a short walk from Waterfront Park, Church Street Marketplace and Echo Lake Aquarium, you're well placed to make the most of your visit to this super city. You'll also get a great night's sleep in the modern and comfortable rooms and be ready for the rest of your trip.
A step back in time at Augusta
If you've opted for the Maine Route and are looking for an overnight stop halfway through your drive, an ideal location is Augusta. Not only is it the capital of Maine, but Augusta is a stunning location with plenty of history to explore in this quiet and relaxing city.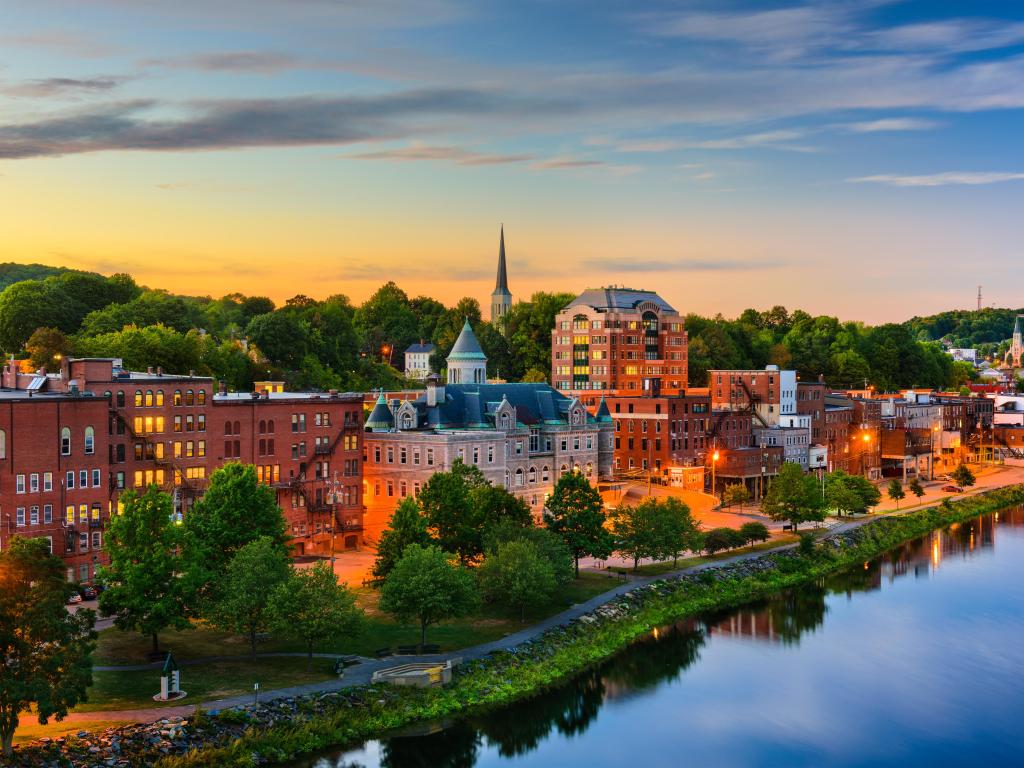 Famous for the National Historic Landmark - Fort Western - a British outpost which dates back to 1754 and played a significant park in US history, Augusta also has a great State Museum where you can learn even more about the history of both Augusta and Maine.
You can continue your journey through time at the Old Post Office, an architecturally interesting building constructed back in the 1880s, now a prominent landmark in downtown Augusta, as well as a visit to the Samantha Smith stature where you can learn more about her story.
An ideal spot for relaxing and exploring this great city is the Quality Inn & Suites Maine Evergreen Hotel. This 4-star hotel has comfortable rooms and a stunning heated outdoor pool. There's also free parking and a popular daily breakfast.
Located close to some of the best local attractions, including the Augusta Civic Center, the Augusta State Airport and the University of Maine at Augusta, you're also surrounded by pretty gardens in case you just want a base to unwind before continuing with your drive to Quebec City.
Stay in the heart of Old Quebec City
Once you arrive in Quebec City, there are plenty of nearby attractions to keep you busy for several days. Sitting on the St. Lawrence River, Quebec City has strong French roots which are reflected in the stunning architecture, pretty cobbled streets and gorgeous shops and restaurants.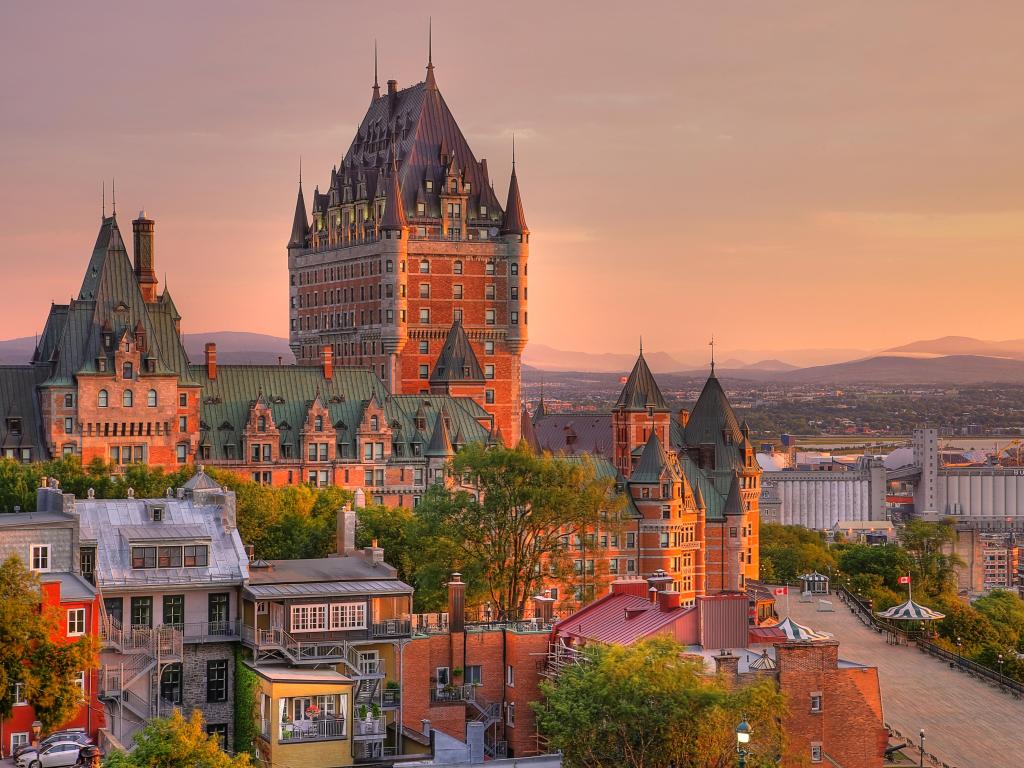 To finish your trip off in style and a great base for exploring more of this wonderful city, you'll be guaranteed an unforgettable stay at Le Capitole Hotel.
This stylish and contemporary hotel has an amazing location, set within the walls of Old Quebec, you'll never be far from the vibrant streets and popular museums. Though with a swimming pool, onsite restaurant, stunning rooms and incredible views, you may never want to leave the hotel.
Things to see on a road trip from Boston to Quebec City
You'll be spoilt with a variety of things to see and do on the epic road trip from Boston to Quebec City. If you're limited on time, we've set out some of the highlights you'll pass along the way that you won't want to miss: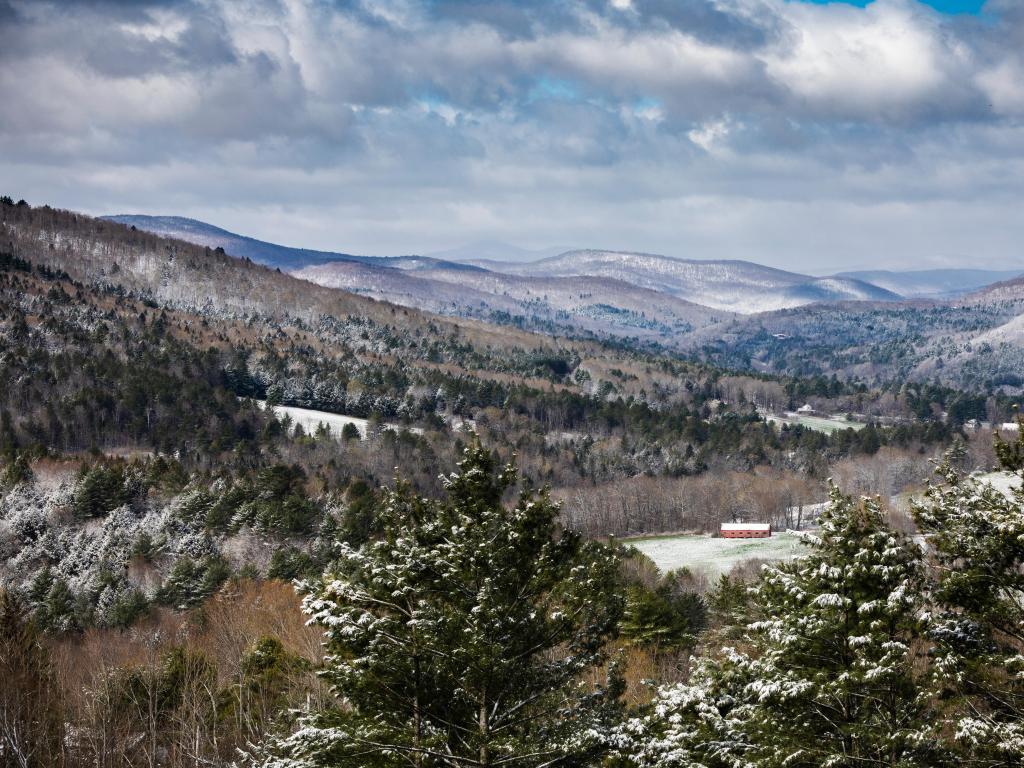 Both Routes
Chaudière Falls Park - Perfect for a stroll before hitting the bustle of Quebec City, Chaudière Falls Park has hiking trails with scenic views of waterfalls. There's also a suspension bridge to cross.
The Vermont Route
Legoland Discovery Center - This indoor center is suitable for all the family. There's a 4D cinema and a mini-Boston made from Lego.
Manchester, New Hampshire - For the art lover, stop off at Manchester, NH, and view the Currier Museum of Art. You'll find original Picasso and Monet pieces here.
Woodstock, Vermont - Woodstock is a small town with historic buildings. Billings Farm and Museum is a working farm, yet it's also a museum showcasing farming history.
North Burlington, Vermont - Burlington, VT is a quaint city, well-worthy of your time. After your stay, visit the woodland of Centennial Woods Natural Area located just north of Burlington.
Saint-Jean-sur-Richelieu, Quebec - Saint-Jean-sur-Richelieu, QC has much to offer. From wine tasting to the culture of the L'Acadie and Chambly Canal National Historic Site.
Montreal, Quebec - Montreal, QC is Canada's second-largest city. As such, you'll have a wealth of opportunities to find culture. The Notre Dame Basilica of Montreal is a must-see. At night, enjoy the vibrant nightlife.
Victoriaville, Quebec - For scenic views, visit the Parc du Mont Arthabaska. You can also visit Musee Laurier in Victoriaville, QC. This was the home to the first French-Canadian prime minister, Wilfrid Laurier.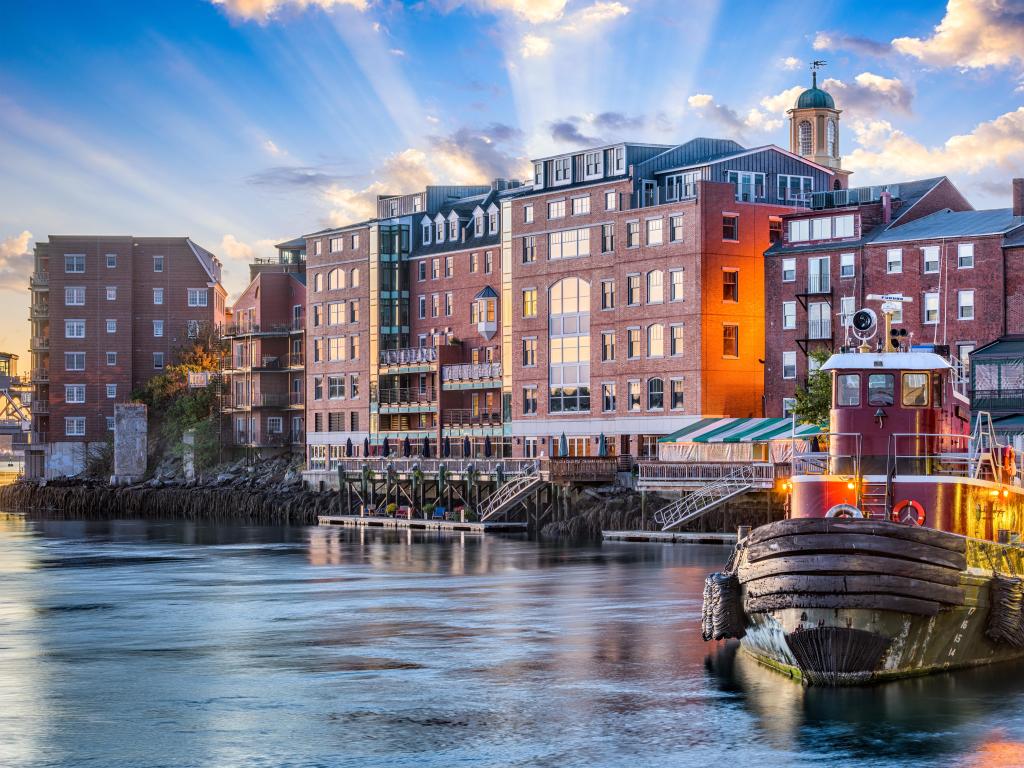 The Maine Route
Bunker Hill, Maine - Bunker Hill is located on your route out of Boston. Here is the Bunker Hill Monument and the attached museum. The modest museum tells the story of the American Revolution.
Portsmouth, New Hampshire - For a scenic stop pull into Portsmouth, NH. On the Piscataqua River, you can enjoy the views and learn about its colonial history.
Brunswick, Maine - Visit the picturesque village of Brunswick, ME. There're interesting shops and art galleries. The Bowdoin College Museum of Art is of note and is on the National Register of Historic Places.
Waterville, Maine - After your stop in Augusta, ME, travel North to Waterville, ME where you'll find the Colby Museum of Art just off the I95.
The Forks, Maine - Stop at The Forks, ME for an epic hike with stunning photo opportunities. Go to Moxie Falls with its 90ft high waterfall by driving to the Moxie Falls Trailhead and Parking.
Skowhegan, Maine - Stop and stretch your legs at Skowhegan, ME. It's a small town on the banks of the Kennebec River, so there's a relaxing Riverwalk.
Saint-Georges, Quebec - Saint-Georges, QC has the Eglise Saint-Georges, a stunning cathedral with an awe-inspiring interior. For nature, there's the Parc des Sept-Chutes, a simple walk with seven waterfalls.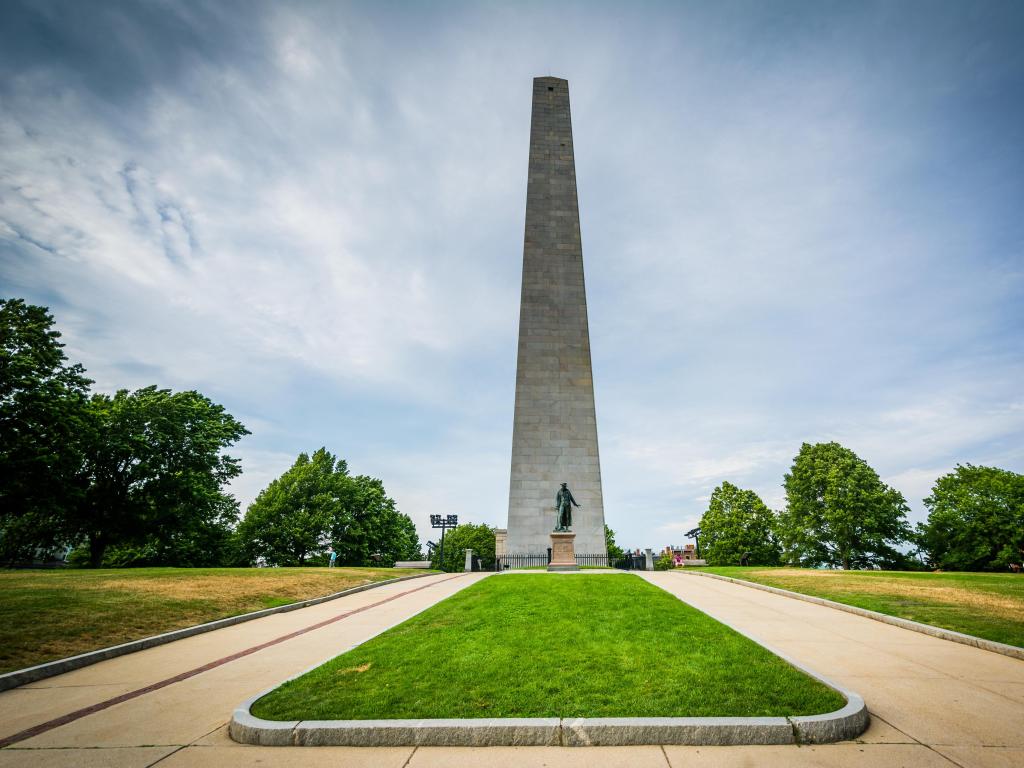 Best time to go on a road trip from Boston to Quebec City
Quebec City attracts visitors throughout the seasons. That said, the experience you have will depend on the season you visit. Quebec City has weather that emphasizes the four seasons, in summer it's warm, but in winter, it's a winter wonderland with glistening snow.
If you visit this part of Canada in the summer, you can expect temperatures at the high 60 degrees Fahrenheit. While July is the hottest month, it isn't so warm that you can't walk around meaning that even in summer, it'll be comfortable to explore.
It's worth noting that this is a popular time to visit thanks to its festival and exhibitions, so be prepared for crowds and higher prices at the hotels.
The coldest month is January, which averages 13 degrees. If you decide to visit during the winter, expect cold temperatures and snow. If you're not experienced in such conditions, driving can be difficult. It could also put a dampener on the outdoor attractions along the way.
For milder weather, you could plan your trip in either spring (May temperatures are a warm 54 degrees) or fall when you can enjoy September temperatures of around 59 degrees.
These months not only provide comfortable conditions to drive in, but you'll also have fantastic spring flowers of fall colors in the parks en route.
If you'd like to time your trip with an event or two, one of the best ones is the Quebec City Summer Music festival, which has been running since 1968. Running for 11 days in early July, you'll just need to plan in advance not to miss out on this fantastic experience!