Road Trip from Chicago to Badlands National Park
If you're looking to immerse yourself in the history of the Midwest and Native Americans, to see the stunning prairie landscapes and river floodplains with diverse wildlife, then the road trip from Chicago to Badlands National Park is for you.
The 940-mile road trip from Chicago to Badlands takes 14 hours to drive non-stop. Key stops include Madison, Eau Claire, and Minneapolis when traveling via Minnesota, or St. Louis, Omaha, Kansas City and Sioux City, when traveling via Missouri.
This road trip is packed with fascinating historic and cultural sites, as well as beautiful nature areas with prairies, floodplains, and rugged rock formations. Carry on reading to find out our recommendations for possible routes to take, what to see and do along these routes, and where to stay overnight.
How far is Badlands National Park from Chicago, and how long will the road trip take?
Comparison of road trip routes between Chicago and Badlands National Park

| Route | Distance | Driving Time |
| --- | --- | --- |
| The Minnesota Route | 940 miles | 14 hours |
| The Minneapolis Route | 1,185 miles | 17 hours 30 minutes |
The road trip from Chicago to Badlands National Park is 940 miles long and takes 14 hours to drive non-stop, when driving along the Minnesota Route.
Alternatively, you may travel via Missouri, in which case the route is 1,185 miles long and takes 17 hours 30 minutes to drive without stopping.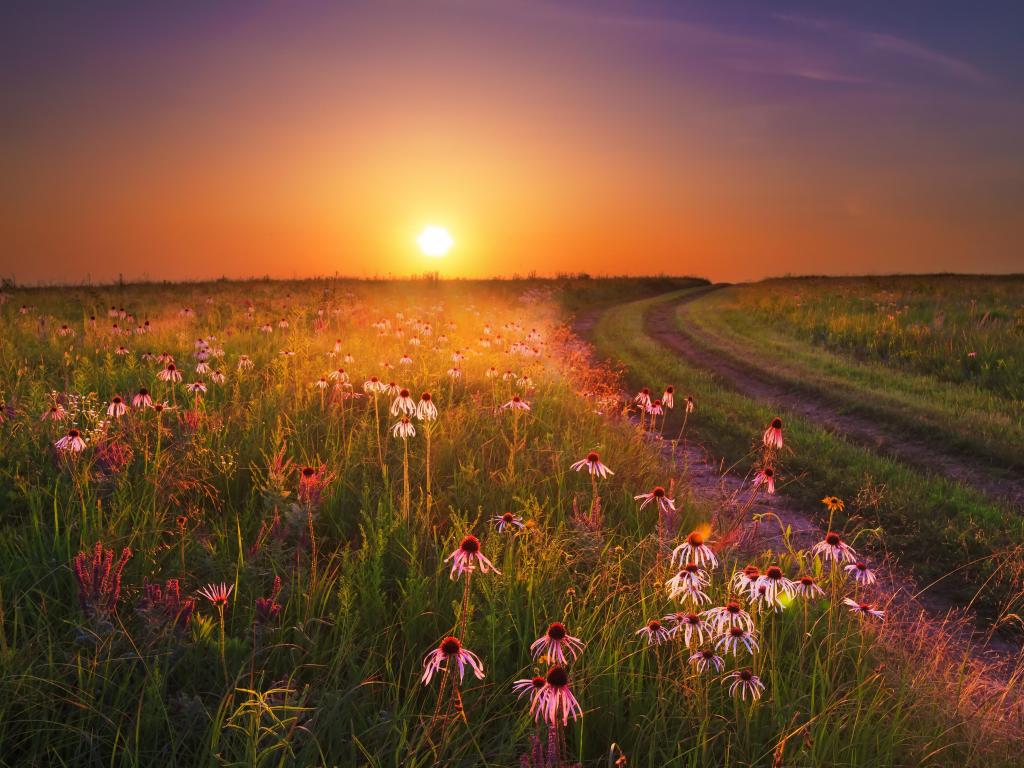 Such a distance you could easily cover in about two days should you wish to drive non-stop, but we recommend taking 4-5 days for this road trip to fully enjoy all the interesting cities, nature areas and cultural attractions that this road trip offers.
Best road trip route from Chicago to Badlands National Park
You may choose from two route options. Both of them take you from Chicago, Illinois, to Iowa and the Badlands National Park in South Dakota, and both include fascinating cities to explore along the way, as well as beautiful, though slightly different, nature to view along the route. Your choice of route depends on which sites, cities and landmarks you wish to visit.
The Minnesota Route takes you from Chicago via the states Wisconsin and Minnesota to Iowa and South Dakota. Along the way, you may visit many culturally and politically exciting cities, including Milwaukee, Madison, Eau Claire, and Minneapolis.
You can also stop at beautiful state parks, lakes, and nature areas to admire local fauna and flora, such as Pine Island State Wildlife Area. Wisconsin and especially Minnesota are known as states that contain thousands of lakes, something special to take in along your road trip.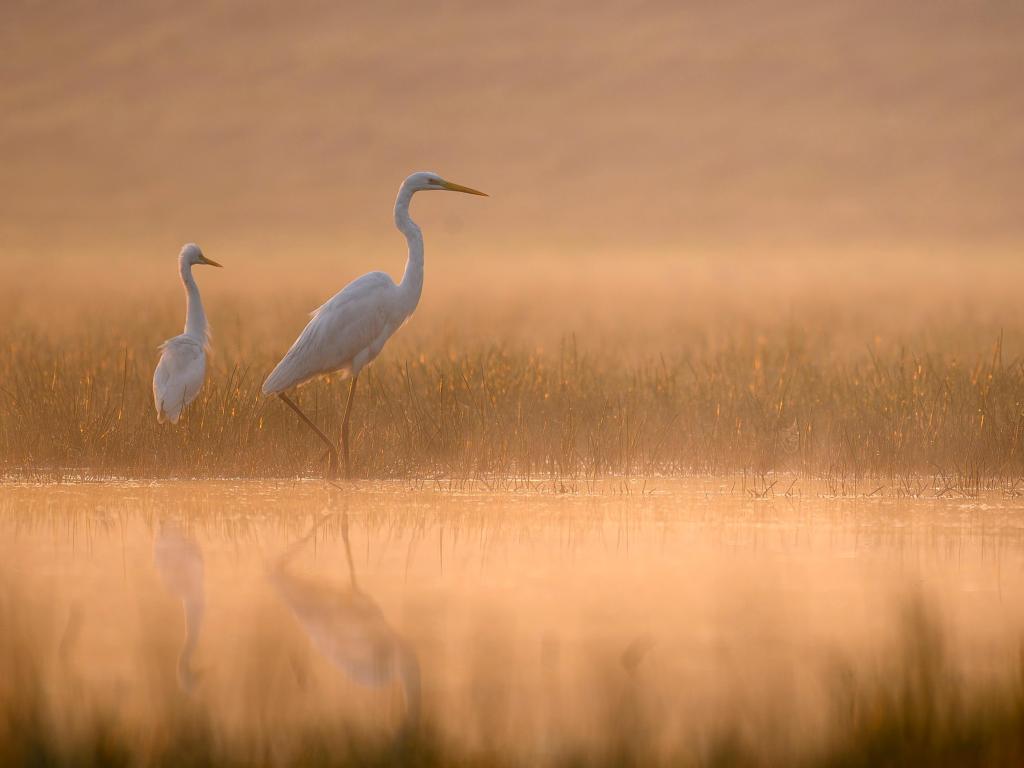 Alternatively, you may choose to travel along the Missouri Route. This route takes you through Missouri and Nebraska, on your way to Iowa and South Dakota. You'll get to admire vast prairie landscapes, rivers and floodplains, and you can enjoy viewing wildlife at for example De Soto National Wildlife Refuge in Iowa and Nebraska.
You'll also have a chance to visit cities rich with pioneer history, such as St. Louis and Omaha, and other culturally interesting cities such as Columbia and Kansas City.
How to drive from Chicago to Badlands National Park
The map above shows our suggestions for the best road trip routes between Chicago and Badlands National Park. Keep reading for detailed descriptions of both routes, where to stay on either, and the best things to do on the way.
The Minnesota Route
You'll first be driving near the coast of Lake Michigan along Interstate 94 (I-94). Drive north from Chicago to Milwaukee, and after that, turn west towards Madison still along I-94.
After visiting this politically fascinating city known for wonderful bicycling and cultural attractions, follow I-90 and I-94 northwest past Eau Claire to Minneapolis by the Mississippi River. From there, take US Route 169 southwest, and at Mankato, take Minnesota State Highway 60 in the direction of Sioux Falls.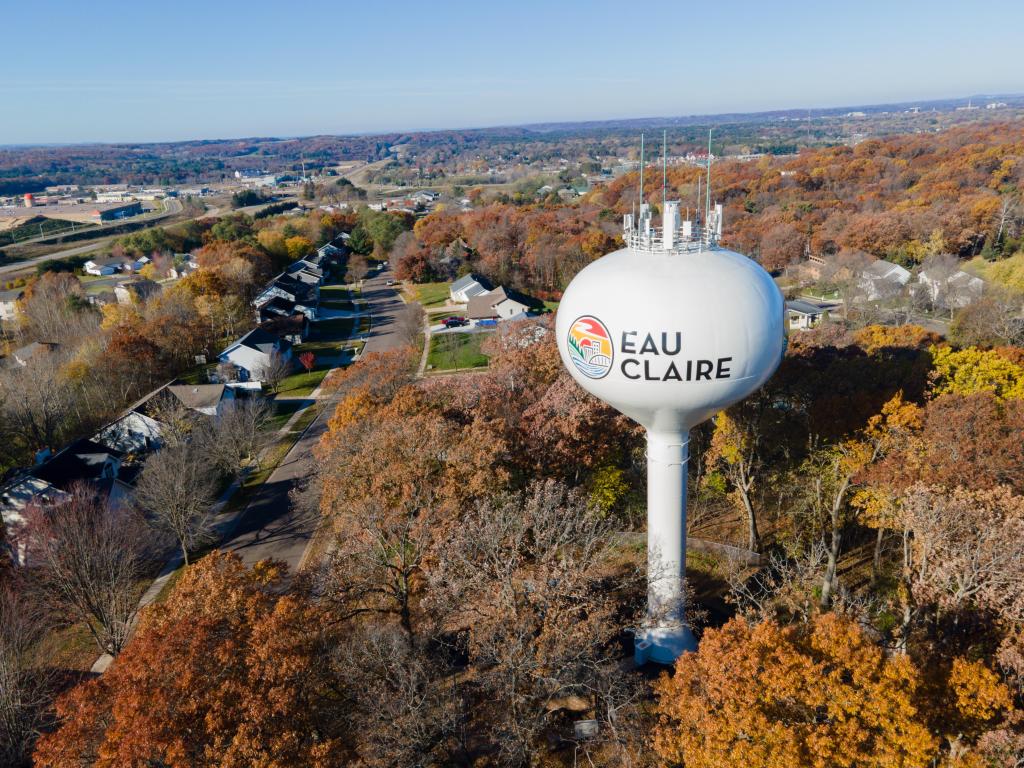 After Sioux Falls, you'll drive west along I-90. You might wish to stop at the small town Chamberlain to explore a Native American museum, then continue westward to Badlands National Park.
The Missouri Route
Drive southwest from Chicago along I-55 to St. Louis, known as the "Gateway to the West". After St. Louis, the route takes you westward along I-70.
You may visit Columbia, a vibrant college town, and then drive to Kansas City. This city is known for its jazz music scene and hundreds of fountains.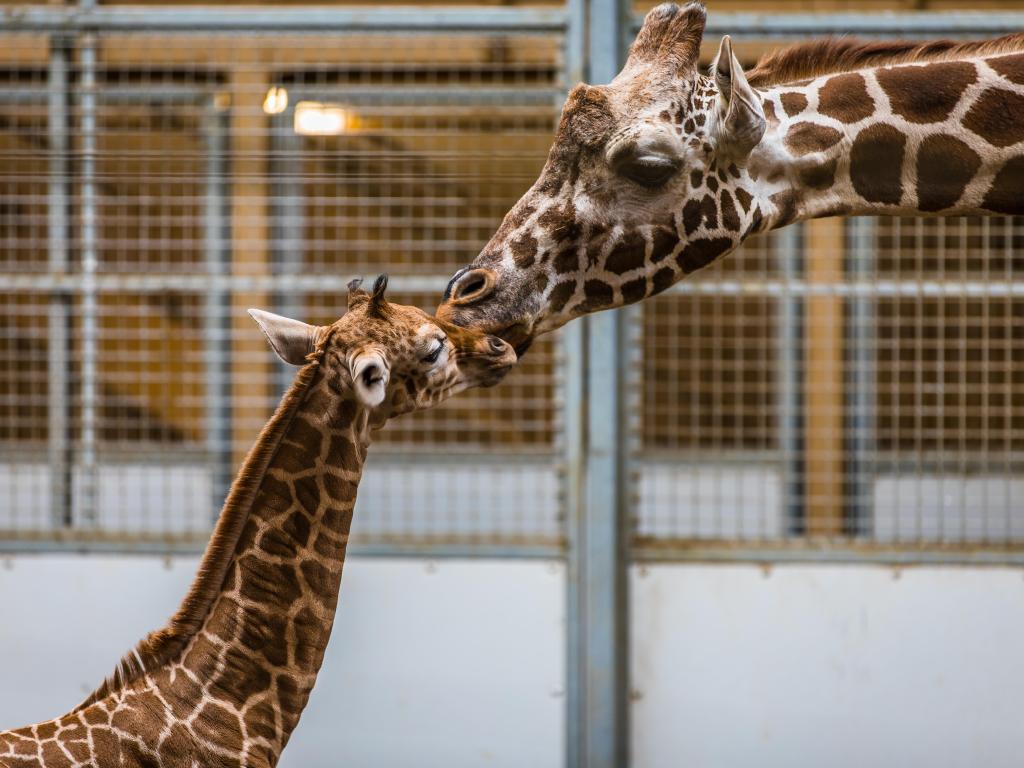 After Kansas City, travel northeast along I-29 to Omaha where you may learn about the pioneer history of the west or visit one of the world's best zoos. From Omaha, you'll keep on following I-29 to Sioux City and Sioux Falls.
Finally, from Sioux Falls, travel west along I-90 until you reach Badlands National Park.
Best places to stop between Chicago and Badlands National Park
This road trip from Chicago to Badlands National Park is superb for enjoying varying landscapes of prairies, lakes, forests and floodplains, and for visiting cities and landmarks that wonderfully depict many interesting facets of US history.
Read on to discover our recommendations for best places to stay overnight, what to see and do in those places, and some of our favorite suggestions for hotels.
Explore culture and history in Minneapolis, the "City of Lakes"
Minneapolis is found about halfway along the Minnesota Route option. Minneapolis together with Minnesota capital Saint Paul form a continuous large city with plenty of culturally and historically interesting sites and landmarks to visit.
Minneapolis is especially known for its many lakes and water landscapes - within its borders are found thirteen lakes, several creeks and waterfalls, and the Mississippi river.
As for sightseeing in the city, there is much to do and enjoy for everyone. To enjoy a bit of nature, view a beautiful waterfall, and visit historic sites, head over to Minnehaha Falls Park. Or for some culture, visit Minneapolis Institute of Art (MIA), one of the largest art museums and art educators in the US.
You might also wish to see Stone Arch Bridge, crossing the Mississippi river. It is the only arched bridge made out of stone found along the length of this river.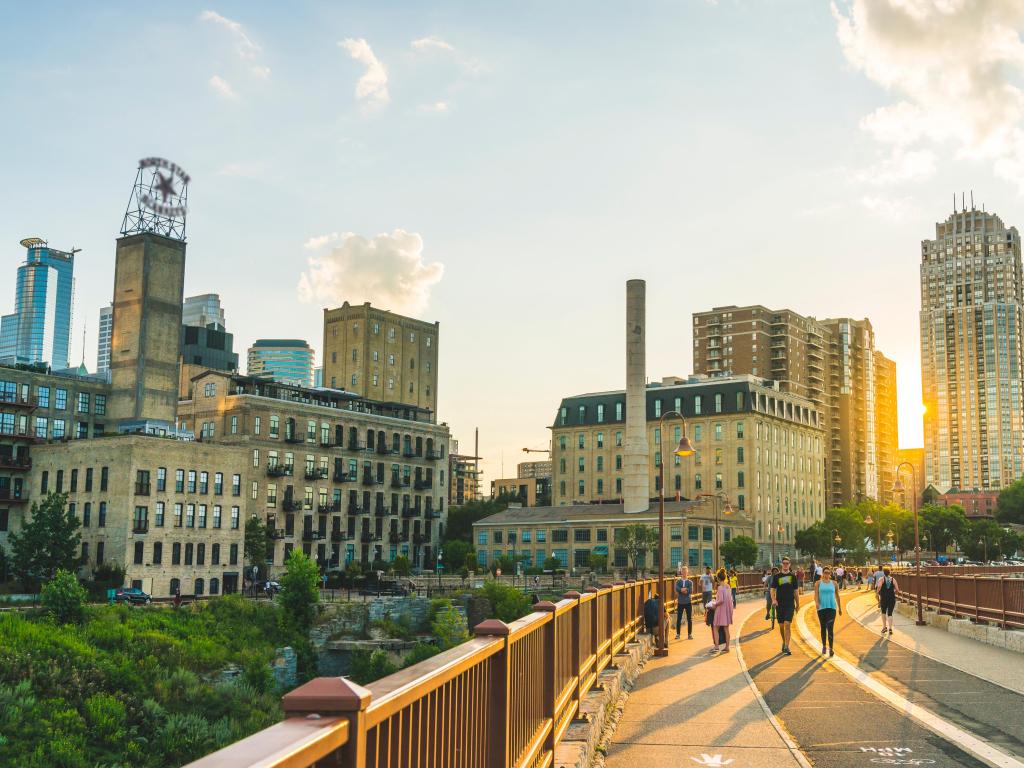 And of course, it is worth visiting First Avenue & 7th St Entry nightclub, a notable live music venue operating since the 70s. It is known as the venue where hometown star Prince primarily first performed, as well as for having since hosted many famous musicians.
As for an overnight stay in the city, we can wholeheartedly recommend Loews Minneapolis Hotel.
This hotel is conveniently located in central Minneapolis, and yet is easy to reach from the highway bringing you into the city and taking you onwards the next day.
The hotel offers luxurious accommodation in beautiful, stylishly decorated rooms. It has private parking and a fitness center for guests to enjoy.
Being located in downtown Minneapolis, the hotel is within walking distance to, for example, the First Avenue nightclub, Target Center sports and music arena, Orpheum Theater, and Mill City Museum. Nearby, you'll also find many amazing restaurants, bars, and shopping centers.
Enjoy jazz music, fountains and fascinating museums in Kansas City
Kansas City is found about halfway along the Missouri Route.
It is an amazingly diverse, fascinating city, full of cultural attractions and entertainment to enjoy. The city is especially known for its jazz music scene, and for the hundreds of fountains found within its borders.
While visiting here, head into downtown Kansas City to visit the American Jazz Museum, found in the historic 18th & Vine Jazz District, or explore the Nelson-Atkins Museum of Art that is home to 40,000 works of art, both ancient and contemporary.
The National WWI Museum and Memorial is devoted to remembering and understanding this war and its harrowing effects.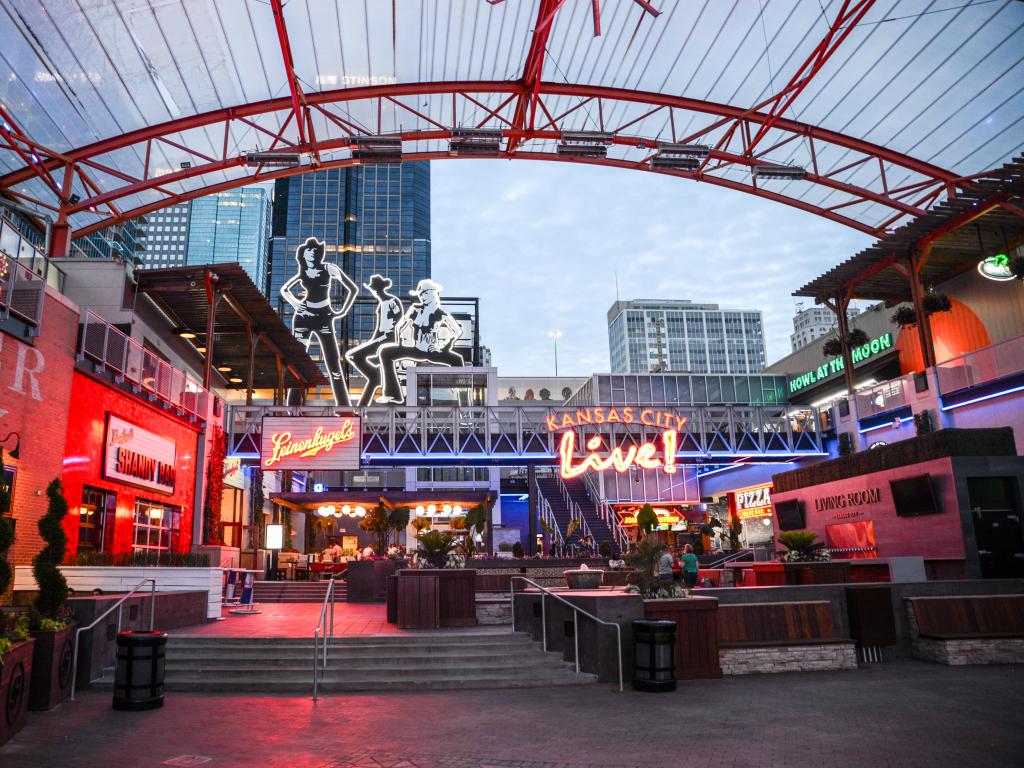 Or if you're looking for vibrancy and entertainment, Country Club Plaza is a fabulous shopping center and area where you'll find wonderful, interesting establishments, restaurants and entertainment venues.
For a place to stay, our vote goes to Hotel Indigo - Kansas City Downtown, an IHG Hotel.
This hotel offers you a comfortable stay right in the heart of Kansas City, just a few blocks from the highway taking you through the city on your road trip.
The rooms are spacious and beautifully decorated. At the hotel you'll find a lovely bar, a business center, a fitness center and a restaurant for you to make use of.
Staying at this hotel, you'll be within walking distance to several popular attractions in Kansas City. These include the Kauffman Center for the Performing Arts, the Arabia Steamboat Museum, and wonderful restaurants, bars and entertainment venues of downtown Kansas City.
The National WWI Museum and Memorial is under two miles away from the hotel, and the Nelson-Atkins Museum of Art is about 3 miles away.
Where to stay when you reach Badlands National Park
Badlands National Park consists of fabulous canyons, rock formations, rugged exposed terrain and tall spires. It is home to diverse wildlife, including bison, bighorn sheep, and lots of other species of mammals, birds, amphibians and insects.
A great place to stay overnight during your visit here is Badlands Frontier Cabins. This hotel offers air-conditioned, comfortable, cozy cabins to guests. The cabins each have a front porch, and you may make use of free WiFi and parking space.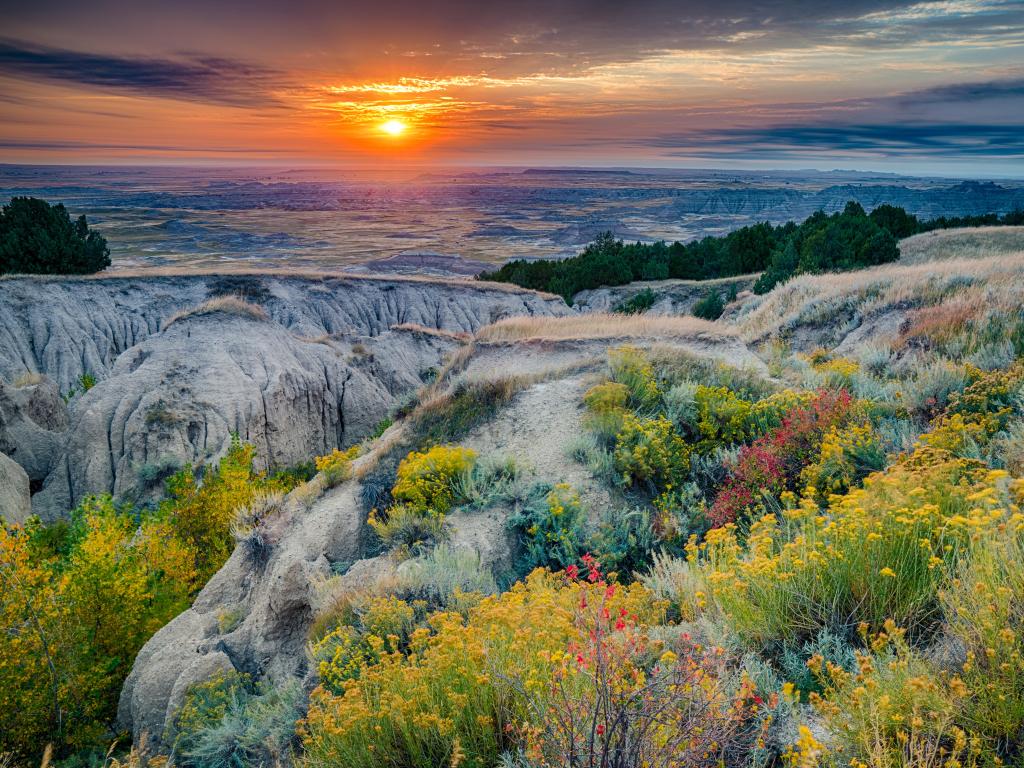 The location is close to a couple of restaurants and cafés. Furthermore, it is close to the entrance to Badlands National Park. You may take in the sights in the park by driving the Badlands Loop Road with scenic lookouts, popping over to the Ben Reifel Visitor Center, heading to one of the walking trails that start near the Center, or visiting the Fossil Exhibit Trail to view some of the fossils found in the area.
Finally, the Black Hills area with mountains and forests is only a 1 hour 30 minute drive away from Badlands. Visiting this area, you can view the famous national monument Mt Rushmore and other amazing sights.
Things to see on a road trip from Chicago to Badlands National Park
Along this road trip, there are many fascinating stops to make: cities with colorful political history or vibrant entertainment scenes, small towns with alternative lifestyles, and beautiful nature areas showcasing floodplains, prairie landscapes and forests.
Carry on reading to find out some of our recommendations as to the best things to see and do during this road trip.
The Minnesota Route
Milwaukee, Wisconsin - Milwaukee is a city on the western shores of Lake Michigan. It is known as a culturally diverse location where you may enjoy boating and kayaking on the Lake, visiting the city's many museums such as Harley-Davidson Museum, or enjoying ethnic dining and sampling the area's breweries, multiple due to early German influence here.
Madison, Wisconsin - Madison, surrounding lakes Monona and Mendota, is Wisconsin's capital city and known for its many cultural attractions. Notable sights include the Wisconsin State Capitol, Wisconsin History Museum, and many buildings designed by Frank Lloyd Wright. Madison is also one of the most bicycle-friendly cities in the US.
Pine Island State Wildlife Area, Wisconsin - This small but mesmerizing nature area contains floodplain savanna type vegetation and was formed to provide habitat for hundreds of herons, egrets and pelicans that live here.
Eau Claire, Wisconsin - Eau Claire is found in the confluence of Eau Claire and Chippewa rivers. The city is generally known for an atmosphere of entrepreneurship and alternative thinking, as well as for its music and arts scene.
Minneapolis, Minnesota - This city lies along the Mississippi River, and is known for its many lakes and parks. Minneapolis is a large city with lots of amazing attractions to see, such as Minneapolis Institute of Art, Minnehaha Falls park, and the famous First Avenue nightclub.
Minneopa State Park, Minnesota - Minneopa State Park lies along the Minneopa Creek. Rich wildlife is found in this nature area, including tens of species of birds and even a small herd of bison.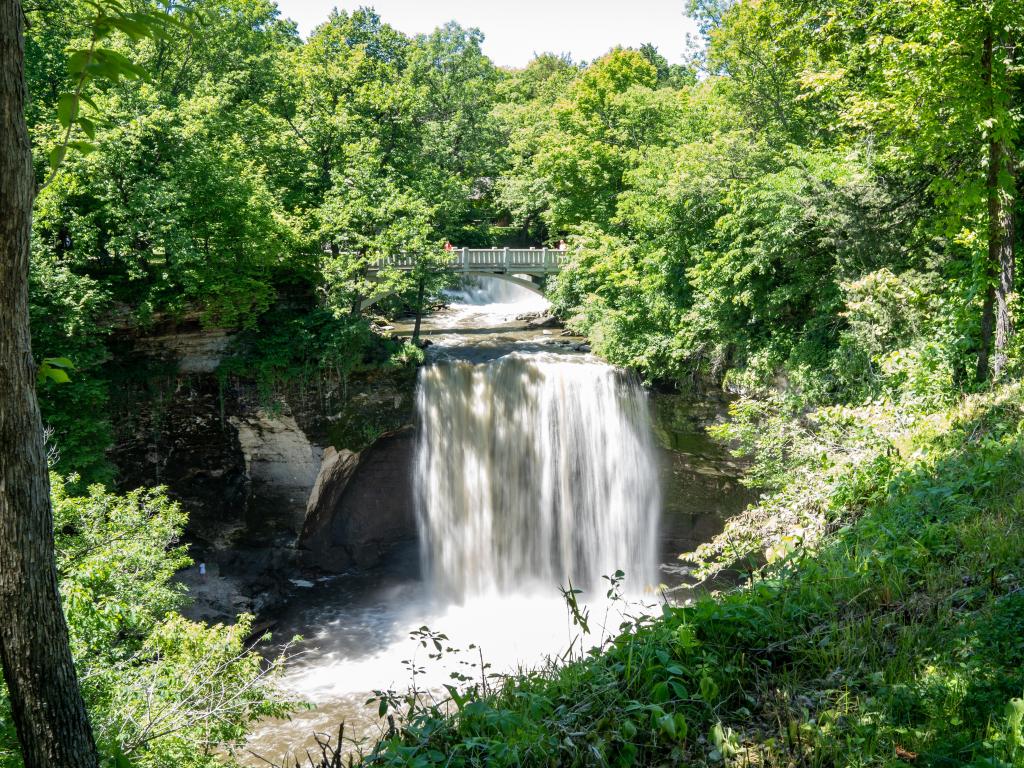 The Missouri Route
Springfield, Illinois - Springfield is the capital city of Illinois. It is best known as the home of President Abraham Lincoln, and you may learn about the president's life at The Abraham Lincoln Presidential Library and Museum, his restored home which is found nearby, and several other locations.
St. Louis, Missouri - St. Louis is a large city sometimes referred to as the "Gateway to the West", due to the Gateway Arch monument that honors America's westward expansion. The city contains wonderful cultural attractions such as St. Louis Art Museum, Missouri Botanical Garden, and Cathedral Basilica of St. Louis.
Columbia, Missouri - Columbia, Missouri, is known as a college town, for it is home to a major university and several colleges. Columbia, close to the Missouri River and the Ozark Mountains, is also surrounded by wonderful nature areas and walking trails.
Kansas City, Missouri - Kansas City is known as the place of hundreds of fountains, several amazing boulevards, and jazz music. There are wonderful attractions to visit here, such as the Nelson Museum of Art, Kauffman Center for the Performing Arts, and Country Club Plaza neighborhood where you'll find many jazz music venues.
Omaha, Nebraska -You may explore the history of pioneers in Omaha's many museums and historic sites. Omaha is also home to the world-renowned Henry Doorly Zoo.
De Soto National Wildlife Refuge, Iowa/Nebraska - This nature area, part of the migratory bird corridor of the Missouri River floodplains, consists of floodplain forests and wetlands. It is home to numerous species of migratory, resident and endangered birds and other wildlife, and you may enjoy the area on a paddle board, taking a walk, or over a picnic.
Sioux City, Iowa - Sioux City is an important cultural and economic center in Iowa. You'll find many fascinating points of interest here, including Sioux City Art Center, Sergeant Floyd Monument, and the "Riverfront", or Chris Larsen Park, one of the oldest recreational areas in the city.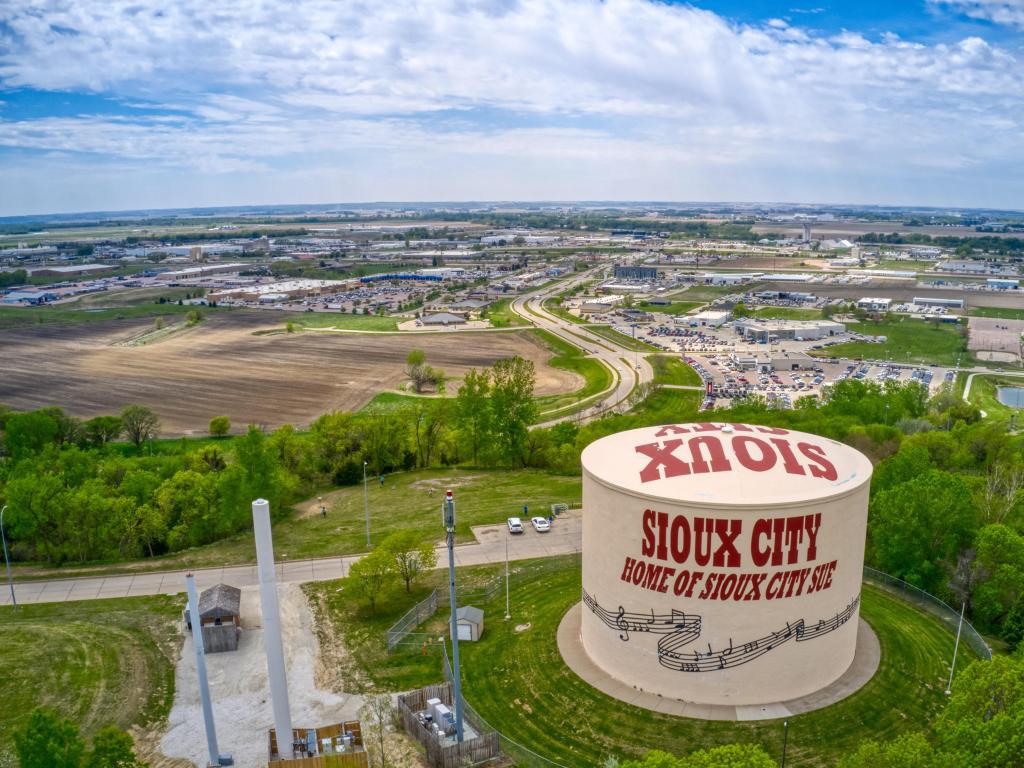 Both routes
Sioux Falls, South Dakota - Sioux Falls is the biggest city in South Dakota. It is known for the Big Sioux River that forms a series of small waterfalls at Falls Park, which also includes historic ruins and an observation tower. There is much to do for the whole family here, from culture and historic attractions to entertainment and parks.
Chamberlain, South Dakota - Make a stop at Chamberlain, on the Missouri river, to visit the cultural landmark Dignity Statue, and the Akta Lakota Museum and Cultural Center with Native American artworks and historical artifacts.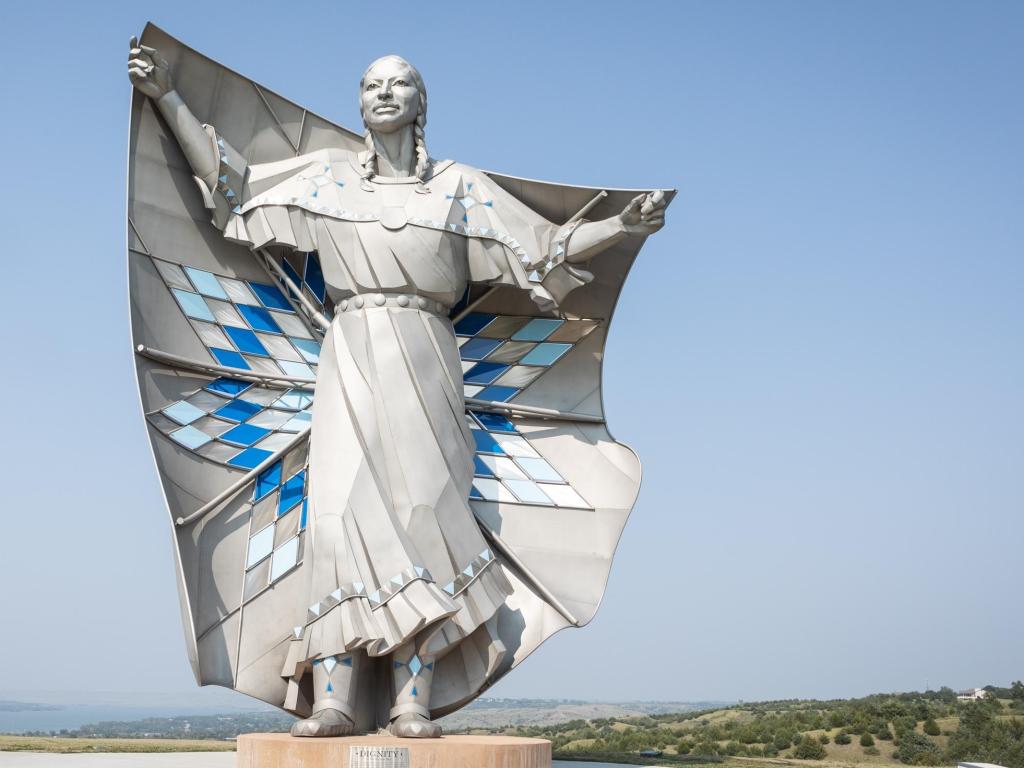 Best time to go on a road trip from Chicago to Badlands National Park
Badlands is an area of mixed-grass prairie with a hot-humid, continental climate. This means temperatures range greatly, and this is indeed a land of extremes: temperatures from -40 to 116 degrees Fahrenheit have been measured here! You may visit Badlands at any time of the year, but winter days and nights are often cold with possible snowfall, and summer temperatures are quite high, thus fall and spring may be the most favorable seasons to visit the park.
Temperatures from June to September are above 79 degrees Fahrenheit on average. Summer is the peak tourist season, so if you head to the park then, be sure to start your hikes early to avoid the biggest crowds and greatest heat. Otherwise, opt for other seasons if you wish to explore the park in a less touristy time.
In winter, temperatures usually range between -7 and 30 degrees Fahrenheit at Badlands National Park. Snowfall and bitter cold are fairly common in winter, and this all makes winter a less popular season for visiting the park, although the rugged landscape under snow cover may be extremely beautiful.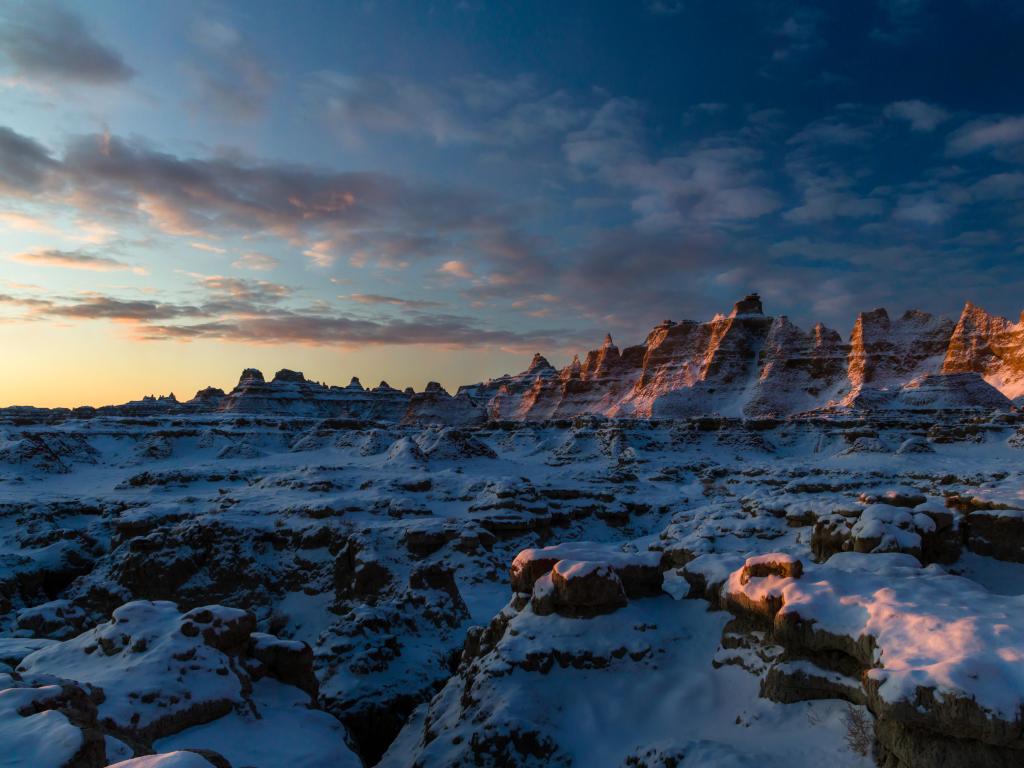 In spring or fall, Badlands National Park does experience some cooler periods, but overall temperatures are milder than in winter, and crowds thinner than in summer. Thus, spring (from April to June) and fall (September to November) are probably the best times to visit this national park.
As to events and festivals in this area that take place at a certain time of the year, we present a few of the biggest ones here for your consideration.
The Black Hills Stock Show & Rodeo takes place yearly in January, at Rapid City, 75 miles from Badlands National Park. It attracts hundreds of thousands of spectators to view tens of special rodeo, livestock and horse events, and to shop from local vendors.
Every year in July, Badlands Astronomy Festival at Badlands brings together professionals, visitors, and amateur astronomers for a celebration of the night sky and space exploration. The activities include for example solar observing opportunities, guest speakers, and public star parties.
Sturgis Motorcycle Rally takes place over 10 days in August in the Black Hills and Badlands area. It is one of the largest motorcycle events in the world, and probably the largest yearly event in South Dakota.
Finally, in September at the Black Hills (about 75 miles from Badlands), Buffalo Roundup & Arts Festival takes place. During this festival you may watch cowboys and cowgirls round up and drive a herd of over 1000 buffalo, as well as enjoy offerings of local food, arts, crafts, and entertainment.
So, choose your season - in any case, all times of the year provide something beautiful and exciting at Badlands National Park and its surroundings!