Road Trip from Chicago to Grand Canyon
A road trip from Chicago to The Grand Canyon takes you from the start of America's most historic road in America, Route-66, to one of its most famous natural wonders. While this is a fantastic trip to make, full of history and incredible sights, it's certainly not one for the faint of heart.
The 1700-mile trip from Chicago to The Grand Canyon takes 26 hours to complete, with two route options to choose from. Highlights along the way can include St Louis, Santa Fe, Albuquerque and Coconino National Forest; or Omaha, Denver and Mesa Verde National Park.
If you plan on taking such an amazing journey, you surely don't want to risk missing any of the great attractions along the way. Read on for our advice on which route to take, where to stop along the way, the stand-out things to do, as well as the best time to make this epic road trip.
How far is the Grand Canyon from Chicago and how long will the road trip take?
Comparison of road trip route options between Chicago and The Grand Canyon

| Route | Distance | Driving Time |
| --- | --- | --- |
| New Mexico Route | 1725 miles | 26 hours |
| Colorado Route | 1655 miles | 26 hours |
A road trip from Chicago to The Grand Canyon take you through at least 6 states, depending on which route you opt to take.
As you can see, this is a gargantuan journey you're about to undertake and it couldn't be completed in a single day even if you wanted it to. That's why we're going to break it up over the course of 4 days. And remember, you always have the option of taking more detours, or extending your stay in one of our recommended stops. That's the beauty of road tripping!
The great thing about this road trip is that its two main route options are pretty similar in terms of travel time. With no clear 'quick route' option, you only need ask yourself which stops look most appealing to you and your travel companions.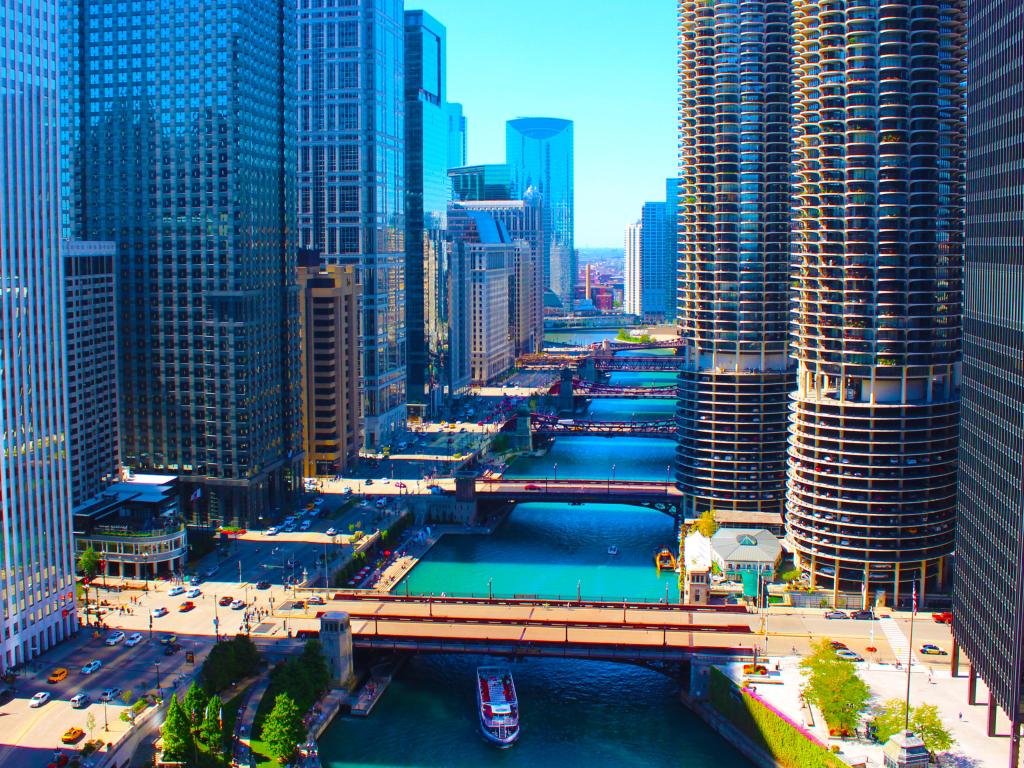 Best road trip route from Chicago to the Grand Canyon
As we've already said, both of our recommended routes take around 26 hours to complete, not including stops and minor detours to visit local attractions along the way.
How to drive from Chicago to the Grand Canyon
The map above shows our suggestions for the best road trip routes between Chicago and the Grand Canyon. Keep reading for detailed descriptions of both routes, where to stay on either, and the best things to do on the way.
The New Mexico Route
From Chicago we're going to set out on the I-55 and follow it southwest for 300 miles, to St. Louis.
From here you'll change onto the I-70, going west for another 200 miles across the plains of central Kansas, until just outside the small town of Ellsworth. This is where we get off the Interstate for a while, as we go southwest on US-156 and then US-56 a combined 421 miles, until its completion in Springer, New Mexico.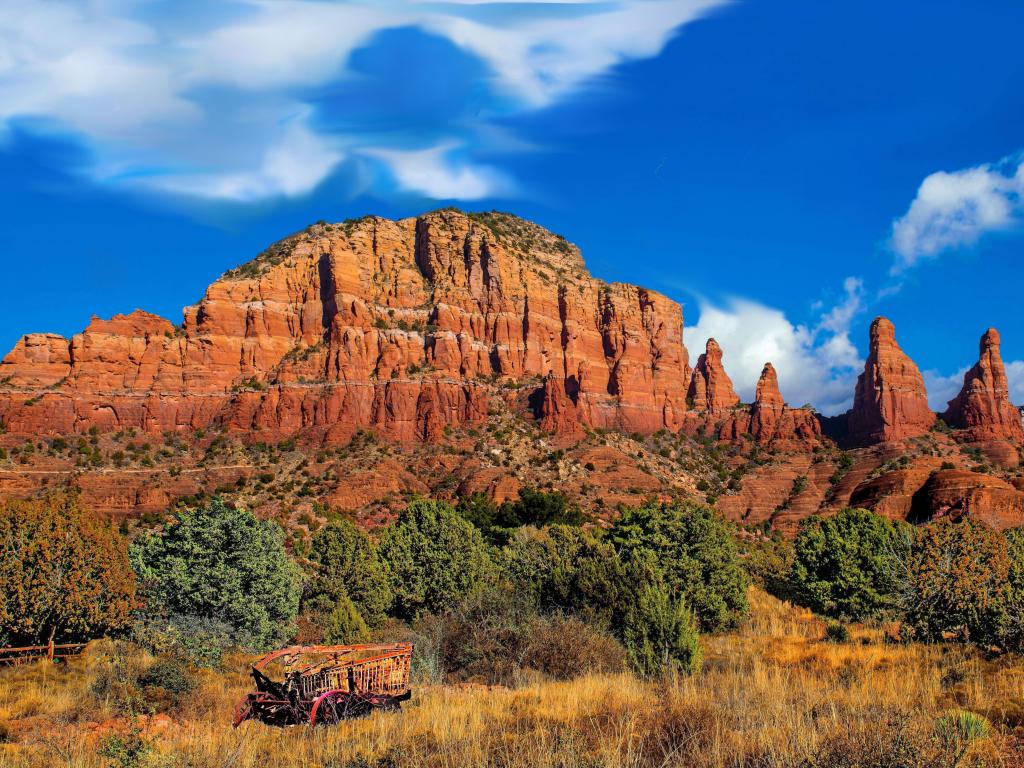 From there you'll take I-25 all the way to Albuquerque, before switching onto the I-40. This stretch of the I-40 follows the historic Route-66 we started out on and takes us all the way to Flagstaff. This particular part of the route is littered with small towns showing off the history of the famous road, as well as being flanked by the stunning Coconino National Forest.
From Flagstaff, you only have 80 miles left to travel, heading north on US-180 then US-64 until you reach Grand Canyon Village.
The Colorado Route
On this route, you'll want to start by taking the I-88 towards Iowa City and Des Moines, moving onto the I-80 at East Moline.
At just under 5 hours into your journey, Des Moines is a good place to stop and take a more substantial break. From Des Moines, continue on the I-80 through Omaha and Lincoln, which are both great options for a stop if you need the rest.
As you head westwards through Nebraska, take the opportunity to make small diversions to visit the small towns of Kearny, Gothenburg and North Platte, which all boast interesting things to visit: Fort Kearny State Park, Pony Express Station Museum and Buffalo Bill Ranch State Historical Museum respectively.
Back on the I-80, take exit 102 (right after Big Springs) and head on the I-76 towards Denver. On this stretch of interstate, you might want to take a rest stop at the almost-ghost town of Merino, with its colorful murals recreating a bygone era.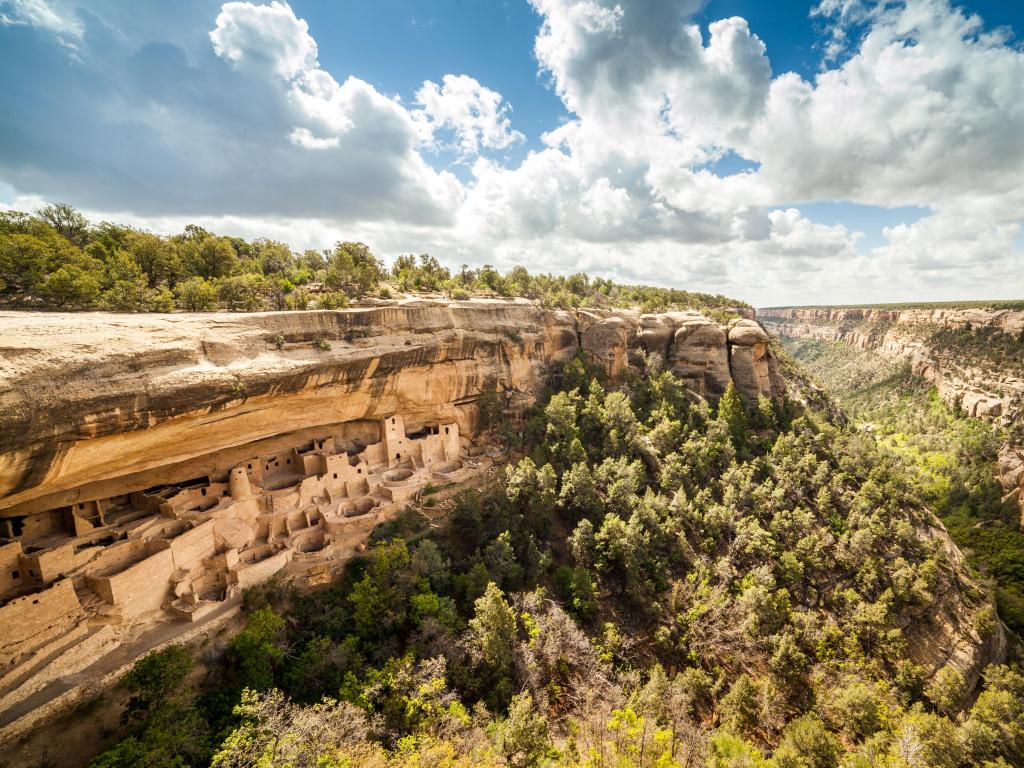 Once you have passed through Denver, head south on US-285 until you see signs for Del Norte and CO-112 W. At Del Norte, take US-160, passing through South Fork and Durango - and also your optional detour to Mesa Verde National Park (a must-see in our opinion).
From Durango, you'll need to stay on US-160 for 3 hours 45 minutes, until you reach Tuba City. From this point, take US-89 south and then AZ-64 westwards, straight to Grand Canyon Village.
Best places to stop between Chicago and the Grand Canyon
With a journey this long, there are an incredible amount of things to do and see along the way, as you can probably imagine.
While many of them will be things you can stop for a short while to see, or even an area you can simply enjoy as you drive through, you are going to need a few places to stop and recharge throughout your journey:
Omaha (the Colorado Route)
At six and a half hours into your journey (via the Colorado Route), Omaha is a no-brainer when it comes to choosing somewhere to stop over.
Famously home to Warren Buffet, the annual College World Series and (allegedly) the Reuben sandwich, Omaha is jam-packed full of culture and entertainment.
If you can spare a half day in your itinerary, we'd heartily recommend a visit to the Henry Doorly Zoo and Aquarium, which consistently ranks in the world's top five zoos.
On the other hand - if upscale shopping, galleries and restaurants is more your thing - Omaha's Old Market neighbourhood is sure not to disappoint. For an overnight stay in this delectable district, our choice is The Farnam, with its luxurious style and impeccable service.
Denver (the Colorado Route)
Denver - otherwise known as 'The Mile High City' - is as much sought after for its elevated culinary scene as it is for its mountainside setting.
With over 50 museums, Denver is certainly not short on cultural attractions for those looking for a dose of intellectual stimulation. The Denver Museum of Nature & Science and Denver Art Museum are two of our personal favorites.
For those more interested in kicking back with a drink in hand, however, Denver has just as much to offer. Famous for its craft beer scene, the city is home to over one hundred brewpubs, breweries and tap rooms. And if you're feeling spoiled for choice, you can always hop onto one of the many 'beer trail' tours the city has on offer.
With so much to see, learn, eat and drink, you'll want to make sure you stay in the heart of downtown Denver. For a perfect location and flawless amenities, you cannot beat the Four Seasons Hotel Denver. What's more, the entrance to the Rocky Mountain National Park is a mere 1 mile drive away from the hotel, in case you fancy escaping the city.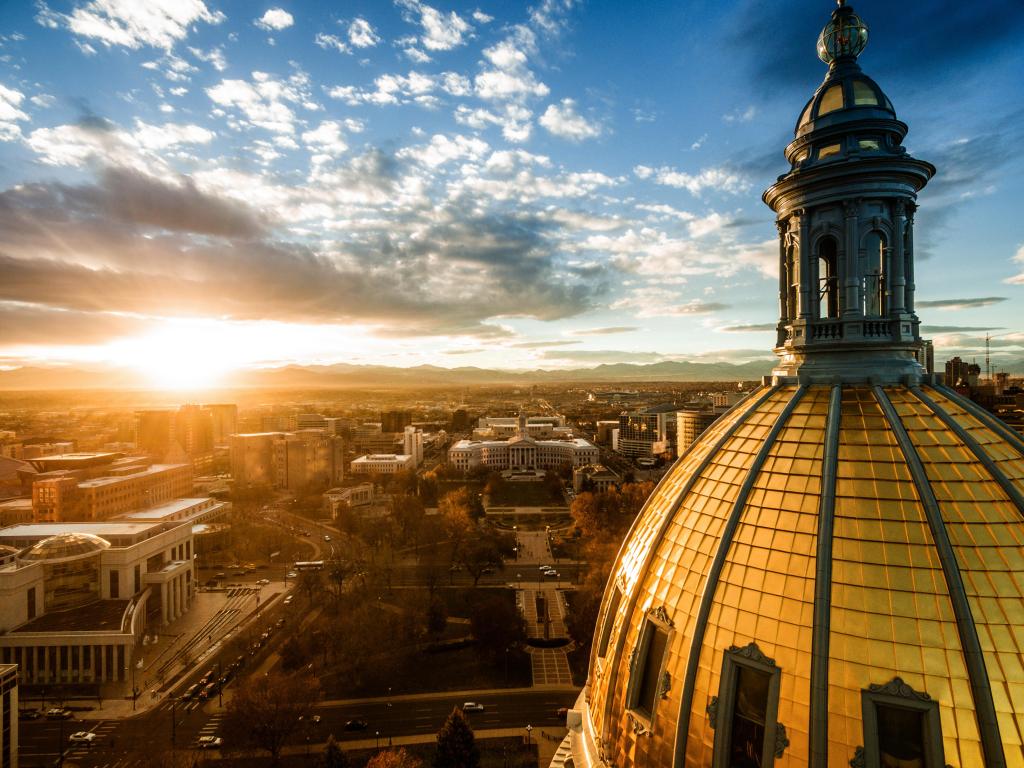 Dodge City (the New Mexico Route)
Known throughout history as "the most wicked town in the Old West", Dodge City lies on the path of the famed Santa Fe Trail, near the fort it was named after, Fort Dodge.
The city still features many of its original buildings and locations, while others have since been reconstructed in the way they were originally built. If you're looking to get a feel for what life in the wild west was truly like, there's probably not a better city in the world to do so.
For your overnight stay, our top choice is the Holiday Inn Express & Suites - Dodge City, which is helpfully located at the entrance to the city's Wright Park. Not only does this position you favorably for local attractions: you'll also be close to the main road, ready for your onward journey the next morning.
Albuquerque (the New Mexico Route)
Albuquerque is your best option for that final dose of big city charm on our New Mexico route to The Grand Canyon. At just under 6 hours from the Grand Canyon, Albuquerque is a great penultimate stop, allowing you chance to enjoy a huge selection of bars, restaurants and entertainment before heading out into the wilds of the Canyon.
While you're in town, we'd recommend you take in some of Albuquerque's famous attractions such as the San Felipe De Neri Church. If you're feeling more sedentary after some pretty heavy driving, take a ride on the longest aerial tram in the Americas, the Sandia Peak tramway and witness the stunning views.
To experience the best that Albuquerque has to offer, we suggest staying in the city's old town neighborhood. In terms of location and guest experience, Hotel Chaco stands out as head and shoulders above the rest.
Close to Albuquerque's main museums, galleries and top restaurants, this luxurious property is an obvious choice for a short stay. And as an added bonus, valet parking is included - perfect after a long day's drive!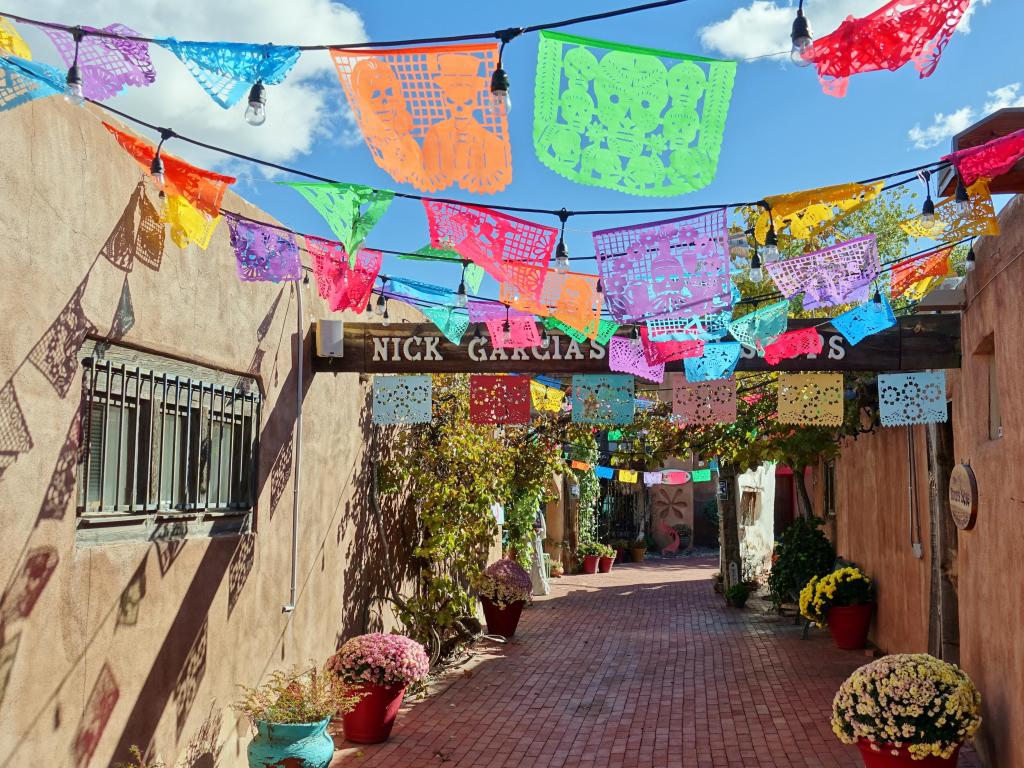 Things to see on a road trip from Chicago to the Grand Canyon
Averaging around 7 hours driving per day is certainly a lot, so we need to make sure there is plenty of small stops with sights and attractions along the way to keep things interesting. Thankfully, there is an abundance of them to take our pick from.
Remember, there's also nothing stopping you from adding an extra night on top of what I've already suggested if one of these really takes your fancy and you want to spend more time there.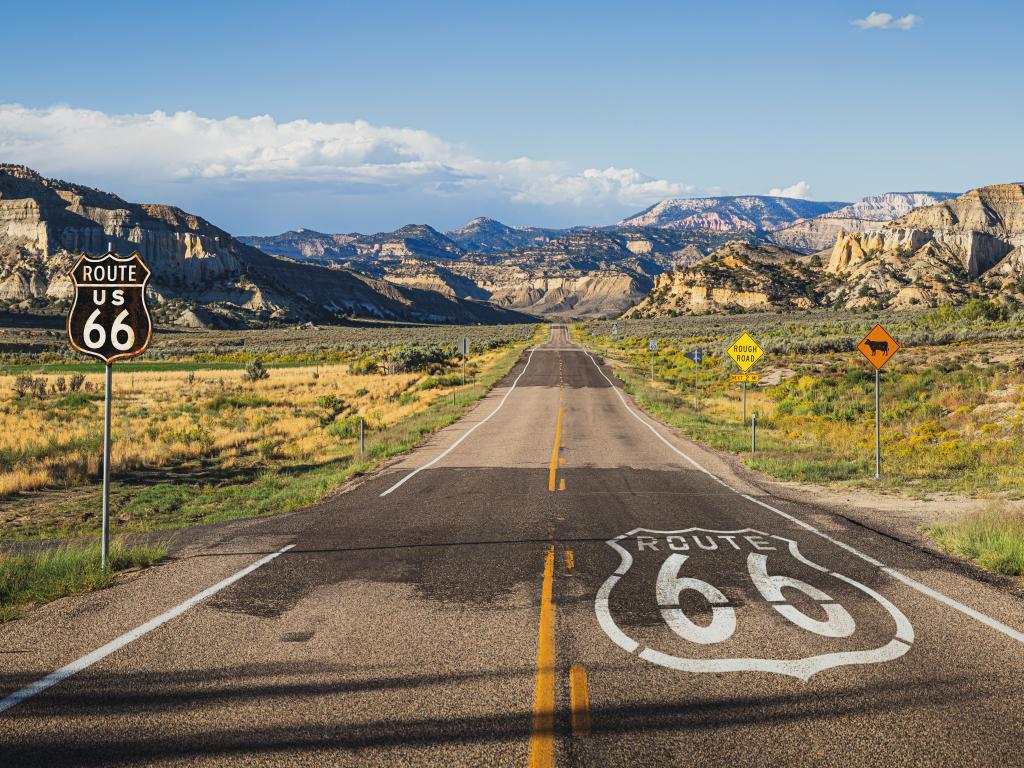 New Mexico Route
Historic Route-66 - The most famous road in America, which originally ran from Chicago to Santa Monica Pier in Los Angeles. While you can no longer drive it in its entirety, there are still plenty of historic attractions dedicated to its history along the way.
Gateway Arch National Park - The smallest and 3rd most recent addition to the register of national parks, the famous Gateway Arch is a monumental feat of architecture, that symbolises the areas history as the gateway to the west.
Kansas City - A unique city, in that it is technically two identically named cities, split between two states. It's the largest city in Missouri and 3rd largest in Kansas.
Cheyenne Bottoms Refuge - A watering hole that is considered an important pit-stop location for migratory birds, due to being the largest body of water in a predominantly dry area. This makes it a perfect location to spot many different species of rare and unusual birds.
Northwestern Corner Of Texas - A small and often unheard-of memorial on the side of the road on US-56, right on the state line between Texas and New Mexico.
Las Vegas, New Mexico - Not THAT Las Vegas but a town famous for its history centered around cowboys and outlaws.
Santa Fe National Forest - A protected National Forest, covering over 1.5 million acres of land out in the wilderness..
Albuquerque, New Mexico - The most populous city in New Mexico, home to some of the state's most honored cultural attractions and top-rated restaurants. A great option for an overnight stay.
El Malpais Monument and National Conservation Area - Malpais translates to Badlands, which is a perfect definition for the rugged volcanic landscapes you'll find here.
Petrified Forest National Park - Almost ¼ million acres of colorful fossils and archaeological sites.
Humphreys Peak - The highest natural point in Arizona - and a dormant volcanic peak (a fairly easy 4.8-mile hike).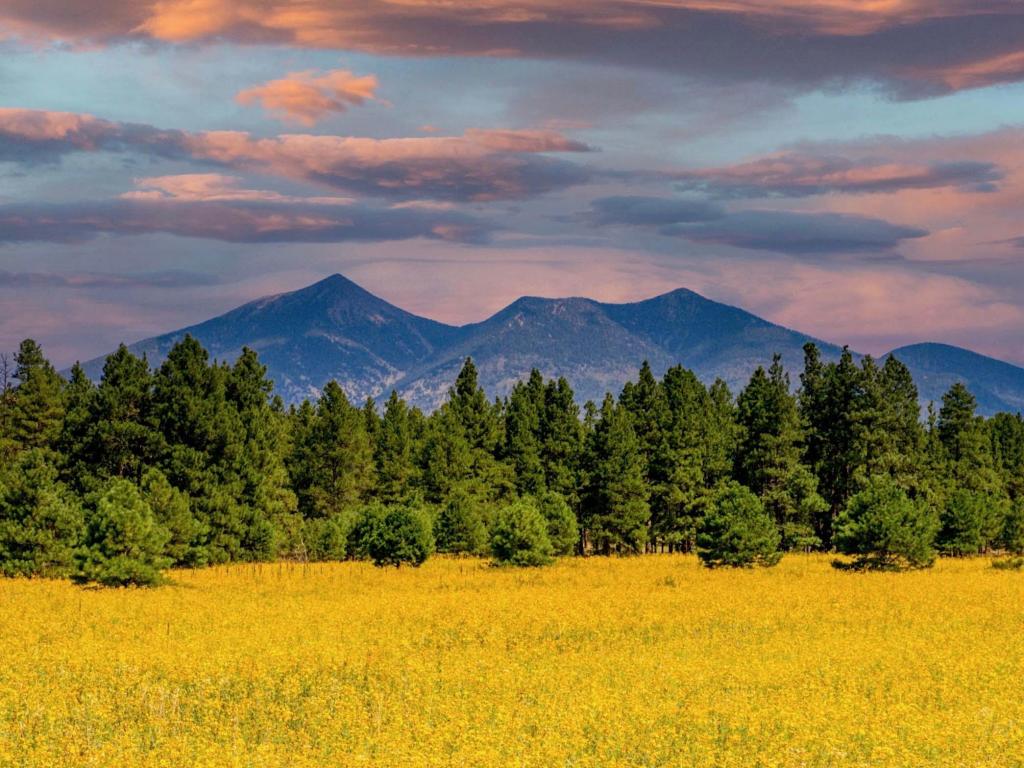 Colorado Route
Des Moines - Known nationally as the home of the Iowa Caucus, Des Moines is actually home to a large number of sculpture parks and botanical gardens.
Henry Doorly Zoo and Aquarium - One of the world's top five zoos, featuring the largest cat complex in North America and one of the world's largest indoor rainforests.
Fort Kearny State Park - A reconstructed monument to the historic outpost of the United States Army founded in 1848.
Pony Express Station Museum, Gothenburg - A small (yet significant) museum housed in a compact cabin and former station used by Pony Express mail carriers. Open seasonally.
Buffalo Bill Ranch State Historical Park Museum - Buffalo Bill's ranch, situated in North Platte, Nebraska. Tour the restored mansion and barn, jam-packed with memorabilia.
Merino, Colorado - Almost classed as a ghost town, Merino is named after the breed of sheep that grazed there years ago. Visit to take a photo with the colorful storefront murals depicting a bygone era.
Denver - You won't want to miss the culture, food and outdoor pursuits on offer in The Mile High City.
Mesa Verde National Park - A US National Park and UNESCO World Heritage Site, Mesa Verde is known for its well-preserved Ancestral Puebloan mountain dwellings, including Cliff Palace.
Kaibab National Forest - A 1.6-million-acre forest around both the north and south rim of the Grand Canyon.
Best time to go on a road trip from Chicago to the Grand Canyon
It's probably not going to come as a surprise when I tell you that Arizona is incredibly hot in the summer. In fact, it and Nevada frequently record the highest temperatures in the entire country.
Now, with most of the attractions - both along our routes and at our destination - being outdoors, we certainly want good weather. However, as the old saying goes, you can have too much of a good thing. That relates perfectly to exploring Arizona and particularly the Grand Canyon in the hottest months.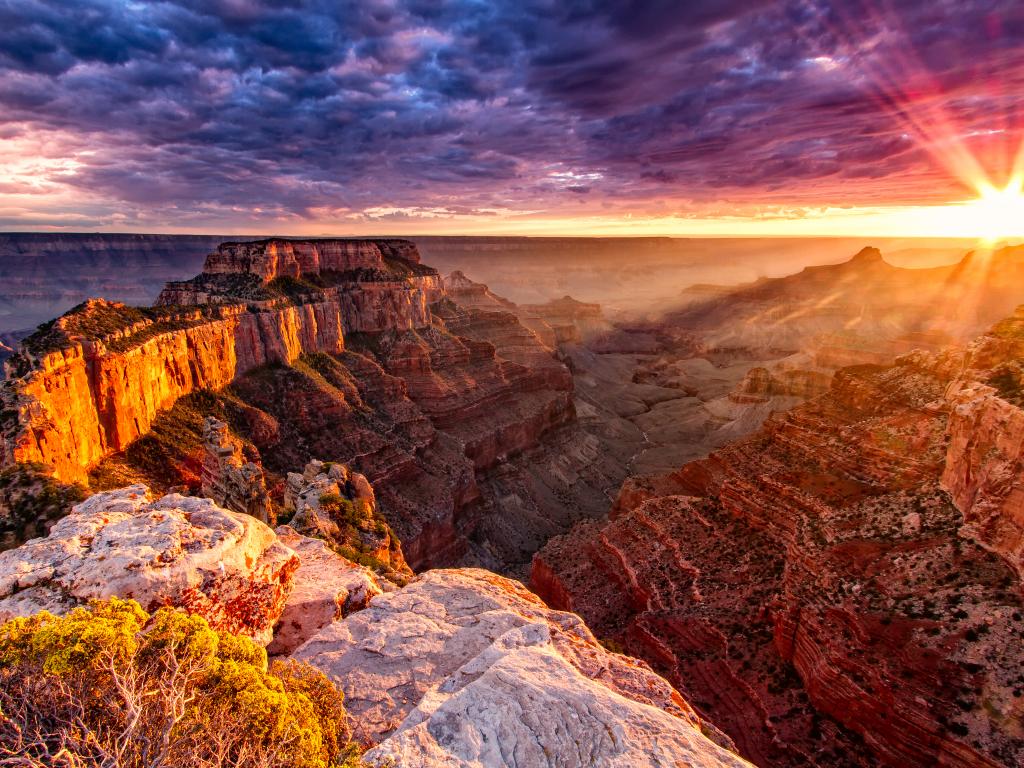 We'd therefore suggest that the optimal time to make your road trip from Chicago to The Grand Canyon is at either the beginning or end of summer.
This way you'll still have beautiful weather to enjoy the great outdoors in, but the heat won't be so overbearing that you spend the whole time looking for shade and water.