Road Trip from Chicago to San Diego
If you're looking to hit the road and discover a huge chunk of the central United States, then look no further than this road trip from the Windy City of Chicago to beautiful San Diego, which is celebrated for its year-round sunshine, historic architecture, and gorgeous beaches.
The 2,200-mile road trip from Chicago to San Diego takes 34 hours to drive, and takes you through larger cities like Denver, Las Vegas and Santa Fe, as well as awesome natural wonders like the Grand Canyon, Dixie National Forest and Zion National Park.
Keep reading to discover the best route to take, where to stop along the way and what you can expect to find at each and every highlight on this epic road trip from Chicago to San Diego.
How far is San Diego from Chicago, and how long will the road trip take?
Comparison of road trip routes between Chicago and San Diego

| Route | Distance | Driving Time |
| --- | --- | --- |
| The Northern Route | 2,200 miles | 34 hours |
| The Southern Route | 2,400 miles | 36 hours |
When it comes to this road trip, you've got two route options to choose from: whether you'd rather discover the mountains and plains of the North, or the deserts and canyons of the South, we've got you covered.
Choose the Northern Route for an opportunity to take in some of the most popular tourism destinations in the US, including Las Vegas and Denver. This route crosses just under 2,200 miles and should take you about 34 hours to drive in total.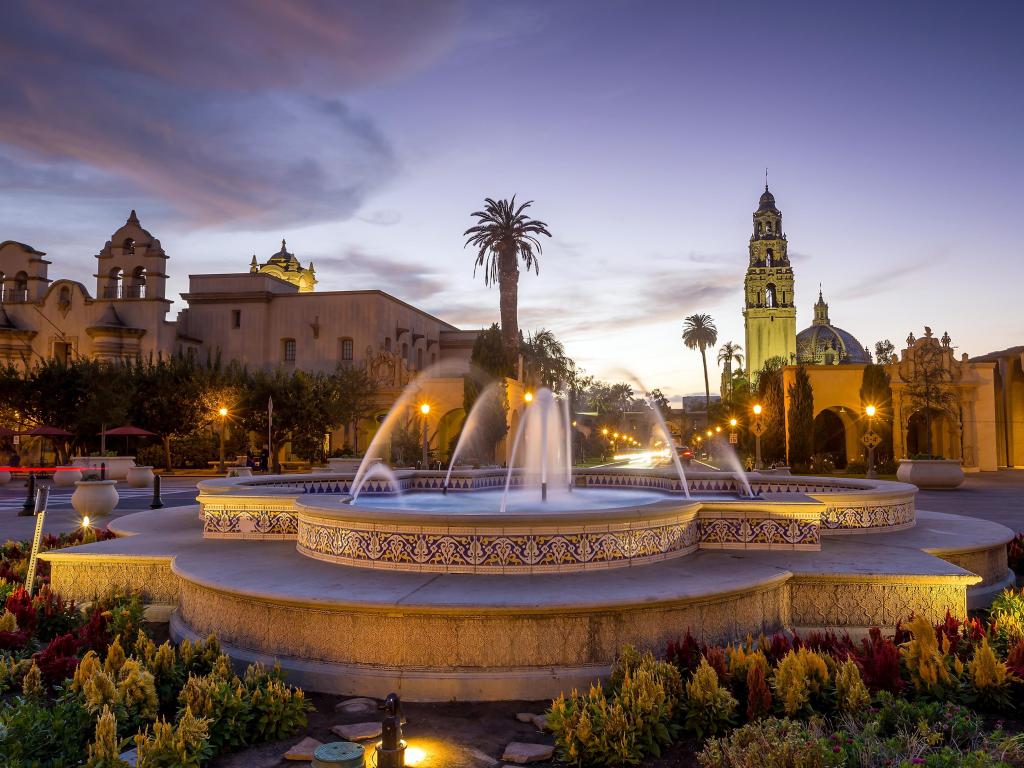 Alternatively, you can opt for the Southern Route, which will take you through a variety of states in the southern US including New Mexico, Texas and Arizona. This route crosses just under 2,400 miles and will take you around 36 hours to traverse.
Regardless of the route you choose, we recommend setting aside about 8 to 9 days to get the full experience out of this incredible journey.
Best road trip route from Chicago to San Diego
When it comes to picking a route, it really comes down to what sort of experience you're looking for. Both routes offer tons of unique attractions along the way, as well as an equal distribution of natural and city stopping points to choose from.
Shorter and a little more direct, the Northern Route will take you through a variety of states known for their gorgeous landscapes, including the expansive plains of Iowa, the snow-capped Rockies in Denver and the arid deserts of Nevada.
You'll get to stop through a couple of larger cities including gorgeous Denver and glittering Las Vegas, and you'll also have a chance to explore some neat protected natural spaces like Dixie National Forest, Zion National Park and the Valley of Fire State Park.
For a more leisurely experience, you can choose the Southern Route which takes you through many southern states including New Mexico, Texas, and Arizona as well as Oklahoma and Missouri.
This version of the road trip is more city-focused than the Northern Route, with stops in Santa Fe, Oklahoma City, St. Louis, and Phoenix before arriving in sunny San Diego. That being said, you'll still get to visit a pretty iconic natural attraction: The Grand Canyon.
The Northern Route
Cutting across the center of the United States, this route is actually quite easy to follow. You'll exit Chicago via the I-88 then continue along the I-80 to Des Moines. Soon thereafter, you'll find Omaha and then, a bit further, Denver, where we recommend stopping overnight.
After a night in Denver, you can wake up to the sight of the beautiful Colorado Rockies. A short drive through this stunning mountainous region will take you into Utah and the Dixie National Forest, as well as Zion National Park. After you've explored these spaces, get on the I-15 and follow it to the Valley of Fire State Park.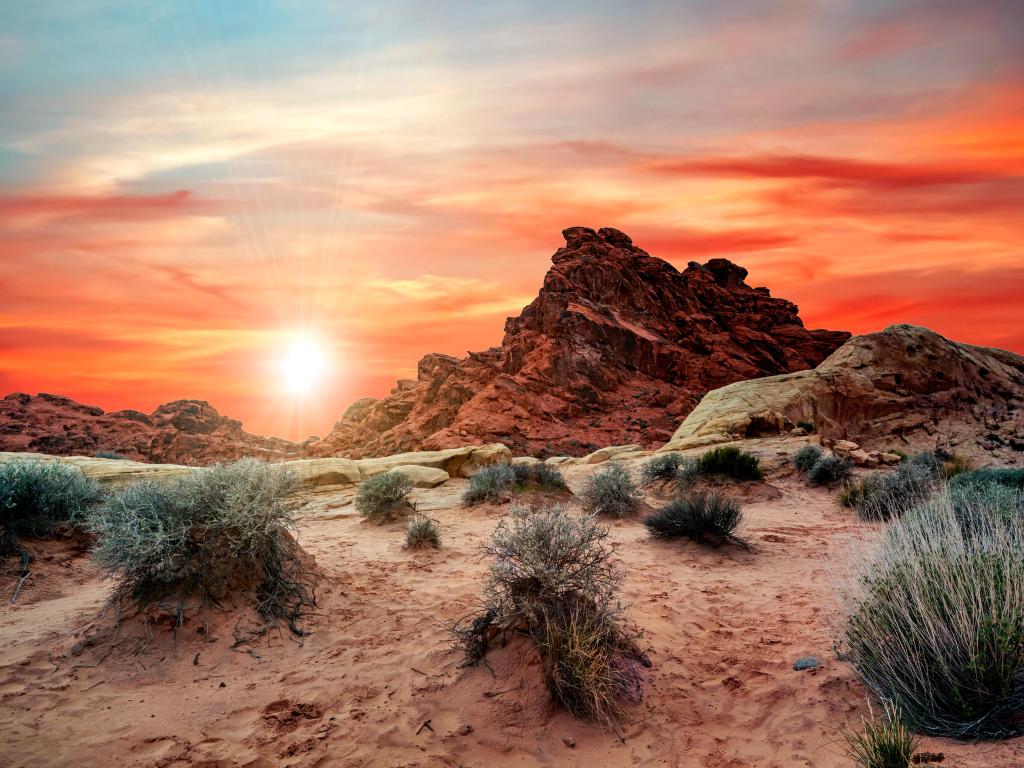 One of your last stops on route will be Las Vegas, located close to stunning Lake Mead. Stop there for a night of gambling and exploration, before continuing to beautiful San Diego in the morning.
The Southern Route
More city-centric, the Southern Route will take out of Chicago via the I-55. You'll follow this interstate until you've reached the beautiful and historic city of St. Louis.
From there, continue along the I-44 through Tulsa and Oklahoma City until you've reached the expansive state of Texas. The I-40 will take you through Amarillo and all the way to beautiful Santa Fe, where we recommend stopping overnight.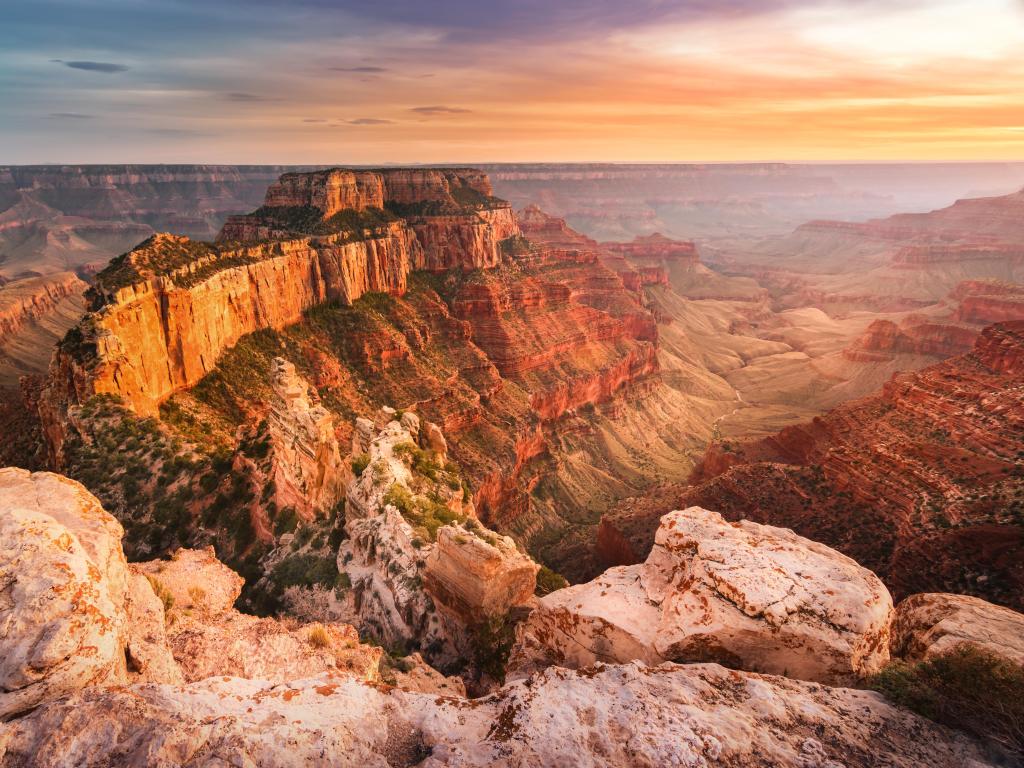 After a day or two in Santa Fe, you'll continue towards the Grand Canyon, one of the most well-known natural attractions in the country. From there, you can drop by the vibrant city of Phoenix before finally continuing to Santa Fe via the I-8!
Best places to stop between Chicago and San Diego
There's no getting around the fact that both of these routes are quite lengthy, so you'll have to make plans for a couple places to stop for a rest on your way to San Diego. Luckily, we've found a few spots we think make the perfect overnight stop. Keep reading to find out more!
Rest up amidst the Rockies in Denver
Ideally located about halfway along the Northern Route, Denver is an ideal spot to stop for an overnight sojourn. Boasting tons of cultural attractions and a gorgeous natural landscape, we can't think of a better spot to stop along this route for a rest.
Denver is surrounded by beautiful mountains, rivers and plains, which are great to explore any time of year. If you're more of a city person, don't fear: Denver offers shopping, art and cultural highlights that are well worth visiting.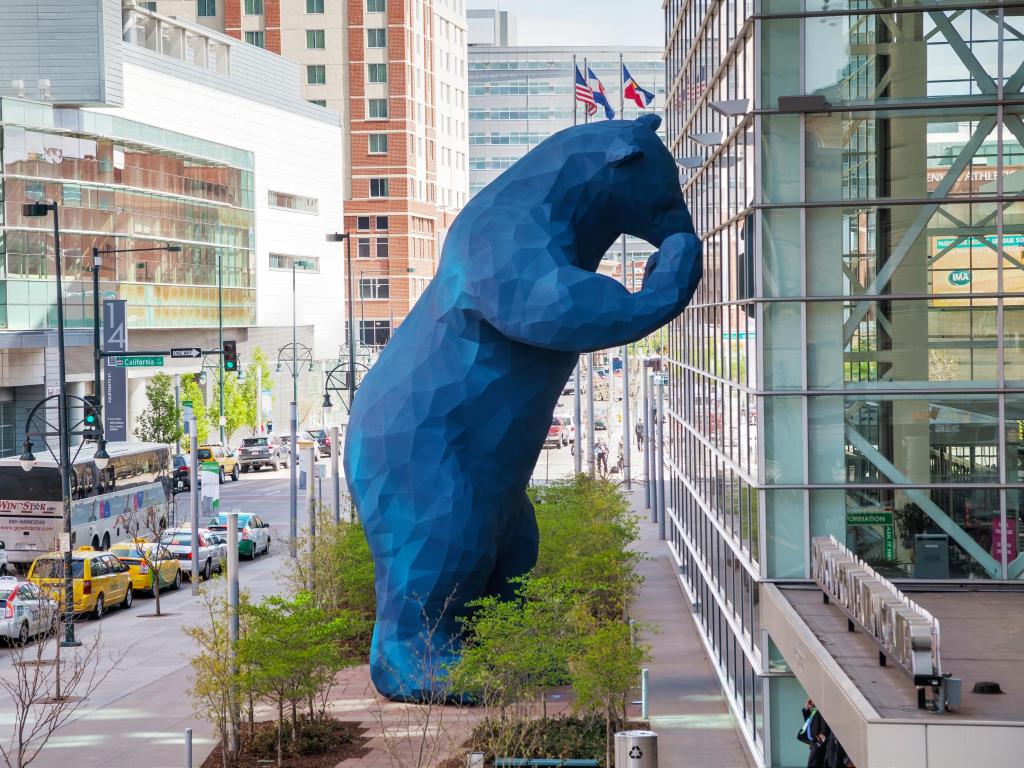 For example, you could check out the Denver Art Museum, which offers over seven stories of global and local art; or, stop by the Denver Botanic Gardens, where you'll have the opportunity to explore over 23-acres of gorgeous gardens.
As usual, we've got you covered when it comes to accommodation. We recommend booking a room at the Four Seasons Hotel Denver, which is located in the center of Denver's busy downtown core and boasts some incredible amenities.
The Four Seasons offers beautifully decorated rooms that give you gorgeous views of the surrounding mountains. You'll also find that this hotel has several luxurious on-site dining options, as well as a rooftop pool and full-service spa which are perfect for some pampering after a day of driving.
You'll find this hotel ideal for exploring some of this city's most interesting attractions, including the Ellie Caulkins Opera House, the Museum of Contemporary Art, and the Colorado State Capitol. Best of all, you'll have no trouble quickly getting back on route in the morning.
Stay in historic Santa Fe
A significant artistic and cultural hub and hallway to San Diego, Sante Fe is located right along the Southern Route. It's the perfect spot to stop for a dose of civilization after a day of driving through the arid deserts of Texas and New Mexico.
Santa Fe is also located right before the Grand Canyon stop on this route, so it's perfect for a place to rest before heading out to explore the vast Grand Canyon in the morning.
Santa Fe happens to be the oldest capital city in the United States, so it's got tons of historic attraction that are well worth visiting. One such attraction is the San Miguel Chapel, the oldest church in the US and a monument to the city's rich history.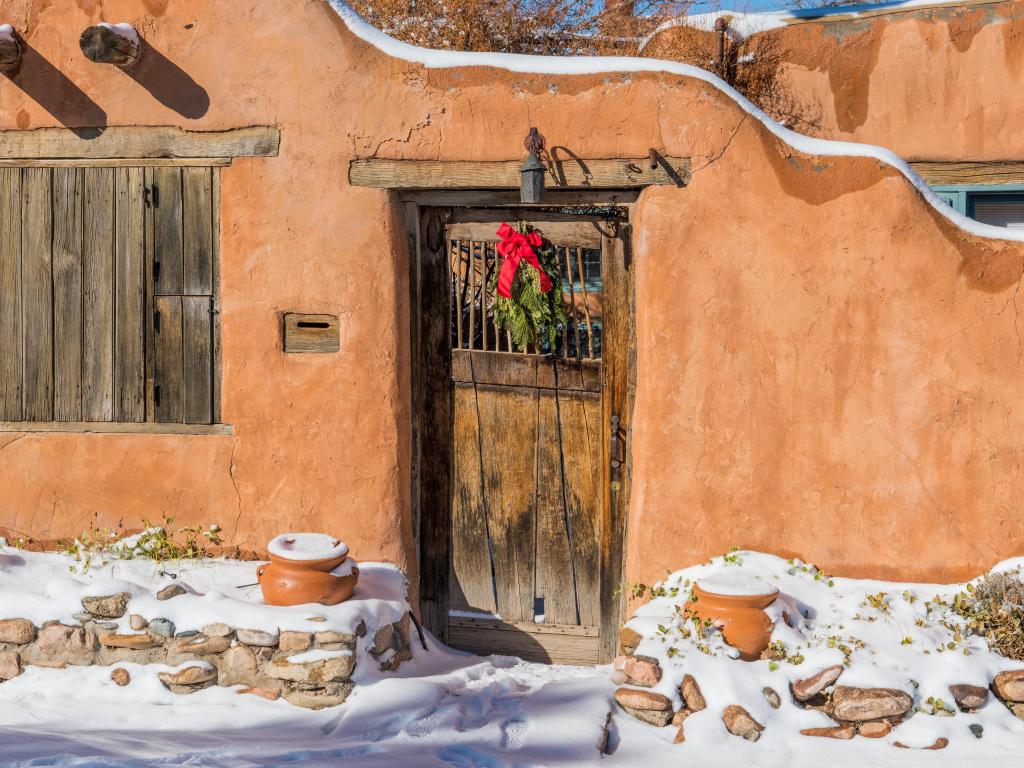 If you're a big fan of fine art, we recommend checking out the Georgia O'Keefe Museum, which houses over 3,000 works from this iconic American artist. You could also visit the Museum of International Folk Art, which houses the largest collection of folk art in the entire world.
We recommend the Hotel Santa Fe, Hacienda & Spa for accommodation during your stay. Native-American owned and located right in the city center, this wonderful hotel boasts seclusion and relaxation, including access to a full-service spa. But it doesn't stop there—the hotel also offers wine and cheese receptions every evening, as well as a swimming pool and on-site dining options offering local cuisine.
Our favourite part about the Hotel Santa Fe is its location: you'll find that most of this city's most interesting attractions are located close by, including the New Mexico History Museum, the Georgia O'Keefe Museum and the Cathedral Basilica of St. Francis of Assisi.
You'll also have no problem getting back on route in the morning, due to the proximity of the highway to this hotel.
Where to stay when you reach San Diego
Once you get to San Diego, look no further than The US Grant Hotel for a place to stay. Located in San Diego's gorgeous Gaslamp Quarter, this luxurious and historic hotel is minutes from most of the city's most popular attractions.
Tired after a long drive? The US Grant offers a spa and wellness center where you can enjoy a variety of relaxing treatments; it also boasts a fitness center, perfect to let off some steam.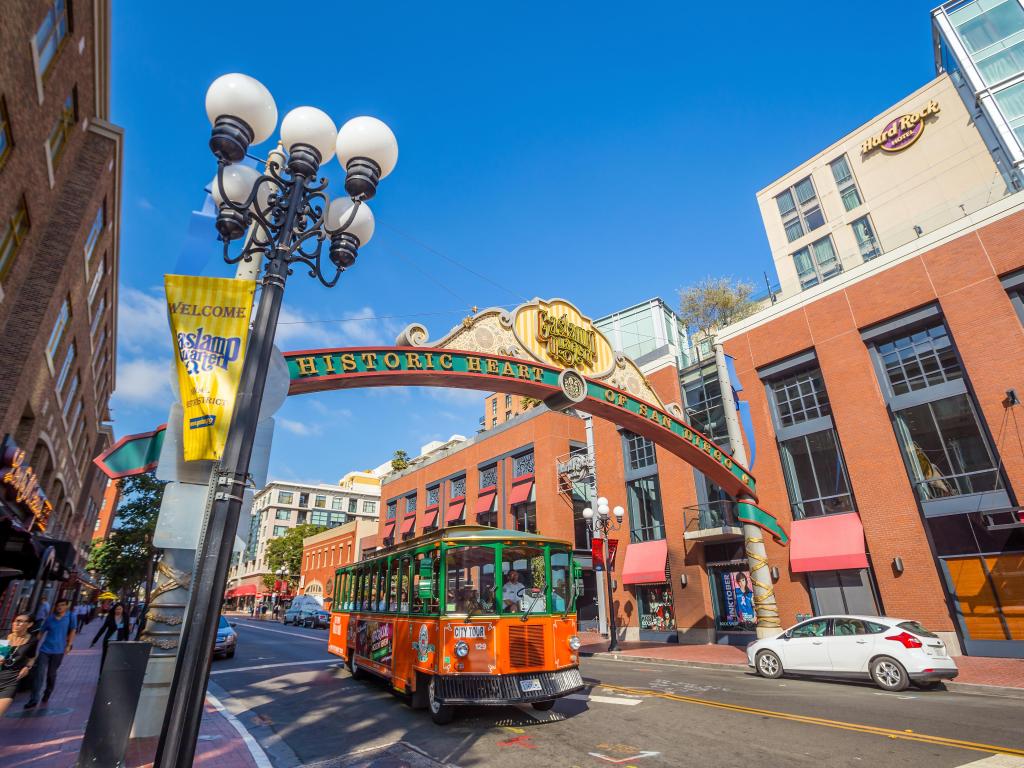 The hotel also offers several state-of-the-art on-site restaurants and is located a short driving distance to Coronado Island where you'll find the best beaches in San Diego. Finally, it's also quite close to the subway, so you can ditch the wheels and explore the city via public transport - perfect after that time spent on the road.
Things to see on a road trip from Chicago to San Diego
There is an abundance of roadside attractions along both routes which are ideal for pit-stops. Check out a list of our favourite stopping points, arranged by route, below:
The Northern Route
Des Moines - Discover the bustling and lively city of Des Moines, home to tons of unique cultural attractions including the Des Moines Art Center and the Greater Des Moines Botanical Garden! Located right on route and great to stop in for half-day of exploration.
World's Largest Concrete Gnome - A little outside of Des Moines, you'll discover this gargantuan gnome statue nestled in the Reiman Gardens.
Pappajohn Sculpture Park - Perfect for a relaxing walk, the Pappajohn Sculpture park boasts tons of unique art pieces, chess and picnic tables, and a library!
Adventureland Park - Up for an adventure? Check out Adventureland Park, which boasts a water park, tons of restaurants, live entertainment and more.
Omaha - There's tons to do in this city that's located right en route, including exploring a train museum, taking in an iconic zoo and walking across a celebrated pedestrian bridge!
Spinney Mountain State Park – With just an extra thirty minutes on your route, you can catch this majestic geyser that shoots into the air to a height of 70 feet, every hour.
Pioneer Town – Discover this unique historic museum in Cedaredge Colorado, which is dedicated to recreating life from the late-1800s through to the 1900s.
Parowan Gap Petroglyphs – Check out these Native American Petroglyphs which are thought to date back a millennia.
Temple of Sinawava – Located in Zion National Park, this natural amphitheater is a must-see along your route, boasting a waterfall and flower gardens.
Leo Carrillo Ranch Historic Park – Take in the offerings of this secluded ranch, which includes dozens of peacocks and a gift shop.
Crystal Pier – Originally built in 1939, this restored wood-and-bolt jetty is the ideal spot to catch a sunset.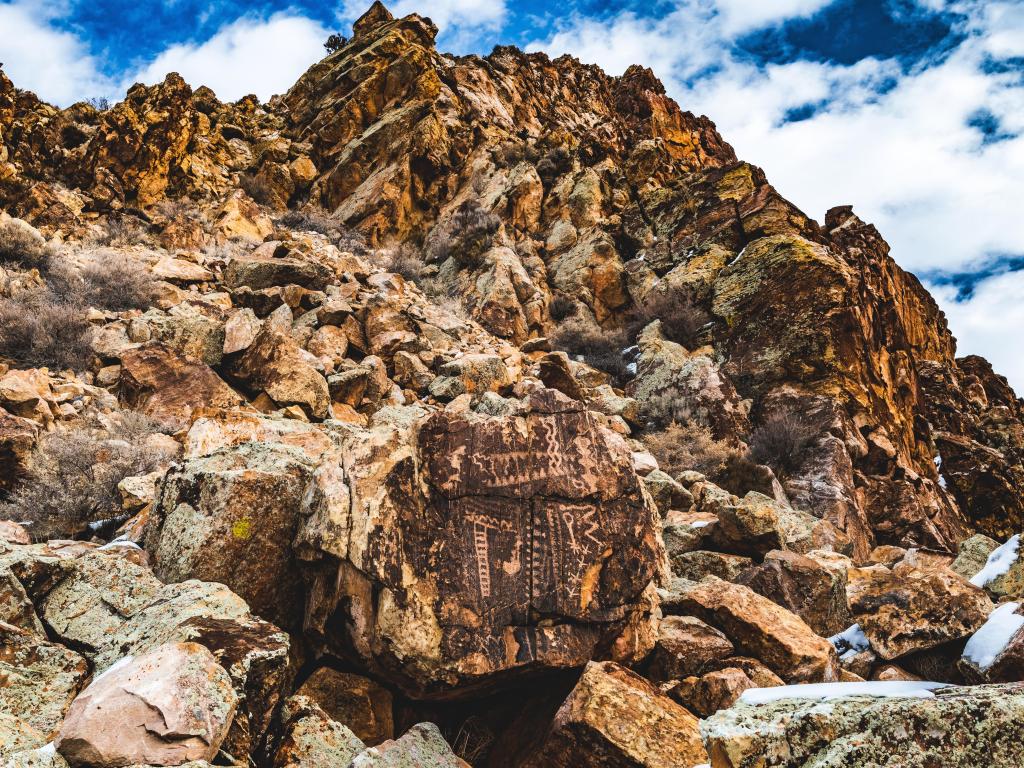 The Southern Route
Route 66 Museum - This curious museum is found inside a recreated gas station complete with vintage cars and gas pumps; you'll also find exhibits exploring Route 66-related history and showcasing unique artifacts.
Blue Whale of Catoosa - Along the iconic Route 66, you'll find this large whale sculpture built on a small pond. Great for a picture or snack break!
Centre of the Universe - Be sure to visit this unique attraction, where visitors can stand on a circle and hear their own strangely amplified voices echoed back at them.
Oklahoma City Zoo - Over a century old, the Oklahoma City Zoo and Botanic Garden is host to over 500 animals as well as thousands of native and imported plants.
Stafford Air & Space Museum - Located along Route 66 and featuring over 3,500 aerospace artifacts, this indoor/outdoor museum also offers tours and interactive exhibits.
Cadillac Ranch - Just outside of Amarillo, Texas, you'll find this unique public art installation comprised of half-buried and graffitied vintage Cadillacs.
Route 66 Auto Museum - This mom-&-pop museum has on display tons of classic and vintage cars, as well as Route 66 memorabilia. Adds about 30 minutes to route!
Montezuma Castle National Monument - Once the dwelling-area of the historic Sinagua people, Montezuma Castle is carved directly into the limestone cliffs amidst Arizona's desert landscape.
Estrella Star Tower - Look out at the Arizona night sky atop this 50-foot astronomy-themed tower, located on the outskirts of Phoenix.
Kofa National Wildlife Refuge - Complete with statuesque saguaro cacti and Gila monsters, this massive nature preserve is the ideal spot for a hike.
Imperial Valley Desert Museum - Located in the heart of the Yuha Desert, this newly-opened museum is home to many Indigenous and historic artifacts found within the Imperial Valley.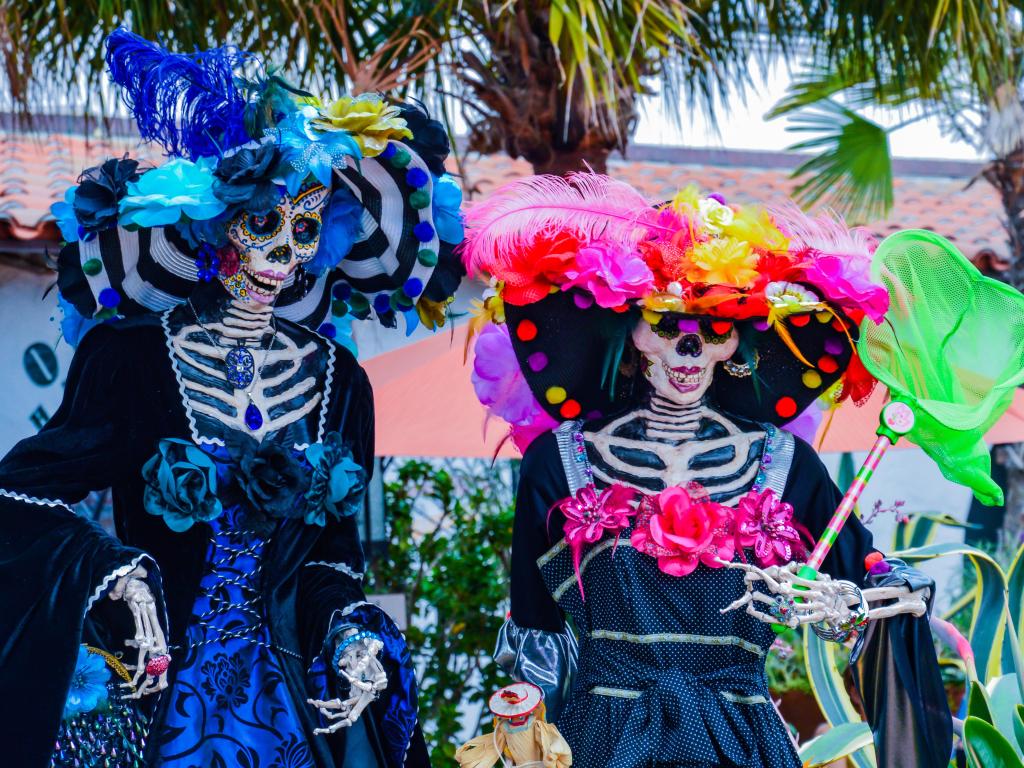 Both Routes
Lone Rock Beach - About an hour off-route for both routes, this popular sandy beach sits surrounded by desert plains and is an ideal spot to catch the sunset.
Hole-In-The-Rock - A historic 5000 square foot home, carved into a sandstone boulder, boasts a fireplace, 14 rooms and a gift shop. This attraction adds a couple hours for both routes.
Best time to go on a road trip from Chicago to San Diego
San Diego is the quintessential year-round destination, boasting beautiful weather all year, rarely dipping below 44 degrees Fahrenheit or going above 84 degrees Fahrenheit.
Due to its proximity to the ocean, it's a wonderful place to visit if you're looking for a beach vacation; that being said, it still offers tons of cultural attractions for those looking for a city vibe.
If you're visiting San Diego in the summer, expect arid warmth and clear skies. Temperatures in this city typically range between 66 degrees and 77 degrees Fahrenheit during the warmest season, which also happens to be its busiest when it comes to tourism.
Make sure to book accommodation in advance and expect slightly higher prices if travelling in summer.
Winter is a great time to visit San Diego if you're looking for cheaper accommodations, as this is the least busy tourism season. Temperatures during the cool and slightly precipitous San Diego winter typically range between 50 degrees and 70 degrees Fahrenheit.
We recommend visiting San Diego during the spring and fall, when you can expect very similar temperatures to the summer but with lower accommodation prices.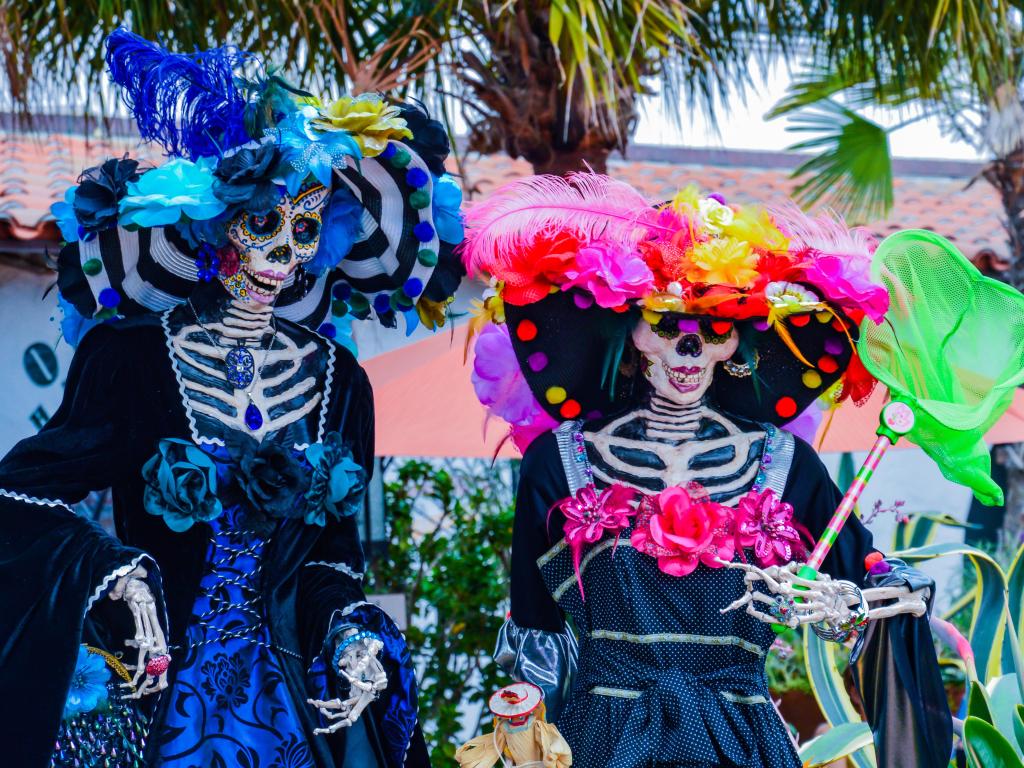 There are tons of festivals in San Diego year-round, including: ArtWalk, the Art San Diego Contemporary Art Fair, San Diego Restaurant Week (January and September), San Diego Beer Week, the San Diego International Film Festival, seasonal holidays (Mardi Gras, Halloween, Cinco de Mayo), and the San Diego Parade of Lights and December Nights during the Holiday Season.