Road Trip from Chicago to San Francisco
If you're looking for an unforgettable adventure driving almost the entire continent of the US, crossing the shore of Lake Michigan to the Pacific Ocean, through deserts, mountains, lakes and prairies, then the epic road trip from Chicago to San Francisco is the one for you.
The 2,470-mile road trip from Chicago to San Francisco takes 38 hours to drive. Key stops include Minneapolis, Sacramento, Albuquerque, Las Vegas and Monterey, plus the Grand Canyon, Mojave National Preserve, Lake Tahoe and Yellowstone National Park.
To help you make the most of this great drive, we've set out the best routes and places to stop overnight, as well as our favorite things to see and the best time of year to make the trip from Chicago to San Francisco.
How far is San Francisco from Chicago, and how long will the road trip take?
Comparison of road trip routes between Chicago and San Francisco

| Route | Distance | Driving Time |
| --- | --- | --- |
| The Northern Route | 2,470 miles | 38 hours |
| The Southern Route | 2,670 miles | 41 hours |
There's no getting around it, this road trip is no walk in the park. The quickest of our two suggested routes will still see you covering 2,470 miles which would take easily 38 hours of driving without stopping.
Our Southern Route is slightly longer, spanning a distance of 2,670 miles and closer to 41 hours on the road. Despite the long stretches, you'll pass on both options, they're full of fantastic attractions, cities, landscapes and parks making the drive more than worthwhile.
You will need to put aside between 10 and 14 days to realistically cover this sort of distance. By spreading out the driving into manageable chunks, you'll be able to stop along the way and enjoy the great scenery and fantastic cities. You'll also get some great overnight stops en route.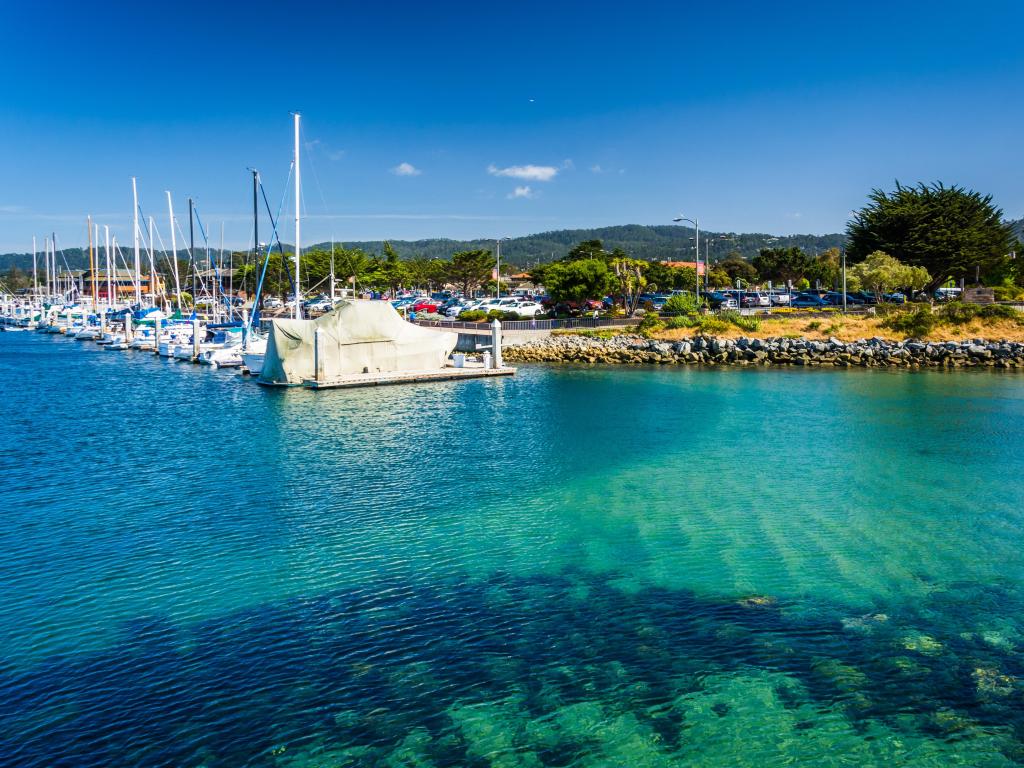 Best road trip route from Chicago to San Francisco
Both of our recommended routes will take you past some unforgettable attractions along the way, so the best option for driving between Chicago and San Francisco will come down to the places you'd like to stop at and what you've got left on your bucket list.
Our Northern Route is one of contrasts, taking you through lush Minnesota farmland and the North Dakota Badlands, as well as to the beautiful Yellowstone National Park, the Nevada desert and around glittering Lake Tahoe.
It's not just beautiful outdoor attractions, you'll also pass the amazing cities of Minneapolis and Sacramento, as well as Twin Falls and Reno. It's worth noting that the Northern Route isn't recommended in winter due to heavy snowfall and road closures around Yellowstone National Park.
Our alternative Southern Route should appeal to anyone looking for that iconic road trip. Following the historic path of Route 66 from Chicago to Las Vegas, it then branches off towards the California coast. From here, it follows the epic Big Sur drive to Monterey before passing through San Jose.
This iconic route will take you through some buzzing cities, across wide open plains, arid desert landscapes, mountains, and of course, the sparkling Pacific Ocean. Detours like the Grand Canyon, Las Vegas and Big Sur can all be skipped if you're more limited on time.
The Northern Route
Begin your epic adventure by getting on Interstate 90 (I-90) West through several towns and around the outskirts of Rockford before crossing into the state of Wisconsin. Continue on the interstate, approaching Madison before taking US-14 west to Winona.
Follow the river on US-61 north to the city of Minneapolis, a great place for an overnight rest. You'll need to stay on Interstate 94 (I-94) West. This long stretch takes you through several towns, and close to Sheyenne National Grassland.
Continue west and stop at Dakota Prairie Grasslands which has beautiful trails you can enjoy wildflowers and undulating hills. Back on I-94, continue west to Billings where you'll join I-90 before taking Exit 434 for US-310.
Follow this road until you reach MT-72 South, and onto WY-120 past Custer Gallatin National Forest. At Cody, you'll continue onto US-20 West through to Yellowstone National Park. You could stop at this point of the trip and really explore the stunning landscape before continuing with the drive.
Follow US-20 west into Idaho, before taking Interstate 15 (I-15) South at Idaho Falls. Change at Exit 72 for Interstate 86 (I-86) West and then merge with Interstate 84 (I-84). Stop here for a detour to visit Craters of the Moon National Monument & Preserve.
Next, take US-93 South and cross into Nevada, from here the landscape will drastically change and you'll get stunning desert views. Merge back onto Interstate 80 (I-80) West through several more towns before reaching Reno, known as the "biggest little city in the world".
At this point, you can take a short drive to visit the stunning Lake Tahoe, before continuing west on I-80 and past Tahoe National Forest. Continue on the interstate to Sacramento, for one final stop before driving the rest of the way to San Francisco.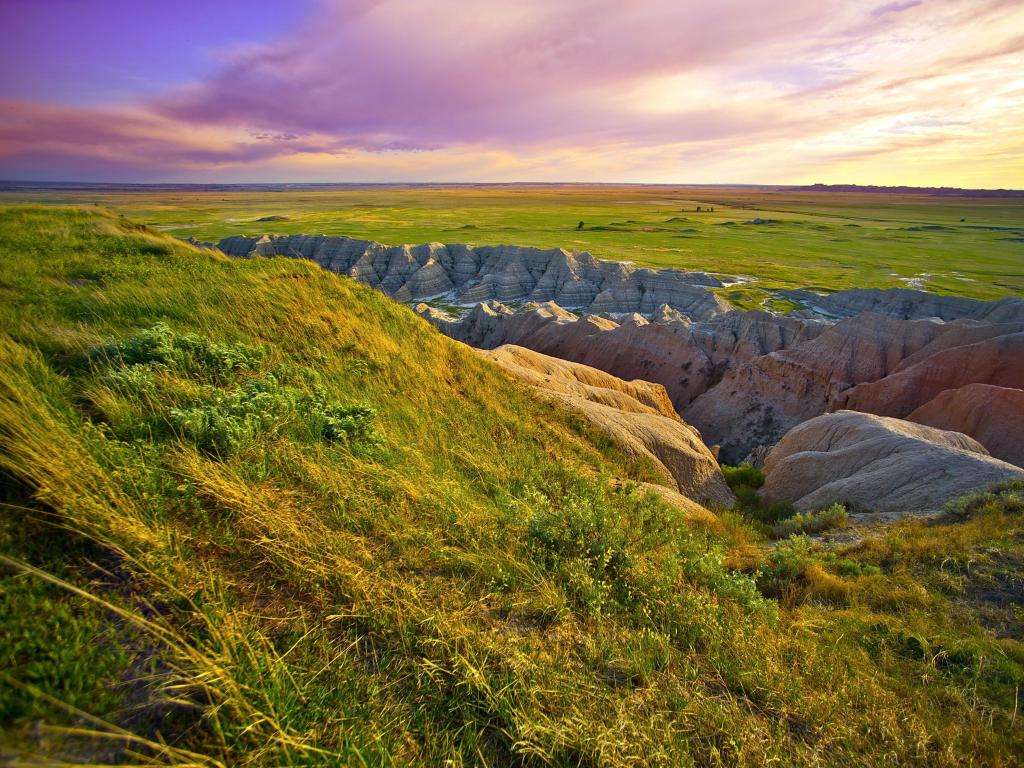 The Southern Route
Our alternative Southern Route will see you leave Chicago on IL-110 west to Interstate 55 (I-55) South, past Springfield and to St Louis in Missouri. From here you'll need to take Interstate 44 (I-44) West to Springfield.
Continue heading west as you cross into the state of Oklahoma and to Tulsa, where you can visit the fabulous Philbrook Museum of Art. Still on I-44 East, you'll arrive at Oklahoma City, an ideal overnight stop on this route.
When you leave, take Interstate 40 (I-40) West as you begin to drive through the desert plains of Texas. Stop at Amarillo before continuing to head west and cross into New Mexico. You'll pass Santa Rosa, before arriving at Albuquerque.
Stay on I-40 West before crossing into Nevada. Make a stop at Petrified Forest National Park, before continuing on the interstate and passing Winslow and Flagstaff. Stop at Exit 165 for a detour through Kaibab National Forest and to the Grand Canyon.
Retrace your steps back to I-40 and follow the interstate to Exit 48. Join US-93 North before margining with Interstate 11 (I-11) through Henderson and to the buzzing city of Las Vegas. Stop here to visit Red Rock Canyon National Conservation Area.
Next take Interstate 15 (I-15) which will take you into California and close to Mojave National Preserve. Take Exit 179 for CA-58 West to Exit 25 and merge with I-5 North. Next, take Exit 268 and join CA-33 north/CA-46 before taking a right for CA-1.
Follow the coast north, past several smaller towns and the stunning Pfeiffer Big Sur State Park before arriving at Monterey. Take in the stunning coast and beach, before taking CA-156 East and then CA-101 North.
Pass by Henry W. Coe State Park and San Jose, before following CA-101 the rest of the way to your destination of San Francisco.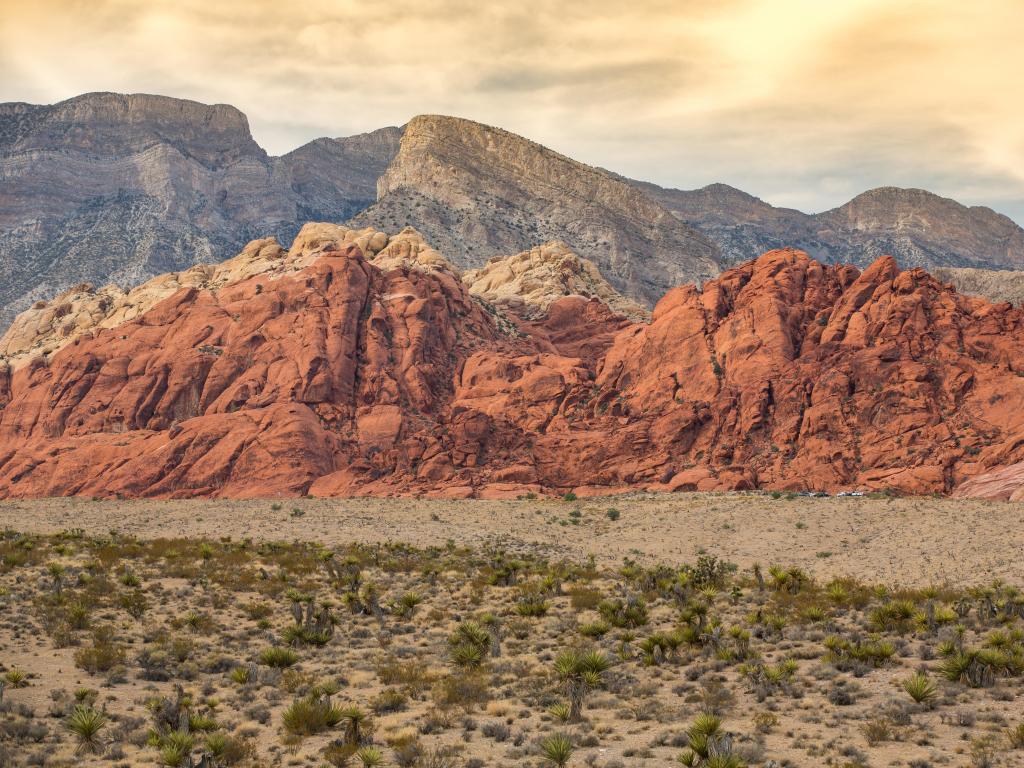 Best places to stop between Chicago and San Francisco
Given the distance and time spent on the road between Chicago and San Francisco, you're going to need to plan several overnight stops along the way to rest up and to make the most of the attractions you'll pass.
Of all the spectacular hotels, here are some of our favorites that you might want to consider:
Stay at the gateway to Yellowstone National Park
Located around two thirds of the way from Chicago and just 15 hours from San Francisco on our Northern Route, West Yellowstone is one of the big draws of this route, so it makes sense to stop near its famous park in order to spend as much time exploring it as possible.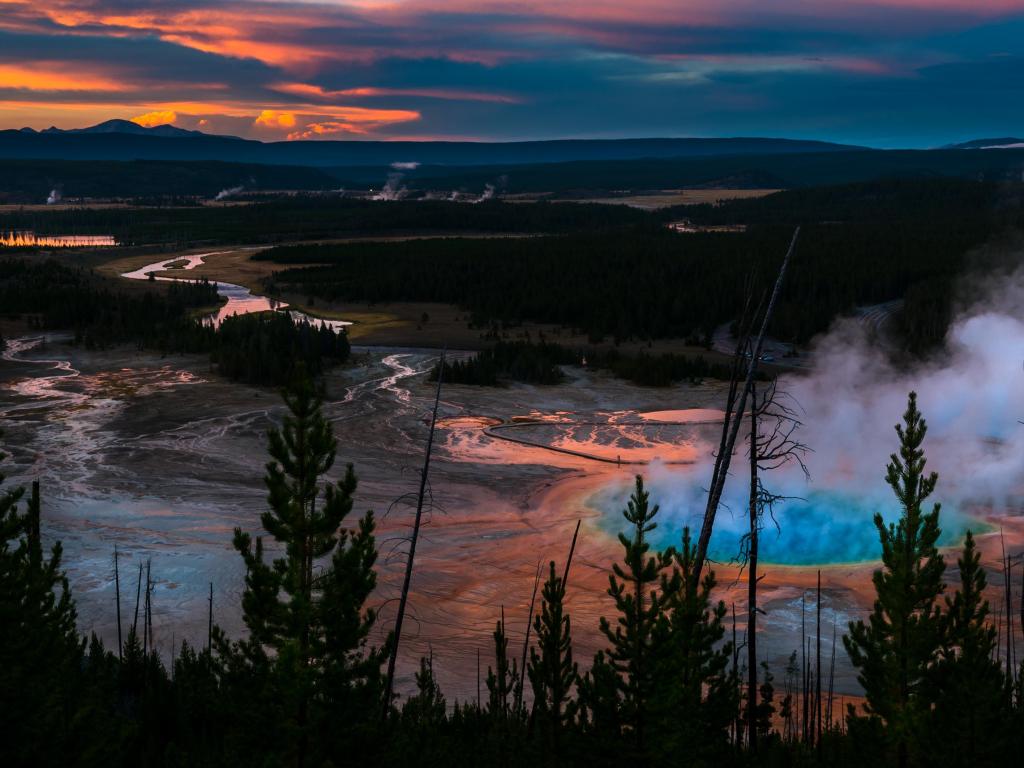 Known as the gateway to the world's oldest national park, which is famous for its canyons and hydrothermal features (aka geysers), West Yellowstone is also right on the route, making it a convenient and beautiful place to spend the night.
While Yellowstone National Park is the big attraction here, where you can enjoy its boardwalk, colorful Grand Prismatic Spring or follow one of the many hiking trails through the park, there are other things to do here.
Spend some time at the Grizzly & Wolf Discovery Center, a non-profit wildlife center just outside the national park or visit the Yellowstone Historic Center Museum where you can learn about the park and the people who've been flocking to visit it for more than a century.
After all that exploring, you'll need a resort that offers plenty of relaxing opportunities. The Golden Stone Inn offers smart and spacious rooms, still with a hint at the rustic vibe you'd expect out here by the national park, and staff who can advise on how to get the best out of your visit.
There's also free parking and being located just a mile from the entrance to the park, you couldn't be better placed to maximise your enjoyment of the surrounding landscape.
A heritage stop in Oklahoma City
An ideal base on our Southern Route, around 12 hours from Chicago, is the fabulous Oklahoma City. Not only is it a fascinating city, but a great place to stop and rest as it is located at the starting point of the section of your drive which takes you due west for the next several days.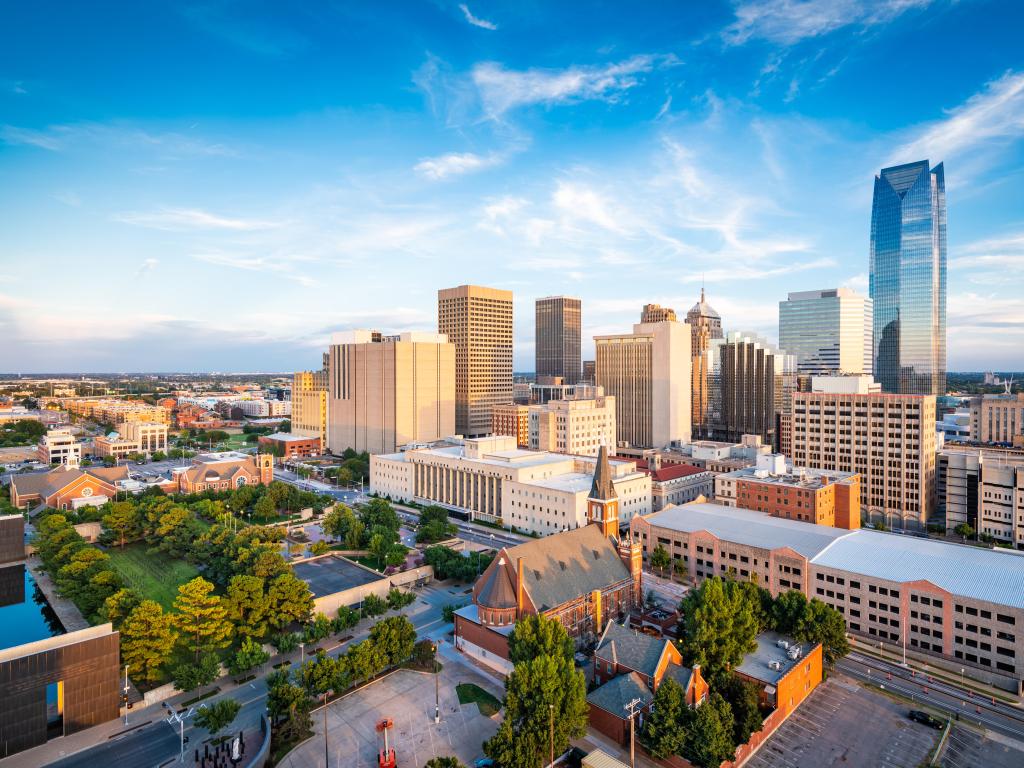 There's plenty to see and do at Oklahoma City, some of which are often overlooked in favor of the bigger-name attractions further along the route. The state capital of Oklahoma has plenty of great museums.
But that's not all, Oklahoma City is also known for its Bricktown, and superb Museum of Art. To continue your cultured visit, a stay at Colcord Hotel Oklahoma City, Curio Collection by Hilton is a great option.
Inside, expect smart, contemporary design in a beautiful building. The bedrooms are chic and spacious, and the public areas retain some elaborate heritage features. The inner courtyard is a particular highlight. There's also a restaurant and bar in the hotel for those who don't want to leave.
If you'd like to venture out, this 4-star hotel is within walking distance of some of the best museums, including the American Banjo Museum and National Cowboy & Western Heritage Museum, so you will have plenty of exciting options on your day out in Oklahoma City.
A colorful stay in San Francisco
San Francisco, famous for its Golden Gate Bridge, is the thirteenth largest city in the US and a great place to complete your road trip. Just some of the great attractions include Fisherman's Wharf, Alcatraz and its historic Chinatown.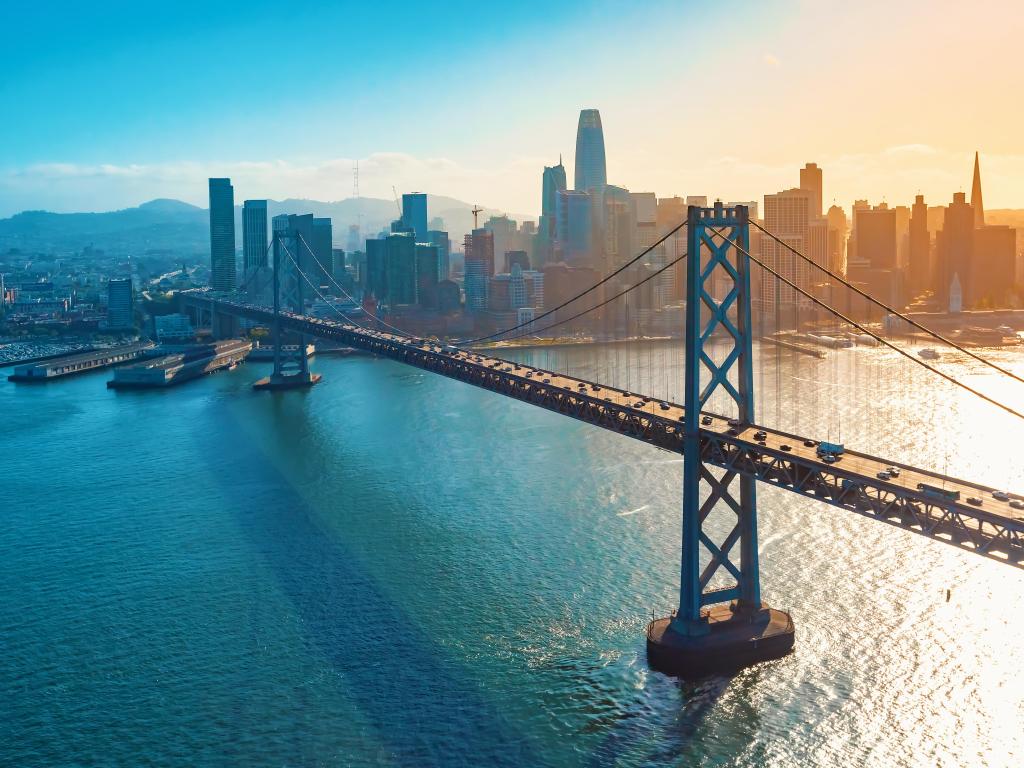 Ideally located in the Union Square district of San Francisco, citizenM San Francisco Union Square is a great hotel to base yourself ready to explore all that this city has to offer. With a colorful and creative design, you'll find compact but comfortable rooms which are great value for money.
Offering great views and close to the San Francisco Cable Car, you'll also be conveniently near to Powell St Station, making it easy to get to other parts of the city and discover why so many people love this cultural center in northern California.
Things to see on a road trip from Chicago to San Francisco
With so many options for attractions between Chicago and San Francisco, it can be a little overwhelming to know where to start planning your own list. We've set out some of the best bits you'll pass on both routes, to help you get started.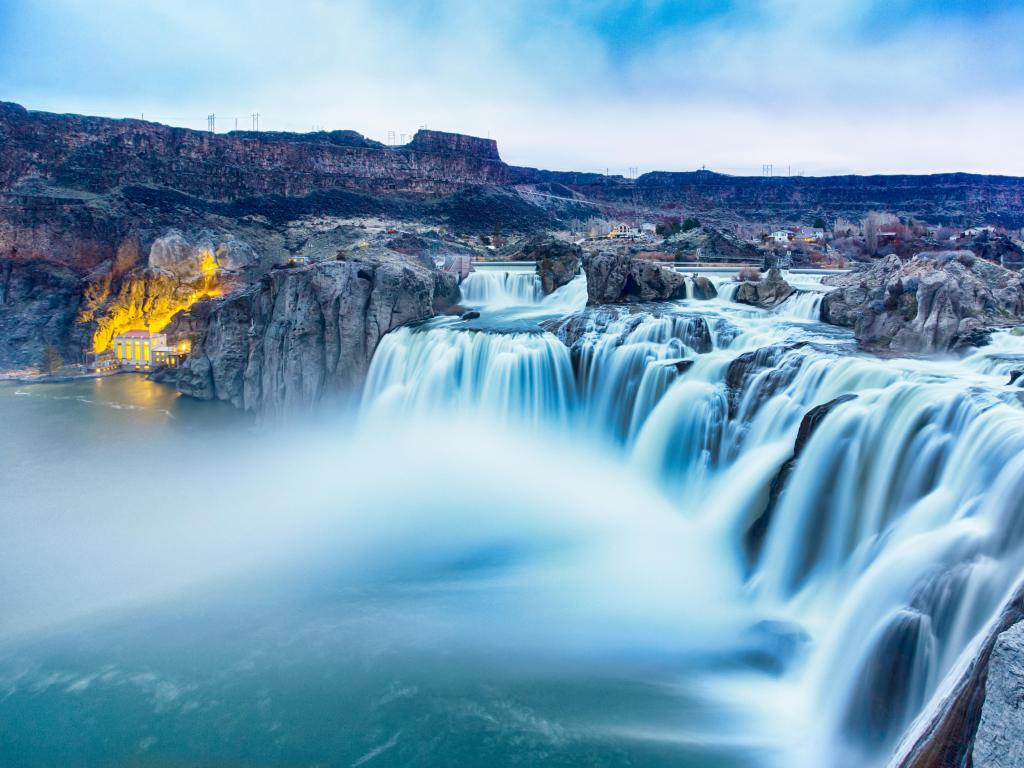 The Northern Route
La Crosse, Wisconsin - Hike up to the top of Grandad Bluff for impressive views or visit the Dahl Auto Museum where you'll find a great collection of vintage automobiles.
Wisconsin Dells - The Wisconsin River runs through this charming town, so take a boat ride for fabulous sandstone vistas before heading back to enjoy the Riverwalk.
Great River Bluffs State Park - You'll get an amazing view from the top of these impressive river cliffs, with birds of prey a particular feature here. If you're traveling during fall, you'll get a spectacular foliage display here if you time your trip just right.
Minneapolis/St Paul, Minnesota - These twin cities are home to a number of great museums, including the Science Museum of Minnesota and the Minnesota History Center. You can also get your cultural fix by fitting in a performance by the renowned Minnesota Symphony Orchestra, which is based in the city.
Fargo, North Dakota - Look beyond the legend of the movie of the same name and you'll find plenty to do in Fargo. There's the Fargo Air Museum, Animal enthusiasts could also visit Red River Zoo, which has a dedicated breeding program for endangered species.
Dakota Prairie Grasslands - Follow one of the many trails across this rolling prairie, where you'll see wildflowers and undulating hills as well as the iconic grasslands.
Yellowstone, Montana - Sitting atop a super volcano, the geysers and hot springs of the world's oldest national park are just one of the clues of what lies beneath!
Idaho Falls, Idaho - Head to the Museum of Idaho to find out what makes this fabulous state tick, take a stroll along the Riverwalk to explore the Snake River, then head to the historic downtown district. You can also take a detour from here to visit Craters of the Moon National Park.
Twin Falls, Idaho - Hike to Shoshone Falls, then cool off in the swimming hole you'll find there. Back in town, the Herrett Center for Arts & Sciences is also worth a visit.
Reno, Nevada - "The biggest little city in the world" is home to the National Automobile Museum and Nevada Museum of Art, plus a number of buzzing casinos if you want to try your luck.
Lake Tahoe - This dazzling freshwater lake is perfect for watersports. You can enjoy boating, swimming, fishing and more, with beautiful mountain views across the lake.
Sacramento, California - California's state capital has a diverse collection of museums, including the Crocker Art Museum, the California Automobile Museum, the California Museum, and the State Railroad Museum.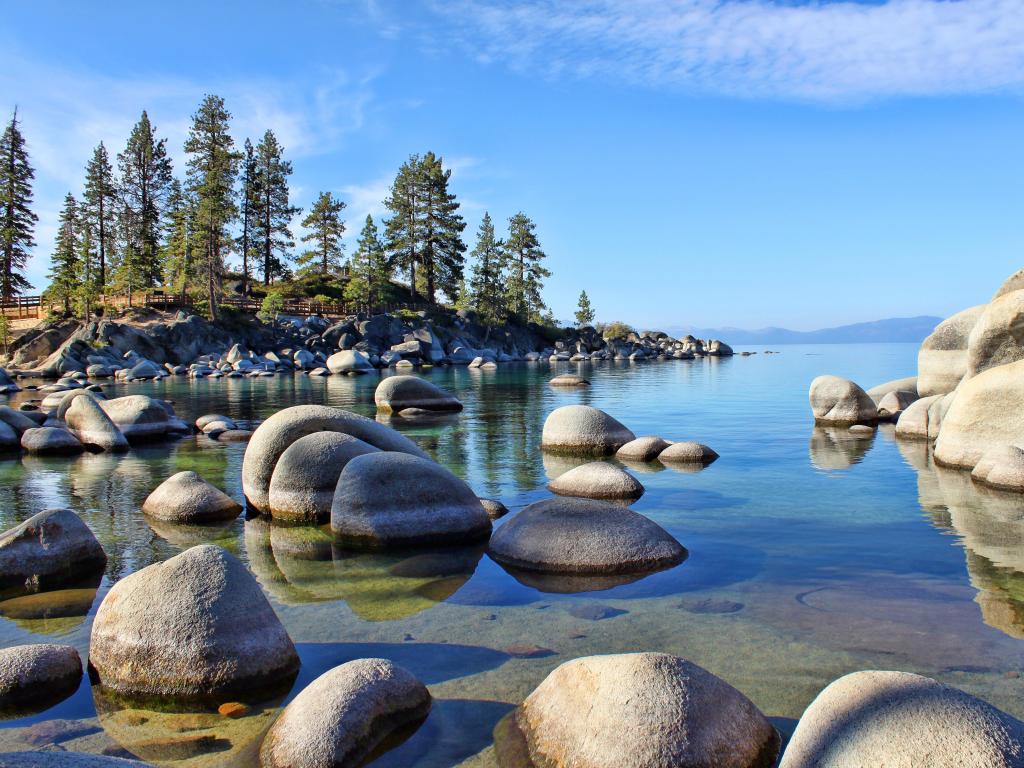 The Southern Route
Springfield, Illinois - You'll find a number of sites here dedicated to Abraham Lincoln, 16th US President who saw the country through the Civil War and succeeded in abolishing slavery. There's the Lincoln Presidential Library and Museum, Lincoln Home National Historic Site and Lincoln Tomb, among others.
St Louis, Missouri - Whether your tastes lean more towards the blues or a full symphony orchestra, you'll find something to entertain you in St Louis. A visit to the top of the Gateway Arch is also highly recommended.
Springfield, Missouri - "The Queen City of the Ozarks" is a great place to base yourself if you want to explore this wide expanse of forests, lakes and hills (made famous by the Netflix show). Back in town, you'll find theatre, ballet and classical music, or time your visit to catch the Route 66 Festival which includes a parade of vintage automobiles.
Tulsa, Oklahoma - One of the unexpected highlights of the city is the fabulous Philbrook Museum of Art, set in an ornate early 20th-century villa with beautiful gardens.
Oklahoma City, Oklahoma - Get your fingers twitching with a tour around the unique American Banjo Museum!
Santa Rosa, New Mexico - Route 66 Auto Museum is a must-see if you're taking this iconic road trip. Blue Hole Lake is also the perfect place to cool down if you roll into town during its long, hot summer.
Albuquerque, New Mexico - Don't miss the Sandia Peak Tramway as you head through the city – it offers fabulous views across the city and beyond.
El Malpais National Monument - The landscape here was shaped by volcanoes, and you can still see the lava flows and other geological formations that they left behind. Watch bats emerge from El Calderon cave in the evening, then when the sun has fully set, enjoy clear views of the Milky Way thanks to the area's famously dark skies.
Petrified Forest National Park - Named for the fossilised remains which you'll find all across the park, this national park is right by the interstate so it makes for an easy stop with plenty of hiking options.
Grand Canyon - Treat yourself to a helicopter ride over this iconic natural monument for a new angle on this world-famous site.
Hoover Dam - Near the Grand Canyon you'll find the Hoover Dam, one of the nation's great feats of engineering, which offers impressive views across Lake Mead.
Las Vegas, Nevada - Try your luck at one of the city's many lavish casinos or splash out on a show from one of the world-famous performers that might be in residence during your visit.
Mojave National Preserve - The Interstate takes you right past this vast natural wilderness, known for its arid landscapes dotted with Joshua trees.
Big Sur - Drive the twists and turns of this beautiful coastline, enjoying sparkling Pacific views before you roll into San Francisco.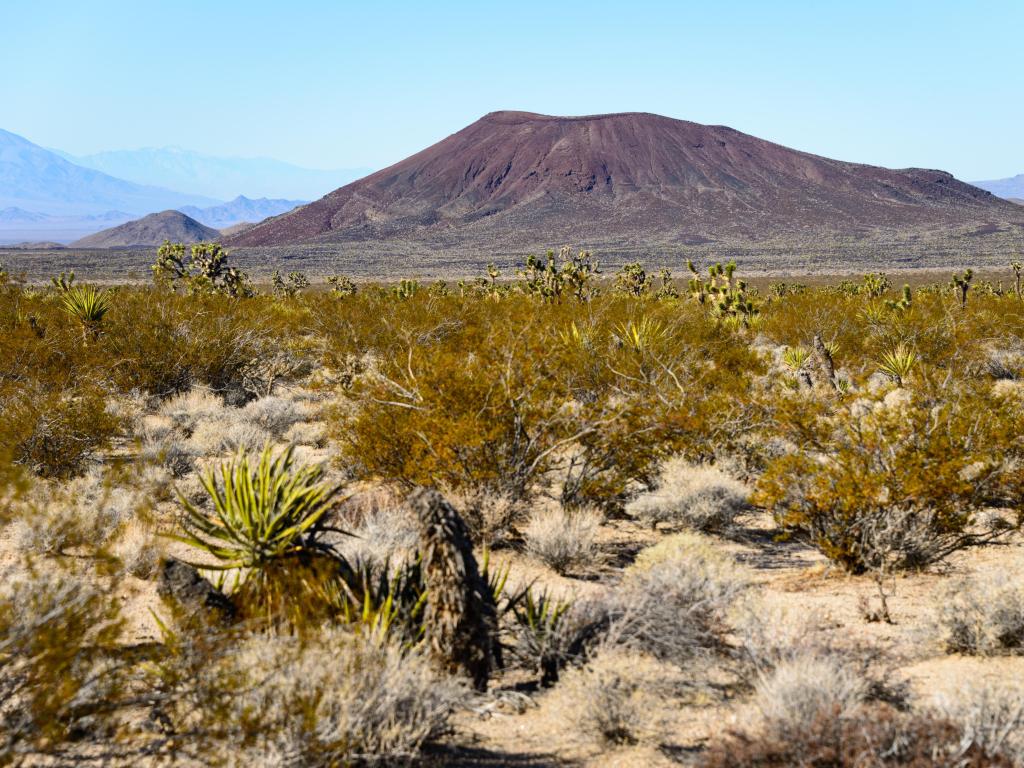 Best time to go on a road trip from Chicago to San Francisco
San Francisco really is a year-round destination, where temperatures rarely get uncomfortably high or low. So it's the routes to get here that need more attention when planning a trip.
If you're following the Northern Route, then you'll experience warm temperatures along the way, with most places averaging 80 degrees Fahrenheit apart from Yellowstone where you'll find it's often around the 70s in summer.
Meanwhile, the Southern Route will see highs of 90 degrees Fahrenheit in Oklahoma City, Albuquerque and Amarillo, which Las Vegas beating them all with temperatures over 100 degrees in summer.
While it's possible to travel on these routes during winter, it would be a difficult trip with challenging driving conditions and a high chance that the attractions you want to see will be inaccessible, though keep in mind that the Southern Route is less extreme during winter.
The best time of year typically is the shoulder months of late April and May or September to October. The spring weather might still be a little chilly, but they'll be warm enough to enjoy the outdoor attractions and you'll experience less crowding.
Fall stays warm later in the year on the Southern Route but watch out for cooler temperatures on the Northern Route and the chance of early snowfall, which will be a fantastic sight to see if you are bundled up.
If you want to maximize your travel experience, then you could time your trip with a festival or two along the way. Watch out for the St Patrick's Day festivities in San Francisco in March, which are the biggest on the West Coast, or its world-famous June Pride celebrations.