Road Trip from Chicago to Savannah, Georgia
Savannah is a quintessential Southern city brimming with charm and history, and it makes the perfect destination for a road trip from Chicago. You'll drive past spirited cities, through beautiful countryside and find geological wonders along the route on this journey.
The 1,180-mile drive from Chicago to Savannah, GA, takes around 19 hours via Indianapolis, Nashville, Lynchburg, and Atlanta, plus Mammoth Cave National Park. Alternatively, drive through Cincinnati, Charlotte, Charleston and on Blue Ridge Parkway.
When you take this road trip, nightlife, nature, history and stunning views await you. Read on to find out how to combine them into one unforgettable adventure.
How far is Savannah from Chicago, and how long will the road trip take?
Comparison of road trip routes between Chicago and Savannah

| Route | Distance | Driving Time |
| --- | --- | --- |
| The Direct Route | 1,180 miles | 18 hours 50 minutes |
| The Blue Ridge Route | 1,190 miles | 20 hours 20 minutes |
The quickest drive from Chicago to Savannah will take just under 19 hours to complete, covering 1,180 miles. We'd suggest leaving at least 5 days for the drive along the Direct Route, seeing as there's plenty to see and do along the way.
If you have a little longer then the Blue Ridge Route makes a great alternative option. This route is only 10 miles longer than the Direct Route, but since it runs along slower, scenic roads for quite some way, it takes longer, coming in at 20 hours and 20 minutes in total.
Seeing as the routes aren't too different in length, keep on reading to find out what makes each one so special, so that you can make your mind up about which way to go.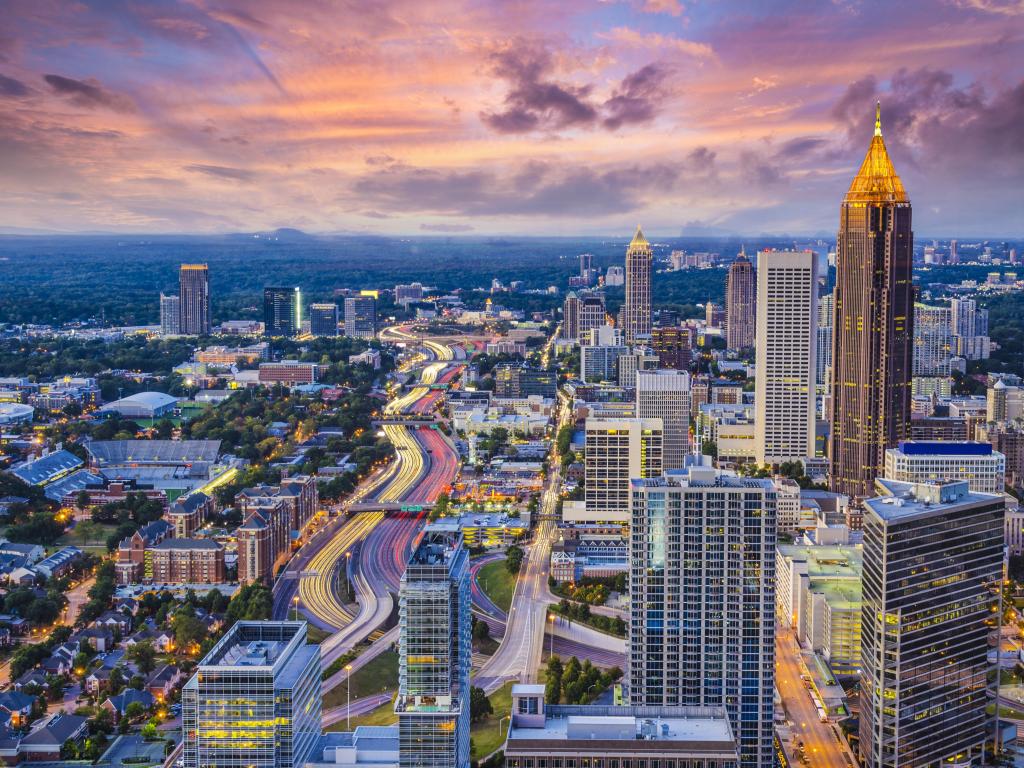 Best road trip route from Chicago to Savannah
You have two great routes to choose from when you take the road trip from Chicago to Savannah, Georgia.
As well as being the quickest way to make the trip, the Direct Route is also simple to navigate as it follows interstates almost all the way. It's not shy of things to see and do either. You'll intersect cities like Indianapolis, Louisville, Nashville and Atlanta as well as lush green landscapes.
That said, you do have to allow for some traffic along the way - Nashville is infamous for delays, so try to arrive outside of rush hour, and make sure to plan some stop-offs to break up the long stretch of the interstate you'll be driving.
There's no denying that the Blue Ridge Route is more scenic, due to the 60-mile stretch on the Blue Ridge Parkway where you'll catch stunning views of the beautiful Blue Ridge Mountains.
The one downside of this option is that it's a single-lane road with lower speed limits, which adds more time to the road trip. The lush green vistas are well worth seeing though, and there are still some major cities to explore on the route on this amazing journey.
The Direct Route
Leave Chicago on Interstate 90 (I-90), switching onto I-65 when you reach the southernmost tip of Lake Michigan. This road takes you right up to the halfway point of your journey, passing through the cities of Lafayette, Indianapolis and Louisville along the way.
Before heading into Nashville, be sure to stop at Mammoth Caves National Park for a tour of the spectacular underground scenery, then let your hair down in Music City for the night before returning to the interstate to carry on your drive towards Nashville.
A few miles out of Nashville, detour off the interstate to visit Lynchburg. Approaching Chattanooga you'll cross the wide Tennessee River - there's a rest area halfway across the bridge where you can stop to enjoy the view.
After spending some time in the city, pick up I-75 which takes you down into Georgia, passing Cartersville and Marietta before bringing you to Atlanta.
You're on the last leg of your road trip now, so all that's left is to keep along the interstate after spending some time in Atlanta, switching onto I-16 at Macon. This takes you right into Savannah to complete your journey.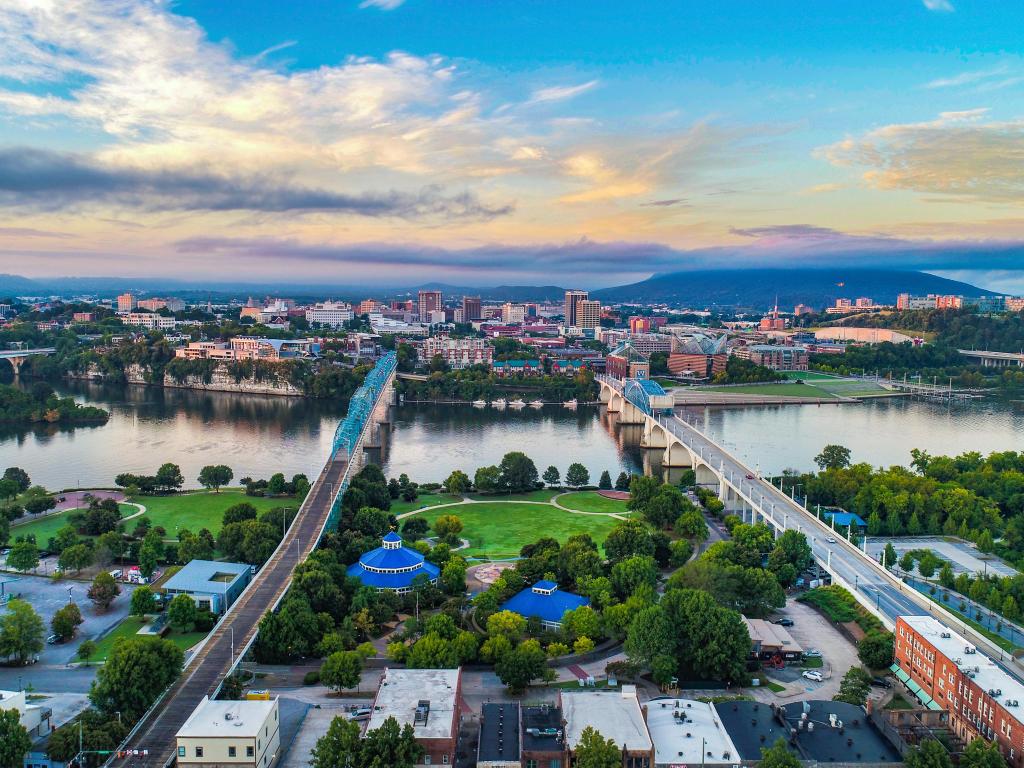 The Blue Ridge Route
Just like the Direct Route, this route heads out of Chicago via the I-65, but once you pass Indianapolis, you'll branch off into Ohio to visit Mason and Cincinnati.
Next, carry on eastwards along state roads which will take you past a succession of smaller towns including Sardinia, Peebles and Beaver, before crossing the Ohio River near Point Pleasant into West Virginia. After heading south, you'll reach the state capital Charleston.
Just after the interstate passes Beckley it divides, and you'll want to join I-77 here to carry on in the direction of Savannah. Follow it as far as Woodlawn, where you'll turn off onto the highway towards Galax.
From here, Meadow Street and the Skyline Highway will take you through farmland and woods until you reach the entry ramp for the Blue Ridge Parkway. The entrance to the Parkway is clearly signposted to your left.
Follow the Blue Ridge Parkway south for around 60 miles, passing Cumberland Knob, Mahogany Rock and Laurel Fork Bridge, among other stunning lookouts. When leaving the Blue Ridge Parkway, follow signs for US-421 then make your way towards Maple Springs and Wilkesboro.
At Hamptonville you'll pick up the interstate again and follow it south for a while, passing by Lake Norman, to reach Charlotte. Continue south to Columbia and then proceed driving to the coast at Charleston.
From here you only have around an hour left to drive. Simply head along Route 17, with the ACE Basin National Wildlife Refuge to your left, until you reach the interstate, then follow it down towards Savannah.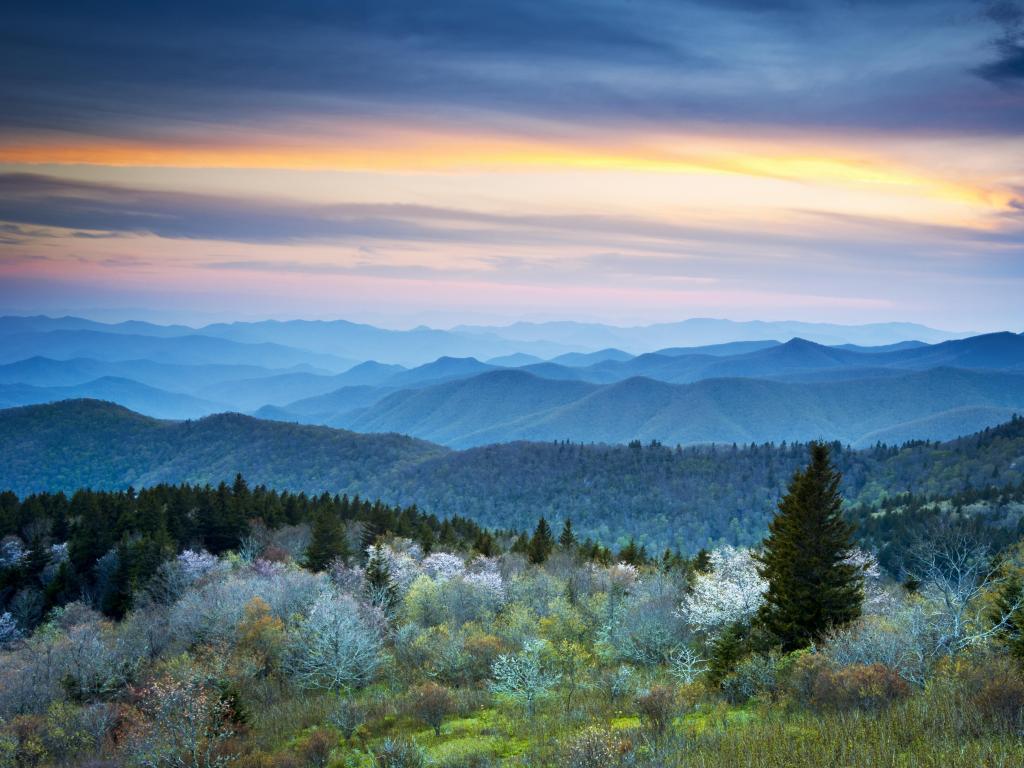 Best places to stop between Chicago and Savannah
One of the best things about a road trip is that it gives you a chance to stop and explore some of the places along the route, and on this trip from Chicago to Savannah you've got some fabulous places to explore!
Feel the rhythm in Nashville
Nashville is halfway along the Direct Route, but as well as being a convenient stop on your road trip, it's also one of the most desirable cities in the USA famed for its music and nightlife. You'll find live music on Broadway regardless of the day of the week.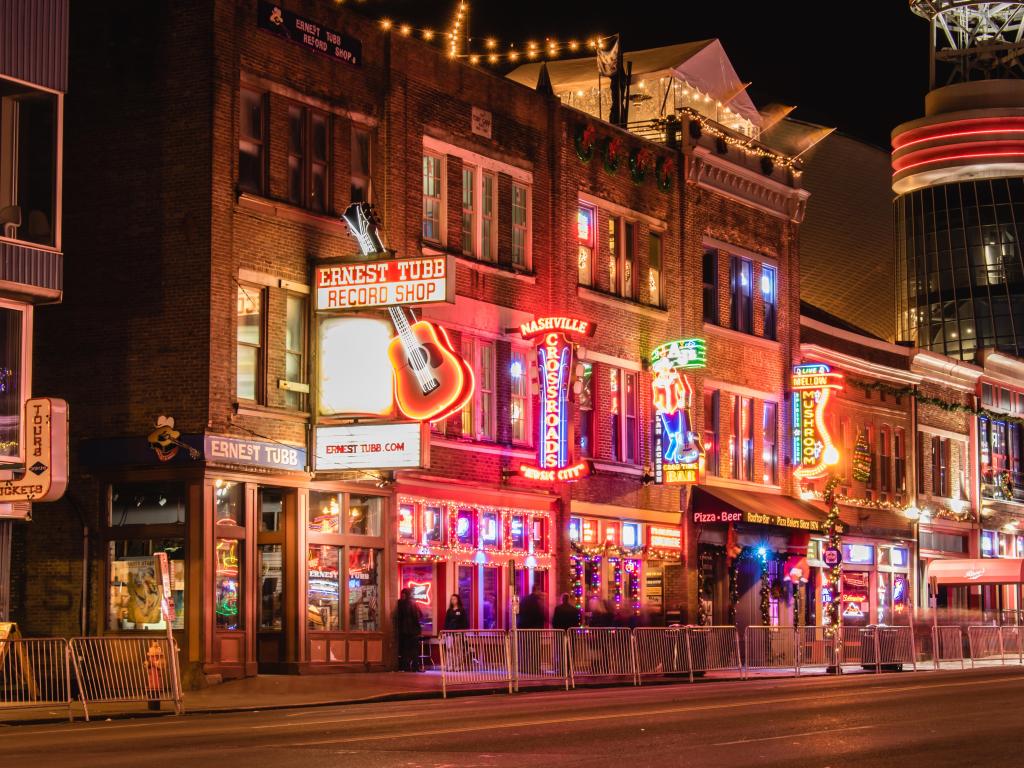 Known as Music City, Nashville has famed music venues such as the Ryman Auditorium and the iconic home of country music, the Grand Ole Opry.
You'll get a real feel for Nashville when you check into the Grand Hyatt Nashville for a night or two. Most rooms have a landmark view, so you can peer out into the city, and the rooms are sleek and stylish.
The hotel is on Broadway so as soon as you step onto the street you're at the heart of the action. The Johnny Cash Museum and the Country Music Hall of Fame and Museum are just a short walking distance away.
This iconic city is not only about music, though. Another epic place to visit is the Parthenon, an impressive full-scale replica of the Greek temple, so you can get your history fix before heading to the hotel for a great meal at the on-site restaurant.
Check out the Queen City, Cincinnati
At around 300 miles into your journey Cincinnati, nicknamed 'The Queen of the West', makes a great place to spend the first night of your trip if you're taking the scenic Blue Ridge Route.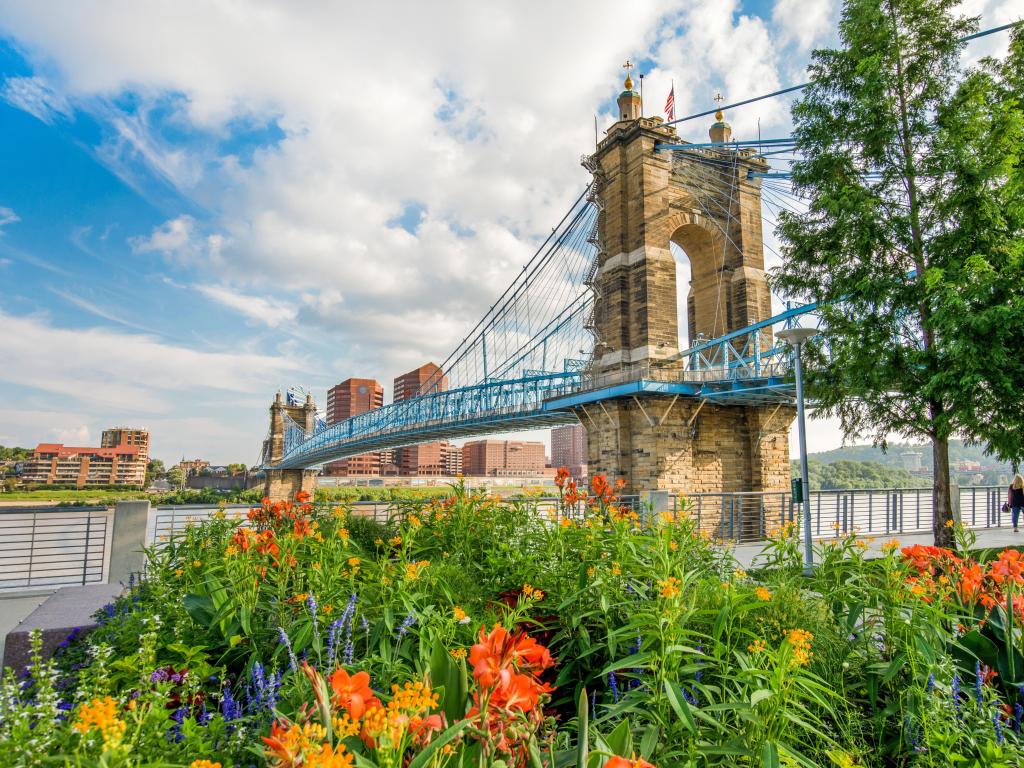 Nowadays It's got a flourishing art scene and many local breweries, so you'll find culture in the museums and galleries, as well as vibrant nightlife and plenty of eccentric places to enjoy.
If you like museums, then visit the Cincinnati Museum Center. The art déco building houses different museums, including, but not limited to, the Cincinnati History Museum and the Museum of Natural History & Science.
For a fabulous location in the center of Downtown, and with many restaurants on your doorstep, look no further than The Lytle Park Hotel, where you will rest in style and luxury. We recommend visiting the rooftop for bird's-eye views of the Queen City and relaxing in the grand bar area.
When you're ready to venture out, the Museum Center is just a few blocks away. You can also walk to Riverfront Park in under 20 minutes for strolls along the Ohio River - you can even cross a steel bridge to enter Kentucky on foot.
Where to stay when you reach Savannah
The warm and cozy rooms at Perry Lane Hotel will make you feel at home during your stay. Located downtown, the city's museums and the Historic Savannah Theater are all walkable, and parking is available if you need it.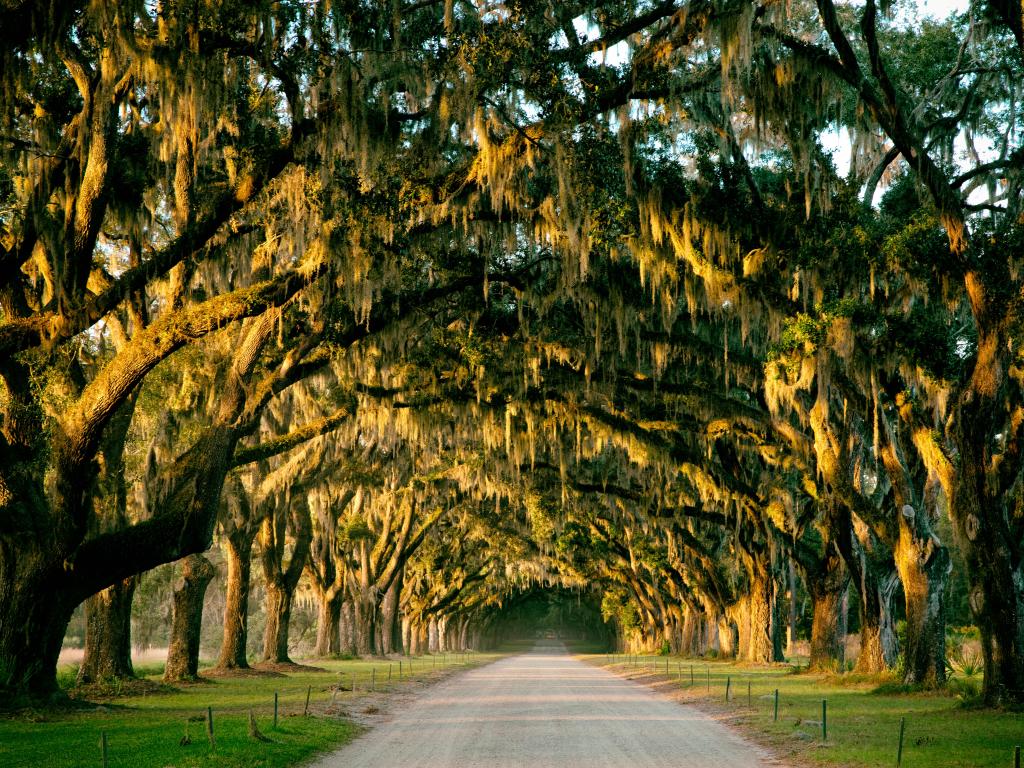 This is a great place to stay if you're looking to wind down while you're in town. Enjoy the beautiful outdoor pool or treat yourself to spa treatments, before heading out to enjoy some of Savannah's fabulous restaurants and bars.
Things to see on a road trip from Chicago to Savannah
As you make your way south you can immerse yourself in history, art and nature at the many amazing places you'll pass.
The Direct Route
Clarkesville, IN - Stretch your legs at the Colgate Clock, rumored to be the largest clock in the world.
Louisville, KY - Everyone's heard of the Kentucky derby, and in Louisville you can visit Churchill Downs, where the race has taken place since 1875. Discover Victorian history at the Conrad-Caldwell House Museum, then taste test at the Evan Williams Bourbon Experience.
Mammoth Caves National Park, KY - This UNESCO World Heritage Site near Brownsville is a stunning natural wonder which is well worth visiting.
Lynchburg, TN - This small city is surrounded by scenic green hills, and full of charming historic buildings. It's most famous for being the home of Jack Daniels, and you can visit the distillery here.
Chattanooga, TN - In Chattanooga you can appreciate art, history, and nature. Stroll through the Art District for views of the river, visit the Tennessee Valley Railroad Museum, and descend into Ruby falls where you'll deep dive into the deepest cave in the USA.
World of Coca-Cola (Atlanta, GA) - Before hitting downtown Atlanta, stop at the World of Coca-Cola, where you can discover the history of the brand through interactive exhibits.
Atlanta, GA - Tour the CNN studio then take a ride on a 20-story Ferris Wheel known as the SkyView. Learn about the past at the National Center for Civil and Human Rights.
Macon, GA - Explore the Allman Brothers house. Now a museum, it's full of memorabilia of the Southern Rock band. Indulge in both fresh air and history at the Ocmulgee Mounds Historic Park.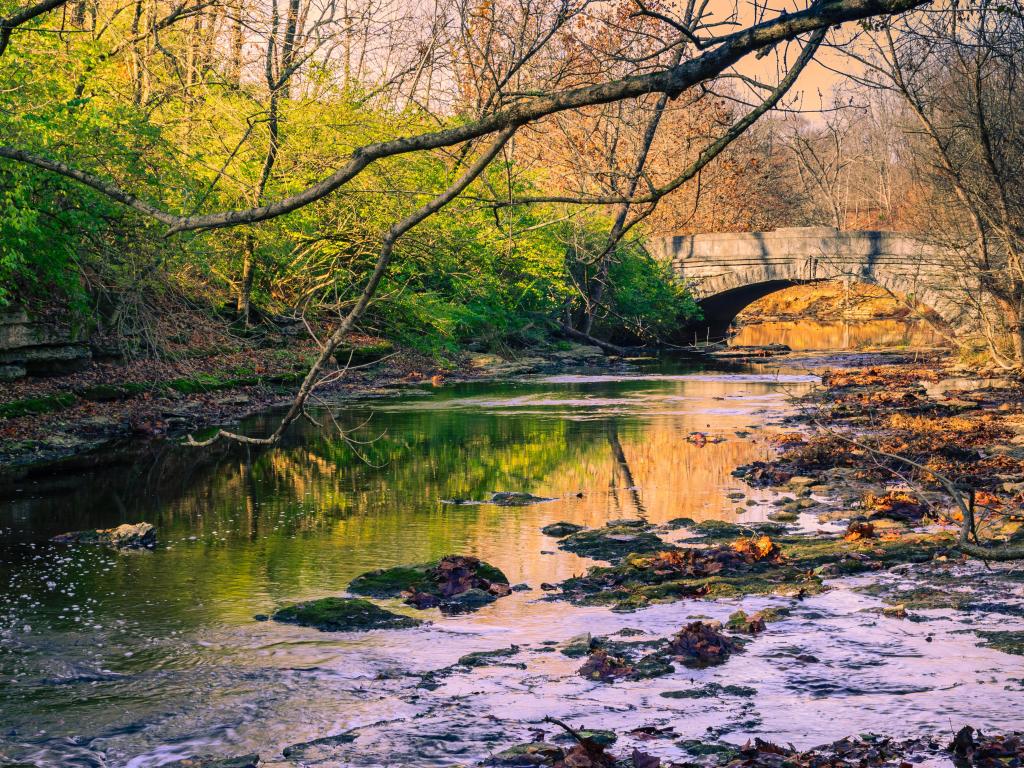 The Blue Ridge Route
Cincinnati Zoo & Botanical Garden - Before arriving downtown, call at Cincinnati Zoo and Botanical Garden. USA's second oldest zoo opened in 1873.
King Island Theme Park - There are big thrill rides at this theme park in Mason, OH, alongside smaller rides and a water park for all the family.
Point Pleasant, WV - The city that inspired the famous film "The Mothman Prophecies". There's a statue and museum dedicated to the cryptic figure here.
Charleston, WV - In the capital of West Virginia, the State Capitol and West Virginia State Museum help you learn more about the region. At night, there's plenty of live music.
Blue Ridge Parkway - As you enter North Carolina, take the Blue Ridge Parkway. This famed road is an immersive drive through the Blue Ridge Mountains with plenty of overlooks.
Charlotte, NC - This large city surrounded by mountains gives plenty of opportunities to drive out and explore nature. In the center, you'll find the NASCAR Hall of Fame and parks to explore.
Carowinds, NC - Upon leaving Charlotte, NC, you'll meet Carowinds Theme Park for fun and thrill rides.
Columbia, SC - The capital of South Carolina has graceful walks and impressive fountains. There's a historic district with old mansions such as the Debruhl-Marshall House.
Charleston, SC - The city dates as far back as 1670, so you can explore the cobblestone streets on a horse-drawn carriage and learn about the Civil War at Charleston Harbor museums.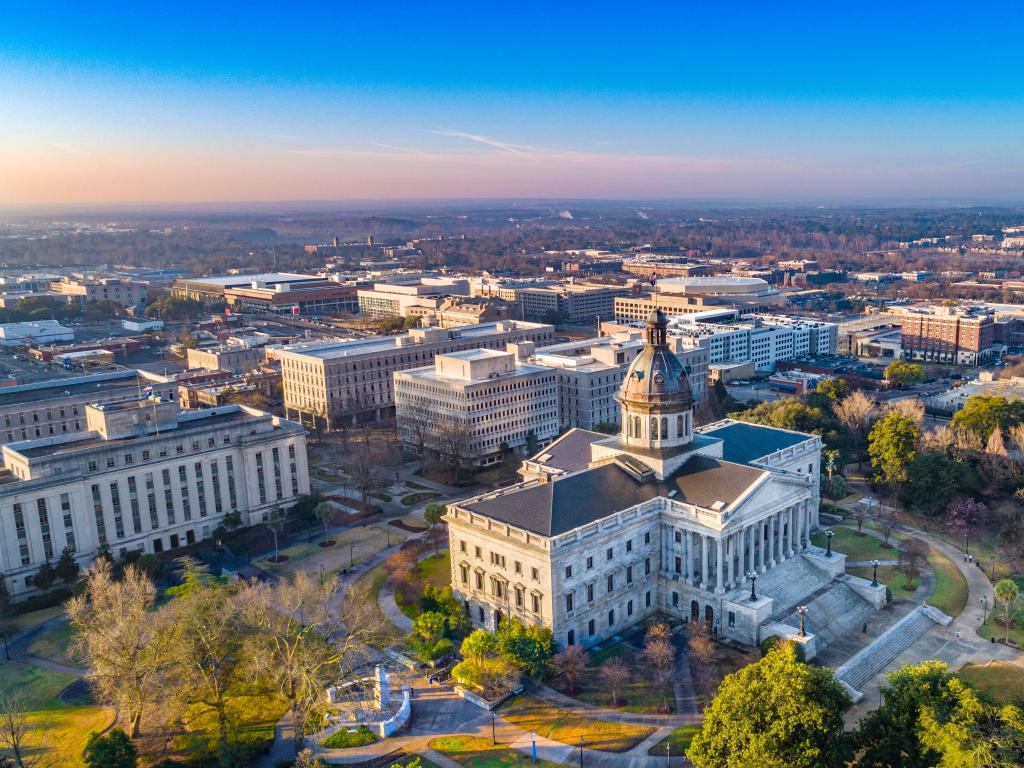 Both routes
Lake Michigan - Leaving Chicago, IL, you'll circumnavigate the south tip of Lake Michigan. On a clear day, Lake Street Beach offers amazing views back towards downtown Chicago.
Lafayette, IN - Exploring the nightlife of this city between Chicago and Indianapolis, you'll encounter lively piano bars.
Indianapolis, IN - Enjoy romantic walks along the Central Canal and snap pictures at Monument Circle. The city hosts the famous Indy 500, and you can visit the Motor Speedway Museum.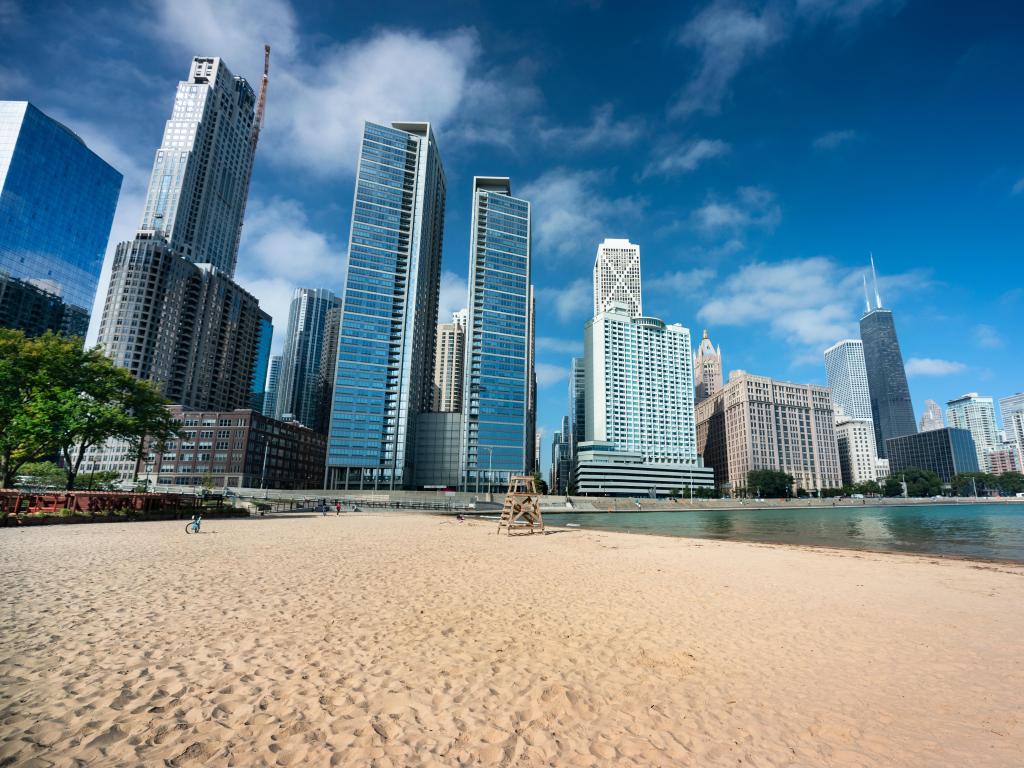 Best time to go on a road trip from Chicago to Savannah
Savannah has historic architecture, art galleries, and scenic walks that you can enjoy all year round. So it's more likely that other parts of the route will be the deciding factor about when you travel.
June, July, and August in Savannah are hot with average temperatures around 80 degrees Fahrenheit, so walking about can be uncomfortable.
In contrast, although winter is cold in Savannah, it's short, and seeing as temperatures only really drop down to 50 degrees, you could happily visit the city in winter. However, you might encounter road closures along the Blue Ridge Parkway and icy conditions on many other roads.
Spring is a great time to make this trip, with the snow melting on the northern part of the route by March, and Savannah warming up to around 65 degrees by April. It's also much less humid at this time of year.
Savannah stays hot through September, averaging 77 degrees Fahrenheit and October is a dryer month with temperatures still close to 70 degrees, so this makes a fantastic time to visit the iconic city.
There are some great events taking place in Savannah in the fall too. Check out Jazz City in September, or the Rock 'n' Roll marathon in November. You'll also be able to catch magical fall colors along the Blue Ridge Parkway during these months.