Road Trip from Chicago to Toronto
Have you ever considered taking a road trip from Chicago to Toronto? The journey will be filled with adventures and unique, scenic places to see. Traveling between these two world-class cities by road not only gives you the freedom take things at your own pace; it also offers countless opportunities for impromptu stops - where the real memories are made!
The 520-mile road trip from Chicago to Toronto takes 8 hours 30 minutes to drive, and takes you past Indiana Dunes National Park, Silver Beach County Park, Lansing, South Bend, Cleveland and Niagara Falls, with endless views of the Great Lakes too.
Continue reading for our best advice and further details on the road trip from Chicago to Toronto, with ideas and inspiration on which route to take, where to stay along the way, and the best time of year to make this fantastic journey.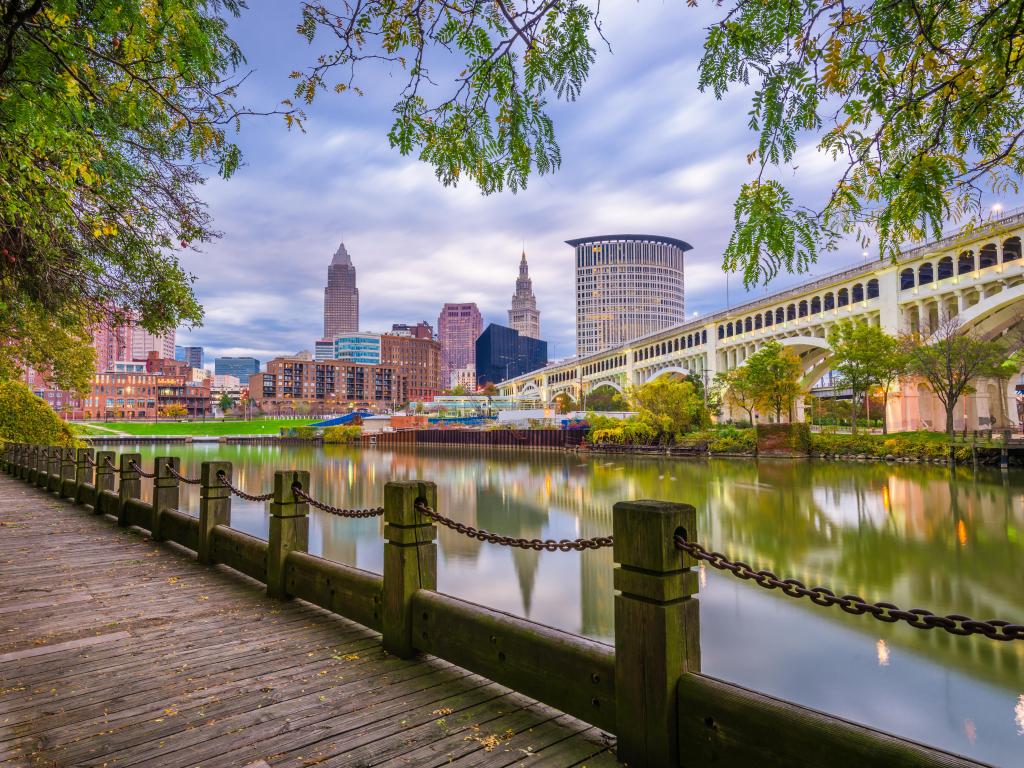 How far is Toronto from Chicago and how long will the road trip take?
Comparison of routes between Chicago and Toronto

| Route | Distance | Driving Time |
| --- | --- | --- |
| Northern Route | 520 miles | 8 hours 15 minutes |
| Niagara Falls Route | 640 miles | 10 hours 15 minutes |
Most people usually prefer taking a flight from Chicago to Toronto, and why not? It's definitely a fast and convenient way to travel. However, one of the things that road trips help you discover is that the journey can be more significant than the destination, especially if you make plenty of stops along the way.
The shortest and quickest route between Chicago and Toronto will take you at least 8 hours 15 minutes and cover 520 miles, but allow at least an extra hour if you have to start your road trip during the Chicago rush hour.
If you would like to visit Niagara Falls on your journey, you have a second route option which takes you through Cleveland and past Lake Huron to reach Toronto. This route is longer, at around 10 hours 15 minutes and 640 miles, but well worth the drive if you've never seen the Falls.
Whichever route you choose, you can complete the road trip in a day, even allowing for a few rest breaks, but we would recommend stopping at some of the fantastic sights along the way to really get the most from your journey.
This means the road trip from Chicago to Toronto should take you at least two to three days - but you can easily fill a longer trip if you have more time.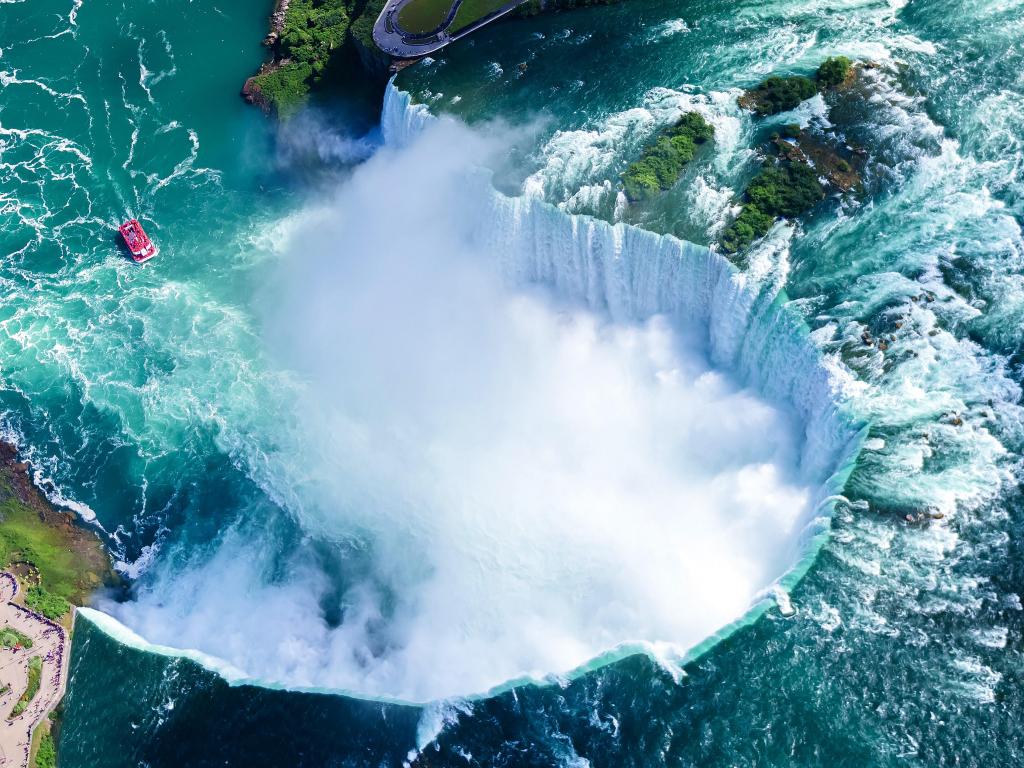 Best road trip route from Chicago to Toronto
The best route option for your road trip from Chicago to Toronto will depend on the time you have put aside to reach your destination, and what you'd like to see along the way.
Both routes make for a fantastic journey, and take you past some great attractions, so read on to help decide which route to take.
How to drive from Chicago to Toronto
The map above shows our suggestions for the best road trip routes between Chicago and Toronto. Keep reading for detailed descriptions of both routes, where to stay on either, and the best things to do on the way.
The Northern Route
Leave Chicago on I-90 then switch to I-94. This road mirrors the southeast shoreline of Lake Michigan, so there are a number of great beach stops you can make during the first part of your trip.
Just out of Chicago, the unique landscapes of Indiana Dunes State Park are a fantastic place to explore. Or carry on to Silver Beach County Park at St. Joseph to enjoy the beautiful sandy beach.
After this, continue along I-94. At Kalamazoo you could visit the Air Zoo Aerospace & Science Museum, before joining Interstate 69 N at Exit 108.
Pass through the state capital Lansing on Interstate 496 before rejoining I-69 towards the US-Canada border. You'll make the crossing at Blue Water Bridge, which connects I-69 to Ontario Highway 402.
Once you enter Canada, you could spend a little time exploring the southern shore of Lake Huron. Burley Beach at Pinery Provincial Park is a great option for a stop not far off the Interstate.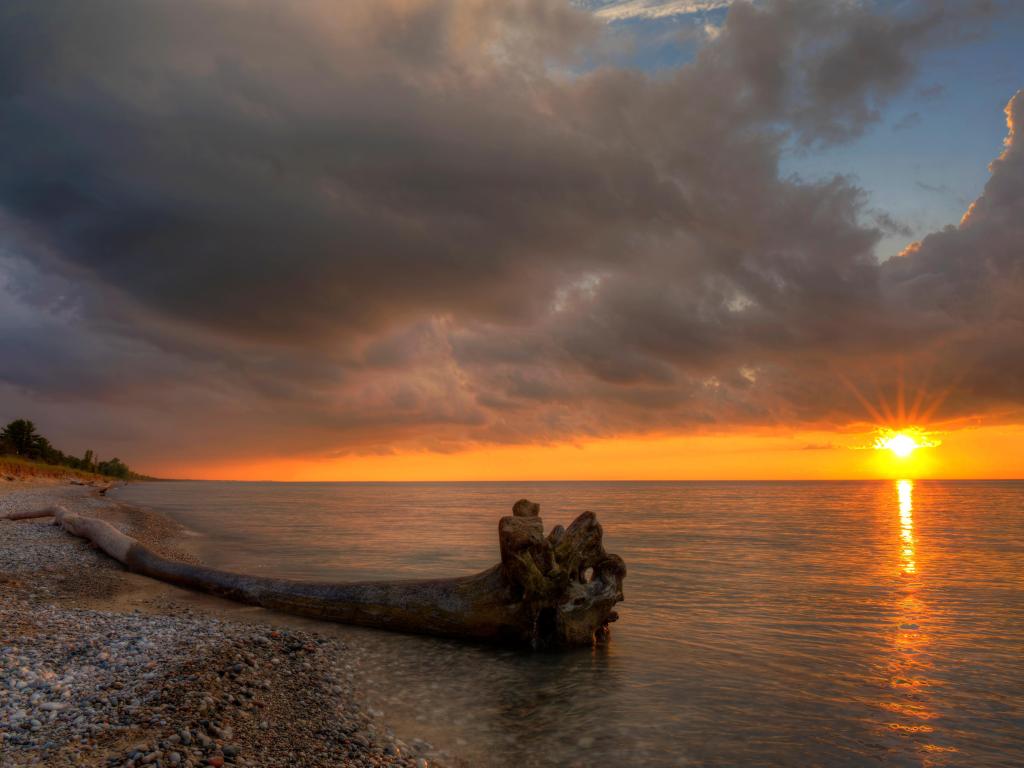 Continue along Highway 402 through Ontario, stopping at the beautiful city of London. As you travel past the city, merge onto Ontario Highway 401 for a short distance, before joining Ontario Highway 403 which will take you through Hamilton.
You could make short detours to the mesmerizing Cambridge Butterfly Conservatory or the Canadian Warplane Heritage Museum before arriving in Hamilton.
After Hamilton, simply follow Highway 403 right into the heart of Toronto to complete your journey.
The Niagara Falls Route
Leave Chicago on I-90, as with the Northern Route, but instead of switching to the I-94 you want to continue on the I-90 as you make your way across Michigan. You could follow this road all the way to Buffalo, but of course there are plenty of places to stop along the way.
In South Bend, home to Notre Dame University, you can catch a performance at the Morris Performing Arts Center, or visit the Basilica of the Sacred Heart.
For two contrasting options, consider stops at the Hall of Heroes Superhero Museum in Elkhart, or leave the Interstate at Exit 121 to access Indiana's beautiful Fawn River Nature Preserve.
After you pass Toledo, I-90 runs parallel to the southern shore of Lake Erie. On this stretch you'll pass through Cleveland - where you can visit the Rock and Roll Hall of Fame - and the beautiful village of Madison.
If you have a little more time, you can switch to PA/NY Route 5. This road runs closer to the lake shore, letting you explore its villages and beaches at your own pace. Simply re-join I-90 when you want to pick up speed again.
Lake Erie State Park, just north of Brocton, is just one of the places you could stop to admire the landscape on the way.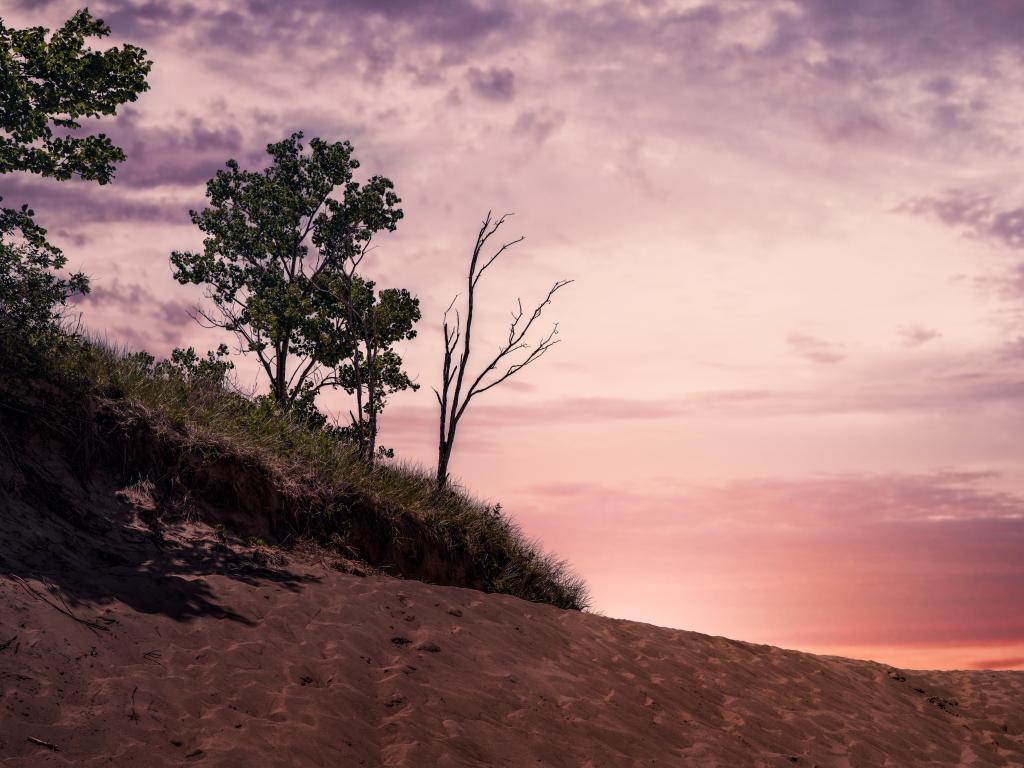 When you reach Buffalo it will finally be time to leave I-90 and join Interstate 190 to cross Grand Island. Take the Niagara Scenic Parkway, which leads you to the US-Canada border at Rainbow International Bridge.
It goes without saying that a stop here at Niagara Falls is one of the true highlights of this route.
When you've finished admiring the Falls, take Ontario Highway 420 for a short distance before joining Queen Elizabeth Way and following the road past Hamilton.
At Burlington, all that's left of this road trip is to pick up Ontario Highway 403 and follow it to your destination, Toronto.
Best places to stop between Chicago and Toronto
To get the most from this road trip you'll need to make one or more overnight stops along the way.
Here are some great stopover options for you to choose from, together with our top hotel tips:
Discover hidden gems at Lansing, Michigan
If you're taking the Northern Route between Chicago and Toronto, Michigan's state capital Lansing is almost half way between the two. We don't just recommend it for its convenient location though.
As well as a thriving downtown area where you can take your pick of places to eat after a day on the road, you could visit the Eli and Edyth Broad Art Museum which has an interesting collection in a contemporary building. Or if you'd rather spend time outdoors, the W J Beal Botanical Garden is the perfect place.
While you're in town, the Courtyard by Marriott Lansing Downtown makes a great place to stay the night. As well as offering comfortable rooms and great service at a reasonable price, it's right in the center of the city so sights like the Lansing Center, Michigan History Center and Adado Riverfront Park are just a short walk away.
It's located just a couple of blocks of I-496, which you'll join from I-69 to pass through the town, and has on-site parking, making it particularly convenient for travelers on a road trip.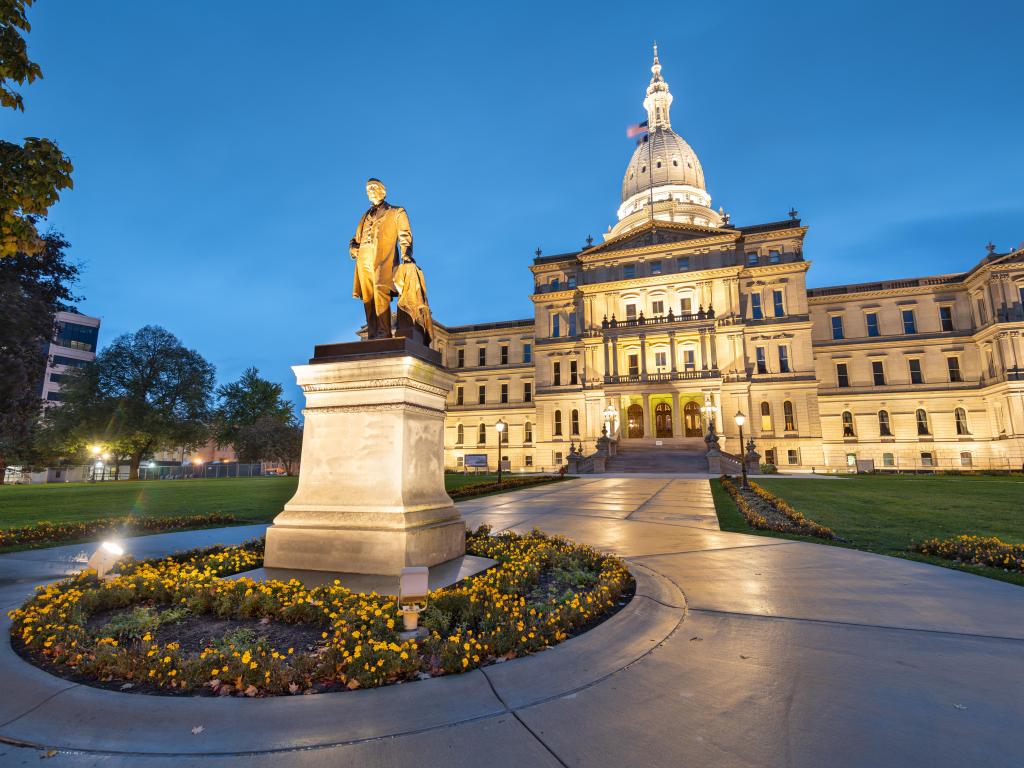 Relax on the Beach at Sandusky, Ohio
Sandusky is a city in Ohio located on the shores of Lake Erie, roughly half way between Chicago and Toronto on the Niagara Falls Route.
Sandusky is home to the famous Maritime Museum, where you can learn the stories of the lakes that shaped this region. Or for a complete contrast, you could visit the thrilling Cedar Point Amusement Park, famous for its heart-thumping rides.
In a place like Sandusky, you're probably looking for somewhere to stay that combines beach access with fantastic views, and the Cedar Point Hotel Breakers gives you both of these in style.
Located on the shores of Cedar Beach and just a two-minute walk from Cedar Point Amusement Park, it also offers a large outdoor pool and gym if you want some downtime as well.
You can take your pick of dining options at the hotel, or take the short drive into Sandusky itself if you want to explore the city too during your trip.
Things to see on a road trip from Chicago to Toronto
It's best if you take 2 to 5 days to go on the road trip from Chicago to Toronto, regardless of your route.
This gives you enough time to explore and enjoy the places you'll pass along the way.
Northern Route:
Albanese Candy Factory Outlet – The candy factory is a fun attraction for kids and adults who love candy.
Indiana Dunes State Park – The dune-lined park is ideal for fishing, camping, swimming, skiing, etc.
South Haven Lighthouse – This lighthouse located in Michigan is one of the most scenic historical places.
Four Winds Casino New Buffalo - Try your luck at this vast casino on the shores of Lake Michigan.
Silver Beach County Park - A stunning stretch of sand with fabulous views out across the lake.
Frederik Meijer Gardens & Sculpture Park – Located in Michigan, the botanical gardens have a wide variety of sculptures and host indoor exhibitions.
Eli and Edyth Broad Art Museum, Lansing - A striking new art collection that's part of the University of Michigan.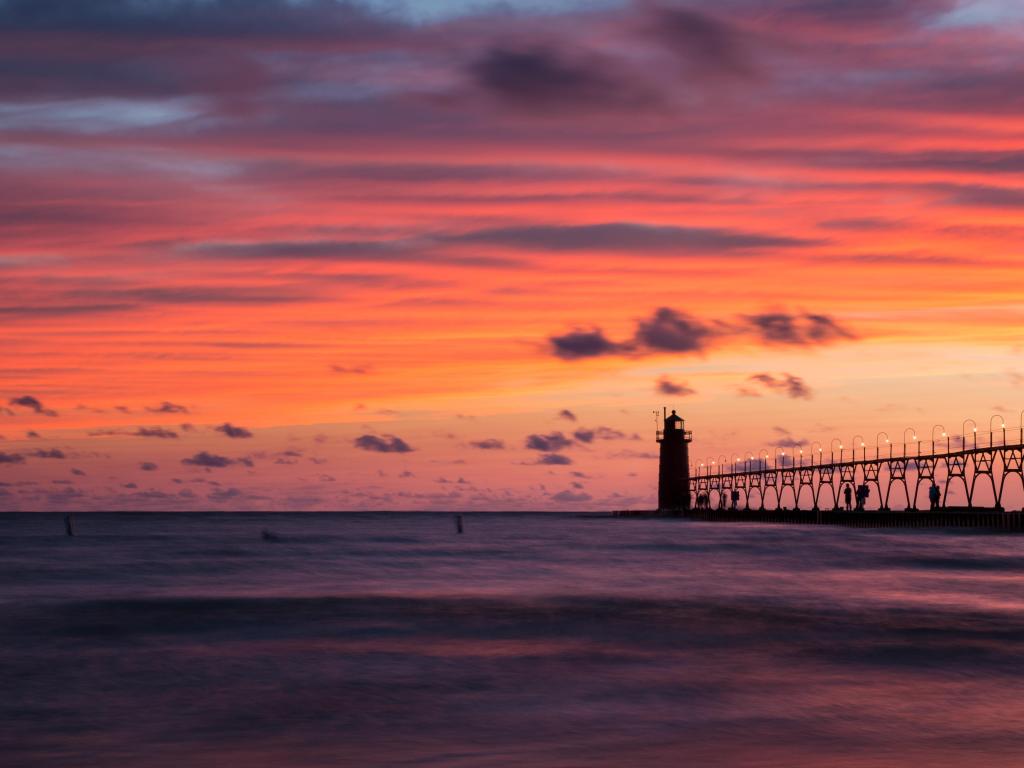 Niagara Falls Route:
Sauder Village Living History Museum - Get to know the story 200 years of Ohio's history at this recreated village.
Cleveland Metroparks Zoo - Take in the simulated rainforest and interactive section at this zoo.
Rock and Roll Hall of Fame, Cleveland -Take a fantastic journey through the legends of Rock and Roll.
Cave of the Winds – An attraction offering an adventurous walk on wooden floors up-close to the Bridal Veil Falls.
Niagara Underground Railroad Heritage Center - This museum relates the important role that this border region played in helping enslaved laborers reach freedom.
Journey Behind the Falls – A viewpoint from the Canadian side of Niagara Falls that gives you an amazing close-up view of the falls.
Canadian Warplane Heritage Museum – A museum featuring dozens of varieties of Canadian Warplanes and flight simulators.
Best time to go on a road trip from Chicago to Toronto
You can take the trip from Chicago to Toronto at any time of year as it's almost entirely an Interstate drive. However, with so many beaches and outdoor attractions along both routes you'll probably want to travel when the weather is perfect to enjoy them.
Being close to several major cities, beaches and waterfront towns on the Great Lakes can become crowded at peak times, especially during school breaks. This brings plenty of atmosphere but is likely to push up accommodation prices too.
Spring and fall can be cool this far north too, so if you're looking for the sweet spot where you can expect temperatures in the high 70s, we'd recommend making the trip in late May, June or September.
Bear in mind also that much of this route experiences freezing temperatures from December to February, sticking around 20 degrees Fahrenheit and with regular snowfall. While it's possible to make the journey over the winter, you probably won't get the full benefit, unless you're seeking icy, windswept landscapes.