Road Trip From Chicago to Tucson
If you're up for an adventure featuring scenic forests, beautiful national parks, memorable cities, and diverse landscapes littered with iconic attractions, then a road trip from Chicago to Tucson is perfect for you.
The 1,750-mile road trip from Chicago to Tucson, Arizona takes 25 hours to drive. Passing through Springfield, St. Louis, Tulsa, Oklahoma City, Amarillo, Albuquerque, El Paso, Mark Twain, and Shawnee National Forests and White Sands National Park.
To ensure you make the most of your epic road trip, keep on reading to learn more about the route, must-see attractions along the way, and the best places to stay.
How far is Tucson, Arizona from Chicago and how long will the road trip take?
The road trip from Chicago to Tucson takes around 25 hours of driving and covers 1,750 miles, without allowing for pit stops and any detours you choose to add.
The journey can be done in as little as three days, but we recommend devoting at least a week to make the most of your time and allow you to fully appreciate the best of the iconic cities that you will pass along the way.
The route passes through several national forests, national parks and many historic sites, and you will witness some amazing vistas as you head across 6 states, through the heart of the US.
If you decide to make the trip in the summer months, be aware of the high temperatures you are likely to experience and take advantage of the excellent accommodation options along the way to keep yourself refreshed.
Best road trip route from Chicago to Tucson, Arizona
The most enjoyable route between Chicago and Tucson is exciting and action-packed so consider making as many detours as your schedule will allow you to make the most of this incredible journey.
The route will take you to Springfield, passing through St. Louis, Oklahoma City, and Amarillo before taking you onwards to Tucson.
You will be mostly driving on Interstate roads, which makes for ideal driving on such an epic journey. With many famous cities to explore along the way, remember that traffic will be busier during the summer and rush hour periods.
Road trip route from Chicago to Tucson
Leaving Chicago, you will take the I-55 heading southwards, passing Bloomington before arriving at Springfield, a little over 200 miles into your trip an ideal place for a break and the opportunity to visit Lincoln's home.
Follow the interstate, parallel to the Illinois River, for a further 96 miles until you reach St. Louis. Here you can marvel at the incredible Gateway Arch, enjoy the constantly evolving city museum, or visit the zoo, regarded as one of the best in the country.
Departing St. Louis, take the I-44 heading for Springfield, with multiple options for a detour - Mark Twain and Shawnee National Forests further south or Lake of the Ozarks in the north.
Follow the I-45 towards Tulsa, where you can revel in some of the finest art deco architecture in the nation, before continuing west down the interstate to Oklahoma City, an ideal place to rest up for the night.
Take the I-40 towards Weatherford where you can detour to Wichita Mountains Wildlife Refuge or drive through it and continue towards Amarillo.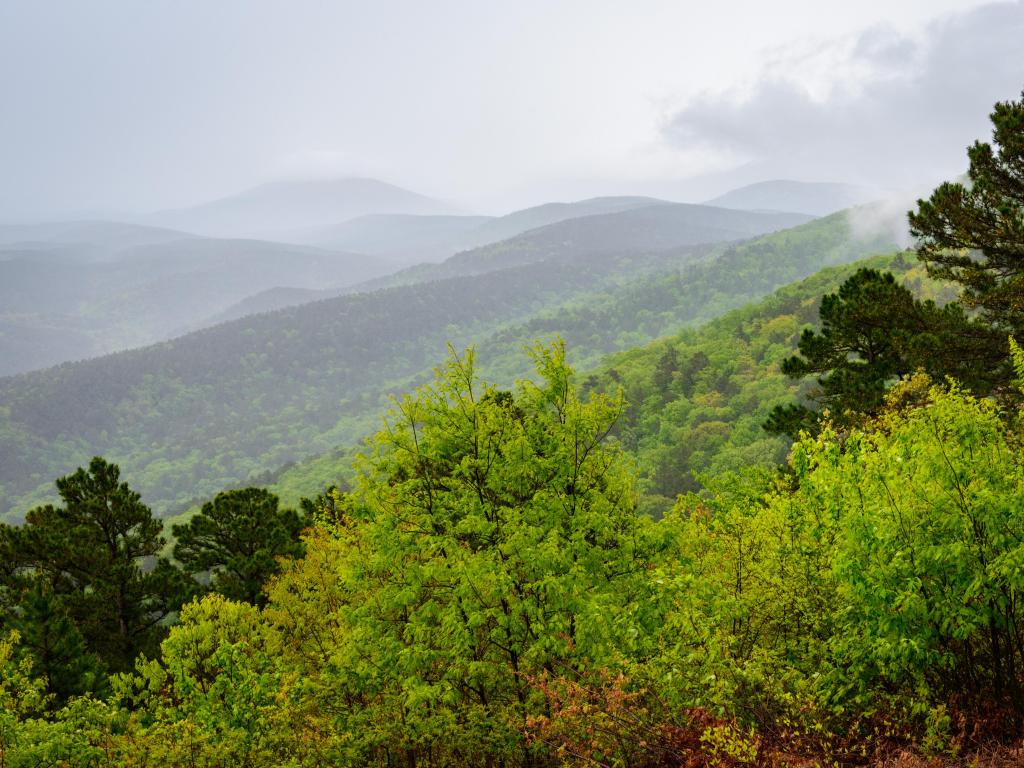 Further along the route, drive to Santa Rosa where you can detour to either Las Vegas or Albuquerque for a day or two. Otherwise, drive south on US-54 passing through Lincoln National Forest and White Sands National Park towards Las Cruces.
From Las Cruces, you could tan take a short detour south to visit the historic city of El Paso or continue west along I-10 until you reach Tucson, the final destination on the trip.
Best places to stop between Chicago to Tucson
The long and rewarding road trip from Chicago to Tucson is packed with exciting places to visit. Consider extending the trip by a few days to add to the memories. Here are a couple of places we recommend for an overnight stay.
Experience the cowboy culture in Oklahoma City
Oklahoma City is almost the halfway point of this magical trip, 794 miles from Chicago, and the ideal location for an overnight stop. Embrace the cowboy culture, and experience line dancing and live music in the vibrant OKC nightlife.
The Colcord Hotel Oklahoma City will brighten up your trip with its great location, exceptional service, and contemporary design. The bright and beautifully arranged rooms are the perfect place to relax after a long day at the wheel.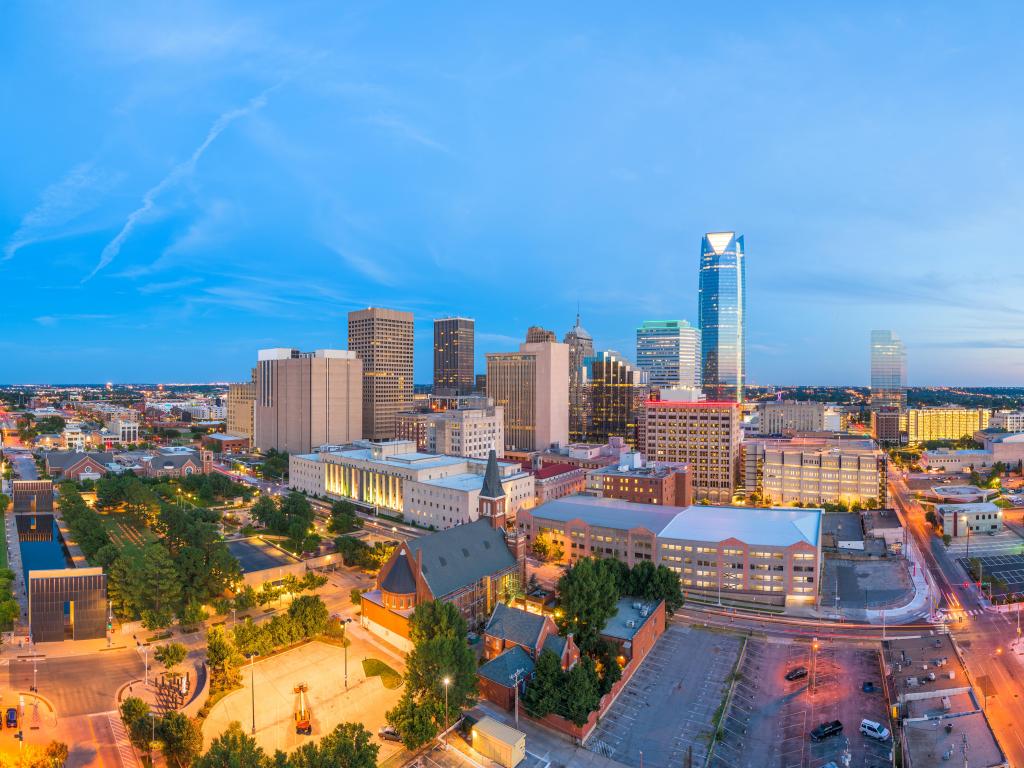 Sample the exceptional contemporary cuisine in the Flint restaurant, famed for using premium local ingredients, or head out to explore the many delicious dining opportunities Oklahoma has to offer.
With a host of activities on the doorstep, enjoy a stroll around the Myriad Botanical Gardens, visit the Oklahoma City Museum of Art, the Ford Center, or the Oak Brook Shopping Center, all within a 10-minute walk of the hotel.
Be sure to visit Bricktown, a totally renovated district where almost every building is red brick, with an excellent river walk. An upscale entertainment, shopping, and restaurant district with something for everyone.
Where to stay once you reach Tucson
The Blenman Inn will undoubtedly impress you with its beautifully furnished Art Deco, spacious rooms, with beautiful design throughout this historic bed and breakfast. You can be sure of a warm welcome, with guests treated as friends.
Take it easy at the seasonal lagoon-shaped swimming pool with outdoor terrace lounging, with glorious sun terrace and BBQ facilities for the warmer months. Continental breakfast is also included in your stay to start your day off right, including fresh juices and delicious dishes served in the elegant dinning room or by the pool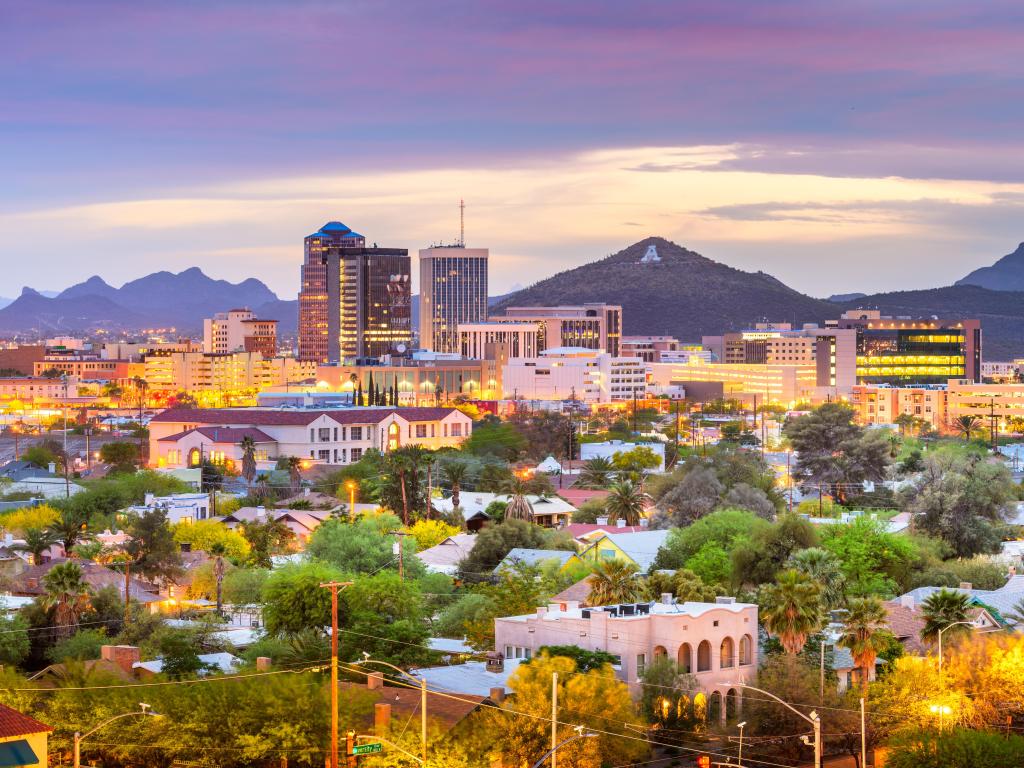 Go from 4 wheels to 2, exploring this bike-friendly city. The historic Tucson small-group bike tour will provide all you need to learn about the history and culture of the area at your own pace, including a trip over Rattlesnake Bridge.
Visit the Arizona-Sonora Desert Museum, take in Saguaro National Park with over 450 archeological sites and 60 historic structures, and much more as you take in all that Tucson has to offer, making a memorable end to your trip.
Things to see on a road trip from Chicago to Tucson, Arizona
Starved Rock State Park – Stroll down the wooded trails of Starved Rock State Park and feast your eyes on a beautiful natural landscape. Canyons and waterfalls are painted differently every season of the year.
Lincoln Home – Follow in the footsteps of Abraham Lincoln, learn about his life and family, and discover what life was like in 1860s Springfield.
Matthiessen State Park – Explore trails through beautiful 360-degree naturalistic scenery and spend some time admiring robust waterfalls and rock formations.
St. Louis – Nicknamed the "Gateway to the West", from its iconic Gateway Arch to the alluring Botanical garden and Zoo, ideal for a long weekend of fun and excitement.
Titanic Museum, Branson – Find out what it was like to be a passenger on the famous liner, walk the hallways and even walk up the grand staircase.
Mark Twain National Forest – Mark Twain is one of the most calming places in the Midwest filled with gorgeous caverns, tall pine trees, impressive scenery, wildlife, and over 40 miles of trails to explore.
Shawnee National Forest – Stunning national forest with an unforgettable landscape. Enjoy rolling hills, lakes, and rugged bluffs. Suited for camping, fishing, and horseback riding.
Lake of the Ozarks – Visit some of the many waterfront accommodations, restaurants, and entertainment venues at Lake of the Ozarks and unwind in the company of your family.
Ozark National Forest – Ozark National Forest is a favorable spring destination with a brilliant display of colorful landscapes, rugged mountains carved by swift rivers, and deep forests.
Ouachita National Forest – Camp near a breathtakingly beautiful lake surrounded by wildlife, hike through advanced trails, and get in touch with the wild part of nature.
Wichita Mountains Wildlife Refuge – A habitat for large native animals such as American bison and Mountain elk as well as a plethora of reptile, amphibian, and bird species.
Palo Duro Canyon State Park – Explore by foot or take a mountain bike and admire the jaw-dropping colorful rock formations as well as the incredibly rugged terrain.
Cadillac Ranch – See one of the most famous pieces of art in the country, an ode to route 66, and leave your own mark on one of the Cadillacs and create your own piece of history.
Albuquerque – Spend a day at the "BioPark" or enjoy a thrilling ride at Sandia Peak Tramway. Take a tour of the many Breaking Bad locations.
O.K Corral – Step back into the past with a visit to the wild west's most famous gunfight. See Wyatt Earp in action in the daily re-enactment of the famous shootout.
Cibola National Forest – Grab a backpack, and plenty of water, and explore the forest trails, culminating with a stunning view of the Albuquerque skyline.
White Sands National Park – At White Sands National Park you will see otherworldly scenery, a true naturalistic miracle that will leave you shook. Whether it is sunrise or sunset the white sand dunes are an amazing sight to witness.
El Paso – Rich in cultural attractions, desert landscapes, and tasty Mexican cuisine, the sunny city of El Paso is a very popular tourist destination.
Gila National Forest – Best known for its majestic mountain scenery and gorgeous wilderness areas, Gila National Forest is a magnificent place to visit all year round.
International UFO Museum and Research Center, Roswell – Discover the history behind the "great cover-up". A museum featuring exhibits from the Roswell UFO incident and a collection of alien-related art.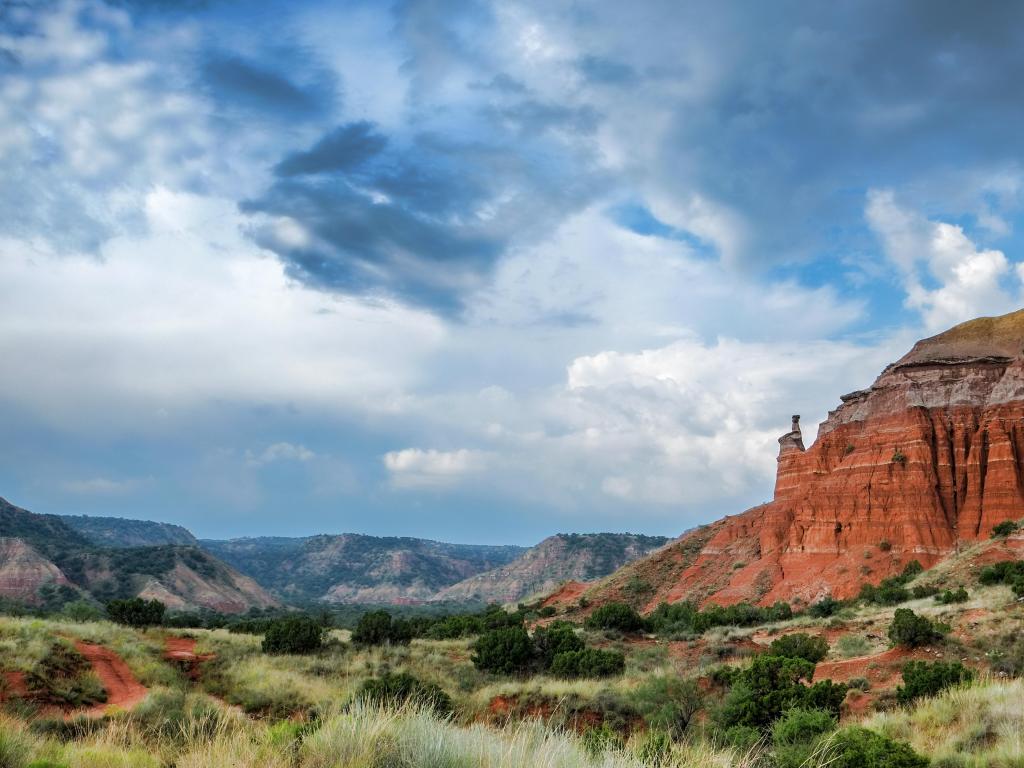 Best time to go on a road trip from Chicago to Tucson, Arizona
The road trip from Chicago to Arizona can be enjoyed all year round. If you decide to travel in the summer, the temperature in Tucson has an average high of 100 degrees so ensure you plan accordingly.
Autumn is considered the best time to visit Arizona. The weather is pleasant and it's a popular time for tourists. Averaging 85 degrees, the days are mostly sunny and warm – perfect for outdoor activities.
Hotel rates peak during February, and April and May are also considered preferable, so be sure to book hotel rooms at least a month in advance.
Spring also brings a lot of colorful events and festivals. Visit Tucson in May and enjoy Tucson under the stars, a spectacular weekly outdoor performance from the acclaimed Tucson Pops Orchestra.
Whenever you choose to take this magnificent journey, be sure to allow as many days as possible to see as much as you can and immerse yourself in the diverse landscapes and cultures that make this trip so memorable.