Road Trip from Chicago to Zion National Park
When was the last time you took the time to relax and let your inner adventurer run free? If it has been a while, this road trip from Chicago to Zion National Park is definitely for you! This trip lets you experience every landscape from the flat glacial plains of Chicago to the sandstone cliffs of Zion National Park, whilst also making the most of the many National Parks, forests, cities, and canyons along the way.
The 1,840-mile road trip from Chicago to Zion National Park takes around 30 hours to complete. On the way, you can explore Kansas City, Denver, Mount Rushmore, and Bryce Canyon National Park as well as Wind Cave National Park.
Read on to find out more about this eclectic and exciting road trip to Zion National Park from Chicago, including our best two route options, where to say on the way, our favorite things to see, and the best time of year to travel. It's time to make some memories that'll last a lifetime!
How far is Zion National Park from Chicago, and how long will the road trip take?
Comparison of road trip routes between Chicago and Zion National Park

| Route | Distance | Driving Time |
| --- | --- | --- |
| The Southern Route | 1,840 miles | 28 hours |
| The Northern Route | 2,050 miles | 33 hours |
There are a couple of options for getting from Chicago to Zion National Park, although they do both share the same route once you get to Colorado. The most direct (Southern) route will take you around 28 hours to complete and will cover 1,840 miles.
The Northern Route will take 33 hours to drive, to cover the distance of 2,050 miles, without accounting for any bathroom breaks or photo opportunities.
Considering the distance, you'll be covering, the gorgeous terrain to see, and National Parks to explore, we suggest that you allow between 4 to 5 days to complete your drive.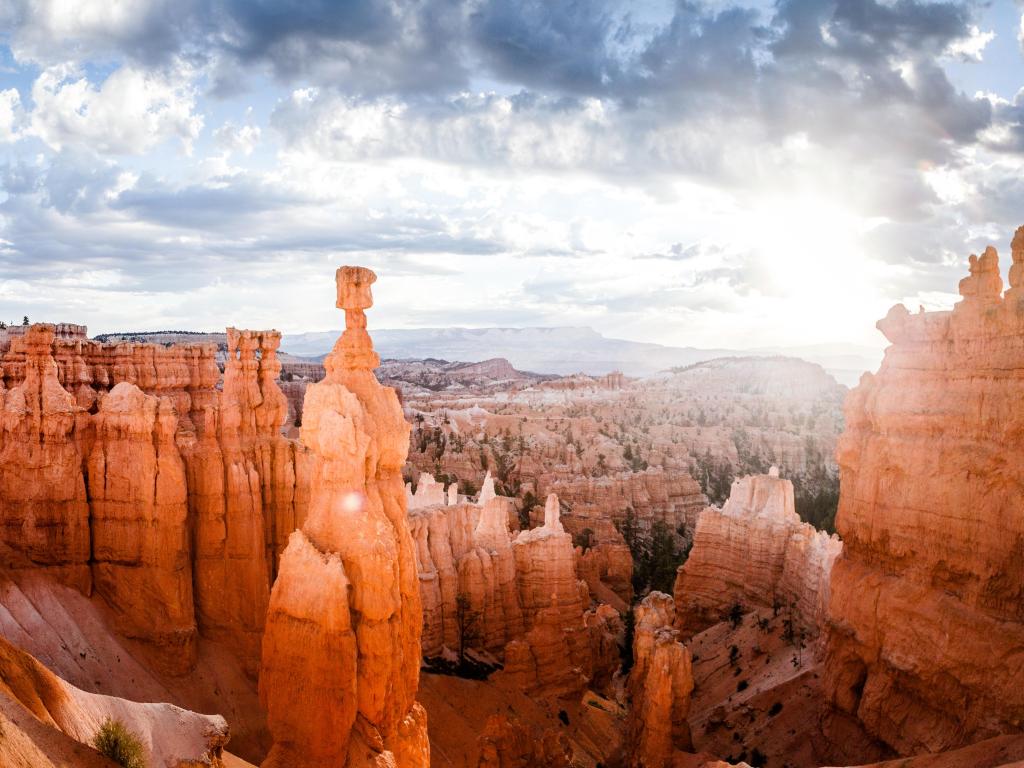 Best road trip route from Chicago to Zion National Park
Both of the routes we've chosen for this trip from Chicago to Zion National Park take in plenty of rugged terrains as well as abundant greenery, canyons, mountainsides, lakes, and National Parks.
On the Southern Route, you will get to explore a variety of National Parks, the Dixie National Forest, and the gorgeous town of St. Louis. This route will allow you to experience many of the Midwest United States' rocky terrain, rolling hills, and descending valleys.
The Northern Route takes a scenic stroll through the gorgeous parks of the Northern Territory. Among the many parks you will drive past are Wind Cave National Park, Mt. Rushmore, and Bryce Canyon National Park with numerous amounts of wildlife, rock formations, lakes, and forests.
Regardless of the route you take, you'll be sure to have fun and relax on this cross-country ride. From the wide, flat terrain of the Midwest through the icy mountains of Colorado, this will be one adventure that you won't want to miss out on!
If you'd like to hike up to Angels Landing, you will need a permit and will need to make a reservation. Check the Zion National Park's website for more details.
The Southern Route
The most direct (Southern) route takes you via I-90 W and I-70 W with minimal stops. Head west from Chicago using I-90 W, towards the town of Hannibal. Switch to I-55 S towards St. Louis while you sit back and enjoy the bustling grassland on either side of the road.
Once you reach the Missouri area, you could stop at Kansas City. Just a little further along you'll also find Wichita, Kansas and Colorado Springs. An interesting place to check out in Kansas City would definitely be the National WW1 Museum and Memorial.
As you approach the town of Denver, there'll be plenty to explore including White River National Forest and the Grand Mesa National Forest.
Back onto I-70 W, and time to watch out for the abundant wildlife in the surrounding areas, for those perfect holiday snaps. There are also some smaller National Parks, lakes, and springs dotted along the route, perfect for a quick snack break!
The next bigger town you'll reach will be Moab. The Arches National Park is worth exploring here as well as a can't-miss visit to the Canyonlands!
The next part of your adventure takes you down UT-9 E into rockier and more mountainous landscapes as you get closer to Zion National Park. Stretch your legs in Richfield before carrying on through comically named Beaver and Parowan, followed by Cedar City a little way down the road.
As you approach Zion National Park, the possibilities for adventure become endless! From trekking through Dixie National Park to brunch in Cedar City to a well-deserved spa day in Hurricane, who says you can't enjoy the journey as much as the destination?
The last stop of your journey leads you to Zion National Park to hike, enjoy, or relax – whatever your heart desires.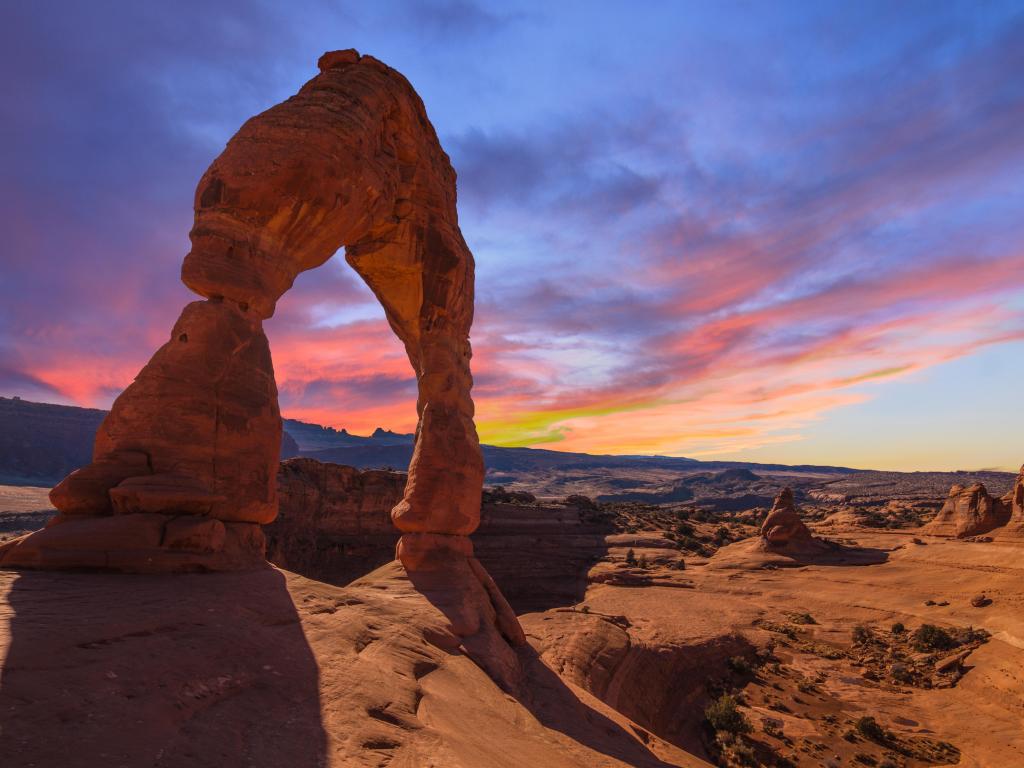 The Northern Route
This route shares the majority of the directions with the direct route, especially towards the end of the drive.
Start by getting on I-90 W from Chicago towards WI-16 W. Head along Wisconsin Dells to the explore the city and have a night on the town in their famous bars and restaurants!
When you're ready to restart your journey, follow I-90 W until you reach the town of Sioux Falls, where you can check out nearby National Parks, such as the Badlands or Mt. Rushmore.
Once you've had your fill of nature pursuits here, re-join the highway before taking I-80W in Rawlins. This will take you through Wyoming and into Utah.
Here, you will also have the option of an additional stop in Salt Lake City where you can spend the day exploring town, take a much-needed day of rest, or engage in exciting water sports, such as jet-skiing or swimming in Utah Lake.
Follow UT-63 N towards Bryce, where you'll then head south on US-89 S towards Glendale, and ultimately all the way to Zion National Park.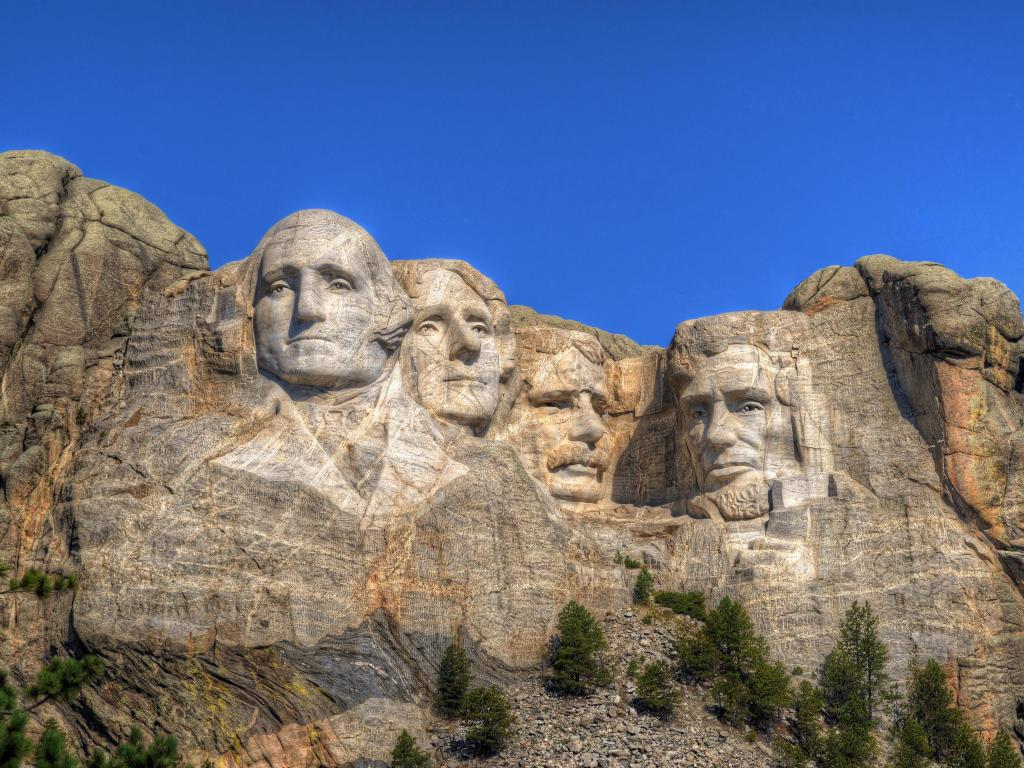 Best places to stop between Chicago and Zion National Park
You'll probably be ready to relax after a long day on the road, so you'll want to plan your overnight stops to give yourself something to really look forward to. We've picked a few conveniently located places that will allow you to both relax after a long day of driving and explore what the Midwest has to offer.
The overnight options differ by route with the Southern Route having a stop in Missouri and the Northern Route having a stop in South Dakota.
Making the most of Missouri
Located a third of the way through your arduous journey, the town of Kansas City is located in the heart of Missouri and is one of the largest cities that you will come across on this trip. This charming town makes for a great overnight stop and serves as social hotspot full of fun restaurants and music.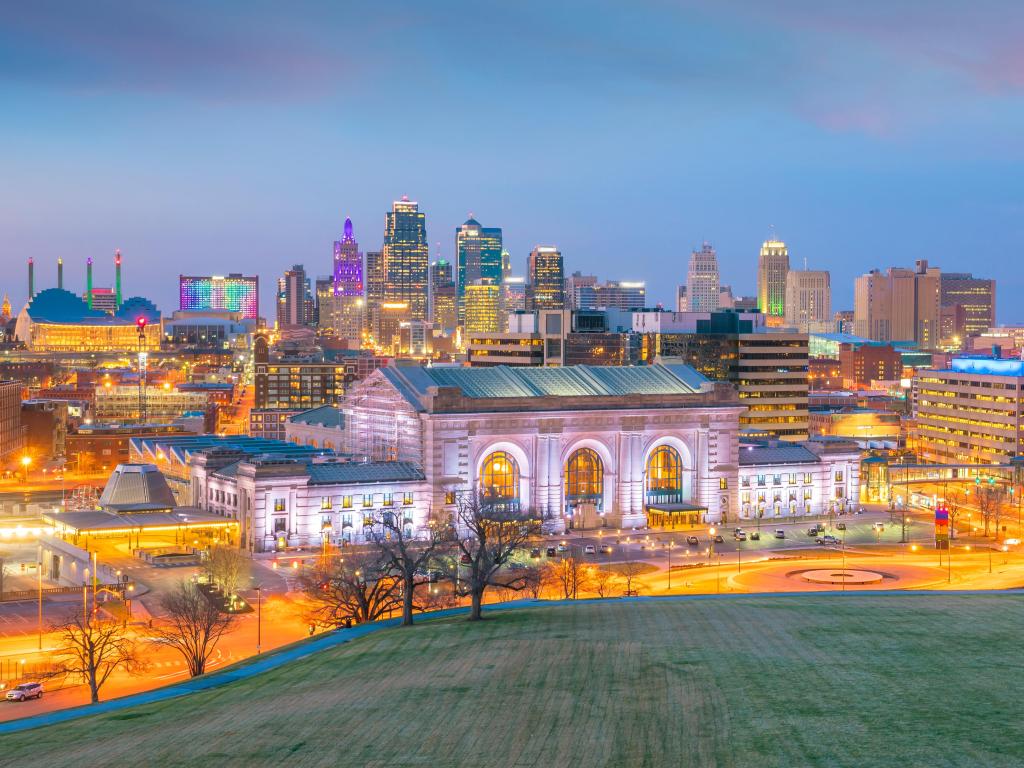 The Truitt gets our vote for your overnight accommodation, being Kansas City's premier hotel destination. It boasts modern and nostalgic décor that reflects the city it's located in as well as a range of dining options on-site and nearby.
If you like to feel comfortable after a long day on the road, this is the place to get yourself booked in for some great night's sleep and a nice meal. Both are crucial in getting you ready for the adventure that awaits you when you get back on the road.
If you'd like to explore all the beauty that the area has to offer, the town center nearby has much to offer with its ever-growing jazz scene and unique BBQ dining options that are a must-try when visiting this city!
A short drive will take you to the National WWI Museum and Memorial where you can view preserved objects from the war and remember their impact on the nation. The hotel is located close to Union Station, if you want to stop by and check it out, and to I-70 W to seamlessly continue your journey when you're ready.
Spend the day with butterflies in South Dakota
Another great place for an overnight stop is located in Sioux Falls, South Dakota. This is one of the last larger towns you'll be driving through before you reach Zion National Park, and is located around a quarter of the way into your journey.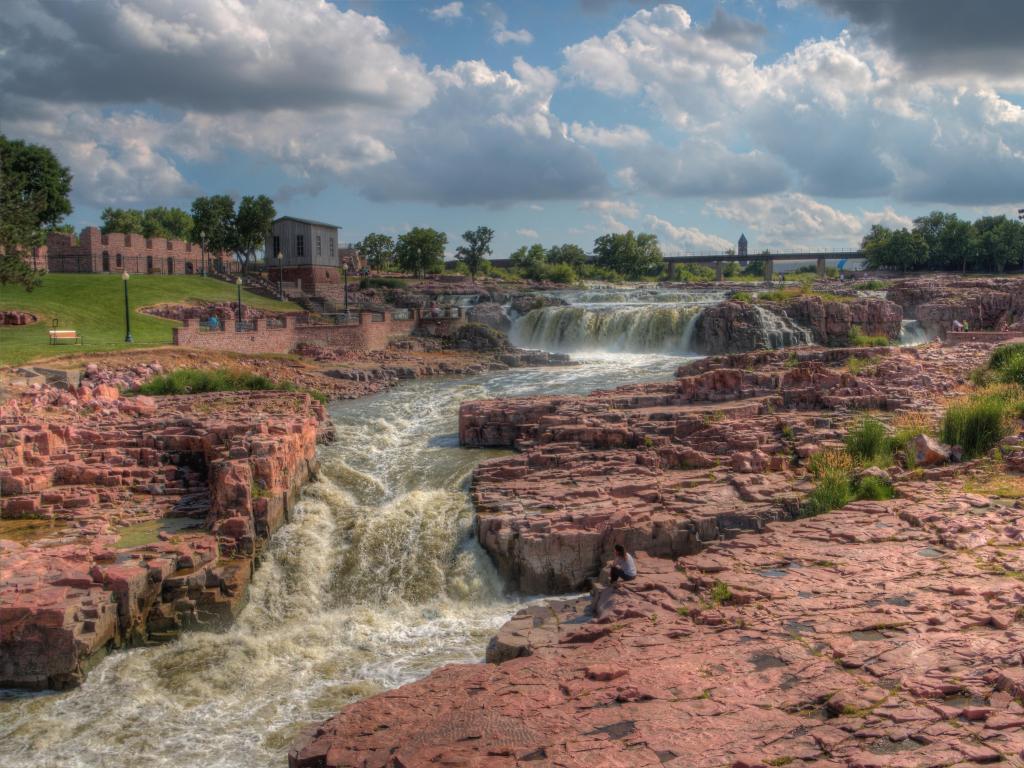 Sioux Falls offers some of the best architecture and public art in the Midwest. It's home to some incredible nature, culture, and history. One of the must-see attractions when visiting Sioux Falls is the many waterfalls in the city, such as Sioux Falls and Falls Park.
Our favorite hotel accommodation in this town is definitely the Hotel on Phillips. This hotel is an upscale and chic boutique hotel located in downtown Sioux Falls.
It has many sought-after amenities, such as a fitness center, shared lounge, and a bar known for its innovative craft cocktails! The best part of this hotel is that it has easy access back to the highway when you're ready to complete your journey.
After your long journey in a car, you are probably not going to want to step foot in a car until it's time to leave. Until then, stretch your legs and utilize the hotel's bike program to spend the day cycling around town.
An alternative option is to spend the day surrounded by nature in the Butterfly House and Aquarium or be amazed by the mesmerizing architecture in the Cathedral of Saint Joseph. When you're ready to leave town, pick your car up from the hotel's private parking services and restart your adventure!
Where to stay when you reach Zion National Park
Once you reach Zion National Park, we recommend Zion Glamping Adventures as your base from which to experience the park. This accommodation provides a super unique and luxurious camping experience to their guests visiting the National Park.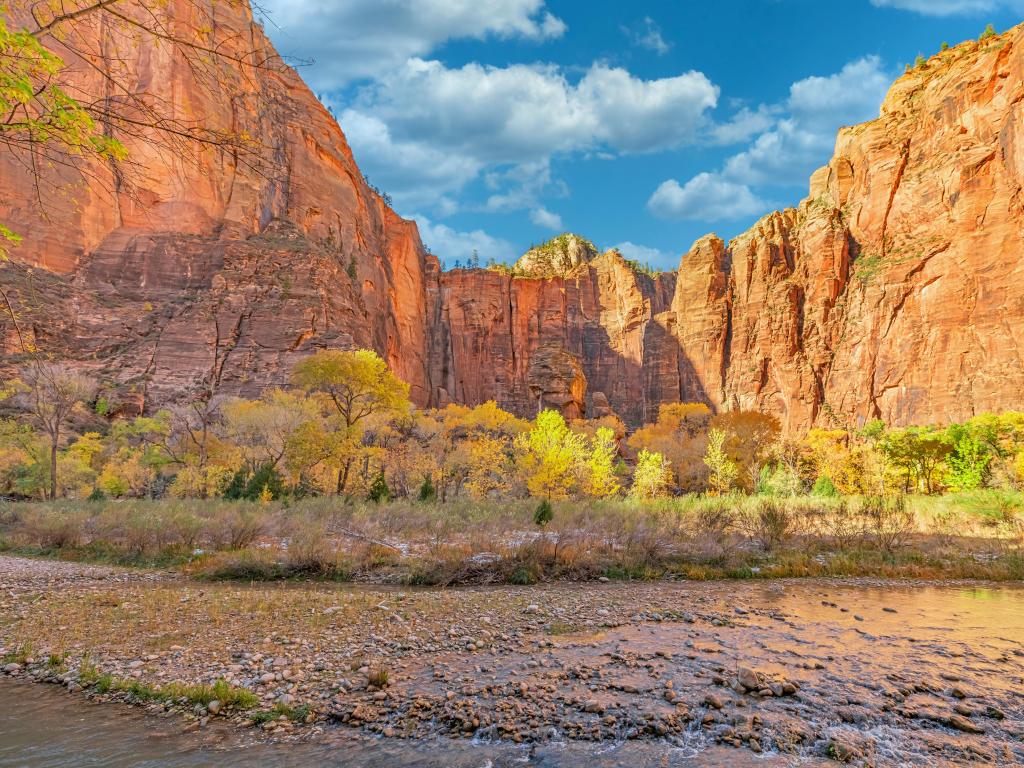 This incredible camping experience offers breakfast and breathtaking views. The accommodation is by far one of the best ways to experience this famous national park.
Staying at Zion Glamping Adventures will be parallel with the journey it took to get here in terms of immense quality and the unbelievable number of sights to see!
Things to see on a road trip from Chicago to Zion National Park
There are so many things to see on an epic road trip like this, and you can break up your drive through the Midwest with lush National Parks, rock formations, wildlife, and scenic detours.
Since both routes are vastly different from one another, each route has its own thrilling activities and attractions. Read on below to find out our recommended things to see and do!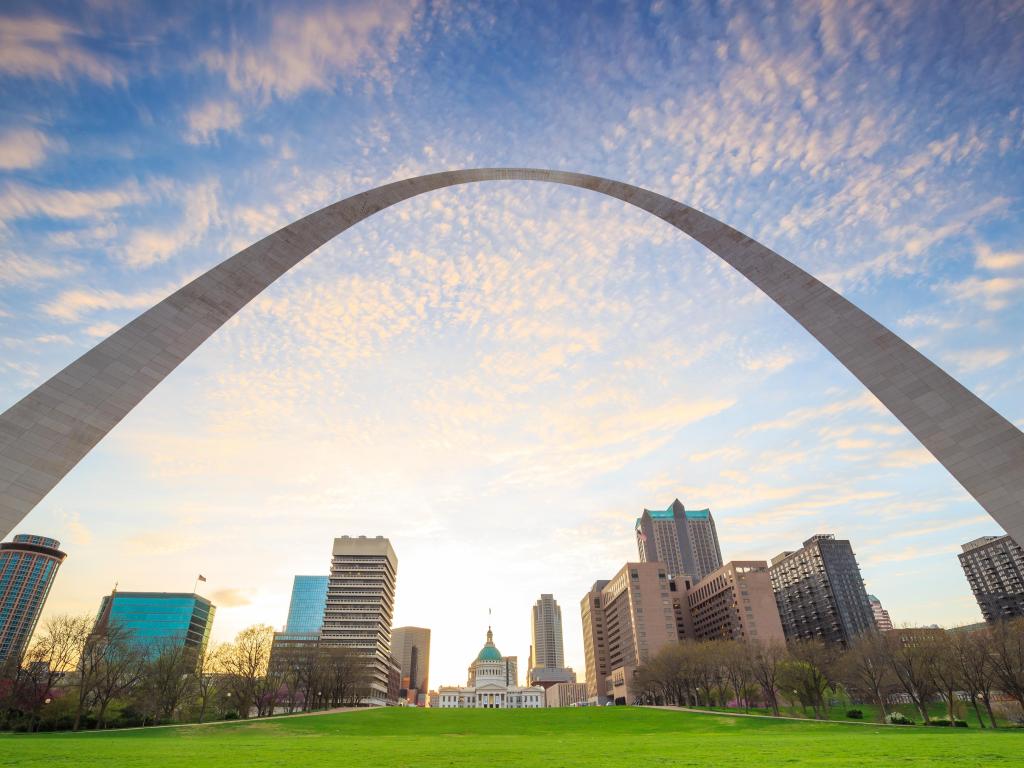 On the Southern Route
St. Louis - Home to the iconic Gateway Arch, the "Gateway to the West," a must-see national landmark in the United States.
Mark Twain National Forest - This national forest offers a wide range of activities, such as hiking, horseback riding, and mountain biking.
Nelson-Atkins Museum of Art, Kansas City - Recognized as one of the finest art museums, this stop is a cultural jewel with over 40,000 works of art.
Coors Field, Denver - Watch a baseball game at this field offering 360-degree views of the Colorado Rockies!
Garden of the Gods Visitor & Nature Center, Colorado Springs – As a gateway to the Rockies, this park is home to picturesque red sandstone rock formations blending against the blue skies.
White River National Forest - This forest encompasses the famous Maroon Bells and Hanging Lake. It is also perfect for ski lovers offering over 11 ski resorts across the Colorado Rocky Mountains.
Moab - This city can be used as a gateway for both routes to access the gorgeous Arches and beautiful Canyonlands National Parks.
Arches National Park – A truly incredible national park known for its red rock arches and contrasting colors along a unique landscape. You might need to make a reservation for a timed-entry permit while visiting Arches National Park. Please check the national park's website for up-to-date information.
Canyonlands National Park - This park formed off the Colorado River offers four districts, each with multiple opportunities for sightseeing.
Bryce Canyon National Park - Situated along a high plateau, check out the memorable hoodoos!
Dixie National Forest - This park divides the Great Basin and Colorado River. Its landscapes are composed of beige desert canyons and high, evergreen mountain forests for as far as the eye can see.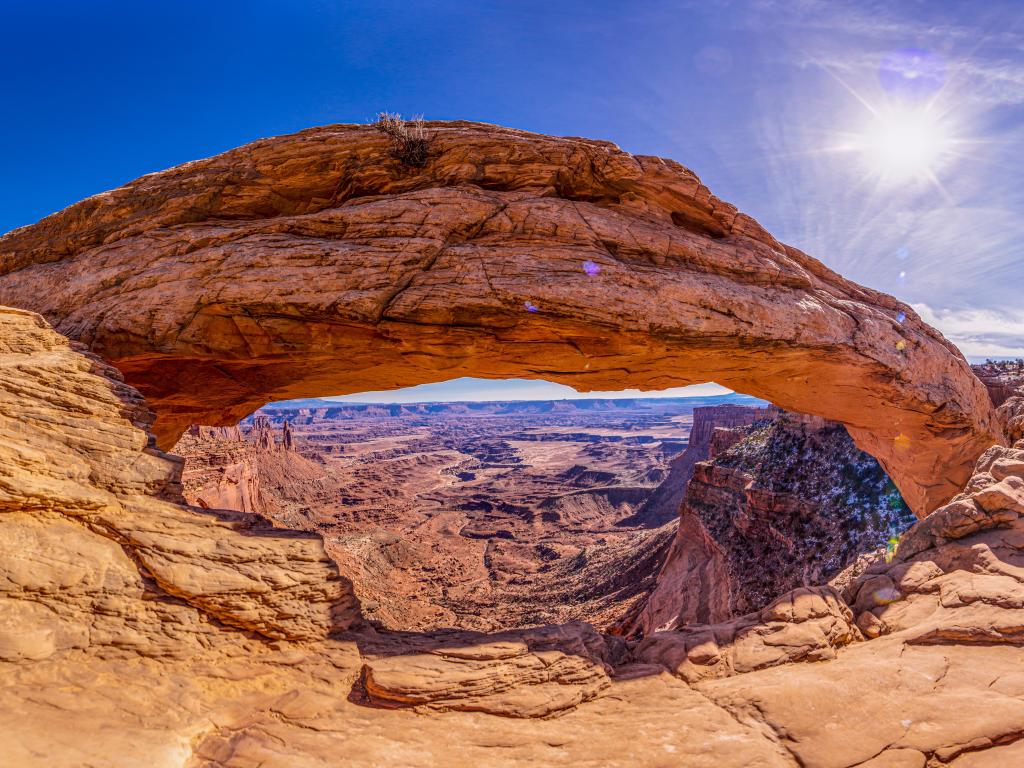 On the Northern Route
Harley-Davidson Museum, Milwaukee - Take a little detour and visit this museum which houses hundreds of artifacts vital to the history of the Harley-Davidson Motor Company.
Wisconsin Deer Park, Wisconsin Dells – Learn more about local wildlife at this interactive petting zoo!
Falls Park, Sioux Falls - With the Big Sioux River running through the city, this waterfall park offers a café and observation tower for guests to enjoy and relax.
Wind Cave National Park - Explore one of the longest and most complex cave systems in the world.
Mount Rushmore - View the faces of historical presidents carved into the side of a granite mountain through this iconic landmark.
Black Hills National Forest – As the home to Mount Rushmore, this mountain range offers many opportunities to wander through canyons, streams, and lakes (if you're lucky!).
Temple Square, Salt Lake City - This 10-acre complex is located at the center of Salt Lake City and is designated as a national landmark. It hosts church facilities, exciting exhibits, and historic sites.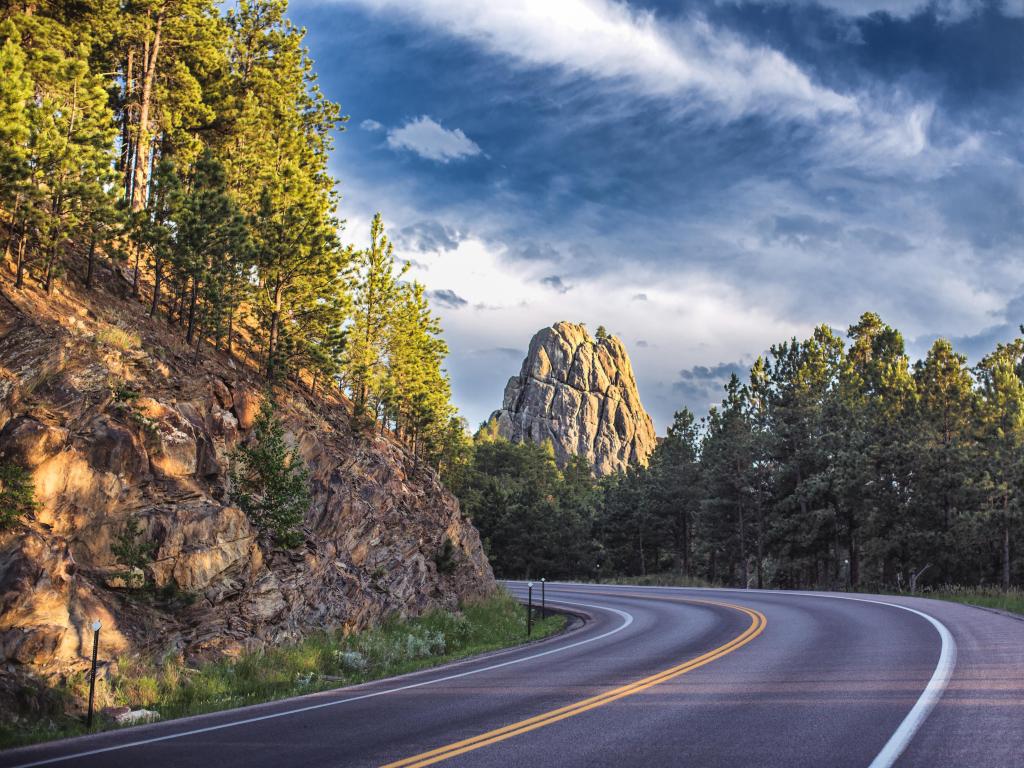 Best time to go on a road trip from Chicago to Zion National Park
All national parks along this route are open to the public year-round making them an enjoyable stop any time during the year. Summers can be hot and humid, but winters, in some states of the Midwest and West, can bring in snow and cold winters.
Thus, fall is considered one of the prime seasons to visit these parks, especially Zion National Park, which is often busiest from May-October.
While temperatures are enjoyable during the summer, national parks are heavily crowded with pedestrian traffic. Summers range in temperature from 70 to 90 degrees Fahrenheit. Although in Utah, temperatures in desert-like parks can exceed 100 degrees Fahrenheit.
Depending on the state you find yourself in, winter weather can vary. Winters are milder and wetter in Utah, but in the states of Nebraska, Colorado, and Wyoming - you will often find more snow.
Weather conditions involving snow and ice may make it difficult to navigate the national parks and can often lead to road closures. Temperatures range from 30 to 60 degrees Fahrenheit during the day, reaching below zero at nightfall.
Spring often draws in heavy precipitation, while fall brings in average temperatures and beautiful fall foliage colors. In these conditions, temperatures can range between 50 to 80 degrees during the day.
With a destination of a national park, be sure to visit around the holidays as the parks tend to host large social gatherings for the 4th of July, Spring Festival, and Earth Day.