Road Trip from Dallas to Branson, Missouri
There's something magical about the untouched wilderness of the Ozarks in America. And while there are many ways to see this beautiful landscape, road tripping from Dallas, Texas, to Branson, Missouri gives you the perfect opportunity to explore the countryside to your heart's content.
The road trip from Dallas to Branson takes about 8 hours and 40 minutes to drive and is around 520 miles. Interesting stops are Oklahoma City, Wichita Falls, Little Rock, Hot Springs, Texarkana, Sulphur Springs and Buffalo National River.
This road trip promises drivers natural beauty and easy driving. It's a pleasant and relaxing way to wander around the Midwest and get acquainted with small-town USA. Read on to discover how to turn this trip into a novel adventure.
How far is Branson, Missouri from Dallas, and how long will the road trip take?
Comparison of road trip routes between Dallas and Branson, Missouri

| Route | Distance | Driving Time |
| --- | --- | --- |
| The Little Rock Route | 520 miles | 8 hours 40 minutes |
| The Oklahoma City Route | 600 miles | 9 hours |
The Little Rock Route is about 520 miles and about 8 hours and 40 minutes without accounting for any stops or detours.
The Oklahoma City Route is around 600 miles and about 9 hours. It's a slightly indirect drive, with stops in Wichita Falls, Oklahoma City, Tulsa, Joplin, and Springfield. This route passes through the rural countryside and has good roads.
Even though you can get to Branson in a day on both routes, take at least four to six days off to really enjoy the drive.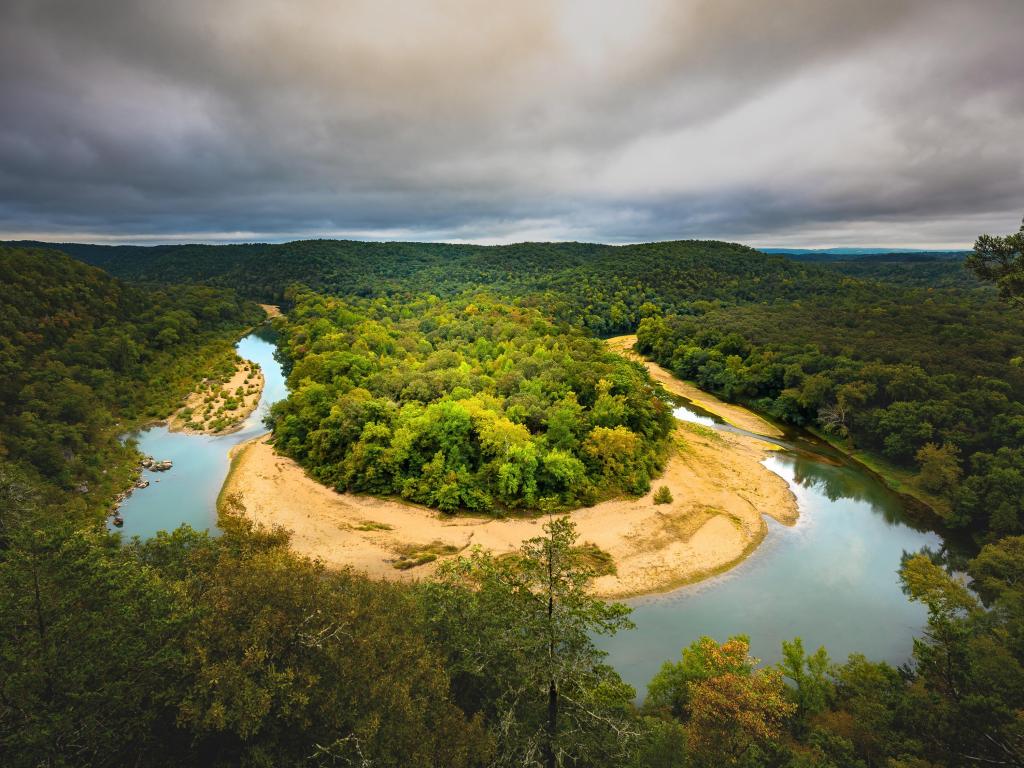 Best road trip route from Dallas to Branson, Missouri
From Dallas to Branson, you will drive through scenic mountain roads surrounded by dense forests that stretch for miles. You will also pop into charming small towns and vibrant cities.
Pass through Arkansas on the Little Rock Route and enjoy a leisurely drive with a lovely mix of natural and urban attractions. It's a great way to enter the stunning Ozark region through Texarkana, Hot Springs, and Little Rock.
The Oklahoma City Route offers trippers a serene drive through some rural parts of the Midwest. Don't be fooled by the quiet because Wichita Falls and Oklahoma City are hubs. You can also learn some history and see sights in Tulsa, Joplin, and Springfield.
Both routes are relatively direct, and the roads are well-maintained, making it a pleasant drive.
If you want to see more of Arkansas and visit Hot Springs, then the Little Rock Route is for you. If it's outdoor attractions you're after, the Oklahoma Route has that in spades.
The Little Rock Route
From Dallas, get onto Interstate 30 (I-30) E for about a 2-hour drive to Texarkana. This border city has historic sites, and the town is a quaint picture of middle America.
Get back onto I-30 E to AR-7 N and cross into Arkansas. Head to Hot Springs, a historic resort city with a literal row of bathhouses. Stay overnight to enjoy the mineral waters and this city's many entertainment options.
From Hot Springs, drive to Little Rock on I-30 E/US-70 E. The capital of Arkansas has so much to offer road trippers, and you can start by exploring the state parks. Do some hiking and cycling along the river while here too.
When you're ready to go, get on I-630 E and enjoy the scenic drive up to Branson, your final stop.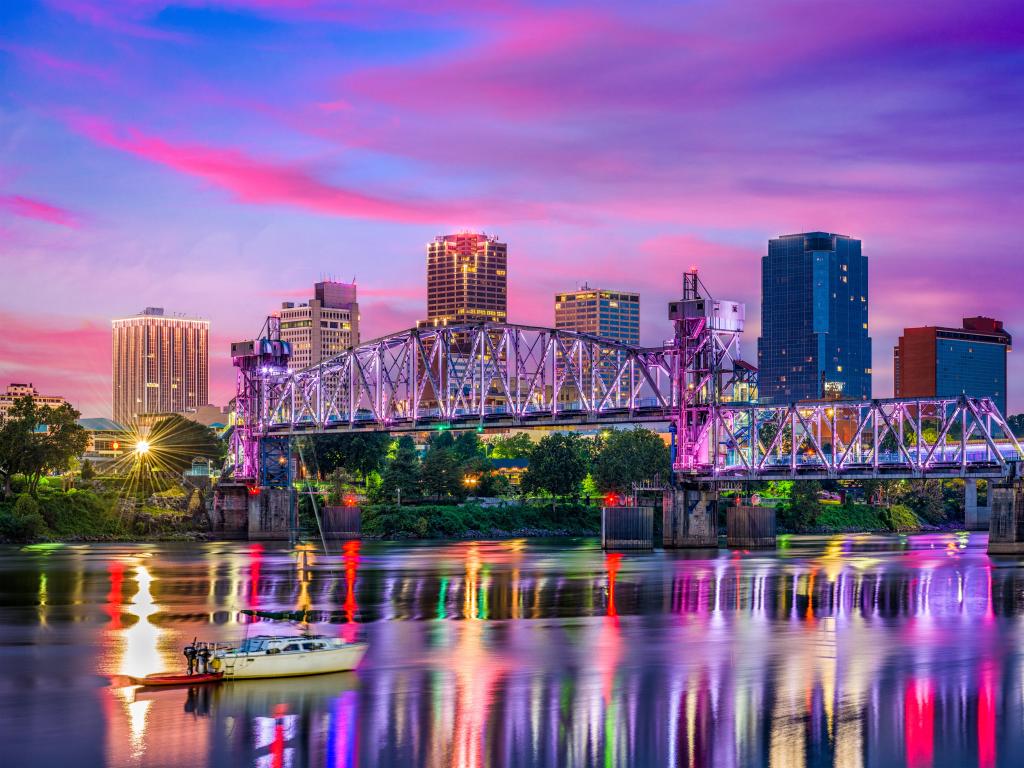 The Oklahoma Route
Take US-287 N from Dallas to your first stop, Wichita Falls. There are gardens, hiking trails, and the famous falls to see in this charming Texas city.
When ready, follow I-44 E to your next stop, Oklahoma City. It is a perfect place to stop overnight and enjoy the rugged western culture, cuisine, and attractions.
Take I-44 E and drive over to Tulsa. It's worth stopping to explore this town, which has an interesting mix of Native American and African American history. Enjoy the blend of Midwestern and Southern hospitality before getting onto I-44 E again.
Make a pit stop at Joplin, just under two hours away from Tulsa. This quaint city has some neat history and sites to explore.
Once done, hop back onto I-44 E and go to Springfield. This university town is home to several schools and has a nice mix of nature and urban attractions. Explore a little, then head to your final stop, Branson.
Best places to stop between Dallas and Branson, Missouri
A scenic trip into the Ozarks, this adventure from Dallas to Branson has views fit for a postcard. Enjoy the stunning forests and mountains and drive through quaint towns to get a picture of midwestern America.
A bonus for road trippers on this drive is the signature Midwest/southern hospitality: it's almost as sweet as iced tea!
Here are some great places to stop overnight on each route.
Relax and unwind in Hot Springs, Arkansas
How would we describe Hot Springs, Arkansas? Lake views and mountain skylines. It's about halfway between Texarkana and Little Rock and is the perfect place to stay overnight.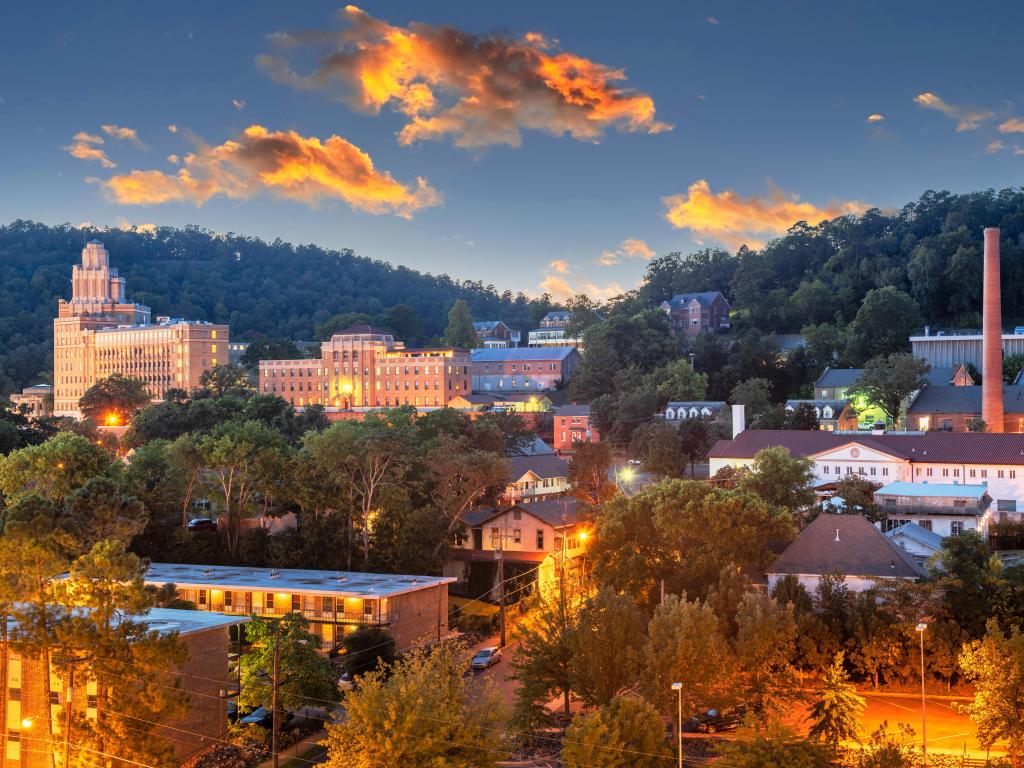 A resort city that lives up to the hype, this spa town is known for Bathhouse Row: a historic district with bathhouses built in the 19th/early 20th century.
Hot Springs is a city best enjoyed outdoors, and you can start at the Hot Springs National Park. The main attraction is the thermal waters, but there are beautiful hiking trails to stroll through in this area. The Garvan Woodland Gardens is a stunning botanical forest with over four miles of walking trails. Visit the Oaklawn Racing Casino Resort for some fun if you feel lucky.
Hot Springs is extremely popular with tourists, and there are good hotels. We recommend staying at Hotel Hale. This boutique hotel is perfect for road trippers and has private parking for guests. It's located downtown and is central to the attractions.
Charming inside and out, the rooms are modern with a mix of 19th/20th-century design. Enjoy the comfortable beds and city views from your window or balcony. The hotel has a restaurant and bar with a cozy outdoor area. Hotel Hale has hot spring facilities on site.
The hotel is about 2 miles from Magic Springs Crystal Falls and is a short walk from Bathhouse Row. There are plenty of restaurants and shops to explore nearby.
Visit 'The Big Friendly', Oklahoma City
Nicknamed 'The Big Friendly' this is just one of many reasons to stop here overnight. Oklahoma City is just under five hours away from Branson.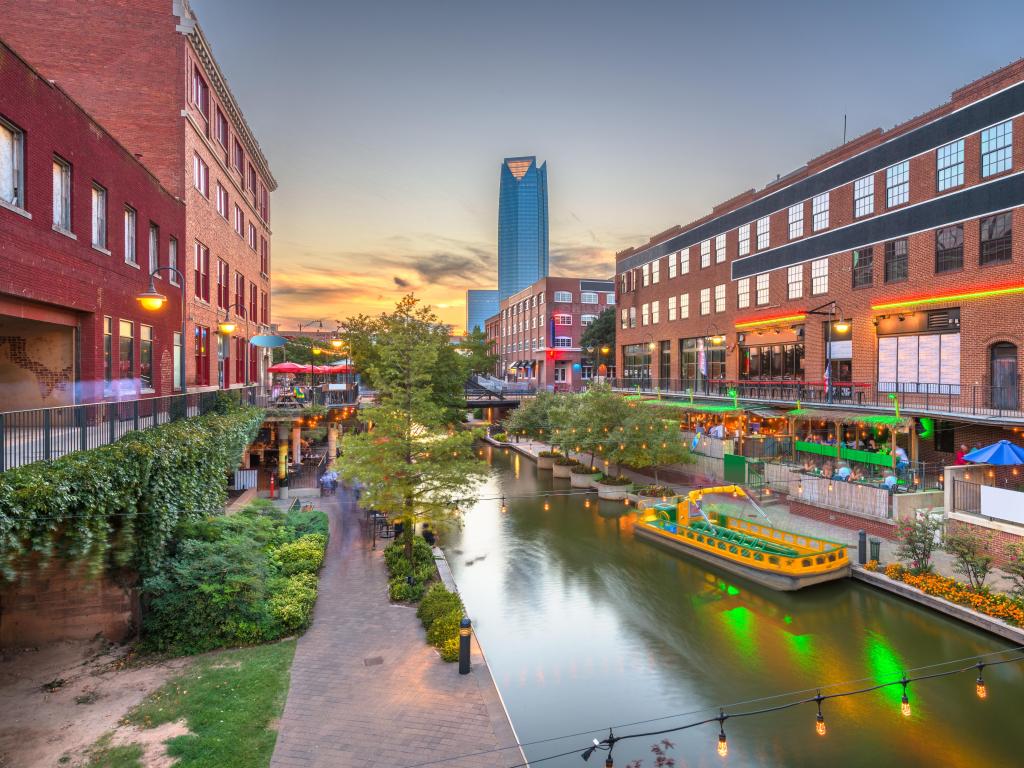 This western town has tons of history, cowboy culture, and a mix of urban and nature. It's also got some of the best barbeques in the Midwest, and you should try out the chicken fried steak.
Visit the National Cowboy & Western Heritage Museum to learn more about the city's history and pay your respects at the Oklahoma City National Memorial & Museum.
Bricktown is a lively entertainment district with a vibrant mix of restaurants and bars. Stroll in the Myriad Botanical Gardens – a scenic and peaceful oasis in this bustling city.
Oklahoma City is a popular place to visit, with many good hotels. We suggest staying at the Ambassador Hotel Oklahoma City. Part of the Marriot group, this beautifully designed building has private parking for guests.
The rooms are modern, comfortable, and spacious. Have a delicious meal at the hotel restaurant and enjoy gorgeous night views of the city from the lovely rooftop bar. Guests can swim in the outdoor pool and stroll around the hotel garden.
The Ambassador Hotel Oklahoma City is downtown, close to Bricktown and the city's lively nightlife. The Myriad Botanical Gardens and Oklahoma City National Memorial & Museum are just a few blocks away.
Where to stay when you reach Branson, Missouri
Branson is a cool mix of the wild west and urban action. It's a perfect place to end your drive through the Midwest.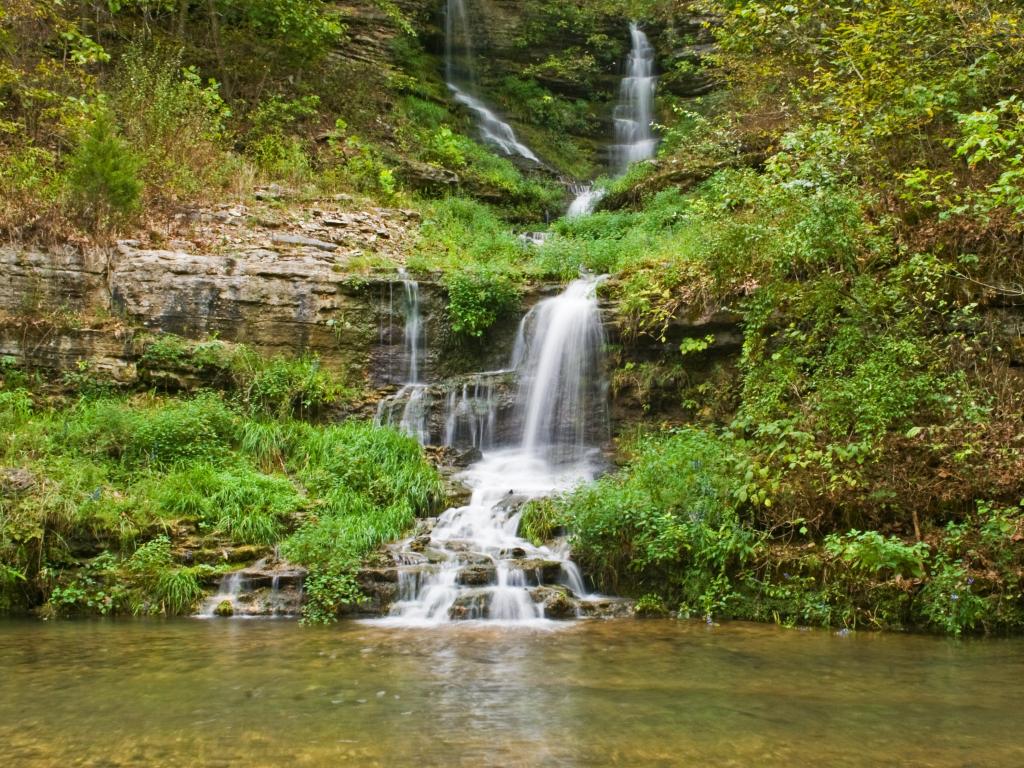 There are never-ending charms in this quirky city, with a ton of entertainment for visitors. Visit the Hollywood Wax Museum and take selfies with some of your favorites. The Titanic Museum is an immersive experience where you can meet the crew and become a passenger.
Dolly Parton's Stampede Dinner Attraction is a neat dinner theatre show with entertainment. Silver Dollar City is a must-visit, thrilling amusement park with family-friendly rides. There are also plenty of outdoor activities like hiking, cycling, and ziplining.
Branson has a good selection of hotels, and we recommend the Lodge of the Ozarks. This hotel is located in the theatre district and has free private parking for guests.
The rooms are homey with a modern cabin design. They're spacious and comfortable, so feel free to spread out. A spa bath is available in some rooms, and the hotel has a fitness center for guests. Enjoy a delicious hotel breakfast and cool off in the outdoor or indoor pools.
The Lodge of the Ozarks is conveniently within walking distance of the Titanic Museum and the Hollywood Wax Museum. It's close to outdoor attractions and trendy bars and restaurants.
Things to see on a road trip from Dallas to Branson, Missouri
Enjoy diverse urban and natural landscapes from the south to the Midwest on this road trip between Dallas and Branson. It's such an easy drive that you may even want to do it more than once!
From charming towns to the beauty of the Ozarks, there's so much to see on both routes. Here's a list of places to stop and visit on this adventure.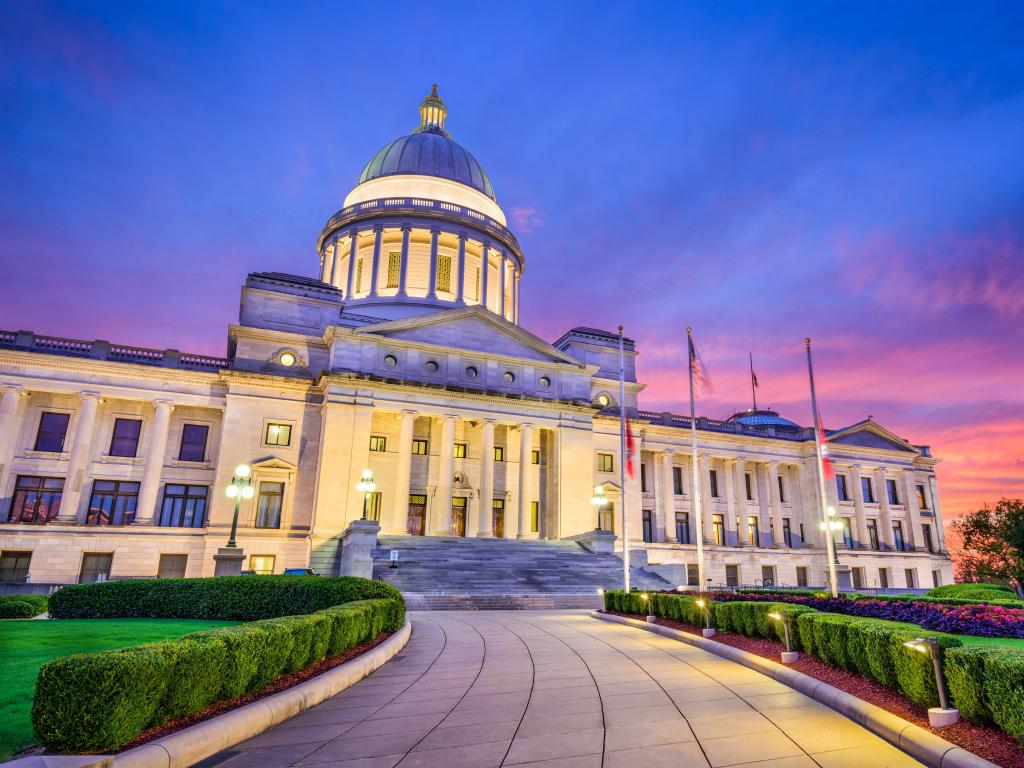 The Little Rock Route
The Texarkana Post Office and Federal Courthouse – This popular attraction is known for its unique location on the border of Texas and Arkansas, with half the building in each state.
Hot Springs National Park – With natural hot springs and a gorgeous park area, this beautiful space is a great place to relax and explore.
The William J. Clinton Presidential Library and Museum – This place is a den of knowledge for history buffs – and fans of the 42nd U.S. President.
The Little Rock Central High School National Historic Site – This historic site was significant in the American civil rights movement.
The Arkansas State Capitol – This capitol building is in Little Rock and has neoclassical architecture and historical significance.
The Old Mill – A charming little attraction in Little Rock, this place was featured in the 1939 movie Gone With The Wind.
The Cabot Creamery Annex – This one is for cheese lovers. Take a tour and enjoy a cheese tasting here.
The Jacksonville Museum of Military History – Stop in Jacksonville and explore the various military exhibits and artifacts here.
The Oklahoma Route
Wichita Mountains Wildlife Refuge – This beautiful preserve is home to bison, elk, and prairie dogs and is as scenic as a painting.
National Cowboy & Western Heritage Museum – A great place to learn about the history of the American West in Oklahoma City.
Bricktown – This vibrant entertainment district has lively restaurants, bars, and shops and is in the heart of Oklahoma City.
Oklahoma City National Memorial & Museum – This memorial and museum honors the victims of the 1995 Oklahoma City bombing.
Myriad Botanical Gardens – The beautiful gardens are located in downtown Oklahoma City.
Oklahoma City Zoo – There are over 1,900 animals and 110 acres to explore at this zoo, which is fun and educational for kids and adults.
Science Museum Oklahoma – This interactive museum has hands-on exhibits where you can learn more about the magic of science.
Frontier City Theme Park – A fun western-themed amusement park. Enjoy rides, games, and live entertainment here.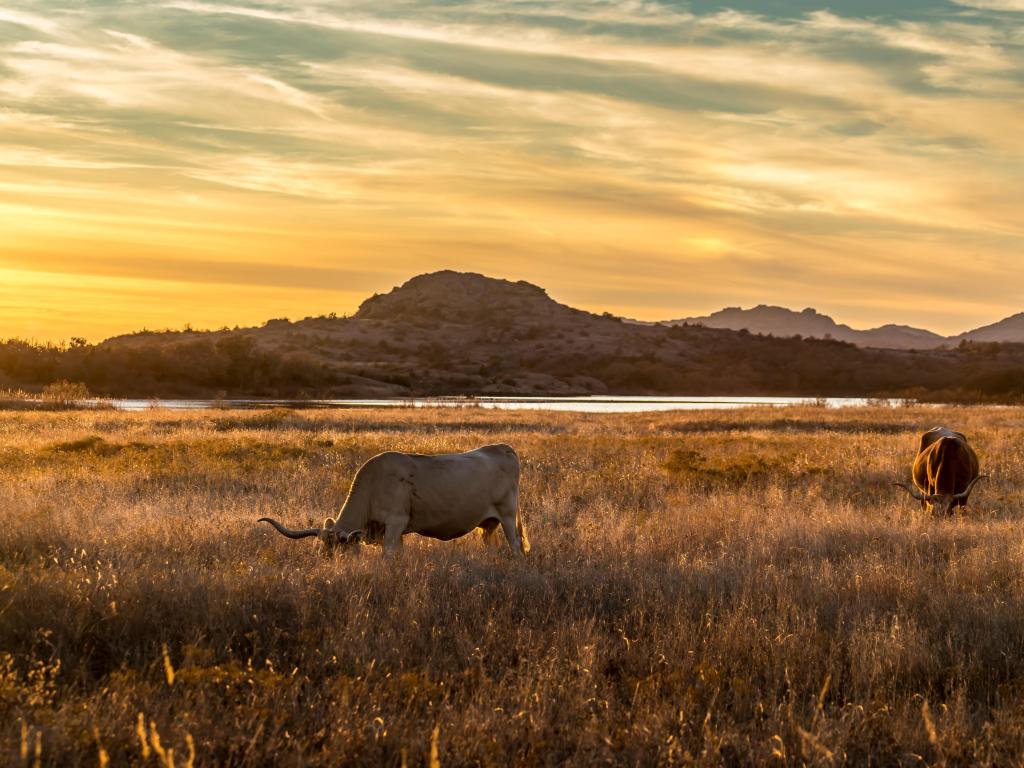 Both Routes
The Sixth Floor Museum at Dealey Plaza – This museum is in Dallas and offers a fascinating look into the assassination of President John F. Kennedy.
Dallas Arboretum and Botanical Garden – Enjoy stunning views of White Rock Lake and explore the wide range of plants and flowers in this beautiful garden.
Best time to go on a road trip from Dallas to Branson, Missouri
You can take a road trip from Dallas to Branson year-round, though be mindful of different seasons and weather.
Summers are hot and humid in Branson, with temperatures between the mid-70s to mid-90s Fahrenheit. It's peak season for tourists, so expect crowds and higher rates at outdoor attractions and hotels.
Winter is cold in Branson, with average temperatures between the low 30s to mid-40s Fahrenheit. Expect snow and ice – that means road and attraction closures. Travel may be difficult in this weather. There are fewer visitors in winter, but Branson has some exciting holiday events.
Spring and fall are pleasant times to visit, with temperatures between 50-70 degrees Fahrenheit. The weather is mild and comfortable for driving. There are fewer crowds in spring and fall, despite the beautiful changing scenery. You may get more reasonable rates at hotels and attractions.
Branson has many seasonal events and festivals throughout the year. Check out the Branson Music Fest in April, which features country, gospel, and bluegrass performers. The Branson Landing's Annual Liberty Light Up is a Fourth of July event with live music and fireworks.
Silver Dollar City's Harvest Festival takes place between September and October, with live music and seasonal food. Veterans Homecoming Week is in November and has parades and concerts.
The Ozark Mountain Christmas Festival runs from November to December and is a popular holiday event with lights, decorations, and shows.