Road Trip From Dallas To Las Vegas
The States' deserts can provide you with some unforgettable travel experiences, a prime example being the road trip from Dallas to Las Vegas. After visiting some of the most rugged landmarks in the US, you'll be rewarded with the casinos and bars that gave Sin City its nickname.
The 1,220-mile road trip from Dallas to Las Vegas takes 17 hours 40 minutes to drive. Signature stopovers include the cities of Albuquerque and Sedona, Coconino and Prescott National Forests, and Grand Canyon and Petrified Forest National Parks.
There's plenty along this trip you won't want to miss out on, so keep reading to make sure you've learned the route inside and out.
How far is Las Vegas from Dallas and how long does the road trip take?
The road trip from Dallas to Las Vegas covers 1,220 miles and takes approximately 17 hours 40 minutes to drive, not accounting for the inevitable detours that take this journey from great to unforgettable.
Cutting through the most scenic parts of central Texas before going through New Mexico and Arizona, this is the definitive desert road trip, especially if you incorporate the legendary Grand Canyon into your drive.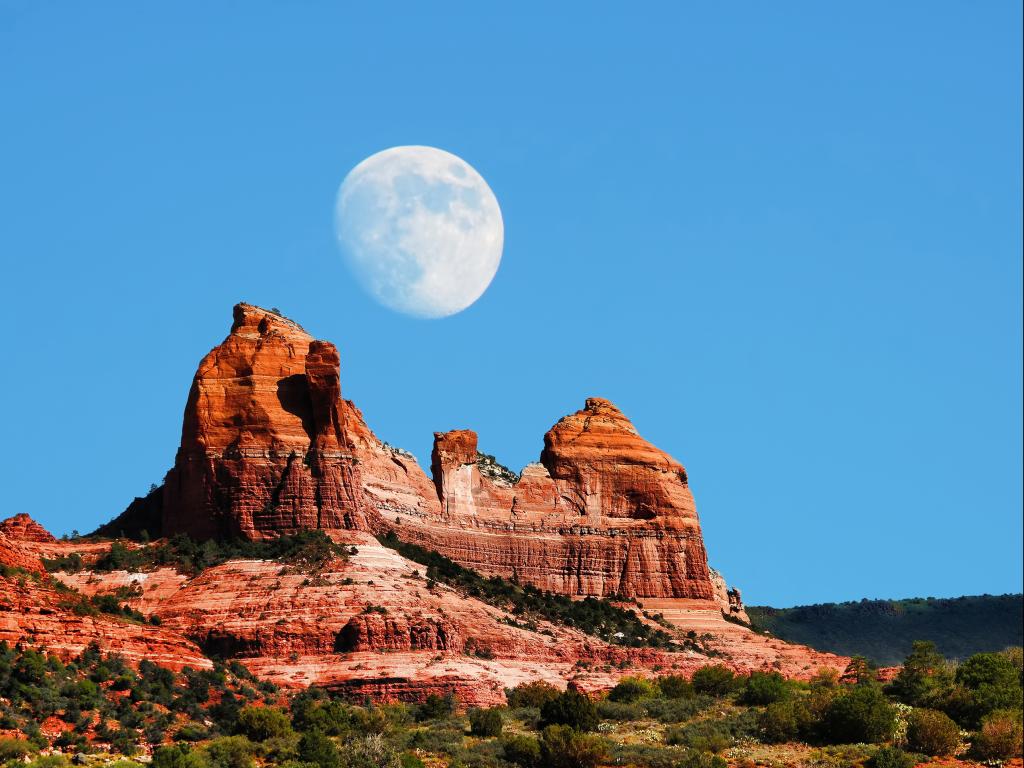 Once you're out of Texas, you'll be sticking to the interstate for much of the drive, leaving little room for unexpected delays. Albuquerque is the largest major city you'll be passing through, and thanks to its grid design, you'll be able to cruise through without worrying about traffic.
However, things can get a little more unpredictable in Arizona since the Flagstaff region tends to draw major crowds, mostly thanks to its proximity to Sedona and the Grand Canyon. Keep a close eye on the traffic before passing through to ensure you don't get held up here.
Best road trip route from Dallas to Las Vegas
The definitive road trip route from Dallas to Las Vegas takes you through New Mexico and Arizona before concluding in Texas. Don't try to power through the drive in two days - be sure to take as long as you possibly can to see everything there is to see.
Road trip route from Dallas to Las Vegas
Take Interstate 35E out of Dallas along Trammell Crow Park before hopping onto Route 183 and Interstate 820 - follow them to Melody Hills and detour south to Fort Worth before continuing north along the main route via Interstate 35 and Route 287, all the way to Wichita Falls.
From the interstate, detour to Caprock Canyons State Park & Trails before reaching Amarillo. Stop by Palo Duro Canyon State Park and Cadillac Ranch, then hop onto Interstate 40 and follow it west for most of the trip, stopping by Ute Lake before entering Santa Rosa.
You'll soon make it to Albuquerque, but be sure to do a northern detour to Santa Fe, Bandelier National Monument, and Kasha-Katuwe Tent Rocks National Monument first. From Albuquerque, continue west past El Morro National Monument before entering Arizona.
Cut through Petrified Forest National Park, then off-road to Apache-Sitgreaves National Forest before reaching Flagstaff. From here, be sure to take a trip to the Grand Canyon and Coconino National Forest before continuing past Prescott National Forest.
Once in Kingman, visit Havasu National Wildlife Refuge, then take a break at Kingman. Take Route 93 out of Arizona and stop by Lake Mead before entering Nevada, then follow Interstates 11 and 515 the rest of the way to Las Vegas.
Best places to stop between Dallas and Las Vegas
The legendary road trip from Dallas to Las Vegas has more amazing stopovers than you'll know what to do with, and you'll definitely want to top off your journey with an amazing hotel stay. These are some of the best picks the route has to offer:
Marvel at the unique aesthetic of Albuquerque
When you think of idyllic tourist stopovers in the American South, Albuquerque might not be the first place that comes to mind, but there truly isn't another city like it in the States. There are plenty of amazing hotels here, and Hotel Chaco is one of the best.
If that beautiful exterior doesn't win you over in an instant, the spectacular outdoor swimming pool definitely will. If you'd prefer to take the party outside, you can always take advantage of the even more beautiful terrace and have a drink with sweeping views.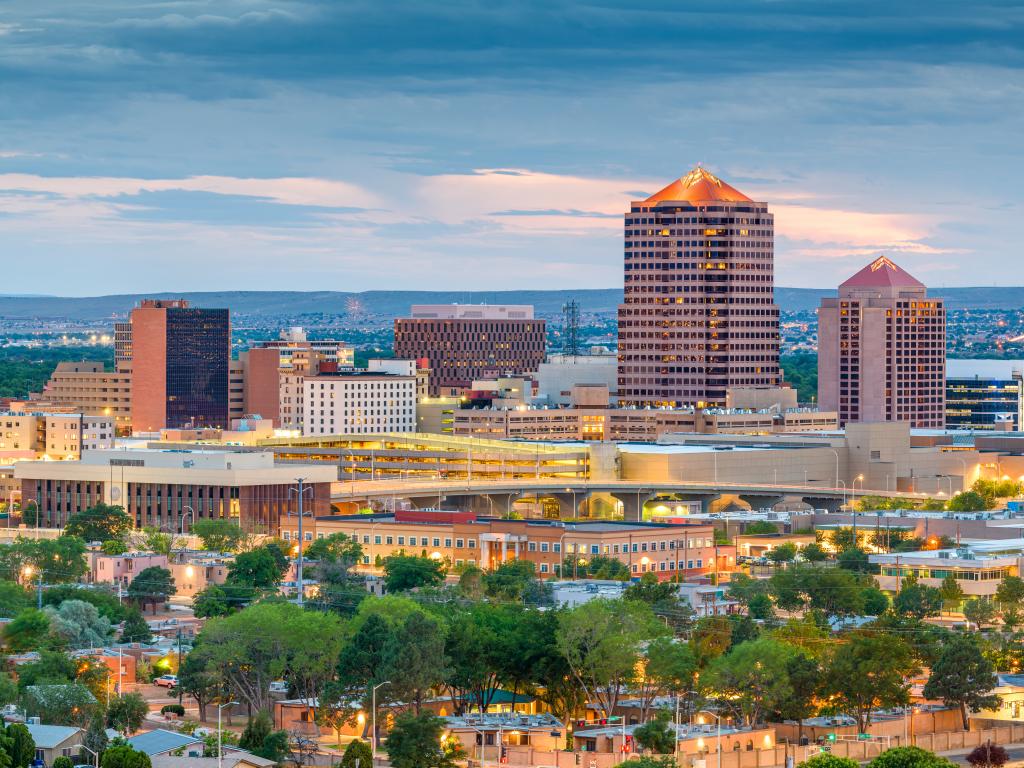 The fantastic restaurant on-site goes above and beyond to make guests feel important and attended to, and if you want to make a night of it, you can head to the in-house bar to enjoy your favorite cocktails.
When you consider just how much this place has to offer, the price is reasonable compared to the competition. To make things even better, New Mexico Museum of Natural History and Science and Kimo Theater are easily reachable from the property.
Try your luck at the slots in Las Vegas
Las Vegas is a city that really needs no introduction, and if there are two things you know about it, it's the Strip hotels and legendary casinos. If you've ever wanted to go on an unforgettable gondola ride without leaving the States, The Venetian is the perfect place for you.
After paddling around the hotel's gargantuan premises, you can recharge your batteries like never before by unwinding in one of America's fanciest suites. If the heat gets to be a bit too much, you'll have fun just exploring the cathedral-like halls of this legendary resort.
Whatever type of food you're interested in trying, chances are the on-site restaurant has it, and the bar is on another level altogether. Also, if you've ever wanted a swimming pool all to yourself, chances are at least one of the ten pools will be completely guest-free.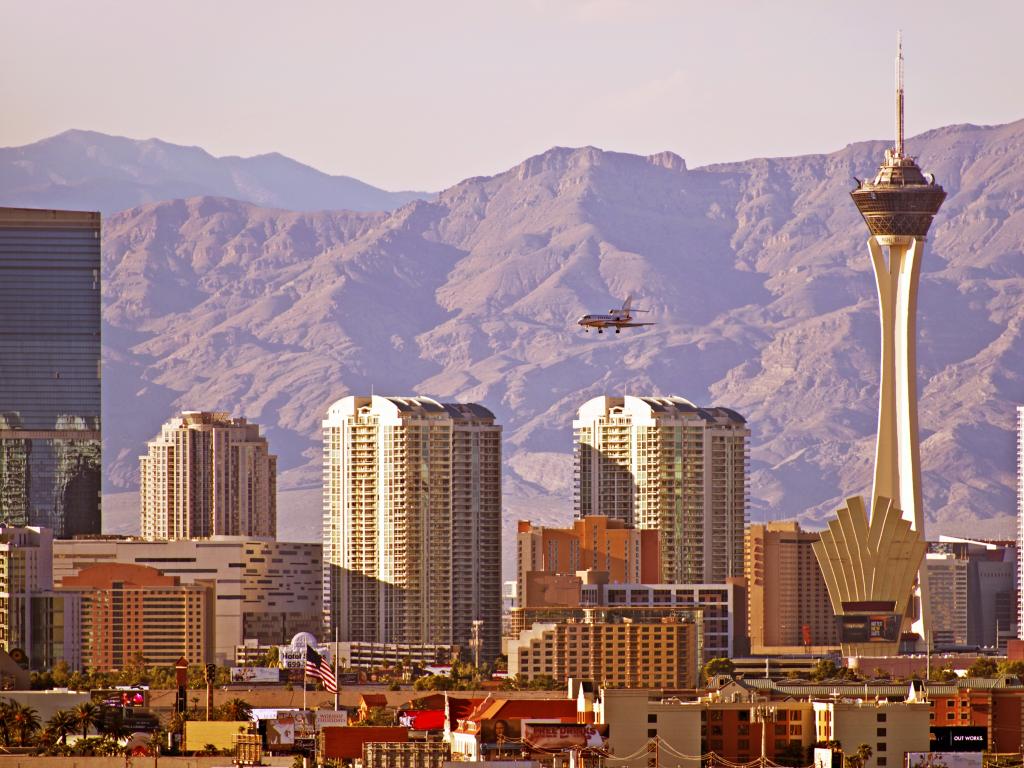 If you don't want to lose your workout streak, you'll be delighted to know that the fitness area is one of the best you'll ever visit. Once you're done exercising, you can reward yourself with a visit to Canyon Ranch Spa and squeeze every last drop out of this five-star marvel.
As incredible as the hotel is, the rooms themselves aren't as expensive as you might expect since Vegas hotels mostly make their revenue by charging for individual services. Either way, you'll always have the chance to make your money back at the on-site casino!
Things to see on a road trip from Dallas to Las Vegas
If the beautiful terrain wasn't already a giveaway, the road trip from Dallas to Las Vegas has more to see than almost any other trip you could do in the Southern States. These are some of the itinerary's biggest highlights:
Fort Worth - This iconic Texas city has managed to preserve its old-timey Wild West aesthetic.
Palo Duro Canyon State Park - One of the States' largest canyons is home to some of the region's most scenic vistas.
Cadillac Ranch - Less of a vista and more of a roadside curiosity, this is the Ant Farm's signature abstract art piece.
Ute Lake National Park - If the Southern heat is getting to be a bit much for you, Ute Lake makes for an amazing place to cool off.
Albuquerque - New Mexico's largest metropolis is distinguished by its beautiful adobe buildings.
Santa Fe - The capital of New Mexico and a prime example of the region's Pueblo architecture movement.
Bandelier National Monument - These historic cave dwellings served as homes for the ancient Puebloans.
Kasha-Katuwe Tent Rocks National Monument - This unique monument houses cone-shaped rock formations you're unlikely to encounter anywhere else in the States.
Petrified Forest National Park - An ideal blend of flora and desert terrain, this geological wonder is a must-see.
Sedona - A desert tourist magnet best known for its surrounding red rock formations.
Grand Canyon - Arguably the most iconic national park in the States, Grand Canyon attracts upwards of 5 million tourists each year.
Coconino National Forest - Virtually every terrain type, from forested areas to scenic red rocks, can be found here.
Prescott National Forest - A greener alternative to the previous stops, this scenic landmark more closely resembles your typical forest.
Hoover Dam - This historic dam gives an unprecedented view of the beautiful Colorado River.
Red Rock Canyon National Conservation Area - This area is what gives Las Vegas its trademark red rock formation backdrop. You might need to reserve a timed-entry slot, so check the official website before you visit.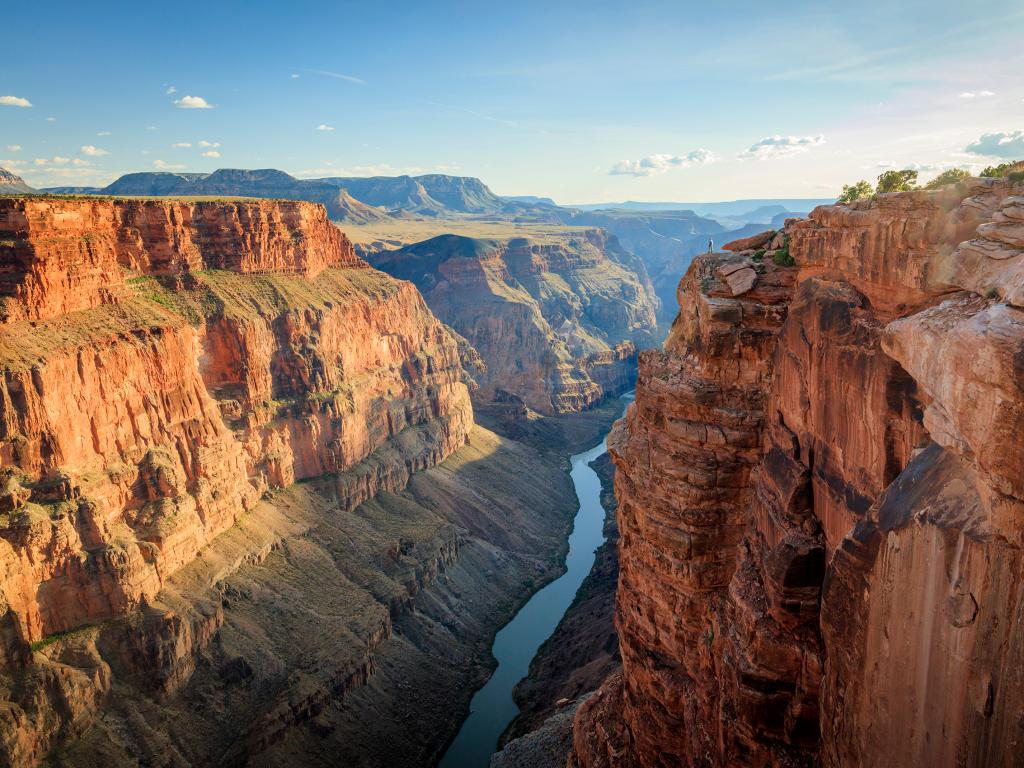 Best time to go on a road trip from Dallas to Las Vegas
The best time to do the road trip from Dallas to Las Vegas is a bit easier to narrow down than it is for other road trips, mostly because you'll be dealing with the same type of terrain for much of the drive.
With most of the trip consisting of deserts and lowlands, you can expect the temperatures to be high throughout the day at virtually any point. This is why you may want to hold off on doing the long drive in the summertime.
As for Vegas, it's not just the climate you need to worry about - you can expect the city to be packed during weekends and state holidays, so you may want to book a hotel room well ahead of time.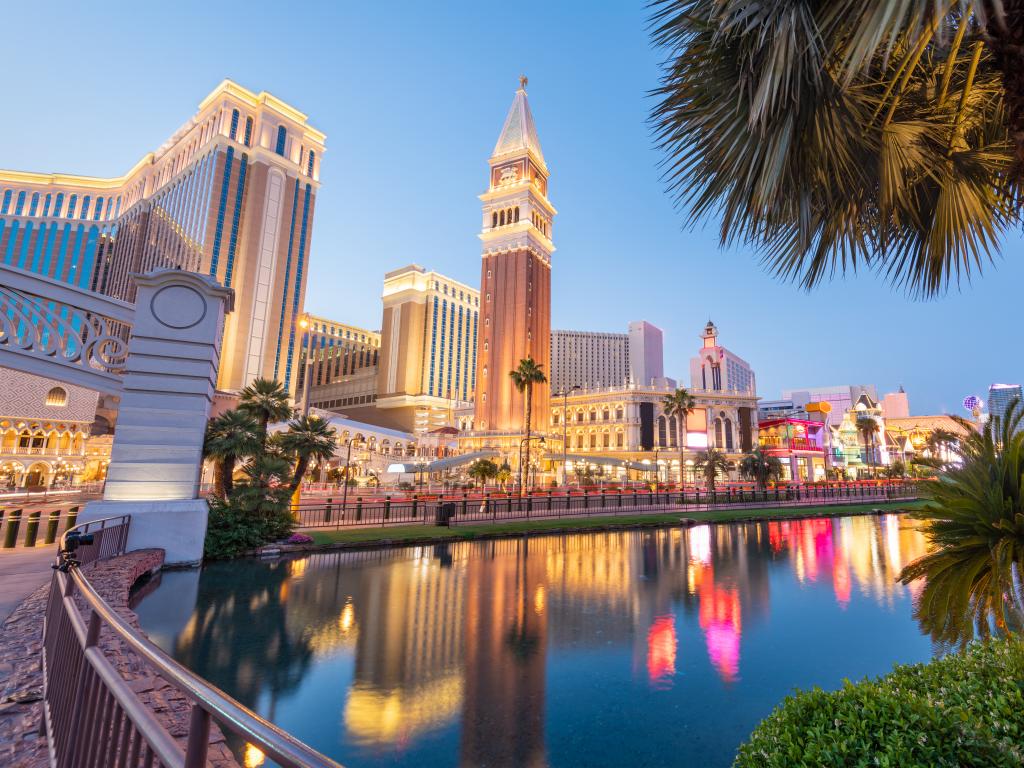 If you do decide to brave it out, be warned that Vegas is excruciatingly hot, often exceeding 100 degrees Fahrenheit between June and August. Add to that the fact that summer draws a lot of visitors and amps up the prices, and visiting during this time makes that harder to recommend.
Fall and spring bring the temperatures down by a much-needed 10 degrees, making outdoor adventures much more tolerable. On top of that, this is when hotel prices in Vegas start to go down, and you'll need all the money you can save if you want to experience the best of the city.
Winter holidays tend to draw huge crowds to Vegas, so late December is a great time to visit if you want to see the city at its most crowded. With that said, nightly temperatures can often go as low as the 30s, so you'll probably want to spend your evenings in your casino of choice.