Road Trip from Dallas to Eureka Springs
This southern road trip takes you from the vibrant neighborhoods of Dallas to the rugged evergreen landscapes of Eureka Springs. Experience the life and culture of Texas, Oklahoma and Arkansas via the museums and historic sites along the route, leading into the stunning forestry and Victorian charm of the Ozark Mountains.
The 380-mile road trip from Dallas to Eureka Springs takes 7 hours to drive. You'll pass through Sherman, Atoka, Webber Falls, Fort Smith and Springdale, or take a detour via Denton, Thackerville, Turner Falls, Sulphur, Oklahoma City and Tulsa.
Step back into the eighteenth and early nineteenth centuries at the picturesque towns along this drive, with scenery and mountain views to die for. Read on to discover the best routes, landmarks and stopover suggestions to make the most of your trip.
How far is Eureka Springs from Dallas, and how long will the road trip take?
Comparison of road trip routes between Dallas and Eureka Springs

| Route | Distance | Driving Time |
| --- | --- | --- |
| Direct Route | 380 miles | 7 hours |
| Oklahoma City Route | 460 miles | 8 hours 40 minutes |
If you're looking to complete the drive in good time, travel via the Direct Route. This route is 380 miles long and takes 7 hours to drive. This route navigates straight to Eureka Springs and is the shortest route option.
If you have more time on your hands, the Oklahoma City Route takes in some of Oklahoma's most exciting urban hubs - Oklahoma City and Tulsa. This route takes 8 hours and 40 minutes of direct driving time to cover a distance of 460 miles.
While both routes could technically be completed in one day of hard driving, we'd recommend allowing 2 days for this trip. Extending the journey means you can enjoy a night's stopover in a historic residence, and immerse yourself in the parks, trails, and waterfalls along the way.
Best road trip route from Dallas to Eureka Springs
Both road trip routes offer a winning combination of history and scenery, so customize your journey according to the time you have, or whether you're interested in getting to know the cities of Oklahoma a little better.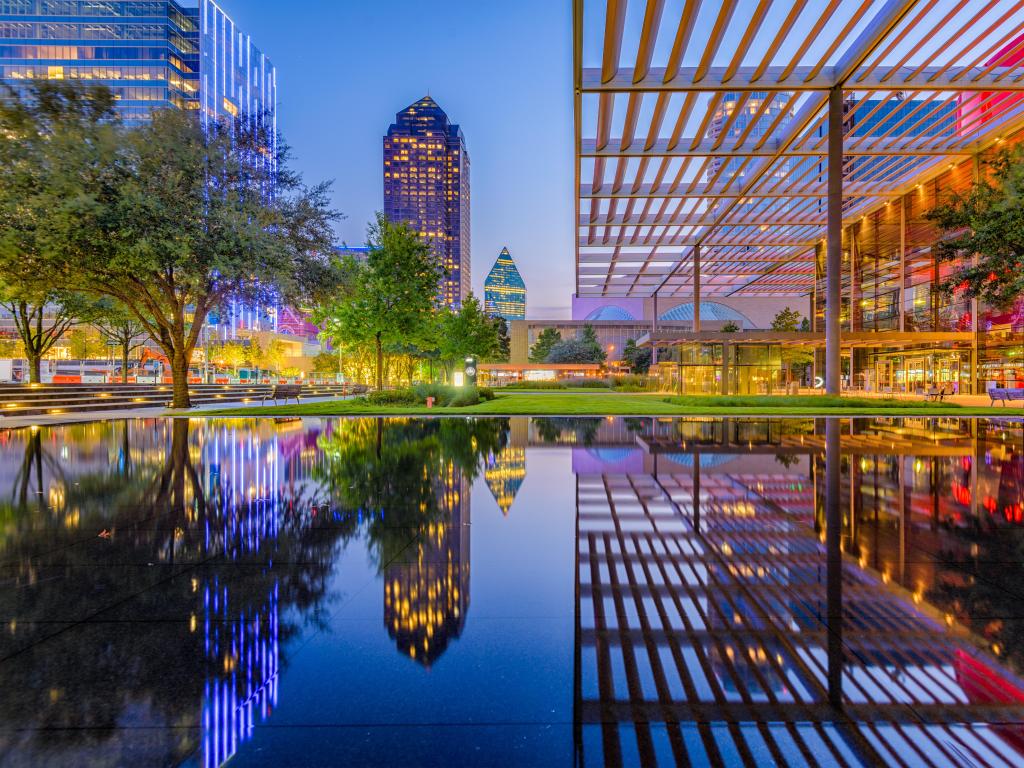 The Direct Route winds through plenty of historic towns and monuments, including the brick-lined streets of Plano, quaint downtown McKinney and Oklahoma's second oldest town, Webbers Falls. There are some brilliant museums on this route, including the Frontier Village and Museum and Fort Smith National Historic Site.
The Oklahoma City Route is slightly longer, but packs in a whole lot of city culture alongside some gorgeous parks and trails. You'll get to visit big-hitters like Oklahoma Museum of Natural History and Tulsa Air and Space Museum, as well as hanging out in the downtown canals of Oklahoma City and shopping for trinkets at Springdale flea market.
The Direct Route
It's a short hop from Dallas to Plano, following US-75 north and the Central Expressway 1000. The city started as a small farming community, and you can visit the Heritage Farmstead Museum for a glimpse into 19th-century farm life.
Get back on US-75 to drive the short distance to McKinney, where you can explore the historic downtown. Rejoin this road to pass through Sherman on the way to Atoka.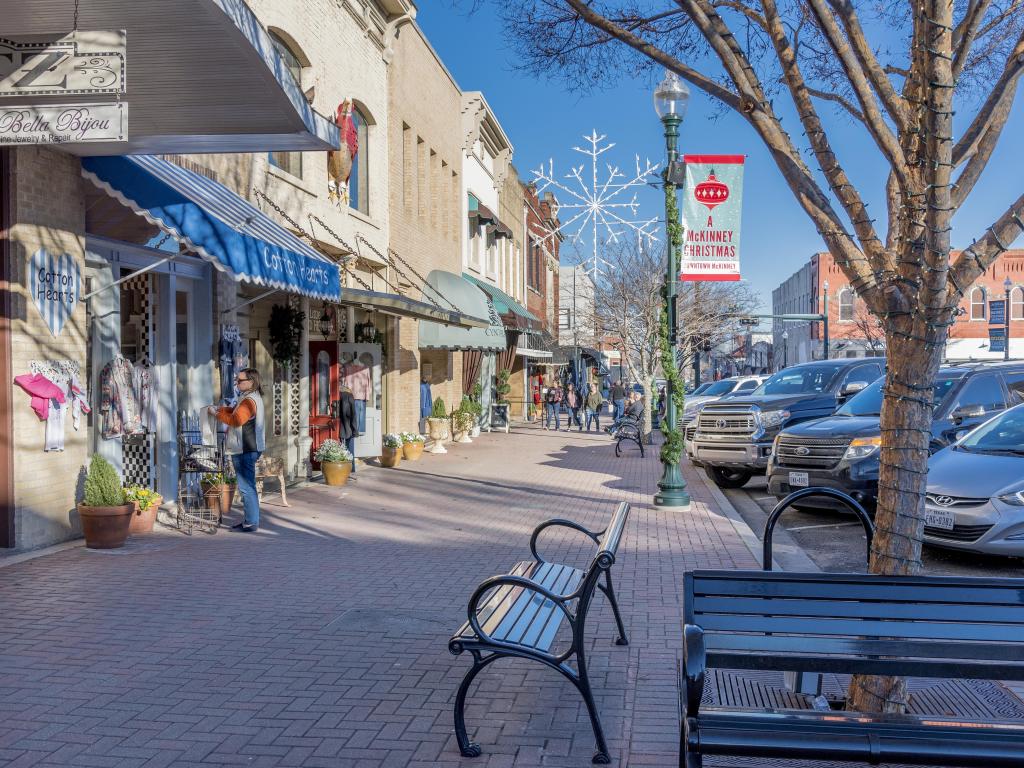 From here, head north on US-69 to reach McAlester, where you can visit the oldest masonic building in Oklahoma. Follow US-69 to join Interstate 40 (I-40) E, and take exit 284 to reach Webbers Falls. Take some time to wind down with fishing, boating and camping on the Arkansas River.
Follow I-40 east alongside the Sequoyah National Wildlife Refuge, then merge onto US-64 to cross the border into Arkansas and arrive in Fort Smith. You can learn about the history of the former Indian Territory at the Fort Smith Museum of History.
Get on I-540, then take I-49 north to reach the foothills of the Ozark Mountains and the city of Springdale. Take US-412 east out of Springdale, then take AR-12 north to wind up through the mountain roads to Eureka Springs.
The Oklahoma City Route
Follow I-35 east out of Dallas to reach Denton, which is home to plenty of distinct local museums. Get on I-35 north to reach Thackerville, which is home to the largest casino in the world.
Follow the interstate north to Turner Falls, then take a mini detour via State Highway 7 to arrive in Sulphur. The city is known for its mineral springs, which are great for a healing dip.
Rejoin I-35 north to head up to Oklahoma City. Spend some time here exploring the canals and the city's major art and natural history museums. From here, follow I-44 east to reach Tulsa, the starting point of the famous Route 66.
Take US-412 east to cross the border into Arkansas and reach Springdale. From here, follow signs for State Highway 45 and wind up through the Ozark Mountains on AR-12 to reach Eureka Springs.
Best places to stop between Dallas and Eureka Springs
Whichever route you choose, you'll breeze through an ever-changing landscape of chocolate-box towns, southern history and mountain forests.
Relax into the trip by including an overnight stay somewhere along the route - we've picked a few favorites to inspire your planning.
See historic architecture in McAlester
Located approximately 3 hours along the Direct Route is the city of McAlester, Oklahoma. Apart from being a great midway point, this city is one of the state's oldest communities.
There is plenty to see and do linked to the town's lively past, including the beautiful architecture of the McAlester Scottish Rite Masonic Temple - Oklahoma's oldest masonic building. Dip into military history at Tannehill Museum, where you can see guns in a prison setting.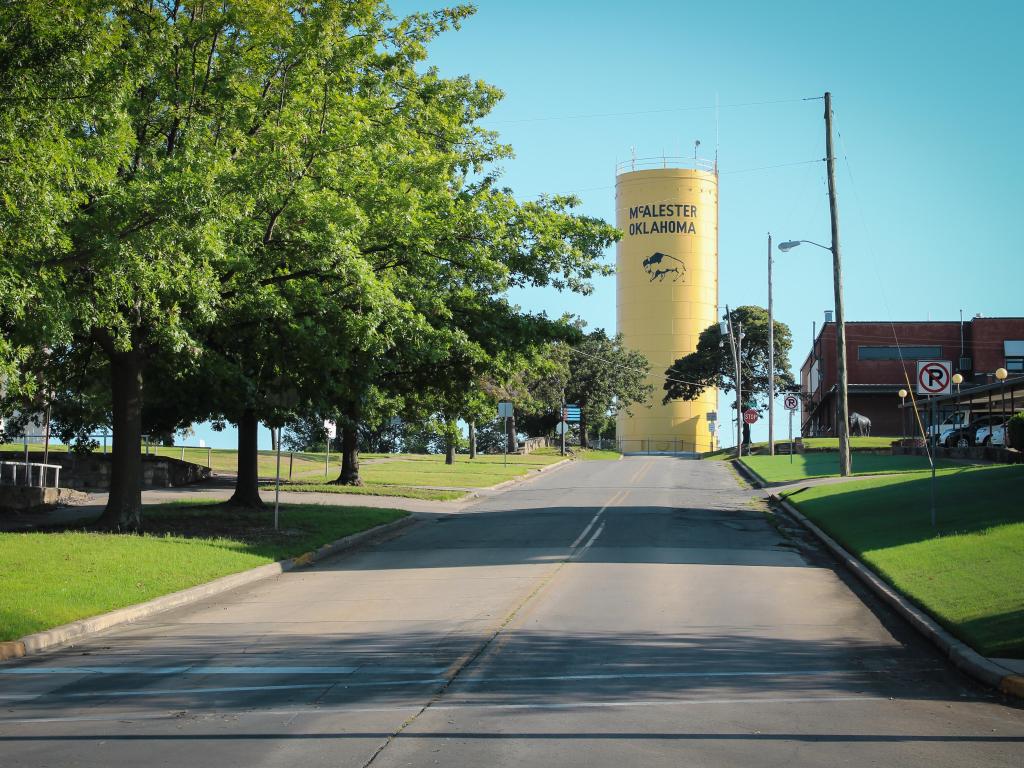 For something a bit lighter, drive out to Whispering Meadows vineyard and winery for a tipple and delicious local food. The nearby city of Krebs is known as the little Italy of Oklahoma and is a great place to grab a bite.
While in town, opt for convenience at Holiday Inn Express Hotel and Suites. This hotel is located in an excellent location featuring large suites, an outdoor pool, free Wi-Fi, and a complimentary hot breakfast.
Located between both McAlester and Krebs, there are plenty of great food options nearby, and the hotel includes free parking so you don't have to worry about your car.
Go cowboy in Oklahoma City
Almost 3 hours from Dallas, you'll reach Oklahoma City. The state capital is a major city with a wide variety of attractions, entertainment, and dining options.
The fast-growing entertainment district of Oklahoma City isn't to be missed, as it includes everything from cowboy-themed culture, museums and family-friendly activities.
There are plenty of great museums, but one of the highlights is the National Cowboy & Western Heritage Museum, which offers a glimpse of Western culture through thousands of artworks and artifacts.
To stretch your legs after all that driving, the Botanical Gardens are a green oasis in the middle of a busy city. Stretching over 15 acres, this beautiful space hosts a variety of events throughout the year.
Take some time off the itinerary and wander round Bricktown canal district, where you can stumble upon great bars, restaurants and independent shops.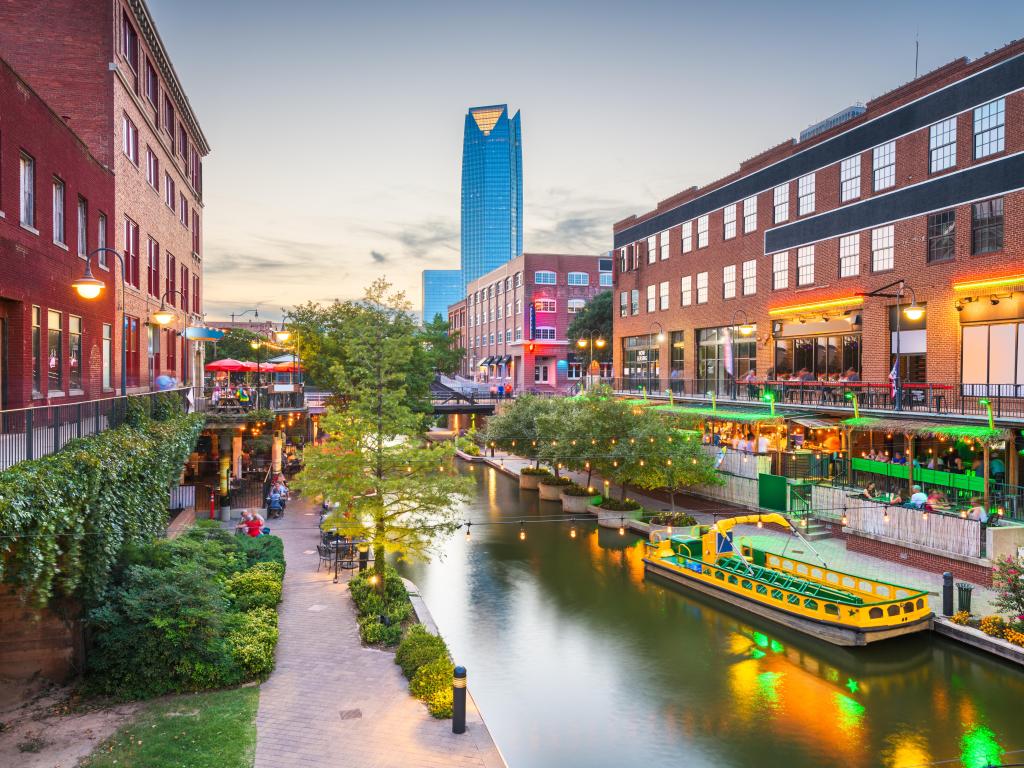 Treat yourself to an upmarket stay at Omni Oklahoma City Hotel, where you'll find stylish, modern décor and luxurious rooms. This hotel is located in the heart of the city within walking distance or easy access to all the major attractions, and is particularly well located for the city's Botanical Gardens.
While you'll find yourself well located for downtown's bars, restaurants and shopping, the hotel features an outstanding coffee shop, sports bar and choice of restaurants on site. Bonus - be sure to enjoy a dip in the hotel's fantastic outdoor pool if you're there during the summer months.
Where to stay when you reach Eureka Springs
Once in Eureka, you'll want to stay somewhere that matches the unique charm of this historic mountain city. The Grand Treehouse Resort is located just minutes from downtown Eureka, but feels perfectly secluded and relaxed.
This is a truly romantic and atmospheric property in a beautiful setting, offering you the chance to unwind while reclining in the jacuzzi or snuggling up next to the fireplace.
Things to see on a road trip from Dallas to Eureka Springs
There are tons of interesting landmarks and places to stop along the route, from quirky museums to towering waterfalls. You'll be sure to come away having learned something!
The Direct Route
Interurban Railway Museum - Owned by the city of Plano, this free historic museum tells the history of Plano and the Texas Electric Railway. It features interactive exhibits and is open everyday except Sundays.
Historic Downtown Plano - A vibrant community featuring brick lined streets, and historic buildings. Here you can enjoy the many boutique shops, restaurants, and art galleries while taking in the history and culture.
Heritage Farmstead - A living history museum spread over 365 acres of land allows visitors to step back in time to the 19th century. Perfectly preserved and still an active farm, visitors can experience what life was like. It includes a visitor favorite, the one-room schoolhouse.
Historic Downtown McKinney - Featuring over 120 unique shops, take a walk down main street or a stroll through Chestnut Square Historic Park. Enjoy the live music, or visit one of the local wineries tucked a few minutes away from the center.
Wildlife Harbor Museum - This museum features exotic wildlife exhibits and a large collection of African artifacts available on display.
Frontier Village and Museum - This Museum features 11 historic buildings from pioneer times. Here you will find artifacts and a research room filled with obituaries, portraits, newspapers and more.
Atoka Museum and Civil War Cemetery - A free museum open Monday to Friday sharing the history of the civil war in Oklahoma. The site also includes a complete dinosaur skeleton!
McAlester Scottish Rite Masonic Center - Built in 1907, this is the oldest masonic building in Oklahoma. Here you can enjoy beautiful architecture while visiting the museum, library, and costume center.
Tannehill Museum - A historical gun and prison museum, here you can explore the many historical artifacts on display.
Webber Falls - Located on the banks of the Arkansas River, here you can walk to the towering waterfall located within the canyon forest, as well as the local museum.
Fort Smith National Historic Site - This site preserves over 80 years of history. Established in 1817, here you can explore the Indian Territory through a trail of scandals and stories from soldiers.
Fort Smith Museum of History - This museum shares the history and culture of the city, and houses and preserves more than 40,000 artifacts.
Fort Smith Trolley Museum - This museum opened in 1985, and houses electric powered street cars and railroad equipment. Here you will find a collection of railcars, and get to experience your own trolley ride.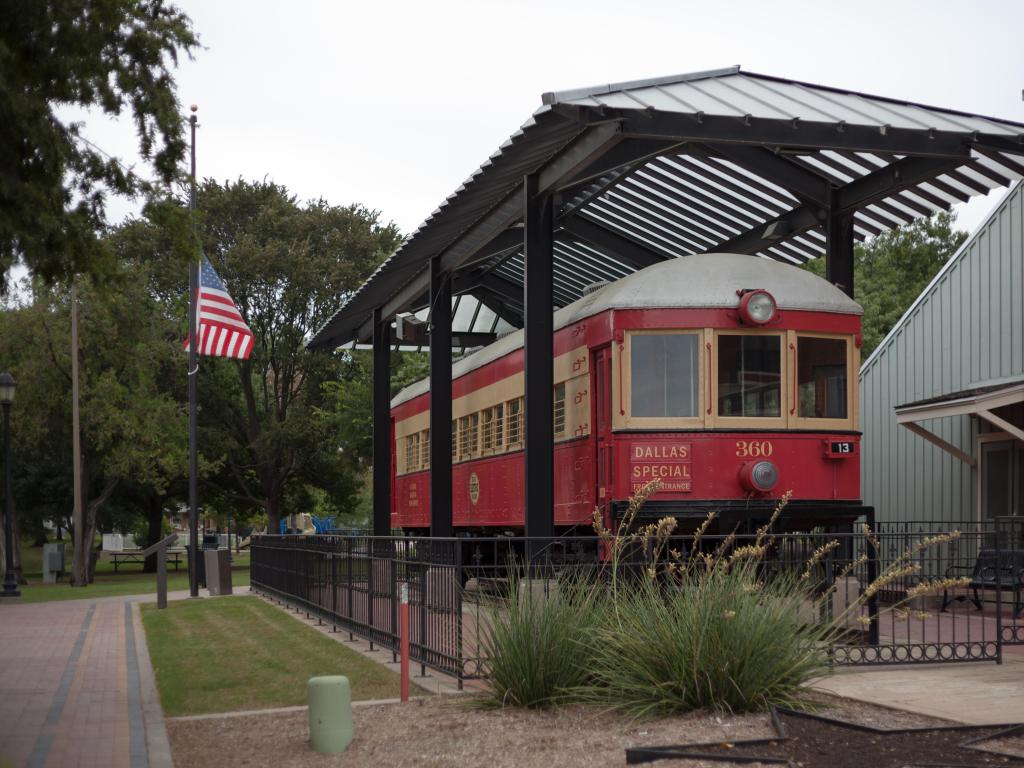 The Oklahoma City Route
Denton County African American Museum - This museum is inside a 1904 home that was part of an African American neighborhood. Learn about the history of this community and see the papers of Denton's first African American doctor.
Courthouse on the Square Museum - This iconic building is the centerpiece to the city's downtown. Built in 1896, it is a museum filled with facts about the city dating back in the 1800s.
Bayless Selby House Museum - A Victorian-style home museum located in Denton's Historical Park that lets you explore the life of the wealthier residents of Denton in the 1800s.
Little Chapel in the woods - This famous chapel was built in 1939 and is surrounded by beautiful scenery. The church is famous for its history and architectural design.
Winstar World Casino and Resort - Visit the world's largest casino covering over 500,000sq ft, featuring city-themed gaming spaces and over 8,000 electronic games.
Tucker Tower Nature Center - Located 22 mins from Thackerville, climb this tower for views of Lake Murray State Park.
Turner Falls Park - This park is spread over 1,500 acres of land located in the Arbuckle Mountains. Here visitors can enjoy hiking, a 77-foot waterfall, three caves, and Collings Castle.
Chickasaw Cultural Center - Experience the life and culture of the Chickasaw people at this historical museum with interactive exhibits.
Oklahoma Museum of Natural History - This comprehensive natural history museum has permanent and temporary exhibits displaying over 7 million objects!
Bricktown Canal - A popular downtown district of Oklahoma City where you can enjoy plenty of green spaces or ride the Canal Water Taxi, a 40-minute ride down the canal that highlights points of interest.
The Botanical Gardens - Enjoy Oklahoma City's most beautiful green space spread over 15 acres of land, with plenty of interactive elements for kids.
Philbrook Museum Of Art - A historic home and gardens, this Tulsa art museum opened in 1939 and was the former home of an Oklahoma oil pioneer.
Tulsa Air and Space Museum - Covering over 19,000sq ft this museum features historical exhibits, a full dome planetarium, interactive exhibits, and a vintage aircraft. Here you can learn about aerospace history as well as the future of aerospace.
Center of the Universe - Located on a pedestrian bridge in Tulsa, this spot stands on the center of the universe.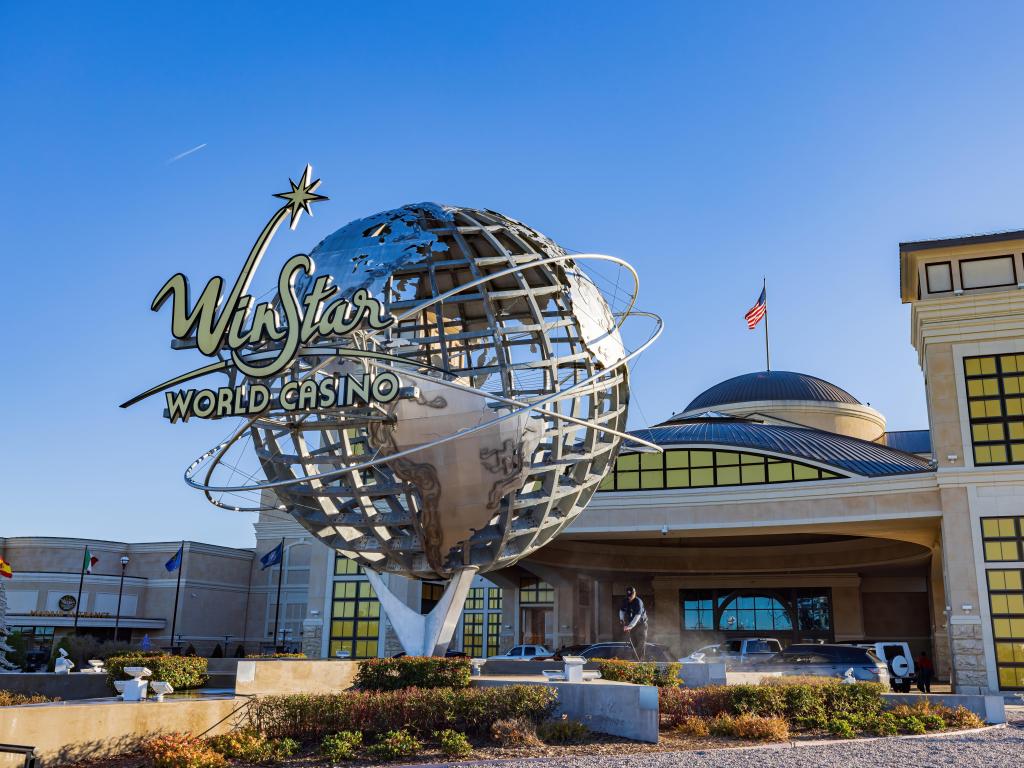 Both routes
Arkansas and Missouri Railroad - This is a special passenger train that offers visitors the opportunity to take a seat and travel into a bygone era. Journey through the Arkansas River Valley and pretend you're from the early 1900s.
Shilah Museum of Ozark History - This Museum shares the history of the Ozarks. Here you will find exhibits, artifacts and displays about this area's former residents and their hardships.
Me and The Flea Market - This is a great stop for treasure hunters. The busy flea market is full of antiques along with hard to find rare and unique items.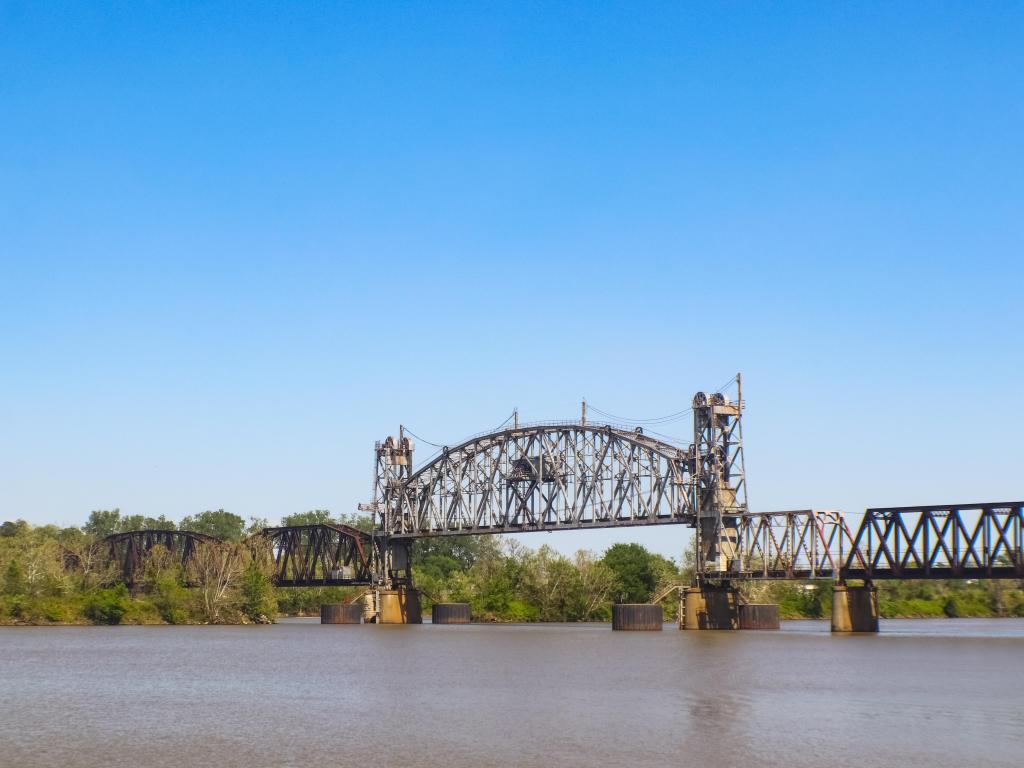 Best time to go on a road trip from Dallas to Eureka Springs
Eureka Springs is definitely a year-round destination, with over 750,000 visitors each year. Although the weather varies from season to season, the destination offers a wide variety of both indoor and outdoor activities for everyone to enjoy.
Summers are very hot and humid with August being the hottest month. Average temperatures in the summer range between 64 and 90 degrees Fahrenheit, and you'll find more crowds from June to September. It's a beautiful time to hike and explore the mountains and green spaces en route.
There's plenty going on in the summer, from Opera in the Ozarks in June to The Eurekan Festival in July and Banjo Rally International in August.
Winters in Eureka Springs are cold and snowy, making this a great festive road trip destination. Eureka Springs sees approximately 28 inches of snow per year, with the coldest month being January. Average temperatures in the winter are between 26 and 52 degrees Fahrenheit.
December to March is considered a peak travel time for Eureka Springs for visitors coming for winter activities. In winter, you can also catch the Annual Christmas Festival, Ozark Mountain Music Festival and Eureka Springs Mardi Gras.
The shoulder seasons are a great time to make this trip, as weather conditions will be comfortable - from 39 to 84 degrees Fahrenheit. The best months if you value mild, pleasant weather, lower prices and fewer crowds are May, September, and June.
In March, you can witness the St. Patrick's Day Parade or Victorian Classic Road Race, while the Kite Festival, Dirt Church Mountain Bike Festival and Carving in the Ozarks Festival take place in April. If you're a car fan, May sees the Eureka Springs Thunder on the Mountain Mustang Show.
In fall, get ready for Antique Auto Festival, Eureka Springs Jazz Festival and Annual Jeep Jam in September, Hillberry Music Festival and War Eagle Craft Fair in October, and the Eureka Springs Folk Festival in November.