Road Trip from Dallas to New Mexico
A road trip from Dallas to New Mexico starts out with a Wild West drive across Texas, taking in historic sites and iconic scenery while you find out more about the state's frontier history. Crossing into New Mexico, you'll enjoy more stunning desert drives which take you between impressive and unusual national parks and the buzzing cities of Albuquerque and Santa Fe.
The 1,190-mile road trip from Dallas to New Mexico takes around 30 hours to drive. Visit Guadalupe Mountains, Carlsbad Caverns and White Sands National Parks, dip into 20th century history at Los Alamos, and stop off in Albuquerque and Santa Fe.
This is an accessible road trip with an adventurous feel, taking in a great combination of city vibes, spectacular landscapes and national parks as you head across two states that have their own distinct place in US history. Keep on reading to find out more about the stunning landscapes and Hispanic heritage that you can discover along the way.
How far is New Mexico from Dallas, and how long will the road trip take?
Distances and driving time from Dallas to popular destinations in New Mexico

| Destination City/Landmark | Distance | Driving Time |
| --- | --- | --- |
| Carlsbad Caverns | 700 miles | 10 hours 30 minutes |
| White Sands National Park | 890 miles | 14 hours |
| Cibola National Forest | 1,060 miles | 16 hours 30 minutes |
| Albuquerque | 1,140 miles | 18 hours |
| Santa Fe | 1,200 miles | 19 hours |
| Los Alamos | 1,235 miles | 19 hours 40 minutes |
Traveling direct via I-20 you can get from Dallas to New Mexico in around 8 hours.
However, to make the most of your road trip we'd recommend swinging south to visit Fort Stockton and check out Marfa's buzzing arts scene before continuing on towards the New Mexico border. This way, the 700-mile drive from Dallas to Carlsbad Caverns takes 10 hours 30 minutes.
Carrying on around New Mexico, on a route that takes you from Carlsbad Caverns to Los Alamos, you'll spend around 9 hours on the road. This 535-mile trip will take you to some of New Mexico's most popular attractions.
If you're heading back to Dallas, don't forget to add on the hefty 675-mile drive back from Los Alamos. This takes your total driving time up to 30 hours if you're planning a round trip.
With so many hiking trails, mountain views and impressive cultural attractions to enjoy, we'd suggest setting aside at least 6 days to complete this trip. That way you can split the driving into manageable sections and still have plenty of time to stop and explore along the way.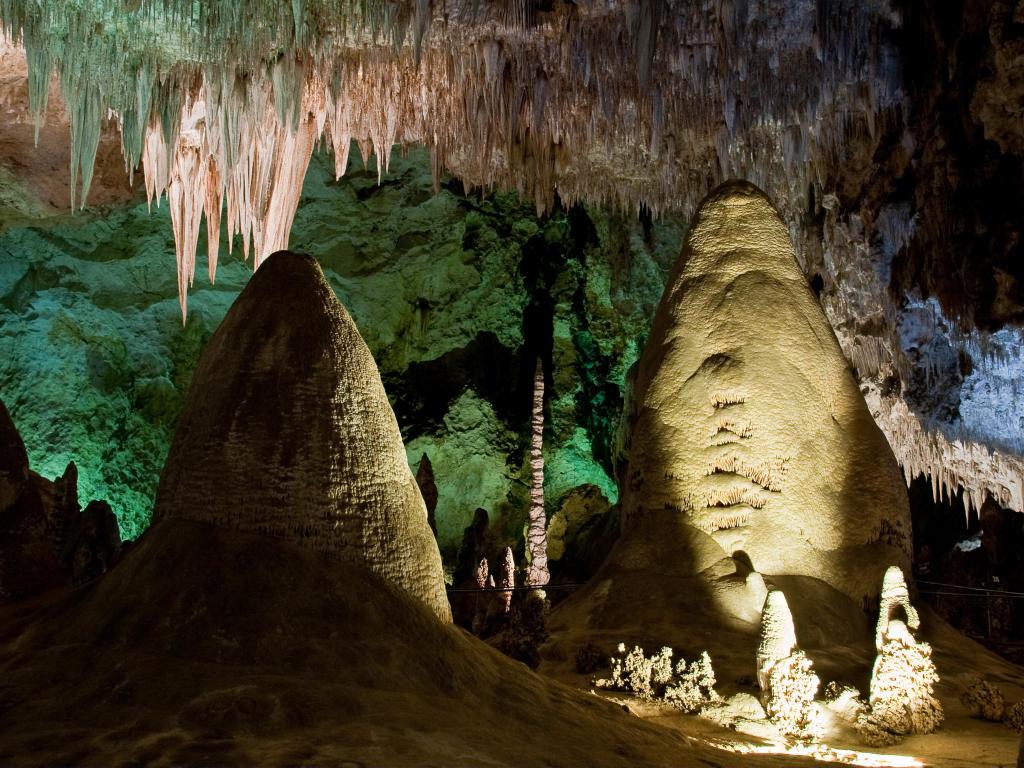 Best trip route from Dallas to New Mexico
Whichever way you drive, you'll have to cross a lot of Texas before you reach the New Mexico border, so we've suggested a route that lets you explore some great attractions in the western part of the state before you arrive at Carlsbad Caverns.
We'd suggest starting your drive around New Mexico with a visit to this impressive national park, which is just a few miles from the state border. Then head northwest through Lincoln National Forest and past White Sands National Park to reach Albuquerque, Santa Fe and Los Alamos.
Round road trip route from Dallas to New Mexico
Start out on I-20, heading through Fort Worth, Sweetwater and Odessa. After nearly 400 miles on the road you'll reach Monahans, where you'll change onto TX-18 to head south to Fort Stockton.
Next, continue south on the highway heading towards Alpine. If you're planning a longer trip, this is the gateway to Big Bend National Park. Or if you're heading directly on to New Mexico, follow US-90 through Marfa and on to Van Horn.
After an impressive drive across the desert on TX-54 and US-62, you'll pass through the stunning scenery around Guadalupe Mountains National Park. Make sure to stop and enjoy the view across the El Capitan before driving the last few miles to Carlsbad Caverns.
Road trip route around New Mexico
After spending some time admiring Carlsbad Caverns, continue north on the highway as far as Artesia then turn west on US-82 through Lincoln National Forest. If time allows, Cloudcroft is a lovely place to stop and spend a few hours away from the desert heat.
From Alamogordo, US-70 will take you to the stunning White Sands National Park. Then to continue on your road trip, make your way back to Alamogordo and follow the highway north as far as Carrizozo.
After following the highway past the northern end of White Sands Missile Range you'll reach San Antonio, NM, where you can join the interstate to head towards Albuquerque.
Along the way, consider detouring from Socorro to Magdalena to visit part of the huge Cibola National Forest.
From Albuquerque you'll head to state capital Santa Fe, stopping to ride up Sandia Peak for impressive views across the landscape. Then take the highway to Los Alamos, visiting Bandelier National Monument on the way.
You've almost completed your tour of New Mexico now, so it's time to retrace the route to Santa Fe, where you can pick up US-285 which leads you back to the interstate.
It's a 675-mile drive back to Dallas, so it's worth planning a couple of stops to break up the drive. Once you've reached I-40 you'll be following the route of Route 66 so stop off at Santa Rosa, to visit the Route 66 Auto Museum and find out more about this iconic cross-country drive.
After crossing into Texas at Glenrio, Amarillo is another classic Route 66 stop-off – just outside the city Cadillac Ranch creates an art installation out of the area's motoring heritage, and you can also visit Jack Sisemore Traveland RV Museum or the informative Texas Air & Space Museum.
Then once you've passed Amarillo, simply change onto Route 287 which takes you back to your starting point in Dallas.
Best places to stop between Dallas and New Mexico
With nearly 2,000 miles of driving ahead you'll definitely need to plan for some overnight stops on your road trip from Dallas to New Mexico.
The great thing about this road trip is that you can stop in some fabulous places along the way, which just adds to the adventure. We've listed some of our top picks below.
See the stars in Alpine
500 miles from Dallas (around 7 hours 15 minutes driving) you'll reach Alpine, TX, which is a comfortable 3 hour 20 minute drive from Carlsbad Caverns.
As well as offering some impressive scenery, it's the ideal place to stop at the end of a long day's driving from Dallas.
For many travelers, Alpine is the gateway to Big Bend National Park, but even if you're not venturing south to visit this stunning but remote part of Texas, there are plenty of natural attractions to enjoy near to the town itself.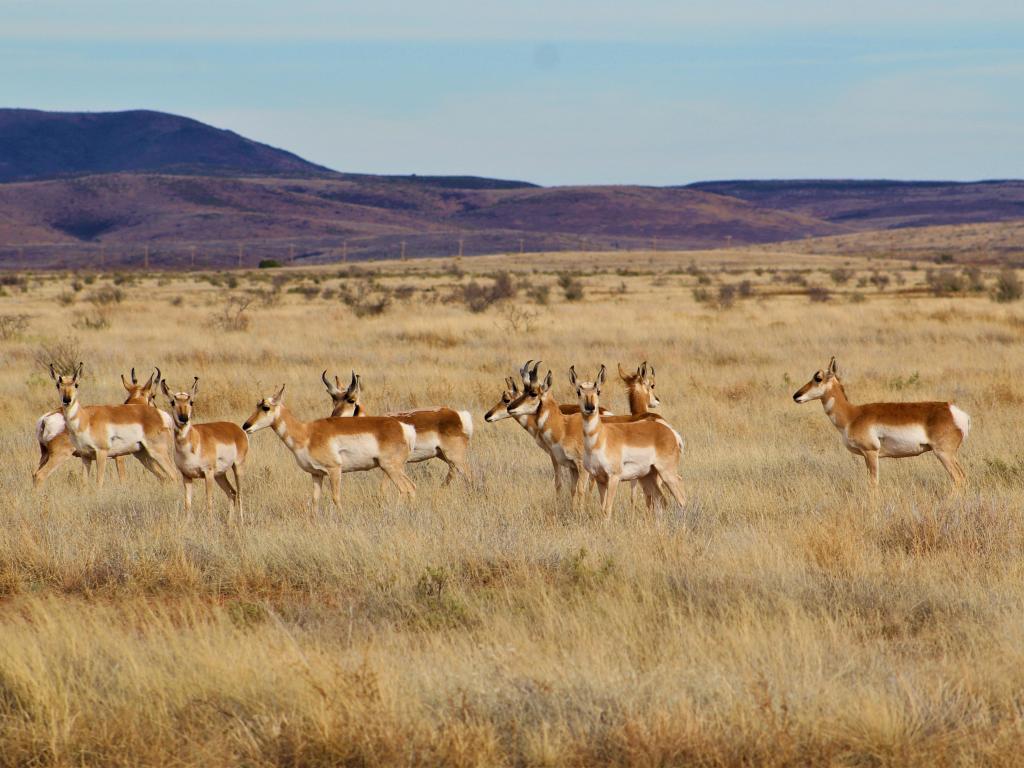 With historic buildings dating back to the late 1800s, this small West Texas town will feel a world away from busy Dallas.
You can visit the interactive and informative Museum of the Big Bend to learn about the region (not just the national park itself) and hike at Chihuahuan Desert Nature Center while finding out more about the natural environment that's the star of the show in this part of Texas.
A short drive out of town, the McDonald Observatory lets you admire the stars through huge telescopes – you'll get a great view in the dark skies of this sparsely populated part of the country.
With great views across to the mountains you'll really get a sense of space when you check in to Hotel Parker at Quarter Circle 7. Rooms here are spacious and clean, with a Texan vibe running throughout.
There's also an indoor pool which can be used all year round, as well as a hot tub outdoors – the perfect place to relax at the end of the day under the big, starry sky.
The hotel is close to the Museum of Big Bend and a short drive from the Marfa Lights Viewing Area if you want to check out the supernatural goings on in the desert too.
Explore Albuquerque
From colorful street art to Hispanic heritage, there's plenty to see and do in New Mexico's largest city, Albuquerque, which is around 18 hours from Dallas by road.
Known for its fabulously colorful Annual International Balloon Festival, which takes place each year in October, you can also ride up to the top of Sandia Peak on the Sandia Peak Tramway, to enjoy amazing views across the desert.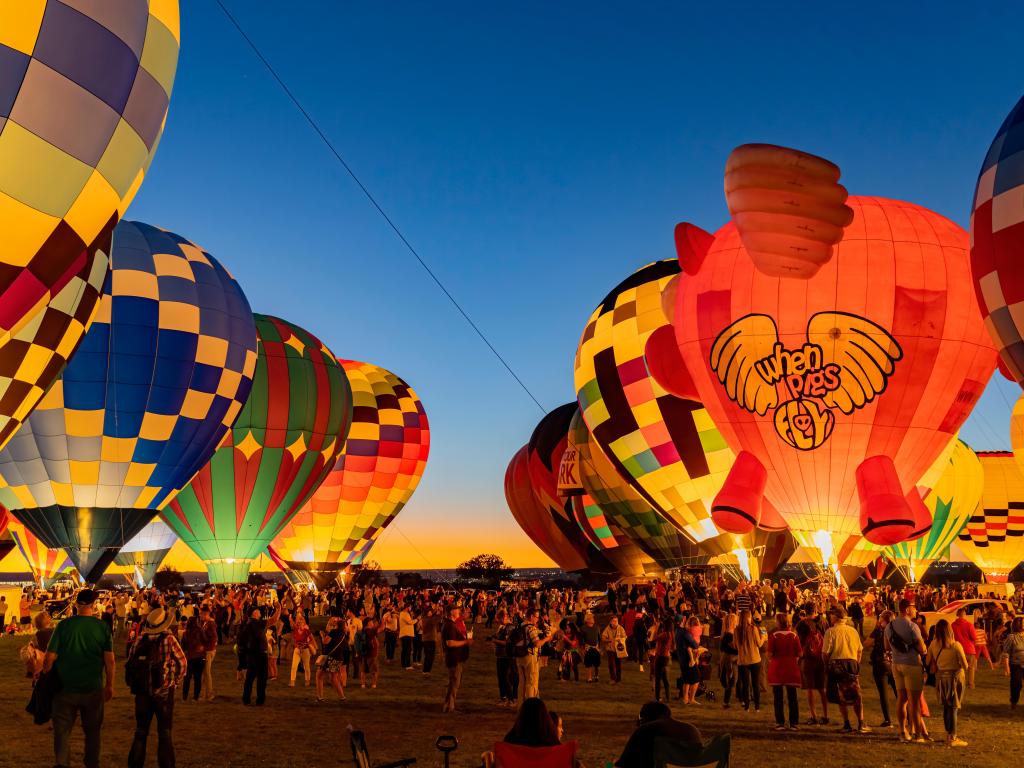 If you'd like to find out more about New Mexico's Pueblo culture, check out the Indian Pueblo Cultural Center which you'll find in the city. Or head to the American International Rattlesnake Museum to learn about these iconic desert creatures.
You can park for free and walk to Old Town from the stylish El Vado Motel, which also has an outdoor pool that will feel inviting after a day in the New Mexico sunshine. With pop up restaurants and fabulous mid century design features, you'll have everything you need for a comfortable stay here.
Immerse yourself in art in Santa Fe
Santa Fe, New Mexico's state capital, is one of the last places you'll visit on your New Mexico road trip, just under 10 hours drive from Dallas.
There's tons of history to explore in the city, which has been home to Pueblo Indians for around 1,000 years.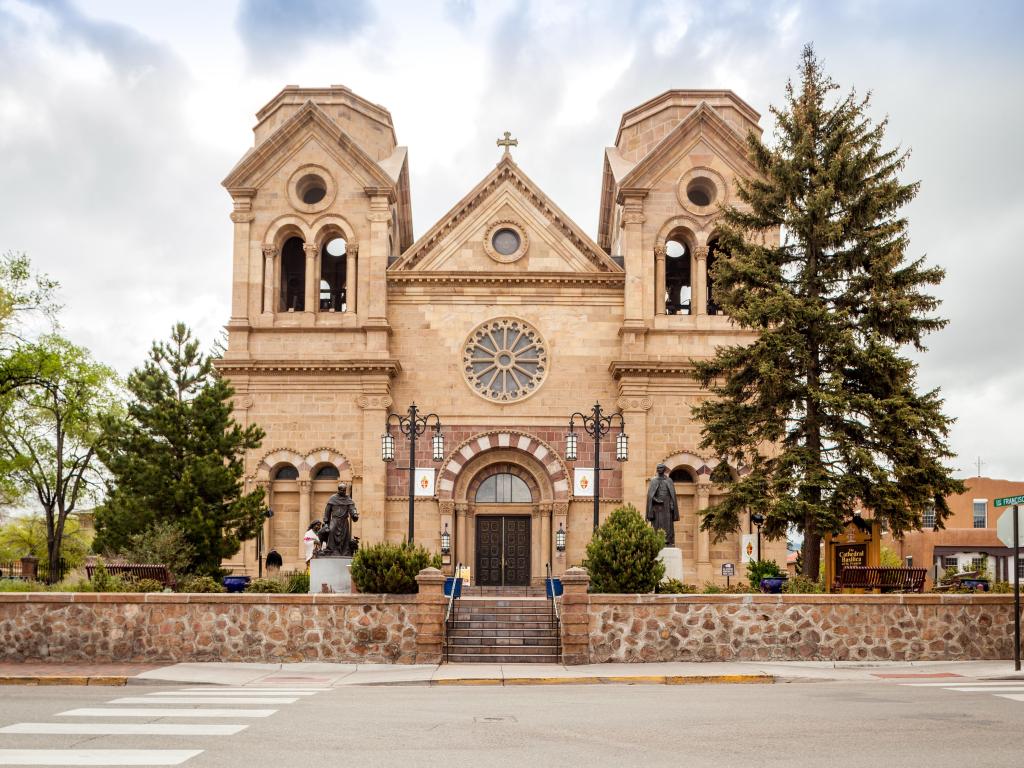 Famous for its world-class galleries, you can take your pick of New Mexico Museum of Art for a range of international names, the Georgia O'Keeffe Museum for an exploration of this leading modern artist. Or head to IAIA Museum of Contemporary Native Arts (MoCNA) to find out more about the work of native artists from New Mexico and further afield.
Take some time to explore Santa Fe's Hispanic heritage too, with a trip to New Mexico History Museum or the impressive Palace of the Governors Museum.
Located close to Santa Fe Plaza, La Fonda on the Plaza is close to almost all of the city's attractions, meaning you can park up and explore the city on foot.
When you're ready to call it a day, head back for some relaxation at the hotel - its outdoor pool, on-site spa and rooftop hot tub are all fantastic features.
Things to see on a road trip from Dallas to New Mexico
You're in for a real treat as you travel through Texas and New Mexico on this amazing road trip, as there are so many things to see and do.
Whether you're after city stop-offs, stunning views, unforgettable hikes or immersive museums, a road trip from Dallas to New Mexico has it all.
Things to see on the way to New Mexico
Fort Worth - Visit the Fort Worth Stockyards to immerse yourself in the city's Western culture. As well as shops, restaurants, bars and live music, the real highlight of a trip to this National Historic District is the impressive cattle drive which comes through twice daily.
Abilene - Feel the Old West spirit as you immerse yourself in the attractions of Frontier Texas! which takes you back to the wild west world of the 1800s.
Odessa - Take a walking tour around the town's colorful murals and grab a bite to eat before driving out to visit the Odessa Meteor Crater which you'll find a few minutes outside the town.
Fort Stockton - Another town with plenty of Wild West history, visit the Old County Jail and Historic Fort Stockton to see glimpses into the challenges of maintaining law and order in years gone by.
Big Bend National Park - There are few facilities in this remote national park, making it the perfect place to escape to for experienced hikers.
Marfa - There's a thriving arts scene, driven by the work of Donald Judd, a minimalist artist who came to Marfa in the 1970s. Visit the Chinati Foundation and the Judd Foundation to see work by Judd and other contemporary artists.
Guadalupe Mountains National Park - Admire El Capitan, a huge cliff rising up out of the desert. You can also hike or ride through the mountains here – look out for the fossilized coral reef that forms part of the national park.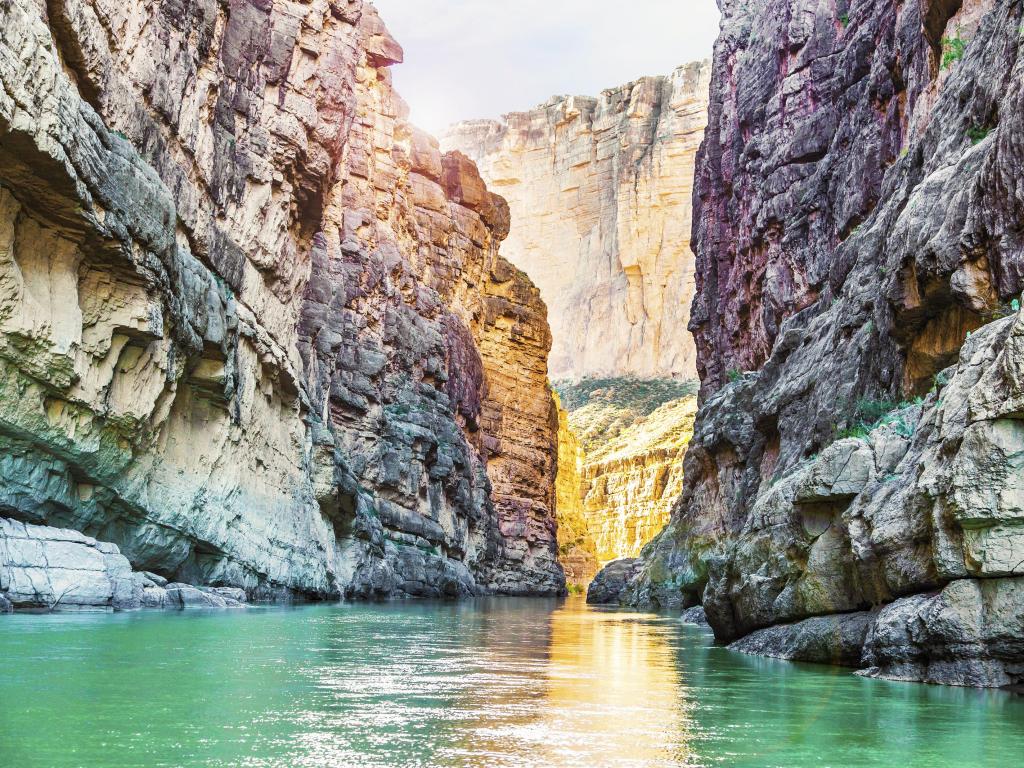 Things to see around New Mexico
Carlsbad Caverns National Park - Book ahead to guarantee your place on a tour of these stunning limestone caves.
Roswell - Extend your trip with a drive out to Roswell, home of the International UFO Museum and Research Center, where you can find out more about alien sightings reported here since the 1940s.
Lincoln National Forest - Rising from desert to forest-covered mountains, enjoy the drop in temperature while you explore the great outdoors on foot or 2 wheels.
Alamogordo - Visit the Museum of Space History, which tells the story of the discoveries and innovations linked to this part of New Mexico.
White Sands National Park - You can cycle, hike or follow a scenic drive to explore the huge white sand dunes that give this national park its name. Or if you're feeling active, borrow a sled to ride in the dunes.
Bosque Del Apache National Wildlife Refuge - Where the Rio Grande runs through New Mexico it creates a fabulous wetland habitat which is the perfect place to enjoy some peace and quiet while you watch for wildlife.
Cibola National Forest - Explore the mountain peaks of this huge wilderness area on foot or via a scenic drive.
Petroglyph National Monument - Among the hillside and desert you'll find petroglyphs drawn in the stone by Native tribes and Europeans.
Los Alamos - The Atomic bomb was developed here - visit the Manhattan Project National Historic Park Visitor Center to find out more. Los Alamos History Museum and the Bradbury Science Museum are also worth a visit.
Bandelier National Monument - You'll have another chance to hunt for petroglyphs among Bandelier's unforgettable canyons.
Valles Caldera National Preserve - Head north from Los Alamos to explore this former volcanic crater where a unique natural ecosystem has developed.
Pecos National Historical Park - Seek out historic buildings scattered among the hills outside Santa Fe, taking in Pueblo Indian villages to Spanish settlements.
Cadillac Ranch - Just outside Amarillo, check out this Route 66-inspired monument, where vintage vehicles form the installation.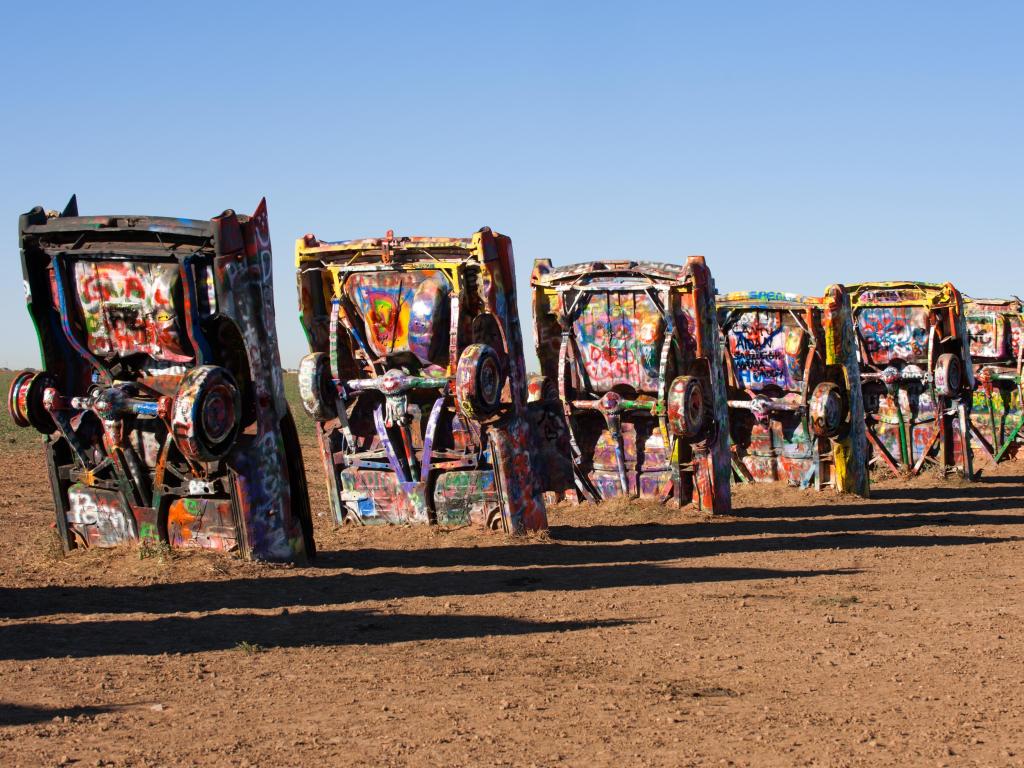 Best time to go on a road trip from Dallas to New Mexico
There's no escaping the fact that New Mexico is hot during the summer, but don't overlook the fact that it can also get very cold in winter. Although it's possible to enjoy a trip here all year round, the extremes in weather will definitely impact on the feel of your trip.
If you're heading to New Mexico to get that wild west feeling, you'll probably want to avoid the winter.
From June to August, New Mexico is consistently hot, with temperatures sitting in the 90s Fahrenheit all through the summer. It can make hiking a challenge, so head out in the early morning if possible, to enjoy the best conditions.
You'll travel over higher ground in parts of your trip, especially through Lincoln National Forest and Guadalupe Mountains, where freezing conditions and wintery weather can affect your drive.
In the cities you'll find winter a lot milder - snow is possible, but temperatures often reach around 50 degrees Fahrenheit.
This is a colorful trip in spring, when wildflowers bloom especially as you travel through the Texas hill country. As you'd expect, March is relatively cool with temperatures in the 60s Fahrenheit, but by May they've risen to the mid-80s.
A fall road trip around New Mexico means you'll be able to avoid the summer crowds, while the weather should be reliably dry and warm. You can also see Albuquerque International Balloon Festival if you travel in October - an impressively colorful spectacle floating across the desert landscape.