Road trip from Dallas to Santa Fe
Famous for its architecture, vibrant markets, delicious cuisine and beautiful surroundings, Santa Fe is the perfect destination on a drive from Texas. The road trip from Dallas to Santa Fe will take you through charming cities, stunning national parks and forests and some of the quirkiest attractions.
The 745-mile road trip from Dallas to Santa Fe will take about 11 hours to drive. On the way, you can visit Oklahoma City, Amarillo, Marfa, Roswell, Carlsbad Caverns National Park, Tucumcari, Santa Rosa, Odessa, Abilene and Guadalupe Mountains National Park.
This drive from Dallas to Santa Fe will be full of endless charm and adventure around every corner. Read on below to learn more about our recommended routes, best places to stay, top highlights, and the best seasons to travel.
How far is Santa Fe from Dallas, and how long will the road trip take?
Comparison of road trip routes between Dallas to Santa Fe

| Route | Distance | Driving Time |
| --- | --- | --- |
| Oklahoma Route | 745 miles | 11 hours and 5 minutes |
| Carlsbad Caverns Route | 980 miles | 14 hours and 50 minutes |
The Oklahoma Route on a road trip from Dallas to Santa Fe is a 745-mile journey, taking around 11 hours and 5 minutes to complete without any detours.
Alternatively, the Carlsbad Caverns Route is a longer adventure of 980 miles, requiring approximately 14 hours and 50 minutes of driving.
While it's possible to complete either journey in a day, there's a wealth of sights and experiences along each route. That's why we recommend extending the trip to over 3-4 days.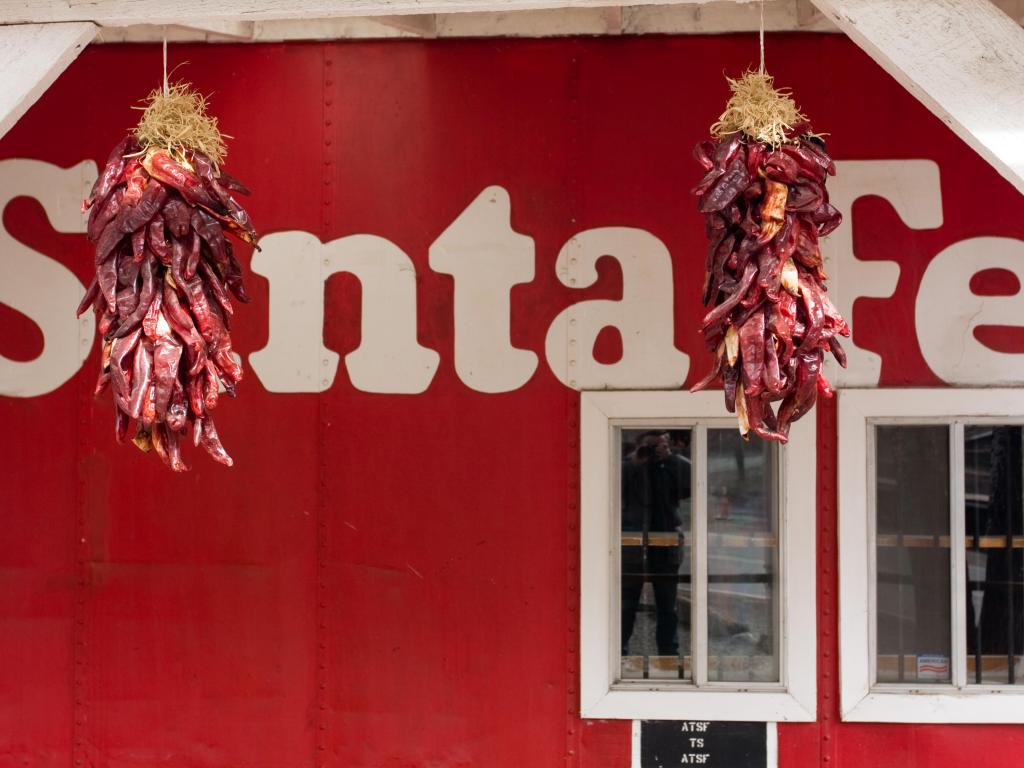 Best road trip route from Dallas to Santa Fe
Each route from Dallas to Santa Fe offers a distinct experience with contrasting scenery and attractions. So, which route you choose will ultimately depend on which attractions you'd prefer to visit.
The Oklahoma Route showcases the quaint countryside landscapes of Oklahoma, complete with picturesque rolling hills, farms, and fields, especially postcard-perfect during spring and summer.
Moving into the Texas Panhandle, the lush prairies gradually transition into a drier landscape, providing you with different views and scenery.
As you approach New Mexico, the historic neon signs in Tucumcari, remnants of the Route 66 era, will come into view. Then, you'll find yourself in the beautiful high desert of New Mexico.
If you're drawn to desert landscapes and unique geological features, the Carlsbad Caverns Route is the perfect choice for you.
Through towns like Midland and Odessa, you'll get a taste of welcoming Texan culture and community. The stretch from Marfa to Carlsbad Caverns is a barren yet striking landscape, ending at the breathtaking Carlsbad Caverns National Park.
The last leg towards Santa Fe on the Carlsbad Caverns Route offers open-field vistas and a stop in Roswell, a must-visit for anyone interested in UFOs and quirky photo ops!
How to drive from Dallas to Santa Fe
The map above shows our suggestions for the best road trip routes between Dallas and Santa Fe. Keep reading for detailed descriptions of both routes, where to stay on either, and the best things to do on the way.
Oklahoma Route
Starting in Dallas, head north on Interstate 35 (I-35) through the rural forests and countryside of Texas. Soon, you'll cross the beautiful Red River into Oklahoma.
From here, continue north to Oklahoma City. After exploring the museums, restaurants, and cultural landmarks of Oklahoma's capital, hop on I-40 West.
I-40 follows parts of the legendary Route 66, so you will feel like you have traveled back in time during this section of the drive. Make sure to stop at Amarillo and the world-famous Cadillac Ranch.
From here, continue driving on I-40 through the Texas Panhandle and into New Mexico. Soon, you'll merge onto US-285 North to your destination of Santa Fe.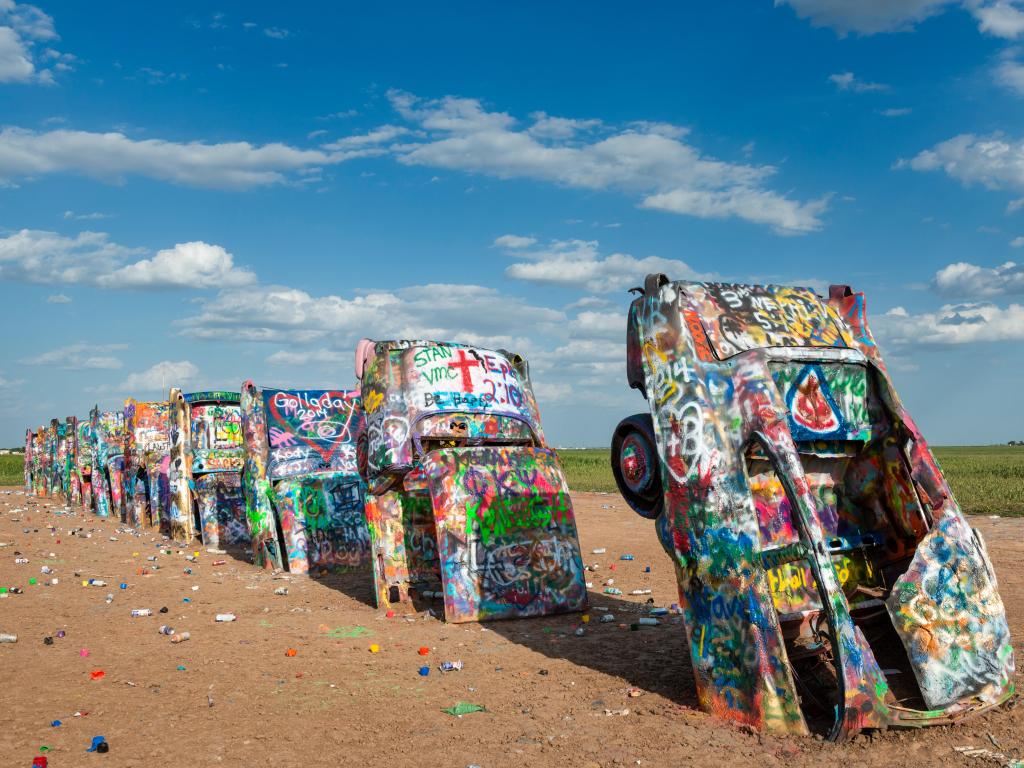 Carlsbad Caverns Route
Starting in Dallas, head west on I-20. You'll drive through endless countryside and some of the most charming towns in Texas such as Abilene and Odessa.
Continue driving west to Marfa. Here, you can visit the quirky roadside attraction Prada Marfa and the Ballroom Marfa. After your visit to this artistic town, head north to Carlsbad Caverns National Park. Here, you can explore one of the most striking national parks in the USA.
After getting your fill of nature, head north to Roswell. This small town is known for its UFO lore and you can learn more about its intriguing legacy at the Roswell Museum.
After Roswell, continue en route north through the deserts of New Mexico. You'll soon arrive to the heart of the historic city of Santa Fe.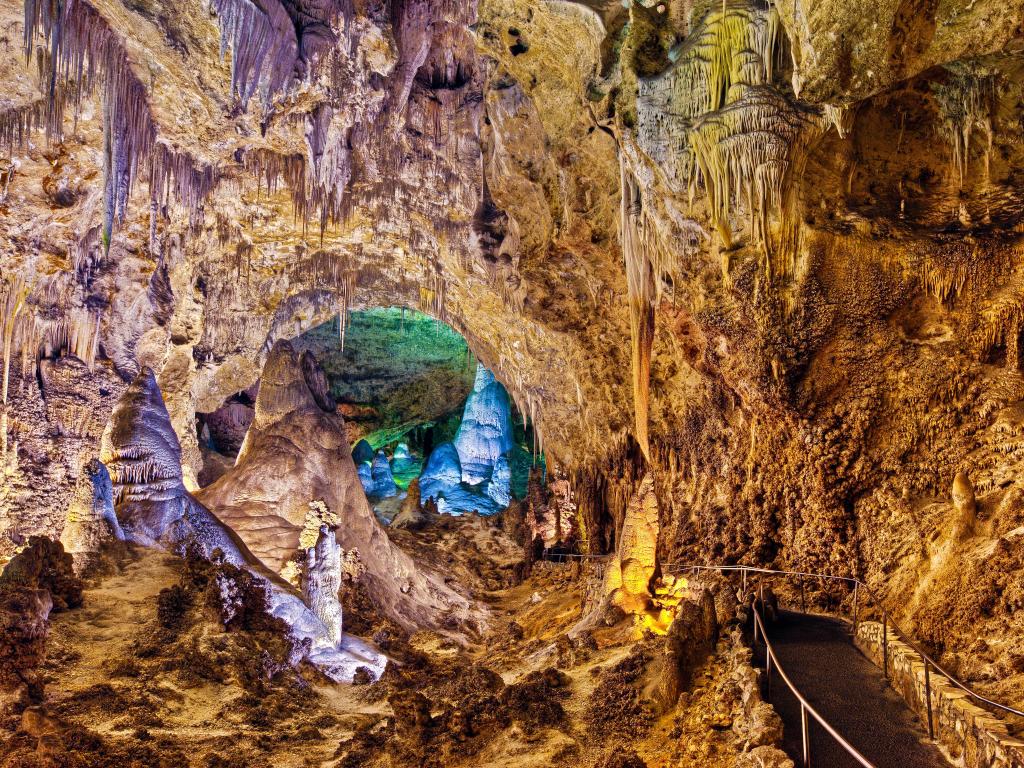 Best places to stop between Dallas and Santa Fe
With so much to see and do on a road trip from Dallas to Santa Fe, you'll want to stop at one of the beautiful destinations below. This way, you'll stay well-rested and ready to explore the region.
Quintessential Route 66 experience in Amarillo
Amarillo, about halfway along the Oklahoma Route from Dallas to Santa Fe, is an ideal stop for an overnight break. Taking about 6 hours and 40 minutes to reach from Dallas, Amarillo blends cowboy culture and urban fun, making it a quintessential Texas experience.
Famous as a key stop along Route 66, Amarillo is home to the Texas Air and Space Museum, where aviation history comes alive, and the beautiful Amarillo Botanical Gardens, showcasing the region's flora.
If you have worked an appetite during the drive and do not shy away from a unique food experience, the Big Texan Steak Ranch offers a famous steak challenge, perfect for food enthusiasts.
For your stay, consider the luxurious Barfield, Autograph Collection, Amarillo's only full-service boutique hotel. Located in the historic downtown, The Barfield is moments away from Amarillo's vibrant hotspots and nightlife.
Nearby, the Amarillo Museum Of Art, just a 6-minute drive from the hotel, offers a cultural excursion, while the Amarillo Zoo, a mere 7 minutes away.
Once done with exploring, you can book a table at the Texas-style Italian steakhouse at the hotel, which we highly recommend doing, and step back in time at a speakeasy bar inspired by the Prohibition era for the perfect nightcap.
An artistic stop at charming Marfa
Marfa, Texas, located approximately 7 hours and 35 minutes into the Carlsbad Caverns Route from Dallas, is an artsy and unique overnight stop. This small town with a big heart has plenty of local art galleries and shops, plus some charming restaurants.
Marfa's claim to fame includes the Marfa Lights, a mysterious natural phenomenon that has intrigued visitors for years. Not only mysterious but also famous, Marfa is a part of important cinematic history, being the filming location for the classic movie "Giant."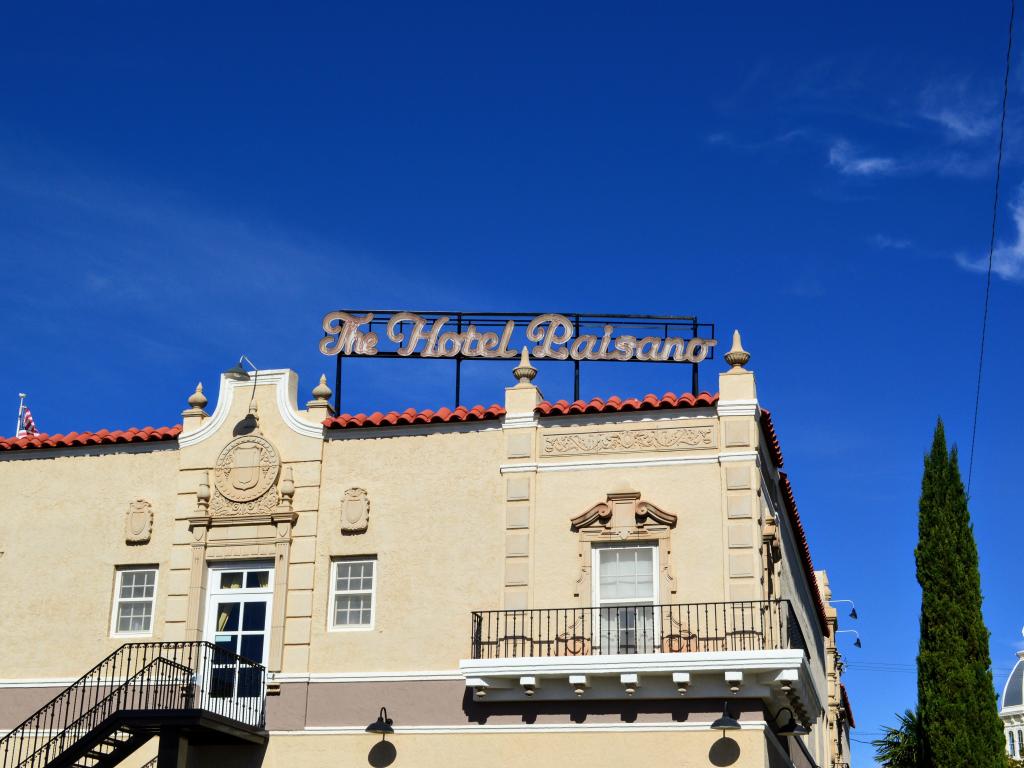 Art enthusiasts will appreciate the minimalistic art installations by Donald Judd and the exhibits at the Ayn Foundation Marfa. A quirky historical highlight is the Hotel Paisano, a grand old hotel dating back to 1930 which is well worth a visit.
For your stay in Marfa, the highly-rated Hotel Saint George offers the perfect blend of Marfa's simplicity and luxury. The hotel has nearly 300 works by regional artists, including Christopher Wool and Mark Flood, featured throughout the property and in all guest rooms.
At the hotel, you can enjoy amenities like a seasonal outdoor swimming pool, a fitness center, and a bar. Once you start feeling hungry, dining at LaVenture restaurant in the hotel features a French-inspired menu, the perfect place to enjoy a meal.
Nearby attractions include the Marfa and Presidio County Museum, just a 2-minute walk away, offering insights into the local history and culture. For a unique experience, the Stone Circle Activation, a 6-minute drive from the hotel, is an intriguing art installation that's worth a visit.
Where to stay when you reach Santa Fe
Santa Fe, New Mexico, is one of America's premier art cities, boasting an abundance of galleries and installations. It's a part of UNESCO's Creative Cities Network.
For an immersive art experience, visit Meow Wolf Santa Fe, which is known for its interactive and fantastic exhibits. Another must-see is The Cathedral Basilica of St. Francis of Assisi, a historical and architectural marvel.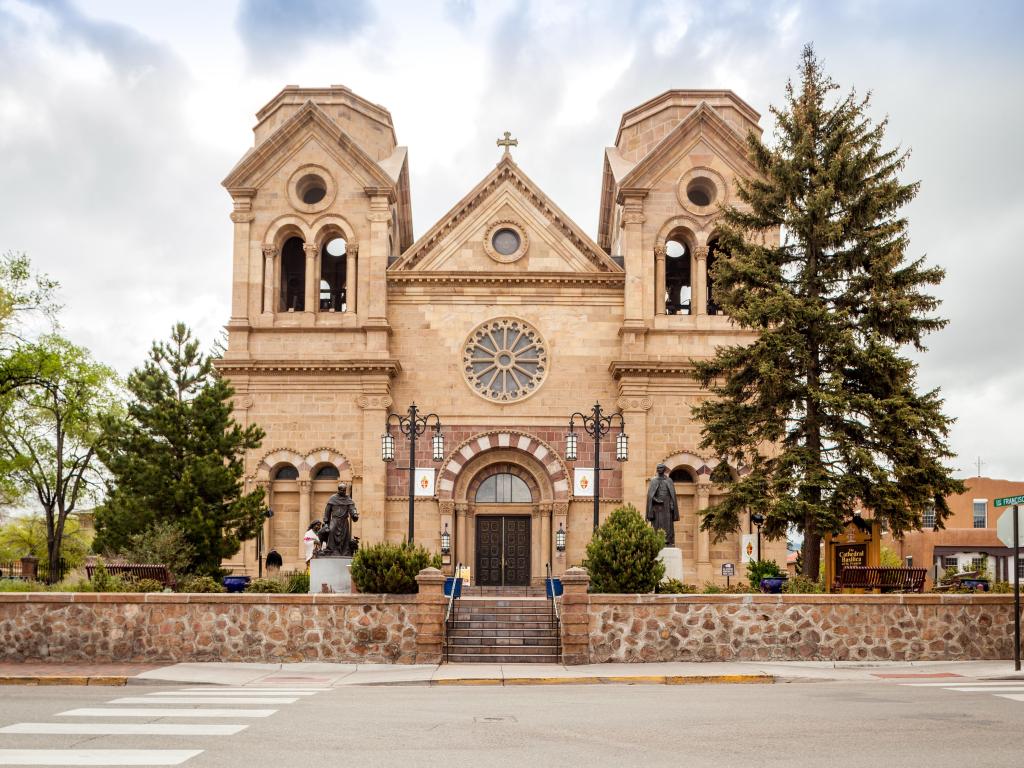 Adding to the city's artistic charm, Santa Fe's Canyon Road hosts over 100 galleries within just one square mile, claiming the title for the densest concentration of art galleries in the world.
In addition to art is the city's rich Native American culture. Make sure to visit the IAIA Museum of Contemporary Native Arts (MoCNA) and the Museum of Indian Arts & Culture to experience this deep heritage.
Situated between the historic Plaza and the vibrant galleries of Canyon Road, the Inn on the Alameda offers a prime downtown location for exploring Santa Fe's unique attractions, museums, fine dining, and distinctive boutiques.
The inn's rooms and suites are designed to reflect the history, romance, and southwestern style of Old Santa Fe, with options for patios or balconies to enhance your stay.
You can start their day with a lavish hot breakfast, setting the tone for a day of exploration and discovery. For an evening unwind, Joe's Tequila Bar at the Inn provides a full bar with a wide selection of wine, beer, and spirits.
Things to see on a road trip from Dallas to Santa Fe
There's a lot to see and do on your way from Dallas to Santa Fe. To help you plan the ultimate road trip between these incredible destinations, we've included our top highlights below.
Oklahoma Route
Winstar World Casino and Resort - Located near the Oklahoma-Texas border, this sprawling casino and resort offers a vast array of gaming options, entertainment shows, and a variety of dining experiences, making it a premier destination for those seeking excitement and leisure.
The Toy and Action Figure Museum - Situated in Pauls Valley, Oklahoma, this unique museum is a paradise for toy enthusiasts, showcasing an extensive collection of action figures and related memorabilia appealing to both children and nostalgic adults.
Lake Thunderbird State Park - Nestled in the heart of Oklahoma, this state park is a haven for outdoor activities like boating, hiking, and camping, set against the backdrop of a beautiful freshwater lake.
Crystal Bridge Tropical Conservatory - Located in Oklahoma City, this conservatory is part of the Myriad Botanical Gardens, offering visitors a chance to explore a tropical paradise with exotic plant species and serene water features.
Fort Reno - A historic site in El Reno, Oklahoma, Fort Reno offers a glimpse into the past with its well-preserved military fort, used during various periods, including the Indian Wars and World War II.
Stafford Air and Space Museum - Located in Weatherford, Oklahoma, this museum celebrates achievements in aviation and space exploration, featuring artifacts, aircraft, and exhibits dedicated to astronaut Thomas P. Stafford.
Leaning Tower of Texas - This quirky roadside attraction near Groom, Texas, is a deliberately slanted water tower, offering a unique photo opportunity and a memorable sight along the Route 66 corridor.
Amarillo Botanical Gardens - In Amarillo, Texas, these botanical gardens provide a tranquil escape with beautifully landscaped gardens showcasing a variety of plant species, thematic gardens, and seasonal displays.
New Mexico Route 66 Museum - Located in Tucumcari, New Mexico, this museum celebrates the history and culture of the iconic Route 66, featuring classic cars, memorabilia, and exhibits about the famous highway.
Blue Hole - A stunning natural artesian spring located in Santa Rosa, New Mexico, known for its crystal-clear blue waters and popular for scuba diving and swimming.
Santa Rosa Lake State Park - This park in New Mexico offers recreational activities like fishing, boating, and camping, set around the serene Santa Rosa Lake, making it an ideal spot for nature lovers.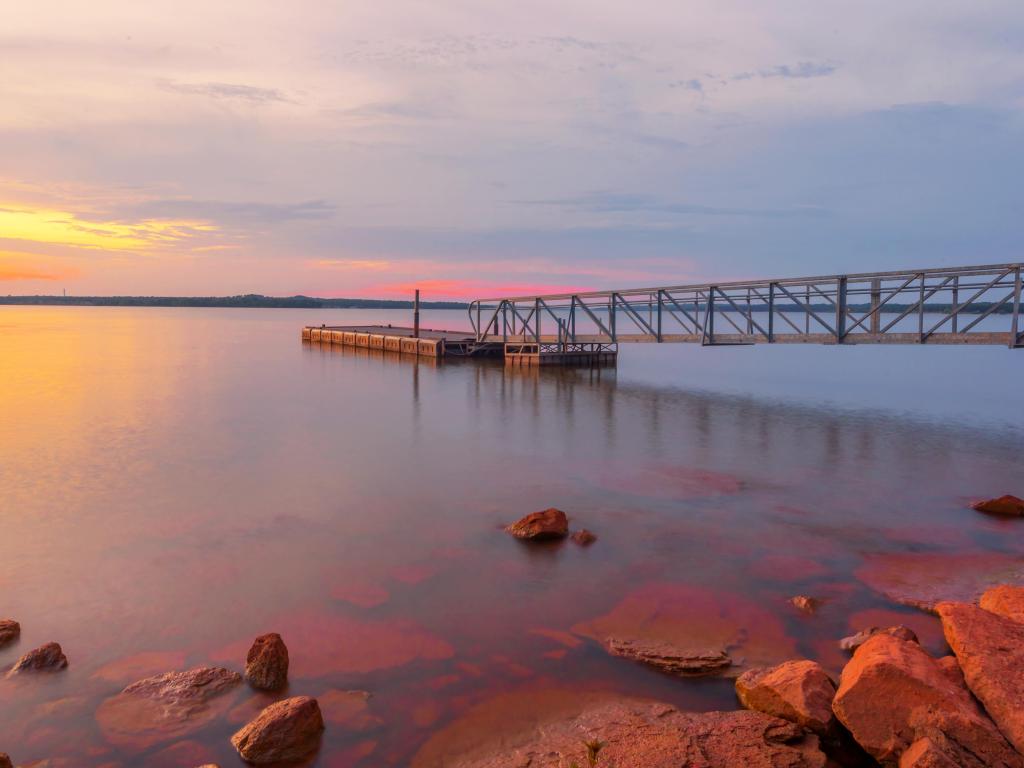 Carlsbad Caverns Route
Fort Worth Water Gardens - An urban park in downtown Fort Worth, Texas, featuring unique, modernist water-based sculptures and design, providing a refreshing oasis in the cityscape.
Modern Art Museum of Fort Worth - This museum, located in Fort Worth, Texas, is renowned for its collection of post-World War II art in various mediums, housed in a striking building designed by architect Tadao Ando.
Log Cabin Village - A living history museum in Fort Worth, Texas, offering a glimpse into 19th-century Texas life through restored log cabins and interactive educational exhibits.
Frontier Texas - A museum in Abilene, Texas, that brings the Old West to life with immersive exhibits, holographic displays, and historical artifacts, celebrating the pioneer spirit of the Texas frontier.
National WASP WWII Museum - Located in Sweetwater, Texas, this museum honors the Women Airforce Service Pilots of WWII, showcasing their contributions and stories through exhibits and memorabilia.
Salt Basin Dunes, Guadalupe Mountains National Park - These striking white gypsum dunes offer a unique landscape contrast within the Guadalupe Mountains of Texas, perfect for hiking and photography.
Ballroom Marfa - An art and culture space in Marfa, Texas, known for its contemporary art installations, exhibitions, and music performances, contributing to the town's artistic identity.
Fort Davis National Historic Site - This well-preserved military fort in Fort Davis, Texas, offers a glimpse into 19th-century frontier life, featuring historic buildings and live reenactments.
Ellen Noel Art Museum - Located in Odessa, Texas, this museum features rotating exhibitions of fine art, ranging from modern to historical works, alongside educational programs and community events.
Balmorhea State Park - In West Texas, this park is famous for its large spring-fed pool, offering a unique swimming experience amidst the desert landscape, along with opportunities for picnicking and wildlife viewing.
Rattlesnake Springs - A hidden gem near Carlsbad, New Mexico, this oasis-like area is known for its wildlife, particularly bird watching, amidst a backdrop of lush vegetation and tranquil waters.
International UFO Museum and Research Center - Situated in Roswell, New Mexico, this museum explores the 1947 UFO incident, with exhibits on extraterrestrial phenomena and the history of UFO sightings.
Clines Corners - A famous roadside stop in New Mexico, known for its large gift shop with a wide array of souvenirs, local crafts, and classic Americana memorabilia.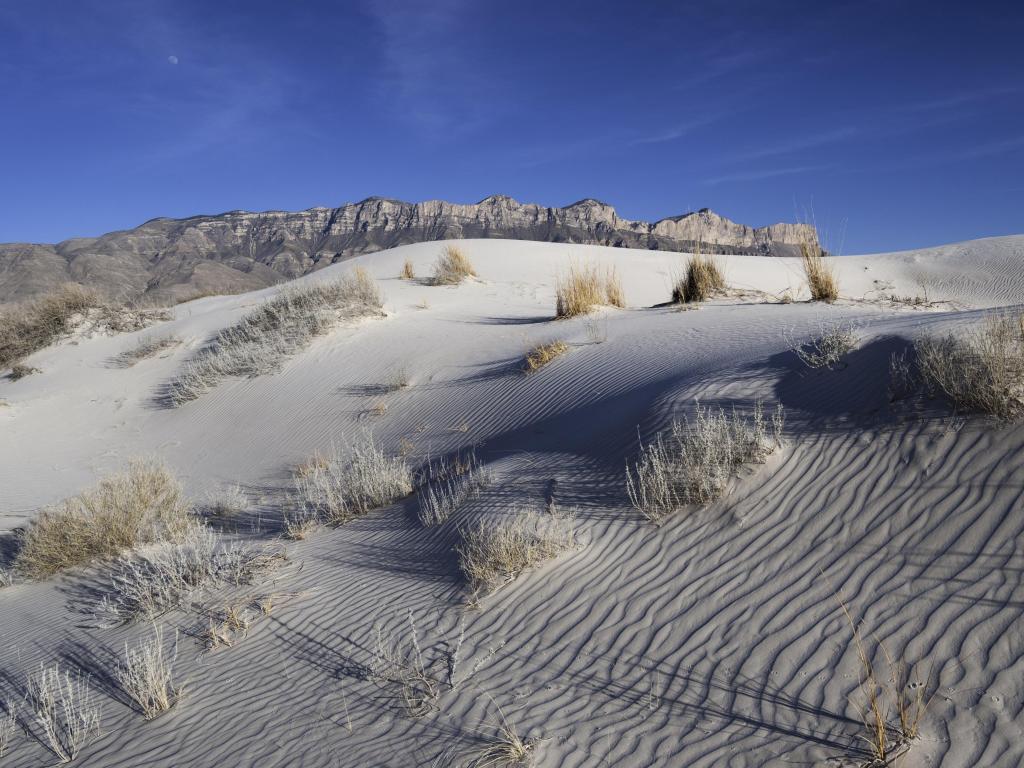 Best time to go on a road trip from Dallas to Santa Fe
Santa Fe is a wonderful destination, regardless of the season. However, the experience of your road trip from Dallas to Santa Fe, whether via the Oklahoma Route or the Carlsbad Route, can vary significantly depending on the time of year.
In winter, Santa Fe's temperatures can drop to around 30 degrees Fahrenheit or colder. It sometimes snows in this area and the surrounding mountains can be quite beautiful during this time.
This season, however, can bring challenges if you're taking the Oklahoma Route. Snow can close mountain roads and the highways around Texas' big cities become busier, especially during holidays and Friday evenings.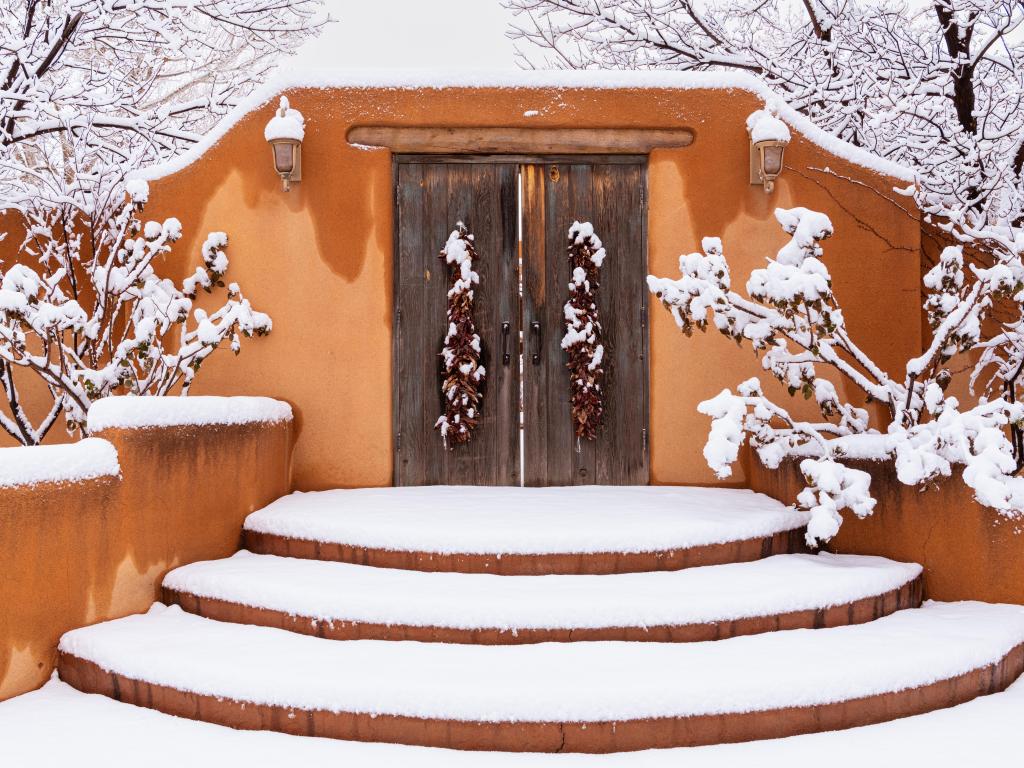 Come spring, Santa Fe has milder temperatures, averaging between 45 to 70 degrees Fahrenheit, ideal for exploring its art galleries and cultural sites. If you choose the Carlsbad Route, consider the Main Street Fort Worth Arts Festival in April.
During this season, the Carlsbad Route offers more pleasant weather for exploring Texas and New Mexico's natural beauty, avoiding the summer's heat. The Oklahoma Route also becomes less congested outside of major holidays.
Summer in Santa Fe can see temperatures rising to the high 80s Fahrenheit. While this is a popular time for tourists, the heat can be challenging, particularly along the Carlsbad Route.
On the Oklahoma Route, you will be able to enjoy several summer and early fall festivals if you time your trip right, such as the Amarillo Route 66 Celebration in June or the Oklahoma State Fair and the Marfa Lights Festival in September.
Upon reaching Santa Fe, the Fiestas de Santa Fe and the Santa Fe Indian Market, both in late summer and early fall, offer wonderful cultural experiences not to be missed.