Road Trip from Dallas to Tulsa, Oklahoma
Look no further than this relaxing yet enjoyable drive from Dallas, Texas, to Tulsa, Oklahoma, for a short weekend getaway in the southern USA. You can get a slice of urban, suburban, rural, and countryside landscapes with stunning natural backdrops.
The 390-mile road trip from Dallas to Tulsa, Oklahoma, takes around 6 hours to drive, visiting Wichita Falls, Red River, and Oklahoma City on the city route; or via Sulphur Springs, Paris, Hugo Lake State Park, and Broken Arrow, taking a direct route.
We have highlighted two distinct yet exciting routes for this fantastic road trip. Keep scrolling to learn more about different ways to get to Tulsa, things to see, our favorite stopovers, and the best time to take this trip.
How far is Tulsa, Oklahoma, from Dallas, and how long will the road trip take?
Comparison of road trip routes between Dallas and Tulsa, Oklahoma

| Route | Distance | Driving Time |
| --- | --- | --- |
| The Quick Route | 320 miles | 5 hours 30 minutes |
| The Oklahoma City Route | 390 miles | 6 hours |
The city-forward drive to Tulsa, Oklahoma, from Dallas via The Oklahoma City Route takes almost 6 hours to cover 390 miles without any stopovers.
For a direct trip through small-town America, you can take The Quick Route, covering 320 miles over 5 hours and 30 minutes of driving, not considering any food and gas breaks.
Although the distance is short and can be covered in a day, to experience all the little things the route offers leisurely, we recommend you take 2-3 days for this road trip.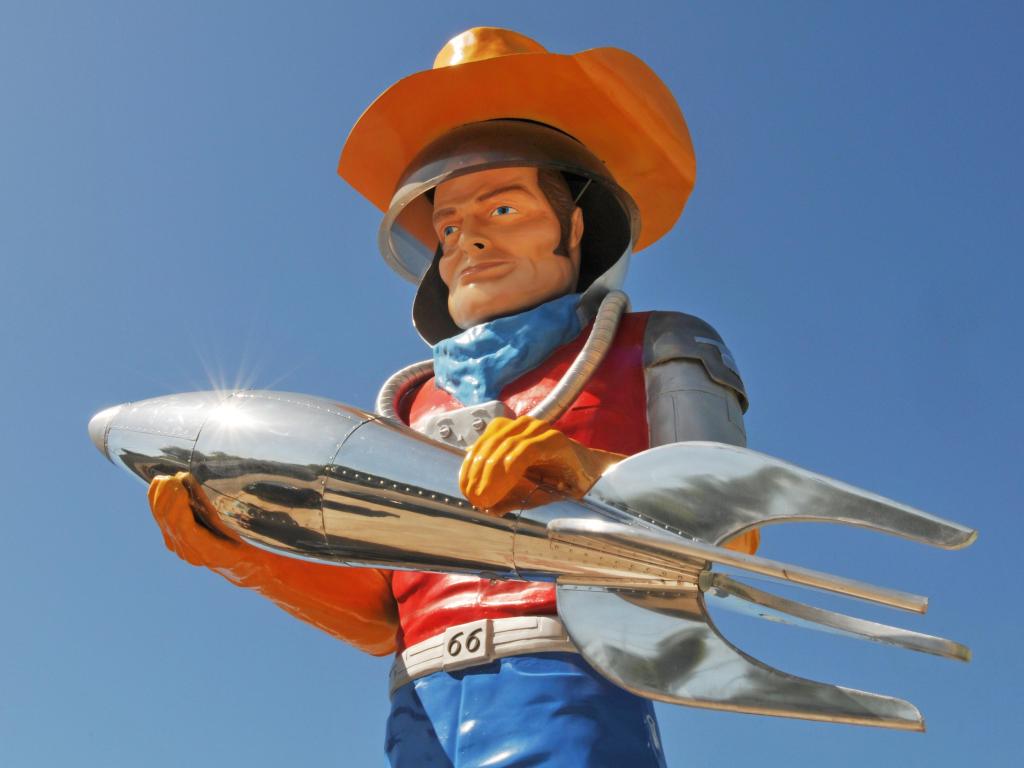 Best road trip route from Dallas to Tulsa, Oklahoma
The Oklahoma City Route takes you via good-quality city and suburban roads of the south. You can enjoy the city vibes of Oklahoma City and Tulsa with a few stopover points.
While the route is pretty straight and gets you to Tulsa efficiently, you can visit some scenic places like Wichita Mountains Wildlife Refuge along the way.
You can take The Quick Route to Tulsa for a faster and more authentic peek into Texas and Oklahoma. While there may not be any significant historical landmarks or tourist attractions along this route, it offers a chance to experience the charm and slower pace of life in small-town America.
You'll experience quaint countryside landscapes of rolling hills, farms, and fields, which can be particularly beautiful during spring and summer.
The Oklahoma City Route
Head west by taking TX-183 from Dallas to Melody Hills, then head north on US-287. The road will take you directly to Wichita Falls, and you'll notice the beautiful lakes and mountains.
After a quick coffee break, head north on I-44. Cross the Red River and enter Oklahoma. Known for its rugged landscapes, you can detour the Wichita Mountains Wildlife Refuge.
Visit the vibrant towns of Chickasha and Norman before reaching Oklahoma City. After exploring the heartland of the region, continue driving northeast on I-44.
Passing the rustic countryside, small towns, and beautiful architecture, you'll reach your destination, Tulsa.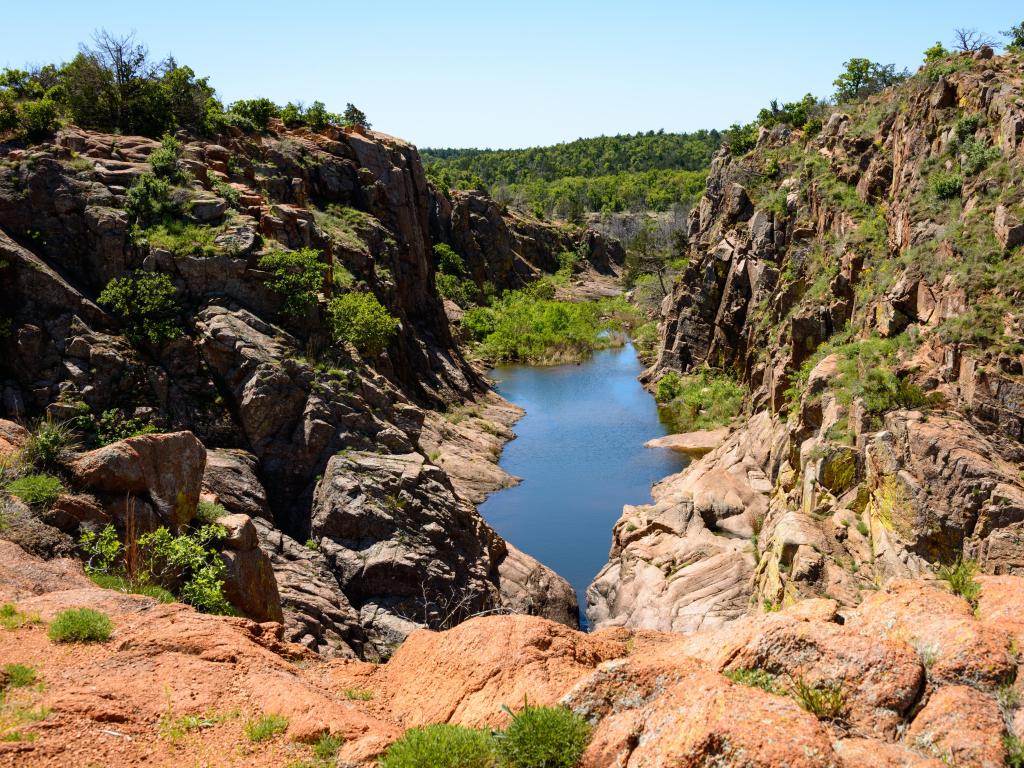 The Quick Route
For a faster trip to Tulsa, take I-30 and head East. Leave urban Texas and pass the beautiful Lake Hubbard, Lake Tawakoni, and the beautiful parks before reaching Greenville.
From Greenville, continue northeast till you reach the quaint Sulphur Springs. Take TX-154 north, passing the pristine Jim Chapman Lake. Then merge into TX-19/24 all the way to Paris.
Following US-271 out of Paris, cross into Oklahoma and hop onto OK-375. Admire the pastures and the stunning scenery and pass through many small towns before continuing on US-75.
After a slight detour to Broken Arrow, take OK-51 to reach Tulsa.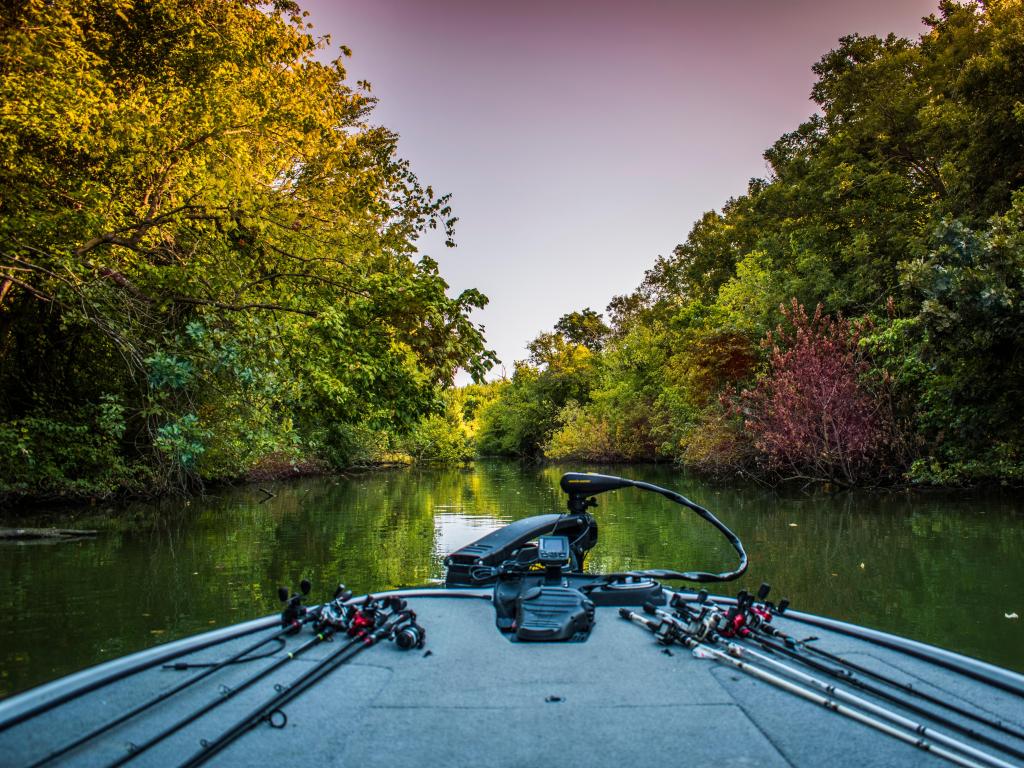 Best places to stop between Dallas and Tulsa, Oklahoma
Whichever route you take, you can easily drive to Tulsa non-stop. But to fully experience the heart of Texas and Oklahoma, you can spend a night or two at our favorite hotels in some of the most happening cities en route.
Spend a night in the vibrant Oklahoma City
After driving two-thirds of the distance on the Oklahoma City Route, you'll reach this lively city. Loaded with notable attractions, fantastic restaurants, and lots of outdoor things to do, it is the natural stopover on this route.
Oklahoma City is Oklahoma state's capital city and is known for its western heritage and rich history. When visiting, you can spend time at the National Cowboy & Western Heritage Museum, which features exhibits on the history of the American West.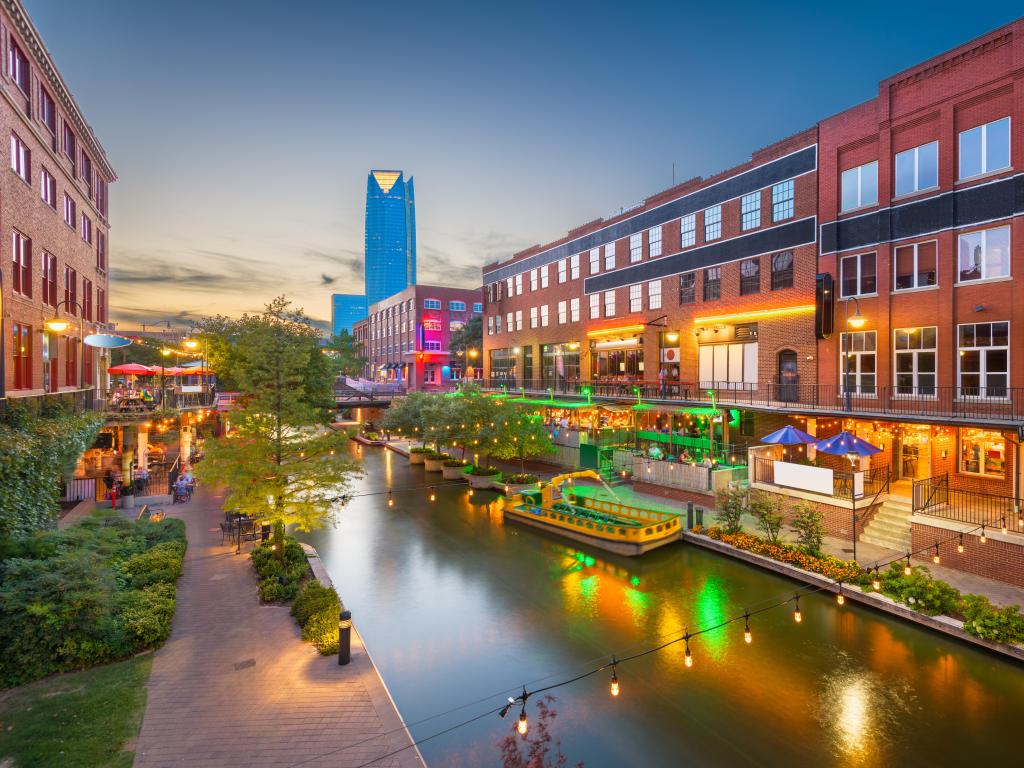 To experience the nightlife in Oklahoma, head to the Bricktown entertainment district for good food, drinks, and shopping. If you love a fun and lively atmosphere like me, you'll love the vibe of this place.
For a peaceful and scenic escape from the hustle and bustle of the city, you can stroll the beautiful Myriad Botanical Gardens. It has various attractions, including the children's garden and a splash fountain.
Our vote goes to the Ambassador Hotel Oklahoma City for a luxurious and comfortable stay in Oklahoma. Located in the heart of downtown, it is close to many attractions like the Chesapeake Energy Arena, the Myriad Botanical Gardens, and the Oklahoma City National Memorial & Museum.
After a long day of driving, you can take a relaxing swim at their indoor pool or unwind in the state-of-the-art spa.
Also, the hotel is located just off Interstate 40, making it a convenient and accessible option for those continuing their road trip the following day.
Experience the small-town vibe at Paris, Texas
About halfway on The Quick Route, you'll encounter the charming historic city of Paris, Texas. You'll particularly be drawn to its historic architecture and the unique shopping and dining options.
What is Paris without an Eiffel Tower? Well, you can visit its beautiful 65-foot-tall replica in this city. What's even more interesting is that this Eiffel tower comes with an iconic red cowboy hat.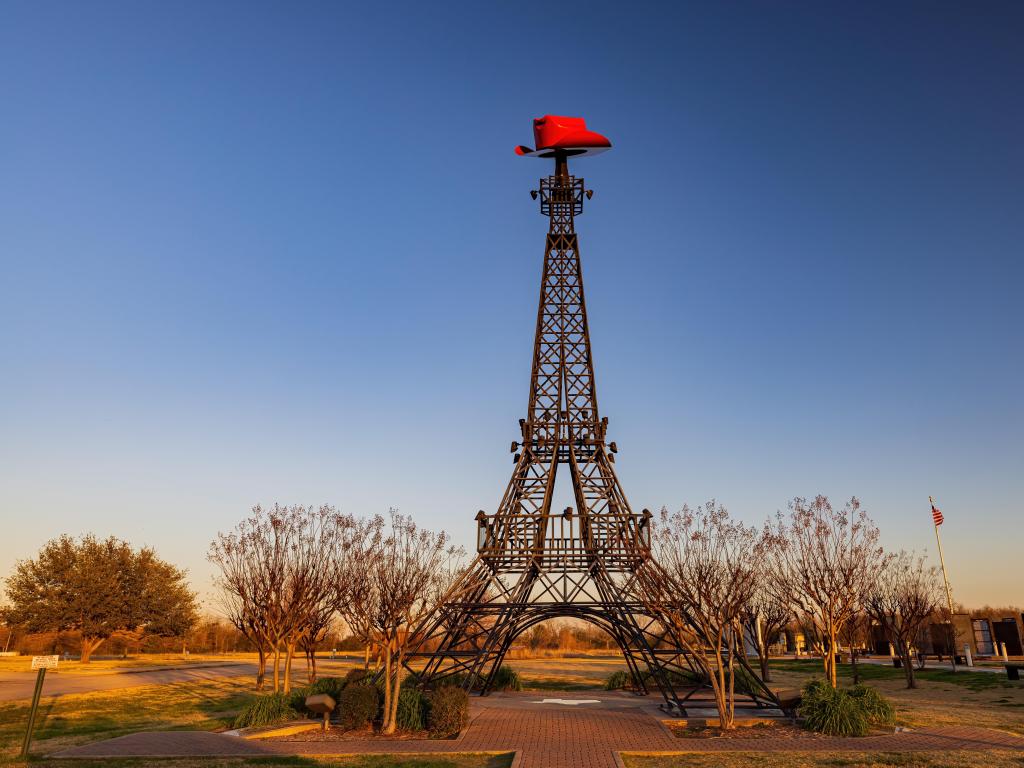 To learn more about the local history, head to The Lamar County Historical Museum, showcasing the history of Paris, Texas, and the surrounding area. It may interest you that the museum is in a historic building that was once a post office, courthouse, and jail.
If you love the outdoors and engaging in physical activity, you can hike the Trail de Paris. The trail goes for 16 miles and runs through the city, parks, forests, and the historic downtown area, offering a scenic and relaxing experience.
For comfortable and convenient accommodation in Paris, Texas, we recommend the Hampton Inn Paris. After a day of excursion, refuel your energy by taking advantage of all the hotel's many amenities, including free on-site parking.
The hotel boasts a well-equipped fitness center, and you can relax in their outdoor pool and hot tub. Start your next day with fresh energy and the hotel's delicious complimentary breakfast.
When ready to hit the road, hop on US Highway 82 effortlessly. Also, you can access most nearby attractions easily from this property.
Where to stay when you reach Tulsa, Oklahoma
Once you reach Tulsa, we suggest you check in at the Ambassador Hotel Tulsa, Autograph Collection, for a convenient and hassle-free stay.
The hotel is centrally located, and you can access many of the city's top attractions, such as the BOK Center and the Tulsa Performing Arts Center, with utmost ease. What we love about this hotel is its complimentary shuttle service to downtown destinations.
In the Ambassador Hotel, Tulsa, you can expect luxurious rooms and suites, a fitness center, and an indoor pool. You can enjoy meals and drinks at their on-site restaurant and bar if you love staying in for dinner.
Things to see on a road trip from Dallas to Tulsa, Oklahoma
Whether you take the short and scenic route or the urban and slightly longer route, we promise you'll have many indoor and outdoor attractions to explore.
To help you prioritize your itinerary, we have shortlisted a few fantastic things to see and do on the way.
The Oklahoma City Route
The Texas-Oklahoma border – As you cross the border, take a moment to appreciate the drastic contrast between the geography and culture of the two states.
Lake Wichita Park in Wichita Falls, Texas – A beautiful park that offers scenic views of the lake, walking trails, picnic areas, and playgrounds.
National Cowboy & Western Heritage Museum, Oklahoma City – A fascinating museum that chronicles the American West, with exhibits highlighting cowboys, Native Americans, rodeos, and more.
Oklahoma City National Memorial & Museum – This memorial and museum featuring an outdoor memorial, an interactive museum, and a reflection pool is dedicated to the people who lost their lives in the 1995 Oklahoma City bombing.
Oklahoma State Capitol – An impressive building with a beautiful dome, this Capitol offers guided tours and houses important government offices.
The American Banjo Museum in Oklahoma City – For a unique experience showcasing the history and evolution of the banjo, visit this museum featuring exhibits, performances, and educational programs.
Route 66 Museum in Clinton, Oklahoma – A fun museum that highlights the history and culture of the famous Route 66, featuring vintage cars, memorabilia, and interactive exhibits.
The Cherokee Nation Welcome Center in Tulsa – This welcome center is a great place to learn about the culture, history, and traditions of the Cherokee Nation, with plenty of interesting exhibits, artwork, and a gift shop.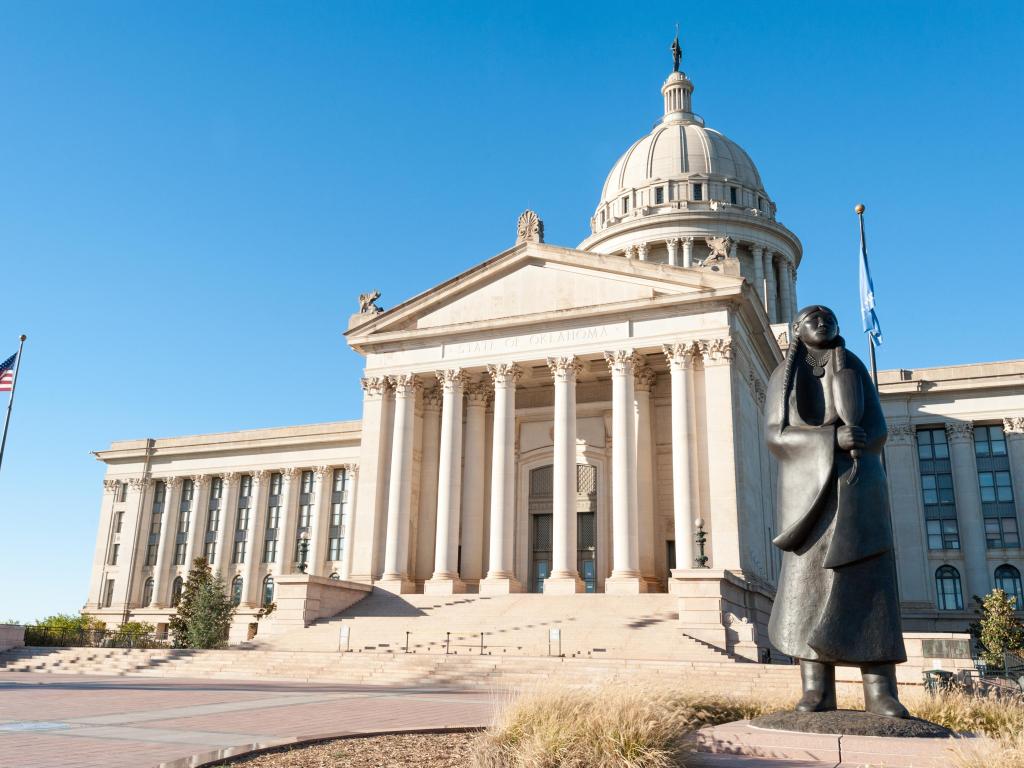 The Quick Route
Coleman Park, Sulphur Springs – A beautiful park with scenic trails, picnic areas, and playgrounds, perfect for a quick stop and stretch.
Southwest Dairy Farmers, Sulphur Springs – This interactive and educational dairy farm offers tours to understand how the farm operates and learn about the milk production process.
Lamar County Historical Museum, Paris – A museum for history buffs, you can enjoy the exhibits and artifacts showcasing the rich history of Paris and the surrounding area.
Eiffel Tower, Paris – A 65-foot replica of the famous Eiffel Tower in Paris, France, a unique landmark and popular photo spot.
Blue Whale of Catoosa, Catoosa – This 70-foot blue whale structure is a great roadside attraction to stop and take pictures.
Tulsa Air and Space Museum, Tulsa – A fun visit for all age groups, you can learn about aviation and the history of space exploration with interactive exhibits and educational programs.
Philbrook Museum of Art, Tulsa – Set up in a beautiful 1920s Italian Renaissance villa, this museum houses an extensive American, European, and contemporary art collection.
Woodward Park, Tulsa – For a relaxing break along the way, visit this large tranquil park with beautifully landscaped gardens, a greenhouse, and a pond.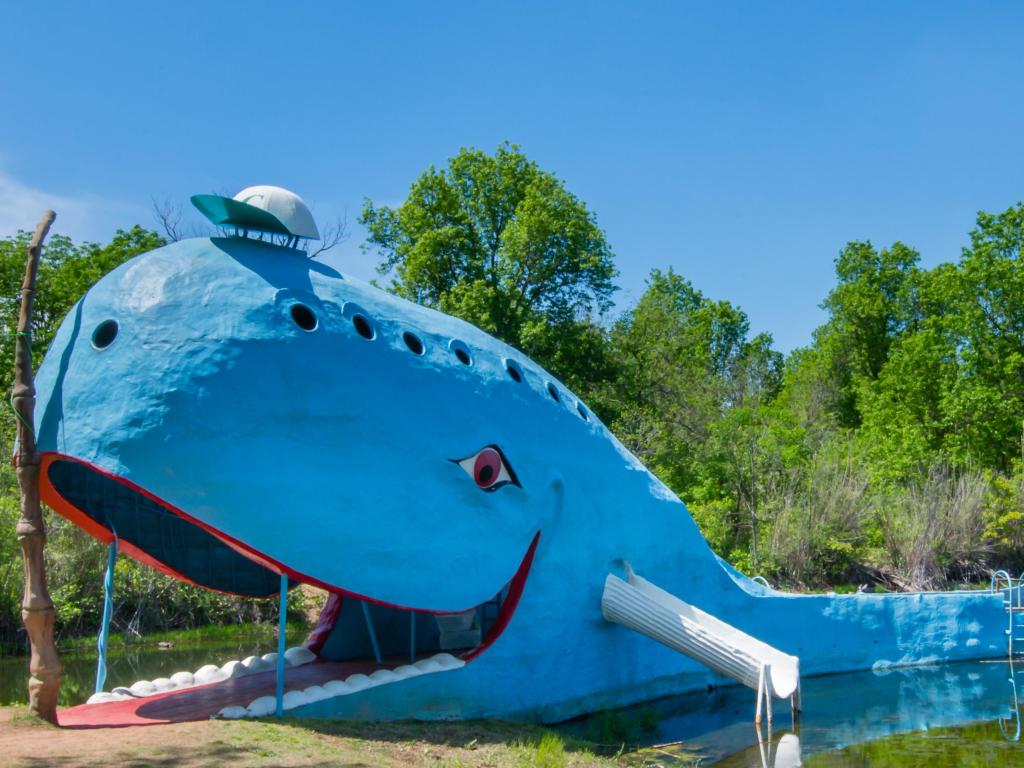 Best time to go on a road trip from Dallas to Tulsa, Oklahoma
You can consider Tulsa a year-round destination, but the weather can vary greatly depending on the season. Most attractions in Tulsa are indoors, including museums, theaters, and shopping malls, so that they can be enjoyed in any weather.
However, many outdoor attractions, such as parks and gardens, maybe more enjoyable during the milder seasons.
Tulsa can get hot and humid during the summer, with temperatures typically ranging from the high 80s to mid-90s Fahrenheit. Overall, because there are plenty of indoor and outdoor things to see, summer is a popular time to visit Tulsa, but it is crucial to be prepared for the heat and plan accordingly.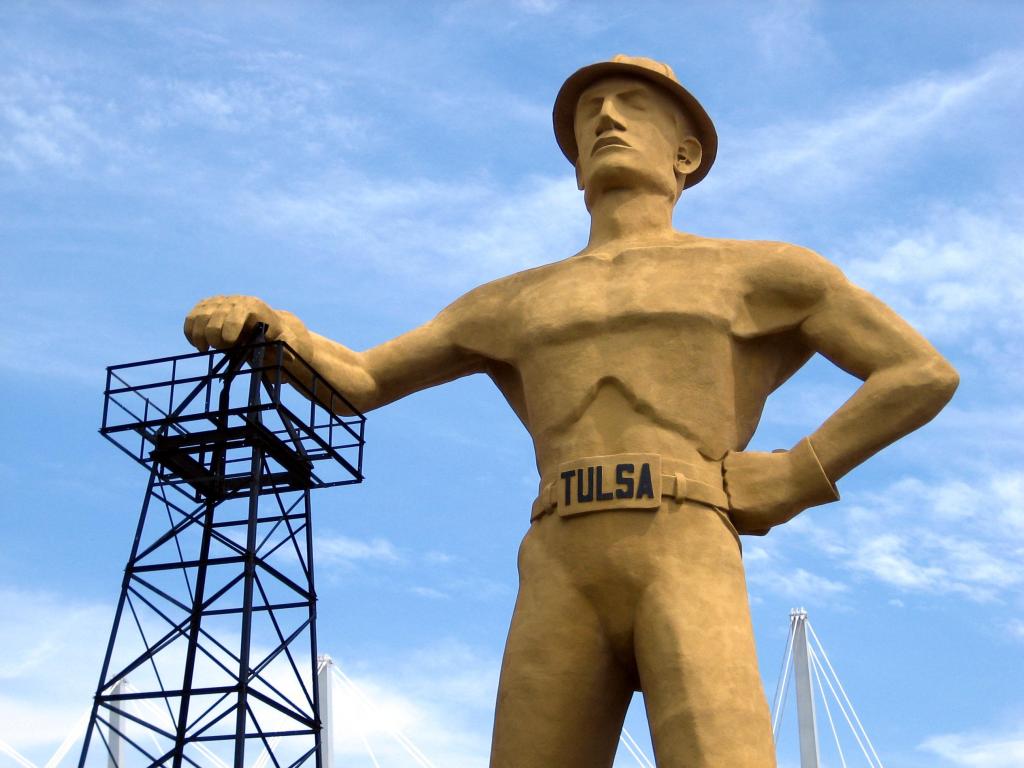 Tulsa can get quite cold and occasionally experiences snow and ice during winter. While you can enjoy the area's many winter festivities and holiday events during winter, you can expect road closures due to inclement weather. So, watching out for the weather forecast and road conditions if traveling by car is essential.
Spring and fall are mild and pleasant, and temperatures range from the 50s to 70s Fahrenheit. Springtime brings blooming flowers and greenery, while the fall offers stunning foliage colors. Prices for hotels and attractions may vary during these seasons, but they are more affordable than the peak summer season.
If planning a trip to this lively city, you can keep a tab on different events and festivals during the year. May brings the Mayfest, an annual festival to enjoy various artists, craftspeople, and musicians. If you're a cycling enthusiast, you might appreciate Tulsa Tough, the three-day cycling festival in early June.