Road Trip from Flagstaff to Grand Canyon
The short but impossibly beautiful road trip from Flagstaff to the Grand Canyon offers incredibly scenic views through striking canyons, mesmerizing monuments and wonderful landscapes as you drive through Arizona to one of the most iconic natural formations in the US.
The 300-mile road trip from Flagstaff to the Grand Canyon will take you under 6 hours to drive. Key stops include Page, Citadel Pueblo, Antelope Canyon and Vermilion Cliffs National Monument, as well as Horseshoe Bend and Kaibab National Forest.
To help you make the most of this scenic drive, we've set out the best route, the places you can stop overnight, our favorite things to do and the best time of year to make the trip from Flagstaff to the Grand Canyon.
How far is Grand Canyon from Flagstaff, and how long will the road trip take?
The quickest route from Flagstaff to the Grand Canyon takes just 1 hour and 30 minutes to drive and spans a distance of 80 miles. Although direct, it doesn't offer much in terms of great scenery along the way, therefore we wouldn't recommend following this one.
A much more scenic and interesting option will instead take you north, covering a distance of 300 miles and taking 5 hours and 35 minutes to drive without stopping.
You can of course drive to the Grand Canyon in a single day, but we would recommend stretching it over several days to include one overnight stop along the way. This way you can take the route slower and stop as many times as you like to really enjoy the spectacular views.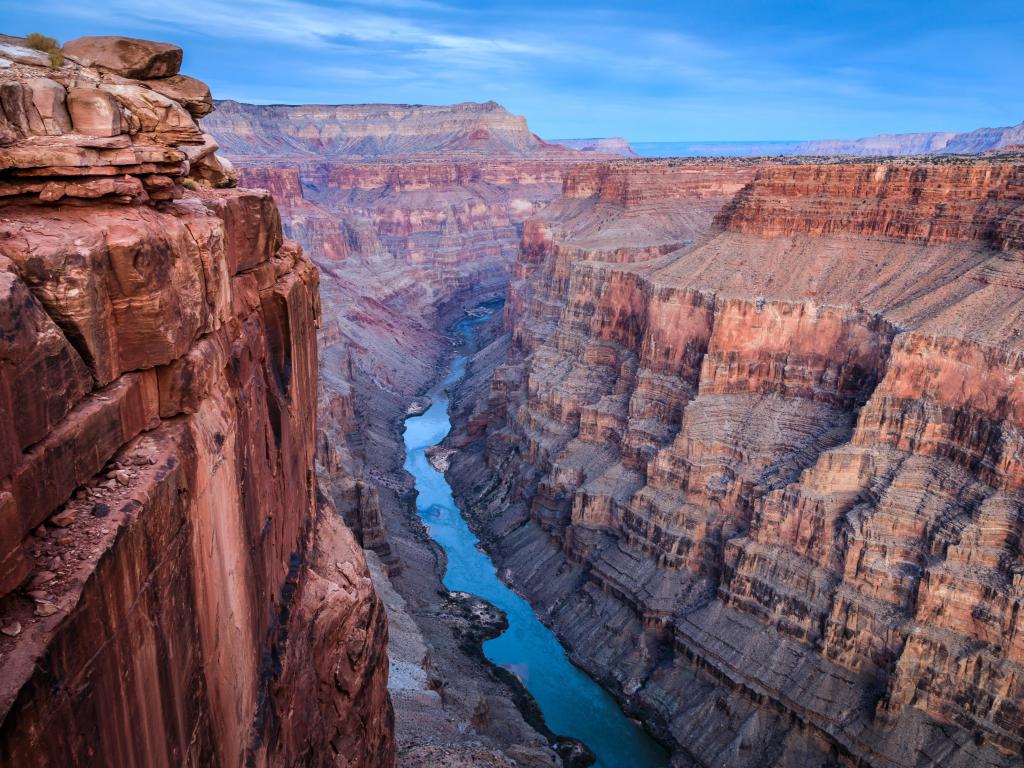 Best road trip route from Flagstaff to Grand Canyon
There are a few different ways to tackle the trip between Flagstaff and the Grand Canyon. The one we recommend will take you to the North Rim of the canyon, passing by Wupatki Spirit Totem and Page along the way.
If you prefer to head to the South Rim instead, you could include a stop-off at Kaibab National Forest, but otherwise, the alternative option doesn't give much in terms of views or places to stay along the way.
If you really wanted to include a visit to the South Rim and enjoy some of the festivals held in that part of the Grand Canyon, then you could always follow the alternative route on the return leg to Flagstaff.
Road trip route from Flagstaff to Grand Canyon
Begin your trip by leaving Flagstaff on Route 66 heading east, before continuing north on US-89 through Doney Park. After a few miles you'll reach Wupatki Spirit Totem where you can visit Wupatki National Monument.
Take a right turn on US-89 to make a stop at Citadel Pueblo, before continuing to head north past Gray Mountain. When you reach Cameron, turn left onto AZ-64 east to Little Colorado River Gorge Overlook. You could also take a short detour onwards to explore Kaibab National Forest.
Otherwise, rejoin US-89 and continue north as far as US-160 which you can follow east to Navajo Moenave Dinosaur Tracks, a fascinating stop taking you back in time to the dinosaur age.
Rejoin US-89 and pass Willow Springs. Turn right onto Coppermine Road and continue onto Indian Route 20, before turning right onto AZ-98 east. This short detour will take you to the impressive Antelope Canyon where you can explore the Navajo Reservation.
Retrace your steps back to Page, a great point for an overnight rest, before heading south on US-89 and then changing to US-89A North to Marble Canyon. You can take a short detour here to visit Vermilion Cliffs National Monument before rejoining US-89A and continuing south.
Turn left onto AZ-67 which you will then follow the remainder of your journey to your destination at the North Rim of the Grand Canyon.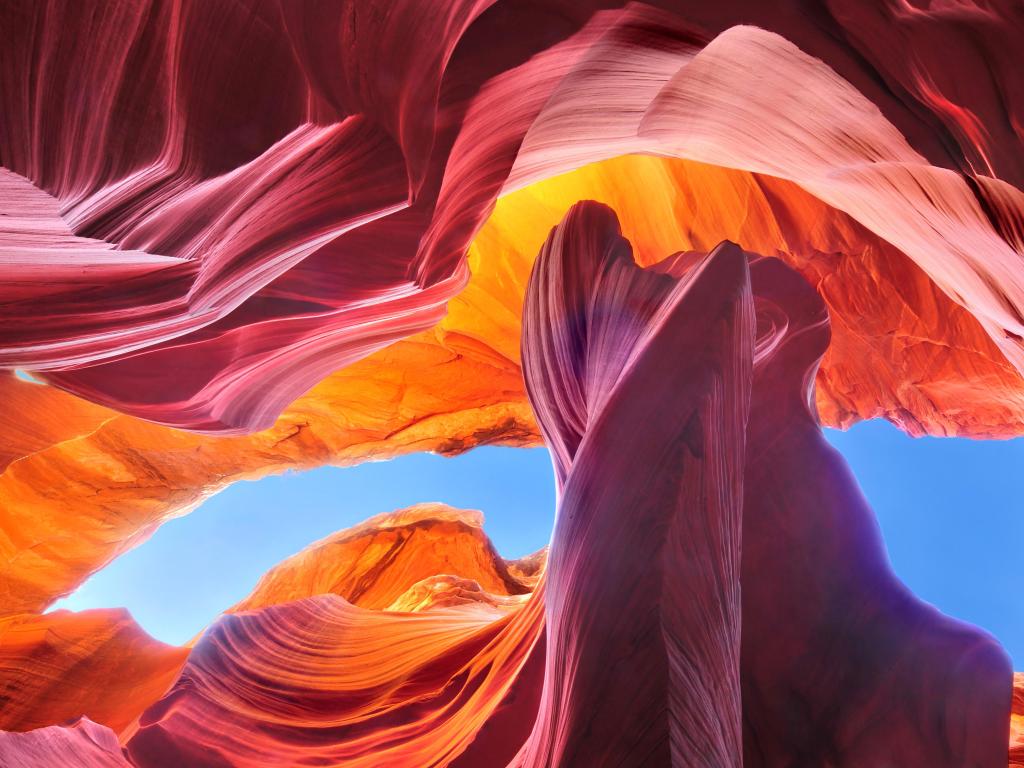 Best places to stop between Flagstaff and Grand Canyon
This trip is short and you could complete it in a single day, however, to really get the most of the stunning attractions you'll pass en route between Flagstaff and the Grand Canyon, we'd recommend at least one overnight stop.
There are a couple of options for places you can stay at, but of all the great hotels you'll pass, here are the ones you'll want to keep an eye out for:
Stop at the gateway to the canyon at Flagstaff
As this stunning but short trip to the Grand Canyon doesn't cover a huge distance, a good option before you embark on it would be an overnight stop at its origin, the city of Flagstaff.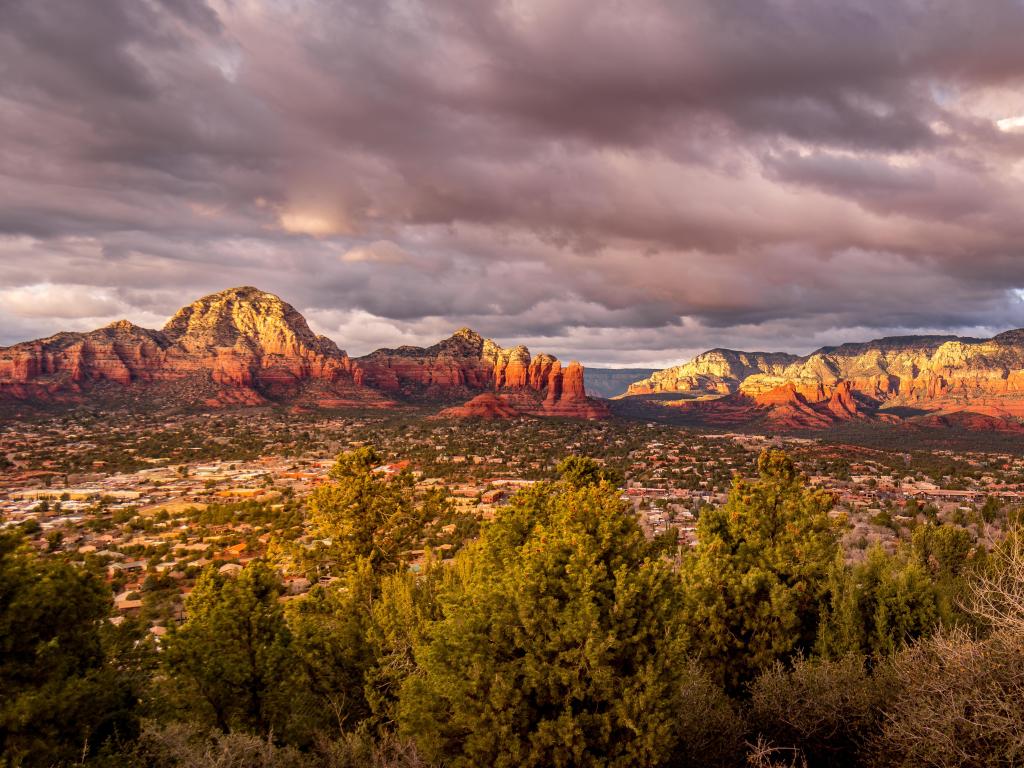 Known as the gateway to the Grand Canyon, this city had lots to offer in terms of attractions. Discover Walnut Canyon National Monument, just 10 miles south of Flagstaff and boasting hiking trails and scenic views, or Coconino National Forest with its distinguished red rocks.
If you don't want to travel too far, Flagstaff itself has plenty of amenities, restaurants, shops and places to visit, including Lowell Observatory which operates telescopes in three locations throughout the Flagstaff area.
To get the most out of your visit, we'd recommend stopping at Little America Hotel Flagstaff. This 4-star hotel is located on 500 acres of Ponderosa Pine Forest and offers a fabulous outdoor pool where you can relax after a long day in the Canyon.
The hotel also has an onsite restaurant and bar offering lunch and dinner, which is a great convenience in a small town like Flagstaff. When you set off for your journey, it'll be a tiring but rewarding one. So why not relax and get a great night's sleep the night before?
Lake views at Page, Arizona
About two-thirds into your journey to the Grand Canyon, the town of Page makes a great alternative overnight stop. Located in Northeastern Arizona, Page is known for being an excellent base camp for exploring the nearby outdoor attractions, including Lake Powell.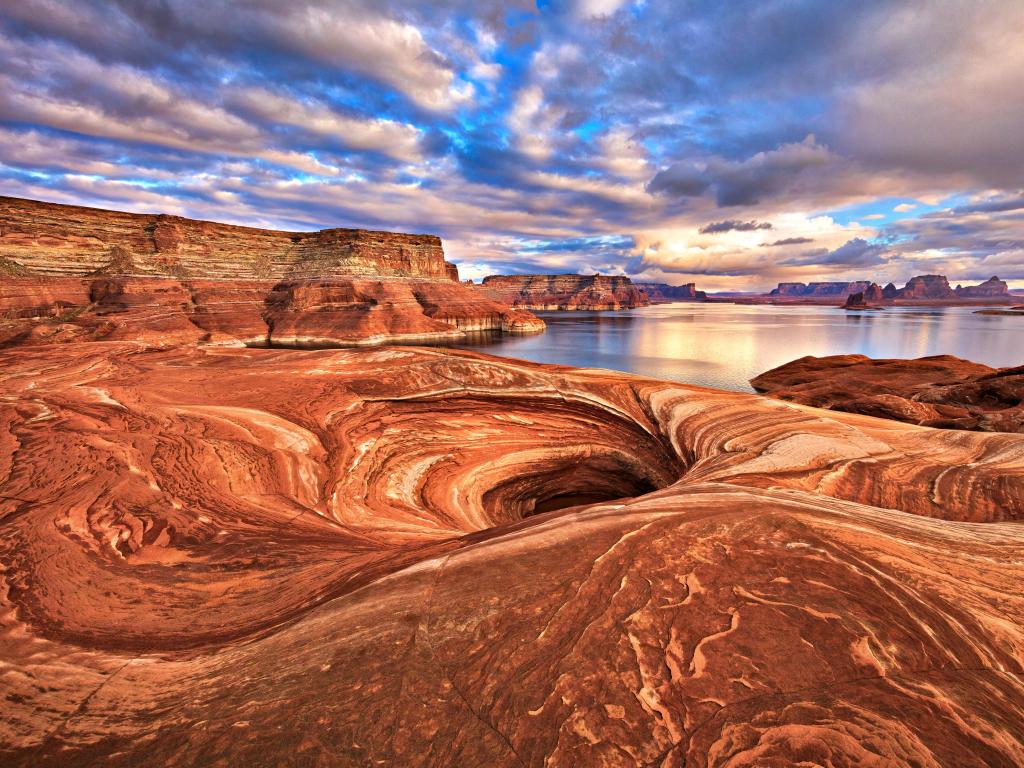 For those looking for accommodation with a few more amenities, a great option is the Best Western View of Lake Powell Hotel. This beautiful hotel is surrounded by incredible views of the Glen Canyon Rim and has an outdoor pool and hot tub available!
The hotel is perfectly placed for some relaxation after you've had a long day outdoors or before you set off for one the following day. It's also within a 10-minute drive to Antelope Marina, Antelope Canyon, and Horseshoe Bend.
With modern and comfortable rooms, free parking and a stunning lounge area to enjoy the beautiful setting, this really is a great resort to make the most of an overnight stop.
Things to see on a road trip from Flagstaff to Grand Canyon
The exciting drive between Flagstaff and the Grand Canyon offers some amazing views and attractions along the way. If you are restricted in time, here are some of the best bits you'll encounter.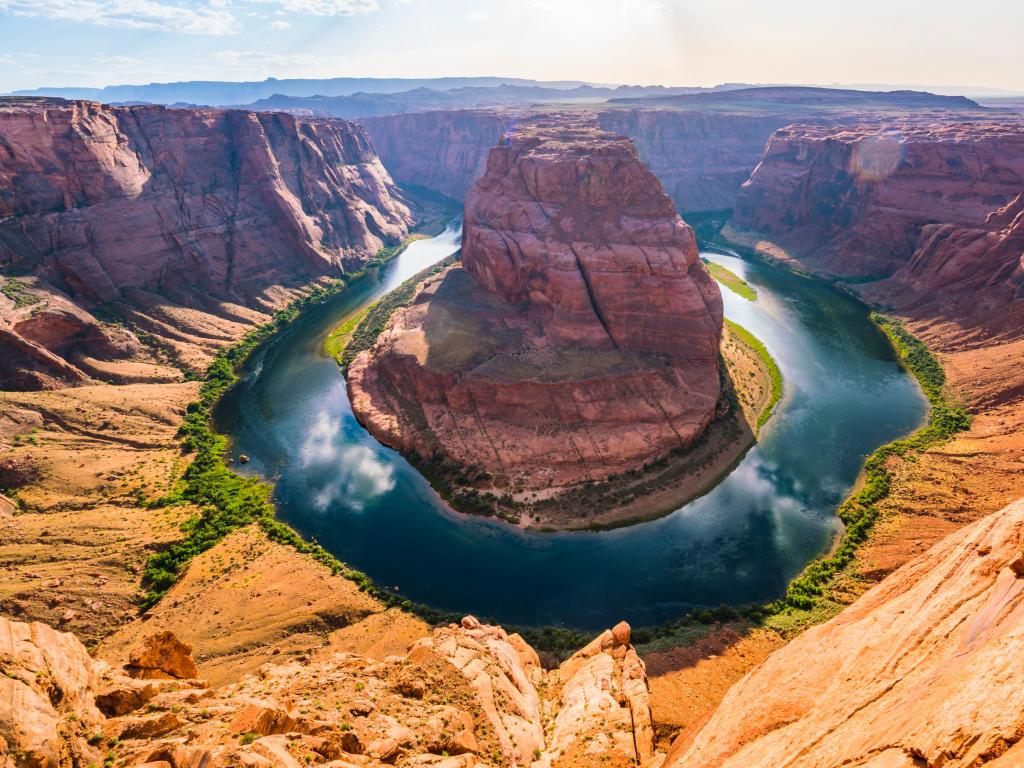 Wupatki Spirit Totem - At the edge of the Navajo lands sits a totem from which no one seems to know where it came. Wupatki National Monument (closed at the time of this article's publishing) sits just east of it. Tourists typically leave gifts and tokens in the totems.
Citadel Pueblo - Sitting on top of a cinder hill in northern Arizona is a citadel built with sandstone and volcanic rocks, specifically basalt. There are hundreds of smaller structures surrounding the citadel.
Little Colorado River Gorge Overlook - This scenic view is a great stop for photos, especially when the water level is high. We might just coin this the 'Mini-Grand Canyon'.
Navajo Moenave Dinosaur Tracks - This is one of the most well-preserved and extensive collections of dinosaur footprints in North America. They formed about 200 million years ago and have been verified by palaeontologists. You can witness them firsthand!
Antelope Canyon - This unique slot canyon contains five separate sections on the Navajo Reservation. Antelope Canyon gets around four million visitors each year, photographing its unique beauty.
Horseshoe Bend - Although dubbed the "east rim of the Grand Canyon" Horseshoe Bend is not actually a part of the park. This is a must-see stop along the way when visiting the North Rim. It's a horseshoe-shaped bend in the Colorado River with a scenic overlook for photos.
Vermilion Cliffs National Monument - Immediately south of the Utah-Arizona state line sits this over 280,000-acre monument. It offers great hiking trails and spectacular views.
The South Rim
Kaibab National Forest - This 1.6-million-acre forest borders both the North and South Rims of the Grand Canyon. It's divided into three major sections and offers 300+ miles of trails, plus boating, camping, and fishing.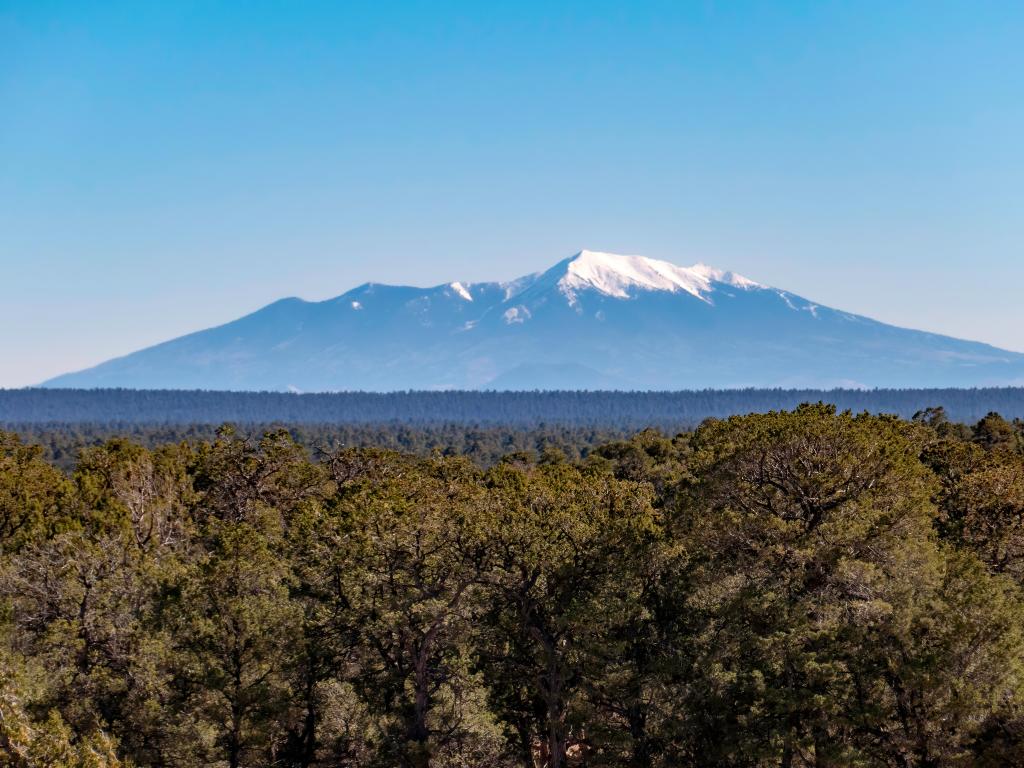 Best time to go on a road trip from Flagstaff to Grand Canyon
While the South Rim of the park is open year-round, the North Rim is more remote and is only open from 15 May - 15 October. You may not be able to see some of the popular spots of the Grand Canyon unless you visit at the right time, but this area is exceptional no matter what.
While summer is often a popular time for road trips, you will find that temperatures during the summer will reach over 80 degrees Fahrenheit, while the bottom of the Canyon can reach over 100 degrees Fahrenheit.
It is crucial to make sure you're well-prepared if you plan to hike into the canyon during the summer. Instead, a better option might be to wait for cooler weather since there are no facilities within the Canyon.
In comparison, winter will see temperatures in the canyon between 20 and 40 degrees. That said, you won't experience much rain and you may even see snow, plus prices will be at their cheapest. Just remember that the North Rim is not accessible during this time.
A great middle ground would be spring, which is one of the best times to visit the Grand Canyon because the weather during the day ranges from 55-65 degrees - ideal for hiking and exploring. Equally, fall is a great option with temperatures from the mid-40s to the high 70s.
If you're hoping to catch an event or two, you'll need to head to the South Rim where there are plenty of festivals to enjoy including the Grand Canyon Star Party over the summer or its Music Festival held in August and September, to name just a few.