Road Trip from Dallas to San Francisco
A road trip from Dallas to San Francisco is certainly not one for the faint of heart. You will cover many miles on this monumental road trip and pass through some fantastic cities, gorgeous national forests and some of the most iconic national parks in the world.
The 1805-mile road trip from Dallas to San Francisco takes 27 hours to complete, passing through Amarillo, Albuquerque, Flagstaff and Fresno, as well as Coconino National Forest, Mojave National Preserve, Grand Canyon and Yosemite National Parks.
This is a journey of gargantuan proportions that you will never forget. Read on to learn more about where to visit, the best route, where to stay, and when to go.
How far Is San Francisco from Dallas and how long will the road trip take?
Comparison of road trip route options between Dallas and San Francisco
Route
Distance
Driving Time
Northern Route


via Las Vegas

1,805 miles
27 hours
Southern Route


via Los Angeles

1,820 miles
27 hours
A road trip from Dallas to San Francisco is definitely an impressive adventure to embark on as the route covers 1,805-miles and will take about 27 hours of nonstop driving without accounting for any detours or mandatory stops.
Considering the length of the trip, it's most definitely going to need breaking up into smaller parts, with 5 days being the bare minimum length to complete it.
There is another route which will take you a similar time to complete, passing through the Southern cities of El Paso, Tucson, Phoenix Palm Springs, and the fabulous Los Angeles. On this 1,820-mile route, you will drive through stunning scenery through deserts, mountains and rivers.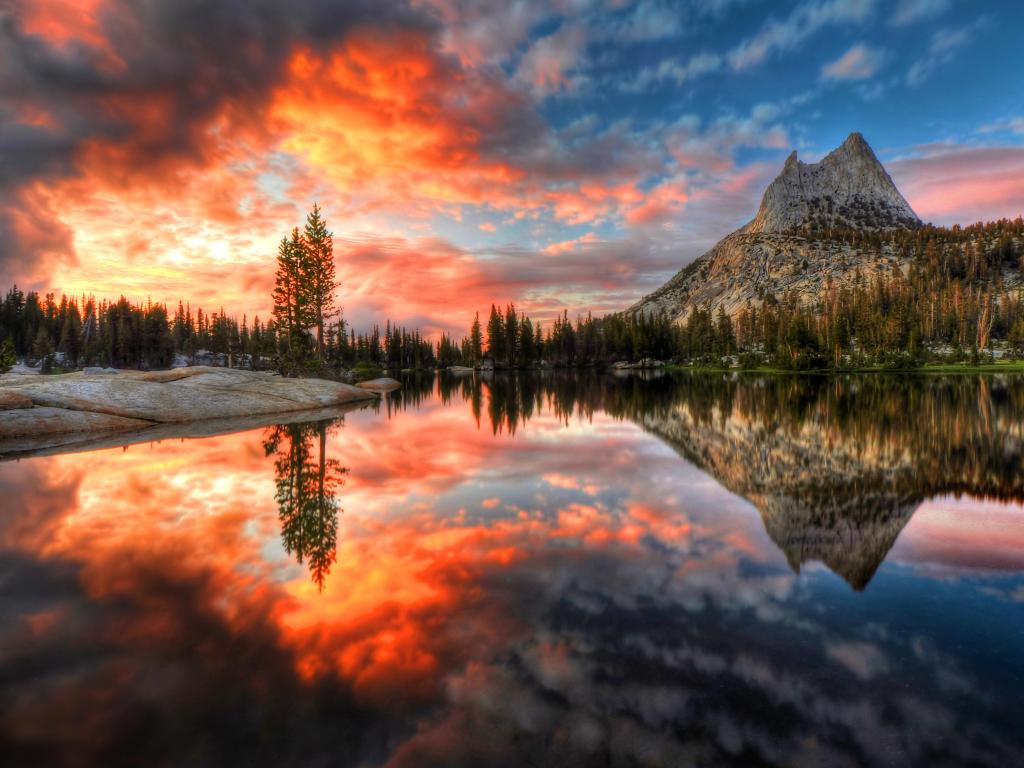 Best road trip route from Dallas to San Francisco
The best route from Dallas to San Francisco will depend on what you would like to see along the way and where you'd like to stop, as both of our recommended routes feature some of the most exciting attractions and fantastic cities to explore.
The Northern Route mostly follows interstates through Texas, New Mexico, Arizona, Nevada and finally into California, which means you are in for a straightforward and smooth trip. This route will also take you through the iconic city of Las Vegas.
Alternatively, you will have a chance to explore the multicultural heritage of the US near the Mexican border and some of the most impressive desert scenery if you follow the Southern Route, which also takes place on interstates and through Los Angeles.
How to drive from Dallas to San Francisco
The map above shows our suggestions for the best road trip routes between Dallas and San Francisco. Keep reading for detailed descriptions of both routes, where to stay on either, and the best things to do on the way.
Northern Route
Begin by heading west on TX-183 until you reach Melody Hills, where you'll take Interstate 35 (I-35) W north before quickly changing again to US-287 going northwest.
The next section of the journey is incredibly long, but equally as straightforward, as you'll stay on the current road for 333 miles, before switching to Interstate 40 (I-40) at Amarillo and continuing west for another 640 miles.
Drive through Albuquerque, Petrified Forest National Park and Flagstaff. You will have an option to make a detour to the Grand Canyon here by following US-180. If not, continue past Flagstaff on the interstate.
Once you reach the town of Kingman, Arizona, take US-93 north and continue following it after it becomes Interstate 11 (I-11) past Lake Mead and then Interstate 515 (I-515) until you reach Las Vegas, Nevada.
Upon leaving the city you need to take Interstate 15 (I-15) southwest to Barstow, before taking Exit 179 for CA-58. Take this all the way to Bakersfield then switch to CA-99 by taking Exit 110B and follow it through Fresno and Modesto for 220 miles.
When you reach the town of Manteca, you can take CA-120 to make a much-worthy detour to Yosemite National Park.
Otherwise, take CA-120 west a short way, until it merges with Interstate 5 (I-5), and then quickly change again onto Interstate 205 (I-205) by taking Exit 458B. Follow this until it merges with Interstate 580 (I-580), just south of Mountain House.
Follow this all the way to McLaughlin Eastshore State Park in downtown Oakland, where you'll make one final change onto the Interstate 80 (I-80) to cross the San Francisco-Oakland Bay Bridge and arrive at your destination in San Francisco.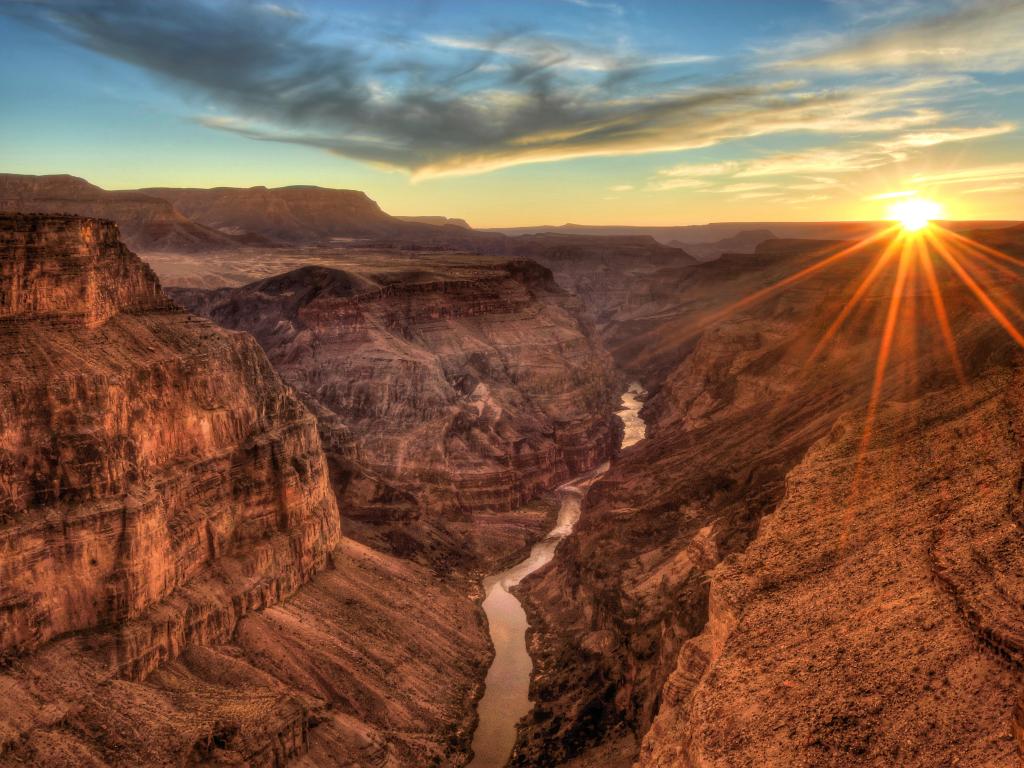 Southern Route
Start your journey by following Interstate 30 (I-30) out of the city and drive through Fort Worth. Continue onto Interstate 20 (I-20) and keep following this interstate until you pass Toyah.
Merge onto Interstate 10 (I-10). Here you can make a detour to Big Bend National Park by following TX-118. Otherwise, keep following the interstate until you reach El Paso.
This interstate will then take you into New Mexico briefly before you cross into Arizona. Drive through Tucson and Phoenix. You will soon enter California and pass by the famous Joshua Tree National Park before you arrive in Palm Springs.
Take Exit 77C for CA-210 past San Bernardino National Forest. This road will merge onto Interstate 210 (I-210), where you will drive through Pasadena and into Los Angeles.
After your visit to this fascinating city, take Exit 1A for I-5, which will take you northwest. Keep left at the fork to continue onto I-580 past Henry W. Coe State Park. Follow the same directions as the Northern Route from then on to reach The Golden City.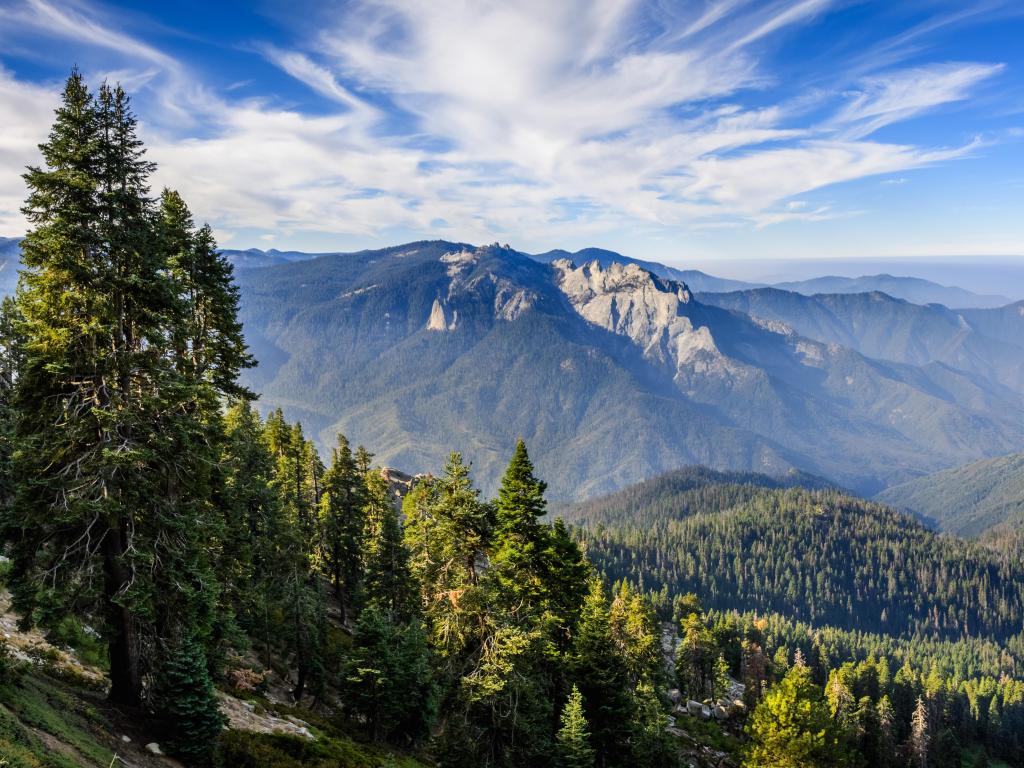 Best places to stop between Dallas and San Francisco
A road trip from Dallas to San Francisco is a journey that will need to be broken up into multiple sections. While it is possible to complete this journey in a minimum of 5 days, we suggest taking at least two weeks to enjoy the incredible landmarks and cities on the way.
Keeping that in mind, choosing where to stop on such a mammoth journey might be daunting. Here are our suggestions for some of the most fantastic places you can stop at to get maximum enjoyment out of your vacation.
A grand first stop in Flagstaff
Famous for its stunning geography, Flagstaff is about 14 hours from Dallas on the Northern Route, which makes it a perfect second stop on this epic journey. Known as the city of seven wonders, this is an excellent destination to marvel at Arizona's stunning geography.
With sprawling pine forests, towering mountains, native monuments and even the Grand Canyon itself located in the surrounding area, there's possibly no better place in the country to experience America's natural beauty than right here in Flagstaff.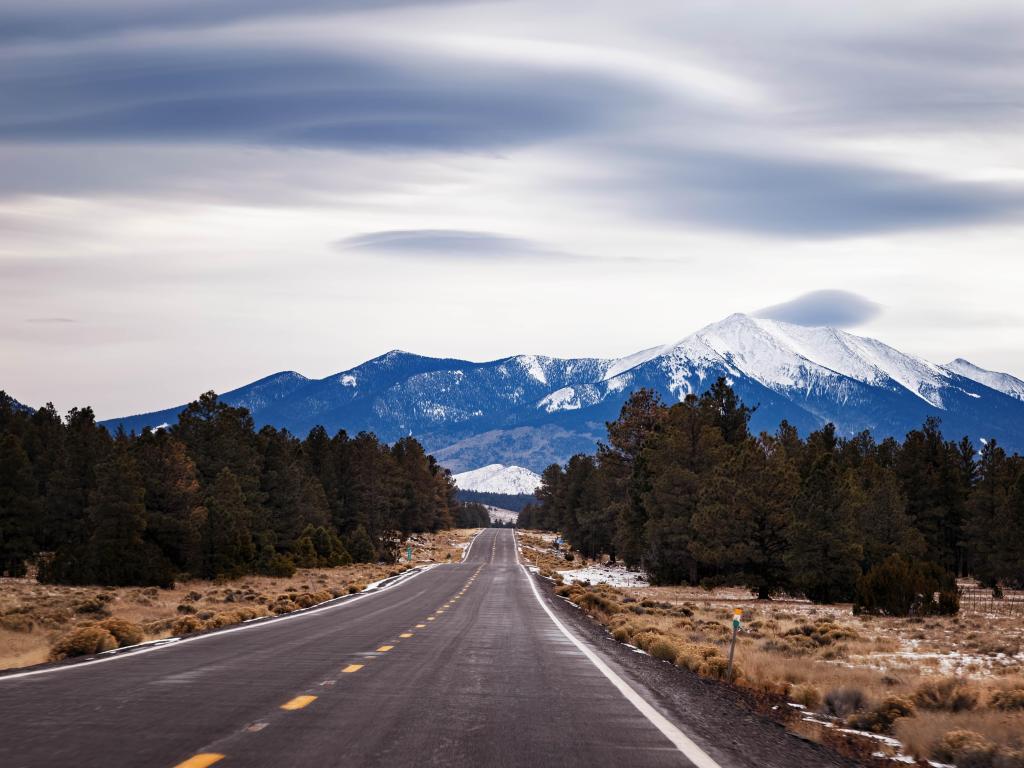 The Grand Canyon is easily accessible from the city, which makes Flagstaff a great place to base yourself during your adventures exploring the stunning scenery of this national park, which is deservingly one of the most famous scenic areas in the world.
In order to complete that naturally beautiful experience, you'll want to top it off with a stay at the Little America Hotel. A traditionally designed hotel located on the edge of the Coconino Forest, this resort is the perfect place to unwind after your adventures.
This hotel will make you feel like the pioneers did when they made their own mammoth journey out west years ago-only this time you get to do it in style, with modern luxuries like a pool and an upscale restaurant which boasts stunning views of the forests.
Be dazzled by neon lights in the desert in Las Vegas
Located a little more than 8 hours from San Francisco on the Northern Route, Las Vegas deserves a day of exploration on its own as there may be nothing more striking than a neon city in the desert.
The gambling capital of the world, Las Vegas, is an exciting and immersive experience that may take a little getting used to but once you have, you'll wish you could stay here forever as there is something for everyone in Sin City.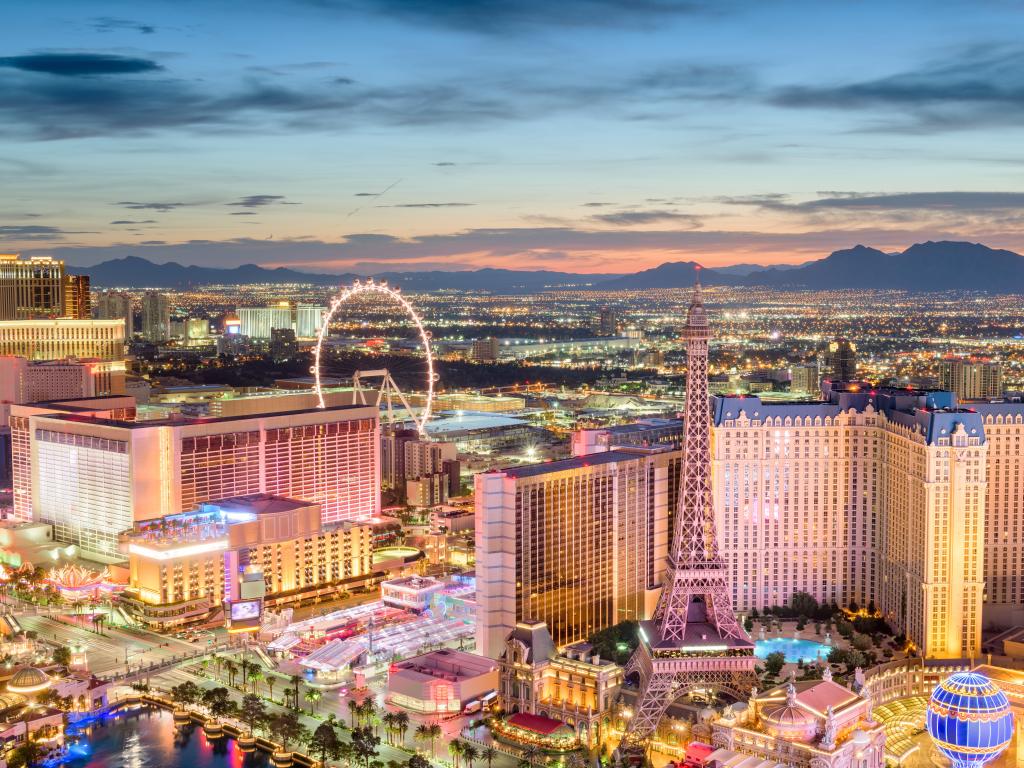 Bars, restaurants, shows, casinos and so much more open around the clock, Sin City is a place full of adventure, where you can completely let loose, unwind and let your hair down after spending many hours on the road.
When it comes to relaxing in a city that never sleeps, the Four Seasons Hotel Las Vegas is a luxurious hotel, located right on the strip that boasts stunning mountains and city views which you admire from your bedrooms floor-to-ceiling windows.
The incredible private swimming pool is the perfect oasis away from the hustle and bustle, with eight private cabanas with pool and waterfall views. Afterwards head for dinner at the popular Veranda restaurant on site, serving modern American cuisine along with Vegas skyline views.
Unwind in luxury in Phoenix
Located about 15 hours from Dallas on the Southern Route, Phoenix is a great destination for nature-lovers and outdoor enthusiasts, as well as those looking to relax in an iconic desert resort before taking on the bustling cities of California.
This city is famous for its perpetual sunshine and upscale resorts, and it is hard to beat the Royal Palms Resort and Spa when it comes to luxury. Boasting stunning rooms with terraces and fireplaces, this is the ultimate destination for those looking for a romantic and relaxing getaway.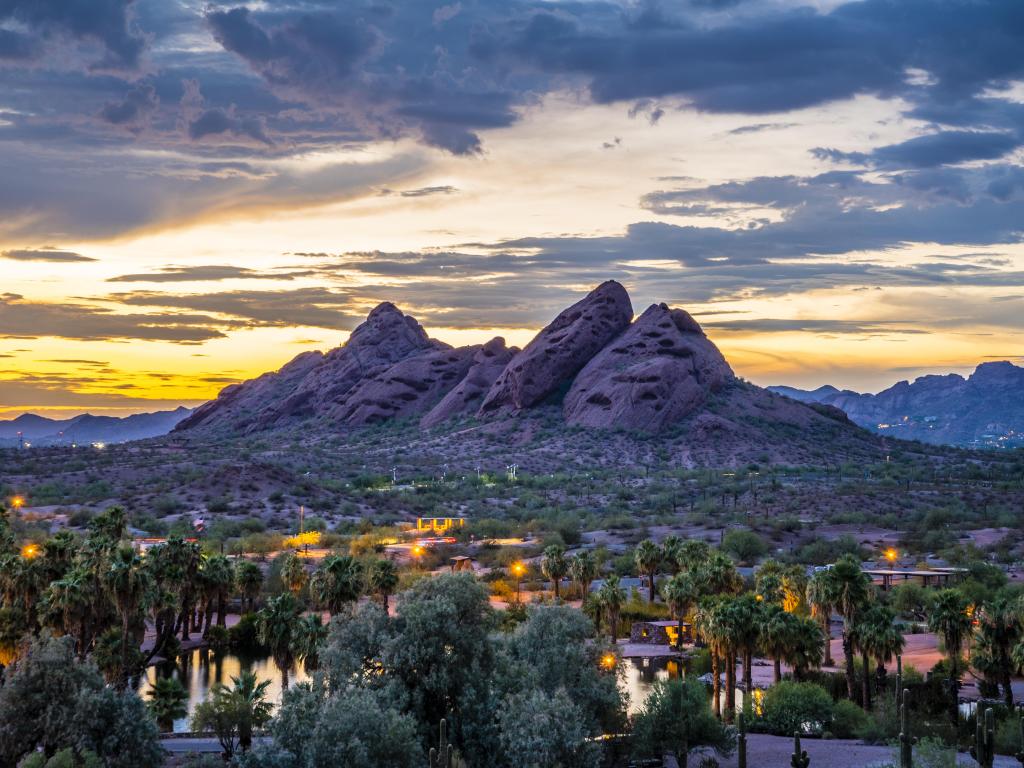 This historic hotel features beautiful scenery with Camelback Mountain as a backdrop and a stunning courtyard where you can enjoy some fantastic afternoon drinks. With so much comfort at hand, you might not even want to leave the hotel and choose to recharge by the pool.
If you do wish to explore the fascinating city of Phoenix, on the other hand, the resort is a short drive away from all the exciting attractions downtown such as Desert Botanical Garden and Phoenix Zoo.
You can also pay a visit to Papago Golf Club, which is in the vicinity. You will be amazed by the stunning scenery that surrounds this upscale golf club, which is also known for its popular restaurant.
Feel like a movie star in Los Angeles
No trip to the Californian coast is complete without stopping at Los Angeles, which is about a 6 hours' drive away from San Francisco. The City of Angels is world-famous for its TV, Movie and Music Industries as well as amazing theme parks that draw tourists from all over the world.
Los Angeles is known for its opulence, which means the sky is the limit when you are looking for a luxurious place to stay. It can be hard to find reasonable pricing in the city of dreams, so Kimpton Everly Hotel in Hollywood is a refreshing surprise.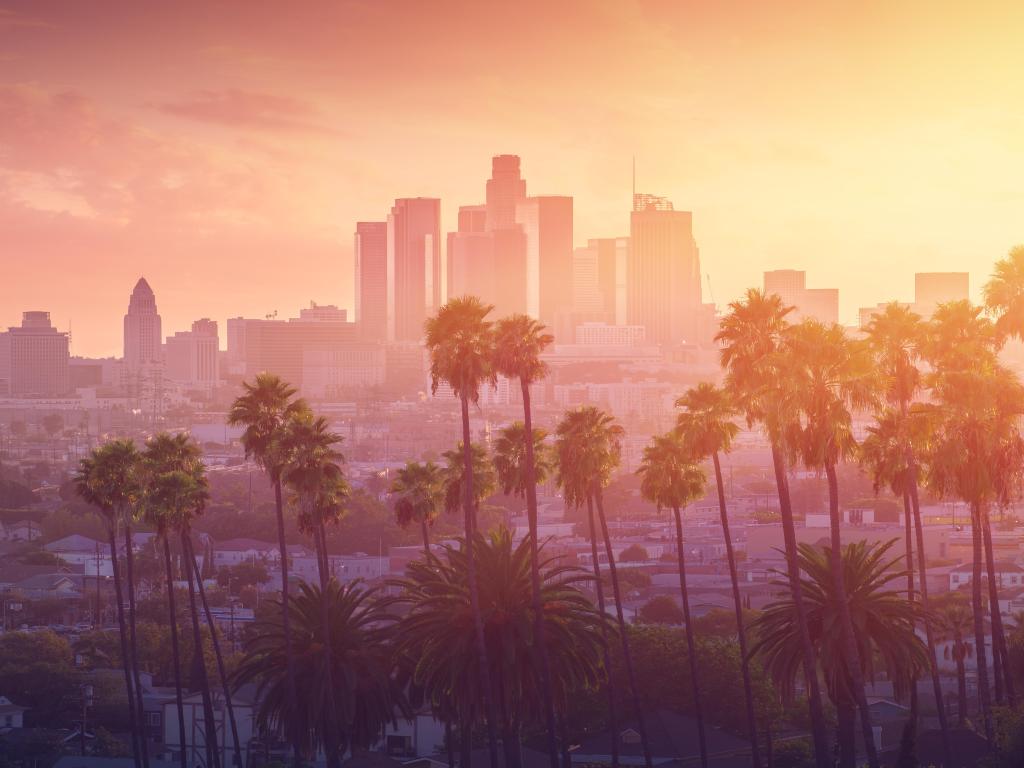 You will be located right in the heart of Hollywood, with the Hollywood Walk of Fame, the Capitol Records Building and the famous Dolby Theater only a few blocks away.
One of the most visited theme parks in the world, Universal Studios Hollywood is less than 5 minutes away from the hotel. Known as "The Entertainment Capital of LA", you can spend a whole day here enjoying various rides and exploring exciting movie sets.
When you are done with your excursions in this exuberant city, you can return to the hotel to relax on the terrace as you enjoy views of the Hollywood Hills and the iconic Hollywood Sign. The hotel is home to restaurant Jane Q and Ever Bar, where you can enjoy a speciality cocktail and finish your day in fabulous fashion.
Things to see on a road trip from Dallas to San Francisco
When you're going to be on the road for as long as you are on this trip, it's going to be more important than ever to make your stops worthwhile. You need to find that perfect balance of things to break up the journey but that are also exciting enough to not make it feel like you're just stretching things out.
That's why we have created the following list of the 25 best things to see on a road trip from Dallas to San Francisco.
Northern Route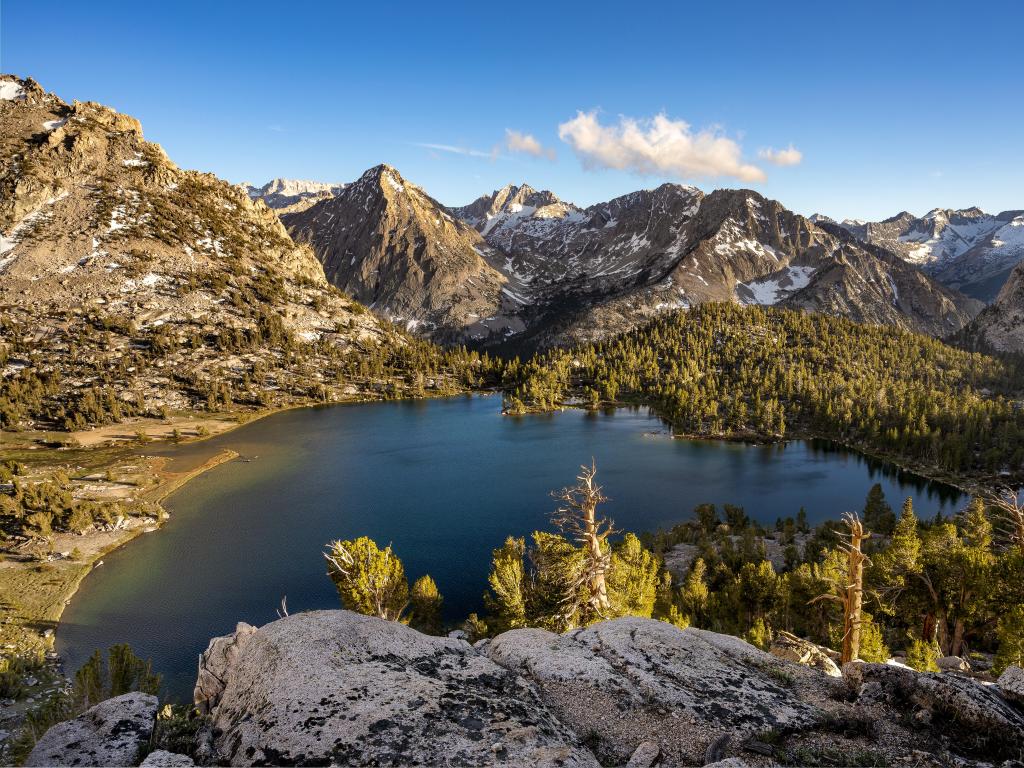 Route 66 - The legendary "Mother Road" of America, this famous highway is known for its scenic views. Route 66 spans over 2,400 miles and crosses 8 states.
Albuquerque, New Mexico - Largest and most populous city in the state of New Mexico, Albuquerque is home to ABQ BioPark, Albuquerque Zoo and the beautiful Rio Grande Park, New Mexico Museum of Natural History and Science.
El Malpais Monument and National Conservation Area, Grants - An outdoor lover's dream, you can enjoy hikes and scenic drives here as well as lava tube diving.
Gallup, New Mexico - Historic town on Route 66, famous for its art, Native American culture and history with Hollywood stars.
Navajo Nation, New Mexico and Arizona - America's biggest Indian reservation with the largest Native American Population in the country.
Petrified Forest National Park, Arizona - A great destination for hiking and camping in the wilderness. Here, you can admire at over 550-square miles of petrified wood, painted desert, dinosaur fossils and Native American sites.
Flagstaff, Arizona - It might come as a surprise to some that Flagstaff has amazing skiing slopes in winter. It is also a great place to base yourself in during your visit to the Grand Canyon.
Coconino National Forest, Flagstaff - Largest Ponderosa Pine forest on the continent, home to awe-inspiring red rock formations of Sedona.
Humphreys Peak, Arizona - This scenic peak is the highest of a group of dormant volcanic peaks known as the San Francisco Peaks.
Kaibab National Forest, Arizona - A beautiful sight to behold as you approach the Grand Canyon, you can spot buffalo herds in this beautiful forest.
The Grand Canyon, Arizona - Fabled destination for hikers, nature lovers or those who simply appreciate stunning views. You can visit this epic natural monument during a day trip from Flagstaff.
Seligman, Arizona - Small town featuring a beautiful selection of souvenir and historical shops, revolving around the Historic Route 66.
Hualapai Indian Reservation, Arizona - Lesser-known Indian Reservation that is home to some of the region's most beautiful locations including Grand Canyon West.
Grand Canyon Skywalk, Arizona - Cantilever bridge that allows visitors to walk straight out over the canyon, for an unobscured view of the bottom.
Hoover Dam, Nevada - You can take a guided tour at this arch-gravity dam responsible for producing electricity for the majority of the southwest coast, built during the Great Depression.
Las Vegas, Nevada - This neon-lit city never sleeps and there is always something going on; from casinos to fabulous restaurants and shops, you will find all kinds of entertainment here.
Death Valley National Park, California and Nevada - The largest National Park in the "lower 48" and home to Furnace Creek, the hottest place on Earth.
Calico Ghost Town, San Bernardino - A ghost town in the hills styled like an 1800's mining town, this place will fascinate you, complete with tours and attractions.
Fresno, California - The 5th most populous city in the state of California. Within a short distance of the city lie three of the country's oldest national parks, with Sequoia, King's Canyon and Yosemite covering 1.5-million acres of land known as the Majestic Mountain Loop.
Sierra Nevada Mountains, California - The tallest mountain range in the contiguous United States, these mountains are known for their outstanding national beauty.
Kings Canyon National Park, California - Collection of forests, meadows, rivers and waterfalls that makes up the central and most recent part of the Majestic Mountain Loop.
Yosemite National Park, California - One of the most famous national parks in the country, behind perhaps only Yellowstone and the Grand Canyon. Abundant with wildlife and breathtaking views in every direction.
Southern Route
Fort Worth, Texas - Known for its Texas hospitality traditions, Fort Worth is the 12th biggest city in the US and is home to Fort Worth Zoo, Sundance Square, Fort Worth Botanic Garden and Fort Worth Stockyards Historic District.
Big Bend National Park, Texas - In this stunning national park, you can explore canyons and desert landscapes, which are also home to a huge variety of flora and fauna.
El Paso, Texas - Also known as the Sun City, El Paso is famous for its sunny weather and historic trails. You can also sample some of the best Tex-Mex cuisine here, which the city is famous for.
White Sands National Park, New Mexico - You will be astonished by the magical white sands of New Mexico in this national park. The gypsum mineral is responsible for the pristine white color of the sands.
Gila National Forest, Silver City - This enchanting forest boasts majestic mountain scenery, where you will be able to enjoy outdoor recreation activities.
Apache-Sitgreaves National Forests, Arizona and New Mexico - Running along the Mogollan Rim and the White Mountains, this national forest is home to more than 400 species of wildlife.
Coronado National Forest, Tucson - Famous for its "sky islands" which consist of sixteen scattered mountain ranges, whose extreme elevation habitat variations of the Sky result in a greater diversity of plants and wildlife than on most other Forests in the nation.
Tucson, Arizona - Tucson is home to Reid Park Zoo, Cathedral of Saint Augustine, Arizona State Museum and the University of Arizona Museum of Art as well as bordering the breathtaking Sonoran Desert.
Tonto National Forest, Chandler - You can cool down in the lake baches and the pine forests of this stunning national forest, which features some of the most dramatic and rugged terrains in Arizona.
Phoenix, Arizona - Because of its pleasant weather and mild winter, you enjoy the luxurious resorts, hot air balloon rides, Musical Instrument Museum and Papago Park all year round in Phoenix.
Organ Pipe Cactus National Monument, Ajo - A thriving community of plants and animals, this International Biosphere Reserve features a scenic drive, wilderness hike and camping.
Kofa National Wildlife Refuge, Arizona - This refuge was initially established to protect desert bighorn sheep. Today, it is home to many breeds of bird and species of plants.
Palm Springs, California - A luxurious resort town, Palm Springs is home to Indian Canyons, Palm Springs Air Museum and Palm Springs Art Museum.
Joshua Tree National Park, California - Bringing together two distinct ecosystems (namely the Mojave and the Colorado), Joshua Tree National Park is the perfect destination for those seeking dark skies, rich cultural history and marvellous geological formations.
San Bernardino National Forest, California - Nature lovers will be delighted during their visit to this national forest, which offers opportunities for hiking, biking, camping, fishing, hunting and horseback riding to name a few.
Los Angeles, California - The perfect destination for movie fans, the City of Angels is known for its glamorous lifestyle as well as amazing theme parks that bring tourists from all over the world to the city.
Angeles National Forest, San Fernando - This forest offers incredible opportunities for recreation activities. It is one of the driest forests in the area, and is unfortunately prone to wildfires, so it is a good idea to check before visiting.
Disneyland Resort, Los Angeles - Make your dreams come true and visit this magical amusement park, which consists of nine themed "lands" and countless themed rides that span over 100 acres.
Universal Studios Hollywood, Los Angeles - Home to the ever so popular The Wizarding World of Harry Potter, this amusement park consists of sectors based on movies and movie sets.
Sequoia National Forest, California - A stunning forest of Sequoia trees this area is full of wildlife and features some of the largest trees on earth.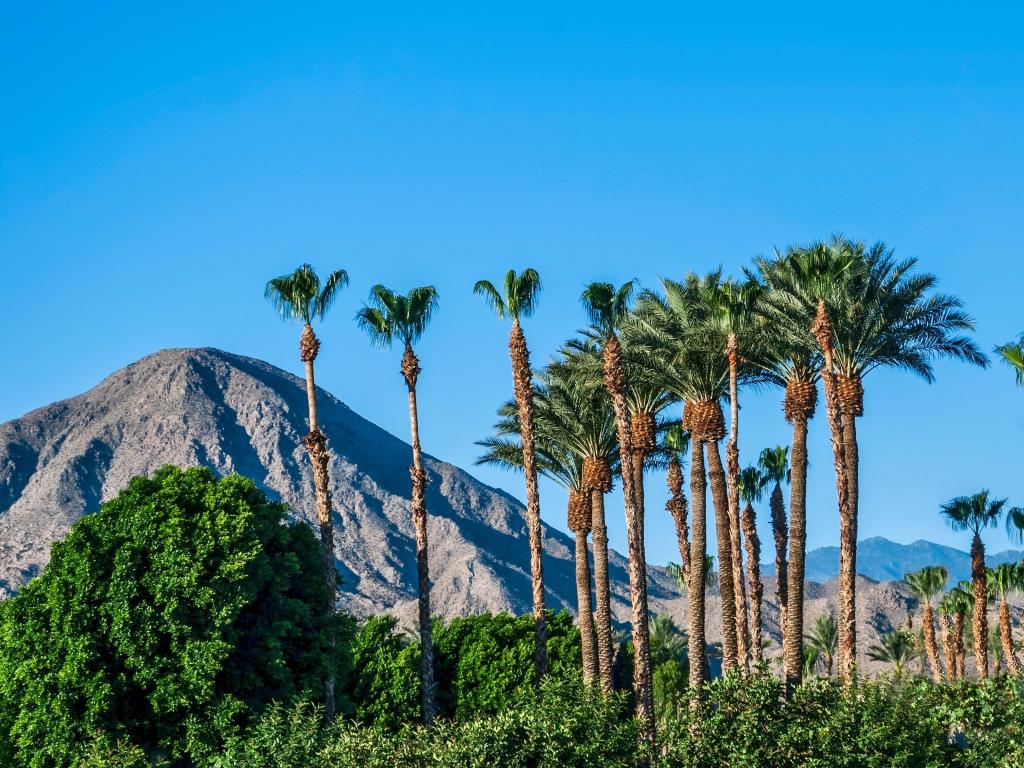 Best time to go on a road trip from Dallas to San Francisco
With a journey as long as a road trip from Dallas to San Francisco, it's imperative you get the timing right. It is important to enjoy a pleasurable drive, meaning the weather and road conditions should be great.
Unlike cities in southern California, like Los Angeles or San Diego, San Francisco suffers from periods where rain and fog are the norm from November through to March.
To make sure that your long-awaited stroll across the Golden Gate Bridge is more enjoyable, it is a good idea to plan your trip in late spring or early fall when the temperatures rise to 65 degrees Fahrenheit with less rainfall.
If you are visiting in spring, you will also be able to enjoy the famous Cherry Blossom Festival in Japantown, which features events, music and delicious food to celebrate the blossoming of these beautiful flowers.
With mild temperatures of 75 degrees Fahrenheit maximum, summer is the peak period for most of the locations on both the Northern and the Southern Routes, which means that the hotel prices will be higher and the attractions more crowded.
If you thrive in crowds, you should check out the Outside Lands Festival in summer, which is one of the biggest events in San Francisco.