Road Trip from Austin to Las Vegas
For the kind of epic road trip you'd see in the movies, with wide open views, desert landscapes, sweeping spectacular mountain passes as well as vibrant cities, the incredible drive from Austin to Las Vegas is one of a kind that's guaranteed to blow you away.
The 1,300-mile road trip from Austin to Las Vegas will take you about 20 hours of driving. Key stops include Phoenix, Tucson, El Paso, Amarillo, Flagstaff and Albuquerque, as well as Grand Canyon, Big Bend, Joshua Tree and Coconino National Parks.
To help you make the most of this epic adventure, we've set out the best routes you can take, the places to stop overnight, our favorite things to do and the best time of year to make the trip from Austin to Las Vegas.
How far is Las Vegas from Austin, and how long will the road trip take?
Comparison of road trip routes between Austin and Las Vegas

| Route | Distance | Driving Time |
| --- | --- | --- |
| The Southern Route | 1,300 miles | 19 hours 45 minutes |
| The Northern Route | 1,470 miles | 22 hours 30 minutes |
The road trip from Austin to Las Vegas isn't a quick drive, spanning a distance of 1,300 miles the Southern Route will take 19 hours and 45 minutes to drive without stopping.
An alternative Northern Route, which passes through New Mexico, is slightly further at 1,470 miles and will take closer to 22 hours and 30 minutes of non-stop driving.
Ideally, you will need a minimum of five days to comfortably complete this trip, allowing yourself plenty of time to explore the scenery, great attractions and cities along the way.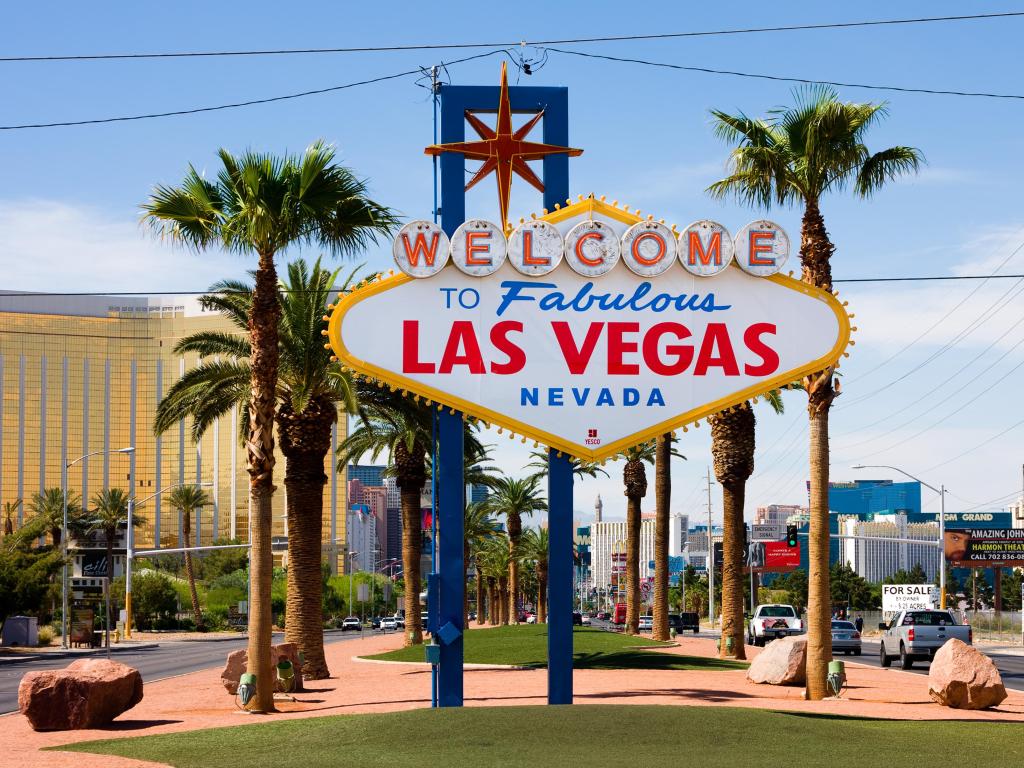 Best road trip route from Austin to Las Vegas
The quickest way to reach Las Vegas from Austin would be following our Southern Route. The distance covered on this route is similar to the most direct route, yet it offers some spectacular stops along the way including Tucson, El Paso and Coronado National Forest.
Given how close you will be travelling to some iconic national parks en route, you can make a few optional detours to include a stop at Big Bend National Park, as well as Mojave National Preserve. These will add a few hours to your journey but are well worth the extra time.
Our second recommended option is the Northern Route. Taking slightly longer to complete, this route will take you through New Mexico and Albuquerque where you'll meet more varied and mountainous terrain, including a stunning stretch between Flagstaff and Kingsman.
Similar to the Southern Route, you can add several detours to your journey and explore Mojave National Preserve or Joshua Tree National Park. They will add roughly 3 hours to the trip, but if you haven't visited them before, they'll certainly be worth the drive.
How to drive from Austin to Las Vegas
The map above shows our suggestions for the best road trip routes between Austin and Las Vegas. Keep reading for detailed descriptions of both routes, where to stay on either, and the best things to do on the way.
The Southern Route
Begin your trip by taking US-290 West from Austin. Continue heading west, passing through several cities as far as Fort Stockton.
At Marathon, you can make a detour to the beautiful Big Bend National Park. While this is a fabulous place to visit, don't underestimate how remote it is, even compared to other national parks.
After passing Marathon, head west to El Paso, your first major stop on this route and a great city to explore. After your visit, follow Interstate 10 (I-10) to Benson, where you can stop to explore Apache National Forest or Coronado National Forest before following the interstate to Tucson.
From here drive to Phoenix. Soon, you will be able to make detours to visit Tonto National Forest and Coconino National Forest. Continue on US-93 past Kingman where you can again lengthen your trip by visiting the stunning Joshua Tree National Park or Mojave National Preserve.
Otherwise continue heading north until you reach I-11 which you'll follow the rest of the way into Las Vegas.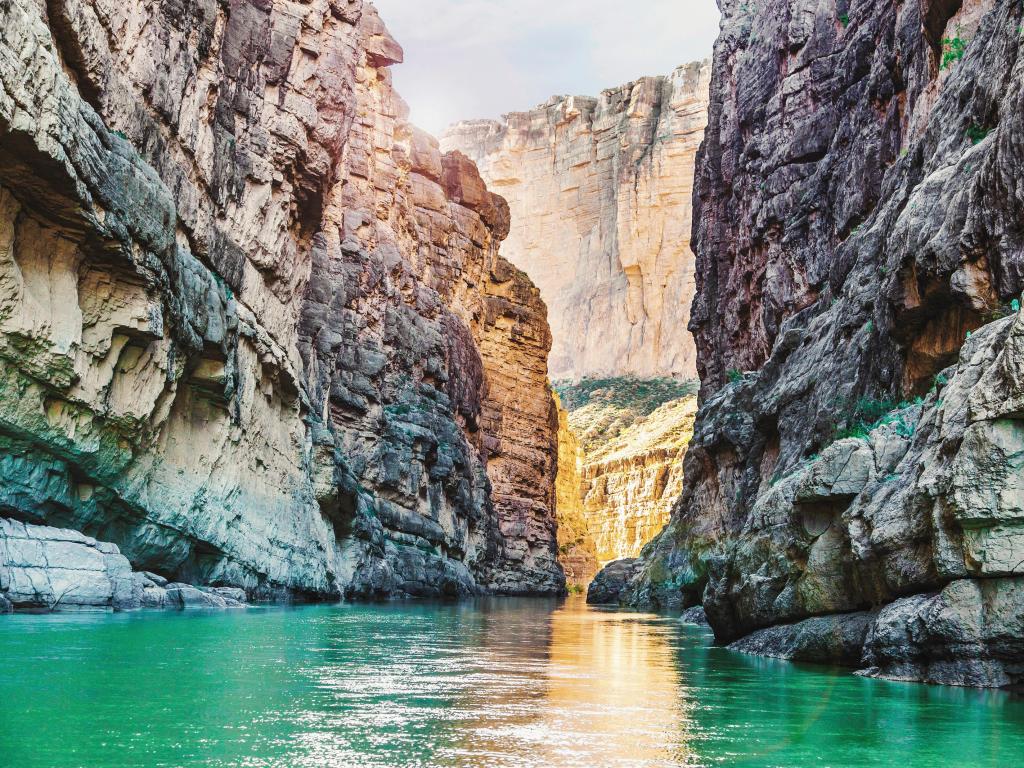 The Northern Route
The slightly longer route of the two begins in Austin and will see you follow US-183 north through Lampasas, Bozar and several other cities until you reach Coleman.
From here, head to Amarillo, a great base for an overnight stop to explore more of New Mexico. When you leave, you'll be on I-40 heading west through Santa Rosa and all the way to the great city of Albuquerque.
Back on the interstate heading west, you will have the option to visit El Malpais National Monument, Mount Taylor or Bluewater Lake State Park.
Make a stop at Petrified National Park, and pass through Sun Valley and Joseph City. You will soon arrive in Flagstaff, a great base for stopping overnight to explore the nearby Coconino National Forest, Kaibab National Forest and the Grand Canyon.
Retrace your steps back to the interstate and continue west to Kingman, where the rest of your journey is the same as the route above.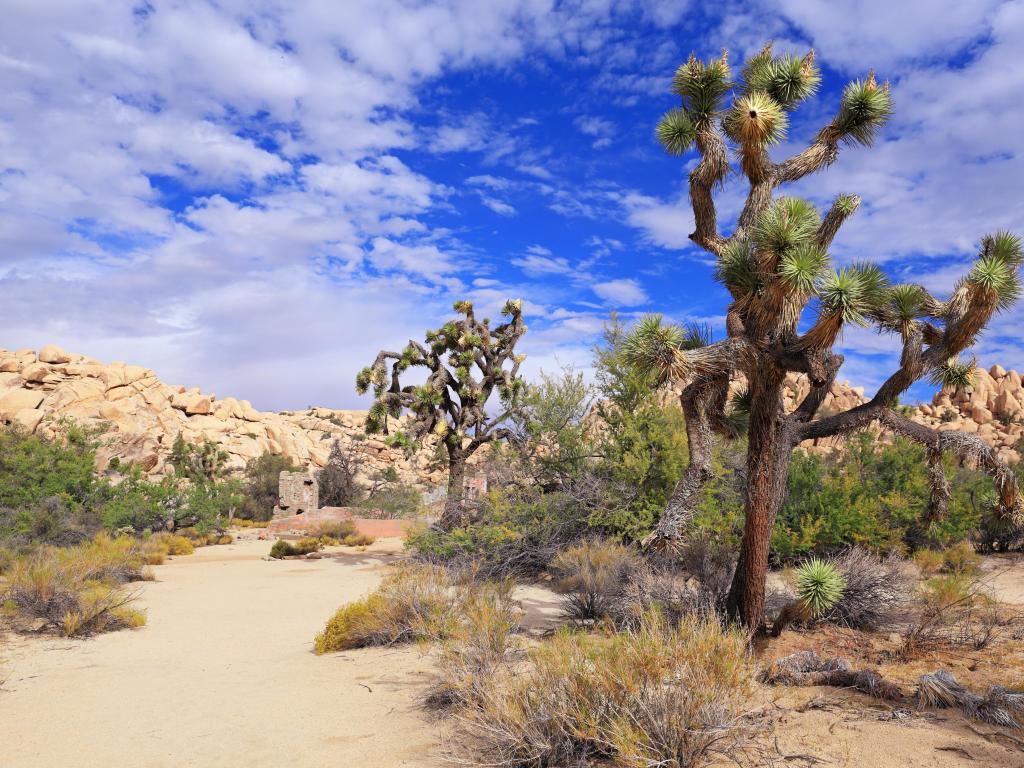 Best places to stop between Austin and Las Vegas
Given the distance between Austin and Las Vegas, you will need several overnight stops en route to make this a comfortable and enjoyable trip, as well as make the most of the great views and attractions you'll pass.
There are multiple places you could stay the night, from big cities to pretty towns, but here are a couple of our favorite hotels you may want to consider:
Enjoy incredible views in Tucson
Located just 6 hours from Las Vegas, the city of Tucson in the heart of Arizona, makes for an ideal overnight rest if you're following the Southern Route.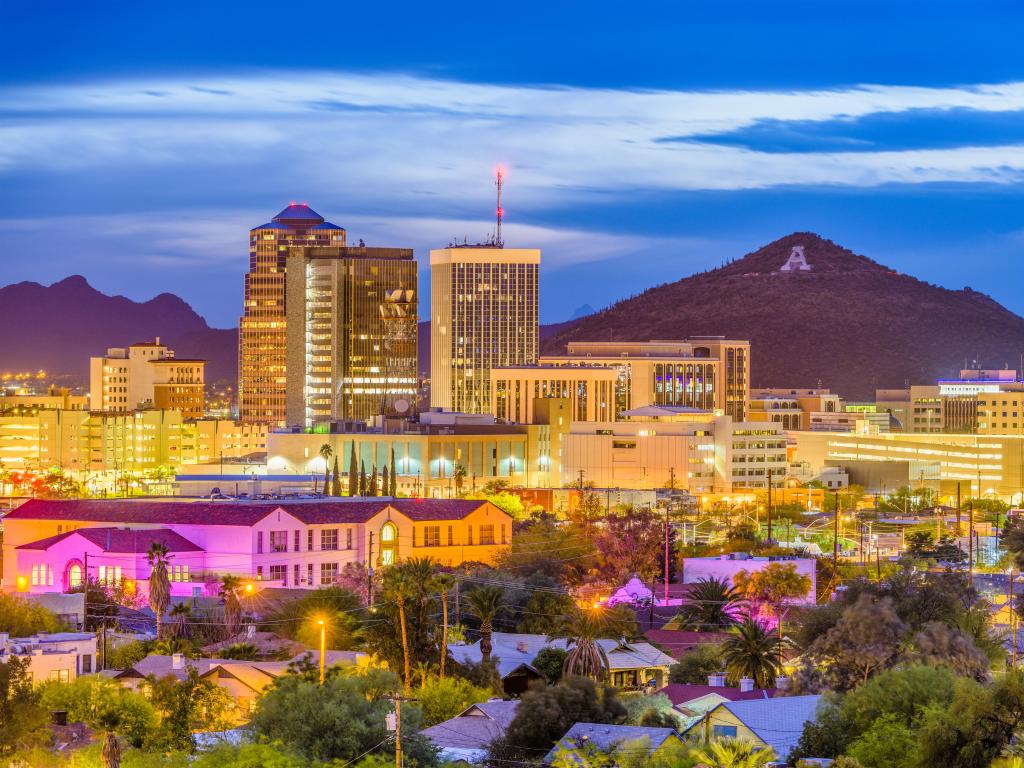 As well as being a buzzing city famous for its sunshine, it's a great place to base yourself if you want to explore the nearby outdoor attractions in more depth. It's also a comfortable day's drive from Tucson to Las Vegas, so it's possible to complete your trip the following day.
With 350 days of sunshine, Tucson is best known for its proximity to the outdoor attractions of Saguaro National Park, Coronado National Forest and Mount Lemmon. Within the city itself, there's also the Arizona-Sonora Desert Museum and Pima Air & Space Museum to explore.
For accommodation with fabulous views that match its surroundings in this scenic city, a beautiful pool and stylish design which effortlessly combines modern comfort with a vintage Arizona vibe, the Graduate Tucson is a great accommodation option.
The 4-star hotel is easily within walking distance of Arizona Stadium, Tucson Museum of Art, Centennial Hall and University of Arizona. It's also a fun and colorful hotel, boasting some of the best views of the surrounding city and mountains beyond.
Explore the famous city of Amarillo
Just over 7 hours out of Austin, and approximately a third of the way to Las Vegas, a stopover at Amarillo is a fantastic idea if you've instead opted for the Northern Route.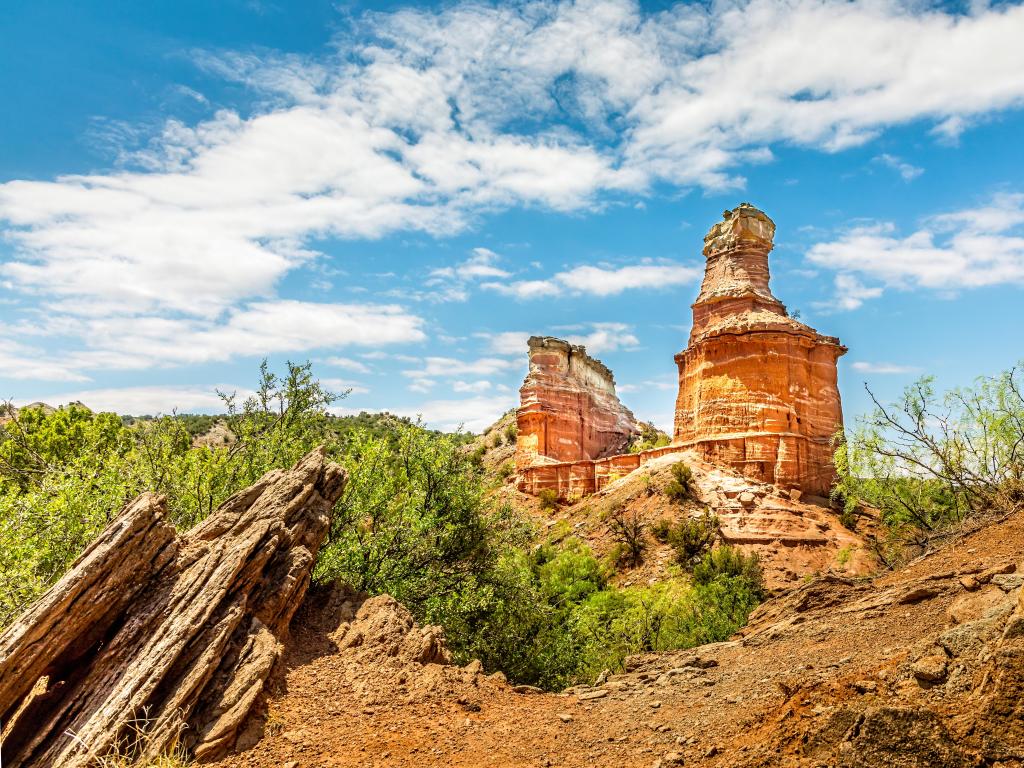 Amarillo is not only located at the start of your long drive west, making it a solid waypoint on your road trip, but this city is also the mid-point of historic Route 66, and a fabulous place to immerse yourself in the history and culture of this part of Texas.
After all that exploring, The Barfield, Autograph Collection is a wonderful hotel to spend the night. This stylish hotel boasts modern rooms and a rooftop lounge area ideal for relaxing after a long drive or simply admiring the city views.
If you are feeling energetic, head to the Historic Route 66 District nearby and then use it as a base to explore the attractions in the vicinity. These include Cadillac Ranch, Palo Duro Canyon State Park, Panhandle Plains Historical Museum and the Texas Air & Space Museum.
While you are downtown, you can enjoy a great meal or head back to the hotel to enjoy a meal at its fantastic restaurant (don't forget to make a reservation as it is popular) before heading to your room.
Relax in style in Las Vegas
The accommodation options once you arrive in Las Vegas are endless, but the Vdara Hotel & Spa is a fabulous choice. It's a non-gaming hotel, so you can take a break from the flashy casinos on the strip, but it's just a short walk away, and very near to the iconic Bellagio.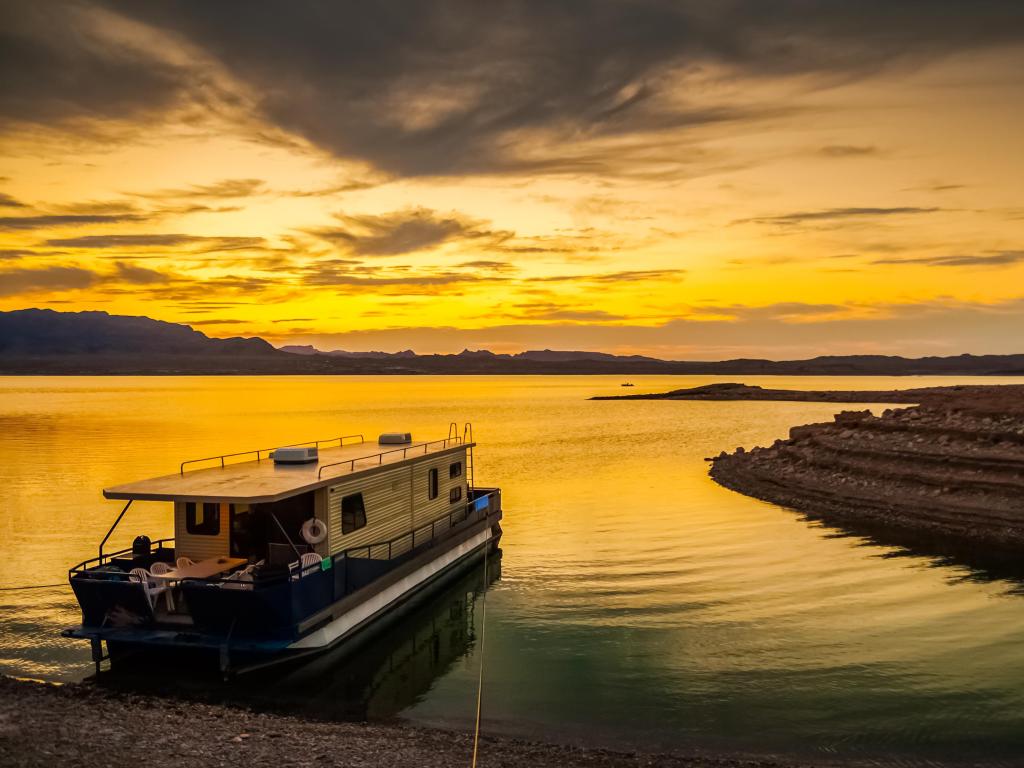 After spending time exploring Las Vegas' famous strip, you can unwind at the fabulous hotel and enjoy stunning views out across the city. As an added plus, you can also enjoy a cooling dip in the sparkling blue outdoor pool to unwind after your long drive.
There are plenty of dining options in trendy Vegas, but you might want to stay in to enjoy the upscale restaurant on-site.
Alternatively, for a complete change of scenery, you're within a short drive of several stunning parks including Red Rock Canyon National Park or Lake Mead National Recreation Area.
The great thing about Las Vegas is that it caters to all fantasies, whether you like gambling or shopping, eating at fine restaurants to enjoying its great nightlife. You're also in the heart of Nevada with some of its best natural landscapes and parks around.
Things to see on a road trip from Austin to Las Vegas
As you would expect, there's an impressive number of great cities, landmarks and stunning parks that you can visit on the road trip from Austin to Las Vegas.
If you don't have several weeks to visit them all, here's our list of some of the best places you won't want to miss: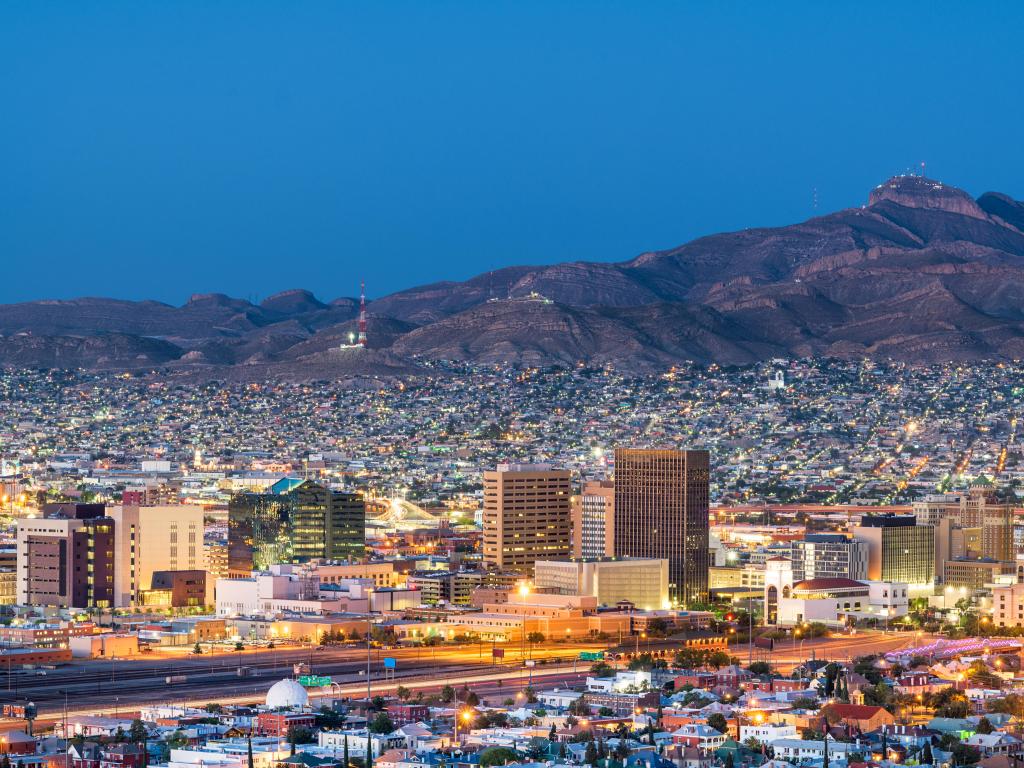 The Southern Route
Lyndon B Johnson National Historical Park - Spread out over a couple of sites, you can visit the childhood home of the 36th POTAS, the ranch he'd retreat to during his presidency, as well as other significant sites.
Caverns of Sonora - A beautiful underground cave network in Texas, the Caverns of Sonora are known for their spectacular helictite formations.
Fredericksburg, Texas - You'll get a distinctly German vibe in this charming Texas city. Visit the Vereins Kirche Museum as you pass through, and make sure to check out some of the local wines.
Ozona, Texas - Visit 'the biggest little town in the world' to explore the historic buildings in its lovely downtown area, to admire the statue of local hero Davy Crockett, or as a base to explore the hills and canyons that surround the town.
El Paso, Texas - Most travelers come here for one of three things: the fabulous Mexican food, the view from Franklin Mountains State Park, or the chance to immerse themselves in the Hispanic heritage of this border region at the informative El Paso Museum of History.
Guadalupe Mountains National Park - Although it's about a 2-hour detour from your route, you might like to head up into the Guadalupe Mountains for hiking and fabulous views, as well as the chance to visit nearby Carlsbad Caverns National Park.
Coronado National Forest - Head to this vast national forest to hike through spectacular and varied desert scenery and forested mountain slopes.
Tucson, Arizona - The city is proud of its 350 days of sunshine – perfect for exploring Tucson Botanical Gardens, the Arizona-Sonora Desert Museum or the Pima Air & Space Museum. Or explore nearby Colossal Cave Mountain Park or Chiricahua National Monument.
Saguaro National Park - Located just outside Tucson, you'll get fabulous desert views including the iconic Saguaro cacti that the park is named for.
Phoenix, Arizona - As you approach the end of your long road trip, make sure to enjoy the fabulous food and craft beer scene in Phoenix Don't miss the Heard Museum, dedicated to Native American culture and history, or the Desert Botanical Garden.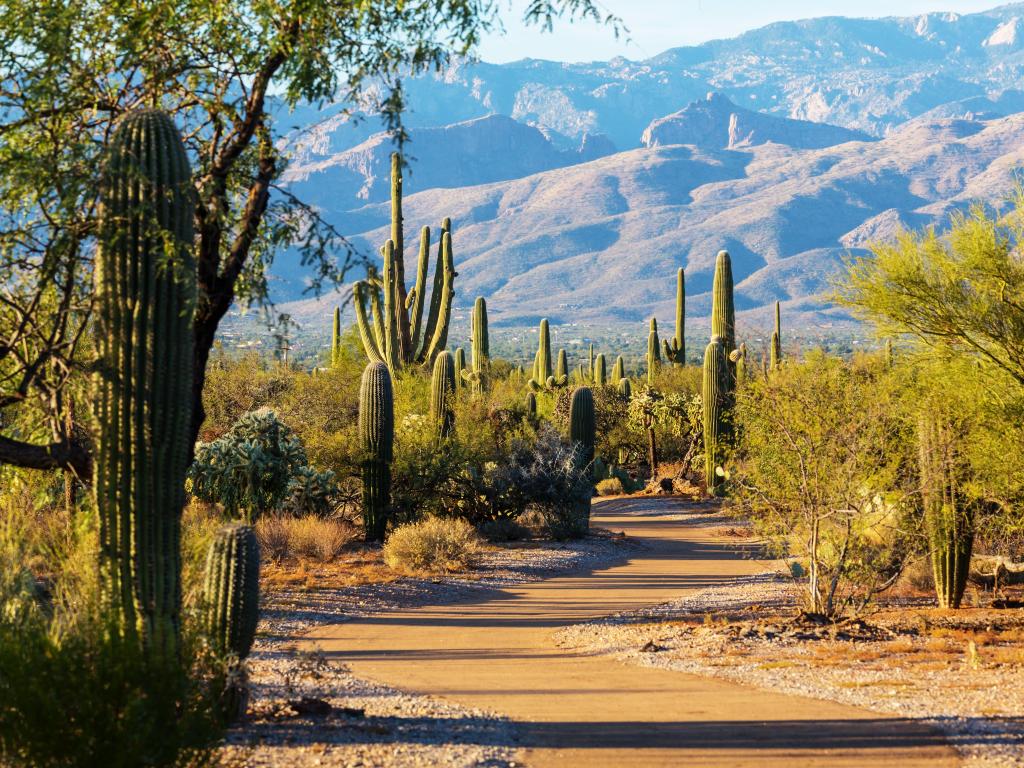 The Northern Route
Lubbock, Texas - Buddy Holly's birthplace is rightly proud of its famous former resident. He has his own museum in the city, which is also known for its wineries. The National Ranching Heritage Center is also a fascinating place to visit.
Amarillo, Texas - This is north Texas's largest city – head to US Route 66/6th Street Historic District to enjoy a meal before getting back on the road again.
Palo Duro Canyon State Park - Known as the 'Grand Canyon of Texas', this vast canyon offers spectacular views as you make your way past striking rock cliffs.
Cadillac Ranch - For something a little different, head out of Amarillo on Route 66 to see this art installation and sculpture which was created in 1974.
Santa Fe, New Mexico - The capital of New Mexico sits a little way north of the route but it's worth a detour to visit the Georgia O'Keefe Museum, the Museum of Indian Arts & Culture, or the spectacular Kasha-Katuwe Tent Rocks National Monument.
Bandelier National Monument - Seek out ancient petroglyphs as you hike through the canyons of this stunning mesa landscape north of Albuquerque.
Albuquerque, New Mexico - Visit Old Town Plaza, where you'll get a feel for the city's historic roots, then head up the Sandia Peak Tramway for a fabulous view across the city and surrounding area.
Petroglyph National Monument - Take one of the marked trails to see hundreds of petroglyphs. Some were made by Native Americans and others by early Spanish settlers.
Sedona, Arizona - This lovely city surrounded by stunning views is packed with small galleries and the chance to appreciate arts and sculptures from emerging as well as established artists.
Flagstaff, Arizona - More than just the jumping-off point for the Grand Canyon, head to Lowell Observatory or Riordan Mansion State Historic Park when you make your way through the city.
Coconino National Forest, Arizona - Hike or drive through this stunning sandstone landscape, where the green of the forest adds a vibrant splash of color and contrast.
Grand Canyon - See the iconic views of this world-famous natural monument for yourself by joining a tour through the canyon or along the Colorado River, or even taking to the sky for a scenic helicopter ride.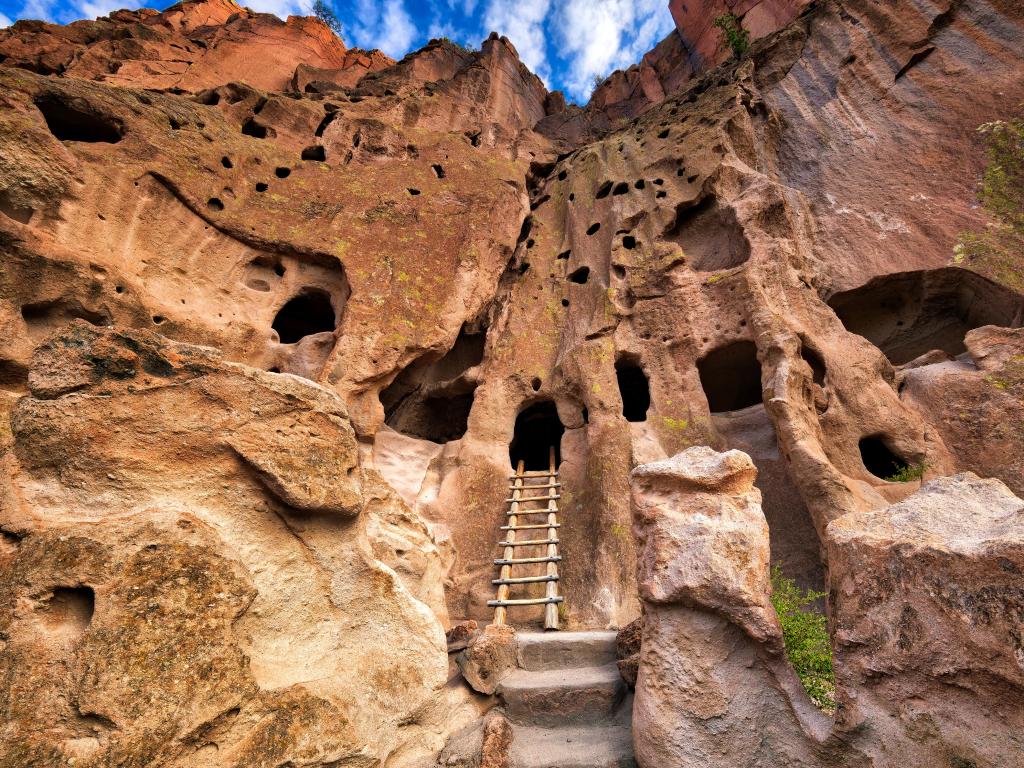 Best time to go on a road trip from Austin to Las Vegas
We'd recommend taking the Northern Route in the hottest summer months for a more comfortable drive but heading along the Southern Route in winter to catch warmer conditions and avoid the ice and snow that you'll often find along the interstates in winter.
As you might expect, parts of this route can get really hot in summer. Tucson, for example, can sit at over 100 degrees Fahrenheit from June to August. As the city is known for its sunshine, you're guaranteed to find another time of year to visit when temperatures are more moderate.
By contrast, the Northern Route can get really wintery. In Flagstaff, temperatures are around 20 degrees lower in the winter and often tip below freezing. You'll get snow one day in three, which hangs around and can make driving conditions tricky.
A more popular time for this trip is either spring or fall, which are both great times to travel.
Temperatures on the cooler Northern Route through Arizona can reach 60 degrees in April and October (and higher in May and September), meanwhile, the southern route hasn't hit peak summer temperatures yet.
If you travel in spring, you might also get to see the wildflowers blooming as you make your way through the Texas Hill Country at the start of your trip. While fall will guarantee stunning foliage colors in the national parks and forests you'll pass.
If you aren't fazed by crowds, you could always time your trip with one of many Las Vegas many events. The city is busy all year round, with world-famous acts putting on shows or enjoying longer residences, plus there's the iconic Pride Festival in October for a glittering spectacle.
You will find Las Vegas busy no matter when you choose to travel, so you are in for the road trip of a lifetime!