Road Trip From Houston To The Grand Canyon
A road trip from Houston to the Grand Canyon takes you from one of the largest cities in America to one of the most popular natural attractions on the planet. Along the way you'll discover caves, mountains and forests full of wildlife as well as fascinating cities and small towns.
The 1300-mile road trip from Houston to the Grand Canyon takes over 19 hours. Key stops along the way include San Antonio, Amarillo, Flagstaff, as well as the breathtaking Petrified Forest National Park and the legendary Route 66.
Read on to discover our top tips for making the most out of this road trip, including the best routes, places to visit and times to do this epic road trip.
How far is The Grand Canyon from Houston and how long will it take to get there?
Comparison of road trip routes between Houston and The Grand Canyon

| Route | Distance | Driving Time |
| --- | --- | --- |
| The Northern Route | 1,300 miles | 19 hours 50 minutes |
| The Southern Route | 1286 miles | 19 hours 30 minutes |
The most direct route for a road trip from Houston to the Grand Canyon will cover 1286 miles and take almost 19 and a half hours to complete, passing through Amarillo and Albuquerque. We're calling this our Northern Route option.
If you have already had the opportunity to visit these cities - or simply find the prospect of skirting the Mexican border more exciting - there is another route option to consider.
Passing through San Antonio and El Paso, and then around Gila National Forest, is our Southern Route. This route is only marginally longer than our Northern Route, at 1300 miles and 19 hours and 50 minutes. As you can see, your route decision won't be made based on distance or time.
Best road trip route from Houston to The Grand Canyon
Both route options from Houston to The Grand Canyon offer culturally vibrant cities and fantastic desert scenery.
The Northern Route boasts some beautiful scenery as well as the chance to visit the simply stunning Navajo Nation in, whilst the Southern Route takes you through beautiful forests before you even reach Flagstaff. Read on to help you choose the best route for you and your road trip companions!
The Northern Route
The most direct route from Houston to the Grand Canyon will take you on the I-45 heading north towards Fort Worth. From here you could take a short detour and visit the brilliant city of Dallas. Alternatively continue north and take the exit for 287 which will take you through Wichita Falls.
Next merge on to the I-40 west through Amarillo. Follow this road through Tucumcari until you reach Santa Rosa where you can spend some time exploring the beautiful Santa Rosa Lake State Park.
Keeping left, you'll next pass through Albuquerque, New Mexico's largest city. Here you will discover historic buildings as well as plenty of museums and shops.
Continue on the I-40 and through some lovely small towns before passing the edge of Coconino National Forest - another small detour well worth a visit for its stunning landscape and views and on to Flagstaff. From here its just a short drive to AZ-64 north before you reach the Grand Canyon.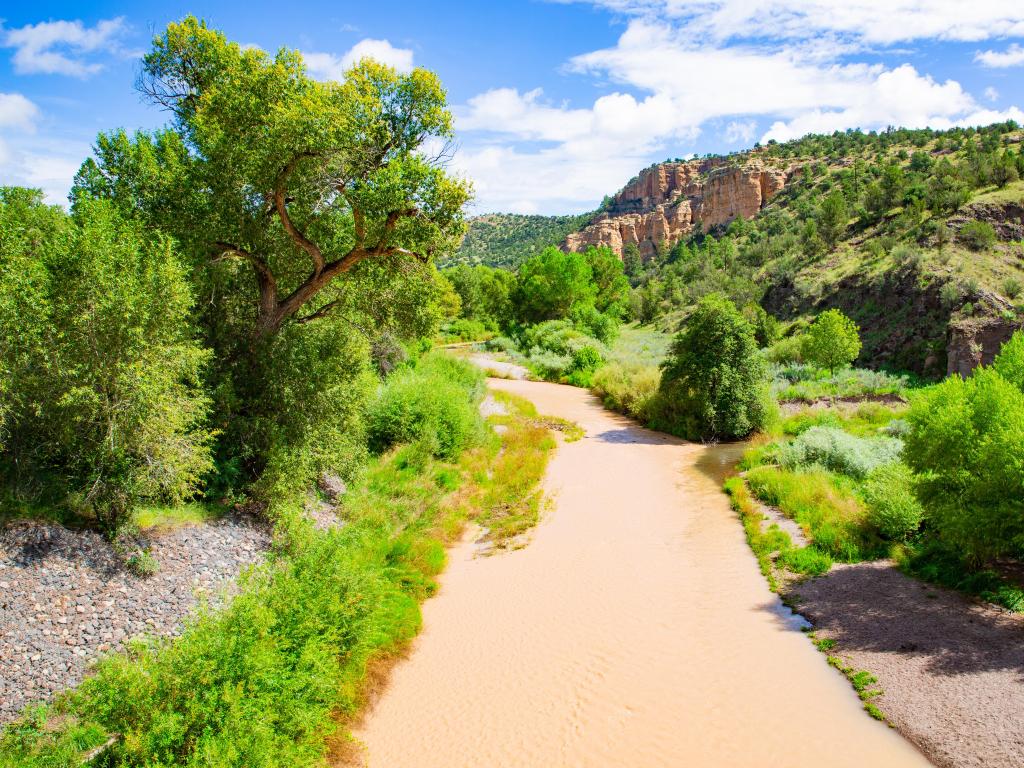 The Southern Route
Our Southern Route isn't a complicated detour, but will take you through some of the lesser seen parts of the country and gives fantastic views on the way.
Set out on the I-10 west through San Antonio. Although only a short distance, it's worth spending some time discovering this large city known for its culture and famous river walk.
Continue on the I-10 until you reach Fort Stockton and through Fort Bliss. At Deming switch to US-180 heading west and continue until you reach Gila National Forest and Pinetop-Lakeside - two beautiful places to stop and take a break from the roadside.
Next take the I-40 west before merging on the I-40 W/US-180 W towards Flagstaff and continue the rest of the road trip as per the Northern Route above.
Best places to stop between Houston and The Grand Canyon
With a road trip from Houston to the Grand Canyon we're setting the bar pretty high for the calibre of attractions we want to see, so it leaves a tough prospect for our stops along the way to live up to.
That said, the following three stops are incredible destinations, featuring some iconic and memorable sights, that we genuinely believe will do just that.
Reach new heights - Albuquerque, New Mexico
If you decide to set out on our northern route, then a stop at Albuquerque is a great option. At just under 6 miles to the Grand Canyon, this large city is not only a great place for an overnight rest but it also is a great attraction in its own right.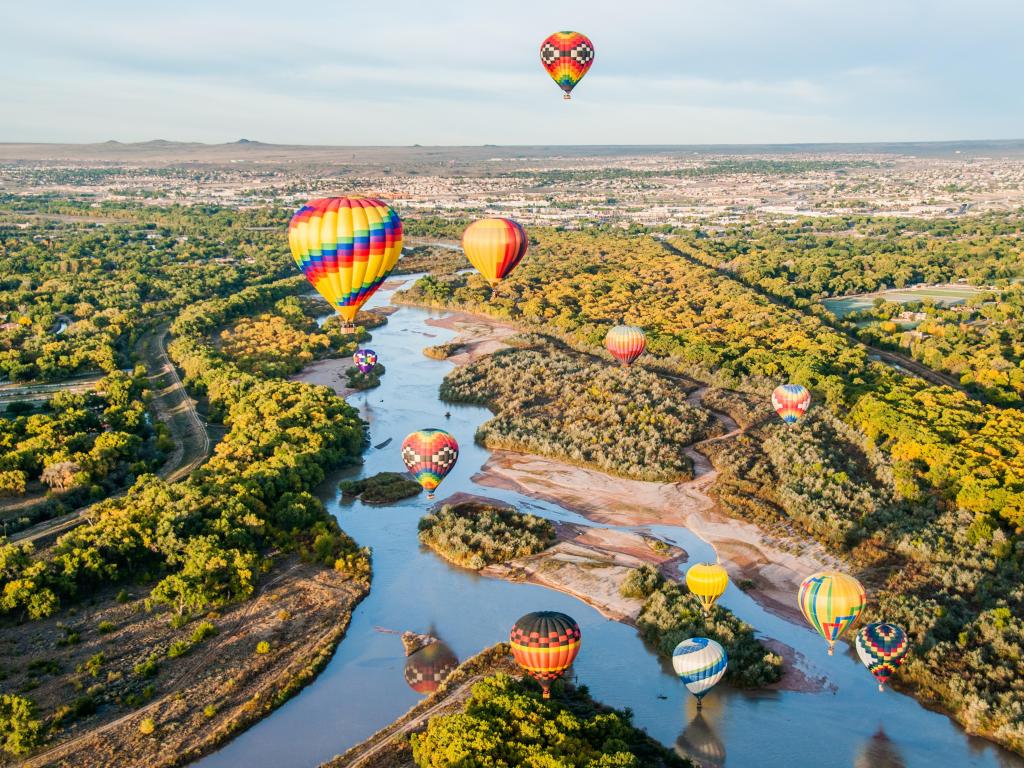 As New Mexico's largest city, Albuquerque has a wonderful mix of a fantastic desert landscape and a town filled with historic buildings, such as San Felipe de Neri Church, five museums, and plenty of shops. Other noteworthy attractions include Petroglyph National Monument and the world's longest tramway which takes you to the top of Sandia Peak.
Albuquerque is also famed for its International Balloon Fiesta, held in the first two weeks in October every year.
To fully appreciate this wonderful old city, we recommend a stop at the luxurious Hotel Chaco, just a short walk from the New Mexico Museum of Natural History and Science.
This beautifully modern hotel combines fantastic amenities, including the all-important stunning outdoor pool, à la carte and American breakfast options plus private parking and an outdoor terrace perfect for stargazing in the evening. This might be a pricy option, but it's worth every penny for its luxurious surroundings.
A Legendary Battleground - San Antonio, Texas
Located about 3 hours west of our starting point lies the second largest city in Texas, behind only Houston itself, San Antonio.
A wonderful city with vibrant culture, incredible attractions and its famous river walk, there is one location at the heart of the city that is head and shoulders above the rest.
That's because this is the location of the legendary 19th century mission, The Alamo. The place where Davy Crockett and his small band of rebels faced off against waves of the Mexican army in the Texan war for independence.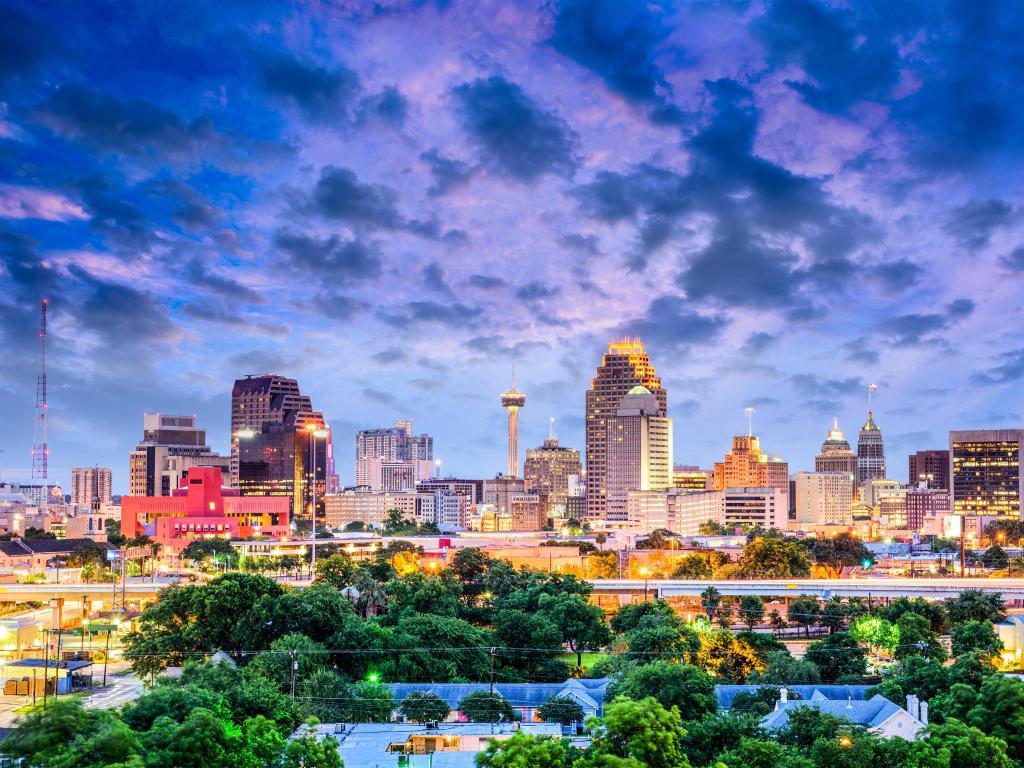 A visit to the remains of this fabled location will give you a feeling you can't achieve from any history book. See what they saw, how they lived and what remained of the mission when everything was said and done.
Despite being on a trip to such a famous destination, this is one stop that may well leave a mark just as memorable as the canyon itself.
Speaking of memorable, there's no better place to stay while in town than The Westin Riverwalk, San Antonio. Located on the San Antonio Riverwalk and less than 5 minutes' walk from the city centre, this hotel features an on-site Italian restaurant, a spa and an outdoor pool - perfect for relaxing after a long day of driving.
Whilst maintaining a historic feel, this hotel has modern and stylish rooms plus parking. The only problem is that you might not want to ever leave!
A Sprawling Forest - Flagstaff, Arizona
Our final stop brings us to a city just 80 miles from our final destination, Flagstaff. Known as the city in the pines, while some may be tempted to simply push on to our final destination, I would strongly recommend you hang around and find out exactly how it earned its nickname.
You see, Flagstaff is located on the edge of Coconino Forest. The largest Ponderosa pine forest anywhere in North America, this stunning location is one far too often overlooked due to its proximity to the canyon.
With mile after mile of hiking trails through incredible wildlife and scenery, this stop should be the icing on the cake to what is a road trip that will stay in your mind for the rest of your life.
To make absolutely sure it does, you should top your trip off with a stay at the Little America Hotel. Designed like a traditional log cabin, but filled with modern day luxury including an outdoor swimming pool, this hotel located just on the edge of the forest is the perfect place to encapsulate the natural and historical nature of this amazing journey.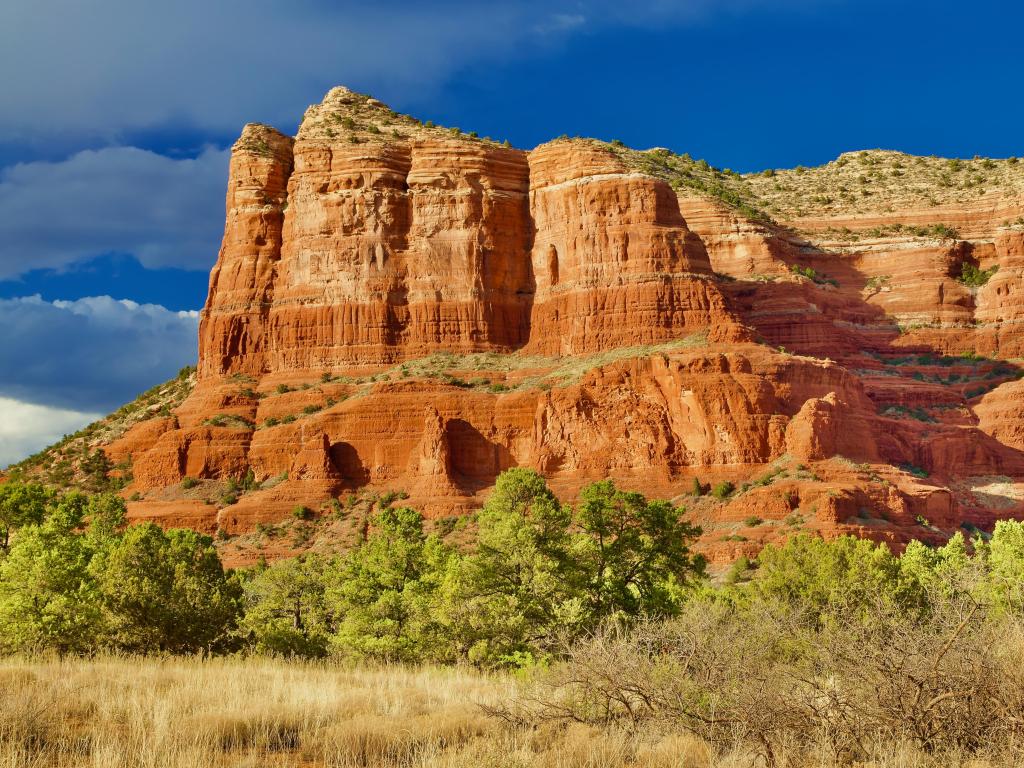 Things to see on a road trip from Houston to The Grand Canyon
There's so much to see on the road trip from Houston to the Grand Canyon regardless of which route you take from stunning parks to fantastic cities.
You could easily spend several days visiting all of the points of interest along the way, but here's our top pick of some of the very best:
Attwater Prairie Chicken National Wildlife Refuge - See the unique Attwater Prairie Chicken at one of the last known locations of the critically endangered species
San Antonio - The second most populous city in Texas, San Antonia mixes vibrant culture and cultural heritage with a beautiful mile long river walk
The Alamo - Visit the site of the legendary battle in the Texan war for independence against the Mexican army in the heart of San Antonio
Fort Stockton - Explore a town built around the remains of the civil war fort, featuring museums and locations dedicated to the history of the area
Orla Ghost Town - The ghostly town of Orla in Texas features remnants of the late 1800's town, which until recently was uninhabited
Carlsbad, New Mexico - Known as a gateway to the Caverns Nation Park, this city is worth an explore in its own right - there's even a Beach Park, perfect for picnics or swimming
Carlsbad Caverns National Park - Discover the vast bat-filled caves of Carlsbad Caverns National Park. Explore the massive cave system surrounded by desert and which is home to a variety of species of birds and animals
Guadalupe National Park - Spend some time at Texas's highest mountain, the 8,751-foot Guadalupe Peak. Home to animals such as deer, elk, javelina and over 300 different species of bird
Roswell, New Mexico - The fifth largest city in the state of New Mexico and notorious for alleged UFO sightings, Roswell is a huge tourist destination, thanks to its International UFO and Research center among other things
Route 66 - One of the most legendary and historic roads in all of America, this is perhaps its most iconic stretch and won't disappoint
Albuquerque, New Mexico - Explore the most populous city in New Mexico, Albuquerque is rich with landmarks, monuments and the world's longest tramway
El Malpais Monument and National Conservation Area - The monuments and landscapes at this conservation area were made famous by their rugged, volcanic appearance
Gallup, New Mexico - Visit this thriving town, famous for its art and a popular hangout location for celebrities in the 50s and 60s. Gallup now maintains a tourist industry based around motoring and Native American trading posts
Navajo Nation - The largest Indian reservation in America, covering 17.5 million acres of land in Arizona, Colorado, New Mexico and Utah, which is home to around 175,000 Native Americans.
Petrified Forest National Park - The only National Park along Route 66, this magnificent park features numerous archaeological wonders and species of animal
Flagstaff, Arizona - Known as the city in the pines, as it's located between the Grand Canyon and Coconino National Forest, Flagstaff is surrounded by stunning landscapes and is a gateway to some unforgettable places to visit
Humphreys Peak - Take a hike to the highest peak in the state of Arizona. Humphreys Peak has an elevation of 12,637 feet and is located within the Kachina Peaks Wilderness in the Coconino National Forest
Kaibab National Forest - This 1.6-million-acre forest surrounding the rims of the Grand Canyon truly offer something for everyone, from canyons to prairies, peaks to plateaus, this forest offers quiet hikes and beautiful landscapes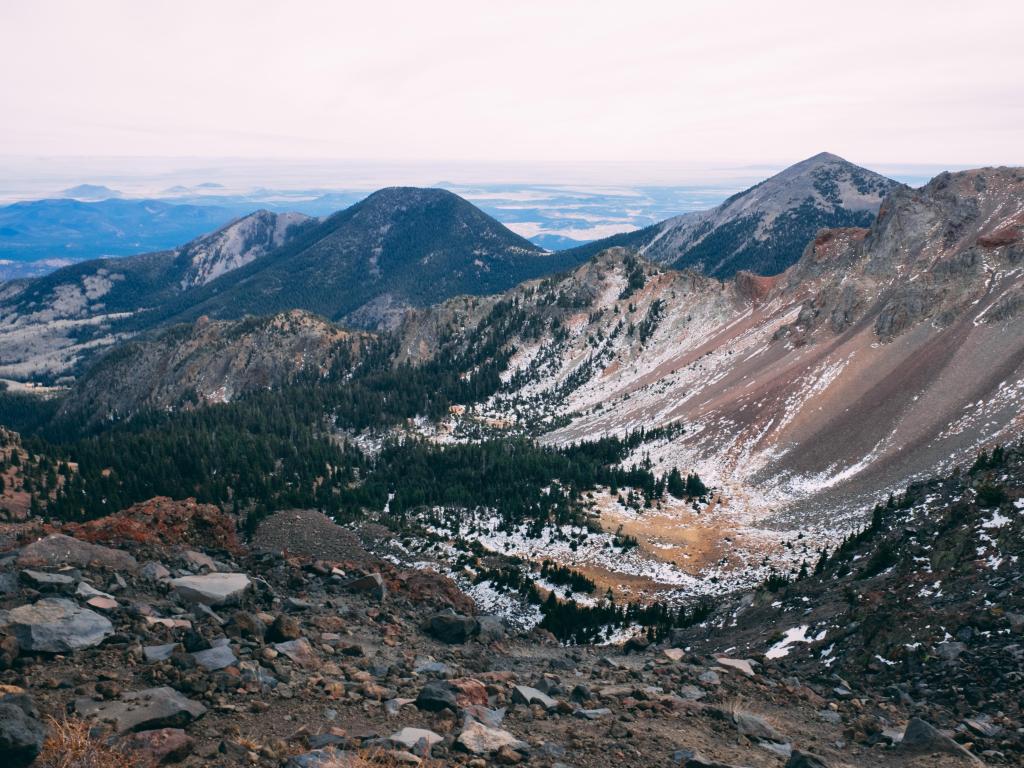 Best time to go on a road trip from Houston to The Grand Canyon
Despite both being generally warm climates, these are two places that can both be known for their extreme weather.
The Grand Canyon has blistering heat in the height of summer and sub-zero temperatures during the winter. Meanwhile Houston can see temperatures rising as high as 100 degrees Fahrenheit during the summer, making it rather uncomfortable for a road trip.
For this reason, February to April and during the fall months of September to November would give the best chance to missing the blistering heat.
The best time to visit the Grand Canyon would undoubtedly be between April and June when rainfall averages are low, temperatures are warm and crowds are generally thinner. That said, the fall foliage found at the Grand Canyon is best later in the year and the shorter days make sunsets much easier to catch.
Winter in Houston is fairly mild with snowfall rare, but pack extra layers if you decide to travel in December and January as the temperature falls pretty quickly when the sun goes down.
A visit to the Grand Canyon around this time also gives you the opportunity to spot the snow-covered Canyon. If a peaceful setting and picturesque views are more important, this might be the best time for you.