Road Trip From Las Vegas to Grand Canyon
Anyone looking to go on an unforgettable journey through some of the most iconic parks and forests in America should make the journey from Las Vegas to Grand Canyon. From red rock formations to gorgeous forest sunrises, there's something for everybody on this incredible road trip.
The 360-mile road trip from Las Vegas to Grand Canyon takes 6 hours of driving non-stop. Key attractions include Zion and Bryce Canyon National Parks, Prescott, Dixie, and Coconino National Forests, as well as Sedona, Flagstaff, and Horseshoe Bend.
Keep on reading to find out just what this amazing drive has to offer.
How far is Grand Canyon from Las Vegas and how long will the road trip take?
Comparison of road trip routes between Las Vegas and Grand Canyon

| Route | Distance | Driving Time |
| --- | --- | --- |
| Quick Route | 280 miles | 4 hours 40 minutes |
| Utah Route | 410 miles | 7 hours |
Along the quickest route, the road trip from Las Vegas to Grand Canyon takes around 4 hours of driving and covers 275 miles of ground, not accounting for detours. This means you could take off in the morning and easily finish the drive that same day.
That being said, a better option would be to take it slow and explore everything the route has to offer: taking the interstate through Arizona, you'll get to visit some of the state's most iconic cities and natural attractions by simply devoting a little extra time to the drive.
Another option is to drive north of Grand Canyon and wind your way around to its eastern entrance. This will add another two hours to your drive, and it trades Arizona's state forests for iconic Utah locations like Zion National Park.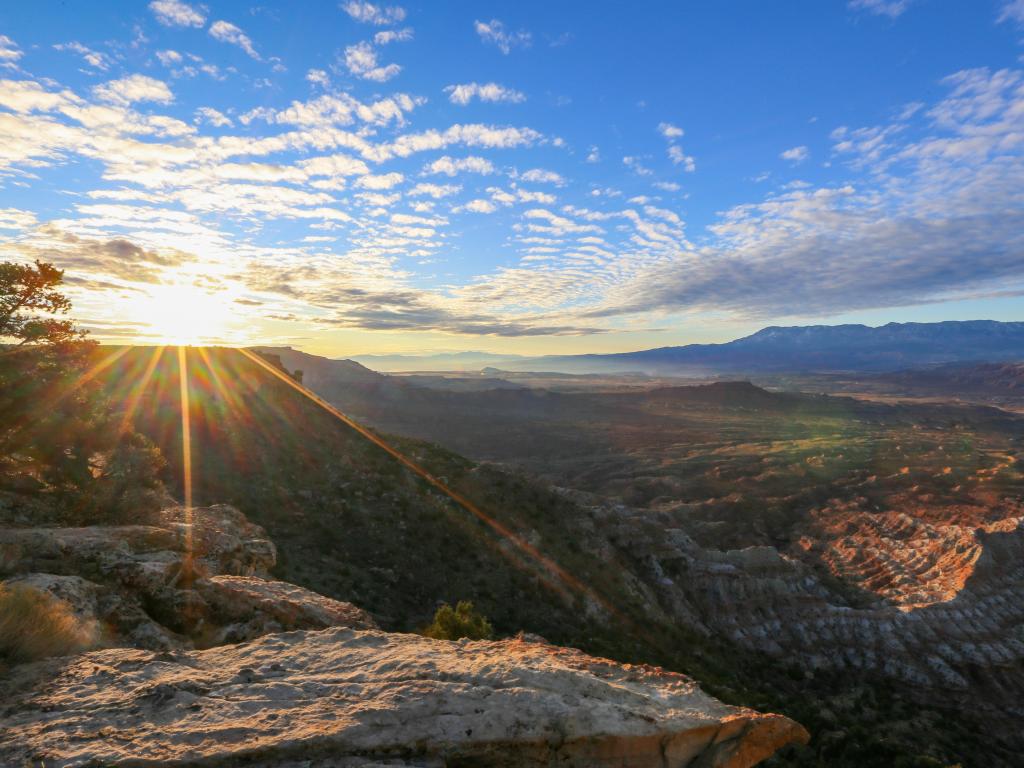 Whichever route you decide to take, you can expect a fair bit of traffic congestion, especially near the tail end of the shorter route. Passing near the likes of Flagstaff and Sedona on the weekend is guaranteed to get you caught up in traffic.
Best road trip route from Las Vegas to Grand Canyon
When it comes to picking the best route for the road trip from Las Vegas to Grand Canyon, the Utah route is probably your best bet. The route via Utah will take you a little longer but passes through some incredible scenery and attractions.
If you want to balance sightseeing with convenience, however, we'd recommend that you take one route on the way to Grand Canyon and the other on the way back.
How to drive from Las Vegas to Grand Canyon
The map above shows our suggestions for the best road trip routes between Las Vegas and Grand Canyon. Keep reading for detailed descriptions of both routes, where to stay on either, and the best things to do on the way.
The Quick Route
Leave Las Vegas via Interstates 515 and 11, passing by Hoover Dam as you make your way into Arizona. Follow Route 93 to Kingman, and if you have some time, consider detouring a bit eastward to visit the nearby Havasu National Wildlife Refuge or Mojave National Preserve.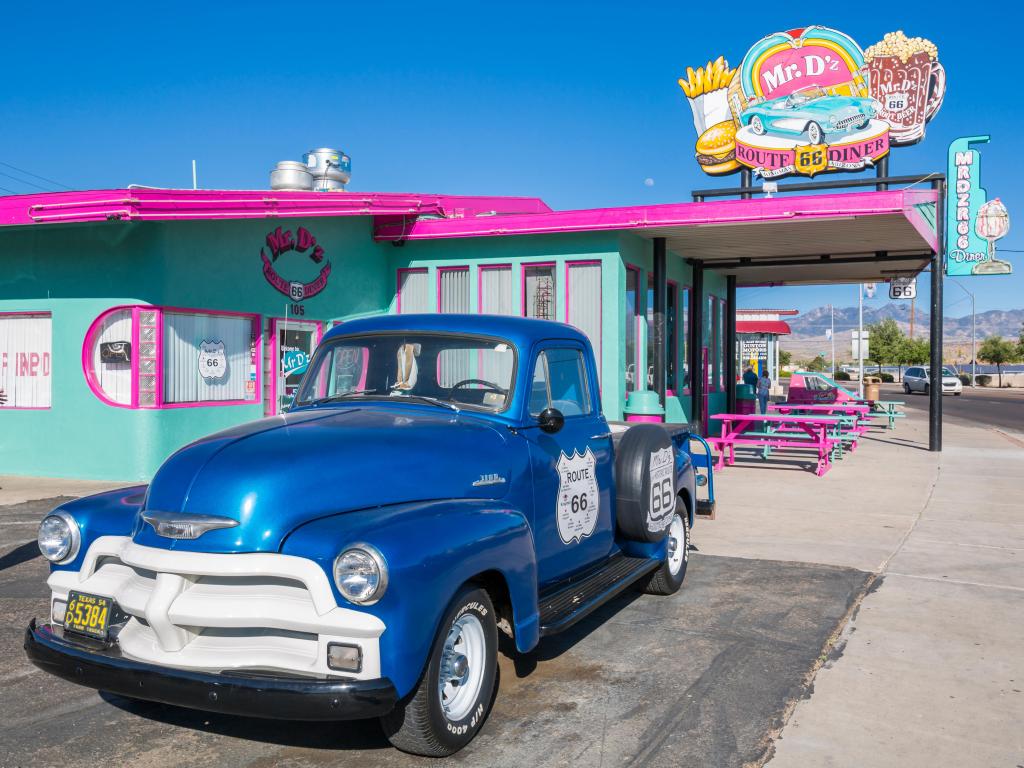 Back in Kingman, get on Interstate 40 and stick with it all the way to Williams - on the way, be sure to stop at Ashford and do a southward detour to Prescott National Forest.
Once you're in Williams, you'll definitely want to do some more detouring to visit Flagstaff, Sedona, and Coconino National Forest. Once you're done, take Route 64 from Williams and make your way to Grand Canyon via the southern entrance.
The Utah Route
Take Interstate 15 out of Las Vegas and follow it past Valley of Fire State Park. Drive through Mesquite before dipping into Utah and stopping at St George - this is the perfect time to off-road and visit Zion and Bryce Canyon National Parks, as well as Dixie National Forest.
After you're done, follow Route 59 into Arizona, then take routes 389 and 89A to Kaibab National Forest - you could enter the park via the north rim here, but instead, visit Kaibab National Forest before continuing past Vermillion Cliffs National Monument.
From Marble Canyon, you have two main options: follow Route 89 to Cameron and enter the park via the eastern entrance, or continue all the way down to Flagstaff and take the southern entrance, like on the shorter route.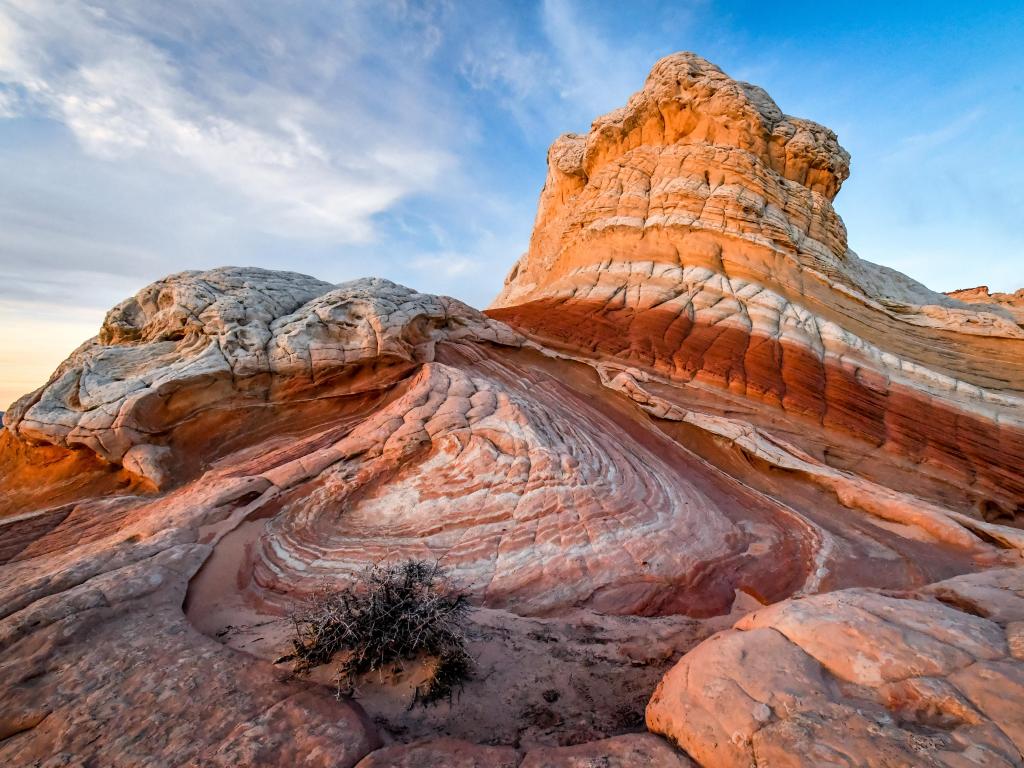 Best places to stop between Las Vegas and Grand Canyon
Don't let the low mileage fool you - you'll definitely want to make some overnight stops on the road trip from Las Vegas to Grand Canyon to check out all the things there are to see along the way.
Although there are plenty of great resorts, these are the very best the route has to offer:
Enjoy the royal treatment at Flagstaff
Flanked by spectacular forests, historic monuments, and all kinds of geological oddities, Flagstaff is a place you absolutely have to visit. The city is home to lots of great hotels, but nothing can beat the gorgeous aesthetic and amazing pool at Little America Hotel Flagstaff.
The cozy rooms are retro yet extremely comfortable and easy on the eye, and you'll especially love the romantic ambient if you're on a trip with your significant other.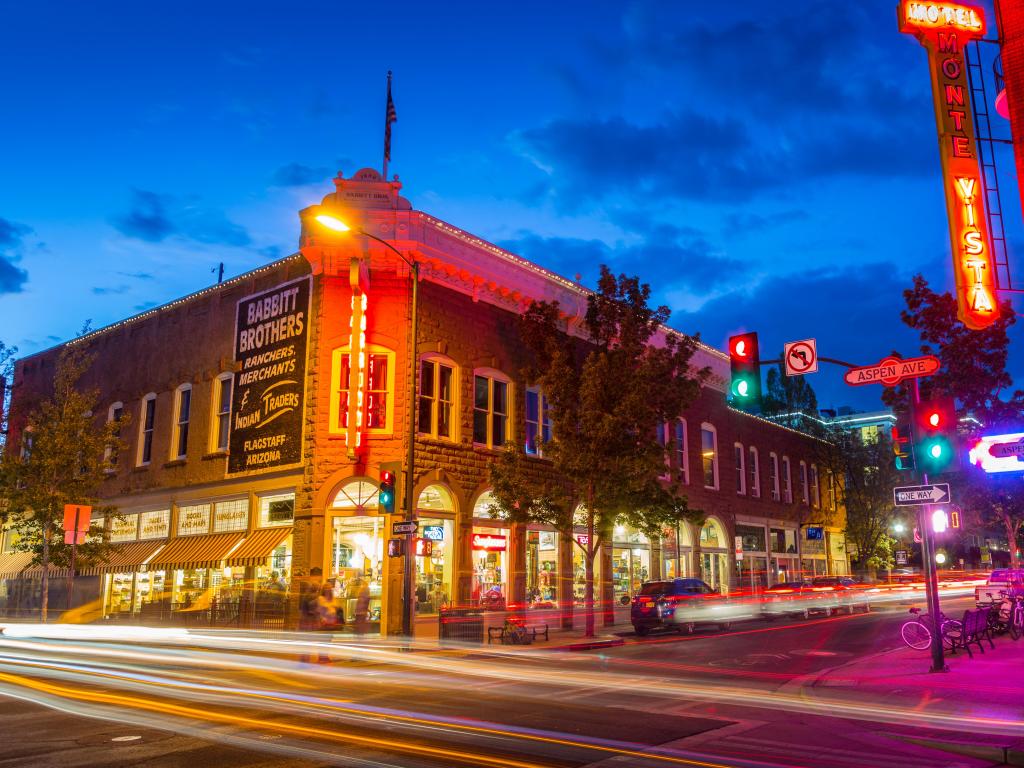 You'll definitely want something to perk you back up after a tiring day out, and the Little America Restaurant and Bar can hook you up with some all-American cuisine or some amazing cocktails.
Rain or shine, there's always something to do here - you can beat the summer heat with a dip in the pool, evade the winter cold with an indoor workout at the gym, or enjoy a stroll through the courtyard for everything in between.
The hotel's location is as convenient as it gets, and the price is extremely fair considering just how much there is to do on-site and in the general area.
Admire the beautiful scenery at Zion National Park
St George is effectively Zion's front porch, and it's by far your best option for an overnight stop if you don't want to camp. The nicest hotel here is Inn on the Cliff, whose beautiful views of the surrounding red cliffs are one that'll stay with you for a long time.
You can't go wrong with a mixture of whites and wood textures, and the suites here are the perfect example - the rooms feel like something you'd expect to see in a luxury resort in a major metropolis.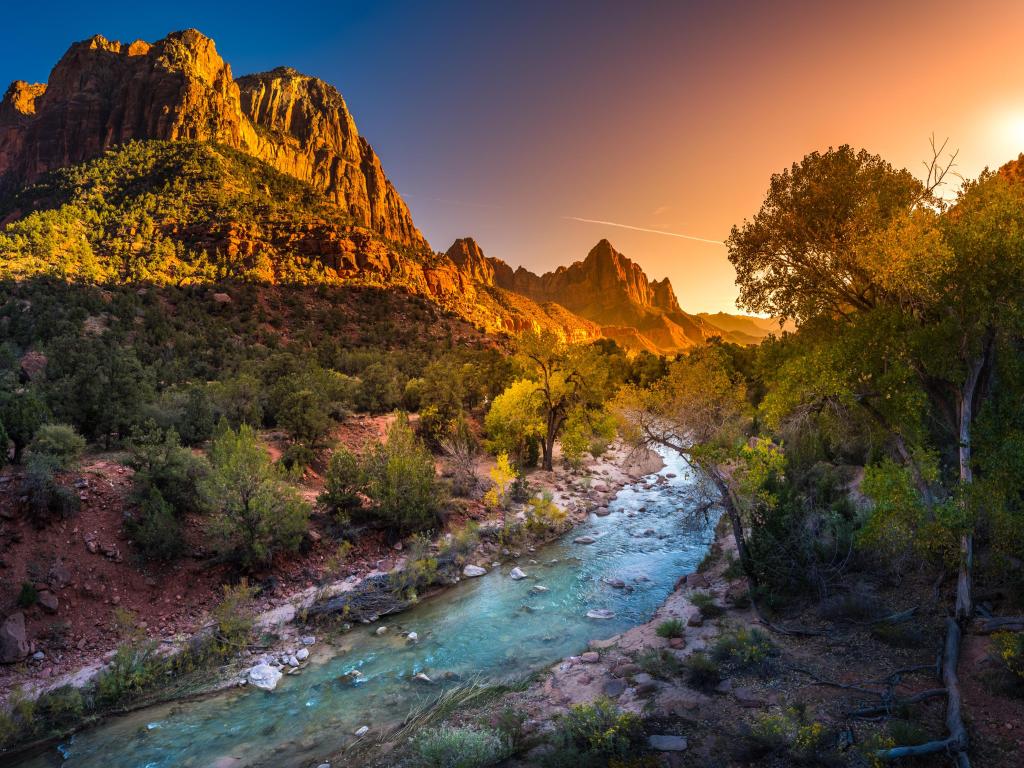 If the weather is nice, you can enjoy a nice swim in the outdoor swimming pool, and admire the beautiful views as you plan your next adventure. Add to that the great restaurant, and you couldn't really ask for much more.
Considering the quality of the hotel and its proximity to Zion National Park (not to mention the countless attractions in the St George area), the rooms here are won't come with a price tag that will break the bank, so there's little reason to even consider any other hotel in the region.
Things to see on a road trip from Las Vegas to Grand Canyon
Although the drive is short, there's so much to see on the road trip from Las Vegas to Grand Canyon that you could spend well over a week on it. These are some of the places you'll want to visit along the way:
Lake Mead/Hoover Dam - One of the most beautiful vistas in the Las Vegas region is a great place to snap some sunrise photography
Prescott National Forest - Nestled in the mountainous region near Flagstaff, this forest is a refreshment for the senses after a lengthy drive through the desert
Flagstaff - This iconic city is perhaps best known for being surrounded by beautiful natural attractions from all sides, making it the perfect anchor point when exploring Arizona
Sedona - Famous for its iconic red rock formations, this quaint tourist magnet is a mandatory detour during this trip.
Coconino National Forest - Housing everything from volcanic remains and mesas to lush greenery and beautiful lakes, this is one of the most geologically diverse forests in The States
Valley of Fire State Park - If you manage to catch a sunset here, you'll be rewarded with the breathtaking sight of the park's rock formations 'catching on fire'
Mesquite - This charming city is a kind of 'mini-Vegas' that offers plenty of gambling, golfing, and sightseeing opportunities
Zion National Park - The Virgin River, scenic forest trails, and the unforgettable Zion canyons are just the tip of the iceberg when it comes to this iconic park. If you'd like to hike up to Angels Landing, you will need a permit and will need to make a reservation. Check the Zion National Park's website for more details.
Bryce Canyon National Park - This park's famous hoodoos form a so-called 'natural amphitheater', not to mention a beautiful landscape, ripe for exploring and sightseeing
Dixie National Forest - Utah's biggest national forest is known for its beautiful, varied terrain and drastic weather shifts
Kaibab National Forest - This gorgeous forest acts as a 'gateway' into Grand Canyon if you enter via the North or South Rim
Horseshoe Bend - Sometimes referred to as 'The East Rim of Grand Canyon', this is a place you'll definitely want to snap a photo of before pulling into Grand Canyon
Wupatki National Monument - Another must-see stop in the Flagstaff region, the monument is home to scenic desert landscapes and complexes of Wukoki ruins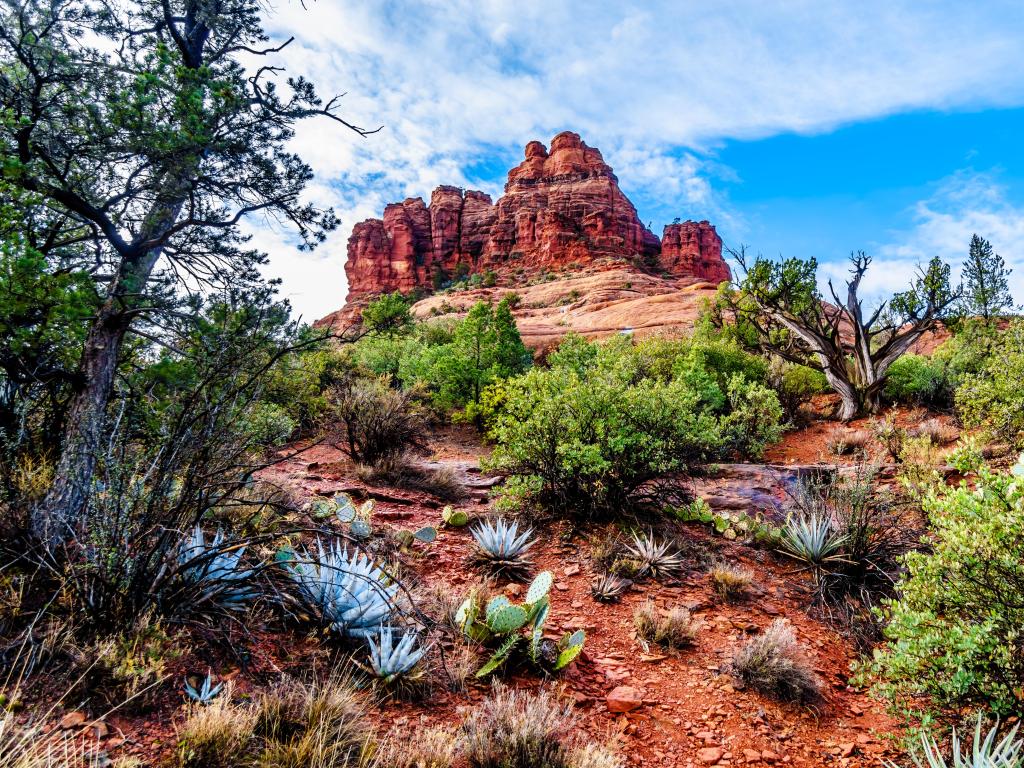 Best time to go on a road trip from Las Vegas to Grand Canyon
Planning when to do the road trip from Las Vegas to Grand Canyon is easier than for most other road trips, as the park's weather conditions and accessibility can change rapidly from season to season.
Summer is the most popular time to visit Grand Canyon, but this might not be best for you if you want to avoid crowds. On top of that, you'd have to drive through the desert in peak high temperatures, which might not make for the most comfortable trip, depending on your preferences.
Winter, on the other hand, is the ultimate 'budget' season for visiting this place, as there are very few tourists thanks to the low temperatures. Just keep in mind that the North Rim is inaccessible this time of year, so make sure you are clear on your route options when planning your itinerary.
If you want the perfect mix of fair prices, low crowds, and pleasant temperatures, spring and fall are the best times to do the trip.
With that said, you should still do a little research before setting off at these times of year - after a particularly cold winter, snow and general bad weather can sometimes carry over into spring, and summer crowds will occasionally linger in early October if the weather is nice.