Road Trip from Florida to New Jersey
Have you been waiting for an excuse to head out on an epic drive up America's East Coast? This road trip from Florida to New Jersey is the perfect opportunity to go beach-hopping, explore historic communities, sample delicious cuisines and admire beautiful landscapes that this region has to offer.
This 1,195-mile road trip from Florida to New Jersey takes 21 hours to drive. You can visit St Augustine, Jacksonville, Savannah, Charleston, Myrtle Beach, Chesapeake, Virginia Beach, Atlanta, Charlotte, Richmond, Washington DC and Philadelphia.
With this many incredible highlights, you'll be in for an adventure of a lifetime. Read on below to learn more about our recommended routes, places to stay, top highlights, and best seasons to make the journey.
How far is New Jersey from Florida, and how long will the road trip take?
Comparison of road trip routes between Florida and New Jersey

| Route | Distance | Driving Time |
| --- | --- | --- |
| The Coastal Route | 1,195 miles | 21 hours |
| The Inland Route | 1,315 miles | 20 hours |
There are two amazing routes that will bring you from the sunny shores of Florida to the culturally rich landscapes of New Jersey. The Coastal Route covers a distance of 1,195 miles, approximately taking around 21 hours without considering detours.
Slightly longer than the coastal option, the Inland Route will take you around 20 hours of driving time and 1,315 miles until you reach New Jersey. This does not take any detours or stops into account.
While it is possible to cover each route in just a couple of days, we recommend taking 5-6 days for your journey. This way, you'll have plenty of time to soak in all the sights and experiences of this epic East Coast adventure.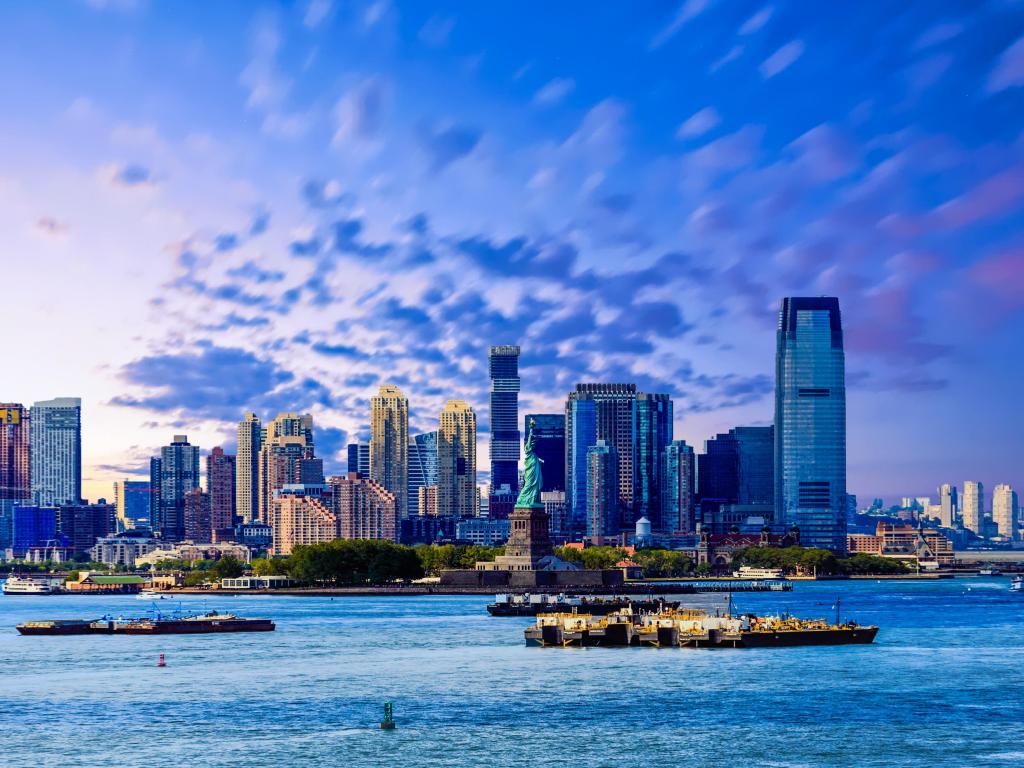 Best road trip route from Florida to New Jersey
While both the Coastal and Inland Routes are full of natural landmarks and significant historical stops, they offer contrasting sceneries and experiences. Which route you choose will depend on what you want to see and experience the most.
The Coastal Route features the best of the East Coast. From Orlando to Jersey City, you'll be treated to beaches, cities, mountains, natural areas, and, of course, amazing food and entertainment along the way.
This route will take you through historic cities, including St Augustine and Charleston, and into the fun atmosphere of Virginia Beach and the bustling life of metropolitan Philadelphia.
Along this journey, nature enthusiasts have the option to check out places like Francis Marion National Forest, known for its tall pines, cypress trees, and marshes full of wildlife, or Croatan National Forest.
If a road trip with historical highlights coupled with experiences in bustling metropolitan cities is what you seek, then the Inland Route is tailor-made for you.
Beginning with historical stops in cities such as Gainesville, Valdosta, and Richmond, this route weaves through a tapestry of museums and historic parks that echo the tales of the past.
On the Inland Route, you'll get to visit Atlanta, Charlotte, and the epicenter of the nation, Washington DC, with its museums, parks, landmarks, and nightlife.
This route is also perfect for any nature lover. You'll get to admire serene beauty of locations such as the Ocala National Forest, with its beautiful ponds, lakes, and walking trails, or the Uwharrie National Forest.
Once you reach New Jersey, you can extend your trip by going on a scenic drive or visiting one of the many beautiful lakes in the state.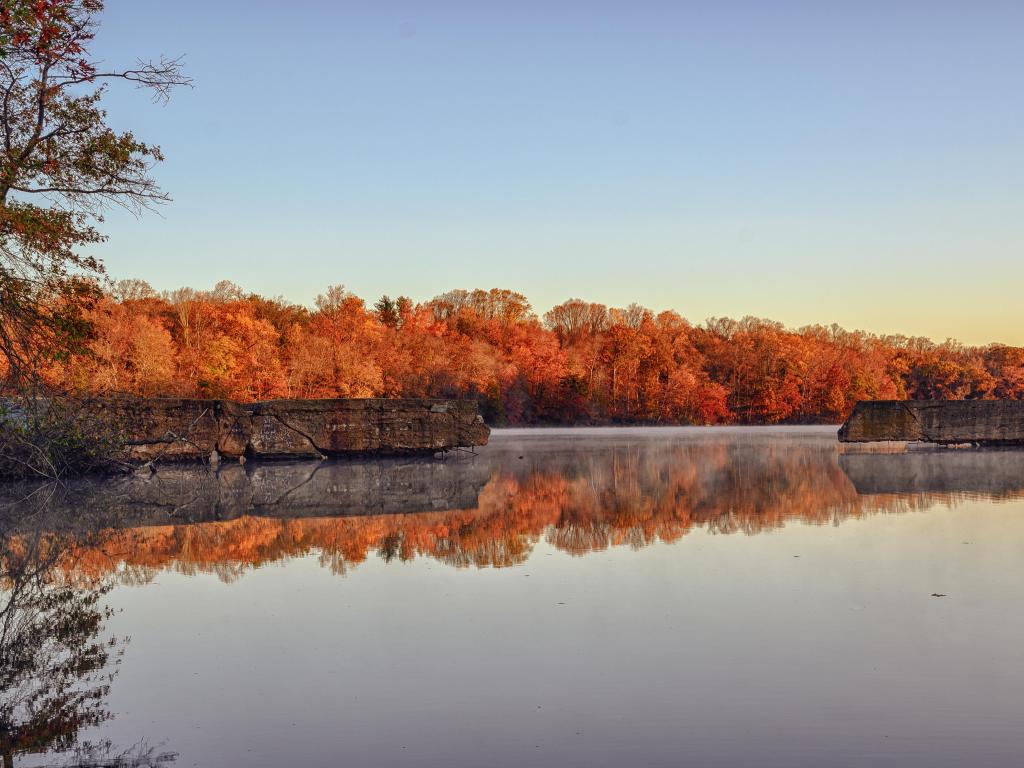 How to drive from Florida to New Jersey
The map above shows our suggestions for the best road trip routes between Florida and New Jersey. Keep reading for detailed descriptions of both routes, where to stay on either, and the best things to do on the way.
The Coastal Route
Start your journey in Orlando and head north on Interstate 4 (I-4) through Daytona Beach. Continue on the route until you reach the lovely cities of St Augustine and Jacksonville.
From here, cross in Georgia and head to Savannah. Continue on to Charleston to experience one of the food capitals of America.
Head back on the route and make your way north to the vacation hotspot Myrtle Beach. After taking in the sun and sand, drive north into North Carolina.
Explore the small towns and natural hotspots of North Carolina and continue on into Virginia. From here, you'll make your way to Virginia Beach.
Continue on the route north into Delaware. From here, you'll enter the nation's historic capital, Philadelphia. After getting your fill of cheesesteaks and exciting history, make your way north to your destination of Jersey City.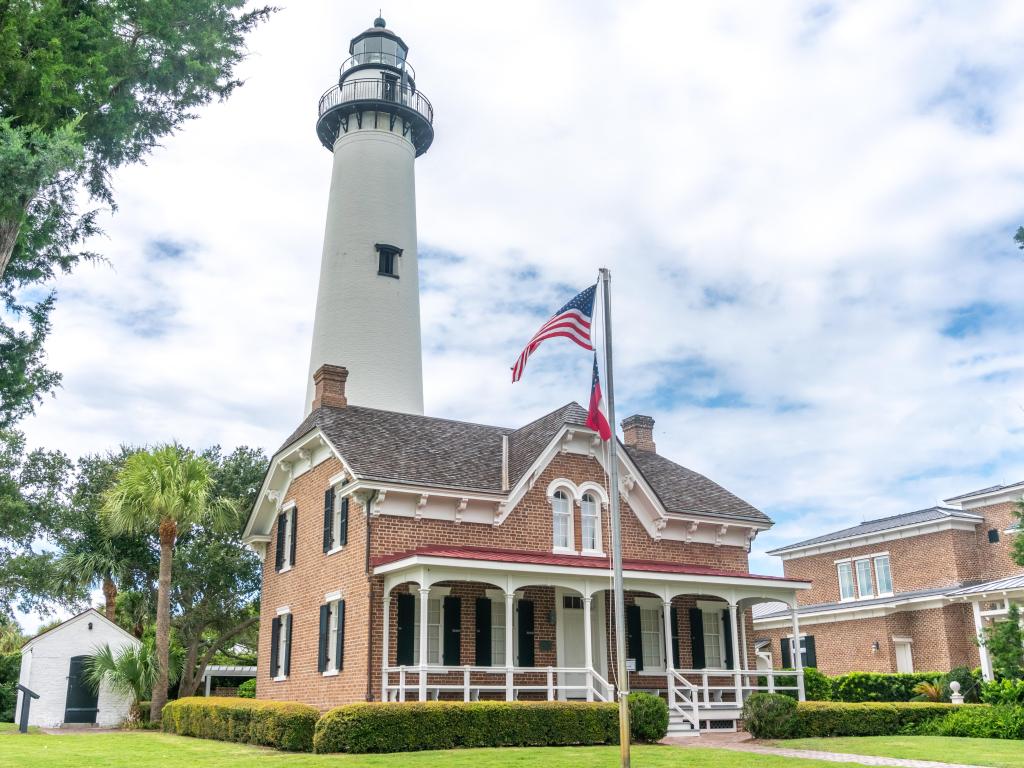 The Inland Route
Starting your epic journey in Orlando, head north through Florida's college town, Gainesville. Continue en route into Georgia. Following I-75, you'll enter Atlanta, one of America's music and culture hotspots.
Continue on route northeast on I-85 into South Carolina. With the Blue Ridge Mountains in the background, you'll pass exciting cities like Greenville and Spartanburg until you make it to Charlotte.
From here, travel through North Carolina and visit cities like Greensboro and Durham. Continue on north into Virginia to the city of Richmond. Once you return to the route, head north on I-95 into the nation's capital, Washington, DC. From here, make your way into Baltimore.
Head north from Baltimore on I-95 and make your way into Philadelphia. From here, it's only a short drive on I-95 to your destination of Jersey City.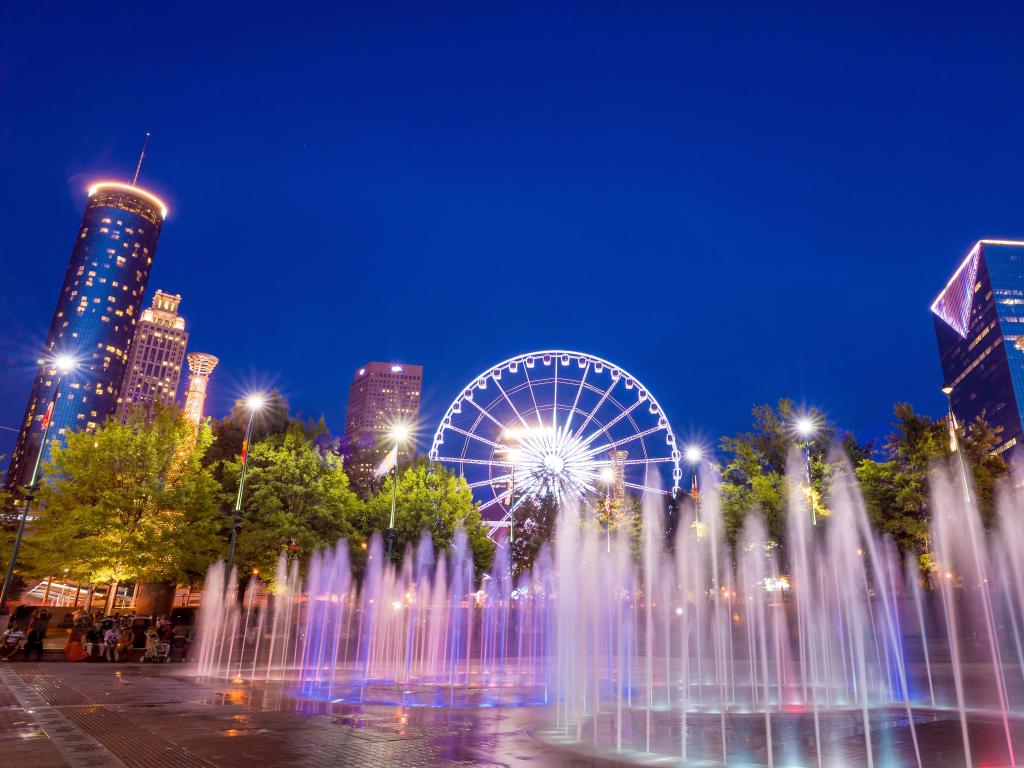 Best places to stop between Florida and New Jersey
With so much to see and do, you'll want to split the journey up and stay in one of our recommended stopovers below. This will ensure that you get to rest in luxury and make the most out of this wonderful road trip.
A coastal retreat in Virginia Beach
Virginia Beach is a perfect place to take a break on the Coastal Route, about 14 hours and 30 minutes into the drive. The city's magnificent oceanfront, coupled with a rich blend of history, arts, and culture, will make you fall in love with this coastal gem.
The star of this route is the mesmerizing Virginia Beach itself, often cited for having the longest stretch of pleasure beach in the world by the Guinness Book of World Records with a grand total of 35 miles. Here, you can enjoy surfing, swimming, or simply basking in the sun.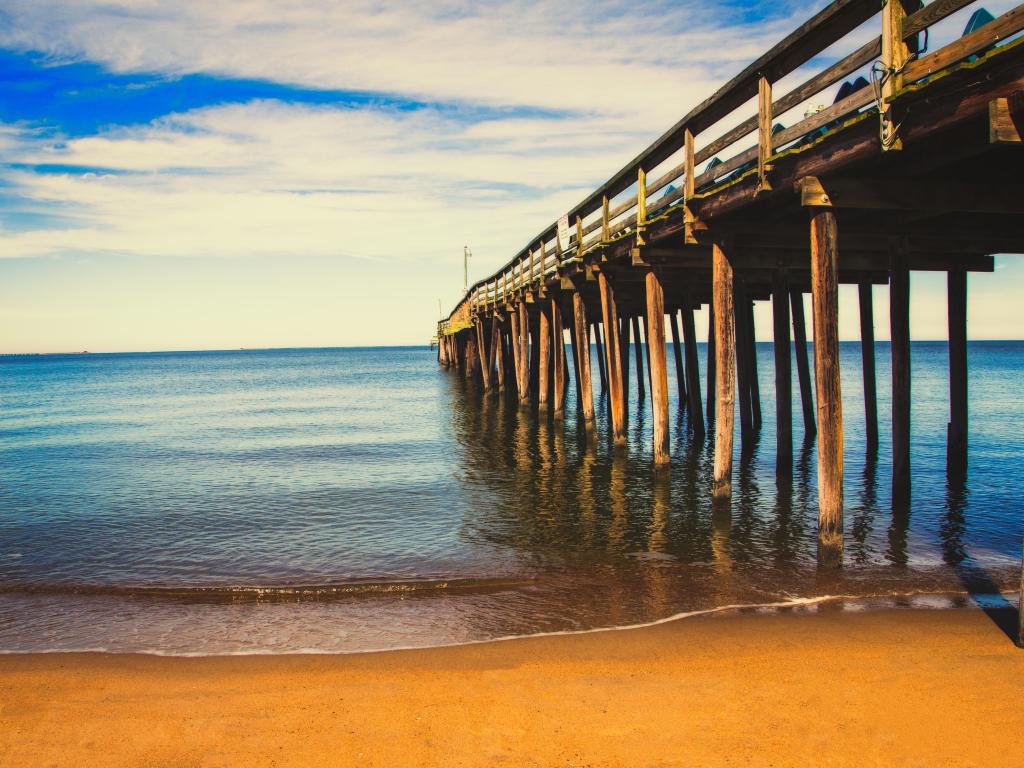 Another major highlight is the Virginia Aquarium & Marine Science Center, renowned for its aquatic exhibits and the chance to delve into the marine life that exists beneath the waves.
For art lovers, the Virginia Museum of Contemporary Art awaits you, offering a unique look into the world of contemporary artistry that will satisfy you if you're an art aficionado and newcomer.
While visiting Virginia Beach, we suggest staying at the beautiful Cavalier Virginia Beach, Autograph Collection. This beautiful resort stands a short distance from the iconic Virginia Beach Boardwalk and offers rooms styled with grandeur and luxury.
Here, you will find everything from lovely outdoor spaces to an indoor pool and a hot tub, ensuring a stay defined by comfort and style.
The vibrant Virginia Beach Boardwalk and the tranquil First Landing State Park are both short drives from the property if you are looking to explore the area further. However, we recommend returning for dinner to enjoy the acclaimed restaurant of the Cavalier.
A stroll among the iconic sights of the nation in Washington, DC
Washington, DC, is the perfect place to take a break on the Inland Route, located approximately 16 hours into the drive. The city not only stands as a center of the nation's history and government but also offers arts, culture, and world-class dining experiences.
As you venture through the city, a must-visit is the National Mall, an iconic American sight. This expansive stretch is home to historical landmarks that define America.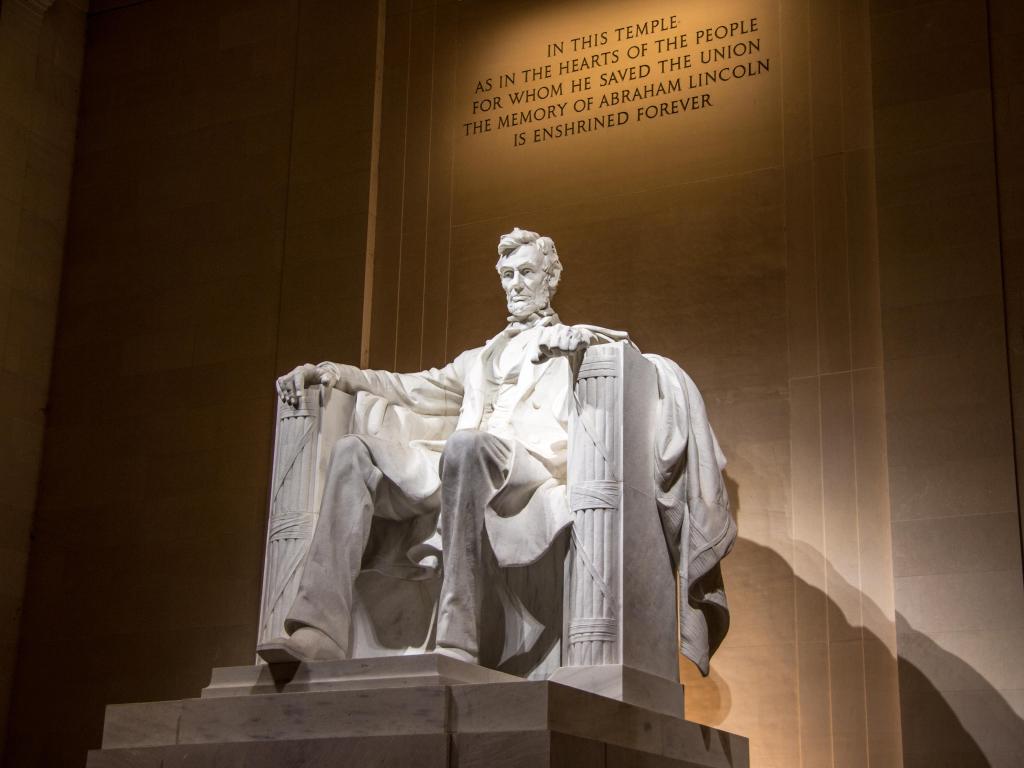 While visiting Washington, DC, we recommend resting at the luxurious Lyle DC. This stunning hotel sits near the bustling downtown, providing cozy, airy, and beautifully decorated rooms that serve as a peaceful haven after a day of exploration. This beautiful hotel features a wonderful restaurant and bar.
Beyond the comfort of the hotel, you have the city's significant landmarks within a short walk. The White House is just a half mile away, offering you a close look at the seat of the nation's governance. Similarly, the Smithsonian National Zoological Park is just over a half-mile walk.
Where to stay when you reach New Jersey
Jersey City is renowned for its rich historical landmarks, including the sight of the symbolic Statue of Liberty across the water. Once you arrive, consider taking a trip to the Liberty Science Center, a place where learning meets fun.
The city also features vibrant nightlife, famous restaurants, and plenty of fun entertainment. You're also just a short drive away from New York City.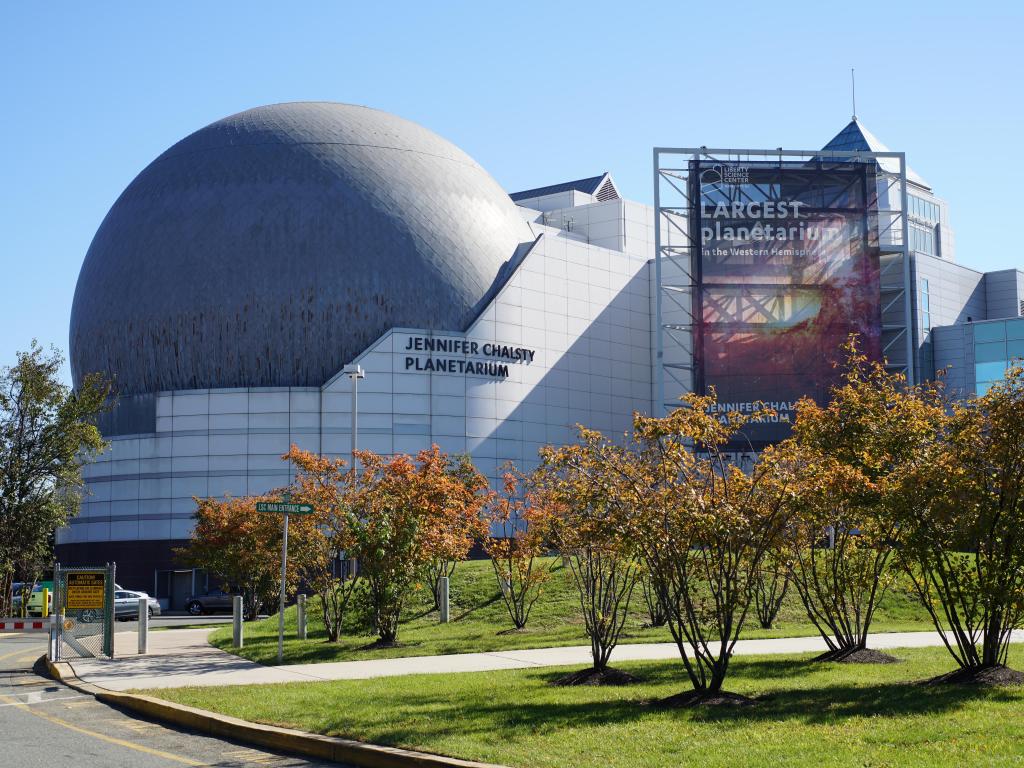 To experience the best of what Jersey City offers, make your stay at the Canopy by Hilton Jersey City Arts District. Positioned close to the Waterfront and the Historic Downtown, the hotel offers easy access to the city's prime attractions, ensuring that the vibrant life and history of the city are just a stone's throw away.
A welcoming and modern retreat, the hotel has spacious rooms equipped with wonderful amenities to make your stay as pleasant as possible. In the morning, enjoy a hearty breakfast at the on-site restaurant.
In between your city explorations, the hotel offers spaces to relax and recharge. The terrace provides a serene spot to unwind, offering a breath of fresh air and a place to soak in the city's vibes.
Things to see on a road trip from Florida to New Jersey
Both routes are full of iconic destinations and endless fun. Below, we've listed our favorite highlights along the way so you can plan your road trip of a lifetime.
Coastal Route
St Augustine - The nation's oldest city, St. Augustine in Florida offers a rich history coupled with modern-day allure, boasting Spanish colonial architecture, Atlantic Ocean beaches, and a vibrant nightlife.
Jacksonville - Jacksonville, the largest city by land area in the continental U.S., offers a blend of urban life and natural beauty, with vast parklands, vibrant arts scene, and beautiful beaches.
St Simons Island Lighthouse Museum - Situated on a barrier island of Georgia, the St. Simons Island Lighthouse Museum showcases a working lighthouse, maritime exhibits, and spectacular views of the ocean.
Savannah - The charming Southern city of Savannah is known for its well-preserved 18th-century public squares, willow-lined streets, and historic homes. Visitors can enjoy the rich history, ghost tours, and the vibrant food scene offering a blend of old and new.
Parris Island Museum, South Carolina - The museum offers a deep dive into the history of the U.S. Marine Corps, housing exhibits on the two-century-long history of the Marine Corps.
Charleston - Charleston, with its well-preserved architecture and rich history, is a hub of Southern charm and hospitality, offering beautiful gardens, historic homes, and a thriving arts scene.
Francis Marion National Forest - Named after a hero of the American Revolution, this national forest in South Carolina offers picturesque landscapes and a range of recreational opportunities.
Atalaya Castle - Nestled in Huntington Beach State Park, South Carolina, the historic Atalaya Castle was the winter home of industrialist and philanthropist Archer M. Huntington and his wife, artist Anna Hyatt Huntington.
Myrtle Beach - Myrtle Beach in South Carolina is a vibrant tourist destination known for its beautiful beaches, a range of entertainment options, and family-friendly attractions such as amusement parks and aquariums.
Sunset Beach - A serene and peaceful beach destination, Sunset Beach in North Carolina is known for its pristine beaches, golf courses, and the Ingram Planetarium.
Croatan National Forest - Located in North Carolina, the Croatan National Forest offers a unique blend of saltwater estuaries, bogs, and pocosins (wetlands).
Chesapeake - Chesapeake, Virginia, is home to a network of waterways, offering ample opportunities for boating, fishing, and wildlife observation. The city balances its natural beauty with a rich history, embodied in historic sites like the Battle of Great Bridge, and offers vibrant shopping and dining options.
Virginia Beach - This coastal city offers stunning beaches, a bustling boardwalk lined with statues and a range of attractions including the Virginia Aquarium and the Ocean Breeze Waterpark.
Delaware Art Museum - Nestled in Wilmington, the Delaware Art Museum is home to a rich collection of art, including an impressive assembly of American art and illustration, and a renowned Pre-Raphaelite collection.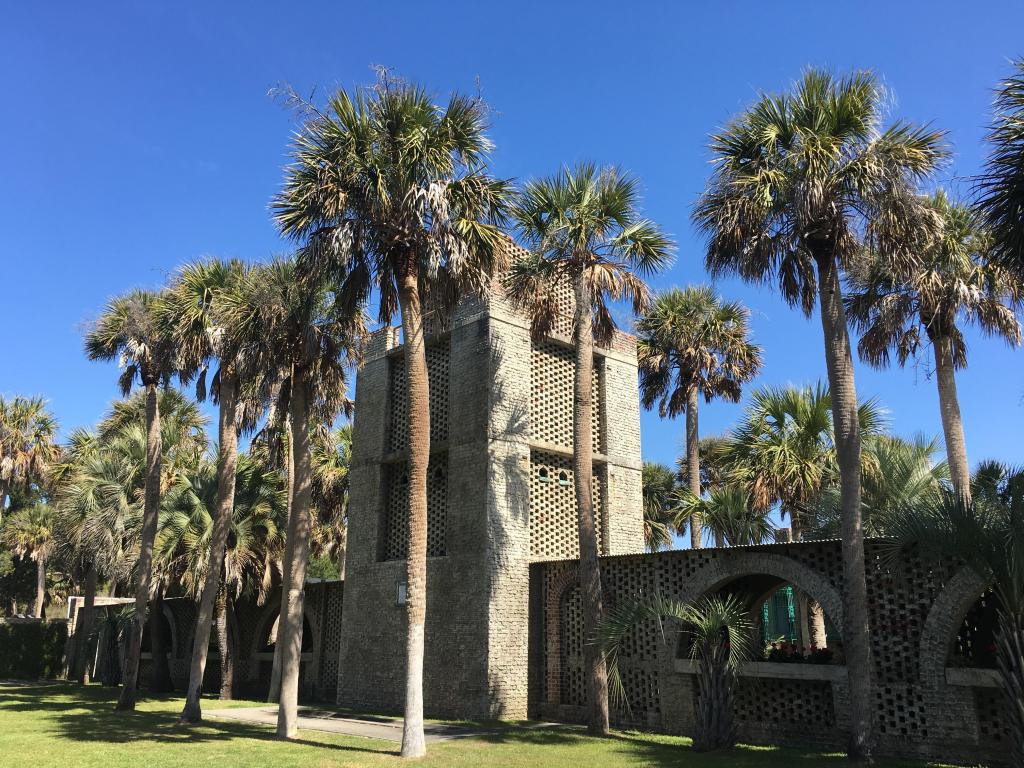 Inland Route
Ocala National Forest - Situated in central Florida, the Ocala National Forest is known for its pine forests and springs, offering a host of recreational opportunities including swimming, hiking, and camping.
Gainesville - Home to the University of Florida, Gainesville offers a rich cultural scene with museums, botanical gardens, and a range of dining and entertainment options.
Ocmulgee Mounds National Historical Park - This Macon, Georgia-based park preserves centuries of history, showcasing the mounds built by Native Americans over 17,000 years of continuous habitation.
Atlanta - Georgia's capital, Atlanta, is a bustling metropolis offering a rich history, embodied in sites like Martin Luther King Jr.'s birthplace and the Centennial Olympic Park.
Stone Mountain Park - Just outside of Atlanta, Stone Mountain Park features the iconic carved mountain, showcasing leaders of the Confederacy, surrounded by beautiful natural scenery and attractions for the whole family.
Lake Hartwell State Park - Nestled on the border of South Carolina and Georgia, this state park is known for its large man-made lake offering excellent opportunities for fishing, boating, and camping.
Upcountry History Museum - Located in Greenville, South Carolina, the Upcountry History Museum showcases the regional history of the northwest region of South Carolina, depicting its transformation over the centuries.
Charlotte - The largest city in North Carolina, Charlotte, offers a vibrant urban landscape with a rich cultural scene, home to numerous museums, art galleries, and theaters.
Uwharrie National Forest - Located in North Carolina, this national forest offers diverse landscapes with mountains, rivers, and forests.
Durham - Home to Duke University, Durham, North Carolina, is a city rich in culture and history, offering a blend of historic sites, modern architecture, and a vibrant arts and culinary scene.
Richmond - Richmond, the capital city of Virginia, offers a rich historical tapestry, embodied in sites like the American Civil War Museum and the Edgar Allan Poe Museum.
Prince William Forest Park - This park in Virginia offers 15,000 acres of unspoiled woods, providing a tranquil retreat for hiking, picnicking, and camping.
Washington, DC - The capital of the United States, Washington, DC, is home to iconic landmarks such as the White House, the Lincoln Memorial, and dozens of famous museums, most of which are part of the Smithsonian Institution.
Baltimore - Situated on the picturesque Chesapeake Bay, Baltimore is known for its maritime history, showcased in the historic Inner Harbor, home to the National Aquarium and historic ships.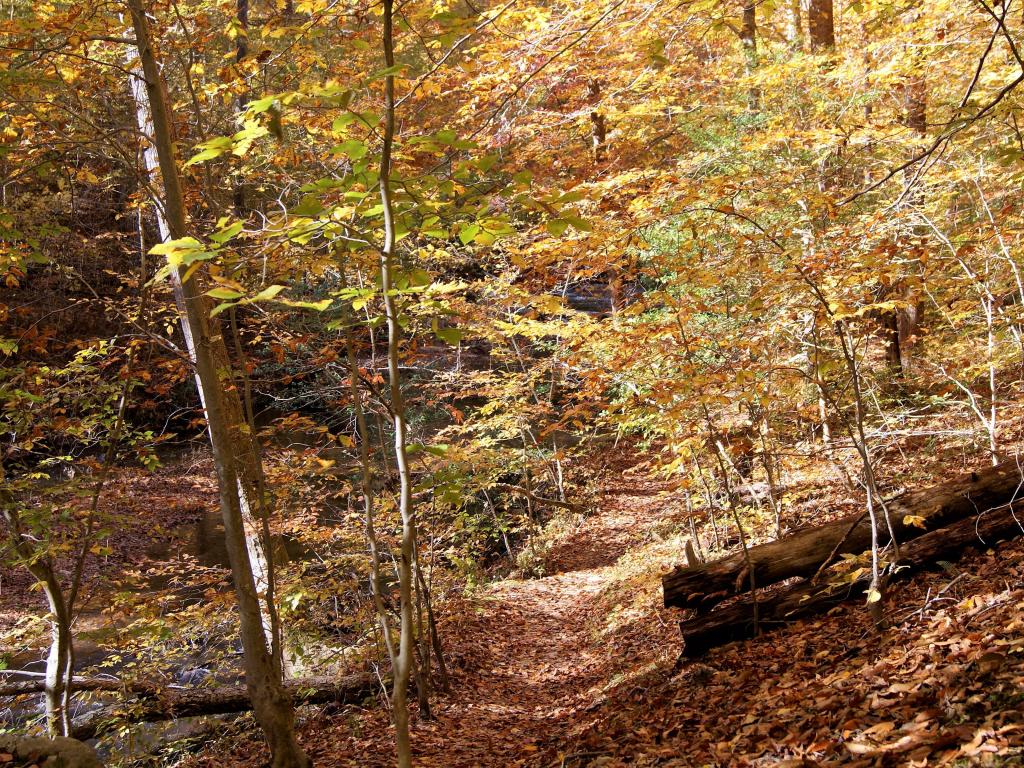 Both routes
Philadelphia - The historic city of Philadelphia is the birthplace of the United States, home to iconic landmarks such as the Liberty Bell and Independence Hall. Beyond history, the city offers a vibrant cultural scene with its array of museums, galleries, and a thriving food scene, and the iconic Philly cheesesteak.
Best time to go on a road trip from Florida to New Jersey
Jersey City is a versatile destination no matter the season. You'll get to experience plenty of festivals throughout the year with plenty to see and do.
Winter brings colder temperatures between 20 and 40 degrees Fahrenheit. Make sure to be prepared for potential snowy conditions on the roads, especially when taking the Inland Route.
The winter season brings plenty of festivities, like the famous Christmas and New Year celebrations and parades in Jersey City, Washington DC, and Philadelphia.
Springtime is a beautiful time of year, with pleasant temperatures and plenty of festivals and events. If the Coastal Route is your chosen path, align your trip with the St. Augustine Lions Seafood Festival and the Philadelphia Flower Show in March.
Both routes are perfect in the fall, with pleasant temperatures and a chance to see the epic fall colors of Virginia, Delaware, and New Jersey. If you're traveling in the fall, check out the Virginia Beach Neptune Festival in September/October or the Music Midtown in Atlanta in September.
Summer is everyone's favorite time to travel along this route as temperatures will be warm and beaches will be open for tourists. This is also the time with the most tourists, so book accommodations in advance.
Once in Jersey City, immerse yourself in the local cultural scene with events like the Jersey City Jazz Festival in June and the vibrant All About Downtown Street Fair in September.