Road Trip From Houston To Denver
If an unforgettable trip through the American South sounds appealing to you, you should consider a trip from Houston to Denver. The adventure will take you past the most scenic parts of Texas and Colorado, as well as countless beautiful landmarks in between.
The 1,120-mile road trip from Houston to Denver takes 15 hours 45 minutes to drive. Stops include Sam Houston and San Isabel National Forests, the cities of Colorado Springs, Oklahoma City, and Taos Pueblo, as well as Rocky Mountain National Park
A long trip like this one requires extensive planning, so be sure to read until the end to get to know the route.
How far is Denver from Houston and how long will the road trip take?
| Route | Distance | Driving Time |
| --- | --- | --- |
| The Texas Panhandle Route | 1,030 miles | 15 hours 20 minutes |
| The Oklahoma/Kansas Route | 1,120 miles | 15 hours 45 minutes |
The road trip from Houston to Denver can be done in around 15 hours, and the most straightforward route covers around 1,030 miles of driving.
This means that you'll need to split your trip up into at least 2 days of travel, although you're better off taking more time than that to do some exploring on the way.
The route passes through the northernmost parts of Texas (known as the "panhandle") before briefly entering New Mexico and taking you along the Rockies in Colorado.
Mileage-wise, this is the quickest way to get to Denver, and Amarillo makes for a great stopover in the very center of the route.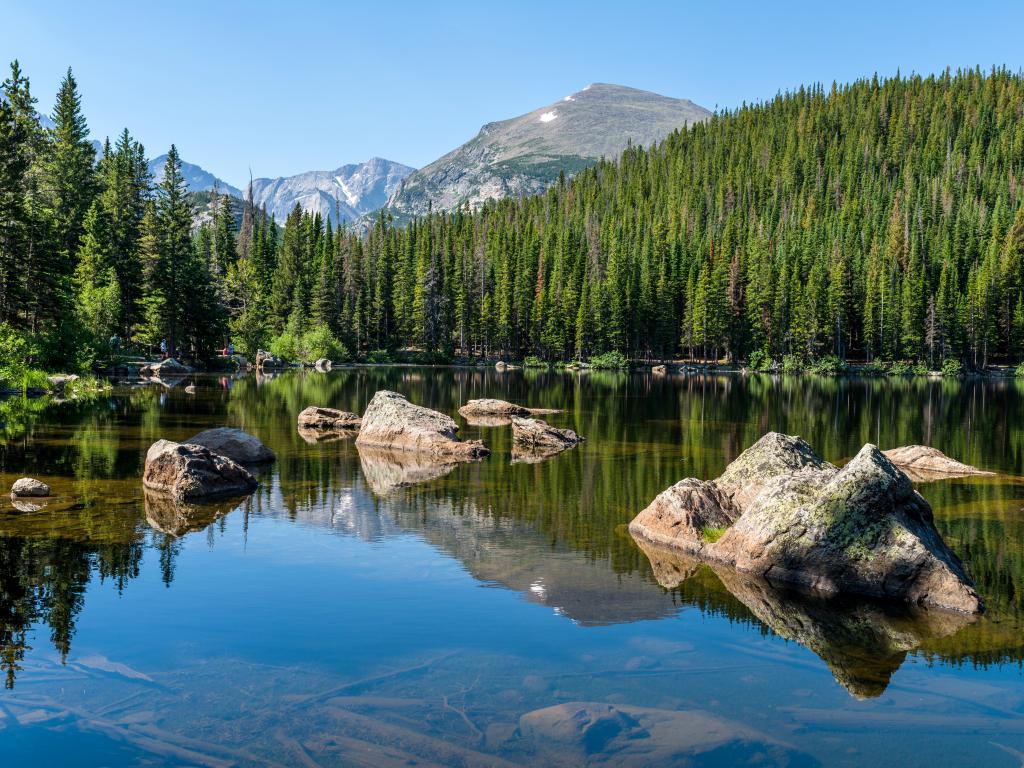 With that said, the middle third or so of this route is a bit lacking in terms of scenery, especially when you consider how beautiful the forests in the Houston and Denver areas are.
What's more, snow closures are not uncommon in the panhandle region, potentially extending your travel time or forcing you to look for alternate roads.
Another option is to drive through Oklahoma and Kansas – although this is technically a longer route, you'll be driving on various interstates the entire way, and while Oklahoma City occasionally has bad traffic, it pales in comparison to the congestion in Houston.
If you are visiting Rocky Mountain National Park, keep in mind that the national park uses a timed entry permit system. Please check the national park's website to see if you need to make a reservation before your visit.
Best road trip route from Houston to Denver
It's hard to determine the "best" road trip route from Houston to Denver – the two outlined routes are quite comparable in terms of length, and while certain parts of each itinerary are more scenic than others, both offer an overall amazing experience.
How to drive from Houston to Denver
The map above shows our suggestions for the best road trip routes between Houston and Denver. Keep reading for detailed descriptions of both routes, where to stay on either, and the best things to do on the way.
The Texas Panhandle Route
Take Interstate 45 out of Houston, driving past WG Jones State Forest and Sam Houston National Forest. Past Davy Crocket National Forest, jump onto Route 287, and visit Cedar Hill State Park before reaching Fort Worth.
Follow this road through Wichita Falls and past Caprock Canyons State Park, then make a stop at Amarillo in the Texas Panhandle. From there, take Highway 87 past Rita Blanca National Grasslands and into New Mexico.
While you're here, you can detour to Taos or Carson National Forest. After passing Sugarite Canyon State Park, leave New Mexico via Interstate 25 and enter Colorado.
Be sure to detour to Great Sand Dunes National Park and Preserve, then continue through Colorado Springs and past San Isabel National Forest. Not long after that, you'll reach the city of Denver.
The Oklahoma/Kansas Route
Instead of getting onto route 287 north of Davy Crocket National Forest, stay on Interstate 45 and drive through Dallas. Take Interstate 35 out of the city, following it past Ray Roberts Lake State Park, then cross the Red River into Oklahoma.
Still on the interstate, pass Lake Murray State Park, Turner Falls Park, and the Arbuckle Wilderness. Just north of Lake Thunderbird State Park is Oklahoma City – get your bearings here and follow the interstate into Kansas.
Hop onto Interstate 135 in Wichita and follow it to Salina, then take Interstate 70 west. Drive past Wilson Lake and its adjacent parks until you've made your way to Colorado, and stay on the interstate until you've reached Denver.
Best places to stop between Houston and Denver
With a total of over 2,000 miles between the two routes, there are plenty of great places for you to check out between Houston and Denver. With that said, these are definitely among the best:
Spend an unforgettable night in Taos
If you're looking to change things up with a more offbeat location for your overnight stop, you won't find a more unique town to stay in than Taos. Although there are many iconic resorts here, Adobe and Pines Inn Bed & Breakfast looks like a time capsule in the best possible way.
What makes this particular rental stand out is the unique presentation – featuring rustic furniture with an indigenous design, the rooms at Adobe and Pines set a mood the way few high-end resorts can.
The decorations are nothing short of breathtaking, and there's nothing quite like relaxing by the fireplace on a chilly evening.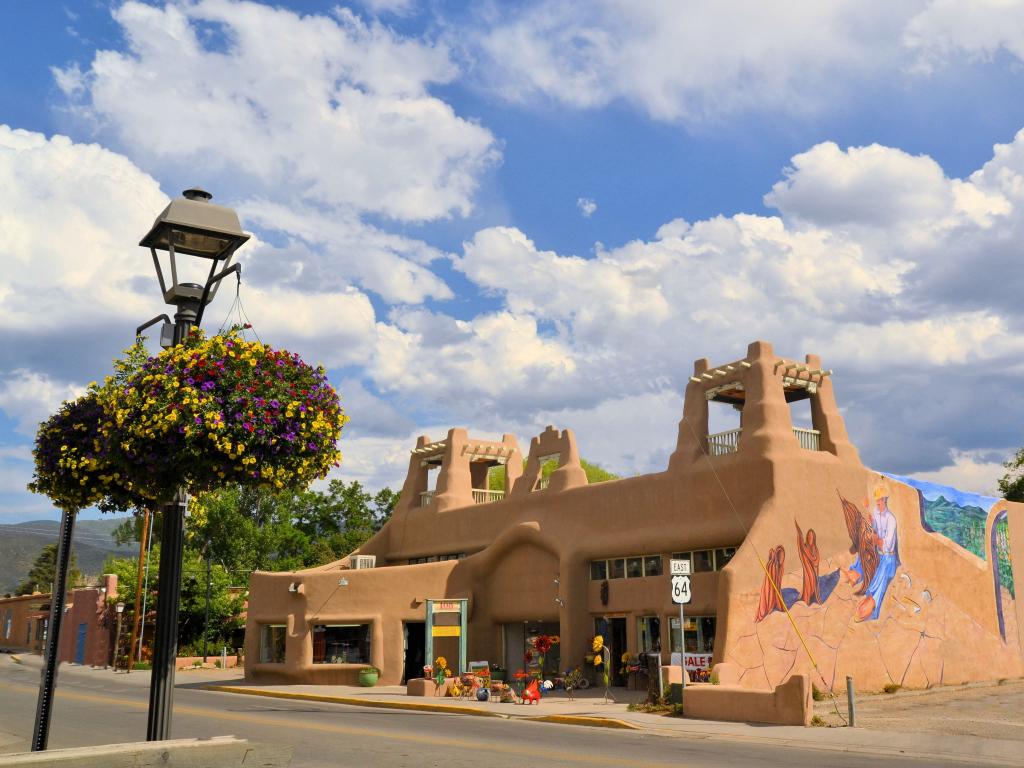 In addition, certain suites come with hot tubs, the perfect place to spend a chilly evening. If you've gotten to know some of the other guests, the fire pit area makes for a great gathering spot at nighttime.
Finally, while the town's unique architecture is why many of its resorts are a bit pricey, this Adobe and Pines Inn Bed & Breakfast is among the most affordable in the area. Take full advantage of your stay and explore the Historic District of Taos while you're there.
Relax and unwind with style in Denver
The prices on many of Denver's top hotels are quite steep, but if you're looking for the perfect mix of luxurious and affordable, Hyatt Regency Denver boasts the best cuisine in town and offers some of the coziest rooms money can buy.
Offering incredible views of the city (with some rooms overlooking the mountains), you'll be waking up to a magnificent sight in this hotel. The rooms themselves are incredibly well put together, leaving you plenty of space to get comfortable and even get some work done.
All your dining needs will be taken care of at Former Saint Kitchen + Bar, which offers meals three times a day. If you'd like something less extravagant, you can relax in the lounge area and enjoy an unobstructed city view from the floor-to-ceiling windows.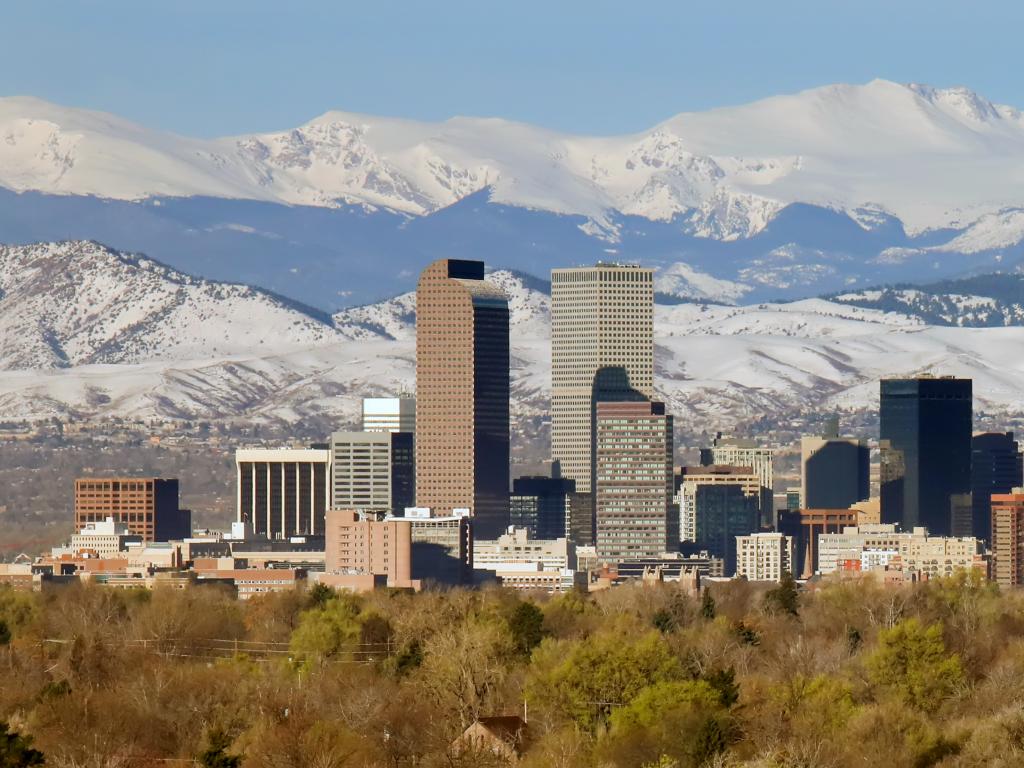 Other amenities included in your stay are a large swimming pool, an outdoor hot tub, a fitness center, as well as spa and wellness services – you couldn't ask for anything more.
Even with all that said, Hyatt Regency Denver's biggest selling point might just be its great location. You'll be mere minutes from the center of Denver, allowing you to get to Paramount and Buell Theaters, Larimer Square, and countless amazing restaurants in no time at all.
Things to see on a road trip from Houston to Denver
Due in no small part to the Rocky Mountains, the number of things to see on a road trip from Houston to Denver is staggering. Although it'd be impossible to list everything, consider checking out as many of the following places as possible:
Sam Houston National Forest – One of only 4 national forests in all of Texas, this forest features the beautiful Lone Star Hiking Trail.
Cedar Hill State Park – A gorgeous park featuring campgrounds and a slew of historic buildings dating back to 200 years ago.
Fort Worth – Featuring some of the States' greatest architectural feats and a huge student population (courtesy of the many universities), Fort Worth is difficult to pass up.
Caprock Canyons and Palo Duro Canyon State Parks – Offering a more rugged atmosphere than their more southern counterparts, these parks offer some beautiful hiking and biking spots.
Taos Pueblo – A historic Native American Pueblo, widely known to be one of the oldest communities in the States.
Great Sand Dunes National Park and Preserve – This marvelous park features the largest dunes in all of North America.
Colorado Springs – Colorado's largest city is one of the fastest-developing places in this part of the States, and it features a breathtaking mountainous backdrop.
Arapaho and Roosevelt National Forests – These forests are perhaps best known for their beautiful fall palette and abundance of rare wildlife.
Rocky Mountain National Park – One of the most visited parks in all of North America, this park offers beautiful views and countless opportunities for outdoor activities.
Dallas – Stopping by the Arts District when visiting this beautiful city is an absolute must.
Lake Murray State Park – Besides being Oklahoma's largest park, this is the go-to spot for boating and waterside lodging on this road trip.
Turner Falls Park – A beautiful segment of the Arbuckle Mountains, featuring hiking trails, caves, and the titular waterfall.
Lake Thunderbird State Park – An elusive "hilly" region in the otherwise flat heart of Oklahoma.
Oklahoma City – Oklahoma's capital is easily distinguished by its largely preserved cowboy aesthetic.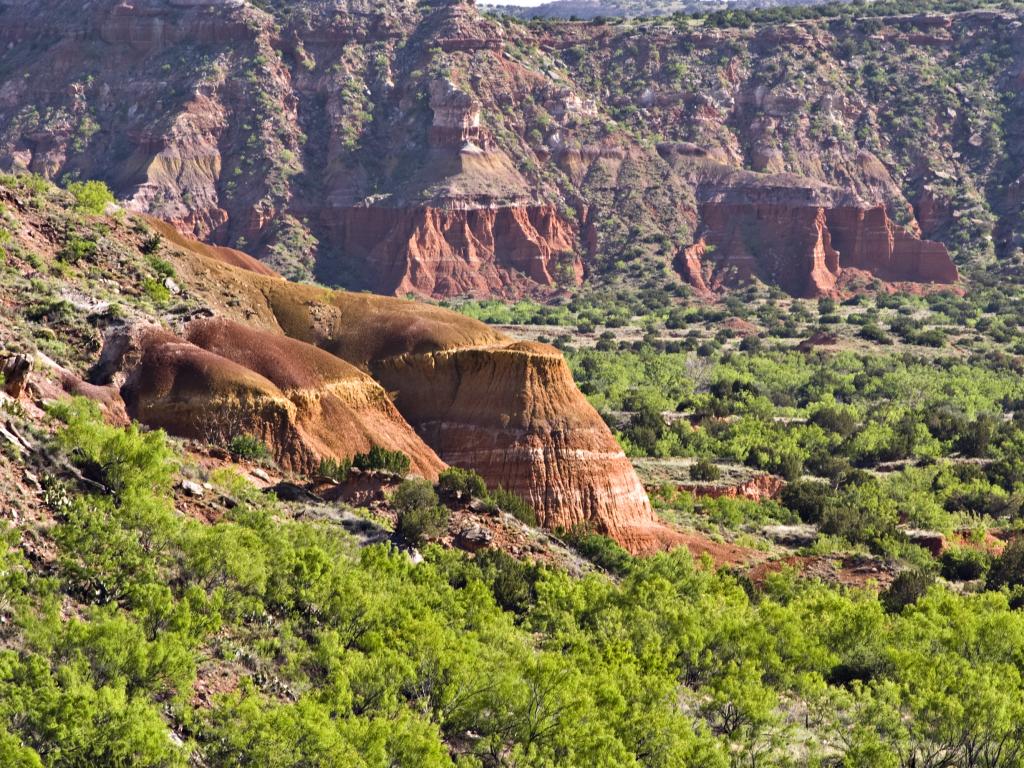 Best time to go on a road trip from Houston to Denver
There really is no best time to do the road trip from Houston to Denver, although there are certain benefits to making the drive at different times of the year.
Firstly, the forests in the Houston and Denver areas are arguably the highlights of the trip, and if you want unrestricted access to as many of them as possible, consider doing the trip outside of winter.
As far as Denver itself is concerned, you can expect sizable crowds no matter the season – summer, for instance, is when many of the city's notable festivals and expos take place, but the combination of 90-degree (Fahrenheit) temperatures and humid atmosphere definitely isn't for everybody.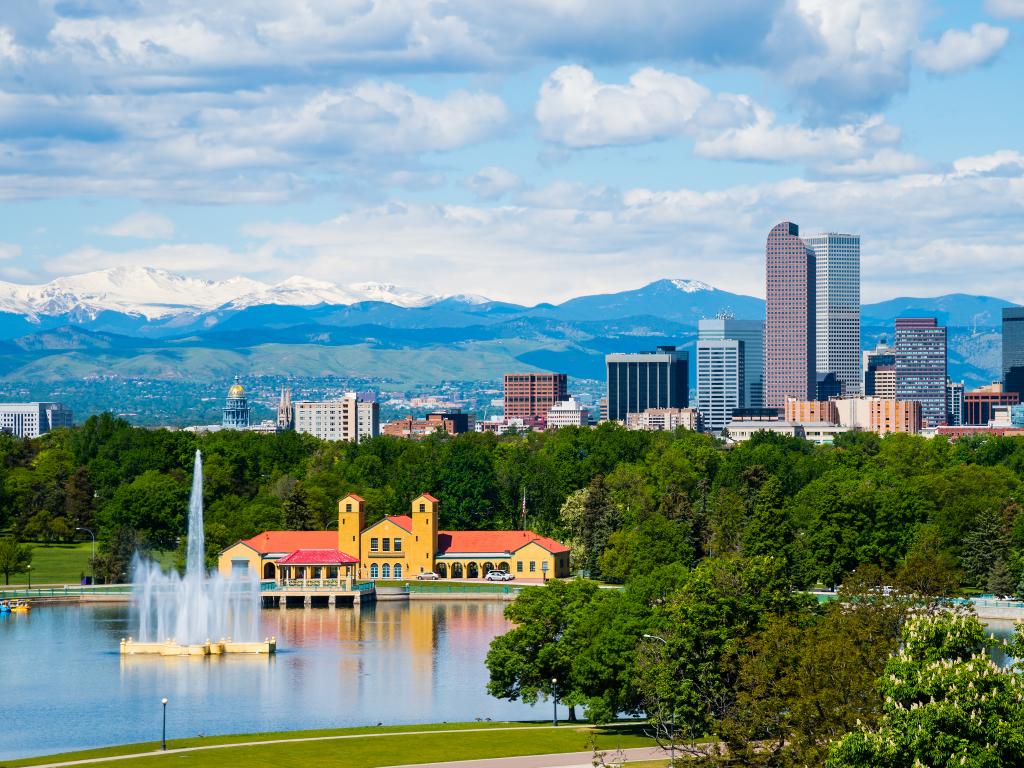 Another approach would be to visit in spring or fall – temperatures max out at the mid-70s, and there are events like Cinco de Mayo in spring and Beer Fest in September to keep you occupied. With that said, the weather in the region tends to fluctuate, so be sure to pack smart.
The Rocky Mountains are among Colorado's greatest exploits, and wintertime visitors will be rewarded with a skiing experience of a lifetime.
It's not uncommon for ski season in the Denver area to continue into early spring, making March a great time to visit if you want somewhat warmer weather in a snowier-than-average year.