Road Trip from Houston to Fredericksburg, Texas
If a trip exploring the hidden gems of the Lone Star State excites you, this trip from Houston to Fredericksburg will not disappoint! On this drive, you'll love the wonderful mix of urban and countryside vibes, indoor and outdoor attractions, and exciting musical and historical attractions.
The 310-mile road trip from Houston to Fredericksburg takes 6 hours to drive, visiting Brenham, Somerville, Elgin, Austin, San Marcos, New Braunfels, Guadalupe River State Park, Blanco State Park, and Lyndon B Johnson State Park on a fast route.
Below, we detail two incredible routes, fantastic places to stay, must-visit sights, and the best time to take this trip.
How far is Fredericksburg, Texas, from Houston, and how long will the road trip take?
Comparison of road trip route options between Houston and Fredericksburg

| Route | Distance | Driving Time |
| --- | --- | --- |
| The Fast Austin Route | 310 miles | 6 hours |
| The San Antonio Route | 580 miles | 11 hours |
The quick drive to Fredericksburg from Houston via The Fast Austin Route takes about 6 hours to cover 310 miles, not considering stopovers and detours.
If you have a lot of time on your hands and love a leisurely drive, opt for The San Antonio Route, covering 580 miles over 11 hours of driving without food or gas breaks.
Based on your route choice, we advise you to take at least 2-5 days to explore the natural wonders, historical monuments, beautiful waters, and exciting city life of Lone Star State.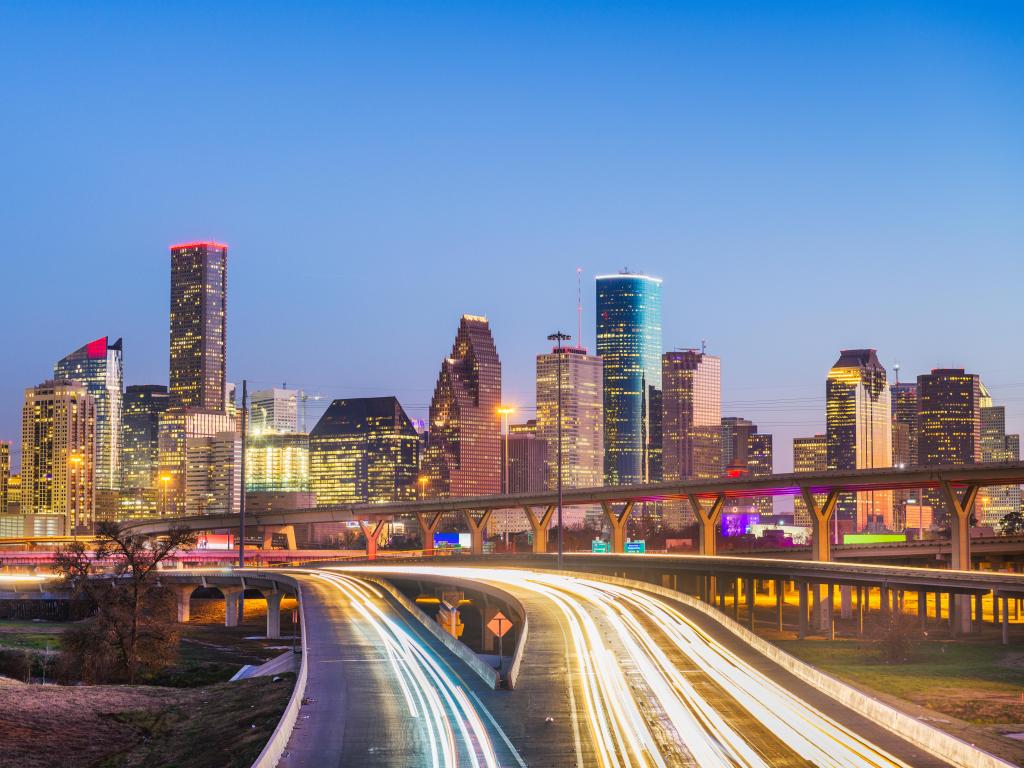 Best road trip route from Houston to Fredericksburg, Texas
We have detailed two excellent route options for this Texas adventure. Regardless of your route, you'll encounter many awe-inspiring attractions in Texas.
If you're short on time, take The Fast Austin Route to get to Fredericksburg. It is a no-nonsense speedy drive that'll take you through the 'Live Music Capital of the World,' Austin, where live music pours from the bars throughout the city.
On either side of Austin are towns with historic districts and many state parks to stretch your legs. With spring-fed lakes and oak trees offering shade, you can absorb nature while enjoying a picnic or stroll.
The San Antonio Route will take you along the Texas Gulf Coast, visiting Galveston, Jamaica Beach, Kelly Hamby Nature Trail Park, Freeport, Lighthouse Beach, Port Aransas Beach, Padre Island National Seashore, and Corpus Christi, with an optional detour to South Padre Island.
If you'd like to visit South Padre Island, check out our comprehensive guide on the best way to drive there.
As you continue the road trip northwest, you'll meet San Antonio with the famous Alamo landmark and the Cave without a Name in Boerne.
The Fast Austin Route
Take US-290 out of Houston and follow it till you reach Brenham. From there, TX-36 will take you to the lake town of Sommerville, where you can enjoy the waterfront and serene surroundings.
Follow the route east, merge into US-290, and continue till you reach Austin. After enjoying the city vibes at Austin, head south on Interstate 35 (I-35) to New Braunfels, visiting San Marcos on the way.
Then continue driving on TX-46 until Canyon Lake, and merge into US-281 to head north. The road will take you to the scenic Banco State Park, where you can enjoy outdoor activities amidst nature.
To reach Lyndon B. Johnson State Park, take the 1623 Ranch Road up north. After touring the famous ranch, continue on US-290 for the last lap of your journey and reach Fredericksburg.
The San Antonio Route
Head southeast on I-45 to reach Galveston. Soak in the scenic water views and admire the beach towns lining the Gulf of Mexico. Cross Galveston Island taking Termini-San Luis Pass Road, passing Jamaica Beach on the way.
After driving to Surfside Beach, take a right on TX-332 and cruise along the Brazos River. At Brazoria, merge into FM-521 to head east.
Soon after, take a right turn at Cedar Lane to head north and merge into TX-35. You'll cross the gorgeous waters and bays of Matagorda, San Antonio, and Aransas. Take TX-361 south to reach Port Aransas Beach.
Follow the route through Mustang Island State Park and drive straight to Padre Island National Seashore. After exploring the pristine waters, head back to Park Road 22, and take a left on TX-358.
Crossing Oso Bay, take TX-286 to reach Corpus Christi. Enjoy the quintessential beach activities before heading north on I-37. The road will take you to San Antonio with a tiny detour to Choke Canyon State Park.
Take I-10 out of San Antonio and drive north till Boerne. There, hop onto FM-474 for the final part of your trip. On the way, take a right to explore the Cave without a Name.
FM-1376 will then take you north through Luckenbach to meet US-290 again. Take a left to reach Fredericksburg finally.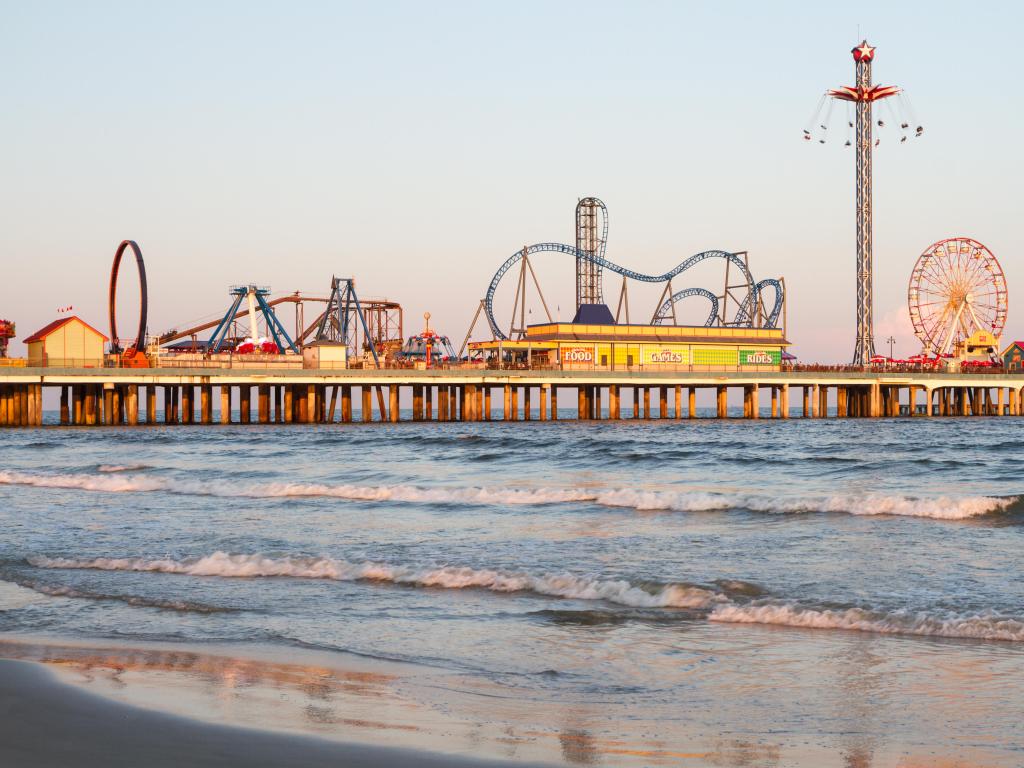 Best places to stop between Houston and Fredericksburg, Texas
This trip is choke-full of fun things to do and places to see on the way. To make this unforgettable experience easy to plan, we have picked two excellent stopover points and hotels along both routes.
Soak in the city vibes at Austin
A little over halfway on The Fast Austin Route, Austin is the perfect point to take a break from driving. Being one of the major cities on this route, it offers many things.
You can enjoy live music pouring out of every bar on Sixth Street. If you're here for the music, also check out the Texas Music Museum.
No trip to Austin is complete without experiencing the nightlife. You'll find trendy cocktail bars, but if you want to go to the heart of the action, try Rainey Street.
During summers, cool off at Barton Springs. It's the perfect place to enjoy the cool natural waters that fill the Barton Spring Pool.
Located downtown and in the middle of all the happening attractions, look no further than Fairmont Austin for your luxury stay. You can take advantage of the paid parking and treat yourself to a relaxing spa time.
They have a variety of spa treatments, saline soaking pools, a steam grotto, and a dry heat sauna that'll melt your driving stress away. Also, you can keep up with your workout routine at their posh fitness center with personal trainer services.
When hungry, hop over to their on-site restaurant or enjoy a poolside drink at their rooftop pool. The hotel also offers complimentary Trek Mountain Bikes for exploring the outdoors.
A perfect beach stopover at Corpus Christi
Because of its perfect halfway placement on The San Antonio Route, Corpus Christi makes for an ideal stopover point. It is an excellent place to stay and enjoy beaches, history, and seafood.
Known as the home of the USS Lexington, you can see the sunken World War II ship in this city. Another must-visit attraction is the gorgeous Texas State Aquarium. The AZA-accredited aquarium is big on conservation, where you can see local sea life, such as dolphins to sharks.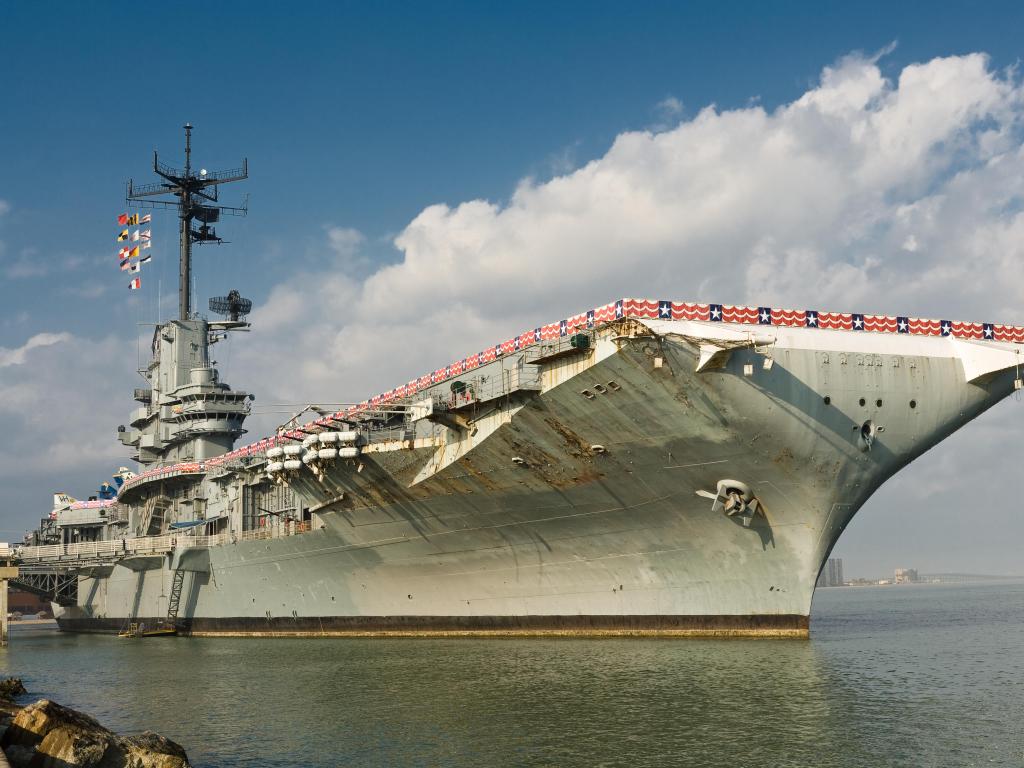 You won't have to travel far to spend a day on the beach. McGee Beach is downtown. Rental companies offer umbrellas, beach chairs, cabanas, pedal boats, and jet skis.
Located at walking distance from most attractions and with easy access to I-37, Omni Corpus Christi Hotel is a fantastic hotel for an overnight stay. With paid on-site parking and Marina District outside, you can explore the city on foot.
The hotel offers excellent amenities like an outdoor heated swimming pool, an on-site salon, and rejuvenating wellness treatments. You can also work out at their fitness center and enjoy a game of racquetball.
The rooms are elegant and decorated with cherry wood furniture. When hungry, indulge in delicious food at the on-site Iconic Republic of Texas Bar and Grill while taking panoramic views of Corpus Christi Bay.
Where to stay when you reach Fredericksburg, Texas
Upon arriving in Fredericksburg, we suggest you check in at the Fredericksburg Inn and Suites to spend your days there. Known for the historic downtown and gorgeous wineries, you can spend much time exploring the city.
What we love the most about this property is that they offer free on-site parking and complimentary breakfast. The hotel also boasts a hot tub, two outdoor swimming pools, and a stone gazebo with a fireplace.
Should you plan a longer stay, know that they have clean and comfy rooms and plenty of nearby restaurants, bars, cafes, and gardens. You can also stroll places like the famous Historic District of Fredericksburg, and the Enchanted Rock State Park is just a short drive away.
Things to see on a road trip from Houston to Fredericksburg, Texas
This drive is an excellent way to explore coastal and inland Texas's famous and hidden treasures. We have compiled a list of the must-visit sites that'll amaze you.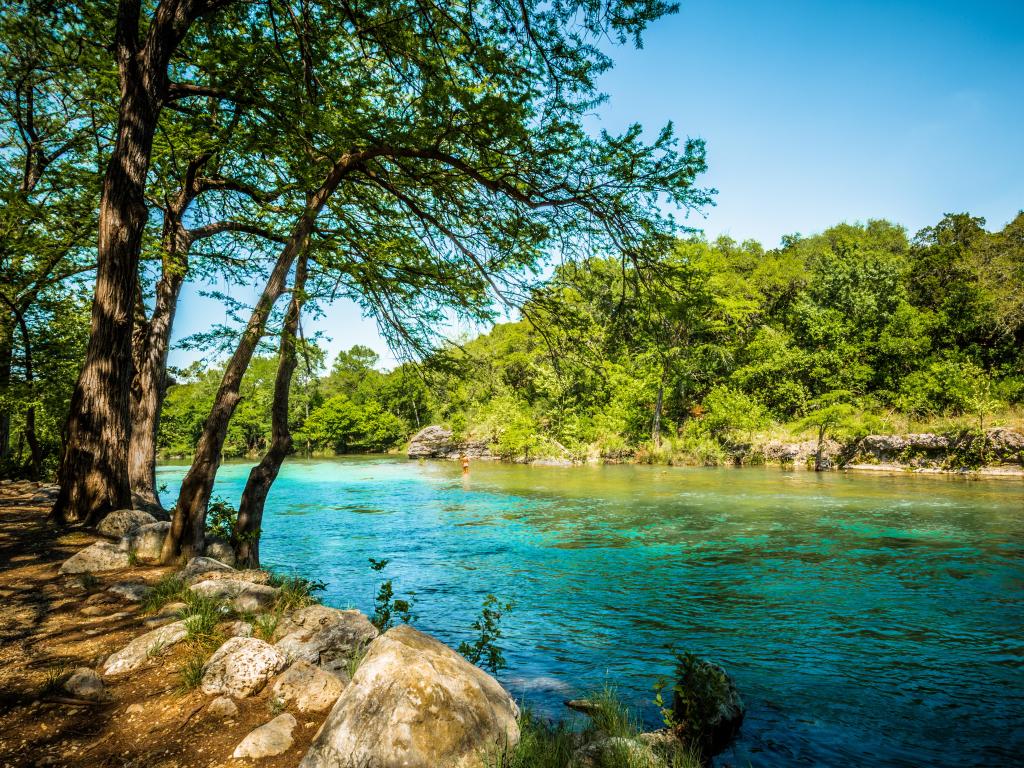 The Fast Austin Route
Brenham, Texas – Historic downtown is full of ancient buildings. But Brenham is perhaps most famous for the Blue Bell Creamery. You can tour the visitor center and try a few scoops.
Somerville, Texas – State parks surround Lake Somerville. Lake Somerville Marina has expansive campgrounds and picnic areas without having to detour.
Elgin, Texas – The 'Sausage Capital of Texas' is famous for the Elgin Hot Sausage. Before browsing the historic district, head to the Southside Market to try the local delicacy.
San Marcos, Texas – Tour the Balcones Fault Line Cave, a cave formed from an earthquake. Take a ride on a glass-bottom boat on Spring Lake.
New Braunfels, Texas – Enjoy the shade of oak trees at Landa Park. Tour the park on a mini train or hire a paddle boat to see the Comal Springs.
Guadalupe River State Park, Texas – Hire a canoe and float along the Guadalupe River, explore the 13 miles of hiking trails, or set up camp. You can even hire camping equipment from Texas Park Outfitters.
Blanco State Park, Texas – Camo along the banks of the spring-fed Blanco River. Or enjoy a picnic beneath the towering oak trees.
Lyndon B Johnson State Park, Texas – You can explore the Sauer-Beckmann Living History Farm and walk trails, where you'll encounter bison and longhorns.
The San Antonio Route
Galveston, Texas – Country Living referred to Galveston as "one of the most charming beach towns in the country." East Beach and Stewart Beach are popular seaside spots, while the Historic District bustles at night.
Jamaica Beach, Texas – Visit the beach and see the natural landscapes in Galveston Island State Park.
Kelly Hamby Nature Trail Park, Freeport, Texas – Spot birds while walking along the beachside trails. You can see migrating Monarchs from late September to early October.
Lighthouse Beach, Port Lavaca, Texas – The shallow waters of Port Lavaca make it an ideal spot for families to spend time in the sea. Try Lighthouse Beach and Magnolia Beach.
Port Aransas Beach, Texas – Enjoy a private trip on a catamaran to see dolphins. A great trip for all the family. If you want to let your hair down, the party cruise might be for you.
Padre Island National Seashore, Texas – Padre Island is the longest untouched barrier island in the world. Enjoy the Gulf on the idyllic sandy beaches.
South Padre Island, Texas (Optional Detour) – If you enjoy the beach life, continue your journey to South Padre Island. The resort town is a great spot for dolphin watching, beach days, and enjoying live music come nightfall.
Choke Canyon State Park, Calliham, Texas – With cabins and campgrounds, you can stay the night to soak in the great outdoors. Keep your eye out for the local wildlife, including gators, skinks, raccoons, deer, and coyotes.
San Antonio, Texas – Enjoy the Riverwalks leading to The Alamo. At one of the world's most famous historical spots, you can take a guided tour to learn about its history.
Cave Without A Name, Boerne, Texas – Marvel at the natural wonders that lurk in the Cave Without A Name. Reserve your 60-minute tour to avoid missing this National Natural Landmark.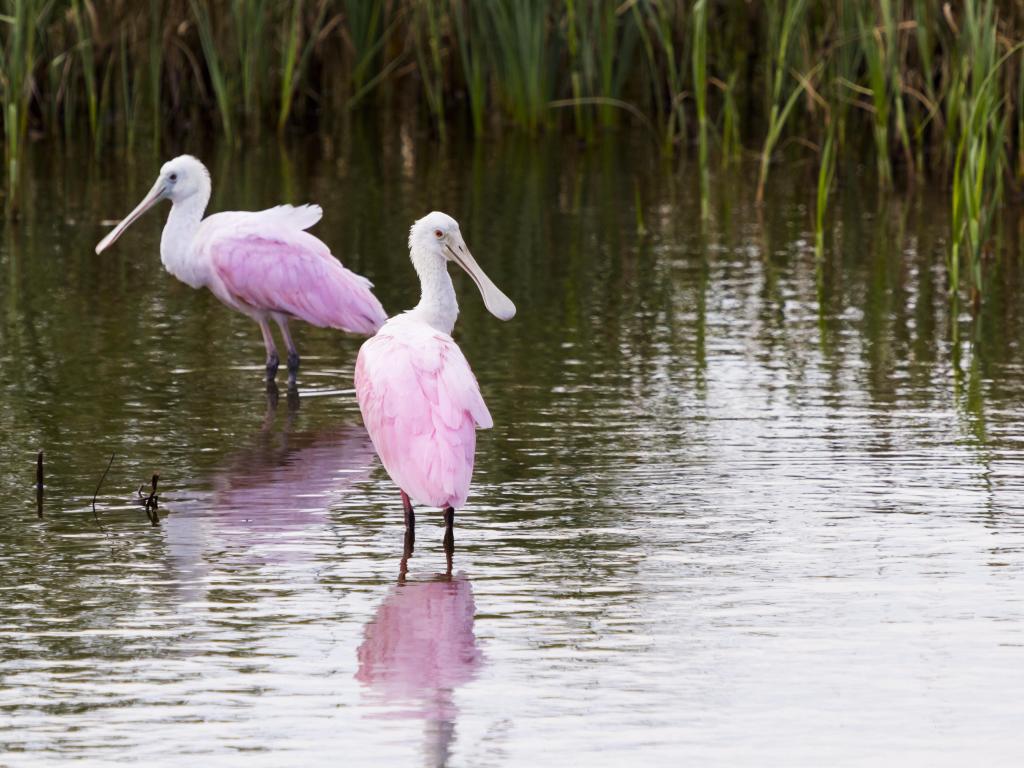 Best time to go on a road trip from Houston to Fredericksburg, Texas
You can visit Fredericksburg any time of the year but plan your trip during the off-season for the best deals.
Fredericksburg is hot in summer, and the temperature averages around 74 to76 degrees Fahrenheit during summer. Because of school vacation, July is a popular time for families to visit. That said, June tends to be quieter because school vacation isn't in full swing.
Winters are cold but not freezing, and the average temperatures in the winter months are 36 to 39 degrees Fahrenheit. Tourism is slow during January and February, and you can get good hotel deals.
Fredericksburg is a popular Spring Break destination. Not in terms of college students partying but families visiting the area. Average highs range from 59 degrees Fahrenheit in March to 78 degrees Fahrenheit in May, and the wildflowers are in full bloom.
If you want nice weather and a less crowded experience, fall is an ideal time to visit Fredericksburg. September and October average 57 to 69 degrees Fahrenheit, making it pleasant weather to explore the outdoors.
Fredericksburg hosts various annual events and festivals that appeal to all interests. There's something for everyone, from the Wine & Wildflower Journey in March-April to the Gillespie County Fair in August.
Attend the Fredericksburg Crawfish Festival in May or the Hill Country Film Festival in June for a unique experience. Car enthusiasts can head to the Annual Car Fest while music lovers can groove to Thomas Michael Riley Texas Music Festival in June.
If you're an art enthusiast, attend the Art Festival and the Hill Country Indian Artifact Show. If food and wine excite you, indulge in the Food & Wine Fest and the Christmas Wine Affair. Finally, round off your year with a bang by attending the Christmas Light Parade.