Road Trip from Houston to Oklahoma City
If you're looking for a road trip to the central USA, via towns full of Western heritage, historic buildings, and cultural attractions, and past lovely pine forests and lakes with picturesque hiking trails, the road trip from Houston, Texas to Oklahoma City is the perfect adventure for you.
The 460-mile road trip from Houston to Oklahoma City takes 7 hours to drive non-stop. You can travel via Sam Houston National Forest, Huntsville, Dallas and Plano, or via Davy Crockett National Forest, Nacogdoches, Shreveport, Paris and Shawnee.
This road trip offers you a chance to immerse yourself in the history and culture of Texas, visit museums related to Western heritage and cowboy culture, and stop over at beautiful lake resorts and national forests. Continue reading to discover our recommendations.
How far is Oklahoma City from Houston, and how long will the road trip take?
Comparison of road trip routes between Houston and Oklahoma City

| Route | Distance | Driving Time |
| --- | --- | --- |
| Direct Route | 460 miles | 7 hours |
| Louisiana Route | 610 miles | 10 hours |
The road trip from Houston to Oklahoma City is 460 miles long and takes 7 hours to drive without stopping, driving along the Direct Route from Texas to Oklahoma.
Or, you can take the Louisiana Route via the states of Texas, Louisiana, Arkansas and Oklahoma. This route is 611 miles long and takes 10 hours to drive non-stop.
You could drive the length of this road trip in a day or two. However, with so many fascinating towns, landmarks and natural areas to visit along the way, we recommend you take at least 3 days to do this road trip.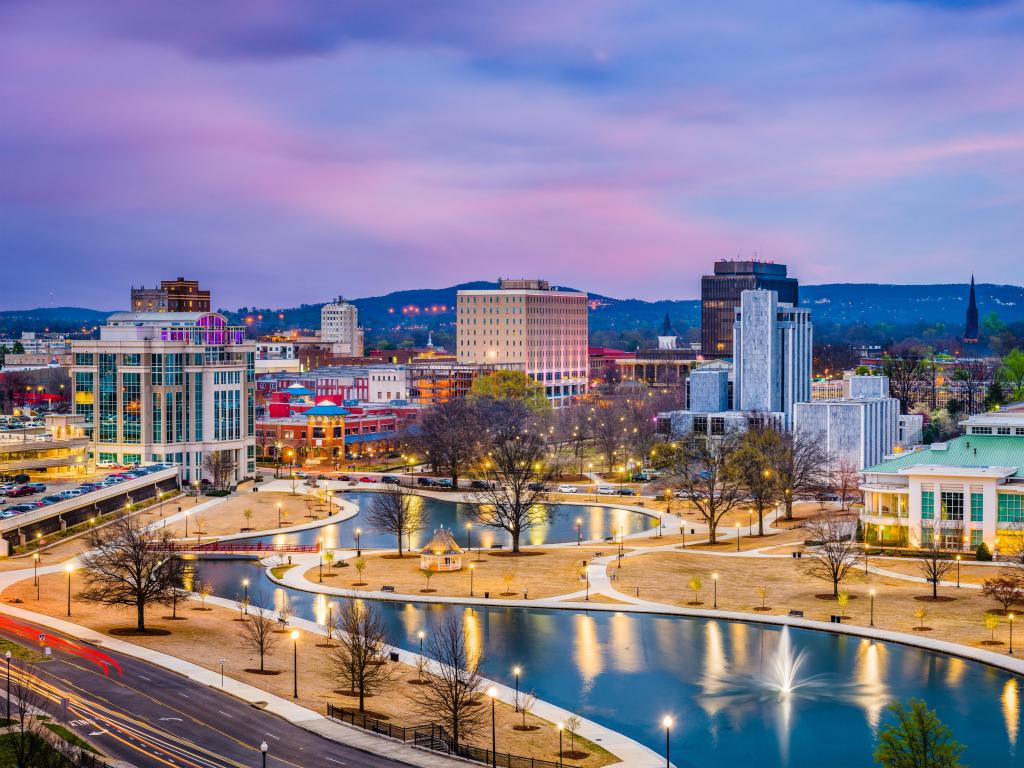 Best road trip route from Houston to Oklahoma City
You can choose from two amazing route options. They both take you via some truly interesting towns and cities with rich history and culture, and some beautiful natural areas of eastern Texas or northern Louisiana.
Your choice of route depends on which particular cities, national forests, or historic landmarks you would like to visit.
The Direct Route takes you from Houston straight up north, via northeastern Texas and central Oklahoma. You can visit lovely scenic areas such as Sam Houston National Forest and Lewisville Lake or explore historic sites and cultural attractions in cities such as Huntsville, Dallas and Plano.
Alternatively, the Louisiana Route takes you past the states of Texas, Louisiana, Arkansas and Oklahoma. This route also offers wonderful chances for hiking and picnicking in nature, in places such as Davy Crockett National Forest and Hugo Lake.
Furthermore, this route is especially rich with history; for example, the towns Livingston, Nacogdoches and Shreveport have historic town centers with interesting architecture. Paris and Shawnee further have fabulous cultural and historic attractions, as well as entertainment venues.
Direct Route
First, take Interstate 45 (I-45) north of Houston. You'll travel along this route past Sam Houston National Forest and many smaller Texas towns all the way to Dallas and Plano.
After visiting these vibrant neighboring cities, continue northwards along I-35. This road will take you past Lewisville Lake, Lake Murray State Park, and all the way to Oklahoma City.
Louisiana Route
To start on this route option, first take I-69, continuing as US Route 59, north past Davy Crockett and Angelina National Forests, and the town of Nacogdoches.
Then, follow Texas State Highway 315 and, for the very last stretch, I-20, to Shreveport. After visiting this colorful city with a fabulous historic town center, drive north along I-49 towards Texarkana. From there, drive along US Route 82 to Paris, Texas.
Finally, after Paris, you'll reach Oklahoma, and will drive northwest along major highways, including Oklahoma State Highway 3, US Route 177, and I-40, until you reach Oklahoma City.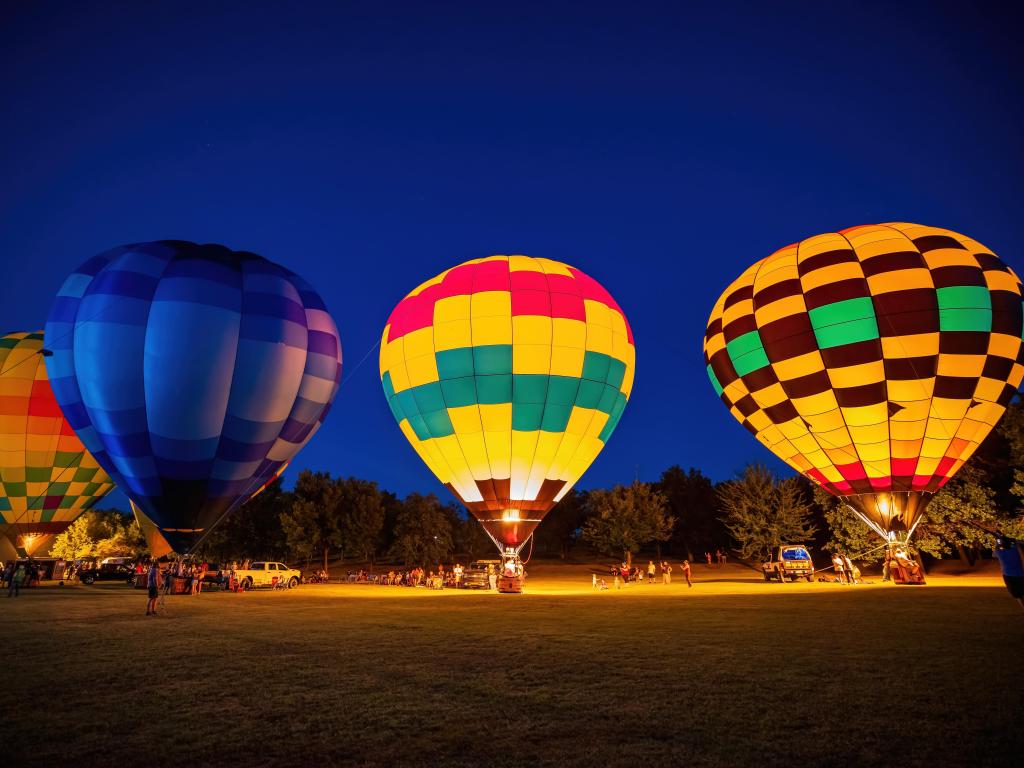 Best places to stop between Houston and Oklahoma City
This fabulous road trip, via some of Texas's and Oklahoma's most fascinating cultural centers and well-loved regional landscapes, is filled with interesting stops to make.
Read on below to discover our recommendations as to the best places to stay overnight during this road trip, what to see and do in those places, and our favorite hotel recommendations.
Admire the famous skyline of Dallas
Dallas is located about halfway along the Direct Route. It is an important cultural and economic center in Texas, making it an interesting stopover during the road trip. The city is especially known for its beautiful skyline and its fantastic shopping centers and restaurants.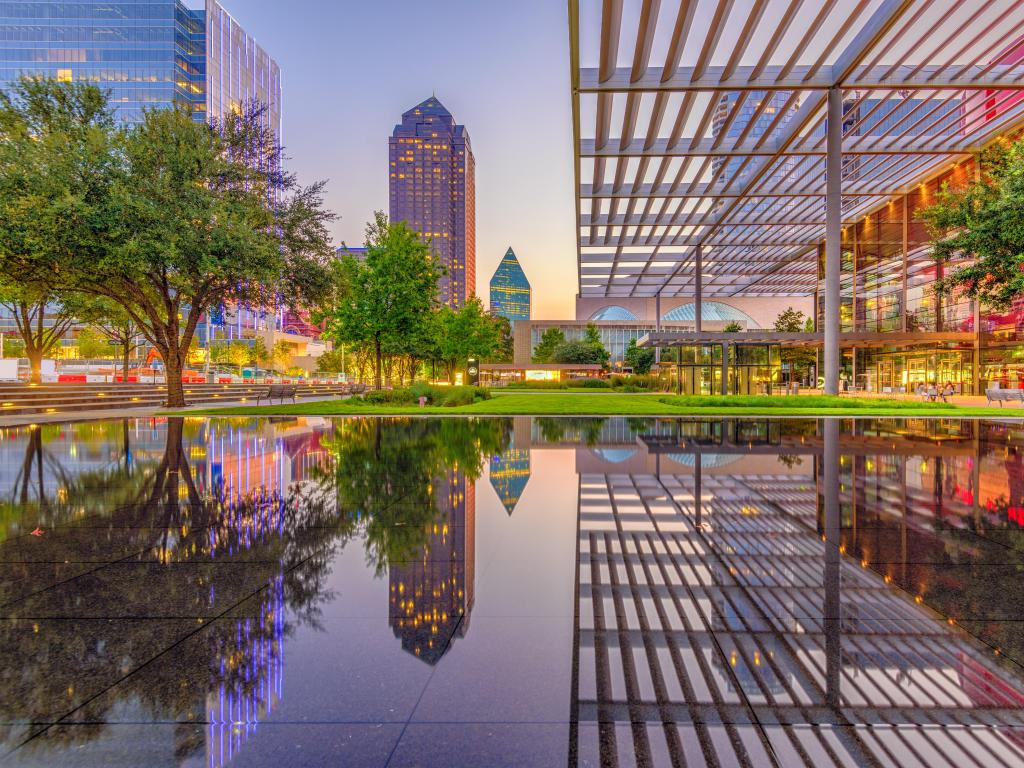 During your visit, you may wish to explore some of the many fascinating cultural attractions of Dallas. These include the Dallas Museum of Art, one of the largest museums in America, and the Sixth Floor Museum which commemorates the life, death and legacy of President John F. Kennedy.
Do also visit Dallas Arboretum and Botanical Gardens while visiting here. It features a breathtaking array of gardens and flower beds, and it is one of the most popular outdoor destinations in Dallas.
As a place to stay overnight, our top choice in Dallas is The Joule. It is a beautifully decorated hotel, with wonderful service and spacious and modern rooms. You'll find an outdoor pool, a 24-hour fitness center, and an on-site restaurant here.
The hotel is located in downtown Dallas, just along the route of your road trip. Due to its location, The Joule is a wonderful place for exploring all the city of Dallas has to offer, and why not also Plano, the city next door?
From the hotel, you can easily walk to the Dallas Museum of Art, Sixth Floor Museum, and Dallas World Aquarium. The city center is also dotted with amazing theaters, cafés and restaurants.
Explore historic architecture and riverboat casinos in Shreveport
Shreveport is located less than halfway along the Louisiana Route. It is a vibrant, fascinating city, wonderful to explore during your road trip. The city is known as an important economic and cultural center. Furthermore, it is famous for its riverboat casinos, by the Red River.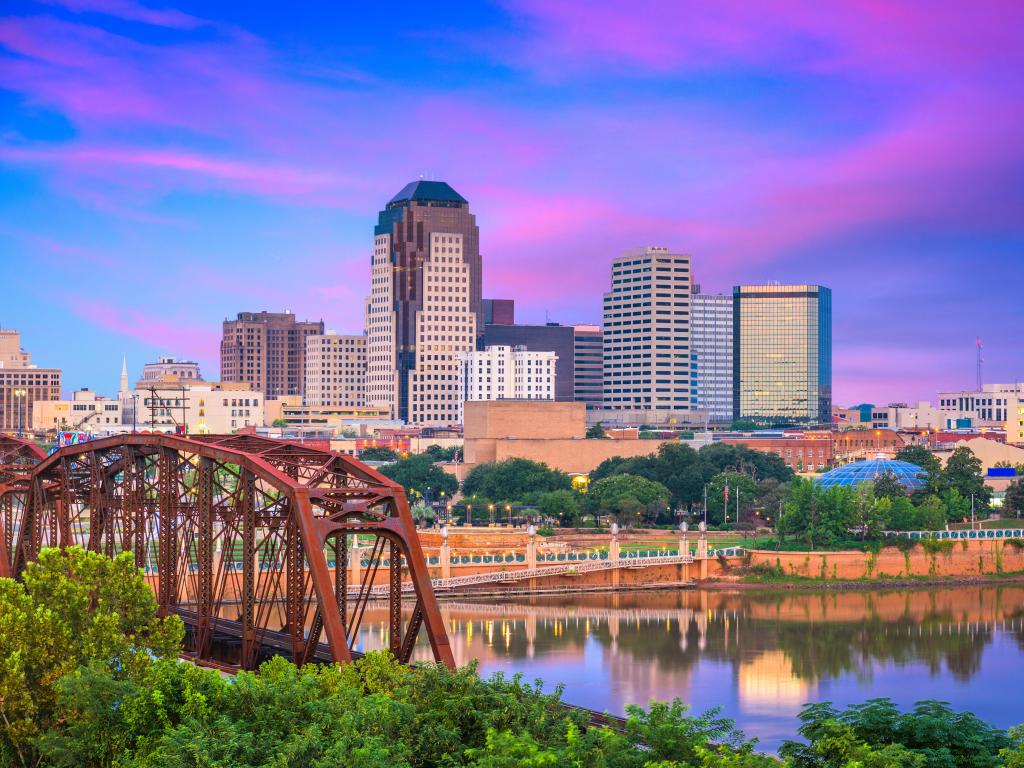 Other cultural and historic attractions of the city include the Highland Historic district which comprises almost 100 acres of Colonial Revival architecture and other historic buildings, the Sci-Port Discovery Center with wonderful science exhibits and hands-on experiences, and the Spring Street Historical Museum which exhibits local history.
As a hotel recommendation, we highly suggest Hilton Shreveport while visiting this city. This stylish and modern hotel offers a comfortable stay with beautiful, spacious rooms. The hotel features a heated rooftop pool, wonderful on-site dining options, and private parking for guests.
The hotel is conveniently located right off the highway taking you through Shreveport. It is also right next to downtown Shreveport, making it easy to visit on foot several of the most popular attractions of the city.
The property is within easy reach of Sci-Port Discovery Center, Red River and the riverboat casinos, the Highland Historic District, and Shreveport Aquarium. You'll also find lovely bars, pubs, and restaurants close to the hotel.
Where to stay when you reach Oklahoma City
Oklahoma City is the capital of the state of Oklahoma, and an important business and cultural center. Oil and related industries are its main economic focus, and the city also harbors fabulous cultural attractions and historic sites.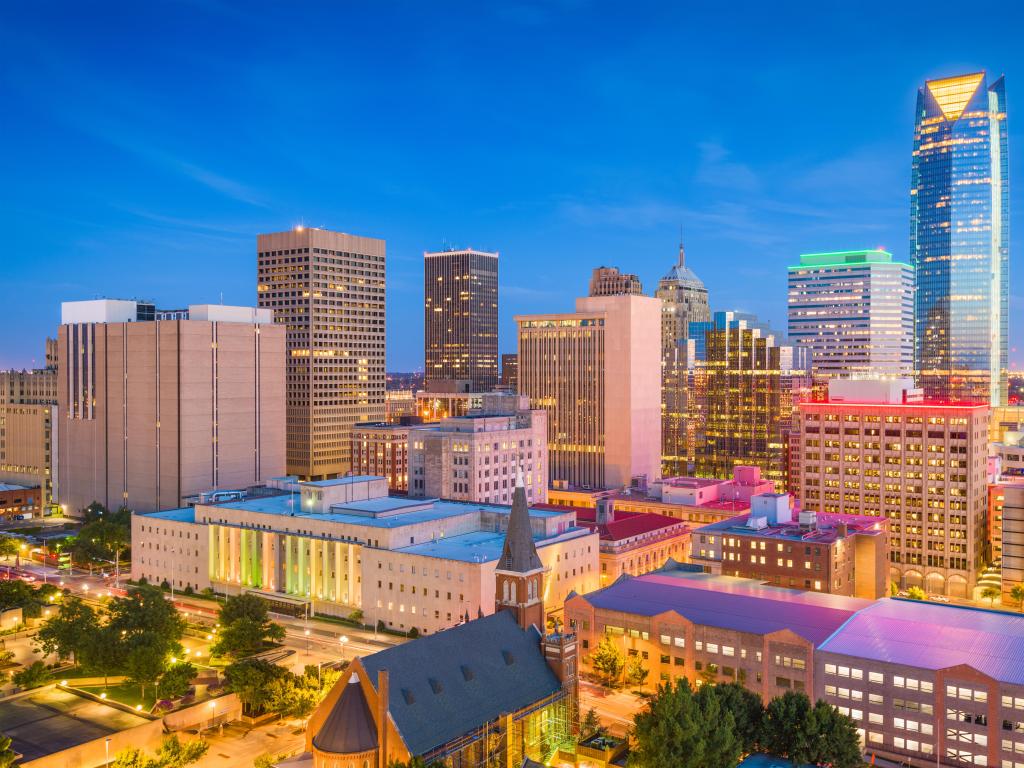 While staying in Oklahoma City, the Omni Oklahoma City Hotel is a wonderful choice as a place to reside, located right in downtown Oklahoma City. This luxurious hotel features a calm, comforting, and modern interior design, lovely rooms, and great service.
The breakfast is well-praised, and there's a great bar and restaurant at the hotel. You'll also find a terrace with city views at the hotel, as well as an outdoor pool, fitness center, spa, and private parking.
The hotel is within walking distance of many local attractions, including the Oklahoma City National Memorial which commemorates those affected by the Oklahoma City bombing in April 1995, and the Oklahoma City Museum of Art.
National Cowboy & Western Heritage Museum, with displays of Western art, is a few miles north of the hotel.
Things to see on a road trip from Houston to Oklahoma City
Along this road trip, there are lots of enchanting places to visit and landmarks to see, from little towns with Colonial Revival architecture to inviting forest trails with little streams and lakes and diverse wildlife and landmarks commemorating the Western pioneer history or Native American culture.
Below we present some of our recommendations for the best things to see and do during this road trip, so continue reading to help you make your plans for this road trip.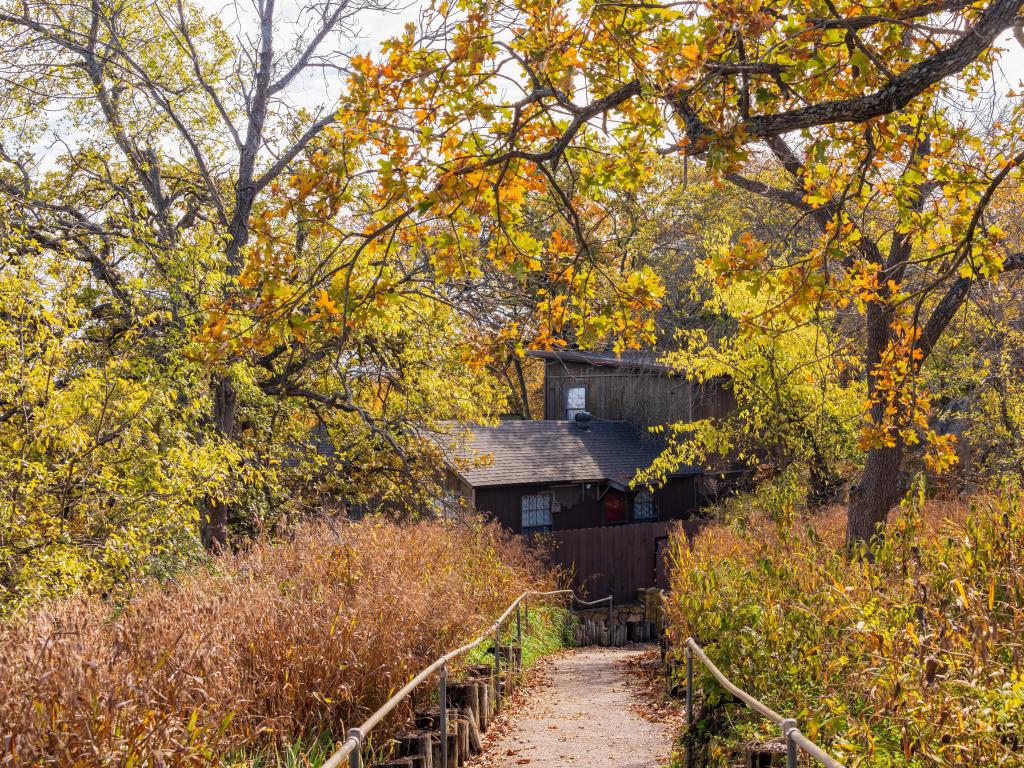 Direct Route
Sam Houston National Forest, Texas - There are lovely hiking, cycling, and horseback riding trails in Sam Houston National Forest. The area is a multiple-use forest, consisting of pine forests, streams and lakes, and it is rich with wildlife.
Huntsville, Texas - The town of Huntsville is especially known for the Texas State Penitentiary, existing since 1848. Visit the Texas Prison Museum to learn about the prison and its workings over the decades. There's also a statue of Sam Houston in Huntsville, and Downtown Huntsville is home to interesting historic buildings and some of the finest historical architecture in Texas.
Dallas, Texas - Dallas is an important commercial and cultural center in Texas. The city harbors fascinating cultural attractions, such as museums and galleries of the Arts District, the John F. Kennedy Memorial Plaza, and Dallas Arboretum and Botanical Gardens.
Plano, Texas - This city is quite a gem found very close to Dallas. In Plano, you can learn about history over a visit to the Heritage Farmstead Museum or Interurban Railway Museum. The Oak Point Park and Nature Preserve has miles of soft and concrete trails for visitors to enjoy.
Lewisville Lake, Texas - Lewisville Lake reservoir is a wonderful place for swimming, boating, fishing and other water sports.
Lake Murray State Park, Oklahoma - Forested rolling hills surround Lake Murray in this beautiful nature area. You can explore the area on foot, by bicycle, or by visiting the many beaches found here. You can also take a drive along 77s, the scenic highway crossing the park.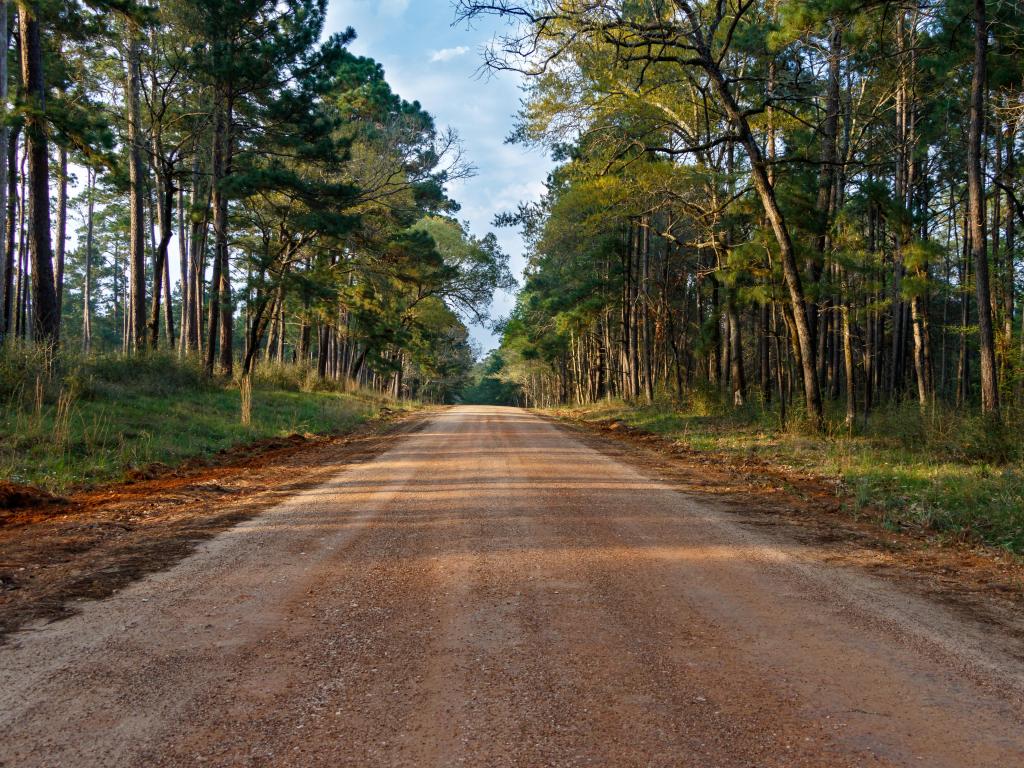 Louisiana Route
Livingston, Texas - Livingston is a town on the shores of Lake Livingston. By the lake, you can do swimming, fishing, boating, hiking and birdwatching. In downtown Livingston, you can admire fascinating historic buildings and architecture.
Davy Crockett National Forest, Texas - This nature area is named after the famous pioneer Davy Crockett. The forest contains woodlands, streams, camping grounds, trails and picnic spots.
Angelina National Forest, Texas - There are wonderful hiking trails in Angelina National Forest. This nature area consisting mainly of pine forests is home to diverse wildlife, including white-tailed deer, wild turkey, and the endemic and endangered red-cockaded woodpecker.
Nacogdoches, Texas - Nacogdoches is considered to be the oldest town in Texas. It is known as a gardening town, and indeed you can attend plant sales and garden galas here, as well as an event Texas Blueberry Festival. There are lots of interesting historic buildings, some with Victorian architecture, in Nacogdoches, too.
Shreveport, Louisiana - There is plenty to do and see for everyone at Shreveport, in northwestern Louisiana! The city's Red River is dotted with riverboat casinos. Sci-Port Discovery Center has wonderful science exhibits, and Spring Street Historical Museum exhibits local history. There are also many theaters and music venues in Shreveport, and it is a vibrant location for the film industry.
Texarkana, Texas - Texarkana, on the border of Texas and Arkansas, is known for its iconic courthouse and post office building. In the Arts & Historic District downtown, you'll find lots of murals on the walls, encouraging community engagement and promoting local talent.
Paris, Texas - Paris has a rich history as a Texas town. Landmarks in the city include Texas's Eiffel Tower and Lamar County Historical Museum. You can view several historic buildings and structures in Paris, too.
Hugo Lake - Hugo Lake has several lovely, sandy beaches for a visitor to enjoy, and it also contains a diverse range of fish. You'll find rentable cabins and picnic sites on the shores of the lake as well.
Shawnee, Oklahoma - Shawnee is an agricultural center, known for its cotton, potato, and peach production. The city hosts the International Finals Youth Rodeo every year, and it is also home to a range of historic buildings, including a unique railroad depot made of limestone.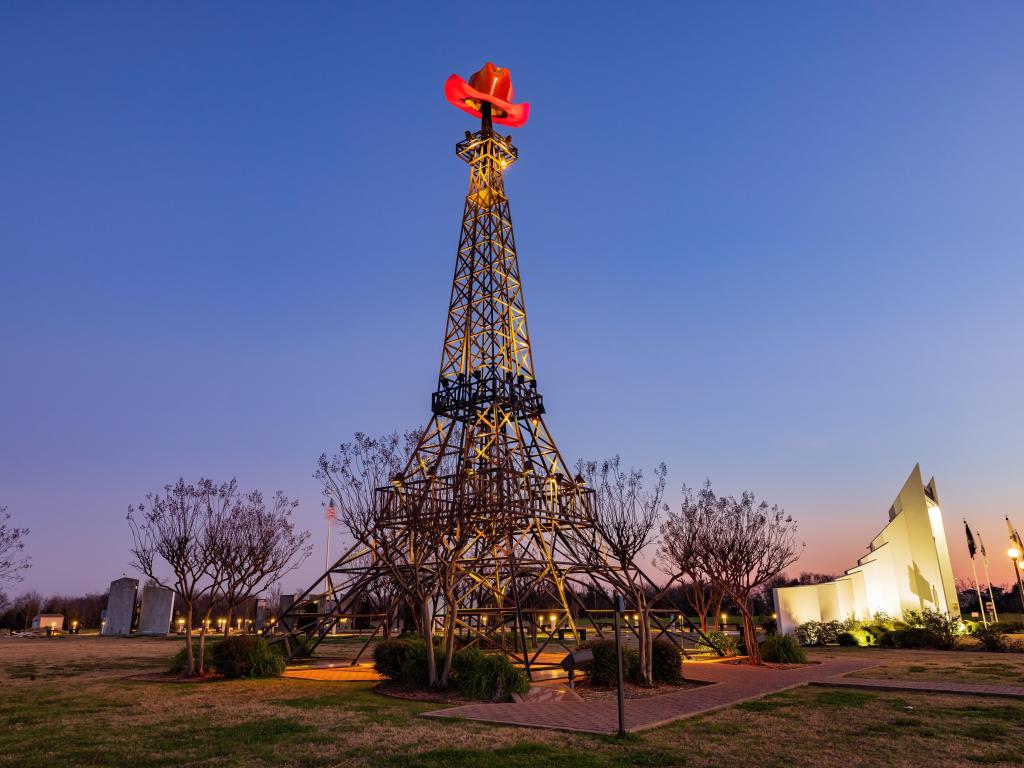 Best time to go on a road trip from Houston to Oklahoma City
Oklahoma has a temperate, humid subtropical climate, meaning that summers are usually hot and humid, and winters cool with occasional snow. The city is lovely to visit at any time of the year, although a thing to be noted is to check weather warnings before traveling there.
Summer temperatures average around 80 degrees Fahrenheit between June and August but can also reach above 90 on some weeks of the summer. Thus, if hot summer is your thing, this might be a good time to visit Oklahoma City.
Winter temperatures average around 40 degrees Fahrenheit from December to February. It can be beautiful visiting Oklahoma City in winter but do pack warm clothing to add to your comfort.
In spring and fall, temperatures can be moderate and pleasant in Oklahoma City. However, April-May and October are also possible peak times for turbulent weather in this area, something you may wish to consider when planning the timing of your road trip.
There are many major events and festivals that take place in Oklahoma City throughout the year, so you might want to plan your trip around these if you can.
For example, the Chuck Wagon Festival is a celebration of Western performances, activities, food and music, and it usually takes place in May. Prix de West Invitational Art Exhibition & Sale in June also has a Western theme; it features Western paintings and sculptures and takes place at the National Cowboy & Western Heritage Museum.
On a different note, but also taking place in June, the deadCenter Film Festival is known as "one of the coolest film festivals in the world". It gets its name for being situated near the center of the United States, and its purpose is to encourage and promote the independent film arts.
The Oklahoma State Fair in September features entertainment, horse shows, food and exhibitions. Its main purpose is to showcase the state's manufacturing, commerce and agriculture.
Finally, the Plaza District Festival features local performing artists, visual artists, live music and activities for children. The event takes place in October.