Road Trip from Houston to Santa Fe
Buckle your seatbelt and get ready to see America from the road on this spectacular road trip through the Southwest. The road trip from Houston to Santa Fe definitely favors the history buff and the outdoor adventurer, so if that sounds like you, you're on the right track.
The 1,010-mile road trip from Houston to Santa Fe will take 16 hours 30 minutes to drive nonstop. The notable sights include Dallas, Forth Worth, Amarillo, Route 66, the Alamo, Carlsbad Caverns, Brazos Bend State Park and Sam Houston National Forest.
Think alligators, ancient caves, cowboys, and art museums all while enjoying gorgeous desert views and dazzling dusty cities. You will also admire iconic landmarks, picturesque forests, and parks on the way. Keep reading to learn about the best routes to take through this iconic area of the USA.
How far is Santa Fe from Houston and how long will the road trip take?
Comparison of road trip routes between Houston and Santa Fe

| Route | Distance | Driving Time |
| --- | --- | --- |
| The Northern Route | 980 miles | 15 hours 30 minutes |
| The Southern Route | 1,010 miles | 16 hours 30 minutes |
If you decide to follow the more urban Northern Route, your journey will take 15 hours and 30 minutes to complete, covering 980 miles without accounting for any stops you might want to make.
The slightly longer Southern Route will cover an impressive 1,010 miles and driving time will be 16 hours and 30 minutes if you do not make any detours en route.
We suggest taking at least 5 days to enjoy the amazing attractions and landscapes on each route to the fullest. This is your adventure; if you spot something intriguing, pull over and check it out! Some of the most special moments on a road trip are usually the spontaneous ones.
Best road trip route from Houston to Santa Fe
The Southern Route is made for the traveler who wants a little bit of everything the southwest has to offer. Historical hotspots like the Alamo and the UFO Museum will satisfy the yearn to learn, while Carlsbad and Brazos Bend offer incredible recreational experiences.
This route is heavy on the front and back of the itinerary, with a solid 7-hour stretch in the middle. This allows travelers to ease into the trip by hitting the highlights of Houston and San Antonio before breezing through small towns and southwestern scenery.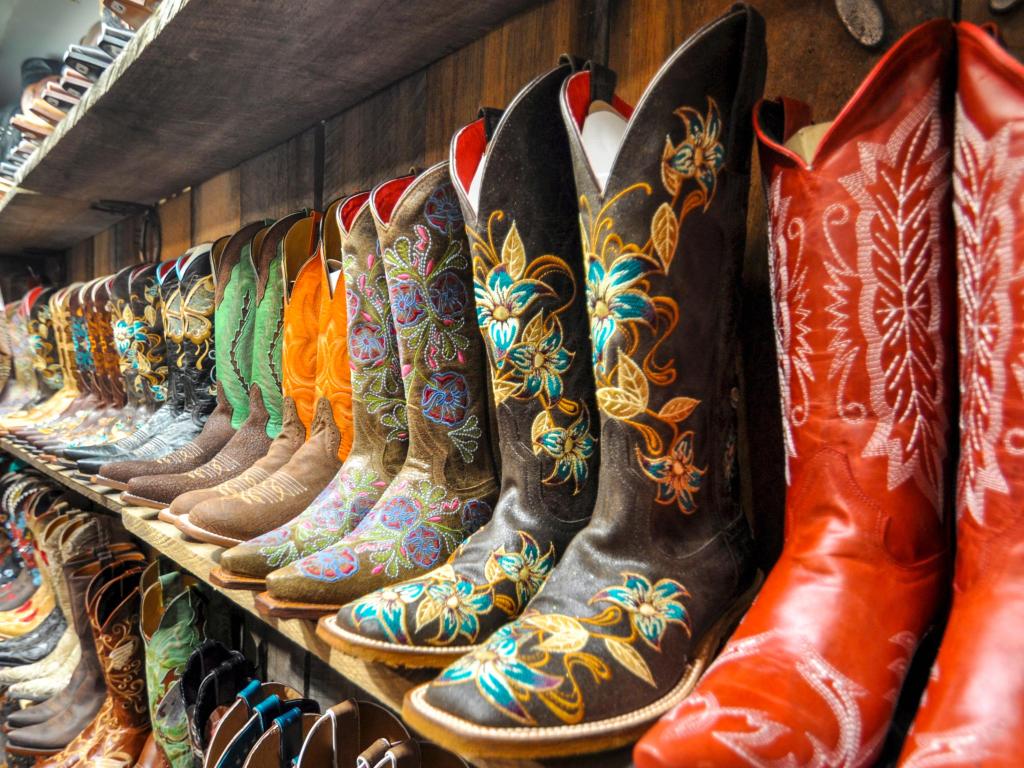 This route generally avoids Interstate 40 (I-40) which can be a nuisance in the case of an accident or construction (the absence of other major highways can get you stuck and drastically inhibit your options for re-routing).
Incredible scenery abounds on the Northern Route, with key stops in both remote and urban destinations steeped in history. You will drive past Sam Houston National Forest as well as the beautiful Wichita Falls.
This route will also take you through Fort Worth with a chance to make a detour to the iconic city of Dallas. Don't forget to take a detour to see the buffalo and some of the most beautiful canyons in Texas on your way to Amarillo.
Southern Route
Head south out of Houston on TX-288 before taking the Rosharon exit west towards your first stop at Brazos Bend. Hop on I-10 west towards San Antonio and be sure to take a pit stop at Buc-ees along the way.
After San Antonio, pass through several small towns like Comfort and Junction on your way to the Sonora Caverns. If nighttime driving is on your itinerary, be sure to get out and stretch your legs under the incredible starlight of this region.
Head to Carlsbad from I-10 to US-285 North. Be sure to look out for the "Welcome to New Mexico" sign as you pass the state border! From Carlsbad, go southeast on NM State Route 7 until you reach the entrance to the Carlsbad Caverns National Park.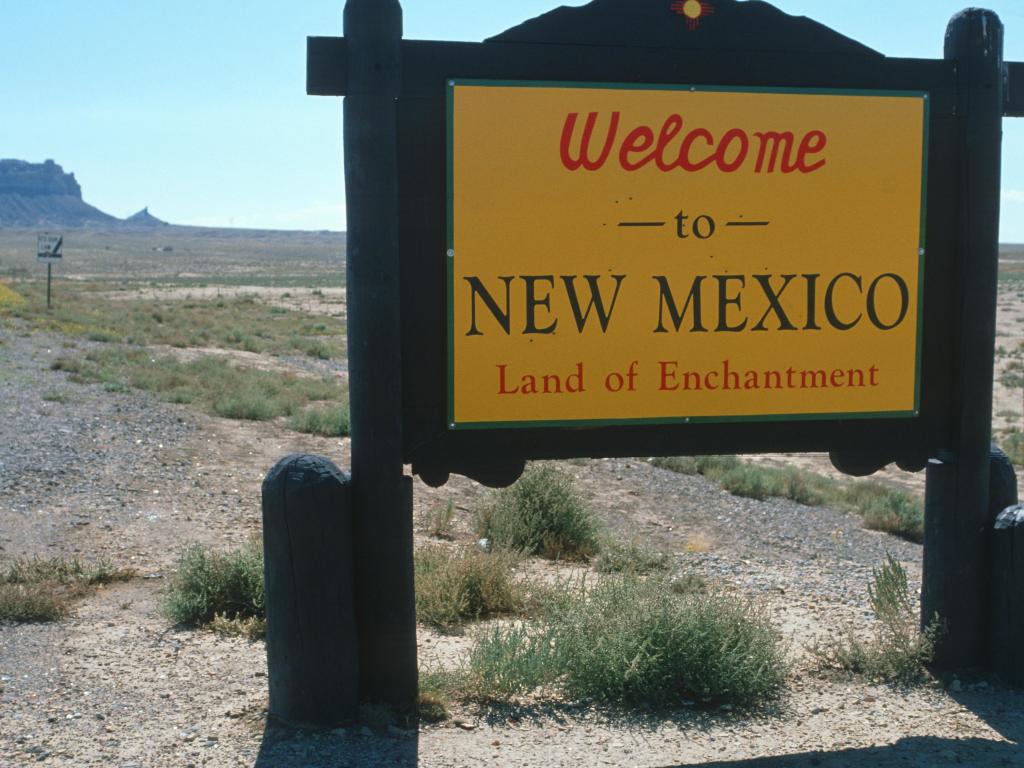 Get back on the highway after your visit where you'll stay for the rest of your journey. When you reach Roswell, pop off for a quick detour to Chisum Trail, home to the UFO Museum.
From here, you're in the home stretch, so be sure to enjoy this last leg of the desert before entering the mountainous region of northern New Mexico- and your final destination.
Northern Route
Take I-45 North out of Houston before getting off in New Waverly for a detour into Sam Houston National Forests. Back on the interstate take a pit stop at Buc-ees on your way to the Kolache Bakery, then into Fort Worth.
Follow the highway through Wichita Falls and follow it all the way until Estelline, where you'll get off and take 86 West to Caprock Canyons State Park. From there, continue to Palo Duro Canyon State Park en route to Amarillo.
From Amarillo to New Mexico, 1-40 West is your road, though you can opt to take historic Route 66 instead, which runs parallel. You'll definitely want to stop at Cadillac Ranch and Midpoint Café, both of which are located on Route 66, though also accessible via the faster I-40 route.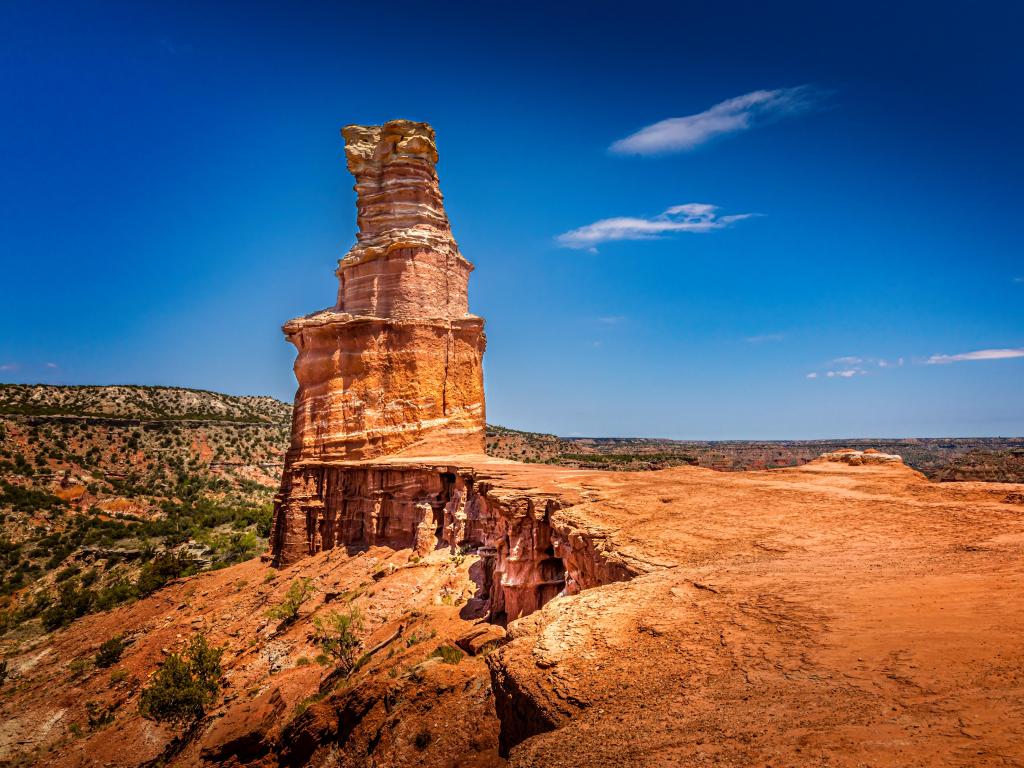 Be sure to look out for the famous "Welcome to New Mexico" sign as you pass the state border! Say goodbye to the desert and hello to incredible snowcapped mountainous and coniferous forests on your way to Pecos National Historic Park, your last stop before Santa Fe via I-25 South.
Best places to stop between Houston and Santa Fe
Both of our suggested routes cover considerable mileage, which means that you will have to make a couple of stops to recharge - and more importantly, to explore some of the fascinating places en route! Here are our top suggestions for where to stop overnight.
Explore the fascinating Carlsbad Caverns
If you're taking the Southern Route, Carlsbad is the first major city on a long stretch through no-mans-land Texas about 11 hours into the route. with all the tourist amenities that come with being the right of passage to the famous Carlsbad Caverns.
One of America's most outstanding natural formations, Carlsbad Caverns is easily a must-see destination on your route to Santa Fe. Boasting magnificent hallways of geologic wonder, Carlsbad has caught the attention of scientists and tourists alike, all across the world.
Living Desert Zoo and Gardens State Park offers a 1.3-mile hike through an expansive region laden with vegetation and wildlife native to the Chihuahuan desert. Enjoy excellent views of the nearby mountains during your visit.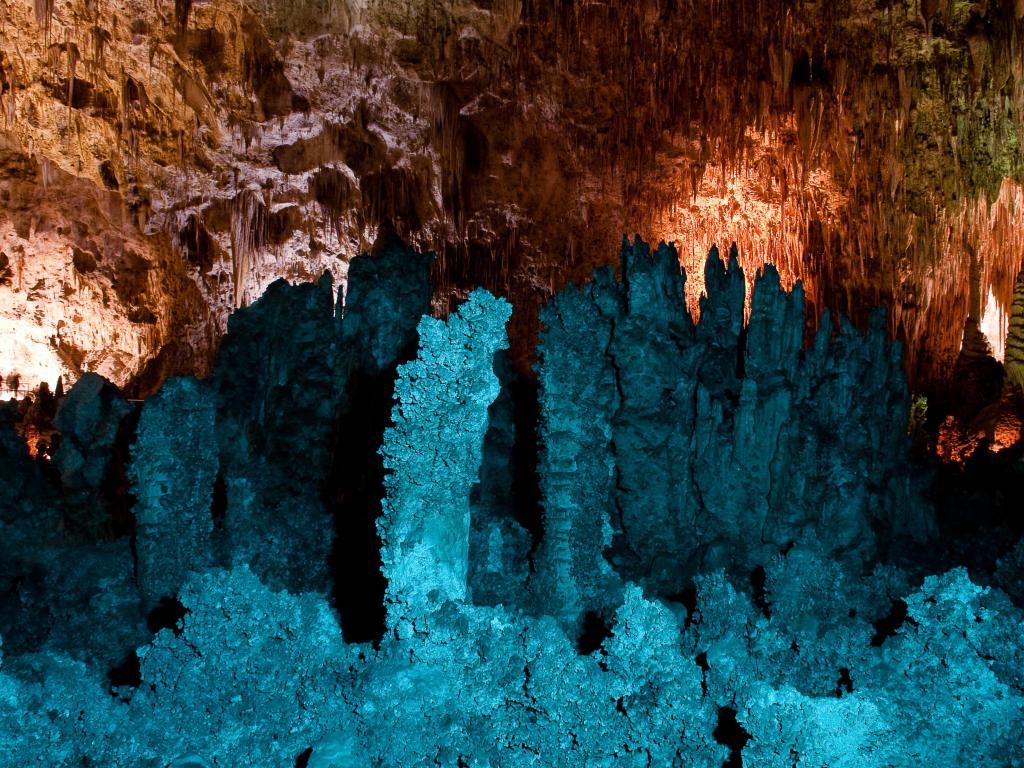 Stay overnight at the Towneplace Suites by Marriot. This hotel will give you that home-away-from-home feeling and is designed with the comfort of a mini-flat, with a full kitchen, living room sitting area, full bath, and entertainment center.
Spend some time at the fabulous pool and get a good night's sleep before heading to the caverns in the morning. As you are getting ready to set off on your adventure, don't forget the hotel's free breakfast.
Towneplace Suites is conveniently located half an hour from the entrance to Carlsbad National Park, equipped with all your basic needs. Directly on your route just a couple blocks from town, bountiful dining options, park access, and the Pecos River are within walking distance or a short drive away.
Learn about the cowboy culture in Fort Worth
For the Northern Route, Fort Worth is the first major city after Houston and is perfectly situated to host travelers after a jam-packed day en route. Historically, Fort Worth is known for its cattle, cowboys, and BBQ.
In a modern sense, Fort Worth is host to a thriving urban culture with a western twist and amicable art scene. Plenty of shopping and entertainment abounds. Take your time exploring some of Fort Worth's many attractions such as the National Cowgirl Museum & Hall of Fame.
If you'd rather spend your time in a more tranquil setting, head to Fort Worth Water Gardens. A cool oasis created in the midst of a hot cement cityscape, the water gardens are an architectural wonder and a satiating haven near the heart of the city.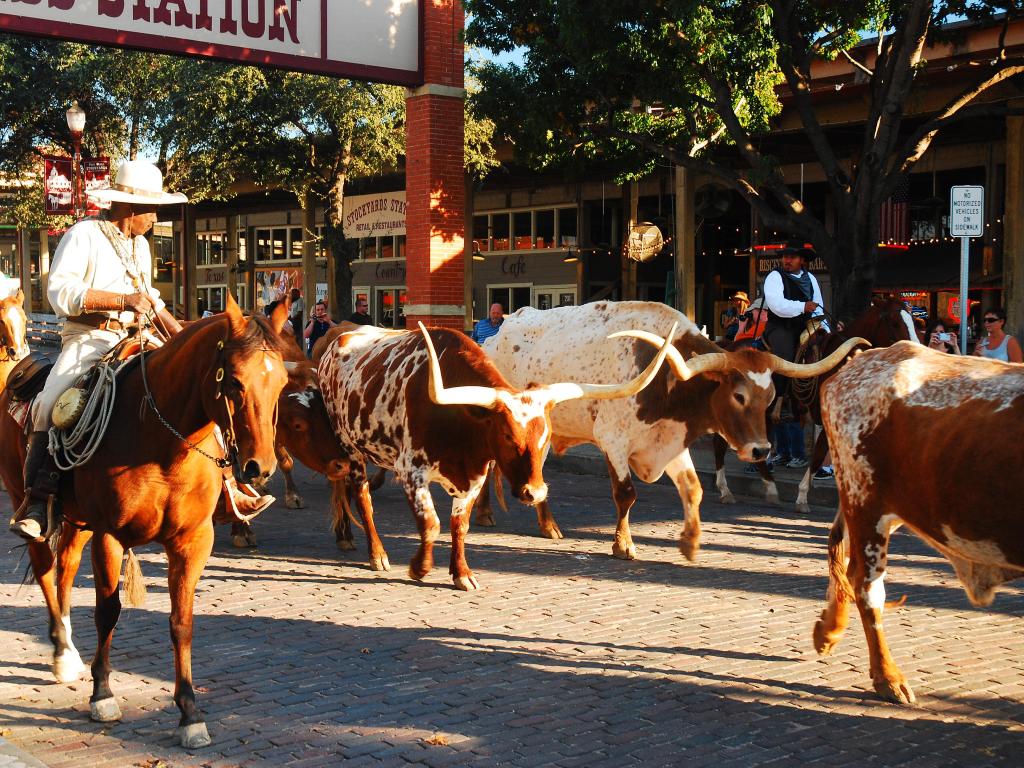 For a luxurious stay befitting the city, be sure to book a room at the Sinclair, Autograph Collection. Located in the heart of downtown, this is a truly gorgeous hotel ready to meet your every need after a long stretch on the road.
Why not head to the fabulous rooftop bar for a cocktail or two, and enjoy the sparkling evening views of the city? Alternatively, you can head to the hotel's upscale restaurant for a bite before setting off to explore the many attractions Fort Worth has to offer.
This hotel boasts a superb location in the vicinity of many popular points of interest, such as the Kimbell Art Museum and Fort Worth Stockyards, an entertainment district with historical significance that still hosts twice-daily cattle drives! You will also be located nearby Sundance Square, Bass Performance Hall, and the Water Gardens.
Where to stay when you reach Santa Fe
Centrally located in a city known for its artistic culture, indigenous roots, and Spanish colonialism, Las Palomas Hotel is within walking distance of several main attractions including the Georgia O'Keeffe Museum and Palace of the Governors, San Miguel Chapel (oldest church in the US).
You will also be located within easy access to the New Mexico Museum of Art, Santa Fe Plaza, the Railroad Arts District, and the State Capitol building, so no matter what your interests might be, you will find something that is exciting to do and see on your day out.
In addition to its stellar location, this hotel is impeccably charmed with plant life, color, and artistic touch. The hotel features comfortable apartment-style rooms as well as free parking, so you won't have to worry about finding a spot after a long drive.
All you have to do is settle in, head to the cozy fireplace in the lounge to take a break and hop back in action to explore the vibrant city!
Things to see on a road trip from Houston to Santa Fe
There are many amazing things to see on an epic road trip from Houston to Santa Fe and you won't be short of things to do. We have compiled a list to make your decision easier.
Southern Route
Brazos Bend State Park - Give yourself plenty of time to explore this natural gem located just outside of Houston. Filled with wildlife big and small, be sure to bring binoculars to take full advantage of all this park has to offer. Go by foot or bike along well paved trails, but be sure to look both ways and stick to the path- it is more than likely you will find a giant pair of jaws and sneaky lizard eyes peering through the grass! Brazos Bend is known for its alligator sightings and is well worth the trip if you want a chance to see these incredible creatures in their natural habitat. It is also a paradise for bird watchers, as it is a haven for over 300 documented species.
The Alamo - The most famous site of the Texas Revolution and a major source of Texas cultural heritage, this wild western landmark has a history that predates its 19th century fame. Originally established as a Mission by the Spanish in 1718, it was constructed to convert indigenous peoples to Catholicism.
San Antonio River Walk - See the heart of San Antonio on foot complete with quaint river views and numerous eats and drinks along the way. Tourist heavy, but for good reason, and a great launching point for exploring the major attractions and historical areas of downtown San Antonio. Create your own route or use recommended ones from the website: https://www.thesanantonioriverwalk.com/maps/. Go in the early evening for dinnertime ambiance and a sunset on the water, or hit the shops on a daytime stroll.
Caverns of Sonora - One of the most photographed cavern formations in the world, let alone the U.S., Sonora is a priority stop on the lonesome stretch between San Antonio and Fort Stockton. Opened to the public in 1960, tales of its beauty circulated far and wide, thereby earning international acclaim.
Living Desert Zoo and Gardens - Living Desert offers a 1.3 mile hike through an expansive region laden with vegetation and wildlife native to the Chihuahuan desert. Enjoy excellent views of nearby mountains.
Carlsbad Caverns - Bucket list material for any southwest road trip, people drive from all over the country to pay a visit to Carlsbad caverns and the adjoining cave system, notable for its diverse beauty and unique formations. Although easily the main attraction, the Carlsbad Caverns National Park offers plenty of other must-seers, Including Slaughter Canyon Cave and the Bat Flight Program and Amphitheatre.
UFO Museum - For a taste of the supernatural, be sure to make a stop in Roswell where you will learn all you never knew you wanted to know about UFOs, the infamous Roswell Incident, and its impact on UFO research worldwide.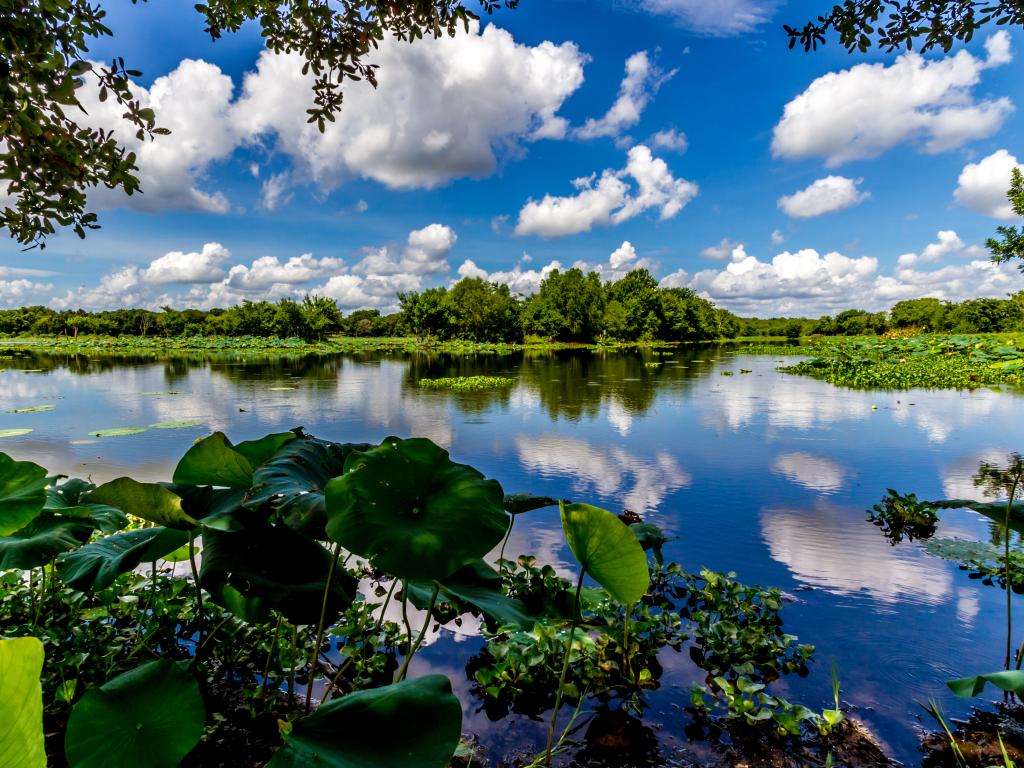 Northern Route
Sam Houston National Forest - Journey where pine meets prairie in one of Texas's four national forests. Keep your eye out for alligators and maybe take a stab at the Lone Star Trail, the state's longest continuous hiking trail.
Kolache Depot - A trip to Texas is not complete without a Kolache stop. This doughy snack was made popular by Czech immigrants and is now considered a quintessential Texas chew.
Fort Worth - Known for its American West heritage and history of cowboys and cattle, Fort Worth is home to many notable attractions, including the National Cowgirl Museum and Hall of Fame, Forth Worth Stockyards, and the Fort Worth Water Gardens.
Caprock Canyons State Park and Trailway - Located in Quitaque (pronounced KIT-I-kway) AKA the Bison capital of Texas, camp overnight to catch incredible views of the starry night sky. Explore 90 miles of trails and keep your eyes peeled for big furry friends, but remember to admire from afar.
TEXAS Outdoor Musical - Palo Duro State Park is home to the second largest canyon in America as well as the beloved TEXAS the Musical – an outdoor performance celebrating the settlers of the panhandle in the 19th century. In 2022 they celebrated their 56th season. Summertime only.
Amarillo - Take your pick among some of the most unique attractions in Texas. For the horse lover, be sure to check out the American Quarter Horse Hall of Fame. History buffs will love the Amarillo Railroad Museum and the Amarillo Historical Museum, while every road tripper will appreciate the Jack Sisemore RV Museum, housing some of the most incredible and creative homes-on-wheels.
Cadillac Ranch - Just off historic Route 66 outside of Amarillo is an iconic art installation known as Cadillac Ranch, consisting of 10 Cadillacs buried nose-first in the dirt. The cars lean at the same angle as the Great Pyramid of Giza (so they say).
Midpoint Cafe on Route 66 - Grab a cup o' joe at the infamous Midpoint Cafe, supposedly the oldest continuously operating eatery on historic Route 66. Notable for its position exactly halfway between Chicago and Los Angeles.
Pecos National Historic Park - Venture into the mountains and witness the preservation of 12,000 years of history at this ancient site, encompassing the ancient pueblo of the Pecos indigenous peoples, sites along the Santa Fe trail, Spanish colonial missions, and the Civil War battle site of Glorieta Pass.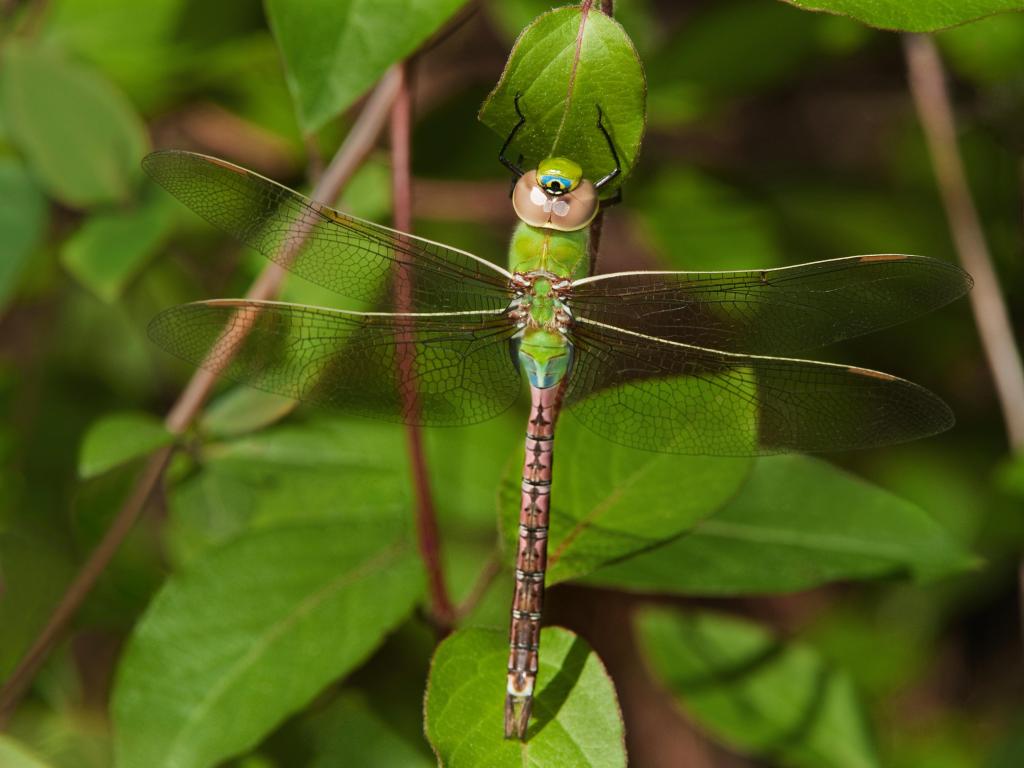 Both routes
Buc-ees - Buc-ees may be a gas station, but it is a DESTINATION. Any trip to Texas is incomplete without a pit stop at good ole' Buc-ees. A description would ruin the surprise, but rest assured, any Texan will tell you this place is a part of the culture. At the very least, you won't walk away hungry.
Welcome to New Mexico State Sign - Welcome to the "Land of Enchantment"! Also known as "the chili capital of the world" according to their license plates. Be sure to pull over for a picture on the TX/NM border.
Best time to go on a road trip from Houston to Santa Fe
Santa Fe and its surroundings area are absolutely lovely in spring and fall. Spring is an especially popular time to hit the Southwest, so beware of crowds in areas closest to national parks.
However, this is arguably the best time to visit southern cities like San Antonio and Houston en route as these cities won't be as crowded and the hotel prices will be more affordable.
Summer in southern Texas is swampy and humid so it is more advisable to go during transitional seasons. Houston and Fort Worth temperatures can easily reach 90 to 100 degrees Fahrenheit in July.
Summer in northern New Mexico is cooler and quite pleasant with higher elevations averaging temperatures of 70-75 degrees. For the best experience, go in April or September.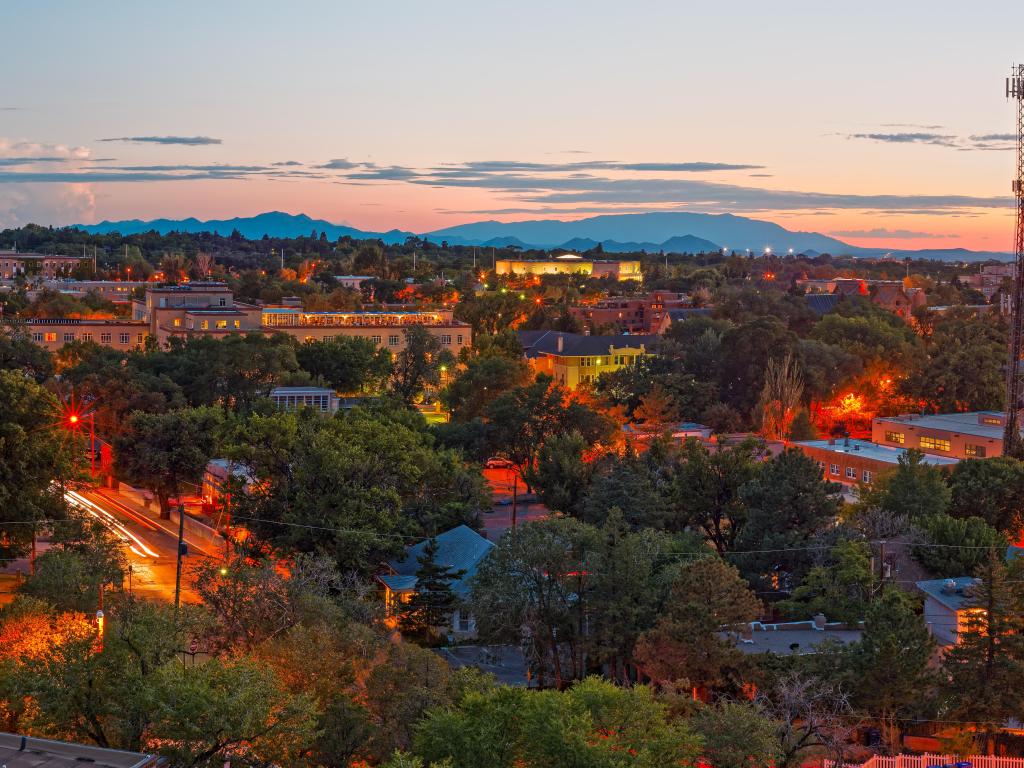 This is a desert region and can therefore get very cold at night, but it is very manageable and often pleasant during the day with temperatures around 50 degrees in the southern regions and 30 in the northern parts.
Once you get further north and into the higher elevations of New Mexico, expect colder temperatures. Road closures are less likely in Texas, but more of a possibility in the snowier, mountainous areas of northern New Mexico.
In Santa Fe, be sure to check out Fiesta de Santa Fe & Burning of Zozobra in September, Santa Fe Film Festival in February, Balloons Over Fire in June, Art Santa Fe in July, or Santa Fe Indian Market in August.