Road Trip from Houston to Seattle, Washington
On this epic road trip from Houston to the "Emerald City" of Seattle, you will find pristine lakes, statuesque mountains, famous museums, and stunning national parks en route. Once you reach your destination, Seattle's iconic landmarks, famous coffee culture and grunge music will be all yours to explore!
The 2,480-mile road trip from Houston to Seattle, Washington will take 39 hours to drive. Highlights include Austin, Albuquerque, Salt Lake City, Bonneville Salt Flats, Boise, Portland, Olympic National Park, and North Cascades National Park.
Featuring awe-inspiring scenic beauty and historical significance, this road trip is buzzing with activity. Read on to find the best routes to take, equipped places to stay at, impressive things to see, and the best times to set off on this adventure.
How far is Seattle, Washington from Houston, and how long will the road trip take?
Comparison of road trip routes between Houston and Seattle, Washington

| Route | Distance | Driving Time |
| --- | --- | --- |
| The Salt Lake City Route | 2,480 miles | 39 hours |
| The Denver Route | 2,570 miles | 40 hours |
We have selected two routes lined with scenic beauty for this road trip from Houston to Seattle, so whether you are a fan of mighty mountains or soothing national parks, we've got you covered.
Taking the Salt Lake City Route, you will cover 2,480 miles of picture-perfect landscapes in 39 hours. Weave your way through nature, taking in the breathtaking beauty of waterfalls, mountains, and lakes.
The Denver Route covers 2,570 miles and will take you 40 hours to complete. This longer route from Houston to Seattle is lined with National Parks to walk around and indulge in the beauty of nature.
Best road trip route from Houston to Seattle, Washington
The Salt Lake City Route is more direct and will take you through the desert landscapes of New Mexico before driving through the mountains and greenery of the Western states. You can also visit the larger cities within the US on this route.
If you're a fan of skiing, national forests and parks, you can take detours to five of America's largest national parks; Zion, Bryce, Capitol Reef, Arches National Park and Canyonlands National Park from Moab, Utah. You can also visit Mount Rainier and Olympic National Park before reaching Seattle.
Unlike the Salt Lake City Route, the Denver Route gives you the option to directly visit incredible national parks like Great Sand Dunes National Park and Yellowstone, instead of having to make detours. Travel through Colorado's mountains, visiting more quaint cities on this route.
Although you will be weaving through phenomenal National Parks, this route is a bit longer and you will have to make detours to visit any National Parks in Washington. We would suggest setting aside 5 to 6 days for this road trip to fully enjoy the adventures it has to offer.
The Salt Lake City Route
Exit Houston on Interstate 45 (I-45) N and follow TX-71 W to reach Austin. From there, head south to get on TX-1 Loop N. Consequently, you will reach the colorful city of Santa Fe through the Old Pecos Trail in Santa Fe County.
Follow Dr Martin Luther King Jr Ave NE to get to the city of museums, Albuquerque. Heading north from there, you will get to Durango. Follow Camino Del Rio to Moab where you will have the option to take detours to phenomenal National Parks.
Continuing on W 600 S, you will get to Salt Lake City. Take an overnight break here, exploring the Mormon culture, historical museums and intermountain west before hitting the road again toward Boise. The next point on this route is Portland.
Get on I-5 N from SE Morrison Bridge to head toward your destination of the "Emerald City" of Seattle with its coffee culture, tech abundance, and grunge music.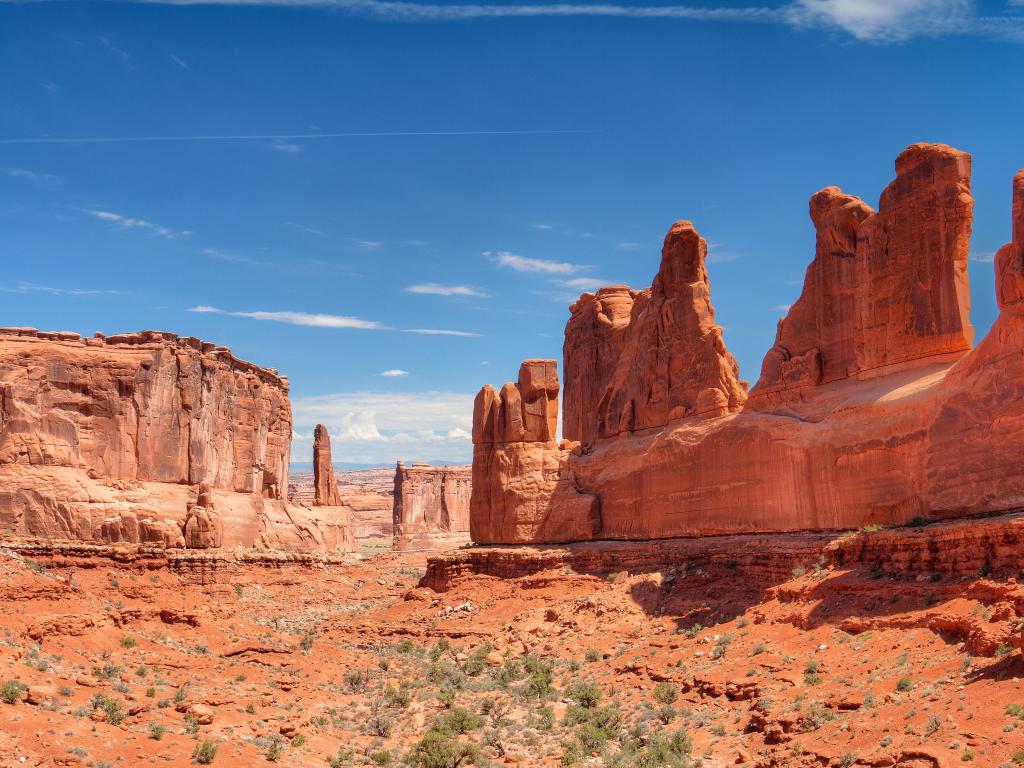 The Denver Route
Follow I-45 N from Houston to Griffin St W toward Dallas. Head east toward Browder St and continue on Texas 121 TEXpress to reach the Grand Sand Dunes National Park and Preserve. Take a stroll here and stretch your legs in this unique national park.
Head southwest toward Walsen Ave to your destination in Denver. Stop here for a while and indulge in the natural, mountainous beauty, diverse culture and incredible skiing opportunities.
The next direction you would need to take is northeast toward Cleveland Pl in Teton County to reach the Grand Teton National Park. This is a great place to take a if you feel like relaxing for a bit.
Next, take WY-22 to head toward West Yellowstone. This is another great place to admire and marvel at the beauty of nature. From there, hit Cardwell from US-20 to reach Coeur d'Alene. Heading toward Sherman Ave, you will reach the "Lilac city" of Spokane.
After the wonderful falls and lakes in Spokane, you will reach your destination in Seattle.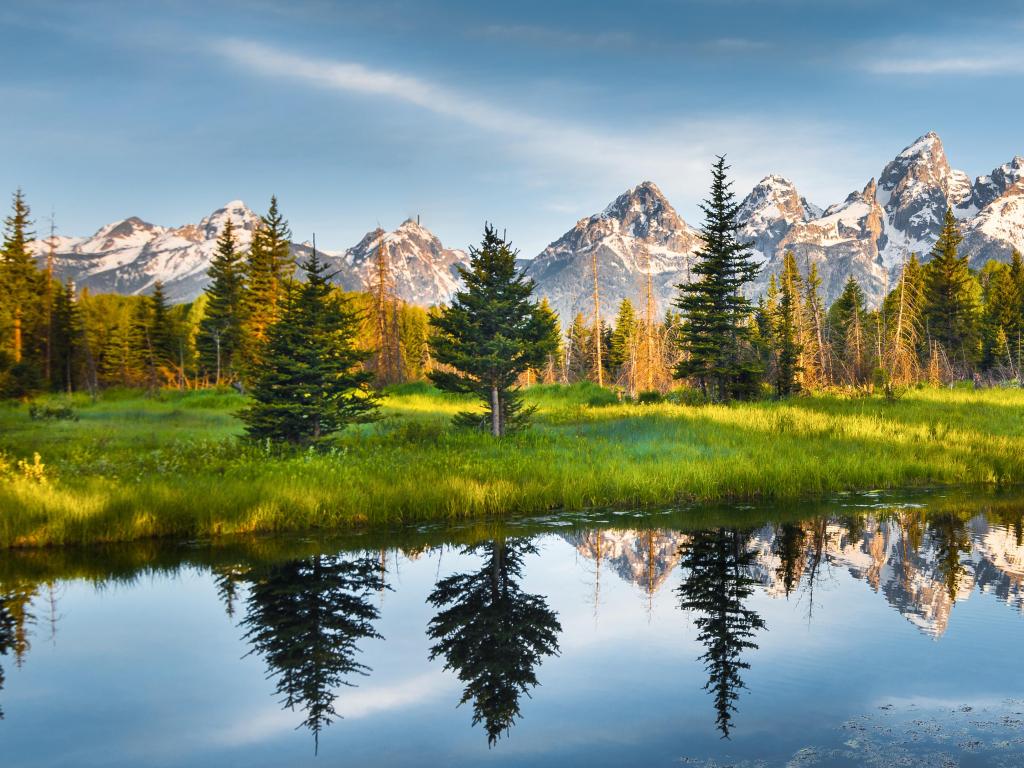 Best places to stop between Houston and Seattle, Washington
On such a long and eventful journey, you would need to make some overnight stops to rest and regain your energy before continuing the exploration.
Read on to discover our favorite places for overnight stops as well as hotel recommendations for a comfortable and wholesome stay.
Get refreshed by national parks in Utah
Sixteen hours from your destination sits the capital city of Utah, Salt Lake City on the (you guessed it!) Salt Lake City Route. Being a gateway to 5 major national parks in the USA, Utah is a must-see for road trippers eager for relaxation and beautiful scenery.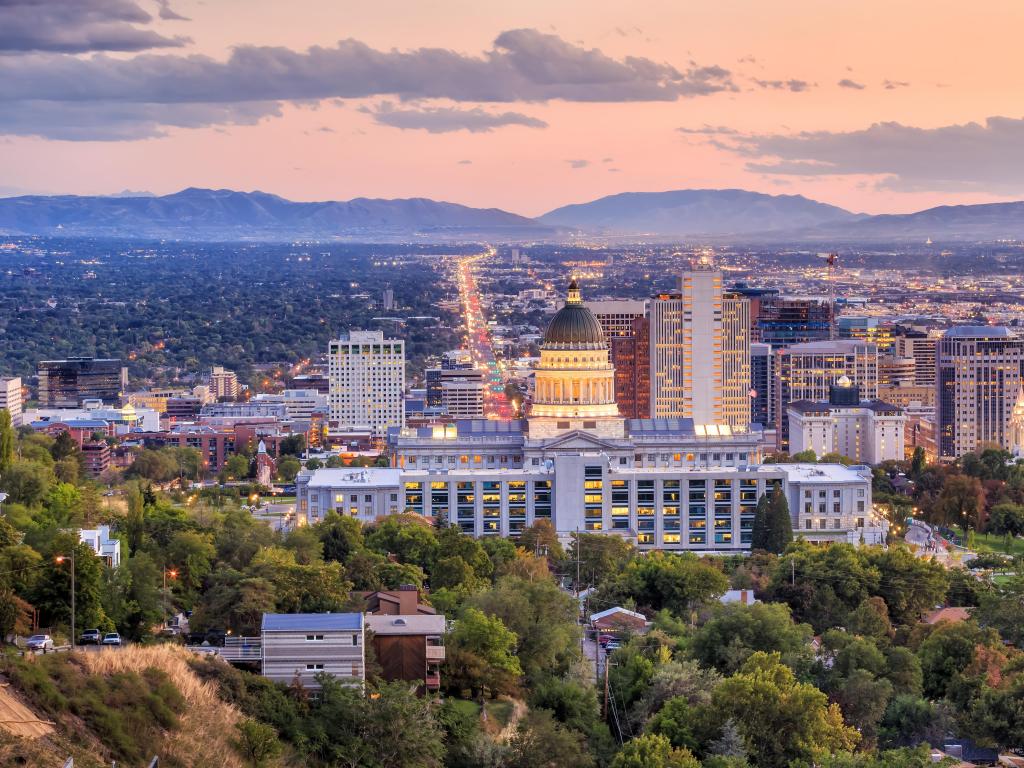 Known for its significant role and place in the Mormon religion, Salt Lake City is also recognized for being the headquarters for the surrounding salt flat areas that make for an incredible sight. Explore this city to catch a glimpse of the religious culture displayed in the historical architecture.
One of the stars of the Salt Lake City Route, Temple Square is a church with importance to the history and religious growth of the city. Then there is the Natural History Museum of Utah. This museum highlights the natural world through 10 unique galleries, with a focus on the intermountain west.
Our pick for accommodation in Salt Lake City is the top-rated Grand America Hotel. This elegant hotel has 775 guestrooms and is easily accessible from the highway, near attractions like Temple Square and The Tabernacle.
With a full-service spa, fitness center, indoor and outdoor pools, this hotel makes for an all-inclusive experience. Sunday brunch, afternoon tea and upscale dining experiences with an on-site restaurant allow you to avoid hitting the road before resuming your journey.
Enjoy a scenic retreat in Denver amidst the Rocky Mountains
Located about halfway into your journey from the Denver Route is the city of Denver, Colorado. It sits in the cradle of mountains and is a great stop with incredible landscape and many big-city attractions before visiting surrounding National Parks in the US.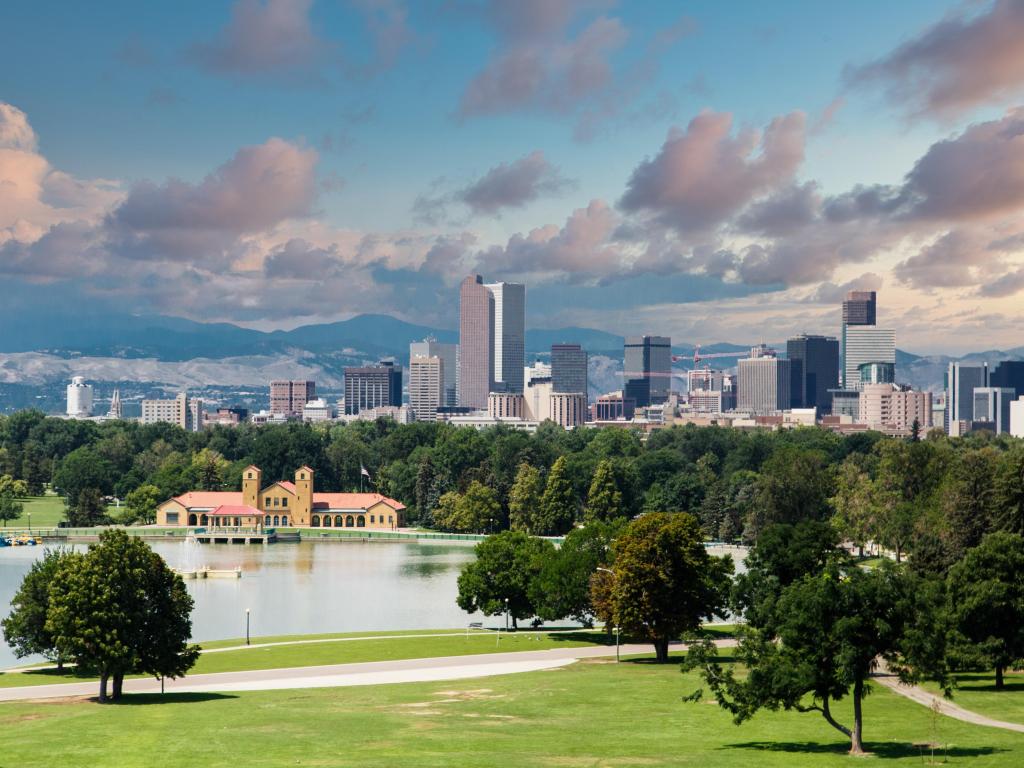 Known for its urban offerings while being located in the vicinity of the stunning Rocky Mountains, the Mile High City of Denver has natural beauty, diverse culture and incredible skiing that attracts tourists all year long.
During your stay in Denver, visit the Denver Art Museum, which was founded in 1893 and features 7 stories, providing a wide range of exhibits from African to western American art. Larimar Square is another spectacular place to explore on foot with its many small stores and restaurants.
Before resuming your journey and heading to Grand Teton and Yellowstone National Parks, get a glimpse of Molly Brown House Museum, a Victorian-style mansion that tells the story of Margaret Brown, a survivor of Titanic.
The Rally Hotel is our favorite place to stay in Denver. It is a luxurious hotel providing modern comfort in Denver's new entertainment district. The rooms catch the vibes of the city by being inspired and styled with fun and vibrant interiors.
Sports lovers can make the most out of game days in this hotel with a big screen and rooftop pool. Selective rooms with balconies and a terrace offer breathtaking views of the city. Dining options in this hotel are varied, with innovative twists to classic pub food.
Where to stay when you reach Seattle, Washington
After reaching Seattle, you might want to stay in close proximity to some of the major attractions, so you don't have to drive for miles before reaching the real deal.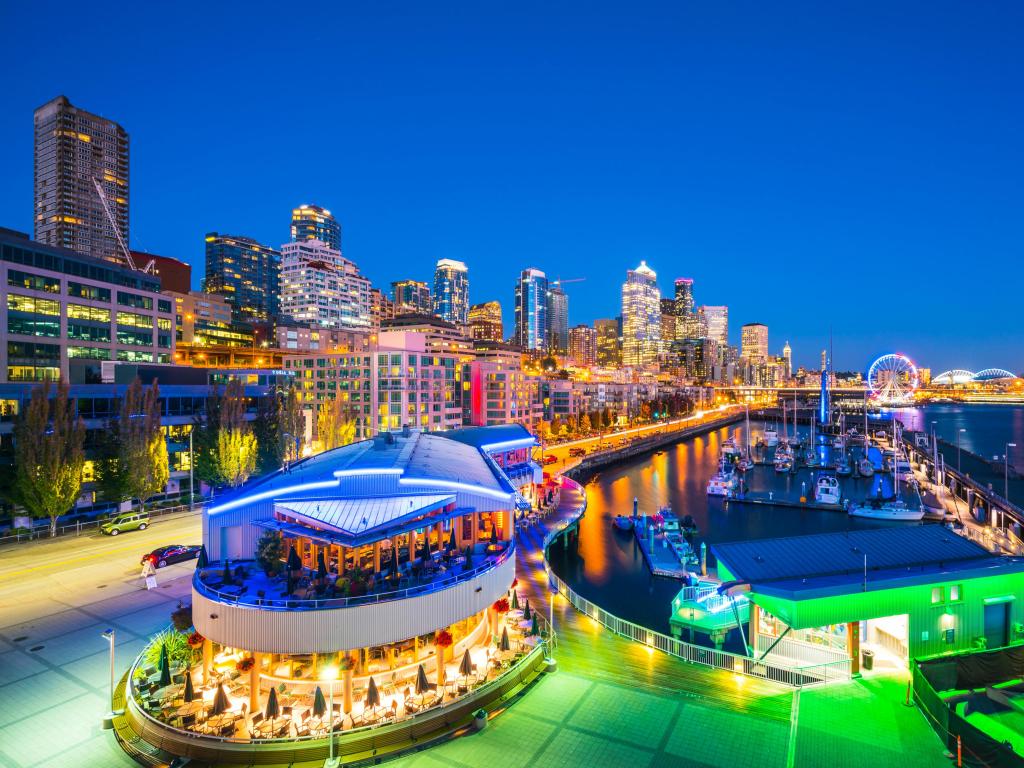 The Arctic Club Hotel boasts a superior location, situated in the downtown and central district that is close to Pike Place Market and The Seattle Great Wheel. This historic boutique provides a unique experience for its visitors through a blend of modern luxury and restored traditional décor.
If you are a hardcore foodie, this hotel is perfect for you with its polar bar, serving signature cocktails and regionally-inspired cuisine. But if you'd rather eat salad and crush it on the treadmill, then there is a fitness room too. Private parking at the hotel makes for a safe and secure stay.
Things to see on a road trip from Houston to Seattle, Washington
This road trip from Houston to Seattle, Washington is lined with historical museums, majestic mountains, pristine lakes and scenic National Parks that are bound to leave you awestruck.
We have compiled a list of the must-see places you will encounter on both routes for a thoroughly delightful trip.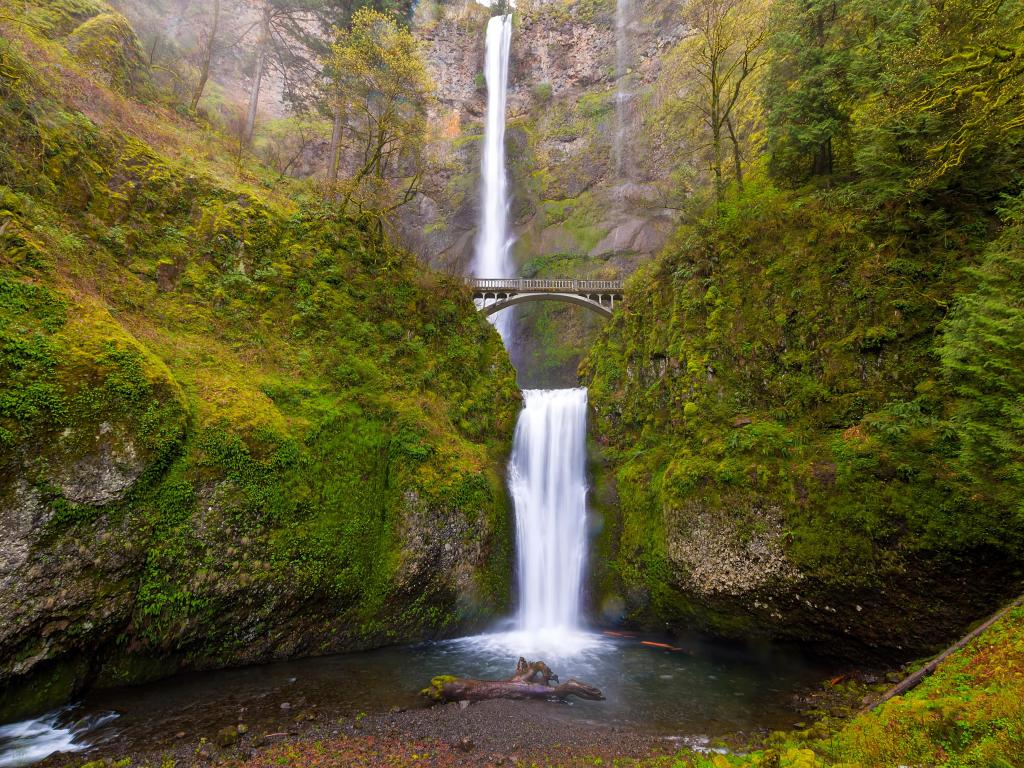 The Salt Lake City Route
Mount Bonnell, Austin – Look over the city and Lake Austin from the top of this popular scenic attraction also known as Covert Park.
Georgia O'Keeffe Museum, Santa Fe – Explore American modernism in this museum, dedicated to an artistic legacy, holding a collection of over 3000 works of art.
Sandia Peak Tramway, Albuquerque – Ride 2.7 miles up the Sandia Mountains to enjoy breathtaking views of New Mexico.
Moab – Explore picturesque landscapes and incredible views by detouring from this city to two major National Parks: Arches and Canyonlands.
Utah State Capitol, Salt Lake City – Get familiarized with American democracy with this symbol of government, community and tradition, overlooking downtown Salt Lake City.
Bonneville Salt Flats – Experience the feeling of being out of this world with these flats, characterized by the perfectly flat land and salty soil that stretches across the landscape.
Craters of the Moon National Monument – Get fascinated by recent volcanic activity that so often still happens in this unusual national park.
Anne Frank Human Rights Memorial, Boise – Honor the triumph of the human spirit and pay tribute to Anne Frank and her family during their hiding in World War II.
Multnomah Falls – Take in awe-inspiring views of Oregon's tallest waterfall, located in Mt. Hood National Forest from the lodge or by hiking up to Benson Bridge.
Powell's City of Books Portland – Satisfy your inner bookworm by shopping for used, new and rare books in the world's largest independent bookstore.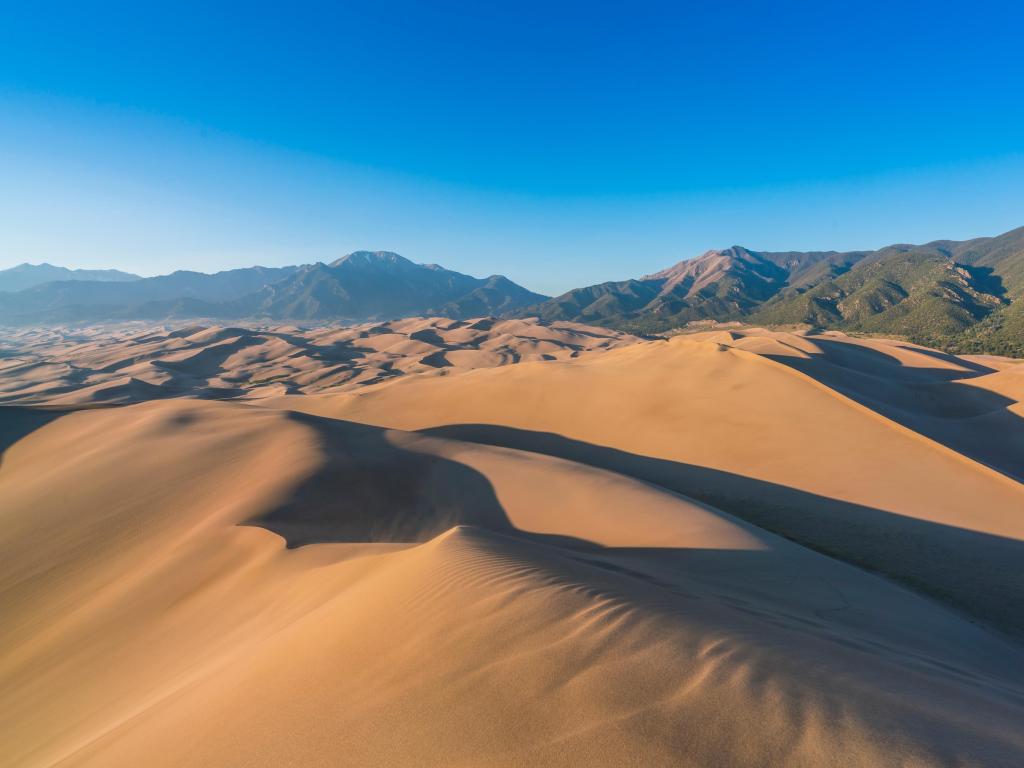 The Denver Route
Sixth Floor Museum at Dealey Plaza, Dallas – Pay tribute to the life and legacy of President John F. Kennedy in Texas' most visited museum.
Great Sand Dunes National Park – Hike up the tallest sand dunes and ride them down on a sledge for a unique thrill.
United States Air Force Academy, Colorado Springs – Tour around the campus and get to know more about the Air Force personnel in this air force museum and academy.
Garden of the Gods, Denver – Enjoy concerts and spectacular rock formations in this landmark, which is home to the Red Rocks Amphitheater, a theater built right on the rocky peaks.
Grand Teton National Park – Visit Teton Range for incredible mountain views and pristine lakes that make for a spectacular experience.
Yellowstone National Park – Stop by this unique park with hydrothermal and geologic features to hike or catch a glimpse of grizzly bears, wolves and bison herds.
Lake Coeur d'Alene – Regain your energy by walking along one of the many walking trails of this serene lake.
Riverfront Park, Spokane – Hang out in this public park made up of the Spokane River and Spokane Falls, the second largest urban waterfall in the United States.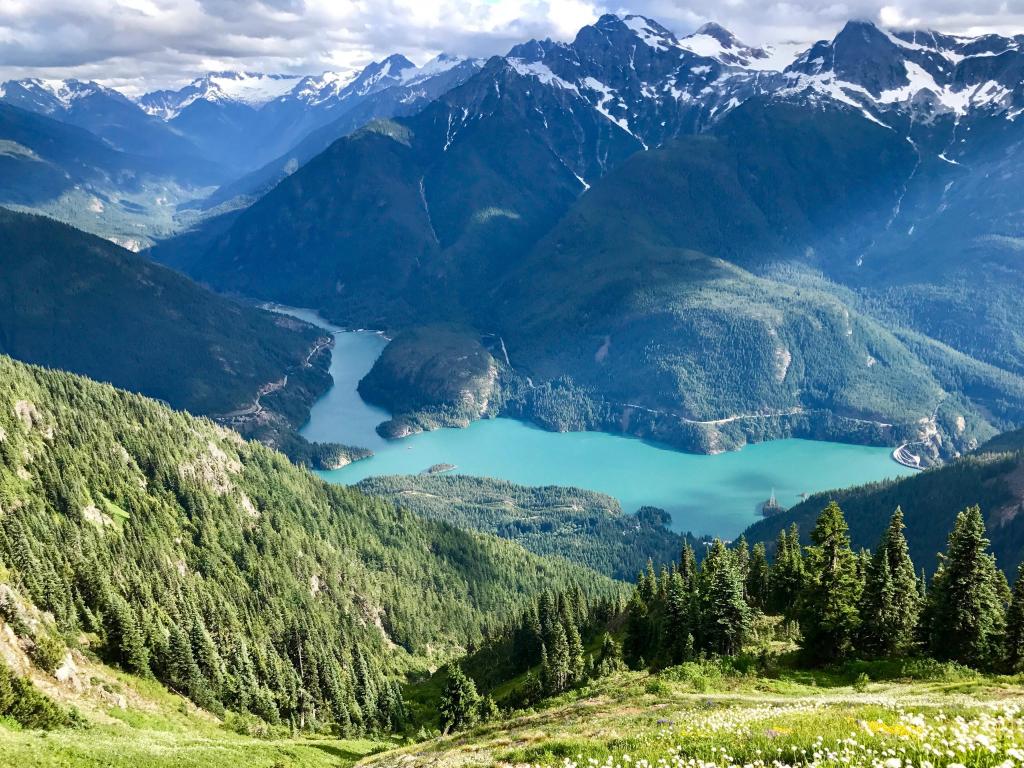 Both Routes
Olympic National Park – Marvel at glacier-capped mountains and beautiful rainforests while looking across the ocean in this national park located on the coastline.
North Cascades National Park – Take another detour from Seattle to this national park with incredible mountains that are characterized by more than 300 glaciers.
Best time to go on a road trip from Houston to Seattle, Washington
Seattle can be considered a year-round destination with dry summers and mild winters. As you move from the deserts in the South to the Pacific Northwest region, the temperature range will be from 60 degrees Fahrenheit to 100 degrees Fahrenheit.
The starting destinations will have hotter and drier summers while the coastal region will be cooler and more humid as brisk air will be coming in from the ocean. Summer is a great time to visit Seattle as its highest temperature ranges from 70 degrees Fahrenheit to 80 degrees Fahrenheit.
The states further south will have milder winters with temperatures ranging from 15 degrees Fahrenheit to 60 degrees Fahrenheit. Even though Seattle has heavy snowfall in various mountain areas, its winters are still mild with a temperature range of 45 degrees Fahrenheit to 50 degrees Fahrenheit.
For people who love snowfall, white mountaintops, freezing lakes and waterfalls, Seattle winters will be their wildest dreams come true.
The ideal times to go on this road trip are spring and fall as the weather will remain consistent throughout the route with temperatures ranging from 50 degrees Fahrenheit to 70 degrees Fahrenheit.
If you are traveling in spring, you will get to enjoy beautiful blossoms as you travel through Yellowstone or Olympic National Park (among other stunning detours you can make) depending on the route you chose. The same can be said of the fiery fall foliage displays.
Seattle doesn't hold many large events, but it is most recognized for Bumbershoot, an international music festival that is held underneath the Space Needle during the Labor Day weekend.