Road Trip from Houston to Waco, Texas
Look no further than this road trip from Houston to Waco, Texas, for a short yet adventurous weekend drive through the buzzing heart of Texas. Filled with urban escapades and scenic countryside, this charming tour is the perfect way to break away from a hectic routine.
The 380-mile road trip from Houston to Waco, Texas will take about 6 hours to cover. You will get to visit San Antonio, Austin, Montgomery, Lake Conroe, Huntsville, Lady Bird Lake, Texas State Capitol and Washington-on-the-Brazos State Historic Site.
For an exciting and enjoyable trip through eastern Texas, read on to learn about the best routes, hotels, and places to visit along the way.
How far is Waco, Texas, from Houston, and how long will the road trip take?
Comparison of road trip routes between Houston and Waco, Texas

| Route | Distance | Driving Time |
| --- | --- | --- |
| Lake Conroe Route | 200 miles | 3 hours |
| The Urban Route | 380 miles | 6 hours |
The city-forward drive to Waco from Houston via The Urban Route takes about 6 hours to cover 380 miles without food and gas breaks.
For a more direct trip, take The Lake Conroe Route, covering 200 miles over 3 hours of driving, not accounting for stopovers and detours.
Depending on your route choice, split your drive over 1-3 days to experience the unique Texan landscapes, museums, parks, and other attractions without exhaustion.
Best road trip route from Houston to Waco, Texas
The best route for this managable and straightforward road trip from Houston to Waco will depend on how long you'd like to spend on the road and what you'd like to see.
The Urban Route will take you through two major Texan cities: Austin and San Antonio. While the roads are easy to drive on and well maintained, the city traffic could make the drive a little longer.
With plenty of things to see, from historic landmarks to modern museums, this route is ideal for people who want to experience the vibe and diversity of Texas.
For a relatively direct and fast route with good-quality roads, take The Lake Conroe Route to Waco. Lake Conroe is the main attraction along this route, where you can indulge in many outdoor activities like fishing, boating, and hiking.
This route has an idyllic vibe and offers a glimpse into the laid-back and simpler life in Texas' countryside.
The Urban Route
Cruise westward, taking Interstate 10 (I-10) out of Houston. Before reaching San Antonio, you'll pass through charming small towns and historical landmarks.
After exploring the famous river walk and the surrounding attractions, head north from San Antonio on I-35. You'll drive past New Braunfels and many scenic vistas.
You'll soon arrive in Austin, where you can visit the Texas State Capitol Building. Continue your journey on I-35 and follow it all the way to the historic downtown of Waco.
The Lake Conroe Route
From Houston, venture northward, taking I-45 out of the city. After crossing Conroe town, take a left on FM-1097 to cross Lake Conroe.
Enjoy a swim and a peaceful outing near the tranquil Lake Conroe before continuing your westward travel. Continue your journey on TX-105 till Navasota.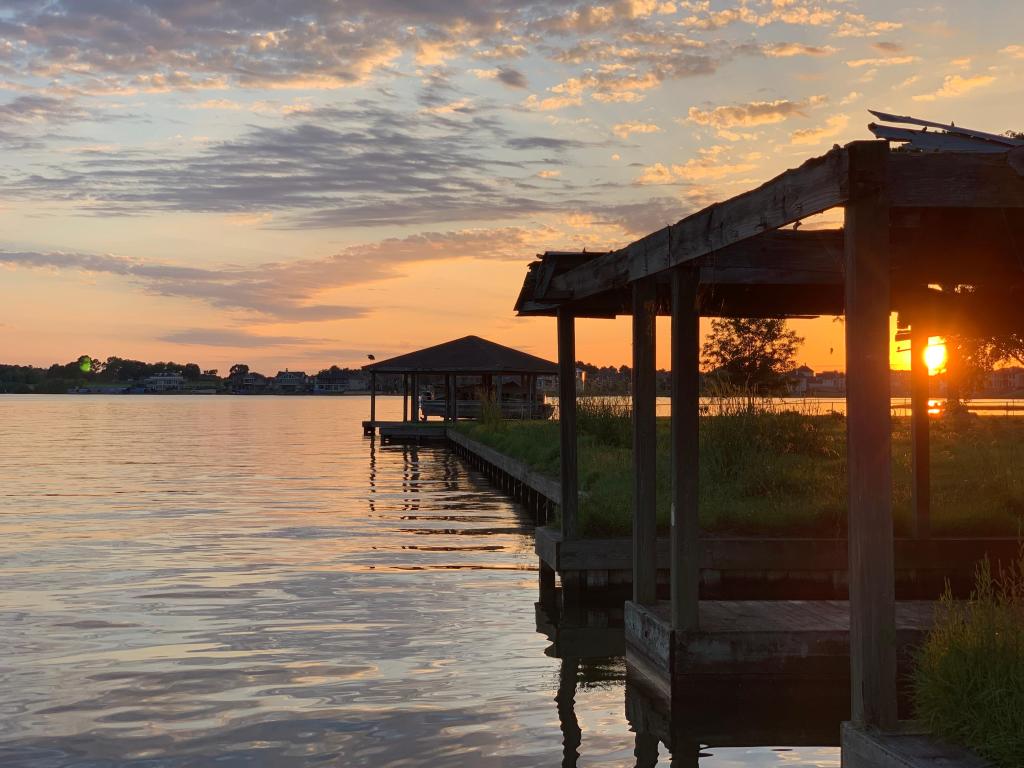 Then, hop on to TX-6 for the rest of your journey. You'll see rolling prairies, the characteristic Texan architecture, Texas Longhorns, and many small towns dotting the path before reaching Waco.
Best places to stop between Houston and Waco, Texas
Even though you can conveniently drive from Houston to Waco non-stop in a day, there are some places in between that we absolutely love exploring. We have highlighted a few budget-friendly stay options for your overnight break on this road trip.
Enjoy a musical night at Austin
Located halfway between San Antonio and Waco, Austin is a vibrant city on this route. Known for its eclectic culture, live music, and unlimited indoor and outdoor attractions, Austin is an excellent place to break your journey.
Austin hosts several music festivals and events throughout the year celebrating local and international artists. From blues to country to rock to hip-hop, you can always catch live concerts in this city.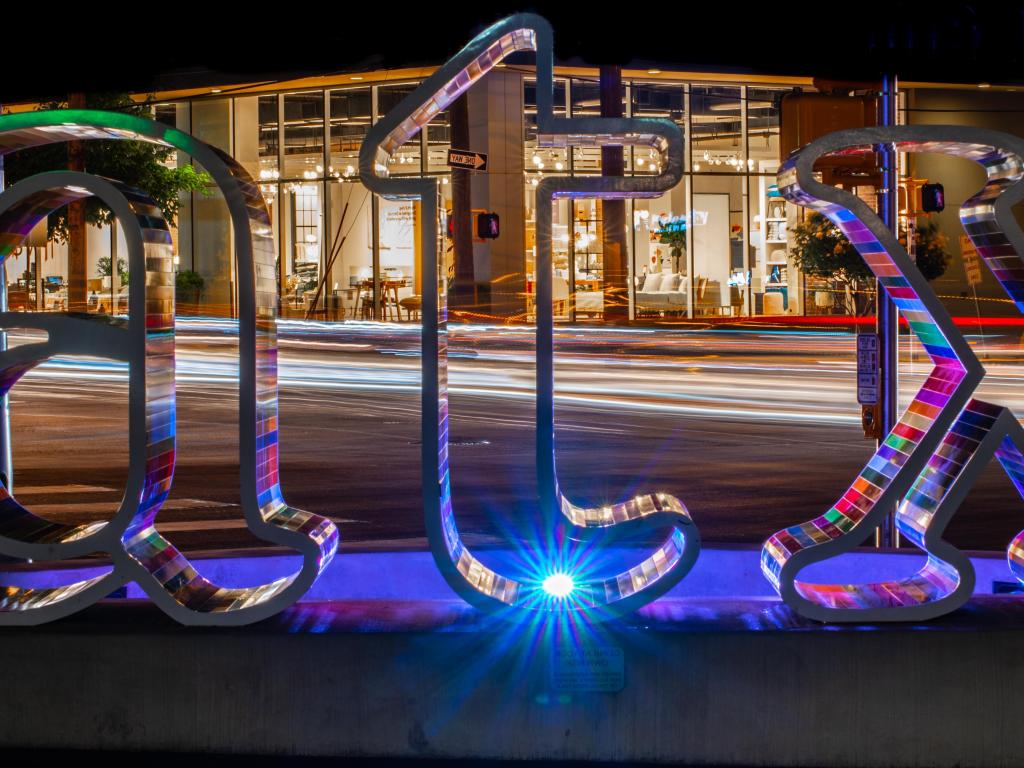 Located in downtown Austin, the Texas State Capitol is a historic landmark and impressive architectural feat that offers stunning city views from its observation deck. It is a must-visit for any history buff.
If you're looking for a luxurious and modern hotel for your stay in Austin, Fairmont Austin Gold Experience is one of our top choices. Located within walking distance of popular attractions, restaurants, and entertainment venues, it boasts dramatic views of Lady Bird Lake and the downtown skyline.
You can also take advantage of the rooftop pool, fitness center, and spa for relaxing at the property. If you opt for the hotel's Gold Experience, you can access a private lounge with complimentary snacks, drinks, and other perks.
The hotel is also located near major highways and interstates, making it easy for road trippers to continue their journey to other destinations.
Make a stop at the historical Huntsville
Conveniently located between Houston and Waco, Huntsville is a perfect stop to rest and recharge. It is a slight detour off the route but one well worth it. Known for its rich history, there are plenty of indoor and outdoor attractions for travelers to learn about the history and culture of Texas.
A trip to Huntsville is not complete without a visit to Sam Houston Memorial Museum. For a glimpse into Texan history and that of its founding fathers, this museum is a must-visit for all history buffs.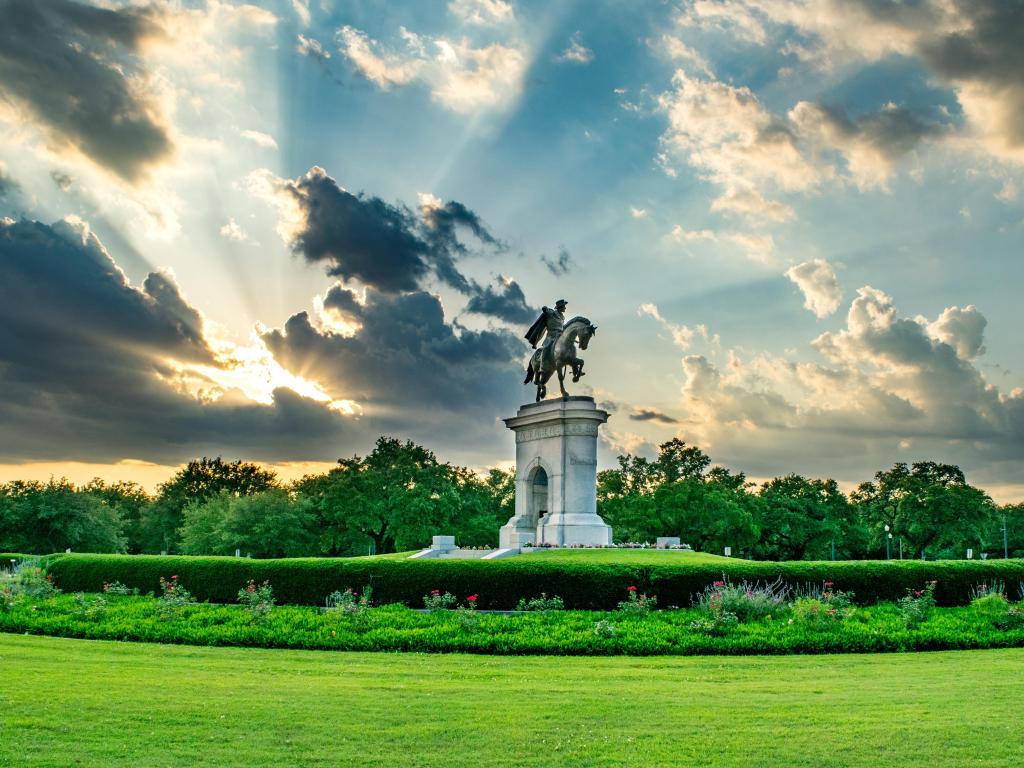 Explore Huntsville State Park and its many offerings like hiking, fishing, camping, and more for fun outdoor activities. Spend an afternoon amidst nature with friends and family at this massive park.
Another unique attraction of this town is The Texas Prison Museum, showcasing the history of the Texas prison system.
Located in the city's heart and offering easy access to the city's attractions, our vote goes to Hampton Inn & Suites Huntsville, for a night's stay in Huntsville. Featuring family style rooms, you will never feel like you are too far from home while staying here.
Make sure you sample the delicious daily breakfast (either buffet or American-style depending on what you fancy that morning) before setting off on your journey for the next leg of your trip.
Where to stay when you reach Waco, Texas
Once you reach Waco, you can check in at one of our favorite hotels, the modern Hotel Indigo Waco, an IHG Hotel. Its downtown location makes it the perfect place to explore the city.
The hotel rooms are decorated stylishly and feature unique decor and local artwork. You can enjoy amenities such as a fitness center, rooftop bar, and on-site restaurant serving locally sourced cuisine.
What we love the most about this hotel is how eco-friendly the place is and how committed it is to sustainability. When staying here, you can avail yourself of the hotel's complimentary shuttle service to visit the city's attractions, like Magnolia Market at the Silos, the Dr. Pepper Museum, and the Cameron Park Zoo.
Things to see on a road trip from Houston to Waco, Texas
On this incredible journey, immerse yourself in the Texan culture, music, food, and history. To give you a jumpstart with planning, we have created a list of our must-visit places to see on this road trip.
The Urban Route
The Alamo, San Antonio – Explore the historic mission and museum at the Alamo in downtown San Antonio. You'll get a glimpse into the events that unfold the story of the Texas Revolution.
River Walk, San Antonio – This iconic river walk is a network of walkways and bridges lined with shops, restaurants, and bars. It is perfect for an evening stroll along the San Antonio River.
Austin City Limits Live at The Moody Theater, Austin – Music lover or not, this music venue in Austin is a must-visit. The state-of-the-art facility hosts live performances and events and delivers an unforgettable experience every single time.
Lady Bird Lake, Austin – This outdoor lake offers a peaceful respite from the bustling city vibes. You can indulge in kayaking, canoeing, and paddleboarding at this downtown reservoir.
Texas State Capitol, Austin – Discover Texas's rich culture and heritage at this Capitol building. Choose between guided and interactive tours to learn more about the architecture and significance of the monument, and don't miss the unparalleled view from the observation deck of the building.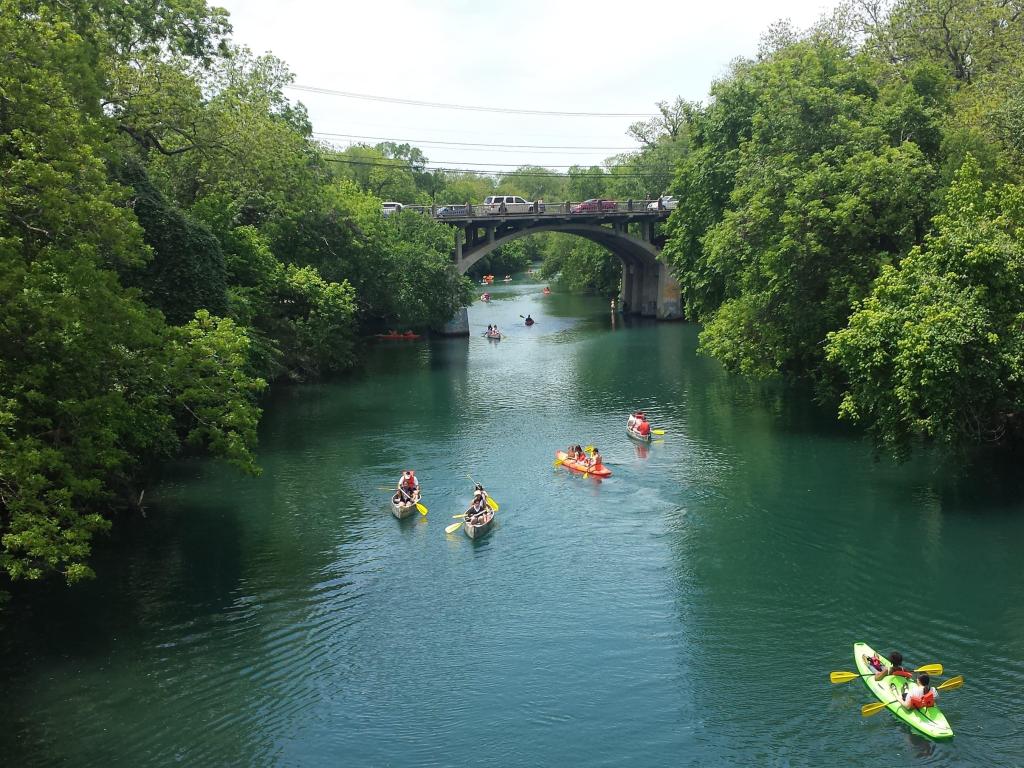 The Lake Conroe Route
Lone Star Monument and Historical Flag Park, Conroe – Feel the Texan spirit as you admire a Texas soldier's majestic 14-foot-tall bronze statue and a display of Texas flags.
Lake Conroe, Conroe – For a getaway from the busy life, visit this famous recreational lake offering fishing, boating, and watersports.
Washington-on-the-Brazos State Historic Site, Washington – Fondly referred to as the birthplace of Texas, the Texas Declaration of Independence was signed at this historic site.
Heritage Museum of Montgomery County, Conroe – Get lost in time at this engaging museum showcasing the history of Montgomery County through exhibits and artifacts.
Lake Conroe Park, Montgomery – Bask in the sunshine and enjoy walks along the park on Lake Conroe's shores. Make a day out of your trip as you explore their picnic areas, fishing piers, and boat launch.
Brazos Valley Farmers Market, Bryan – Enjoy local produce straight from the farmers. Don't forget to try delicious baked goods, homemade jams, and unique crafts at this weekly market!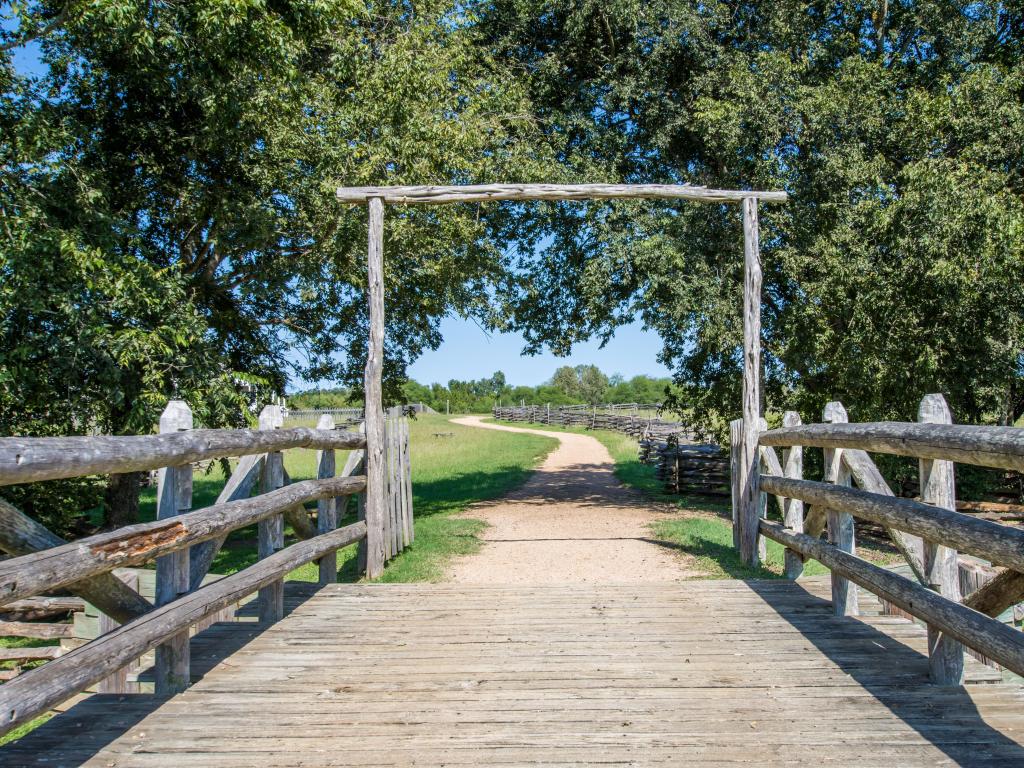 Best time to go on a road trip from Houston to Waco, Texas
Waco is a year-round destination, as the city generally experiences mild temperatures throughout the year. Barring a handful of attractions, most tourist spots in Waco are indoors. Regardless of the weather, you can visit the Magnolia Market at the Silos, museums, and restaurants all year.
Waco can be pretty hot and humid during the summer months, with temperatures often reaching the mid to upper 90s Fahrenheit and occasionally even higher. Despite the heat, summer is still a popular time to visit Waco, especially for families on summer break.
Winter can be a great time to visit Waco for those who prefer cooler temperatures and smaller crowds. Waco is relatively mild during winter, with temperatures typically ranging from the mid-30s to mid-50s Fahrenheit.
While it can occasionally get below freezing, it is rare for Waco to experience extended periods of harsh winter weather.
Spring and fall are popular seasons to visit Waco due to the pleasant weather. During the spring, temperatures typically range from the mid-50s to mid-70s Fahrenheit, while during the fall, temperatures usually range from the mid-50s to the mid-80s Fahrenheit.
Many of the city's outdoor attractions, such as Cameron Park and Lake Waco, are particularly enjoyable during these seasons.
Waco is known for hosting many annual events and festivals like the Texas Food Truck Showdown in March, Brazos Nights concerts from April to June, the Waco Cultural Arts Fest in October, and the holiday festival Waco Wonderland in December.
Also, you can enjoy the unique Silobration in October, a festival hosted by HGTV's Fixer Upper stars, Chip and Joanna Gaines, at the Magnolia Market at the Silos.