Road Trip from Houston to Yellowstone National Park
From the deserts of Utah and New Mexico to the expansive plains of Wyoming and the snow-peaked mountains of Colorado, this road trip through the Central United States from Houston to Yellowstone National Park has a little bit of something for everyone.
You'll need 31 hours to cross the 1,980 miles on the road trip from Houston to Yellowstone National Park. You can visit Denver, Salt Lake City, Albuquerque, Colorado Springs, Arches National Park, Santa Fe National Forest and Jackson Lake Dam.
Keep reading to discover what sort of wonderful on-route attractions and unique cities await you on this epic adventure.
How far is Yellowstone National Park from Houston, and how long will the road trip take?
Comparison of road trip routes between Houston and Yellowstone National Park

| Route | Distance | Driving Time |
| --- | --- | --- |
| The New Mexico Route | 1,980 miles | 31 hours |
| The Colorado Route | 1,990 miles | 31 hours |
We've provided you with two distinct routes that each allow you to discover the part of the United States that you're most curious about, whether it be the arid deserts of the South or the mountains and forests of the North.
The New Mexico Route takes about 31 hours in total, traversing just over 1,980 miles from start to finish. This route is perfect for someone who's interested in seeing what the southern states are all about, including a stop in bustling Albuquerque.
Our second route option is the Colorado Route, which is slightly lengthier with a 31-hour driving time and traversing about 1,990 miles in total. For both routes, we recommend you set aside about 8 to 9 days to get the most out of this road trip.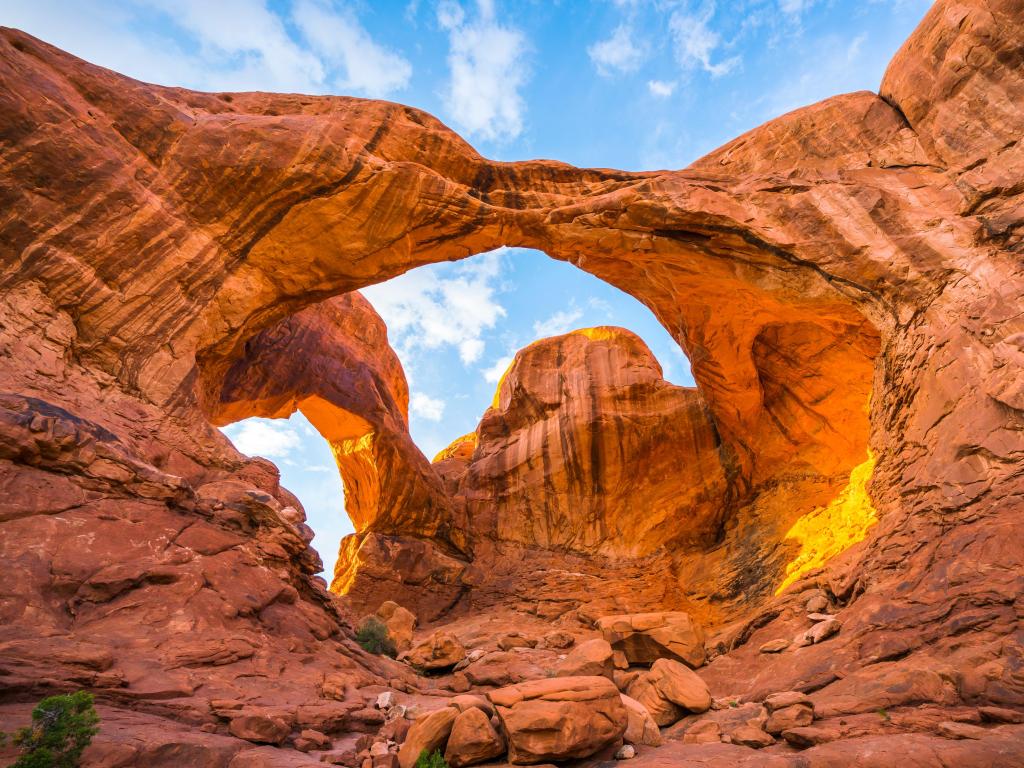 Best road trip route from Houston to Yellowstone National Park
Choosing your route for this wonderful trip to Yellowstone National Park really just comes down to what sort of vibe you're looking for. We promise that whichever way you choose, you'll find tons of unique and awesome attractions along the way to pique your interest and keep you wowed.
We recommend the New Mexico Route if you're the kind of travelers who gets a kick out of long expanses of arid deserts, as this route takes you through the states of Texas, New Mexico, Utah and Idaho. You will also get to see the amazing Arches National Park.
Between the red rocks of Utah, the deserts of New Mexico and the plains of Idaho, you'll get still some diversity between terrains; what's more, you'll be stopping in several larger cities, including Albuquerque, bustling Dallas and serene Salt Lake City.
You can also opt to include Santa Fe on this list, which is known for its artsy culture and historic architecture.
Hop on the Colorado Route if you're looking for a more leisurely journey that includes a good deal of green forests along the way. You'll pass through Medicine Bow National Forest, a popular protected green space offering beautiful views and ample opportunity for hiking and other outdoor sports.
You'll also stop in the beautiful cities of Denver and Colorado Springs. You can opt to take an optional detour to Breckenridge, a small ski-resort town within the Colorado Rockies that boasts year-round alpine activities and a storied Gold Rush past.
The New Mexico Route
You'll start this route in Houston and head north on Interstate 45 (I-45), continuing along this interstate until you've reached Dallas. A short journey through Dallas will get you to highway US-287 N, which you can follow through much of Texas until you've reached Amarillo.
From Amarillo, you can hop onto I-40 and pass into New Mexico, following this interstate all the way to Albuquerque. Here, take an optional detour to Santa Fe or keep Northwest bound through the state of Utah until you've reached bright Salt Lake City.
We're sure you'll love Salt Lake City; once you've had your fill of this wonderful spot, hop onto I-15 N and continue along this road past the Caribou-Targhee National Forest. Soon enough, you'll find yourself at the entrance to beautiful Yellowstone National Park.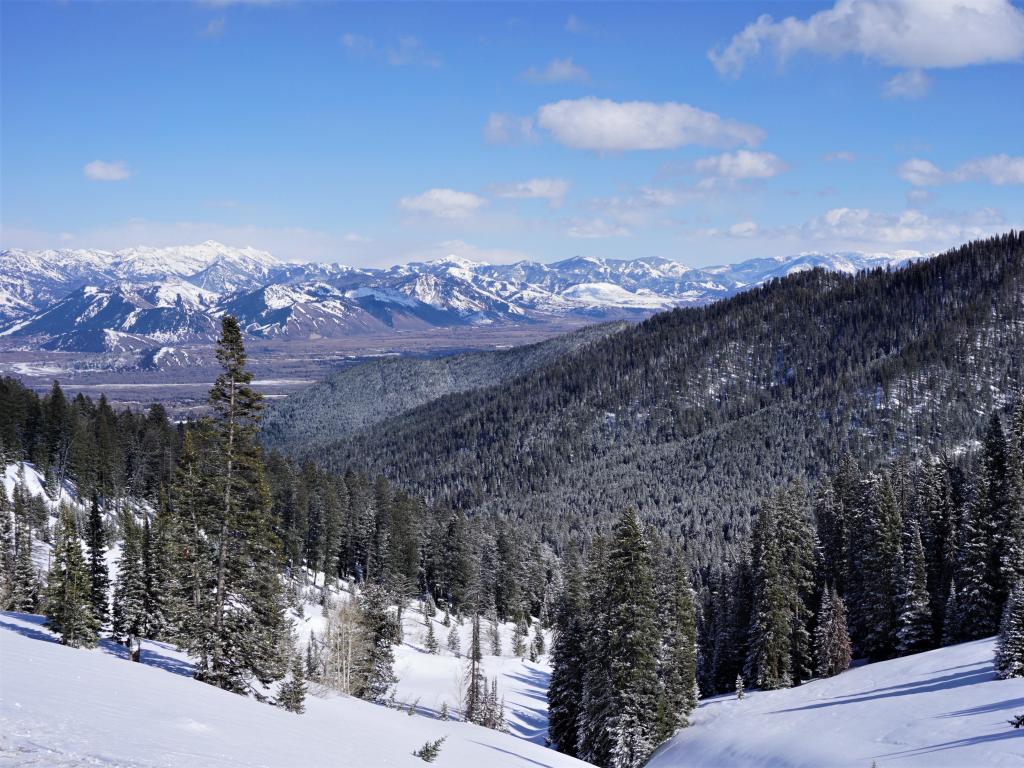 The Colorado Route
The Colorado Route starts off much the same as the New Mexico Route, with a passage through Dallas and Amarillo, so you won't have to worry about missing any of these signature Texas cities.
You'll divert from the New Mexico Route once you've passed Amarillo; instead of continuing to Albuquerque, you'll head north on the US-87, eventually merging onto I-25 N.
This interstate will first take you to Colorado Springs and then, later, to beautiful Denver. Keep an eye out for the beautiful mountains just east of this highway.
From Denver, hop onto I-25 N again; once you've gotten to Fort Collins, divert to US-287 N and continue until you've reached the stunning Medicine Bow National Forest.
When you've had your fill of this beautiful park, head north until you get back onto I-25 N, then move to I-90 E which will take you through Livingston and to the entrance of Yellowstone National Park.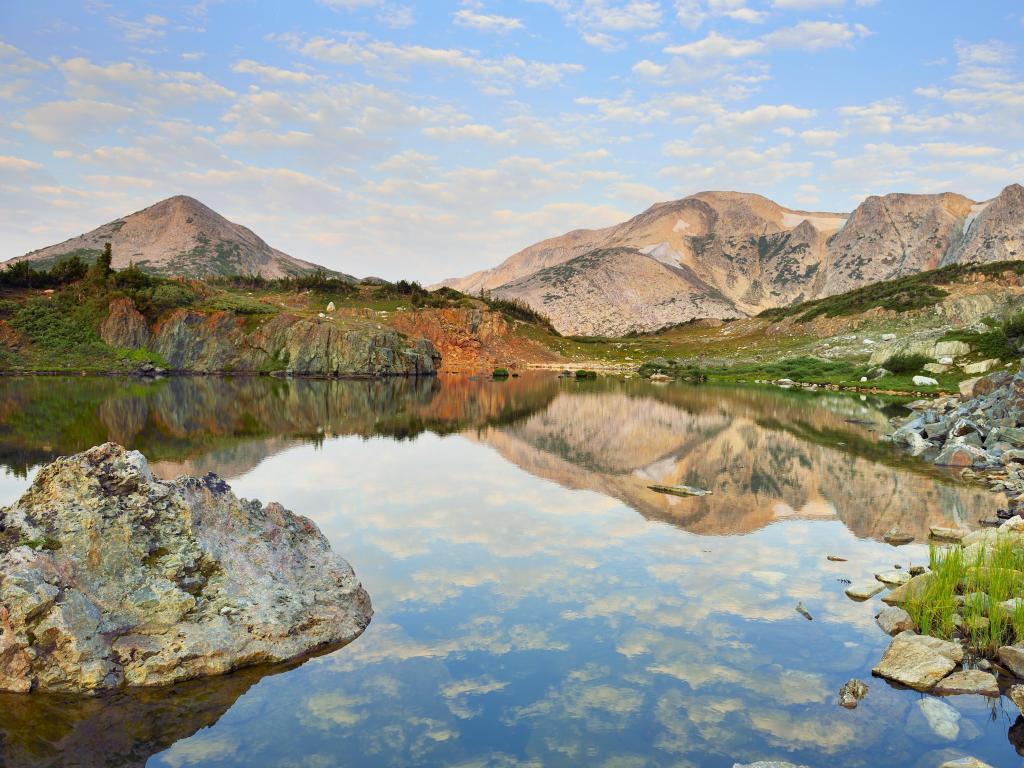 Best places to stop between Houston and Yellowstone National Park
There are several cities along both the New Mexico Route and the Colorado Route which would make great stopping spots, perfect for a good night's sleep after a long day of driving.
We've selected a couple of our favourite spots along both routes and included some great hotel recommendations to make booking this trip a breeze!
Admire the architecture in Salt Lake City
We highly recommend stopping in beautiful Salt Lake City before heading to Yellowstone National Park. While this overnight stop works best for the New Mexico Route as it's located about two-thirds of the way on this route, it can also easily be reached via the Colorado Route.
A bustling metropolis offering tons of city activities and nightlife, Salt Lake City is perfect after (and before) a long day of driving through remote landscapes. This city is most known for its stunning Mormon architecture and for having been the host of the celebrated 2002 Winter Olympics.
Salt Lake has lots to offer besides the surrounding natural landscape, including tons of festivals and unique museums. We highly recommend checking out the Natural History Museum of Utah, which explores the natural world with an emphasis placed on the Intermountain West and Utah regions.
If you're a fan of architecture, we suggest you check out Temple Square, nestled in the center of Salt Lake City and which offers some stunning architectural sites and beautiful greenery.
Looking for a place to stay while in Salt Lake City? We've got you covered with the stunning Grand America Hotel. This luxurious hotel has amazing amenities, including both an indoor and outdoor pool, gym facilities, and a full-service, five-star spa where you can pamper yourself after a day of driving.
Make sure to grab a bite at the Lobby Lounge for a glamorous high tea or enjoy this hotel's award-winning Sunday Brunch at the Laurel Brasserie and Bar. You can also enjoy a drink at the wonderful Gibson Lounge or, if you're hungry and on-the-go, you can pick up some delicious French pastries from Bonne Vie, the hotel's on-site bakery.
Explore the urban soul of Denver
Located about halfway along the Colorado Route, Denver is a must-see if you've opted for this route and makes the ideal overnight stop. This popular city offers tons when it comes to cultural attractions, but that's just one side of Denver, which is also well-known for its stunning surrounding landscapes.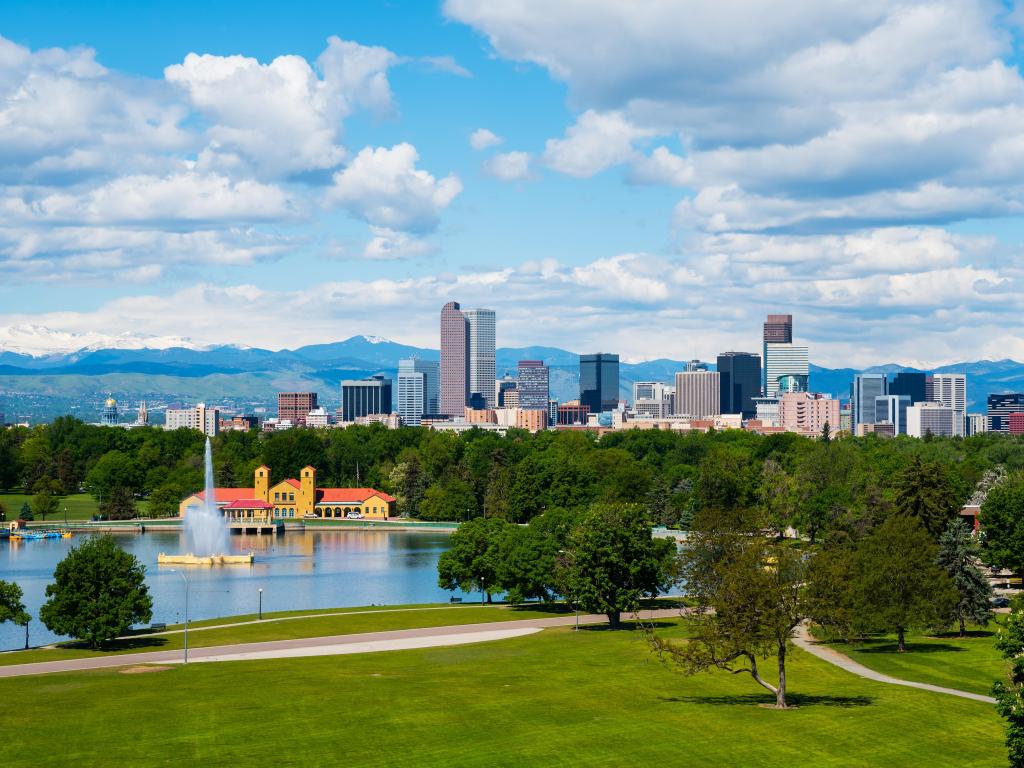 We highly recommend checking out the immense Denver Art Museum, which boasts more than seven floors of art sourced from around the world as well as right in Colorado.
If museums aren't your thing, consider checking out the Lakeside Amusement Park, a family-owned theme park that dates all the way back to 1908 and which boasts an unreal 100,000 light display.
Looking for a dose of greenery? Look no further than the 23-acre Denver Botanic Gardens, which offers tons of theme gardens and a sunken amphitheater that's used for concerts and events during the summer.
When it comes to where to stay in this sparkling city, it doesn't get any better than the Four Seasons Hotel Denver. This luxurious hotel is located right in the center of Denver's downtown core and boasts some truly stunning rooms that feature views of the city's glittering downtown and the surrounding mountains.
Enjoy the many on-site dining options at the Four Seasons Hotel, including the EDGE Bar which offers tapas, cocktails, and other treats. You won't have trouble relaxing here either, as this hotel boasts a rooftop pool, a fitness center and a full-service spa and wellness center.
Our favourite part about the Four Seasons Hotel Denver is its location, which is super central to the city, close to the Museum of Contemporary Art Denver, the Elitch Gardens and the Colorado State Capitol.
Where to stay when you reach Yellowstone National Park
While you won't be able to stay within Yellowstone National Park itself for obvious reasons, we highly recommend staying at the Bentwood Inn which is located about an hour from the main entrance to Yellowstone.
This wonderful inn has tons on offer when it comes to amenities, including rooms boasting warm private fireplaces that are perfect to relax next to after a day of exploring the park (especially if you're visiting in the winter!).
The Bentwood Inn offers complimentary breakfast and is ideally located close to the town of Wilson, where you can access several great restaurants and bars if you're looking to enjoy a night out.
Things to see on a road trip from Houston to Yellowstone National Park
There's tons to see along the way from Houston to Yellowstone National Park; we've gone ahead and included some selections of our favourite sites and unique attractions along both routes!
The New Mexico Route
National Museum of Nuclear Science and History - This wonderful educational center adds about an hour to your route and is committed to exploring and chronicling the development of nuclear science within the United States.
Santa Fe National Forest - This stunning national forest contains over 33,000 acres of canyon and mesa country as well as evidence of ancient human settlements.
Hovenweep National Monument - We highly recommend you stop by this unique monument, home to over 2500 people and comprised of six prehistoric villages.
Pioneer Town - Get a taste of history at Pioneer Town, which boasts five-acres and twenty-four buildings dedicated to recreating life from the nineteenth and early-20th century. You'll add about an hour to your route if you choose to explore this attraction!
BYU Museum of Paleontology - If you consider yourself a dinosaur-head, consider checking out this museum that offers exhibits centered around prehistoric rocks and fossils.
Spiral Jetty - A must-see in Salt Lake City, the Spiral Jetty was created by American artist Robert Smithson in 1970 and consists of a beautiful sculpture that winds into Great Salt Lake.
Eagle Rock Fountain - Grab a picture at this beautiful and unique fountain located in the center of Idaho Falls.
Museum of Idaho - This wonderful and relatively new museum offers world-class interactive displays which explore the rich history of Idaho.
Cress Creek Nature Trail - The Cress Creek Nature Trail winds along the Snake River and is about 1.25 miles long in total. It also happens to be partially wheelchair-accessible.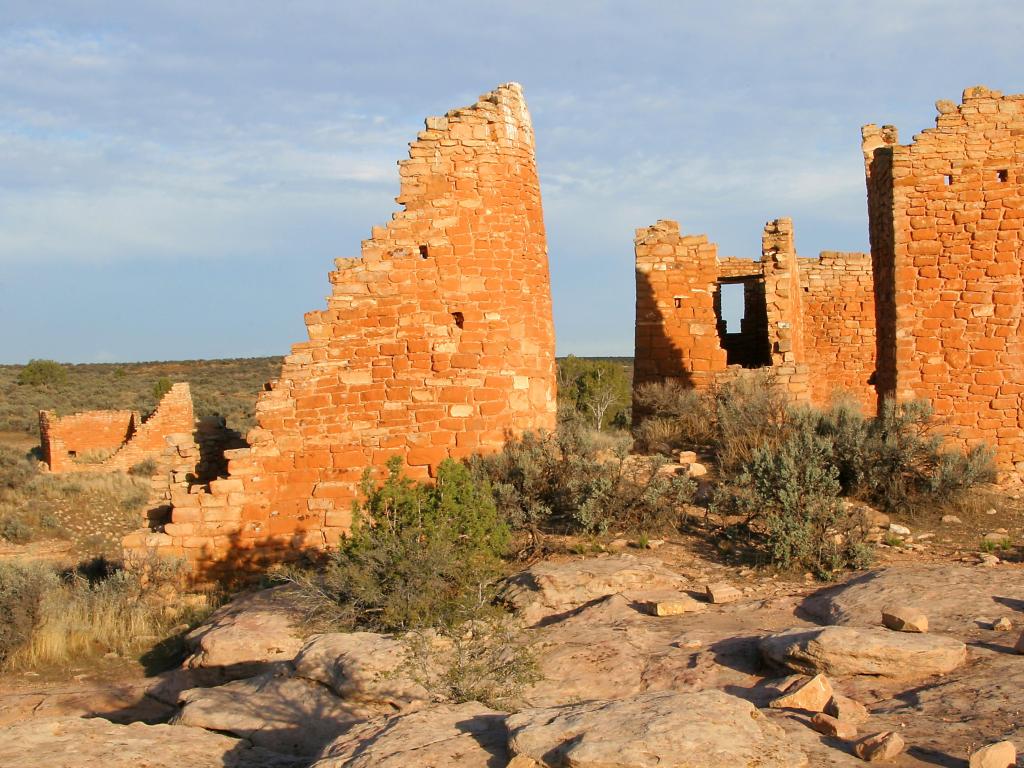 The Colorado Route
Capulin Volcano National Monument - We highly recommend you stop by this national park which is known for its dormant volcano and dark skies (perfect for stargazing if you're driving at night).
National Scouting Museum - If you're curious about the history of the Boy Scouts of America, you should check out the National Scouting Museum, which also boasts a great collection of Norman Rockwell paintings.
Pueblo Weisbrod Aircraft Museum - This museum is located about thirty minutes off-route and boasts two dozen historical aircrafts and a souvenir shop.
Spinney Mountain State Park - Discover Spinney Mountain State Park, about thirty minutes off-route and boasting a majestic geyser that explodes 70 feet into the air on the hour.
South Pass City State Historic Site - A restored Old West Mining town, this historic site offers a peak into America's rich mining history, boasting tours and family-friendly activities.
Granite Hot Springs & Camp - These natural hot springs are just under 100-degrees Fahrenheit in temperature and are the perfect spot to warm up and relax while enjoying the surrounding pines and rock formations.
Jackson Lake Dam - Take in this dam that was built in 1916 and which is entirely made out of concrete; you can also enjoy some really neat panoramic views of Jackson Lake and the Grand Teton mountains.
Bridger-Teton National Forest - This unique and expansive forest boasts over 3.4 million acres of wilderness and offers tons of trails and wildlife.
Both Routes
San Felipe de Austin State Historic Site - This historic site commemorates the earliest pioneers in Texas and is located just outside of Houston.
Tomball Museum Center - If you're a history buff, consider stopping by the Tomball Museum Center, which offers vintage artifacts and machinery dating back to the 1800s.
Dr. Pepper Museum - Fan of Dr. Pepper? Check out this sweet museum dedicated showcasing memorabilia from this iconic American soda brand.
Waco Mammoth National Museum - Add an hour to your route and discover the Waco Mammoth National Museum, which boasts in-situ mammoth fossils.
Log Cabin Village - Take in this historical site dedicated to exploring life in 19th-century Texas with interactive exhibits and performances.
Fort Washita Historic Site - This historic site is easily accessible via both the New Mexico and Colorado Route and offers tours and Civil War reenactments.
Cadillac Ranch - You'll find this unique art installation just outside of Amarillo; we're sure you'll love the way these vintage Cadillacs have been presented!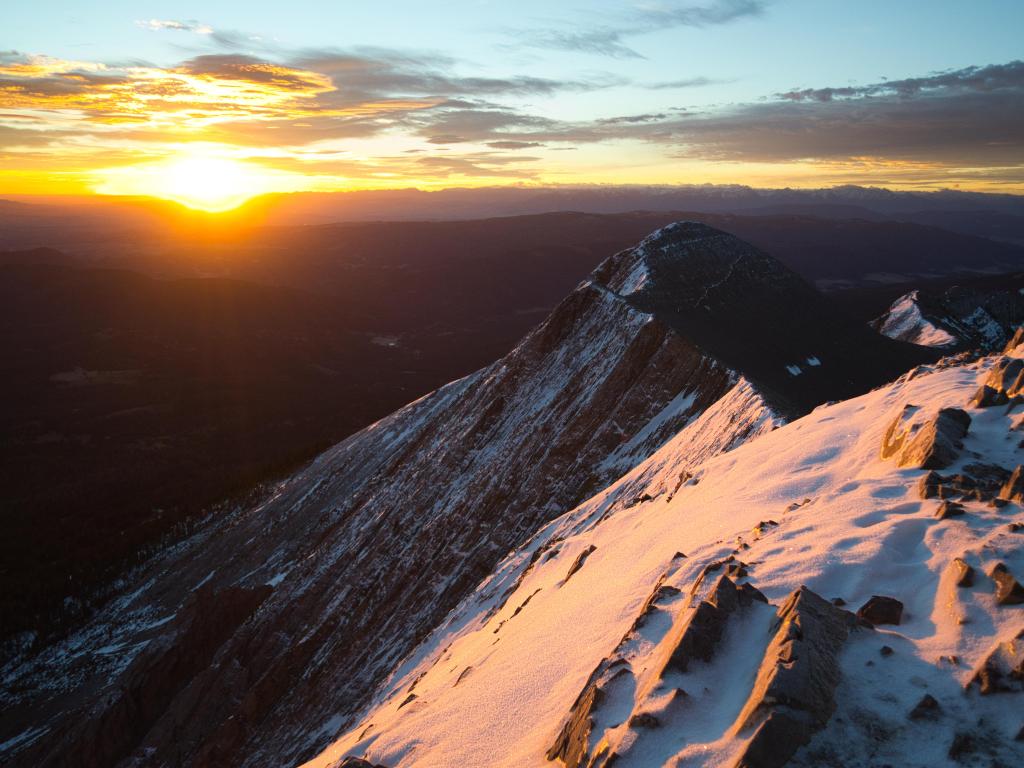 Best time to go on a road trip from Houston to Yellowstone National Park
You can truly visit Yellowstone National Park any time of year; it all depends on what kind of experience you'd like to have. For the traveler who enjoys quieter exploration and fewer crowds, try dropping by Yellowstone during the winter months, when it gets covered in a thin layer of white snow.
For beautiful weather and sunny hiking trails, drop by during the summer months. If you're visiting in the summer, be prepared for higher tourism levels and very clear skies. Temperatures during this season will typically range between 38 degrees and 75 degrees Fahrenheit.
We recommend visiting during the winter months for a beautiful winter wonderland experience and lower tourism rates. Typical temperatures during this season range between 4 and 30 degrees Fahrenheit, though they've been known to dip as low as -15 Fahrenheit.
If you are traveling during the colder months, it is important to keep in mind that parts of the park are closed to driving during the winter.
In our opinion, the best time to visit this park is during the spring and fall seasons, when tourism rates are low and you won't have to worry about contending with snow or hot sun.
Spring does tend to be a bit rainy, but overall, the temperatures during these seasons are great, ranging between the low-tens and mid-sixties Fahrenheit.
There are tons to enjoy in Yellowstone regardless of the season, including tons of outdoor sports like fishing, biking, horseback riding and hiking during the hotter months, as well as cross-country skiing, ice-fishing and sled dog tours during the colder months.