Road Trip from Indiana to New York
New York is a fabulous destination for any road trip, but if you're starting out in Indianapolis you also have the chance to explore Indiana, Ohio, Pennsylvania and of course New York state along the way. Whether you'd rather immerse yourself in history, culture or the great outdoors, there's plenty to keep you busy on this trip.
It takes 15 hours to drive the 900-mile road trip from Indiana to New York passing Toledo, Cleveland, Lake Erie, Ithaca and the Finger Lakes. Or take the shorter route through Columbus, Pittsburgh, Hershey, Philadelphia and Tuscarora State Forest.
There are two routes to choose from between Indianapolis and New York. They both take you to some vibrant cities and through beautiful natural areas, so keep on reading to find out what makes each route stand out.
How far is New York from Indiana, and how long will the road trip take?
Comparison of road trip routes between Indiana and New York

| Route | Distance | Driving Time |
| --- | --- | --- |
| The Pittsburgh Route | 780 miles | 12 hours 50 minutes |
| The Lake Erie Route | 900 miles | 15 hours |
With an early start it's just about possible to get from Indianapolis to New York City in a single day, but as this involves at least 11 hours of driving time we'd suggest taking the trip a little more slowly in order to enjoy the places you'll pass along the way.
If you have time to increase your driving time to 15 hours, you can make this trip via Lake Erie and the Finger Lakes.
This route option comes in at 900 miles, and because there are so many interesting towns and fabulous hikes along the route we'd suggest taking up to 5 days to complete the trip.
For a slightly shorter drive, the Pittsburgh Route is a great alternative. Travelling mainly along the interstate this 780-mile route takes a little under 13 hours to drive so you could easily squeeze this road trip into a long weekend.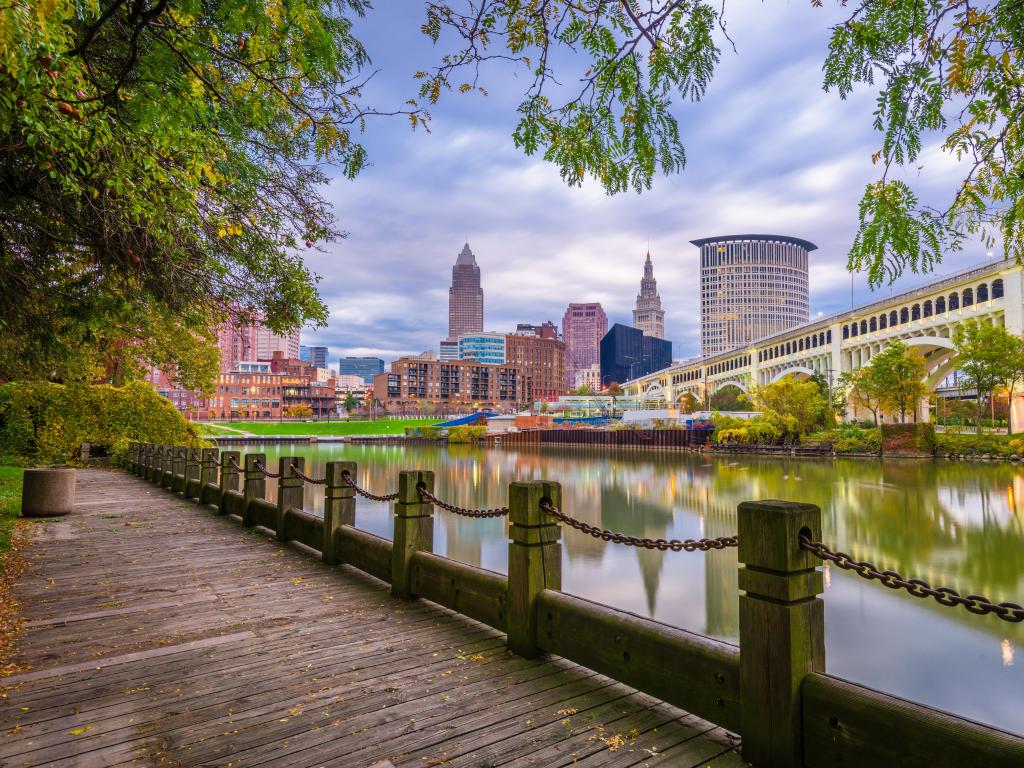 Best road trip route from Indiana to New York
The longer road trip past Lake Erie is a really varied route, so it's perfect if you're trying to cater for different interests.
Thrill seekers will love the roller coasters of Cedar Point amusement park, then the route travels through urban Cleveland and on past the Finger Lakes and the Delaware River, where you can spend time enjoying the lakes, rivers and waterfalls in this beautiful natural area.
In contrast, the Pittsburgh Route connects some buzzing cities with more than their fair share of historical significance so it's a great trip for travelers who enjoy spending time in the city. You can also hop off the interstate to spend time in the great outdoors at Tuscarora State Forest.
The Lake Erie Route
Head northeast out of Indianapolis to join Interstate 69 (I-69), which you'll follow across the state as far as Fort Wayne. From here, the highway takes you across into Ohio on your way to Toledo.
Skirting the southern shore of Lake Erie, you will drive past Sandusky and towards the outskirts of Cleveland. After spending some time in the Forest City, continue along the interstate past Erie then turn off in the direction of Jamestown and Salamanca, passing the northern tip of Allegheny State Forest on the way.
Leave the interstate just after Bath to head towards the Finger Lakes. First, you'll visit Seneca Lake and the town of Watkins Glen, before moving on to Ithaca to spend time by Cayuga Lake.
You'll soon have the chance to stop and enjoy the stunning natural area at Callicoon a few miles further along the route.
From Hackensack I-80 Expressway takes you onto I-95. Depending on your final destination in Manhattan, either turn off the interstate to reach the city via the Lincoln Tunnel or carry on a little further along US-1 for the Holland Tunnel.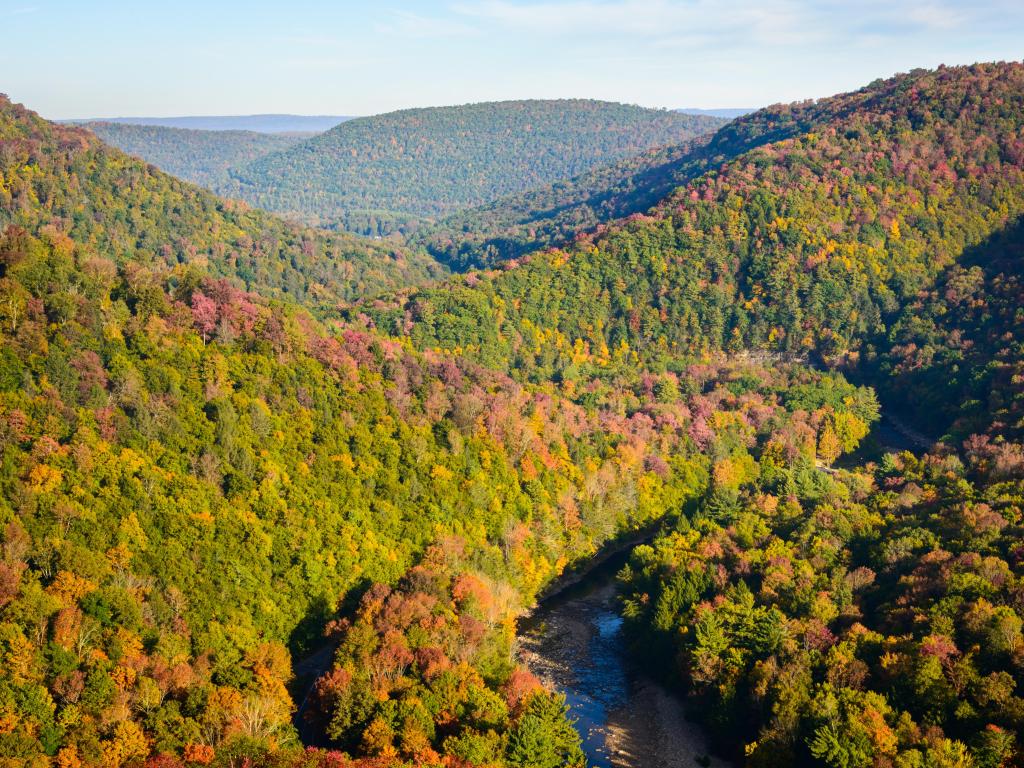 The Pittsburgh Route
This route is a little simpler to navigate, as it follows the interstate most of the way from Indiana to New York. Start off on I-70 heading east into Ohio via Dayton and Columbus.
Crossing the Ohio River, you'll have a brief run through the northern tip of West Virginia before reaching Pennsylvania. Continue along I-70 as far as Washington then turn off past Houston and Hendersonville to visit Pittsburgh.
Leave Pittsburgh on I-76 which travels through the forests and farmland of Pennsylvania as far as the state capital, Harrisburg. From here it's just a short hop to Hershey where you'll pick up the highway south to Lancaster.
Next, make your way through Eden and Brownstown to rejoin the Pennsylvania Turnpike which takes you to the historic city of Philadelphia.
Follow the Delaware River on I-95 which crosses into New Jersey to complete your road trip, entering New York via the Holland Tunnel.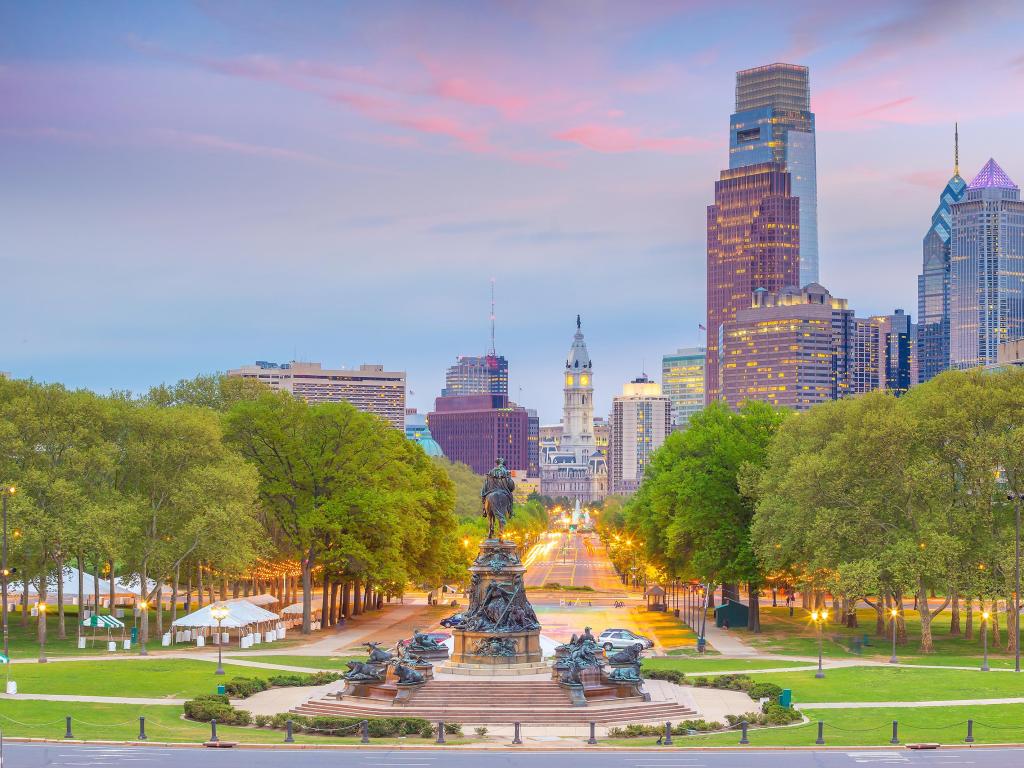 Best places to stop between Indiana and New York
With some impressive mileage to cover, you're going to have to make at least one overnight stop as you travel from Indiana to New York.
We've picked out some fabulous options, whether you want to spend a little longer getting to know one of the places en route, or simply relax over dinner and a drink at the end of a long day on the road.
Get close to nature in Ithaca
Just over two-thirds of the way along the Lake Erie Route, Ithaca is perfect for a final overnight stop, and it's a great place to spend a night (or two) if you want to explore the Finger Lakes.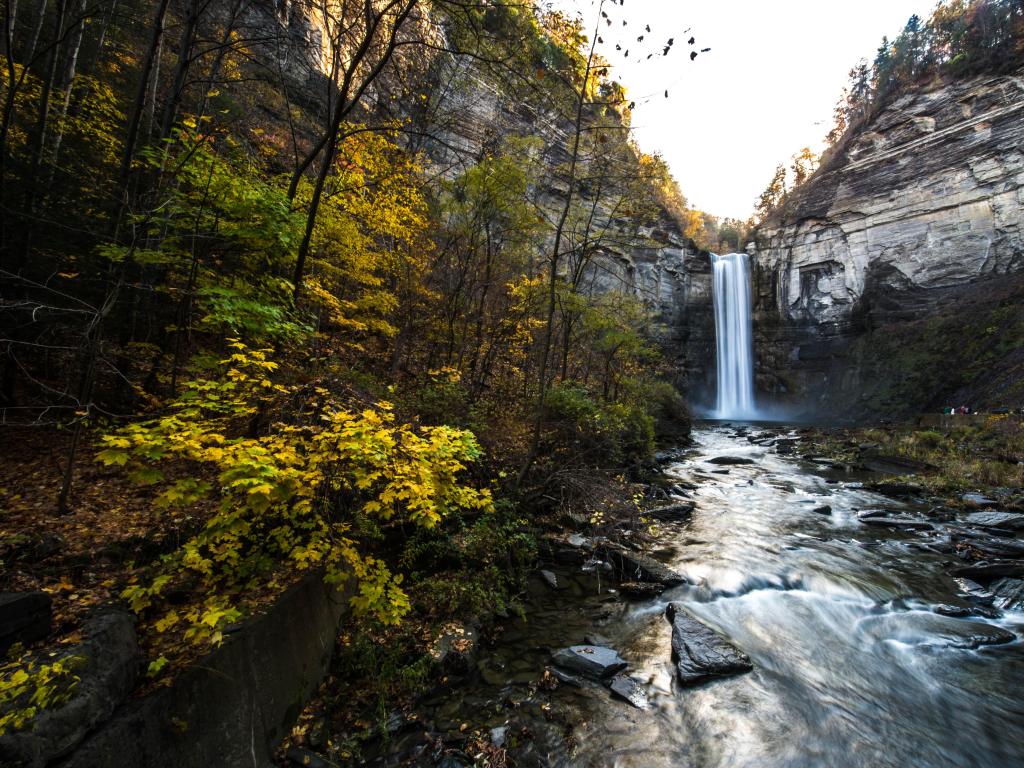 The home of Ivy League Cornell University is known for its location on the southern tip of Cayuga Lake. It's also famous for its waterfalls - there are more than 100 in the stunning gorges which surround the town.
For this reason, most people will take the chance to hike to a waterfall while they're in town. Buttermilk Falls and the huge Taughannock Falls are two of the most popular, and there are several trails to choose from.
Back in town, take a walk through the beautifully planted Cornell Botanic Gardens and their peaceful arboretum, before heading to Johnson Museum of Art. Also part of Cornell University, you'll admire art by masters such as Whistler and Rembrandt in a stunning modern building beside the lake.
If you're staying a little longer, head out on the Cayuga Lake Wine Trail to visit some of the wineries which run along the lake shore. You'll be able to enjoy beautiful vineyard views and tastings. Riesling and Cabernet Franc are common here but most of the vineyards have their own blends too.
Located in the historic former Mayor's Mansion, Argos Inn combines period features with modern comfort so it's a great place to stay. Try local craft beers in the stylish bar, or head out on foot to see which of the local cafes and restaurants takes your fancy.
With free parking for guests this is a really convenient choice for a road trip stay, especially as you can hop straight back onto NY-79 to continue your journey once you've checked out.
Ride the incline in Pittsburgh
About halfway along the Pittsburgh Route, you'll reach the city of the same name which, as well as being conveniently located along the route, has a great combination of big city vibes, riverside views and historic sights.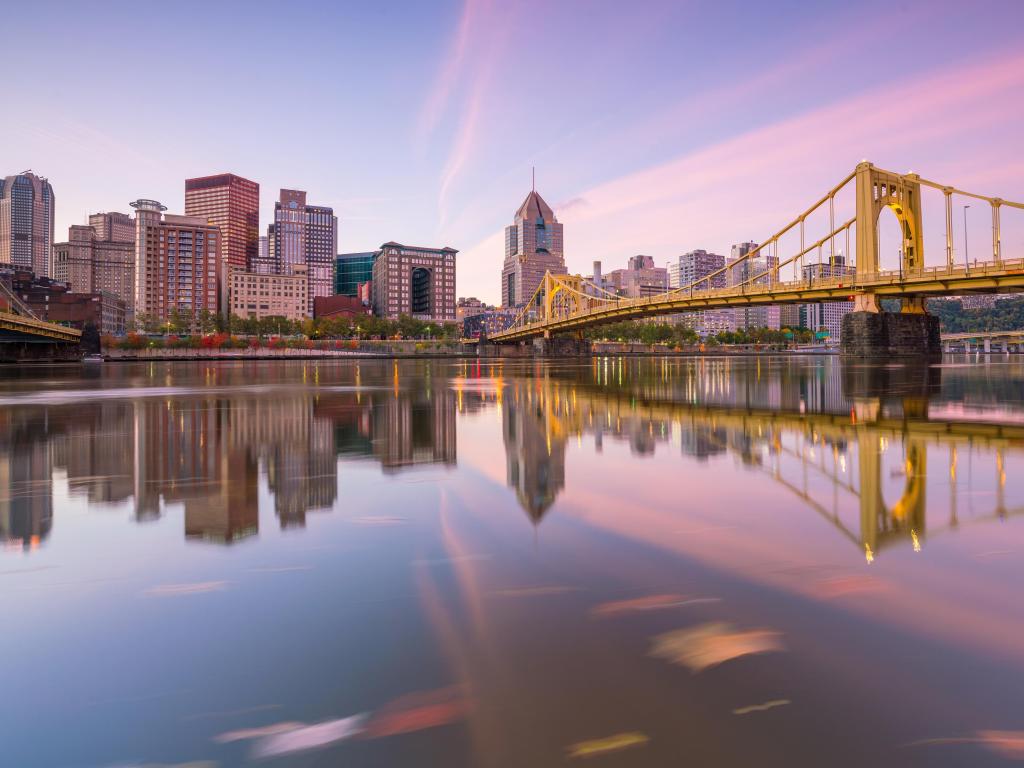 The City of Bridges is known for its rivers and inclines, as well as for its world-class art galleries. If you like art, visiting Frick Pittsburgh is also a great option. The Pittsburgh branch of this New York institution houses a fabulous art collection.
Heading back outdoors, the Duquesne Incline is one of the must-do attractions in Pittsburgh. Ride the funicular railroad up Mount Washington to enjoy views across the city.
Take a stroll through the peaceful Phipps Conservatory & Botanical Gardens - you can see the conservatory all lit up if you're travelling in the holiday period.
The striking red brick building of The Priory Hotel, Pittsburgh was once a monastery, and the welcoming staff will be happy to share the building's history during your stay.
The smart rooms here are comfortable and spacious, and you can sit out to relax in the peaceful courtyard when the weather's good. Continental breakfast is included too.
You can't beat the location as this hotel is within walking distance of sites including the Andy Warhol Museum, and free parking is sure to be an added bonus on your road trip.
Where to stay when you reach New York
Striking interior design characterises the Archer Hotel New York, which harks back to the city's art deco past. It also offers fantastic views across New York from the rooftop terrace and bar.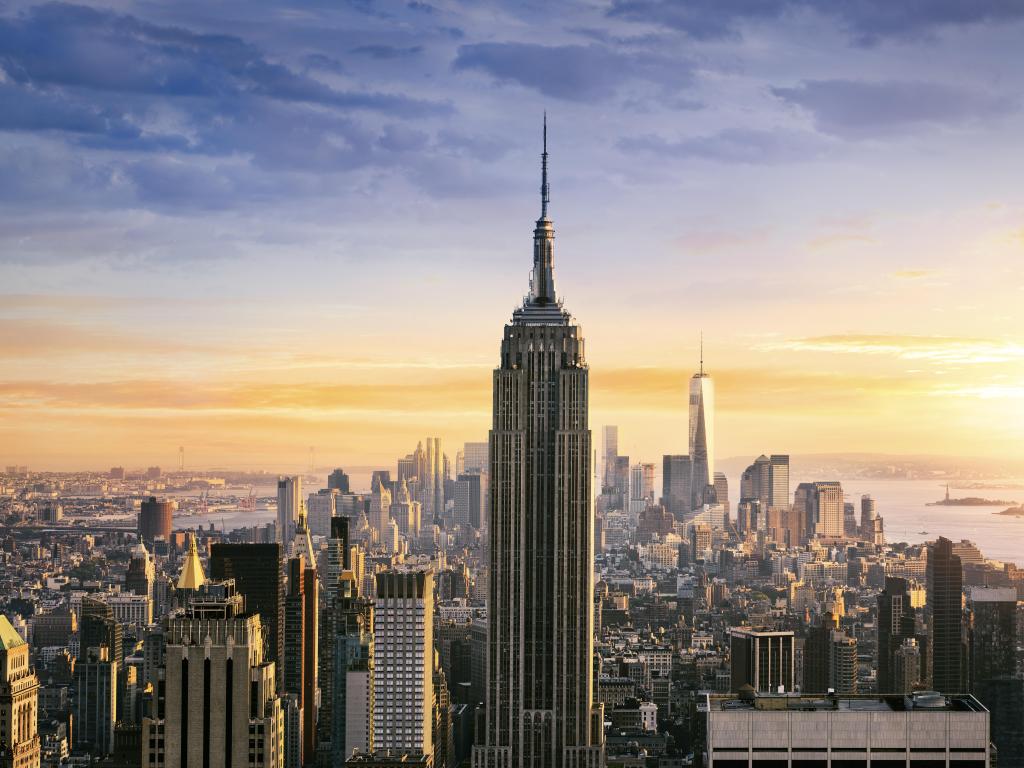 The hotel is within walking distance of many of the city's attractions including the Empire State Building, Times Square and the Museum of Modern Art, so you'll be able to see all of the city's highlights.
It's also just a couple of blocks from the nearest subway station, with several others also nearby to give you easy access to every part of the city.
Things to see on a road trip from Indiana to New York
One of the great things about a road trip is that you have the freedom to pull over and explore whatever place takes your fancy along the way.
If we had to choose though, these would be some of our highlights on the road trip from Indiana to New York: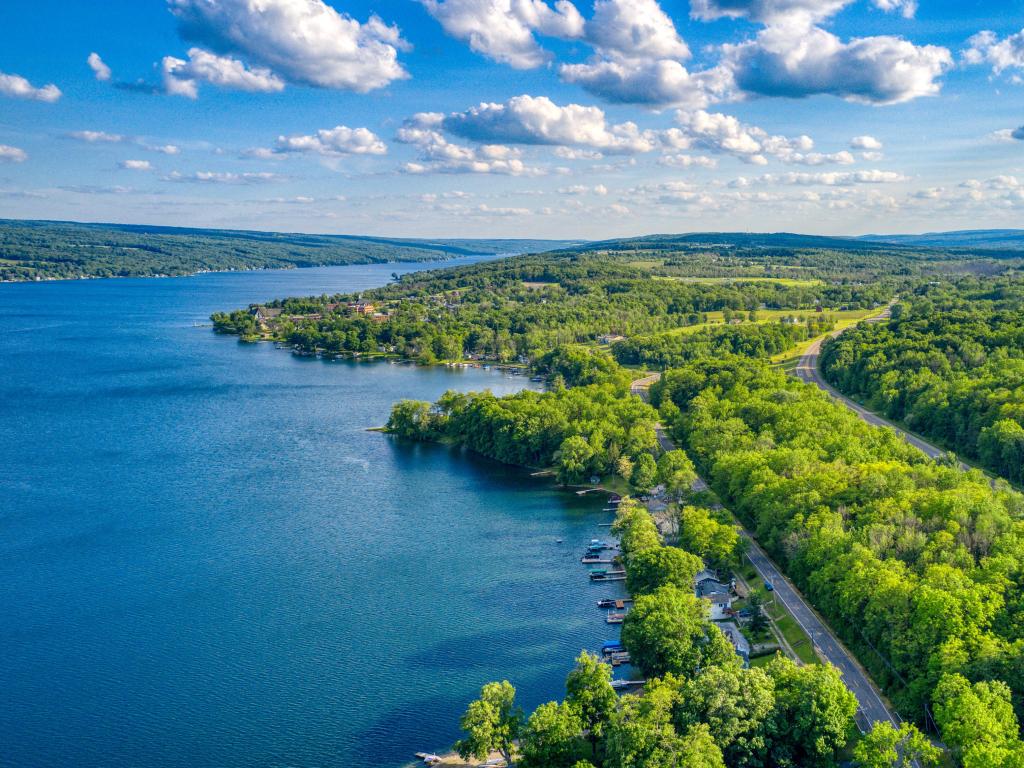 The Lake Erie Route
Fort Wayne - There are three rivers running through Fort Wayne and the Promenade Park is a great place to relax by the riverfront. Walk, kayak, or try a glass of local wine.
Toledo - Situated at the western end of Lake Erie, take a boat trip out onto the lake or across to Toledo Lighthouse. Back on dry land, check out the National Museum of the Great Lakes to learn about the region's varied history – from bootleggers to the Underground Railroad.
Sandusky - Head to Cedar Point amusement park to ride thrilling roller coasters with a beautiful lake view.
Cleveland - Visit the Rock and Roll Hall of Fame or take to the water on Lake Erie to enjoy a boat ride or watersports.
Presque Ile State Park - If you want to enjoy some time by Lake Erie head out along the beach at this waterfront state park to see Erie Harbor Lighthouse.
Allegheny State Park and National Forest - Put on your hiking boots and head out to explore one of the many trails through the forest, or detour through Bradford to visit Kinzua Gorge and follow the Sky Walk for stunning views.
Corning - Take a short detour off the route to visit "America's most fun small town" – the downtown Gaffer district has many boutiques and independent restaurants, plus you can explore the beautiful collection at Corning Glass Museum.
Elmira - Also just off the main route, visit the place where Mark Twain wrote his classic novels about the Adventures of Tom Sawyer and Huckleberry Finn. He's buried in the cemetery here, and you can find out more about his life at the Chemung Valley History Museum.
The Finger Lakes - Explore this stunning natural area with a hike through Watkins Glen State Park, visit the Women's Rights National Historical Park, or follow the Seneca Lake Wine Trail to taste local wine, beer and cider.
Callicoon - Get active in the beautiful Catskills or head out on the Delaware River to enjoy watersports or wildlife spotting. Just outside the town, check out the Wild Turkey Sculpture Garden and Museum.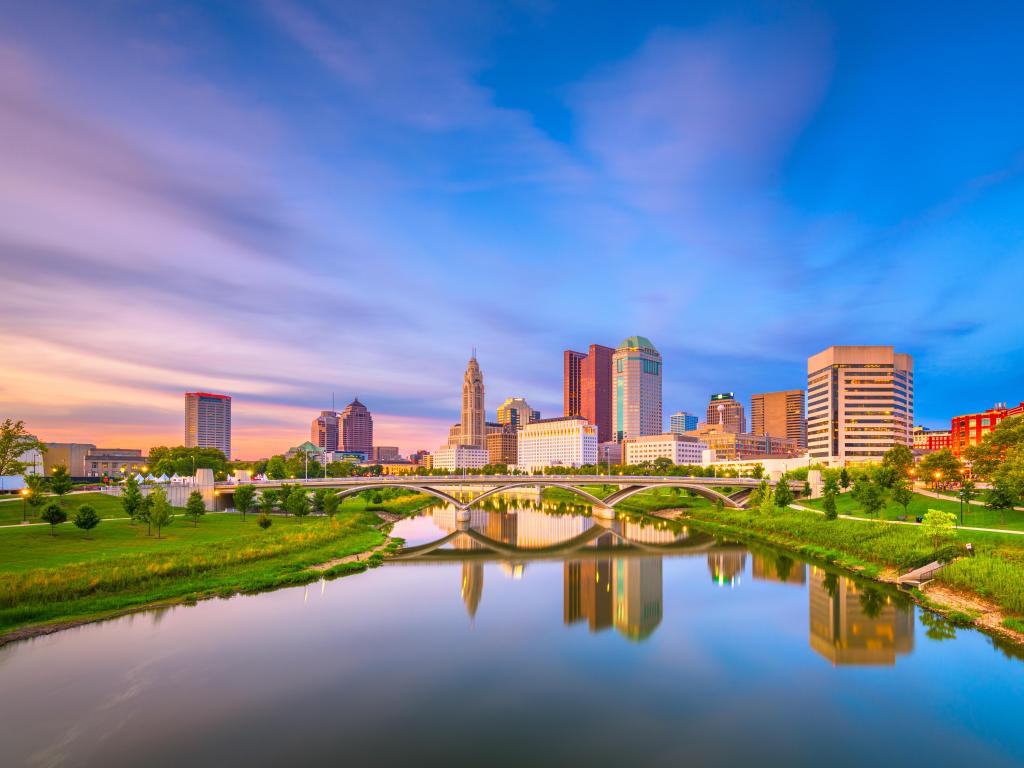 The Pittsburgh Route
Dayton - Head to the National Museum of the US Airforce, a must-see for military and aviation enthusiasts.
Columbus - Stop off to see the gothic St Joseph Cathedral or take a bike ride through Bicentennial Park.
Tuscarora State Forest - With hills, valleys and lakeside trails, take a break from the interstate to get a breath of fresh air among the trees.
Harrisburg - In the state capital of Pennsylvania you can tour stunning Gilded Era mansions to find out what this vibrant city would have felt like at the start of the last century.
Hershey - Indulge yourself in all things chocolate – visit the Hershey Story Museum then head to Hershey's Chocolate World for tasting and more chocolate-based fun. Thrill seekers can check out the chocolate-themed Hersheypark amusement park if you have time to stay in town a little longer.
Lancaster - Take a tour through Lancaster County to find out more about the Pennsylvania Amish community then head to the Bird in Hand Family Restaurant to enjoy a traditional and tasty meal.
Philadelphia - Considered by many as the "birthplace of America," this is a must-see for history fans as you can see the Liberty Bell and Independence Hall as well as other monuments in Independence National Historical Park.
Gettysburg - Take the short detour from Philly to see this famous Civil War site – there's a museum here if you want to find out more about how events here helped shape US history.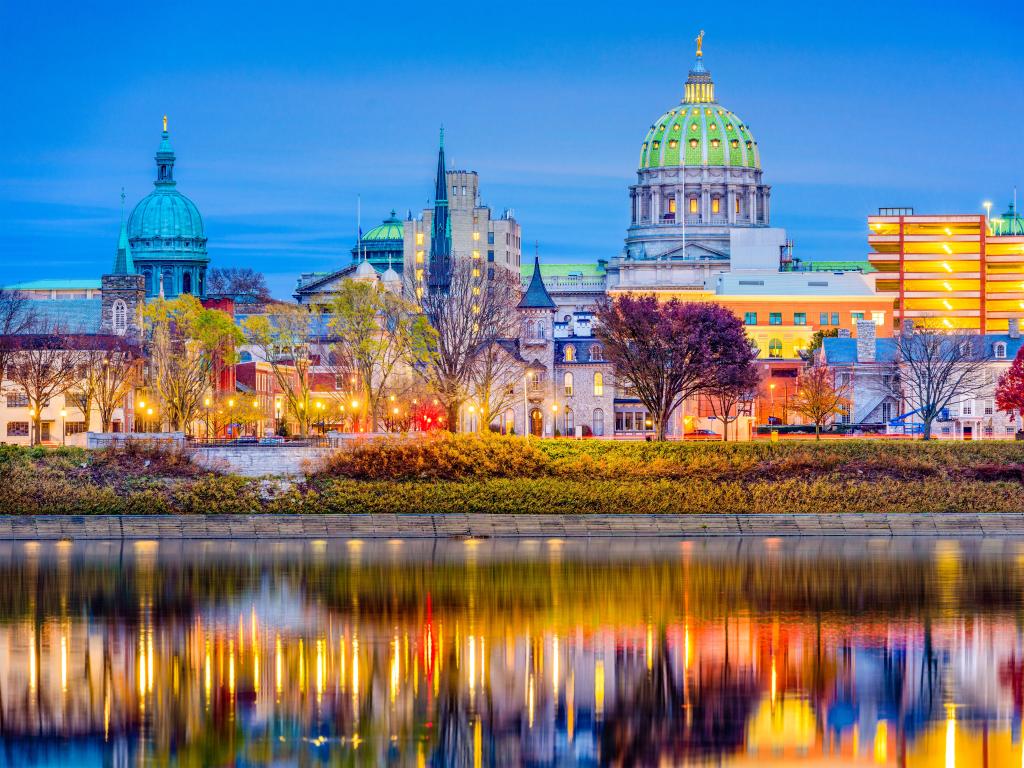 Best time to go on a road trip from Indiana to New York
New York is a fabulous year-round destination where you can enjoy the city buzz and cultural attractions whatever the weather. However, seasonal swings will mean you have a very different experience of the city depending on when you travel.
New York summers are hot and humid. The average temperature is in the high 80s Fahrenheit but add on the high humidity and many people find it uncomfortable. An air-conditioned hotel room is a good investment if you're travelling in the summer.
In contrast, New York often sees snow in winter, with average temperatures between 30 to 40 degrees Fahrenheit, so you'll need to wrap up warm. For many travelers it's an added bonus to see Central Park in the snow.
It's a really popular destination in the holiday season, so book well ahead if you want to visit from late November through to the new year. Prices may be higher, especially at weekends.
Spring and fall are both great times to travel, although you should expect cool weather and some rain in March or November – daytime temperatures of up to 55 degrees can still dip below freezing at night. In May and September, however, temperatures up to 75 degrees Fahrenheit can make for perfect conditions to explore the city.
In spring you'll be able to catch the spectacular St Patrick's Day Parade, which starts on 5th Avenue and then travels through Manhattan. Look out for film screenings and other arts events linked to April's Tribeca Film Festival too.
The Lake Erie Route is also fabulous in fall, as you can take your time to admire the stunning foliage around the Finger Lakes in particular.
One other event to look out for in November is the New York Marathon. You don't have to be running to feel its presence - with forty thousand runners taking to the streets over the marathon weekend, watch out for road closures and book ahead to secure your accommodation of choice.