Road trip from Indiana to Orlando, Florida
With its year-round sunshine, sparkling seas and epic theme parks, Florida makes a fabulous road trip destination. Whether you take the route through the beautiful Appalachian Mountains or travel via the buzzing big cities of Nashville and Atlanta, you'll find entertainment around every corner when you reach your destination.
The 1,150-mile, 19-hour road trip from Indianapolis to Orlando takes you to Knoxville, Pigeon Forge, Asheville and Jacksonville plus the Great Smoky Mountains National Park. Or city-hop between Nashville, Chattanooga, Atlanta and Tallahassee.
Traveling through a host of fabulous southern states you'll enjoy stunning views, live music and unforgettable cuisine - the perfect building blocks for a memorable road trip. Add onto that art, culture, history and beaches and we think you'd struggle to find anything better!
How far is Orlando, Florida from Indiana, and how long will the road trip take?
Comparison of road trip routes between Indiana and Orlando, Florida

| Route | Distance | Driving Time |
| --- | --- | --- |
| The Atlanta Route | 1,100 miles | 17 hours 30 minutes |
| The Great Smoky Mountains Route | 1,150 miles | 19 hours |
Both routes are a similar distance at just over 1,100 miles each, but if you travel through the Great Smoky Mountains, you'll make slower progress so you can expect this route to take at least 19 hours to drive.
Alternatively, traveling via Atlanta will take around 17 hours 30 minutes, although as with all road trips you'll need to allow a little extra time for traffic as you navigate a number of the south's buzzing cities.
With so many miles to cover, the road trip from Indianapolis to Orlando isn't one you can complete in a single day even if you wanted to.
Depending on how long you want to stay in the places you'll visit en route, we'd suggest allowing at least 4 days for your trip. This means you'll spend a manageable 4 to 5 hours on the road each day so you'll have plenty of time to explore.
READ MORE - Ultimate Florida Road Trip Itinerary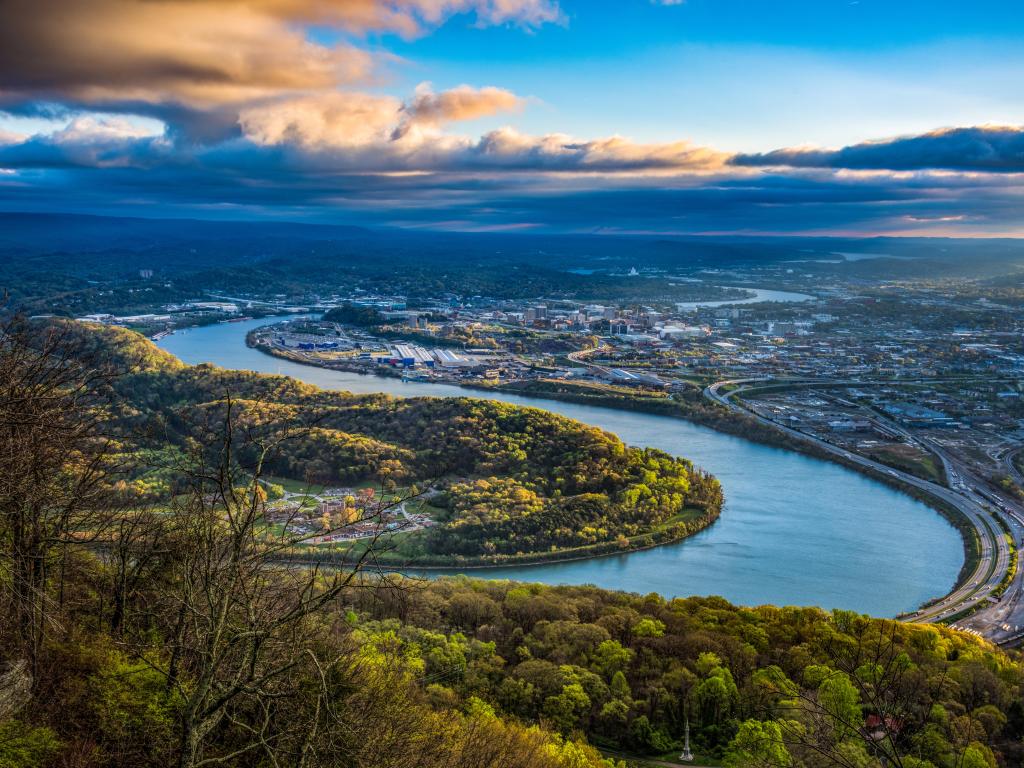 Best road trip route from Indiana to Orlando, Florida
We've put together two different route options for a road trip from Indianapolis to Orlando so that whether you're looking to spend time outdoors or enjoy urban vibes you'll find something to enjoy
With beautiful greenery, mountain landscapes and ocean views, the route through the Great Smoky Mountains is super scenic. It also travels through Knoxville on its way to America's most visited national park, so you'll be able to spend time in the city in between some unforgettable hikes and outdoor adventures.
This route also takes you to beautiful Asheville, the perfect gateway to the Blue Ridge Parkway, which makes a stunning detour if you have a little extra time, before heading to the historic cities of Savannah and Charleston.
Shorter and more direct, the Atlanta Route brings you to popular cities including "Music City" Nashville, charming Chattanooga and Atlanta, with its iconic skyline.
Along the way you can make detours to gorgeous national forests including Chattanooga-Oconee, or visit Mammoth Cave National Park.
How to drive from Indiana to Orlando, Florida
The map above shows our suggestions for the best road trip routes between Indiana and Orlando, Florida. Keep reading for detailed descriptions of both routes, where to stay on either, and the best things to do on the way.
The Great Smoky Mountains Route
To set out on this road trip from Indiana to Florida, first head south on the interstate to Louisville then enjoy the drive across Kentucky to Lexington.
From here the road takes you through mile after mile of rolling countryside, passing Daniel Boone State Forest which is a short detour off the interstate.
Crossing into Tennessee you'll start to make your way through the Appalachian landscape, passing the creeks and waterways of Norris Dam State Park before arriving in Knoxville.
To visit Great Smoky Mountains National Park you'll need to turn off I-40 east of Knoxville and head south on the highway towards Pigeon Forge and Gatlinburg. From this gateway point, you can take trips into the northern part of the national park.
If you have a little more time to enjoy the mountain scenery, follow US-441 which winds its way right through the national park then pick up US-19 from Cherokee to continue on towards Asheville.
For a more direct route from Gatlinburg, simply take US-321 east, skirting the northern side of the national park to head back to the I-40 which takes you to Asheville. You'll still get to enjoy some of the mountain scenery from the interstate on this stretch.
After spending some time in Asheville, head south again on I-26 past Hendersonville and Columbus, NC. On your way through South Carolina the road runs through Francis Marion and Sumter National Forests and past Lake Murray before arriving in Columbia.
Next, the interstate takes you out to the coast where you can spend time in beautiful Charleston. Then follow the highway back out to I-95 to continue south to Savannah and past South Carolina's Golden Isles.
Soon you'll cross the state border into Florida. First, you'll travel through Jacksonville then the road runs parallel to the coast - if time allows, you can detour off the interstate to spend time in St Augustine, Fort Matanzas National Monument or Daytona Beach before turning inland to complete your drive in Orlando.
Check out our ultimate Florida road trip itinerary for more information.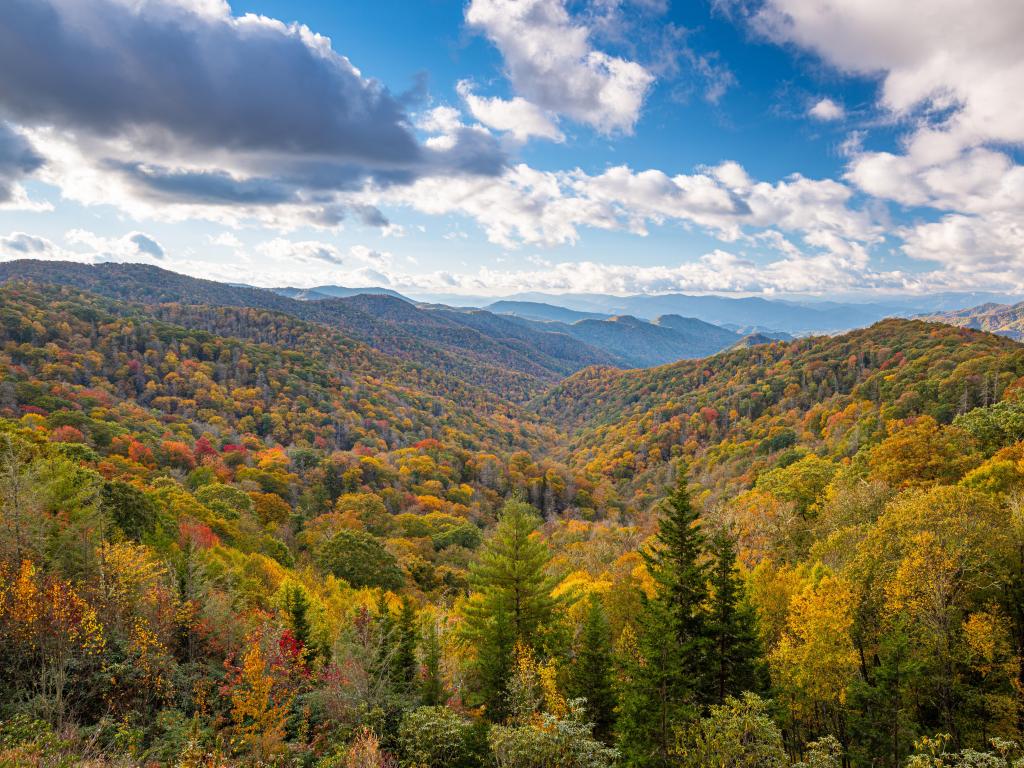 The Atlanta Route
This route starts out by leaving Indianapolis to the southwest, passing Morgan-Monroe State Forest on I-69 on the way to Evansville.
Cross the Ohio River and you'll find yourself heading south through Kentucky. Then merge onto I-24 which takes you on to Nashville, Tennessee. With so many live music venues in the city it's definitely worth spending a night here before you continue on along the interstate to Chattanooga.
From here, carry on south through Georgia. You'll pass Marietta before arriving in the state capital, Atlanta, where you can explore the city's civil rights history and Olympic Games legacy.
Moving on, head out past Newnan and La Grange on the western side of the state then after Fort Benning, exit the interstate and take US-27 south into Florida.
Your first stop in the state is Tallahassee, from where you continue east towards Lake City. The final leg of this route takes you past Gainesville and Ocala before turning onto Florida's Turnpike to reach Orlando.
Here is our ultimate Florida road trip itinerary if you wish to extend your trip.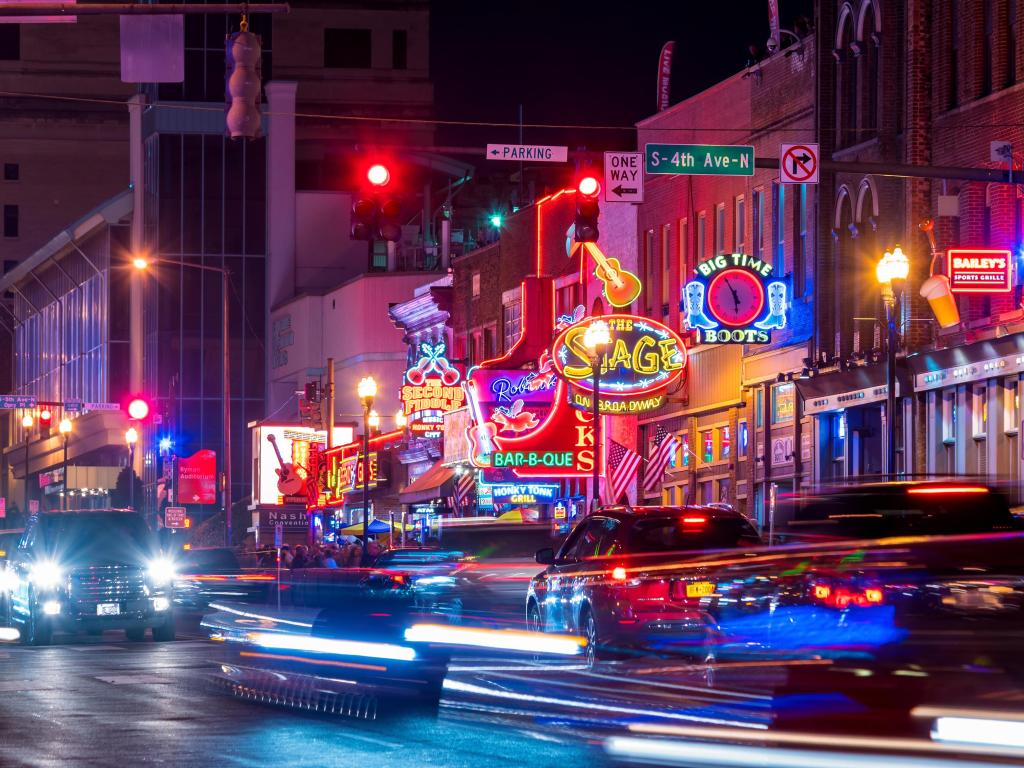 Best places to stop between Indiana and Orlando, Florida
One of the best things about a road trip is the chance to stop and spend time in the new and exciting places you'll discover along the way. The road trip from Indianapolis to Orlando is no different, and there are some fantastic cities where you can pause your journey.
You'll need to make a couple more stops on top of the ones we've suggested, but these are some of our favorites to get you started in your planning:
Stay in the Marble City, Knoxville
Around one third of the way along the Great Smoky Mountains Route you'll reach Knoxville. With its beautiful landscape and many unique shops and restaurants, it's a great place to stay for the night.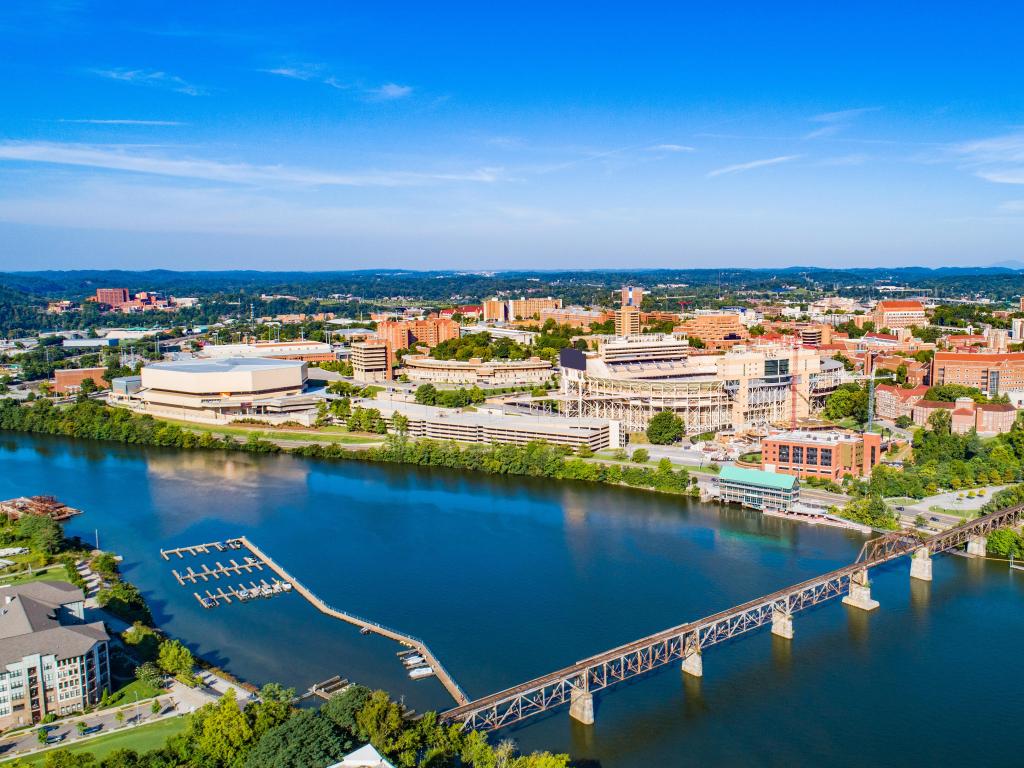 Knoxville also acts as the gateway to the Great Smoky Mountains, so it's a great place to base yourself if you want to spend more time exploring this stunning part of the state. Did you know, the park itself has one of the largest concentrations of salamanders outside of the tropics?
Back in town, Knoxville has its fair share of culture on display. Knoxville Museum of Art and the McClung Museum of Natural History and Culture are both worth a visit during your stay.
Then head up the Sunsphere Tower. This one-of-a-kind structure was built for the 1982 World's Fair but these days guests can head to the observation deck for 360-degree views. You might also recognise it from its cameo appearance on The Simpsons.
Attractively set in downtown Knoxville, the inspired and creative decor of the Graduate Knoxville is a great option for your overnight stay.
After enjoying dinner or drinks at the western-inspired Saloon 16 on-site or in a nearby restaurant or bar, you can enjoy a good night's sleep in the hotel's comfortable and spacious rooms. In the morning, check out the lobby coffee shop which serves breakfast and other favorites.
With a fitness center and valet parking this hotel has all the small details covered. As a bonus, it's just a short walk or drive to many of Knoxville's attractions too.
Immerse yourself in history in Atlanta
Atlanta, which is at the halfway point of the route of the same name, is ranked as one of the top cities to visit in the United States. With so much to see and do plus incredible southern cuisine on offer, we can definitely understand why.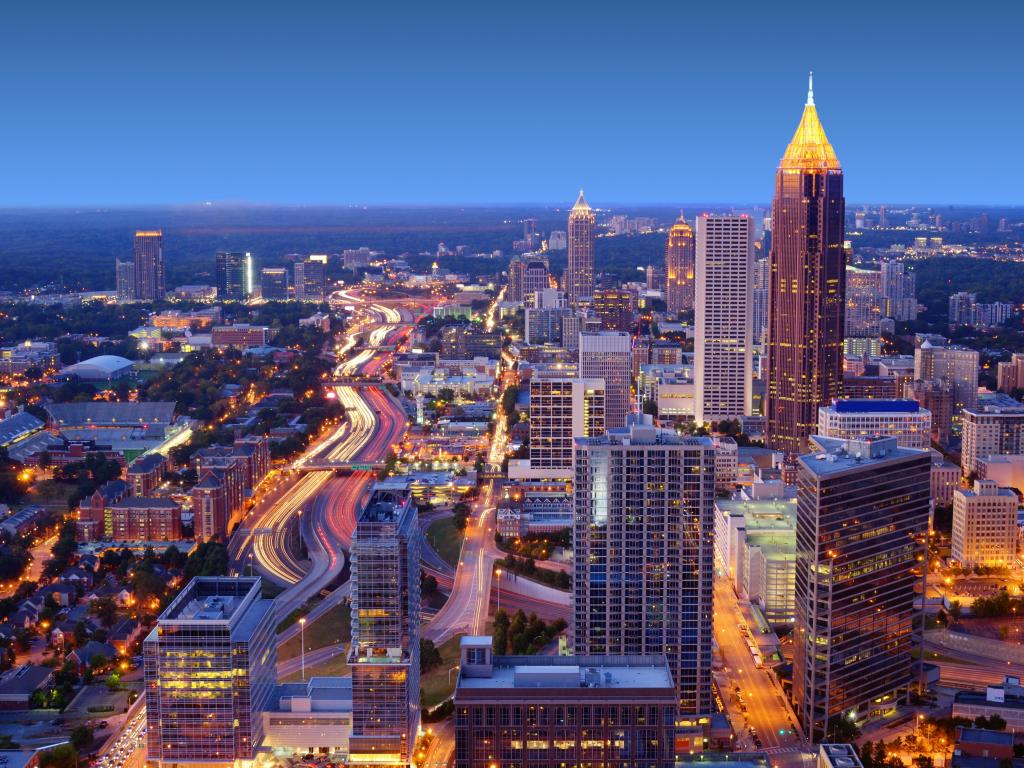 Atlanta is also famous as the birthplace of the Civil Rights leader Martin Luther King Jr. and you'll find the National Center for Civil & Human Rights here in the city.
Another famous Atlanta native, albeit of a completely different kind, is Coca-Cola. World of Coca-Cola is one of the city's most popular attractions if you want to find out more about the humble roots of this world-famous brand.
You should also check out the listings at Fox Theater, a former moving theatre which is now known for hosting cultural and artistic events including the Atlanta Ballet.
Bold and creative, each room at The Darwin Hotel is a little different to the others, but whichever one you stay in you'll be able to enjoy the incredible enclosed courtyard too.
A fitness center and on-site dining options serving everything from your morning coffee to late-night craft cocktails make this a really convenient place to stay. Plus, it's close to attractions like Fox Theatre and World of Coca-Cola when you're ready to head out and explore.
Where to stay when you reach Orlando, Florida
In a quaint neighbourhood in the heart of Orlando you'll find The Delaney, a brand-new boutique hotel with stylish rooms and welcoming staff.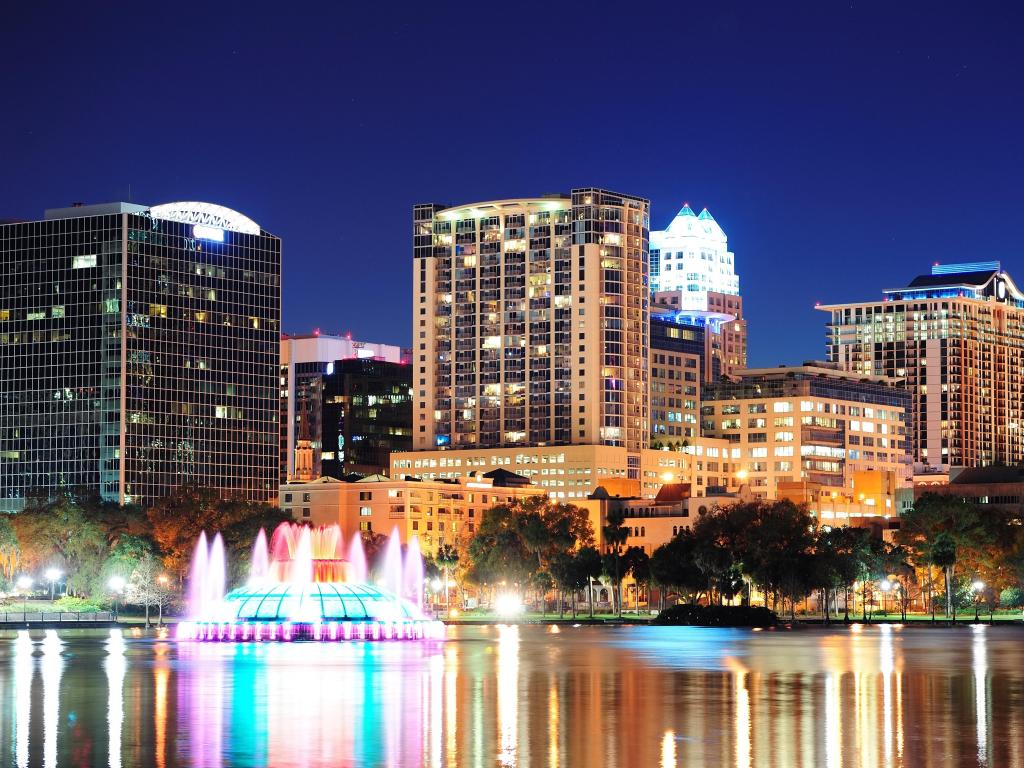 The on-site fitness center and free parking are welcome additions, and if you don't fancy getting straight back in the car after your long drive you can enjoy a meal at the hotel's tavern, which offers New American cuisine with small or shareable plates.
The hotel's a short drive away from the theme parks and resorts, so you can enjoy a moment of peace before heading back out to immerse yourself in all the entertainment that they have to offer.
Things to see on a road trip from Indiana to Orlando, Florida
The road trip from Indianapolis to Orlando is packed full of variety, with so much to enjoy along the way. Here are some of our highlights to help you plan where you'll stop on your journey south: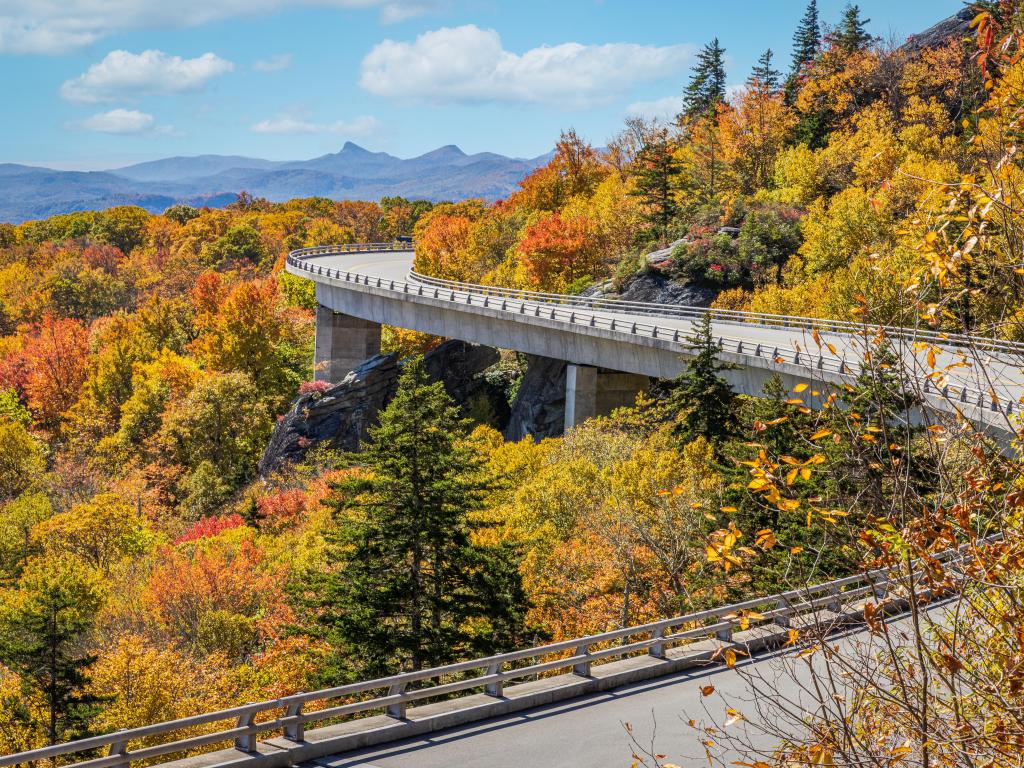 The Great Smoky Mountains Route
Kentucky Derby Museum, Louisville - Take an official tour of this museum and immerse yourself in the history of the famous horse races.
Daniel Boone National Forest - Near the Appalachian Mountains, discover some of the forested areas of eastern Kentucky.
Knoxville Museum of Art - Celebrating Tennessee's rich, diverse, and visual cultures, this gallery has a wide and varied collection.
Smoky Mountain Alpine Coaster, Pigeon Forge - This unique experience takes you on an exhilarating ride through the mountains - a breathtaking adventure!
Biltmore, Asheville - This historic mansion was originally built by the Vanderbilt family. Now you can tour the stunning house and grounds to get a glimpse into their luxury lifestyle.
Blue Ridge Parkway - Dubbed "America's Favorite Drive", driving a section of this beautiful road through the mountains makes for a fabulous detour. Pick up the road at Cherokee or Asheville.
South Carolina Military Museum, Columbia - Museum that highlights the military history of Carolinians.
River Street, Savannah - After touring the city's atmospheric squares, historic mansions, cobbled streets and galleries, head to River Street for a relaxing drink or a meal at the end of the day.
Kingsley Plantation, Jacksonville - One of the oldest plantations still standing in the United States, there is much history to be learned here.
Main Street Pier, Daytona Beach - Step out along the beautiful boardwalk and pier to enjoy the sea air, ocean views and a fabulous seafood meal.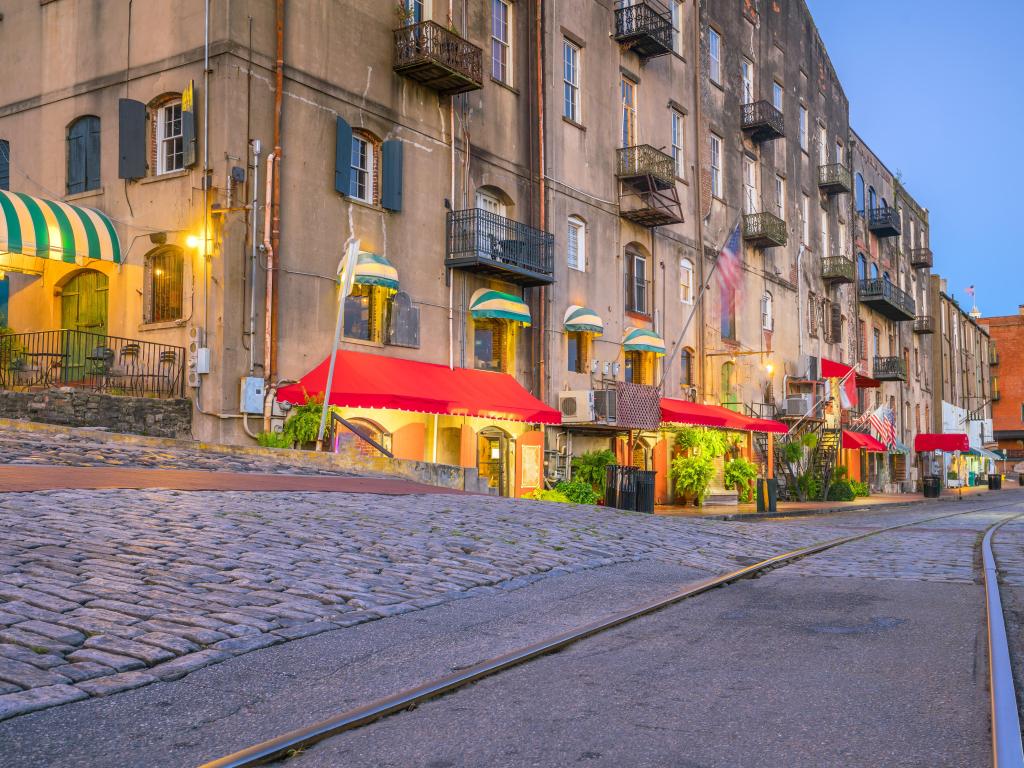 The Atlanta Route
Hoosier National Forest Park - Enjoy a wide mix of outdoor activities here, including hiking, horseback riding and mountain biking.
Reitz Home Museum, Evansville - This Victorian house, now a museum, allows guests to take a look back in time and view some original French Empire-style architecture.
Mammoth Cave National Park - Tour through one of the World's longest cave systems and see thousands of years of human history.
Country Music Hall of Fame and Museum, Nashville - With this museum dedicated to the preservation of country music, and hosting one of the world's most extensive music collections, it's a must-see for music fans on this route.
Chattanooga - This small town Tennessee town is known for its outdoor spaces - take a picnic boat out onto the river or hike up to Lookout Mountain for fabulous views. It's also a great jumping-off point to explore the Chattahoochee-Oconee National Forests.
World of Coca-Cola, Atlanta - This museum showcases the history of the popular Coca-Cola Company and offers a tasting room for all their sodas.
Antique Car Museum, Tallahassee - A must-see for motoring enthusiasts, this museum houses many vintage cars, trucks, and other unique artefacts.
Kanapaha Botanical Gardens, Gainesville - Take a walk through the 8 different gardens here to enjoy a moment's peace surrounded by many unique plant species.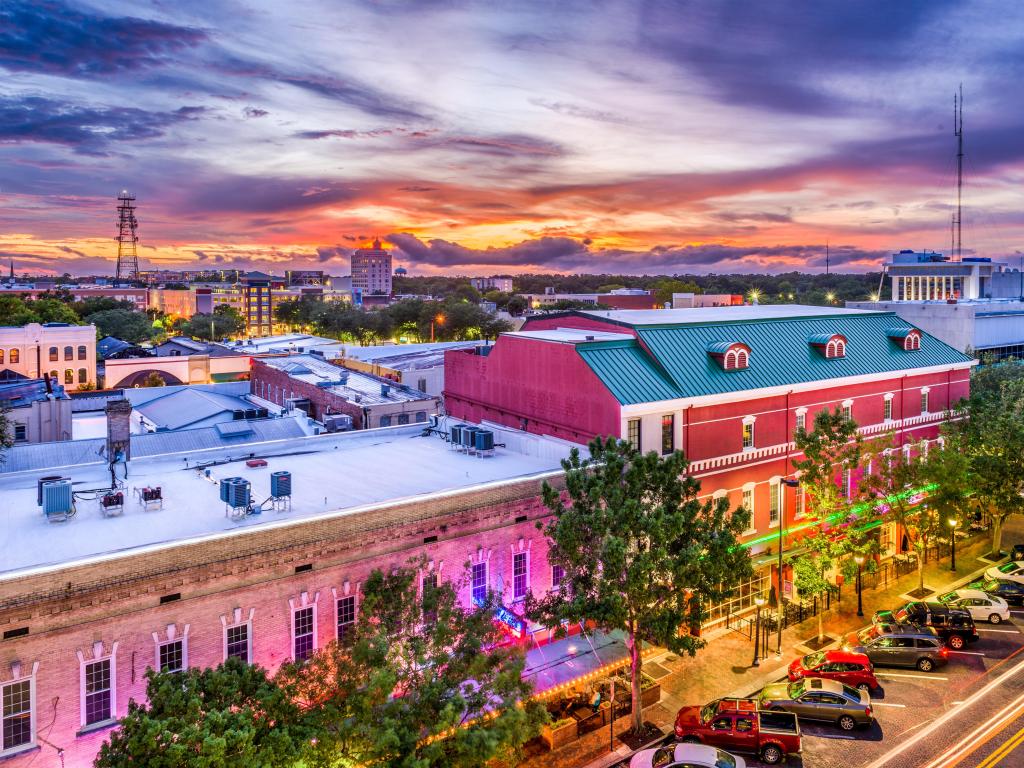 Best time to go on a road trip from Indiana to Orlando, Florida
The subtropical Florida climate means that Orlando is a popular destination at any time of the year. While your starting destination will be a little cooler, you'll find yourself more in the Southern states where summers are always longer than the winter.
By the time you reach Florida you can expect temperatures up to 100 degrees Fahrenheit in summer. However, follow local advisories as summer is also hurricane season here.
As you might expect, winters are milder in the southern part of this route whereas in the north you can expect snow, especially as you drive through the Great Smoky Mountains.
With temperatures in the high 70s and very little rain, Florida is a very popular winter destination. If there's one downside to the winter sunshine, it's that the ocean will be cold so consider coming at another time of year if you're looking forward to spending time in the water.
You'll find gorgeous spring weather and lovely fall foliage along this route. During these seasons, temperatures will be perfect for a road trip, ranging from 60 degrees on the northern parts of the route to 80 degrees as you head further south.
April or September and October are the most optimal times to visit, but be aware that you might be slowed down in the mountains by the extra leaf-peeping traffic.
Because of its large number of theme parks and Walt Disney World Resort, Orlando will be busy most of the year, especially when Walt Disney World Resort holds special events for the holidays.