Road Trip from Indianapolis to Los Angeles
If you are looking for an adventure stretching almost all the way across the US, then the drive from Indianapolis to Los Angeles is the epic road trip for you. Taking in stunning national parks, amazing towns and cities and some spectacular views along the way, this is an incredible trip.
The 2,340-mile road trip from Indianapolis to Los Angeles will take you 37 hours to drive. Key stops include Kansas City, Las Vegas, St Louis and Albuquerque, as well as Joshua Tree National Park, Grand Canyon, Zion National Park and Rocky Mountain.
To help you make the very most of this great journey, we've set out the best routes and places to visit along the way, as well the best overnight stops, our favorite things to do and the best time of year to make the trip from Indianapolis to Los Angeles.
How far is Los Angeles from Indianapolis, and how long will the road trip take?
Comparison of road trip routes between Indianapolis and Los Angeles

| Route | Distance | Driving Time |
| --- | --- | --- |
| The Colorado Route | 2,640 miles | 46 hours |
| The New Mexico Route | 2,340 miles | 37 hours |
Whichever way you decide to take, this is a road trip of epic proportions. Our shortest suggested route between Indianapolis and Los Angeles spans a distance of 2,340 miles and will take 37 hours of non-stop driving.
An alternative route, which will take you via Colorado, is slightly further and instead covers a distance of 2,640 miles and takes you closer to 46 hours to drive.
Of course, neither of these routes could be attempted without making a significant number of stops along the way. The shortest of the two options could be completed in as little as four to five days, but to enjoy the great scenery, we'd recommend closer to 10 to 12 days for both routes.
Given the stunning scenery and incredible attractions to two routes pass on the way to Los Angeles, we'd highly recommend you break your journey into manageable chunks and make stops to enjoy the great landmarks. This is the kind of trip that really shouldn't be rushed.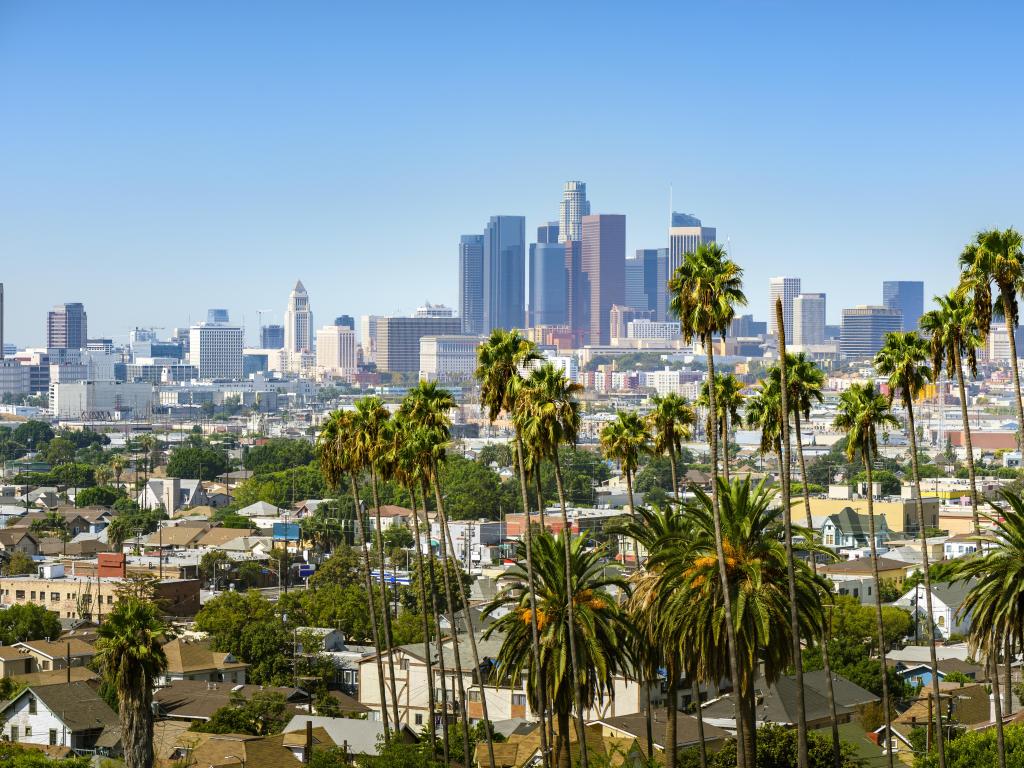 Best road trip route from Indianapolis to Los Angeles
Both routes taking you from Indianapolis to Los Angeles are excellent options. The shortest of the two, via Albuquerque, still offers a dynamic trip giving you plenty of cities and natural landscapes to stop along the way including the Joshua Tree and Grand Canyon National Park.
If you haven't explored Colorado and you have more time to dedicate to your trip, then you may just want to follow the longer drive via our recommended Colorado Route that passes through Denver.
Offering equally amazing scenery, stunning mountains and cities, this route will take you past some incredible places including Rocky Mountain National Park, Canyonlands National Park, Zion National Park plus the unforgettable city of Las Vegas, to name but a few.
Regardless of which option you choose, you'll be spoilt for stunning vistas and great cities along the way.
The Colorado Route
Begin your epic drive by leaving Indianapolis via Interstate 70 and head west through several small towns, including Effingham and Greenville. Your first major stop will be at St. Louis as you cross into Missouri.
After exploring this great city, follow Interstate 64 west before taking Exit 1A and rejoining I-70 through to Columbia. You could stop here and take a drive to Lake Ozark, but given the distance of this already long drive, you might opt to stick to the interstate for this early part.
Continue heading west to Kansas City, known for its jazz heritage. Continue on I-70 when you leave and follow the road for a long stretch, passing lots of great towns along the way before crossing into Colorado and finally arriving in Denver.
The next section of this great trip is incredibly scenic. After leaving Denver, follow Interstate 25 north to Exit 217A and take US-36 west to Boulder. Continue in this direction to Allenspark where you can stop and visit Rocky Mountain National Park.
Next, take CO-7 west to Ward and Nederland before merging onto I-70 west at Idaho Springs. Continue on this road as you pass Grays Peak and Mount Evans. You can also drive to Arapaho and Roosevelt National Forests here.
Continue snaking through the stunning mountainous landscape, past Silverthorne, Keystone and Breckenridge. Head towards US-24, alongside Mount Lincoln and the town of Leadville before turning right at CO-82 west and passing Mount Albert.
Continue on this road to Aspen, passing Capital Peak and follow it until you reach signs for I-70 east. Follow this short stretch to take you to White River National Forest, a short but worthy detour for fantastic views.
Follow the same interstate back to Glenwood Springs and then head west, passing alongside McInnis Canyons National Park. Take Exit 182 and US-191 to visit both Arches National Park and Canyonlands National Park - two of the most scenic parks.
Rejoin I-70 west until you reach Exit 149 and then follow UT-24 to stop at Capitol Reef National Park. Back on the road, turn left onto UT-62 a short drive before taking UT-22 to Bryce Canyon National Park.
Follow UT-12 west and then US-89 south through some smaller towns, before heading slightly right onto UT-9. From here you can take another short detour to visit Zion National Park, before taking UT-17 to merge onto Interstate 15.
Continue heading west on the interstate through more incredible scenery and make a stop at Valley of Fire State Park before heading into the busy and fun city of Las Vegas. You can also visit Red Rock Canyon National Park or Sloan Canyon National Conservation Area.
Take exit 14 and US-95 south, before merging onto I-40 west, being sure to stop at Mojave National Preserve. Continue on the interstate before taking I-15 south which you follow to exit 115A and follow the signs to your final destination of Los Angeles.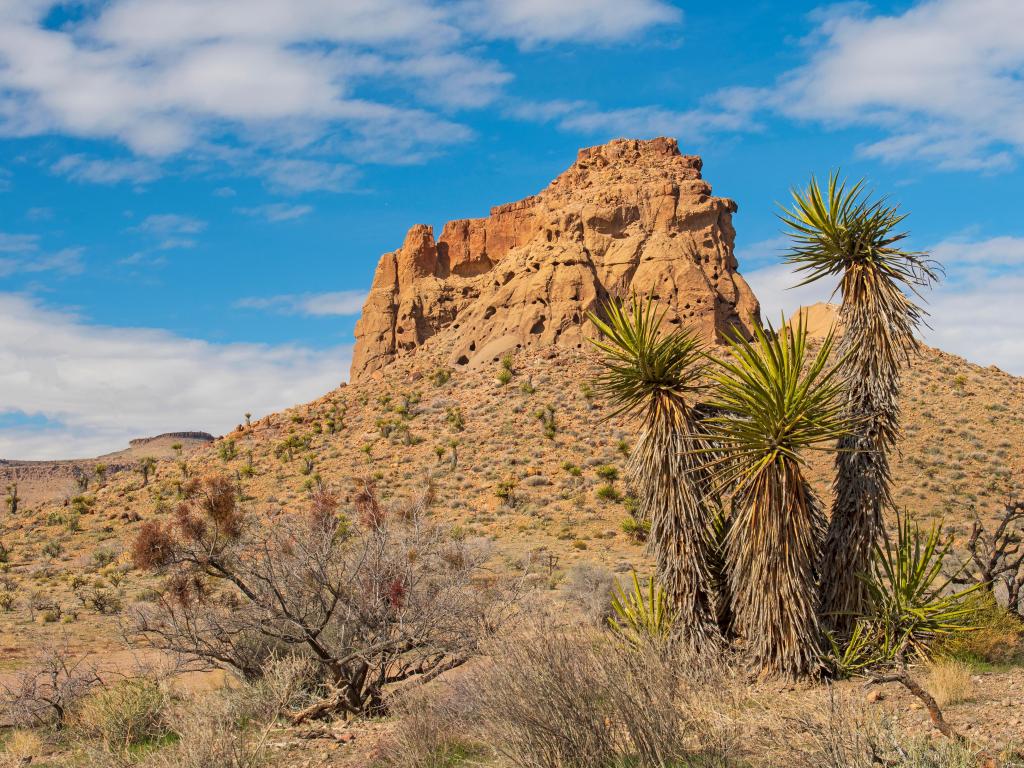 The New Mexico Route
The shorter, but equally impressive route begins on the same Interstate heading west to St. Louis, where the two routes diverge. The New Mexico option will then take you further southwest as you leave the city on Interstate 44.
Follow the interstate a short drive before stopping at Cuba and taking Exit 208 to visit Mark Twain National Forest for great hikes and beautiful scenery. Afterwards, rejoin I-44 through several great towns before taking exit 82A to stop at Springfield in Missouri.
Continue on I-44 heading east past Claremore, where you'll take Exit 34 and 6C to Tulsa, a pretty city on the Arkansas River. When you leave you'll continue on I-44 for a short stretch to Exit 151A which will take you to Oklahoma City, a great place for a longer stop.
Leave the city on Interstate 40 through several more towns. At this point, you could make a longer detour to visit Wichita Mountains Wildlife Refuge, or simply continue east before arriving at Amarillo.
The next section on the same interstate will take you via some fascinating towns before taking you into Albuquerque, another great overnight stop option offering stunning scenery.
Continue through this interesting landscape by following I-40. You will eventually pass Petrified Forest National Park, a rather unique area, Sun Valley and Joseph City before arriving at Exit 233, which you can take to visit Meteor Crater Natural Landmark.
Another short drive and you can stop to visit Coconino National Forest, before passing Flagstaff on I-40 and Bellemont. Take Exit 165 and AZ-64 to visit Kaibab National Forest and the incredible Grand Canyon National Park.
Back on I-40, continue east as far as Exit 148, where you'll switch to US-95 south before merging to CA-62 west and CA-177 south. Just past Desert Center, take Interstate 10 west and stop to explore Joshua Tree National Park.
Continue on I-10, passing by Santa Rosa and San Jacinto Mountains National Park and San Bernardino National Forest, before following I-210 west all the way to Los Angeles.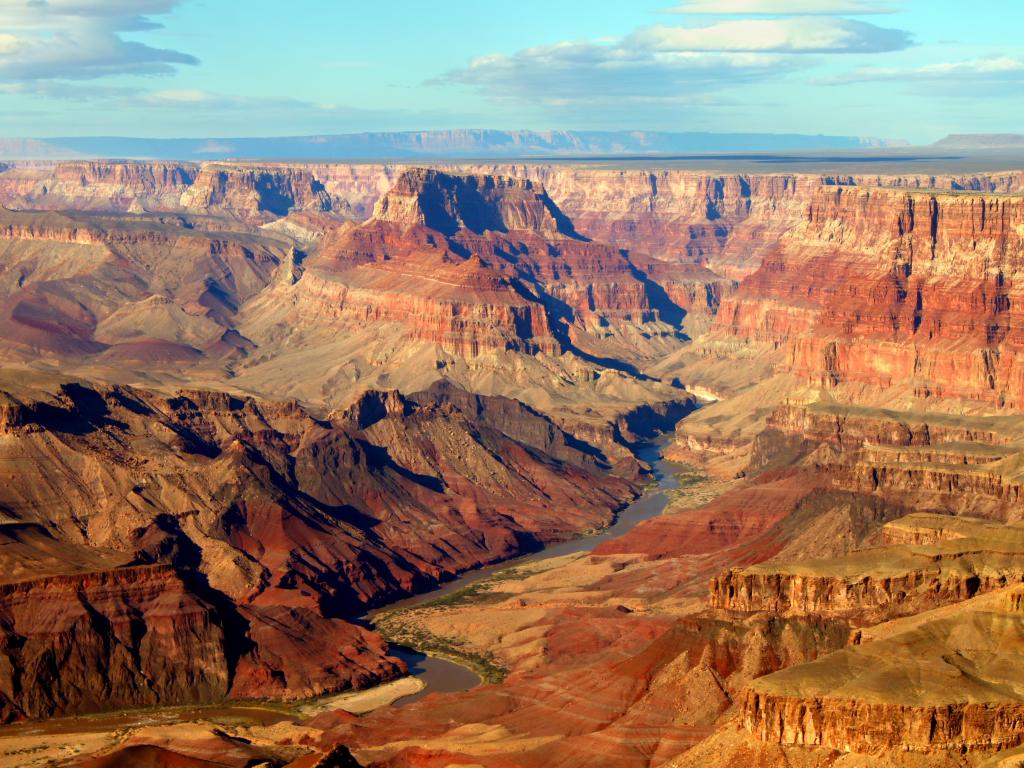 Best places to stop between Indianapolis to Los Angeles
Given the vast distance and huge choice of attractions and stunning scenery you'll pass on this epic road trip from Indianapolis to Los Angeles, you are going to need several overnight stops along the way.
There are so many stunning locations and beautiful hotels that you'll pass en route, but here are just a few of our favorite places:
Have a jazzy stay in Kansas City
At just seven hours from Indianapolis, a great place to spend the night if you're following the Colorado Route is Kansas City in Missouri. Being the last major city before a long drive to Denver, this city is a great base for resting and relaxing before more hours on the road.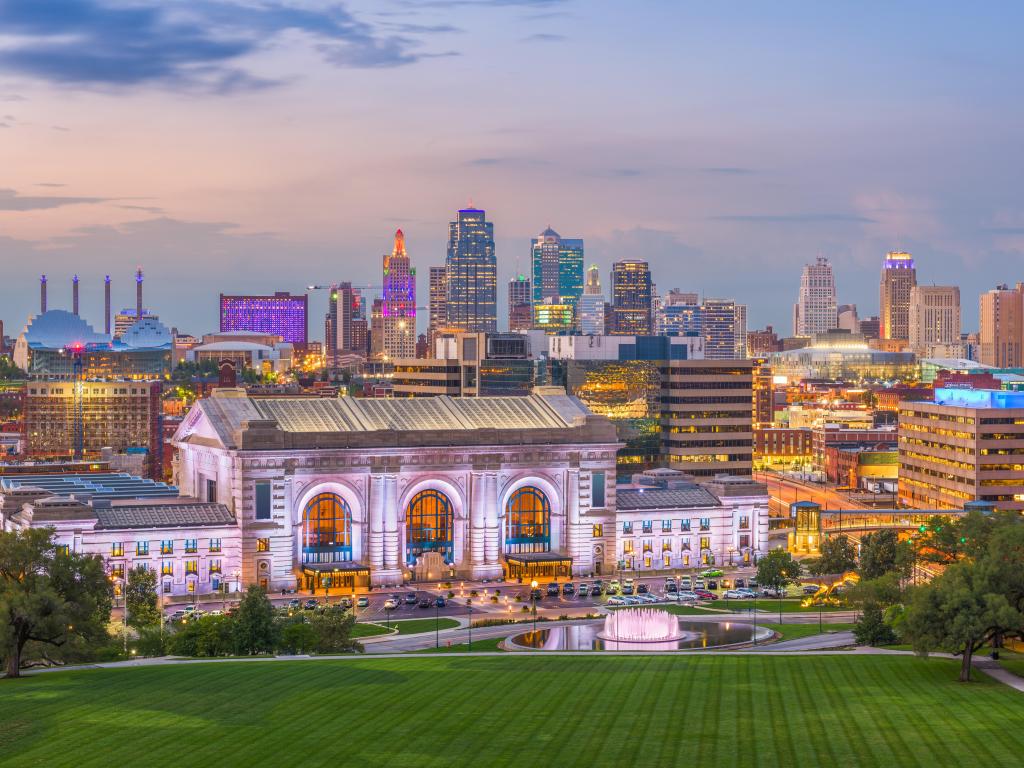 Known for its jazz heritage and sports teams, Kansas City has plenty of attractions to make a stay here enjoyable. After a stop at the Nelson-Atkins Museum of Art, make sure you pay a visit to the National WWI Museum and Memorial, formerly known as the Liberty Memorial.
Located in the Entertainment District in central Kansas City, a great hotel to stop at would be Crowne Plaza Kansas City Downtown, an IHG Hotel. This 4-star hotel features an outdoor heated pool and onsite restaurant, plus a welcome bar.
With all the makings for a relaxing evening after a full day of travel, including stylish and comfortable rooms, the hotel is even located within a block of Barney Allis Plaza and the Historic Power and Light Building, which you can actually see from some of the rooms.
Enjoy the bright lights of Las Vegas
Of course, if you're passing by the infamous Las Vegas, you don't need an excuse to get your party hat on. Located just a six-hour drive to your final destination on the Colorado Route, the city of Las Vegas is an ideal final stop offering plenty of opportunities for fun or relaxation.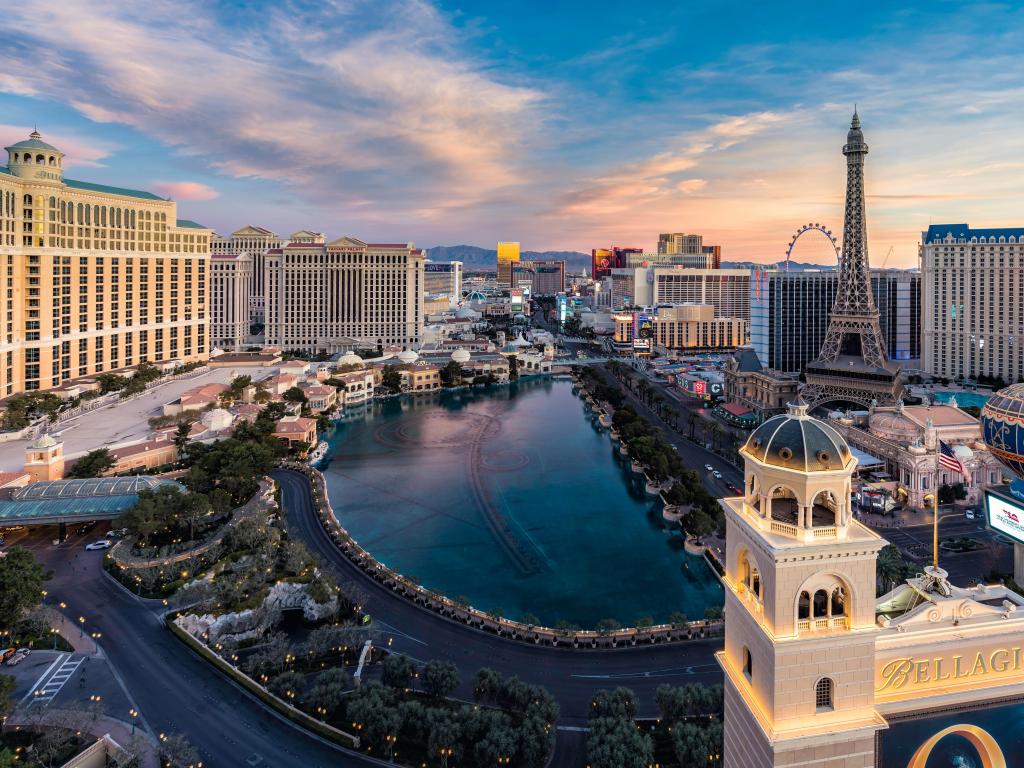 Offering a plethora of hotels to choose from, as well as an endless list of things to see and do, Las Vegas is a great city to explore. As well as its famous strip, a 4.2-mile road filled with resorts, hotels and casinos, the city is packed full of shops, restaurants and out-of-this-world bars.
For a hotel as unique and quirky as its city, a great option is Paris Las Vegas Hotel & Casino. Proving that you don't have to go to Paris to see the Eiffel Tower, this amazing hotel is located right on the Las Vegas Strip and also features a fabulous rooftop pool to take in the views
As well as its replicas of several iconic Paris attractions, all the rooms in this hotel boast French décor and marble bathrooms as well as a full-service spa, eleven restaurants and five bars, a casino, and even Napoleon's Dueling Piano Bar where you can enjoy your favorite cocktail.
For outdoor enthusiasts, Las Vegas is also a great base for exploring Red Rock Canyon National Conservation Area. Seen from the strip itself, this area shows off a set of large red rock formations and is a popular spot for hiking and rock climbing, as well as for escaping the busy city.
Immerse yourself in the arts at Tulsa
A little over one-third of the way on the New Mexico Route, located a little over 10 hours from Indianapolis, lies the vibrant city of Tulsa, set on the beautiful Arkansas River, in the US state of Oklahoma.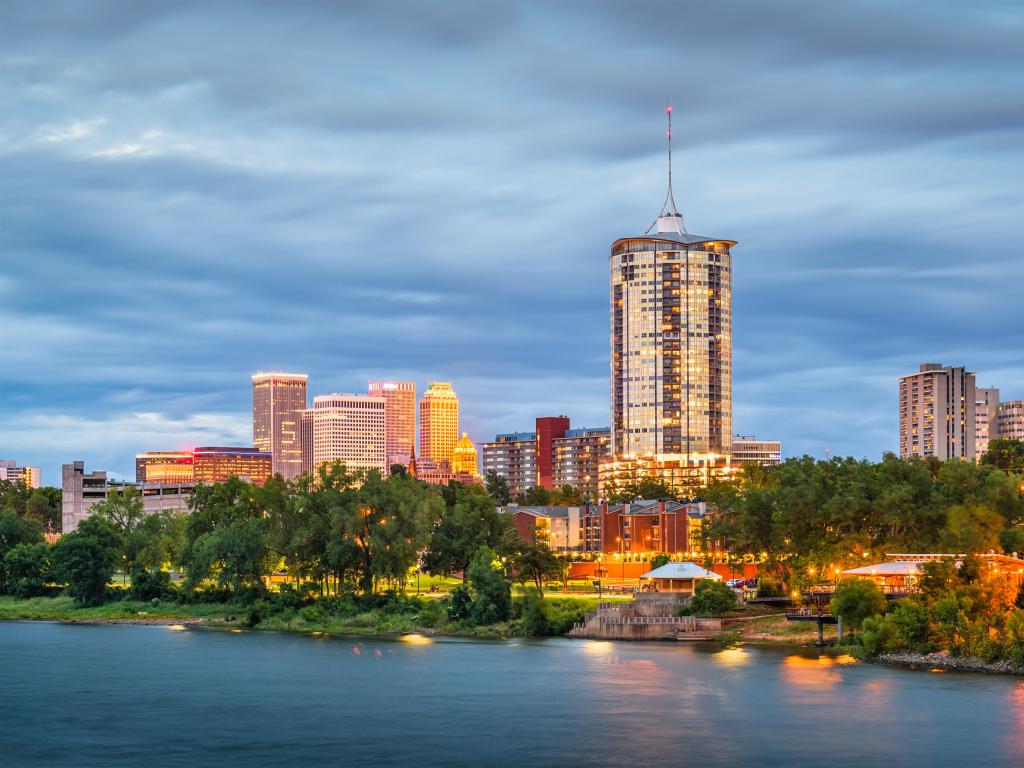 Known for its art deco architecture and underground arts scene, Tulsa is a great place to stop not only because the route already passes through it, but it offers some great cultural attractions and interesting places to visit.
Among the popular attractions are the Philbrook Museum of Art, which showcases nine collections of art from all over the world, and Gathering Place, a 70-acre popular park set along the river offering scenic walks and wildlife spotting opportunities.
Despite this being a lesser-known city, there's still a great choice of resorts to choose from. One of our favorites is the Hotel Indigo Tulsa DWTN/Entertainment Area. This fantastic 4-star hotel is located just a short walk from the city center and the Brady Theater.
Featuring a stunning bar with views of the city and a superb onsite restaurant, the Hotel Indigo Tulsa also offers parking and comes with modern and comfortable rooms that will guarantee you'll wake up feeling refreshed.
Reach new heights at Albuquerque
A further drive along the New Mexico Route and two-thirds of the way to Los Angeles, Albuquerque makes a great choice for taking in the stunning natural landscapes of this part of New Mexico.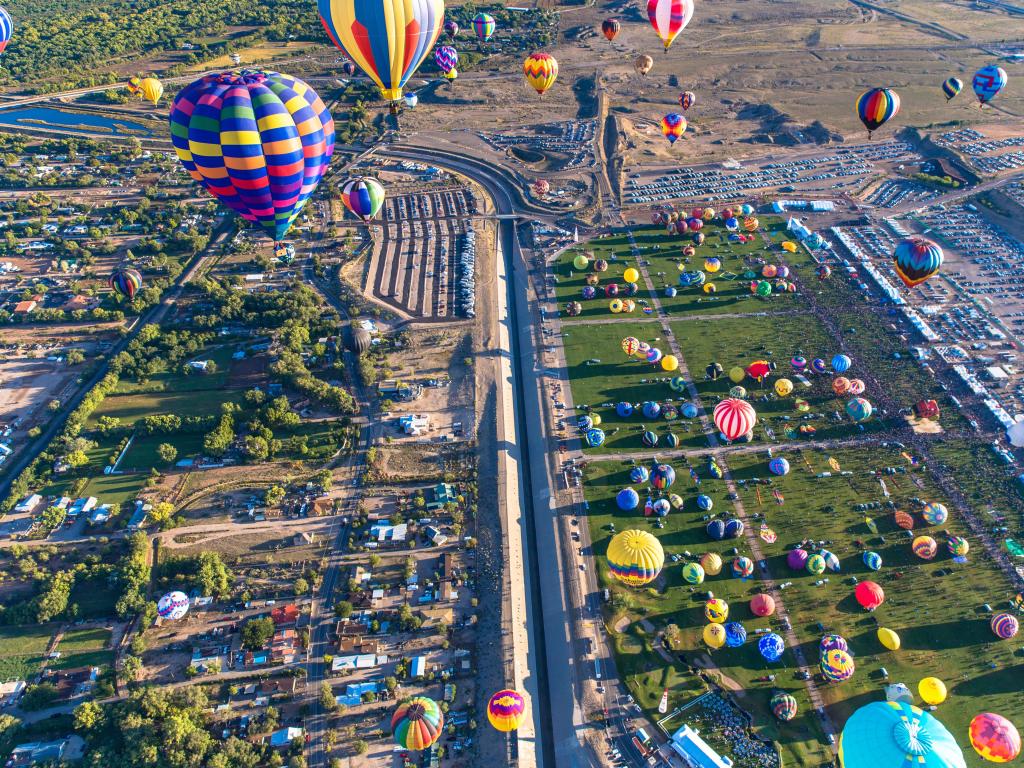 Located just before the great national parks in Arizona and California, Albuquerque is New Mexico's largest city, sitting in the high desert. It's a place where old meets new, where its modern Downtown core contrasts with the pretty Old Town.
To make the most of the views, why not stay at The Clyde Hotel? As the tallest hotel in Albuquerque and located just a short walk to Historic Old Town and the Nob Hill district, this resort has a winning combination of stellar location and ultimate comfort.
Guests can take a dip in the outdoor rooftop pool, an ideal place to relax or just simply enjoy the stylish and modern amenities that come with this hotel. Including an onsite restaurant, hot tub and parking. A stay at this modern hotel will leave you refreshed and recharged.
Best known for its International Balloon Fiesta, which sees hundreds of hot air balloons take to the skies in a two-week stretch at the beginning of October, Albuquerque is best viewed from the Sandia Peak Tramway which offers incredible views of the Sandia Mountains.
While staying in this city, you should also pay a visit to the nearby Petroglyph National Monument. This volcanic basalt escarpment stretches seventeen miles along Albuquerque and features a chain of dormant fissure volcanoes.
Things to see on a road trip from Indianapolis to Los Angeles
The trip from Indianapolis to Los Angeles is filled with so many incredible attractions including stunning mountains, great cities, beautiful national parks, and iconic landmarks that you could spend a month visiting them all.
If you are pressed for time, here's a list of some of the many highlights this trip has to offer along the way: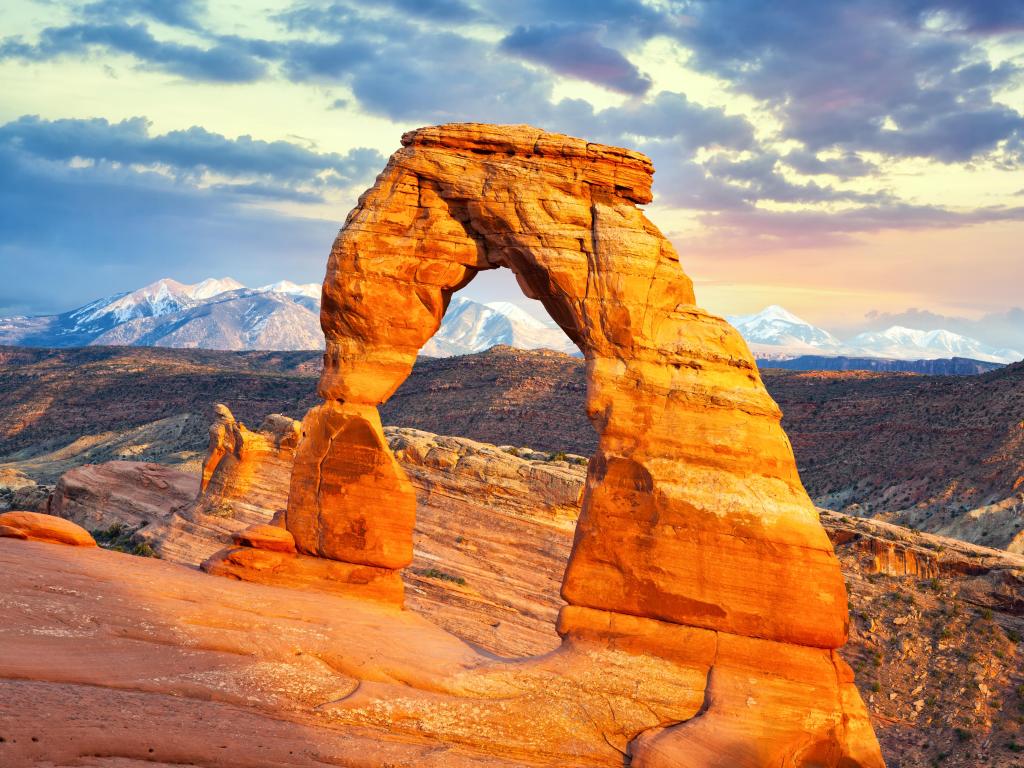 The Colorado Route
St. Louis, Missouri - This major city along the Mississippi River is known for its 630-foot iconic Gateway Arch, honoring the westward expansion in the US that happened in the 1960s. The Arch is located within Gateway Arch National Park, the smallest US national park.
Kansas City, Missouri - Sitting on the Kansas-Missouri border, this city is known for its jazz heritage and barbeque. It's the largest city in Missouri by population and area.
Denver, Colorado - The capital of the state of Colorado dates back to the Old West era. It features 19th-century buildings and is known for being the access point to the nearby Rocky Mountains.
Boulder, Colorado - This city at the foothills of the Rocky Mountains features the Flatirons as well, five large flatirons along the eastern slope of Green Mountain.
Rocky Mountain National Park - Located in northern Colorado, this park consists of over 265,000 acres spanning the Continental Divide. It boasts forests and alpine tundra, as well as the famous protected Rocky Mountains.
Keystone, Colorado - This small town in Colorado is known for its snow sports. A trip here can be much cheaper than the bigger-known destinations of Colorado, like Vail, Denver, or Aspen.
Breckenridge, Colorado - Also located at the base of the Rocky Mountains, this town is known for its year-round alpine activities and Gold Rush history. Gold was discovered along the Blue River in 1859 and a small mining town was created; that was Breckenridge.
Aspen, Colorado - This ski town in the Rocky Mountains is also known as a year-round destination for outdoor activities, specifically snow sports. It's on the more expensive side, with high-end restaurants and boutiques.
White River National Forest - In northwest Colorado sits a forest named after the river that passes through its northern section. It's the most visited national forest in the US because of the twelve ski areas within its territory.
Arches National Park - North of Moab in Utah, bordered by the Colorado River in the southeast, sits a park known for its more than 2,000 natural sandstone arches. Some of the famous sites within its boundaries are Delicate Arch, Landscape Arch, and Balanced Rock.
Canyonlands National Park - This park in southeastern Utah is known for its desert landscape carved by the Colorado River, like the Grand Canyon. Some sites of note are Island in the Sky, the Needles, and the Maze.
Capitol Reef National Park - This park located in Utah's south-central desert surrounds the Waterpocket Fold, which looks like a wrinkle in the earth's crust. Sites of note are the Chimney Rock pillar, the Hickman Bridge arch, and Capitol Reef.
Bryce Canyon National Park - Covering almost 36,000 acres of land, this park is famous for its "hoodoo" formations, created by the repeated freezing and thawing of water. Stargazing is also great here because Bryce has some of the darkest night skies around.
Zion National Park - This park in southwest Utah is marked by steep red cliffs. The Virgin River running through the Zion Canyon leads to the Emerald Pools, where waterfalls and a hanging garden await.
Las Vegas, Nevada - Vegas is known for its party culture, drinking, gambling, and eloping. The Strip is a 4.2-mile road where the biggest names in resorts and hotels sit, along with high-end casinos.
Mojave Desert - This desert named after the indigenous Mojave people is located primarily in southeastern California and southwestern Nevada, also slightly extending into parts of Arizona and Utah as well.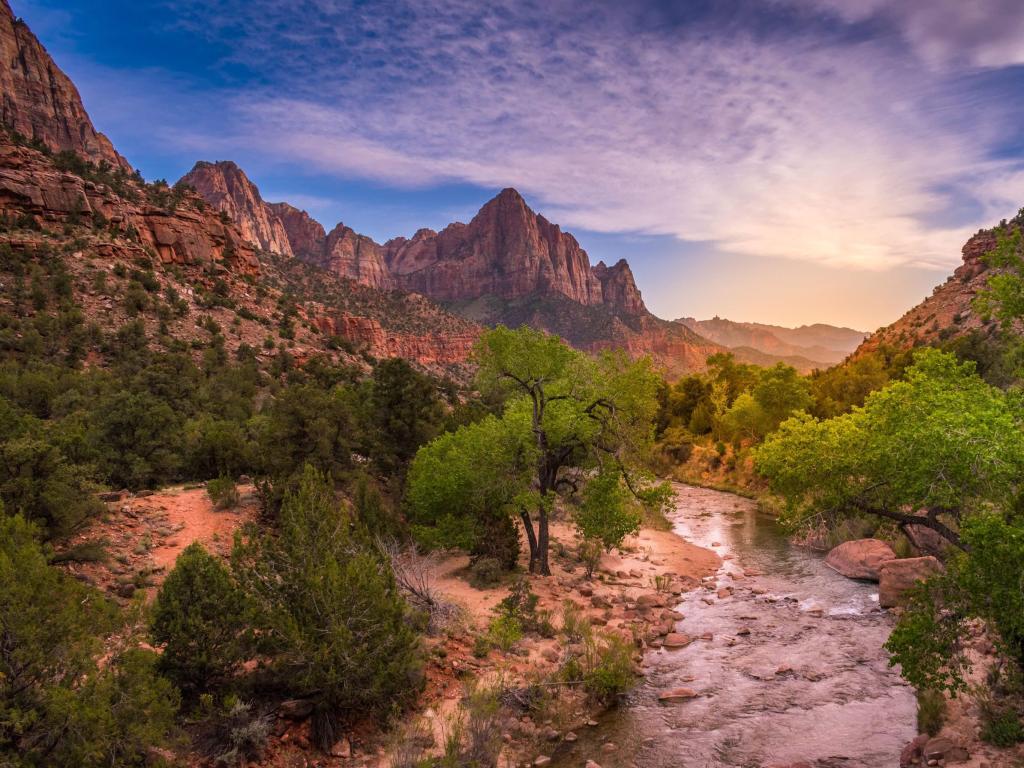 The New Mexico Route
Mark Twain National Forest - Located in the southern half of Missouri, this national forest was named after author Mark Twain, a Missouri native. It covers almost 1.5 million acres.
Springfield, Missouri - This city in southwestern Missouri includes attractions like the Discovery Center of Springfield, Dickerson Park Zoo, Fantastic Caverns, and the Nathaneal Greene/Close Memorial Park.
Tulsa, Oklahoma - This city on the Arkansas River is known for its art deco architecture and offers landmarks like the Philcade and Philtower buildings. It is also home to attractions like the Deco District and the Philbrook Museum of Art.
Oklahoma City, Oklahoma - The capital of the state of Oklahoma, this city is known for its cowboy culture and capitol complex, which is the only one in the country with a working oil well on its grounds.
Albuquerque, New Mexico - New Mexico's largest city sits in a desert. It's known for its adobe buildings dating back to 1706 when it was founded as a Spanish colony.
Petrified Forest National Park - Located in northeastern Arizona is a park that's home to the Rainbow Forest, petroglyphs of Newspaper Rock, and the village of Puerco Pueblo.
Meteor Crater Natural Landmark - Also known as Barringer Crater, this meteorite impact crater is located in the desert of northern Arizona. It is fifty meters in diameter and forty-five meters deep.
Coconino National Forest - This almost two-million-acre forest in northern Arizona is one of the most diverse in the country, with changing landscapes around every corner.
Grand Canyon National Park - Here you can see the famous layered bands of red rock revealing millions of years of history. It's estimated to be five to six million years old, formed by the Colorado River when it began to cut a channel through the rock.
Joshua Tree National Park - This protected area in Southern California is characterized by its rock formations, desert landscapes, and, of course, its signature Joshua trees. It straddles the Colorado Desert and the Mojave Desert.
San Bernardino National Forest - Covering over 800,000 acres of land, this forest contains multiple landscapes, from the arid deserts to the tallest alpine mountains in Southern California.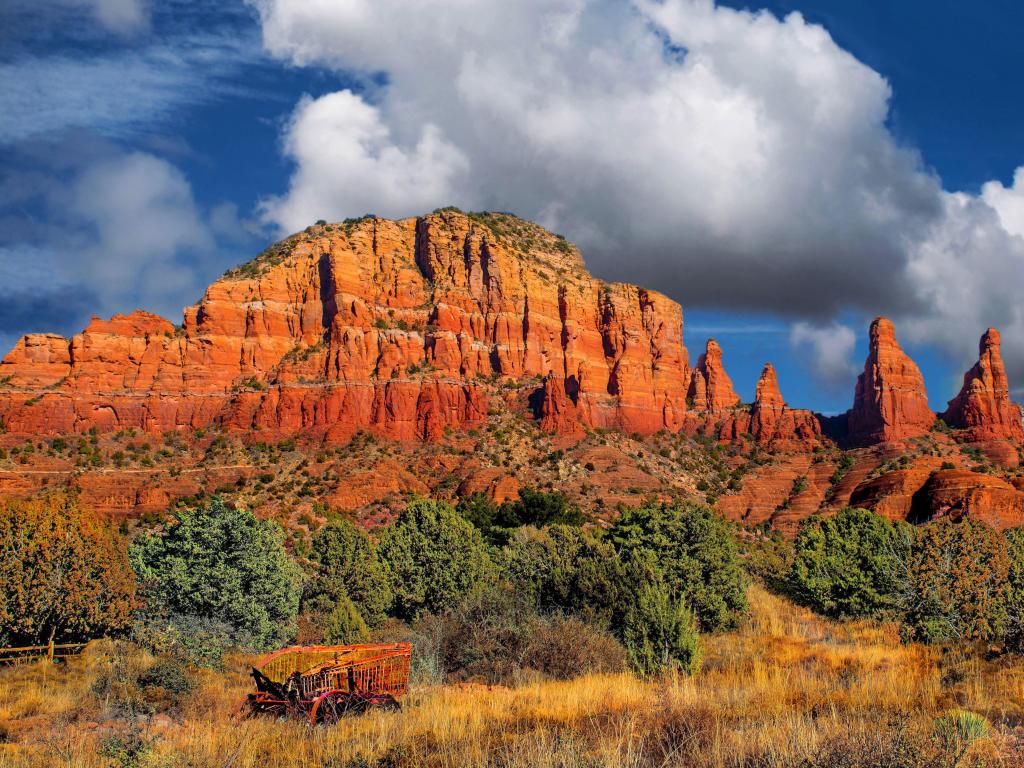 Best time to go on a road trip from Indianapolis to Los Angeles
The trip from Indianapolis to Los Angeles is a drive you can complete all year round, given the fact that your destination is a coastal city offering moderate temperatures throughout. That said, the best time of year to visit will largely depend on what you'd like to visit en route.
Summer is the busiest time in Los Angeles, as the city is packed with tourists during these peak months. They're flocking to the beaches (we would, too) for some summer fun and that makes this an expensive time to visit.
But if you want that iconic and hot LA summer, with highs of 90 degrees Fahrenheit, then this is a good time to visit. Just remember that parts of your drive will experience warmer temperatures, especially the New Mexico Route, and the most popular sites will be extremely busy.
On the polar opposite, winter comes with a significant increase in rainy days but does offer weather that is still comfortable with mild-to-warm temperatures and only reaching lows of 48 degrees in December in Los Angeles.
While you might find the ocean chilly, you will still be able to enjoy any of the other outdoor activities along the way, including the great skiing opportunities at Aspen on the Colorado Route.
Winter is also the cheapest time to travel to LA, so if you're looking to go celebrity-spotting on a budget, this might just be the best time to visit.
For a happy middle-ground, spring and fall are excellent seasons. With temperatures in the spring between 70 and 80 degrees, and still warm and pleasant in the fall (though they will drop significantly at night), you'll have the perfect weather to enjoy the parks along the way.
How about timing your visit to LA with a festival or two? Some of the most iconic ones are the Golden Globe Awards in January, Grammy Awards in February and the Emmy Awards in September.