Road Trip from Indianapolis to Washington DC
If you are looking for a short yet unforgettable drive that you can cover in a couple of days, check out this epic road trip from Indianapolis to the capital of the States, Washington, DC. Admire the quaint countryside, the buzzing cityscapes, the picturesque landscapes, and detours to some stunning locations en route.
The 640-mile road trip from Indianapolis to Washington DC takes just over 10 hours to drive, visiting Cincinnati and Wayne National Forest on the direct route or Toledo, Sandusky, Cleveland, Cuyahoga Valley National Park, and Pittsburg via the longer route.
With plenty of indoor and outdoor activities to do along the way, this trip is filled with the right amount of fun, adventure, and leisure. Keep reading to find the best routes, fantastic hotel suggestions, and a list of things you must see on this trip.
How far is Washington, DC, from Indianapolis, and how long will the road trip take?
Comparison of road trip routes between Indianapolis and Washington, DC

| Route | Distance | Driving Time |
| --- | --- | --- |
| The Direct Route | 640 miles | 10 hours |
| The Scenic Route | 730 miles | 12 hours |
The drive to Washington DC from Indianapolis via The Direct Route will take a little over 10 hours and cover 640 miles, not accounting for food and gas breaks.
A slightly longer drive via The Scenic Route covers 730 miles over 12 hours of driving time without any stopovers and detours.
Because this drive is relatively shorter than most road trips across the US, you can cover it in a single day. But to enjoy the route and the many things to do on the way at leisure, we suggest you split it over at least 3 days.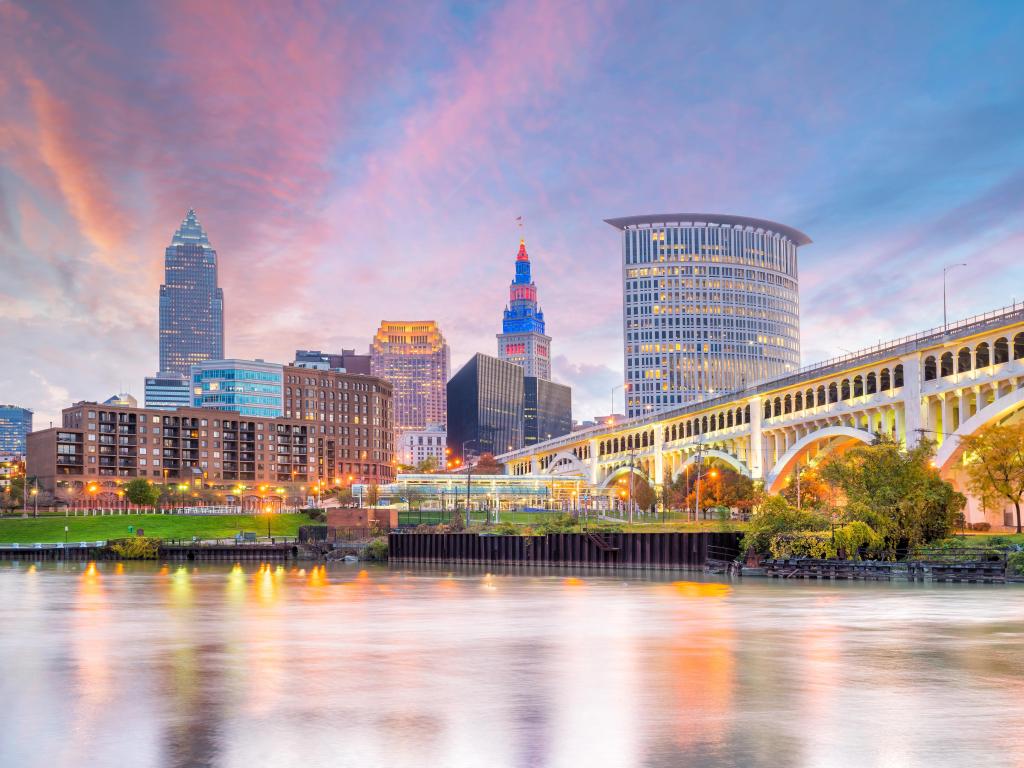 Best road trip route from Indianapolis to Washington DC
We have chalked out two excellent route options for you to make the most of this fantastic trip and the best road trip from Indianapolis to Washington DC will depend on whether you want to arrive at your destination fast or if you want to take in some awe-inspiring sights en route.
The Direct Route to Washington DC will take you eastward, covering the bustling city of Cincinnati and the gorgeous Wayne National Forest along the way.
Experience the quaint vibes as you traverse the countryside through Indiana, Ohio, West Virginia, and Maryland.
Or you can opt for the slightly longer The Scenic Route and enjoy the drive along the banks of Lake Erie. You'll drive via the lively cities of Fort Wayne, Toledo, Cleveland, and Pittsburgh.
This ride offers plenty of picturesque views, including a trip to Cuyahoga Valley National Park. Make the most of this drive by taking a quiet getaway to Kelleys Island and Put-In-Bay from Sandusky.
The Direct Route
Exit Indianapolis by hopping on Interstate 65 (I-65) toward Louisville. Continue South until you cross Lick Creek and take a left on I-74 to head East toward Cincinnati.
Explore Cincinnati's city life, culture, and food scene before heading to I-471. Cross the Kentucky-Ohio border again by taking I-275 to cross the Ohio River to drive briefly toward Columbus. At the next big junction, take a right on OH-32 and head straight to the Wayne National Forest.
Continue driving on OH-32/US-50 to enter West Virginia, and after arriving at Bridgeport, merge onto I-79 to head east. As you navigate through the pristine countryside, hop onto I-68 toward Cumberland.
Enjoy the water view and pass by the lovely Coopers Rock State Forest on your right. After stretching your legs for a bit, continue east to enter Maryland and drive through the string of lush green State Parks before merging on I-70 toward Hagerstown.
Pass the lovely South Mountain State Park to your left and Greenbrier State Park to your right before merging on I-270 outside Frederick to finally head straight toward Washington DC.
Follow signs for Washington DC on I-495 to pass by major attractions like Scott's Run Natural Preserve and George Washington Memorial Parkway along the Potomac riverside to cross Roosevelt Bridge toward the downtown area.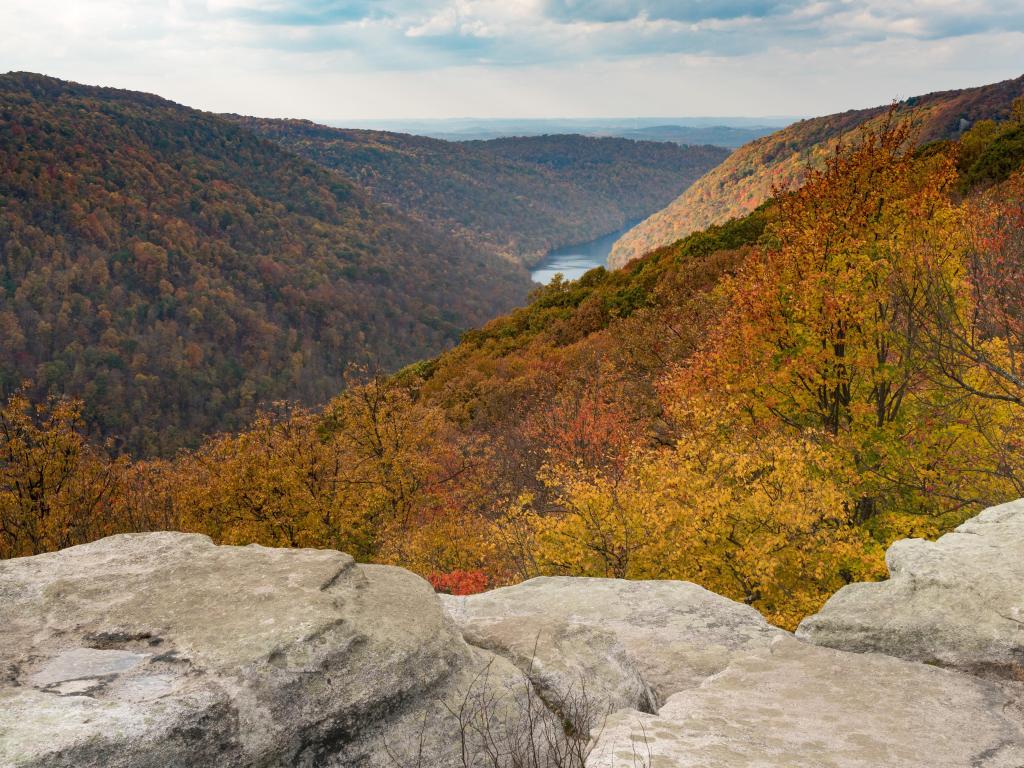 The Scenic Route
Exit Indianapolis by taking I-70, followed by a left on I-465 before merging into I-69 toward Fort Wayne. Bypass Fort Wayne by taking US-24 and driving along Maumee River to reach Toledo. After exploring the city of Toledo, take OH-2 to go by the beautiful Lake Erie, cross Sandusky Bay, and merge onto US-6 to arrive at Sandusky.
Take picturesque detours to the Lake Erie islands from Sandusky before heading back on OH-2/I-90 to Cleveland. Soak in the vibe of Cleveland before taking I-480 to reach Cuyahoga Valley, National Park.
After enjoying the lush greenery and exploring the beautiful trails, head on to I-80 briefly before joining I-76 toward Pittsburgh, admire the buzzing city, and visit the popular attractions before heading out.
At Breezewood, take I-70 toward Washington DC and bypass Hagerstown to join the Direct Route described above.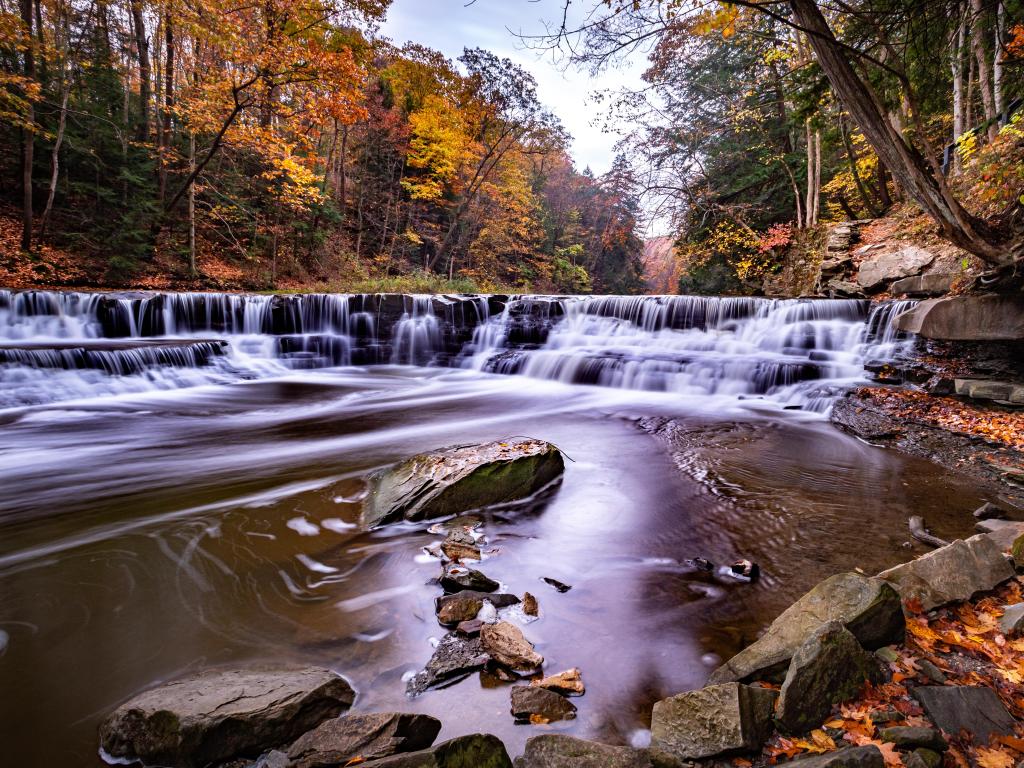 Best places to stop between Indianapolis and Washington DC
Although you can easily cover this journey in a day, we suggest you take an overnight break to avoid exhaustion. We have picked some of the best hotels in our favorite cities to help you plan this trip better.
Explore the lively downtown area of Cincinnati
Located 8 hours away from Washington DC on the Direct Route, Cincinnati is a fantastic city to halt before continuing the rest of the trip. Known for its affordability and budding food culture, Cincinnati has transformed itself into the "Beer Capital of the World".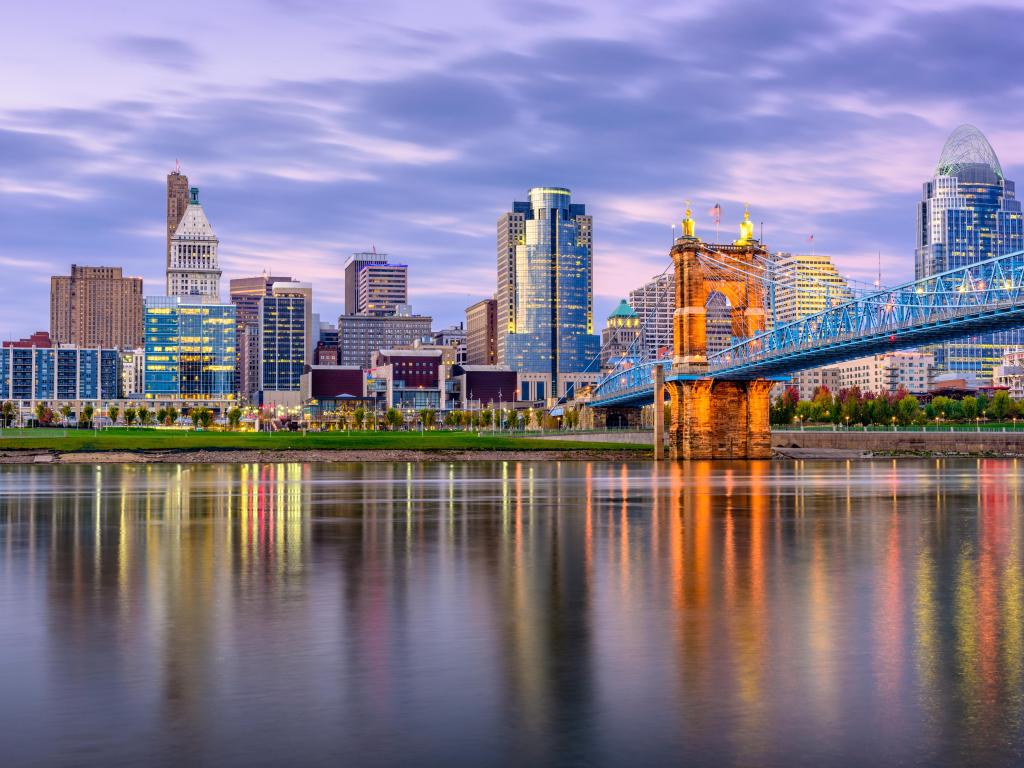 Housed amidst the scenic river valley, the city's architecture is awe-inspiring. If traveling with your family, you must visit Coney Island Park, one of the most popular amusement parks in the region known for its adventurous rides and delicious fast food.
Cincinnati has an active sports culture, and its baseball team- Cincinnati Red Stockings, was the first-ever professional baseball team. For a baseball fan, a visit to the Great American Ball Park stadium is a must on this trip.
Explore the city leisurely by staying at a centrally located boutique hotel like 21c Museum Hotel Cincinnati. This historic property has been repurposed as a contemporary art museum and a hotel and is pet friendly.
The hotel boasts modern interiors and an award-winning restaurant. Indulge in some delicious modern food cooked from ingredients sourced locally, signature cocktails, and a breathtaking view from their rooftop bar.
You can easily visit most tourist attractions like the Great American Ball Park, the National Underground Railroad Freedom Center, and Fountain Square from the hotel. Also, because of easy access to the highway, you won't spend your precious time trying to beat the morning traffic to get out of the city.
Enjoy a relaxing stay at Pittsburgh
About two-thirds of the way on the Scenic Route, you'll arrive at the charming city of Pittsburgh. Known as "The Steel City," the industrial sector is dominated by the steel industry, and the proof is visible in the form of the city's 446 bridges.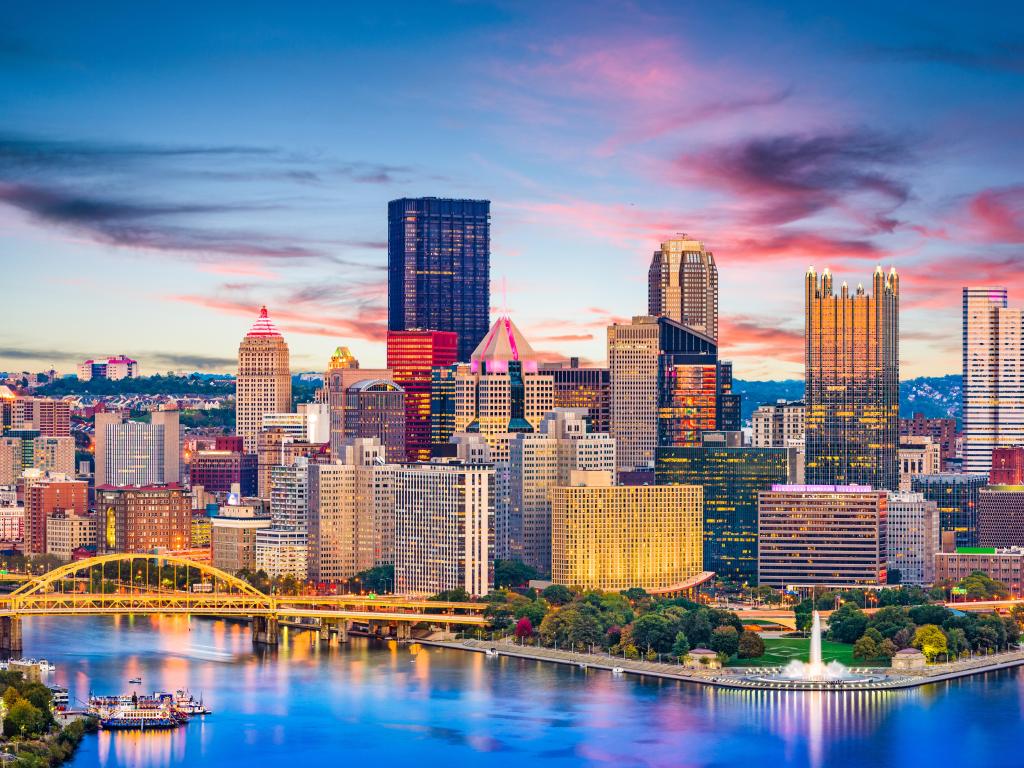 You can enjoy engaging in various indoor and outdoor activities in the city. If you love history and appreciate the arts, there are many museums you can visit during your stay. We particularly love the Andy Warhol Museum, dedicated to the Pittsburgh-born pop-art icon.
The other major attraction which is a must-visit for first-time visitors who love the outdoors is Point State Park. Located downtown, it houses two of the oldest forts in the city. Should you visit during the Fall season, don't miss out on the breathtaking views.
Located on the bank of the Ohio River and easily accessible via car and within walking distance of famous tourist attractions is the fabulous Priory Hotel. The scenery is exemplary, and you can also enjoy strolls in a very Italian-looking courtyard.
Converted from a historic monastery, the hotel has a fantastic European minibar with an excellent wine selection. You can also take advantage of the delicious complimentary breakfast before setting off on the last leg of your adventure from Indianapolis to Washington DC.
Where to stay when you reach Washington DC
For a comfortable stay in the heart of Washington, DC, our vote goes to Riggs, Washington DC. This historic hotel's building previously housed Riggs National Bank and you can see the traces of its rich past in its decor.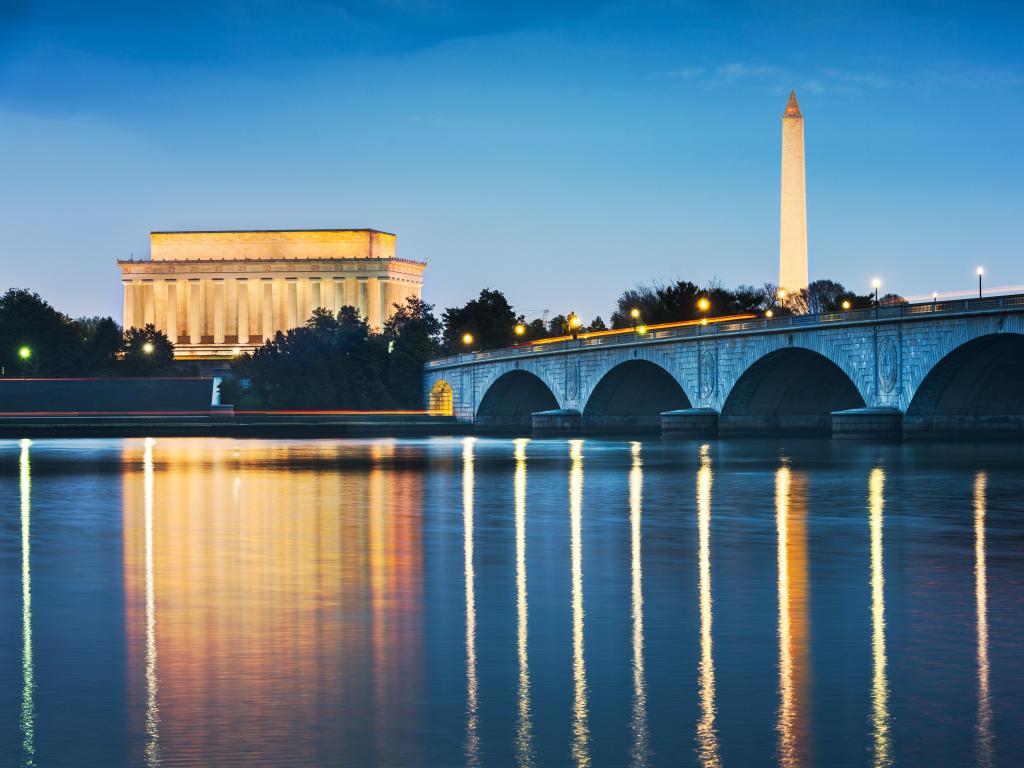 You will love the old back vault converted cocktail bar for re-imagined drinks. Enjoy romantic dinners at the fabulous on-site cafe, choosing from a variety of dining options. Their state-of-the-art amenities include a rooftop event space, spa, and wellness center.
The best thing about the location of this hotel is that you can walk to famous tourist attractions like the Smithsonian, The White House, and the Lincoln Memorial while enjoying a parking space at the hotel.
Things to see on a road trip from Indianapolis to Washington DC
You'll experience some of the most scenic views, including rolling hills, lush greenery, rustic countryside, beautiful waters, gorgeous national parks, not to mention world-famous indoor attractions like stadiums, aquariums, and museums.
From the huge list of things to see, we have narrowed it down to the places you should add to your travel plan.
The Direct Route
American Sign Museum, Cincinnati – For an exciting walk through the history of American neon signs and a massive collection of exhibits, visit this unique museum.
Mothman Museum - Even though a short detour away from the route, this quirky museum dedicated to a local legend in Point Pleasant is well worth a visit.
Wayne National Forest – Escape into the beautiful foothills of the Appalachian and explore the outdoor activities amidst nature. Partake in activities like fishing, kayaking at the waterbodies in the park, or explore it by hiking, horseback riding, or ATV.
Krepps Park - Take a break at this charming park to stretch your legs. If the weather permits, you can even take advantage of its outdoor swimming pool or have a lovely picnic.
Ohio Stadium, Columbus – Ohio Stadium is a must-visit for an American football fan. A quick detour can get you to this iconic home to the Ohio State Buckeyes football team.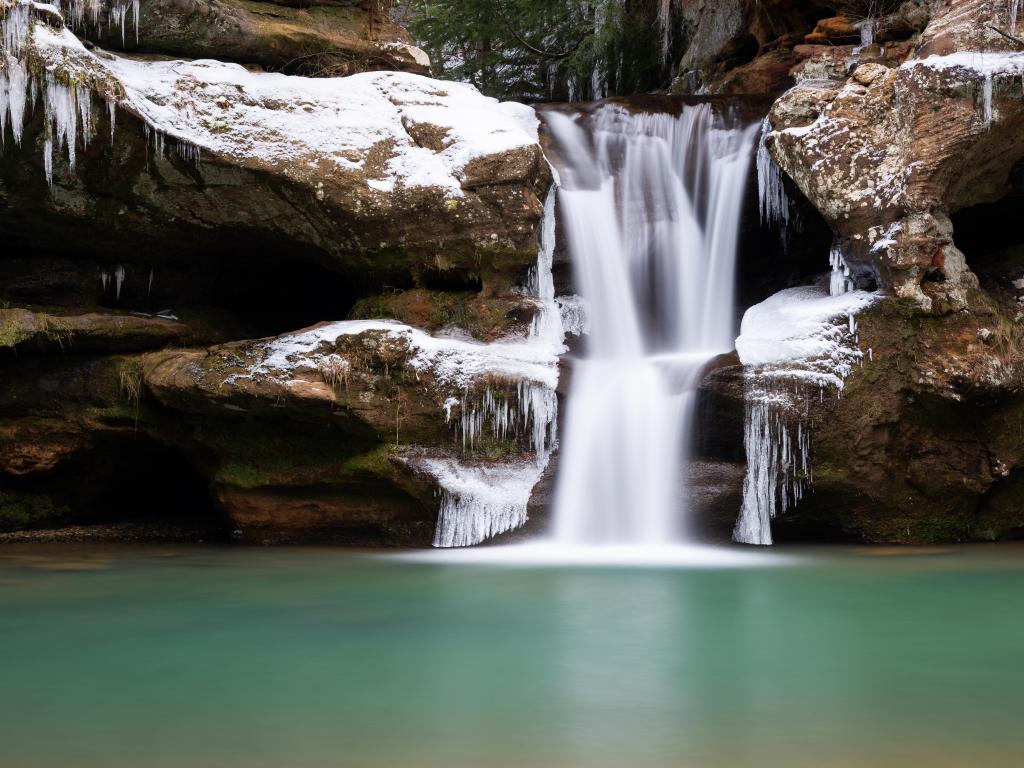 The Scenic Route
Fort Wayne Trails, Fort Wayne – This is a one-of-a-kind network of trails spread over 80 miles of the region that can be explored by walking, hiking, or biking.
National Museum of the Great Lakes, Toledo – Located on the banks of Lake Erie, this museum offers an excellent opportunity to appreciate the Great Lakes of America interactively and engagingly.
Merry-Go-Round Museum, Sandusky – Relive your childhood memories and learn about the history of the carousels in this unique Merry-Go-Round Museum, featuring several antique carousels and pictures.
Rock & Roll Hall of Fame, Cleveland – As promised, this trip is a mix of various experiences, and a visit to the Rock & Roll Hall of Fame, Cleveland, is no exception. Vibe to rock music and high energy, and enjoy various exhibits at this fantastic museum.
Cuyahoga Valley National Park – Discover the native flora and fauna of the region at this scenic national park by exploring the network of trails.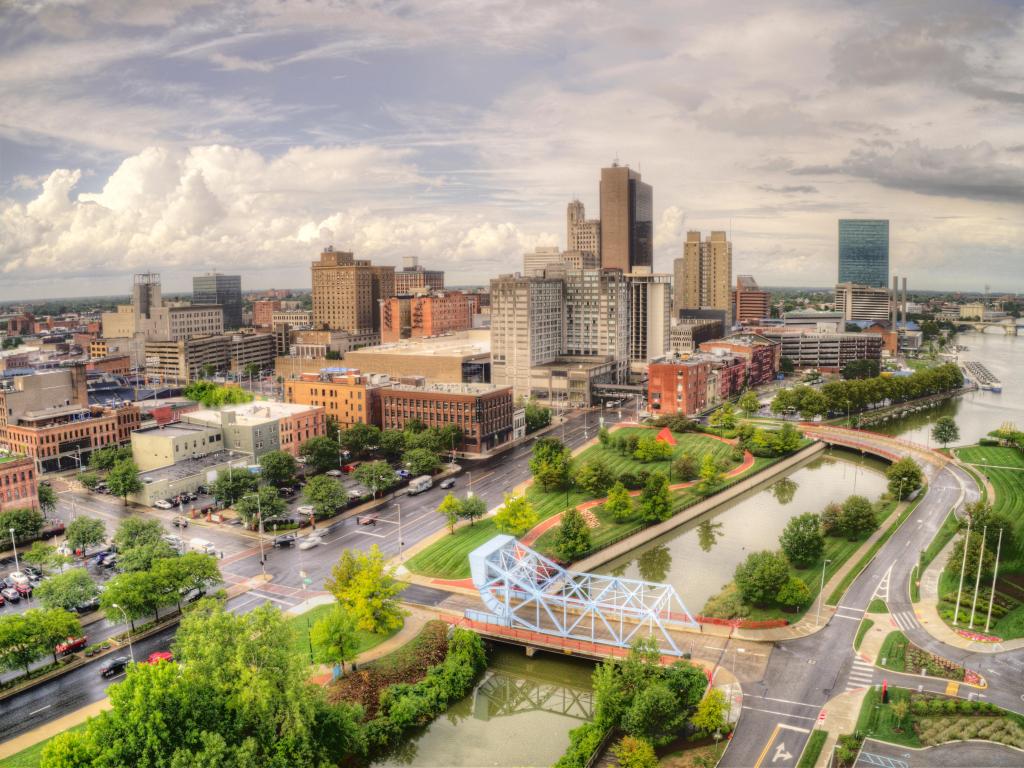 Both Routes
Randyland, Pittsburgh– Visit this art landmark featuring colorful artwork made on the walls by the public, which has become a symbol of inclusion for the city.
National Aquarium, Baltimore – This lovely detour to the National Aquarium of Baltimore is a must for a family trip. Discover over 750 different species of aquatic lifeforms at this amazing attraction.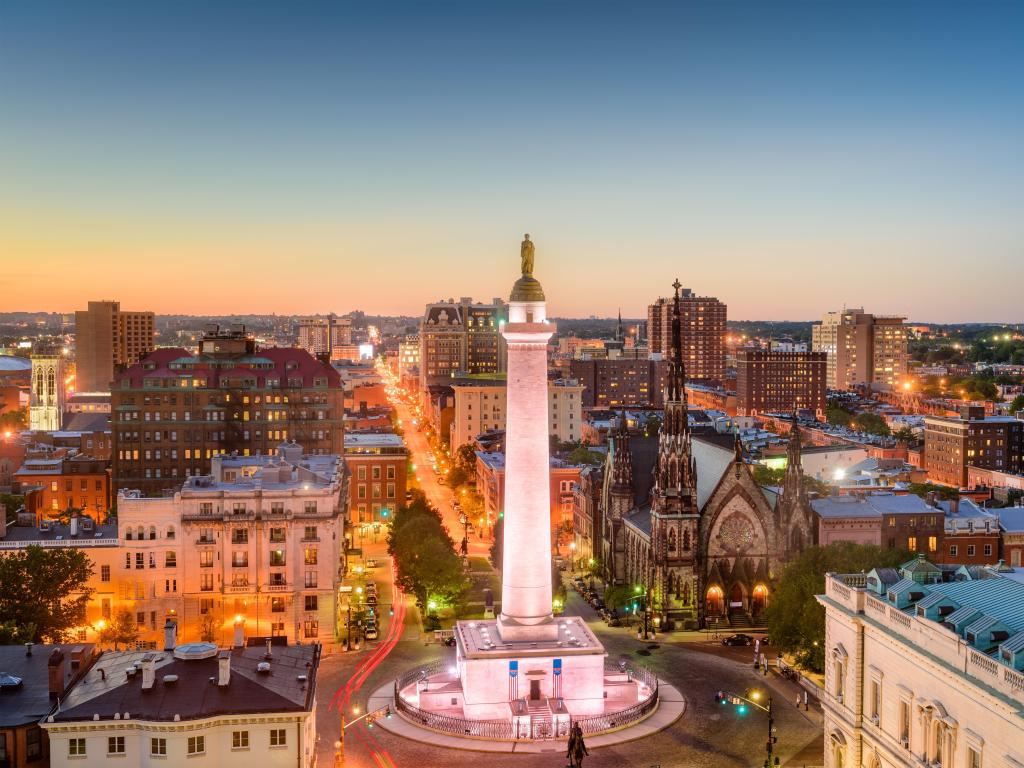 Best time to go on a road trip from Indianapolis to Washington DC
Because of the temperate climate en route, you won't experience harsh winters or hot summer conditions as you drive. This means you can plan this trip any time of the year. If you wish to enjoy outdoor activities, warmer months would be better suited for this road trip.
Summers are warm and humid. The temperature averages around 80 degrees Fahrenheit, and the weather can be stuffy. Although most thunderstorms happen during spring, they may spill over to the early summer.
Winters are chilly, and although snow is uncommon along the coast, it snows in the other regions during February. The temperature averages between 35 to 45 degrees Fahrenheit and these months are great for enjoying indoor activities, which you will find plenty of in Washington DC.
Fall and spring seasons are pleasant for traveling, and the average temperature during spring ranges between 60- and 70-degrees Fahrenheit. Despite the thunderstorm warnings during spring and tornado warnings near the inland, Washington DC sees the maximum number of tourists from March to June.
Because of its historic and political significance, Washington, DC, is a popular tourist destination. Martin Luther King Day in January brings considerable footfall to the city. So does the Smithsonian Folklife Festival in July, the city's most significant cultural event attracting over a million people yearly.
The Independence Day Parade on the 4th of July showcases live music and fireworks creating a spectacle not to be missed.