Road trip from Los Angeles to Denver
From the sunny shores of the Pacific Ocean to the majestic Rockies of Colorado, a road trip from Los Angeles to Denver is the ultimate Western States adventure. From iconic Mighty 5 of Utah and the Grand Canyon to the historic heart of New Mexico and world-class ski resorts, this road trip has it all!
The 1,135-mile road trip from Los Angeles to Denver will take 18 hours. You can visit Las Vegas, Moab, Vail, Flagstaff, Albuquerque, Santa Fe, Taos, Colorado Springs as well as Grand Canyon, Zion, Bryce Canyon, Arches and Canyonlands National Parks.
Few road trips can compete with this amazing adventure. Read on below for more info on our recommended routes, top highlights, places to stay, and the best seasons to take on this journey.
How far is Denver from Los Angeles, and how long will the road trip take?
Comparison of road trip routes between Los Angeles and Denver

| Route | Distance | Driving Time |
| --- | --- | --- |
| The Mighty 5 Route | 1,135 miles | 18 hours |
| The Grand Canyon Route | 1,320 miles | 21 hours |
There are two amazing routes that will take you from Los Angeles to Denver. Our first option, the Mighty 5 Route spans roughly 1,135 miles and takes approximately 18 hours of straight driving.
On the other hand, the Grand Canyon Route, while slightly longer, is another breathtaking option. It covers a distance of 1,320 miles and demands around 21 hours on the road.
While either route can be driven in a couple of days, given the stunning landscapes and attractions on the way, we'd recommend allocating 5-6 days to get the most out of this remarkable drive.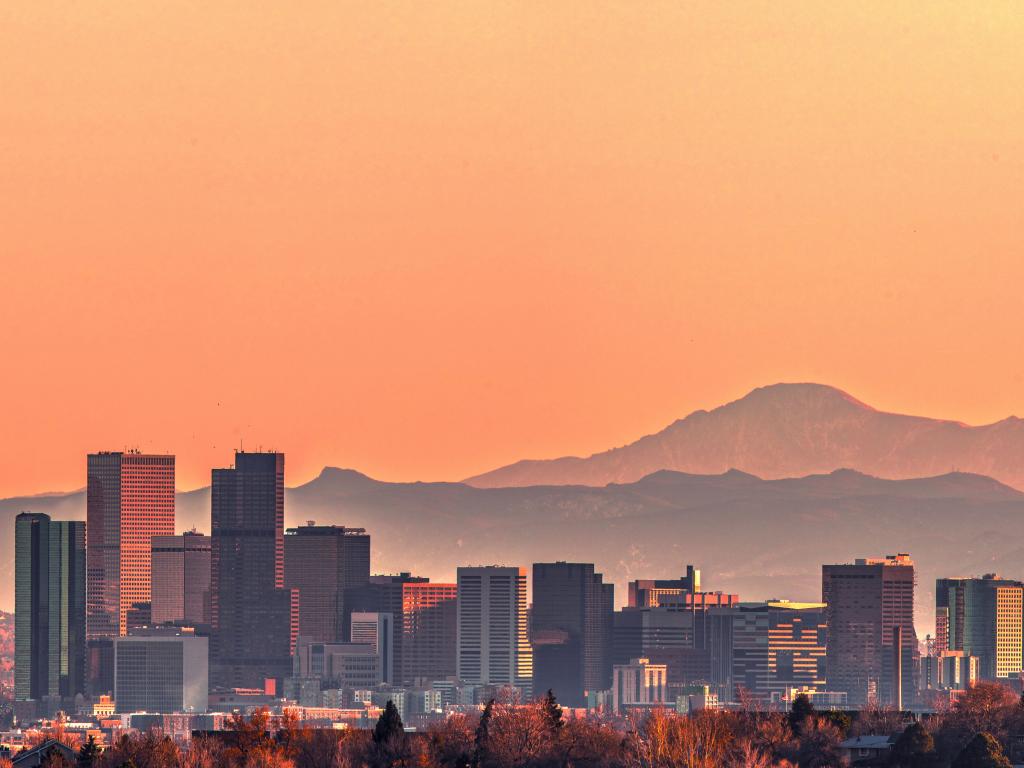 Best road trip route from Los Angeles to Denver
While both the Mighty 5 Route and the Grand Canyon Route are full of adventure and life-changing sights, they take you through some distinct destinations and landscapes. Which one you choose on the drive from Los Angeles to Denver to take will depend on what you want to see the most.
The Mighty 5 Route serves as a gateway to the majestic beauty of Utah's Mighty 5; a collection of awe-inspiring national parks that are among some of the best in the world for nature lovers, photographers, outdoor enthusiasts and thrill seekers.
This route takes you to Zion National Park, with its forests, red rock cliffs, and canyons, as well as the unique landscape of Bryce Canyon National Park.
You will dive deep into the geological marvels of Capitol Reef National Park and see the awe-inspiring arches, buttes, and canyons in Arches and Canyonland National Parks.
Adding a dash of urban zest to this primarily nature-centric route, the road also takes you through Las Vegas, very deservingly known as the "World's Entertainment Capital."
You'll soon cross the southern Rocky Mountains, through the stunning alpine meadows, tranquil lakes, scenic mountain drives, and quaint towns like Vail and Breckenridge before reaching Denver.
If your wanderlust leans more towards a blend of iconic natural wonders and cityscapes, the Grand Canyon Route is the way to go. This route will take you to the breathtaking Grand Canyon National Park, a bucket-list destination for many and understandably so!
Gaze into its vastness, explore its natural formations, and lose yourself in its captivating viewpoints. As you drive, you'll also get to visit Flagstaff, experience the historic charm of Albuquerque's Old Town, the artistic pulse of Santa Fe, admire Taos and explore Colorado Springs.
This route also takes you through destinations rich in Native American history and culture, with stops like Acoma Pueblo, the historic Santa Fe Plaza, and Taos Pueblo. Along the way, you'll get to learn about the first cultures to call this incredible land home on the Grand Canyon Route.
How to drive from Los Angeles to Denver
The map above shows our suggestions for the best road trip routes between Los Angeles and Denver. Keep reading for detailed descriptions of both routes, where to stay on either, and the best things to do on the way.
The Mighty 5 Route
Starting in LA, head west on CA-60 and turn north on Interstate 15 (I-15). Drive into the mighty desert, through Barstow, and into the Mojave National Preserve, keeping the sight of Mount Baldy on your left.
After admiring the beautiful desert surroundings, continue on route into Nevada and visit the iconic city of Las Vegas. During your visit, you can make a short detour to visit the Hoover Dam and Lake Mead, as well as Valley of Fire State Park.
From here, head northeast to enter Utah and follow the directions for Springdale, your home base for Zion National Park. After exploring this stunning national park, continue en route to the Dixie National Forest and Bryce Canyon before stopping in Panguitch.
Capitol Reef National Park is a much-recommended detour from here, and this way, you will get to see every single one of the Utah's Mighty 5.
After your visit, make your way north to I-70 and continue east on to Moab. This beautiful area is home to Arches National Park and Canyonlands National Park.
Continue on back to the route and venture further into Colorado. Continue on through Grand Junction to Vail and then make a stop in Breckenridge. From here, drive through the mighty Rockies and into the city of Denver, your destination.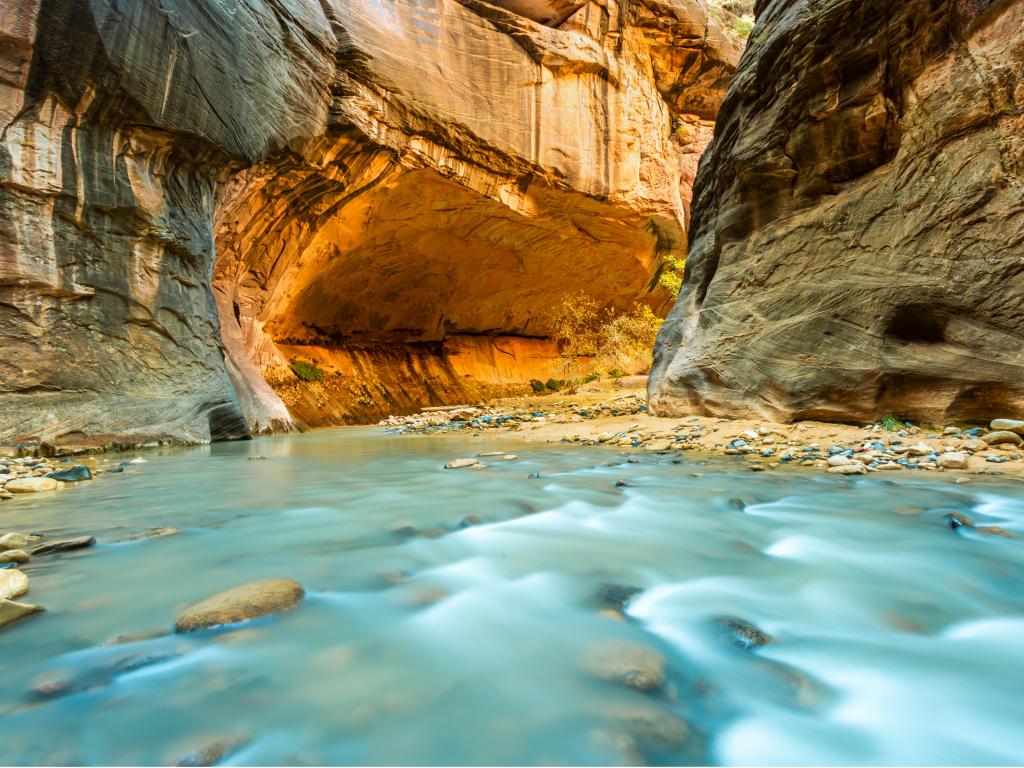 The Grand Canyon Route
As you head out of Los Angeles, follow I-15 north and get on I-40. From here, drive west into Arizona. Continue on route to the iconic Grand Canyon National Park. You'll marvel at the world-famous landscape and its magnificent views.
From here, get back on route and drive to Flagstaff, which is a great base to expand your visit to Grand Canyon. Once you have had your fill of incredible sights, make your way into New Mexico and head to Albuquerque.
Then, make your way to Santa Fe, the capital of New Mexico, and home to museums and some of the best cuisines in the USA. After exploring this vibrant city, get back on route and head north to Taos. Here, you can experience Taos Pueblo, one of the oldest towns in North America.
Then, drive north into Colorado and soon you can make a detour to Great Sand Dunes National Park and Preserve. Afterwards, continue on to Colorado Springs. From here, you're only a short drive away from your destination of Denver.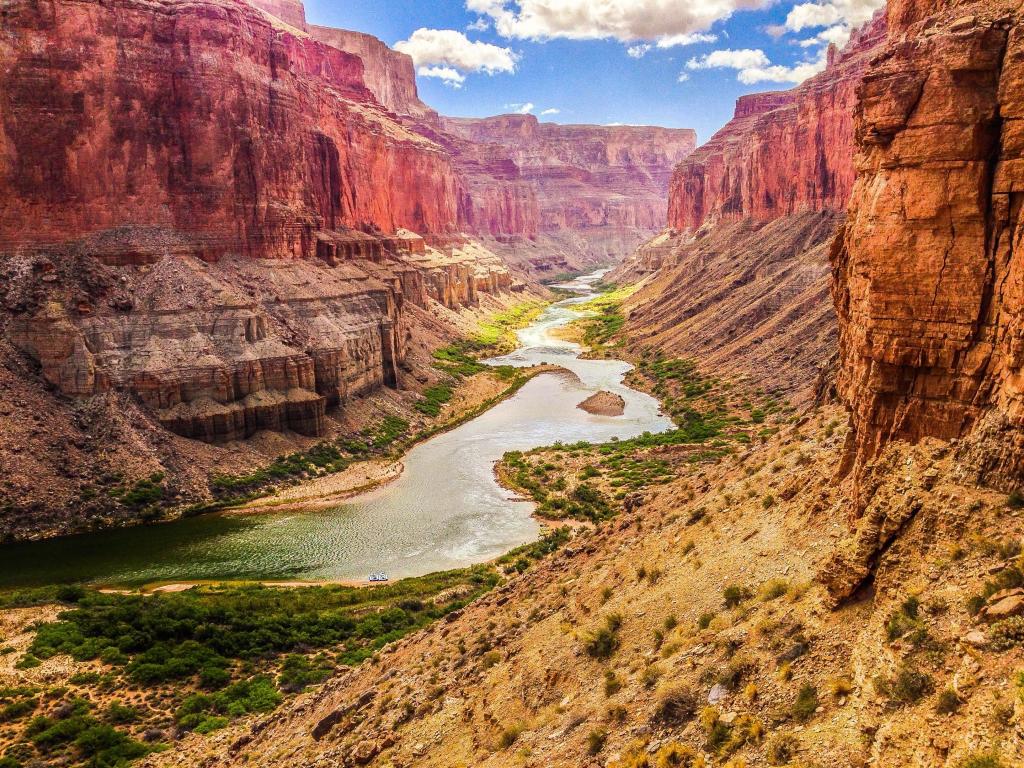 Best places to stop between Los Angeles and Denver
This region of the USA is home to endless natural wonders and adventurous highlights. To get the most out of this incredible part of the world, we recommend staying in one of the beautiful and strategic destinations below.
A gateway to stunning national parks in Moab
At approximately two-thirds of the way through the magnificent Mighty 5 Route, Moab is a stop full of natural beauty and rustic charm. After about 12 hours of driving, this town is an ideal base to recharge and explore the beauty of the nearby Arches and Canyonlands National Parks.
Moab is an "adventure epicenter" in Utah. This town is a haven for mountain bikers, off-roaders, and artists who converge here to capture or challenge the unique landscapes.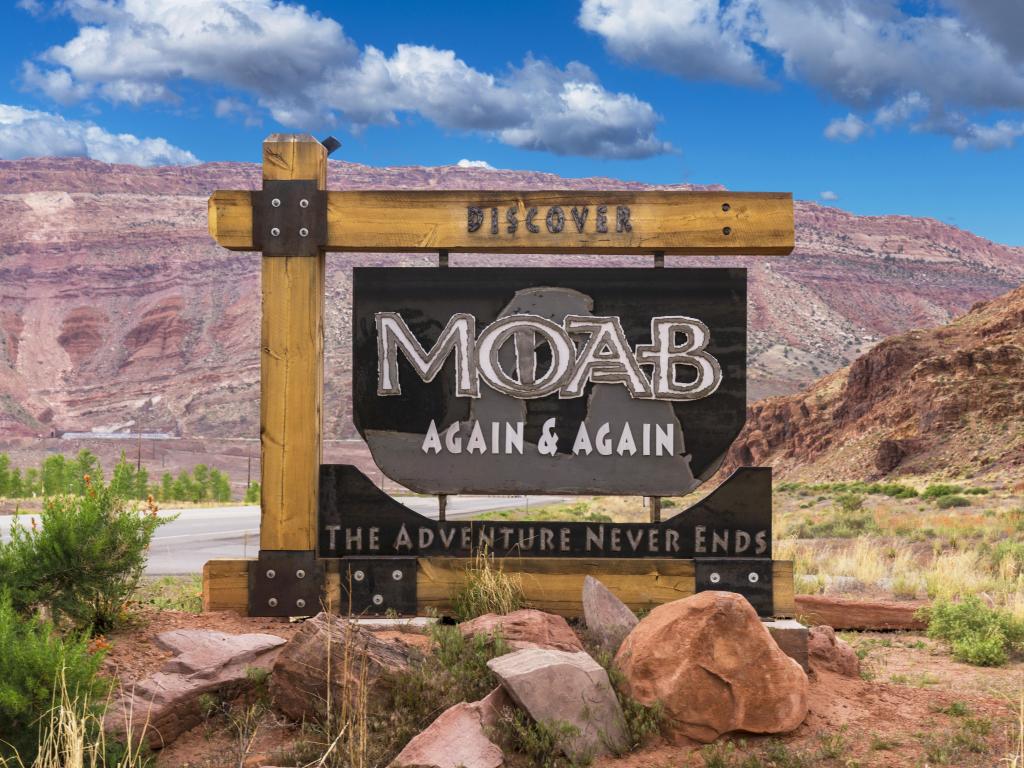 The town's proximity to both Arches and Canyonlands National Parks offers you the chance to explore both. Whether you're gazing at the towering Delicate Arch or traversing the mesas and buttes of the Island in the Sky, Moab's surrounding landscapes promise an experience like no other.
For your overnight stay, Field Station Moab comes highly recommended. This atmospheric hip hotel is just a stone's throw from Arches National Park. After a long drive, it might be a good idea to check out the fabulous outdoor swimming pool before heading to any national park, though!
Come evening, the hotel's bar and restaurant provide a relaxed setting for a delicious meal. The breakfast menu caters to diverse dietary needs, ensuring you'll have a hearty start to your day (which you will need if you are planning on setting off on any of the hikes in Arches or Canyonlands National Parks).
Before leaving Moab, don't miss out on the Moab Museum, located just a short drive away from the Field Station. If you're looking for a serene escape close to your accommodation, Swanny City Park is less than a mile away for a leisurely stroll in the cool evenings.
A historic stay in Albuquerque
Nestled about two-thirds of the way along the Grand Canyon Route, after approximately 13 hours and 40 minutes of driving, Albuquerque is the perfect stopover, where the ancient and the modern meld seamlessly. Throughout the town are architectural gems, wonderful museums, and a rich food scene.
A highlight for many is the Petroglyph National Monument, where you can marvel at designs and symbols carved onto volcanic rocks by Native Americans. Equally amazing is the Indian Pueblo Cultural Center, offering insights into the Pueblo people's history, culture, and art.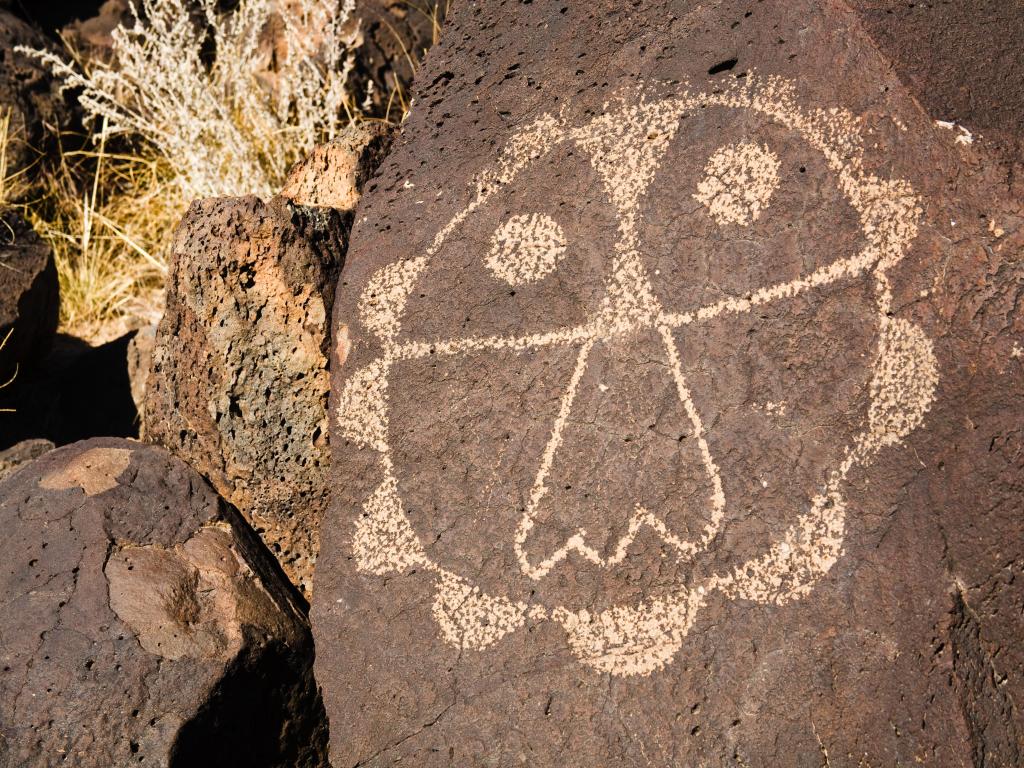 In addition to its culture, the city enjoys sun-soaked days throughout the year, making it a haven for outdoor enthusiasts and recreation lovers.
For your stay in Albuquerque, we recommend staying at the luxurious Hotel Chaco. Located a heartbeat away from downtown Albuquerque, this hotel stands out with its airy, art-infused interiors and friendly staff.
For a treat after achieving so many miles on the road, you can sample some local wines at the hotel's sophisticated in-house bar. To make your incredible stay even better, the hotel offers an outdoor swimming pool to beat the heat and a state-of-the-art fitness center to keep your routine in check.
Venturing out from Hotel Chaco, you'll find that the New Mexico Museum of Natural History and Science is merely 200 yards away, inviting you into a world of wonders from the age of the dinosaurs to the present. Likewise the Albuquerque Museum is just a short stroll away,
Where to stay when you reach Denver
As you pull into Denver, the "Mile-High City's" beauty comes into view. Nestled atop a mountain range, Denver is not only famous for its elevation but also for its museums, parks, and historic landmarks.
As you set out to explore, the Denver Botanic Gardens is a must, with their lush landscapes and beautifully manicured gardens. Not too far away, the Denver Art Museum is worth a long visit.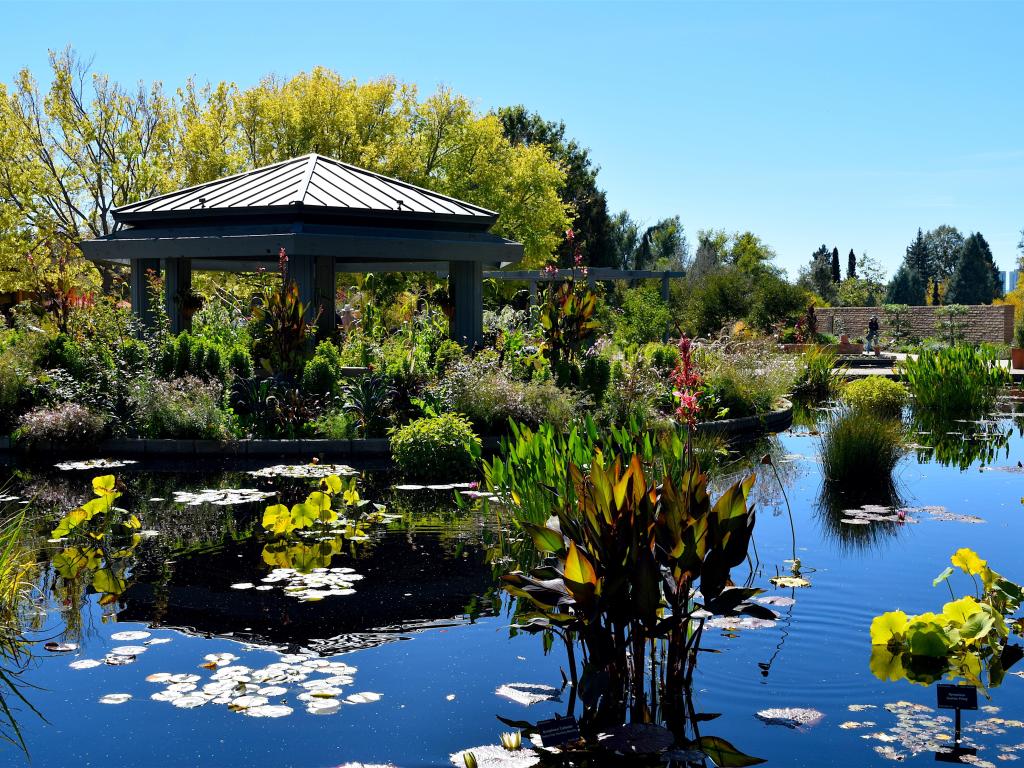 And as the evening light casts a golden hue over Denver's skyline, you might find wanting to explore the city's famous brewery scene. With over 150 breweries, Denver has rightfully earned its place on the map for beer enthusiasts.
Just a stone's throw away from the bustling heart of the city is The Ramble Hotel. This classy establishment promises a luxurious retreat right in the epicenter of Denver. The beautifully designed rooms are full of comfort and elegance, making every guest's stay memorable.
As the night sets in, the hotel's bar comes alive. Here, you can savor exquisite cocktails crafted with perfection. And for those looking to unwind, the hotel's terrace offers a great spot to relax, perfect way to end your day filled with adventure.
Things to see on a road trip from Los Angeles to Denver
The routes between Los Angeles and Denver are full of fun, adventure, and limitless beauty. Below are our top highlights on the way so you can make the most out of this wonderful adventure.
Mighty 5 Route
California Route 66 Museum -A popular tip-of-the-hat to the historic US Route 66, this museum showcases artifacts, photographs, and memorabilia from the iconic highway's heyday.
Mojave National Preserve -Spanning 1.6 million acres, this vast desert landscape is adorned with sand dunes, canyons, and unique Joshua tree forests.
Las Vegas Strip -World-renowned for its dazzling neon lights and entertainment, the Las Vegas Strip is home to iconic hotels, casinos, and performance venues. It's a bustling epicenter of entertainment where every night feels like New Year's Eve.
Valley of Fire State Park -As Nevada's oldest state park, the Valley of Fire boasts vivid red sandstone formations, breathtaking vistas, and ancient petroglyphs.
Red Cliffs National Conservation Area -Known for its red-hued cliffs, this conservation area safeguards diverse ecosystems and offers great hiking opportunities.
Zion National Park -Characterized by its dramatic canyons, towering cliffs, and unique rock formations, Zion offers visitors a mesmerizing landscape and trails that lead you to awe-inspiring viewpoints and serene spots.
Bryce Canyon National Park -Famous for its otherworldly hoodoos, Bryce Canyon showcases a maze of limestone spires and amphitheaters with famous scenic overlooks and trails.
Capitol Reef National Park -This park boasts the Waterpocket Fold, a geologic monocline extending almost 100 miles and presenting layers of golden sandstone, canyons, and striking rock formations.
Canyonlands National Park -Divided by the Colorado River, this vast landscape offers deep canyons, towering mesas, and incredible panoramas. It's a wild heart of red rock country, offering solitude and endless exploration.
Arches National Park -Celebrated for its thousands of natural stone arches, this park also features balanced rocks, vast mesas, and towering pinnacles. The park's trails lead visitors to iconic landmarks like Delicate Arch.
Museum of the West -This museum provides a deep dive into the history and culture of the American West. Exhibits touch on pioneer life, Native American heritage, and the area's geologic past.
Hot Springs Pool, Glenwood Springs -As the world's largest mineral hot springs pool, it offers visitors therapeutic relaxation with its warm, mineral-rich waters.
Hanging Lake -A stunning geological wonder, Hanging Lake's turquoise waters are set against a backdrop of verdant cliffs and waterfalls. This fragile ecosystem is accessible via a challenging but fun trail.
Betty Ford Alpine Gardens -Nestled in the heart of Vail, these gardens are the highest botanical gardens in North America. They showcase alpine plants and offer educational experiences in a breathtaking mountain setting.
Mount Evans Scenic Byway -Winding its way to the peak of Mount Evans, this byway is the highest paved road in North America. The drive offers unparalleled views of the Rocky Mountains and opportunities to spot wildlife.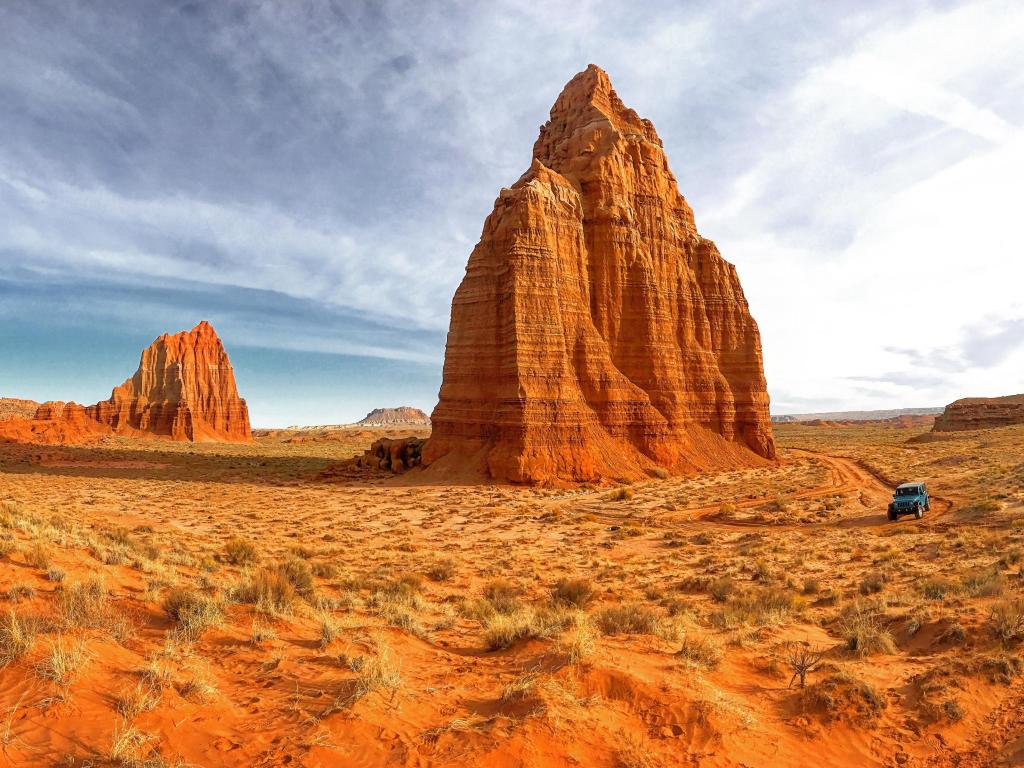 Grand Canyon Route
Mormon Rocks Viewpoint -These unique sandstone formations, resulting from the San Andreas Fault, offer visitors a window into the region's geologic history. The viewpoint provides incredible panoramic vistas.
Mitchell Caverns, Mojave National Preserve -A hidden gem within the preserve, these limestone caverns reveal intricate formations and offer guided tours.
Arizona Route 66 Museum -Chronicling the history of the legendary Route 66 in Arizona, this museum takes visitors on a journey through time. Exhibits include vintage cars, historical photographs, and stories from the "Mother Road."
Grand Canyon National Park -A natural wonder of the world, the Grand Canyon offers breathtaking vistas, steep canyons, and the powerful Colorado River, with hiking, rafting, and mule trips.
Lowell Observatory -Established in 1894, this observatory is where Pluto was discovered. Today, it remains a hub for astronomical research and offers public programs and stargazing opportunities.
Coconino National Forest -This diverse forest offers landscapes ranging from red rock canyons to alpine tundras. It's a haven for outdoor enthusiasts, with trails, rivers, and stunning vistas.
Meteor Crater Natural Landmark -A testament to the force of nature, this well-preserved meteorite impact site offers an insight into our planet's history. The visitor center provides interactive exhibits and guided tours.
Petrified Forest National Park -Renowned for its ancient, fossilized trees turned to stone, this park also offers painted desert landscapes and archaeological sites.
Albuquerque Old Town -A historic heart of Albuquerque, the Old Town boasts adobe landmarks, quaint shops, and cultural heritage. Cobblestone streets and plazas echo tales of Spanish, Native American, and Mexican influences.
Santa Fe Plaza -As the historic center of Santa Fe, the plaza bustles with art, culture, and history. It features galleries, museums, and traditional adobe landmarks.
Taos Pueblo -A UNESCO World Heritage Site, this ancient pueblo represents a thousand-year-old Native American community. Its iconic multi-storied adobe buildings and preserved culture are truly unique in North America.
Great Sand Dunes National Park -Home to the tallest sand dunes in North America, this park offers a unique desert landscape set against a backdrop of mountains. Activities range from sandboarding to stargazing.
Greenhorn Mountain Trail -Winding through the Wet Mountains, this trail offers hikers panoramic views, alpine meadows, and dense forests. The summit of Greenhorn Mountain offers a bird's eye view of the surrounding landscape.
El Pueblo History Museum -Located in Pueblo, this museum delves into the region's history, from ancient indigenous communities to present-day narratives. Interactive exhibits and artifacts trace the cultural tapestry of the area.
Garden of the Gods - Stunning natural landmark, showcasing towering red rock formations that rise dramatically against the backdrop of Pikes Peak.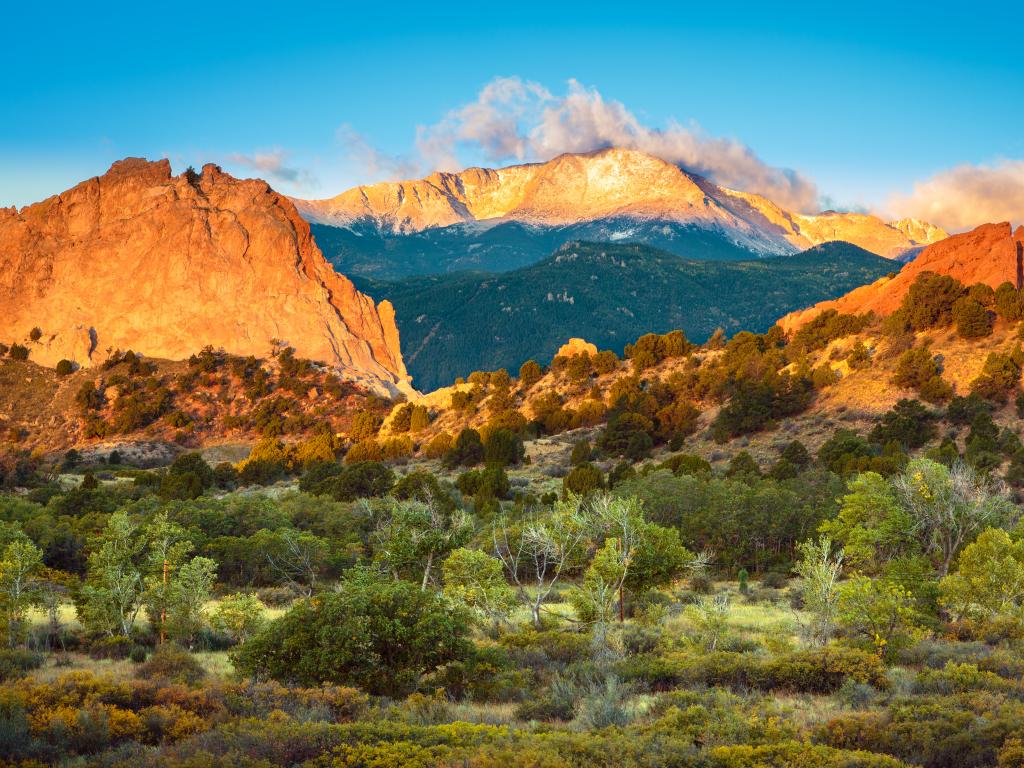 Best time to go on a road trip from Los Angeles to Denver
Denver is the perfect destination no matter the season. Whether you're embarking on The Mighty 5 Route or the Grand Canyon Route, your experience will largely be shaped by the time of year you choose to travel.
Winter can be snowy and cold, especially in the mountains of Colorado. Temperatures will often go below freezing for much of the drive as you enter Utah.
If you're taking The Mighty 5 Route, although the five national parks remain open year-round, certain trails may be inaccessible during the icy winter months.
Nevertheless, if you're willing to brave the colder weather, Colorado becomes a winter wonderland during these months. You can see the Vail Snow Days in December and plenty of holiday celebrations. It's also the perfect season if you love snow sports like skiing or snowboarding.
Yet, watch out for road closures. The stretch between Glenwood Springs and Denver can be particularly challenging during winter, given its high altitudes and the potential for heavy snowfall and storms that can influence driving conditions.
Spring is a lovely time of year to make the drive, with wildflowers and pleasant temperatures that barely fall below 40 degrees Fahrenheit. You can also line up your travels so you can visit the Clark County Fair and Rodeo in April.
Summer is a beautiful time to visit Denver and travel between California and Colorado. Temperatures are hot, often above 80 degrees Fahrenheit for most of your drive. Events like Denver Chalk Art Festival and FAN EXPO Denver are perfect reasons to travel during the summer.
Fall is many travelers' favorite season to make the drive because of the fall foliage in Colorado and pleasant temperatures, often between 50 and 80 degrees Fahrenheit for most of the way. The Grand Canyon Music Festival takes place in September.
You'll also be able to see the exciting Thanksgiving Day parades in cities like Denver and Los Vegas. Plus, the Fiestas de Santa Fe is definitely worth checking out if you are traveling in September.