Best Time To Visit Los Angeles
Los Angeles is one of the most popular tourist destinations in the United States. With Hollywood glamour, iconic beaches and quirky neighborhoods, visitors flock to the city of Angels throughout the year but when should you go to L.A. to make the most of it?
The best time to visit Los Angeles is in September and October when the weather is still warm, the skies are clear of early summer fog and the crowds that come in the summer months are gone.
Read our guide to find out all about when to go to Los Angeles for the weather, events and festivals, staying away from the crowds or your best chance of catching a glimpse of your favorite actors.
When should you go to Los Angeles?
When to visit Los Angeles - Summary
Best Time for Good Weather: July to September are the best weather months in Los Angeles. The temperature is high, there is no chance of rain spoiling your day and the June Gloom subsides with only occasional morning fogs from mid-July onwards. If you want to avoid the heat, come from April to May or November when the daily highs are lower at around 73 °F (23 °C) but it's still dry. November also benefits from Santa Ana winds which will make it feel a lot warmer.
Best Time for Sightseeing: March to April and October to November are the best months for sightseeing in Los Angeles. The weather is great but not too hot to make your way around L.A. and there are relatively few tourists in town compared the the peak summer months.
Best Time for Saving Money: January and February are the cheapest months of the year to visit Los Angeles. Demand for hotels is low as are the prices and flights tend to have the lowest rates at this time. Theme Parks tend to offer good discounts as well but be sure to bring your umbrella as it can get rainy!
Best Time for the Theme Parks: March and November are the best months to come if you want to go to Disneyland, Six Flags Magic Mountain or Universal Studios. You get to avoid the summer crowds, the weather is still great with a very low chance of rain and the prices are decent without the need to book months in advance just to get in. Going on a weekday makes a huge difference with the fewest people about as the locals tend to turn out over the weekends.
Best time to visit Los Angeles
Best Time for Shopping: Shopping in Los Angeles is great all year round, but avoiding the tourist crowds from June to August is a good idea. Some of the most prominent shopping streets in Los Angeles, such as Rodeo Drive or Melrose Avenue as well as small neighborhoods like Santa Monica are also very popular tourist hot spots so they become a lot less crowded from the fall through to spring. Shopping in late November and December will mean a rush of locals buying presents for the festive season, so the shops are likely to get a lot more busy.
Best Time for Sights and Museums: The best time to see the main sights and museums of Los Angeles is from September to November and March to April. There are less tourists during these times and as so much of what you want to see in L.A. is outdoors, you want to avoid the rainy winter season.
Best Time for Concerts and Music: A lot of the big festivals and music concerts happen in Los Angeles between June and September. Having said that, the great weather all year round means there are festivals and outdoor music events virtually all year round with amazing shows happening every single month so you'll be able to enjoy a concert whenever you come to L.A.
Best Time for Families and Kids: If your kids are young enough to avoid having to visit Los Angeles during the school break, it's a good idea to visit during one of the shoulder seasons from March to April or October to November. The temperatures during the day are lower which is better for going around with your kids and there are less crowds in the city.
Best time to Avoid Crowds: If you want to have the city all to yourself, visiting in January and February will mean the lowest crowds in Los Angeles. This is the lowest part of the season which also means great hotel and flight prices, but be prepared for cooler weather and occasional rain.
Los Angeles travel seasons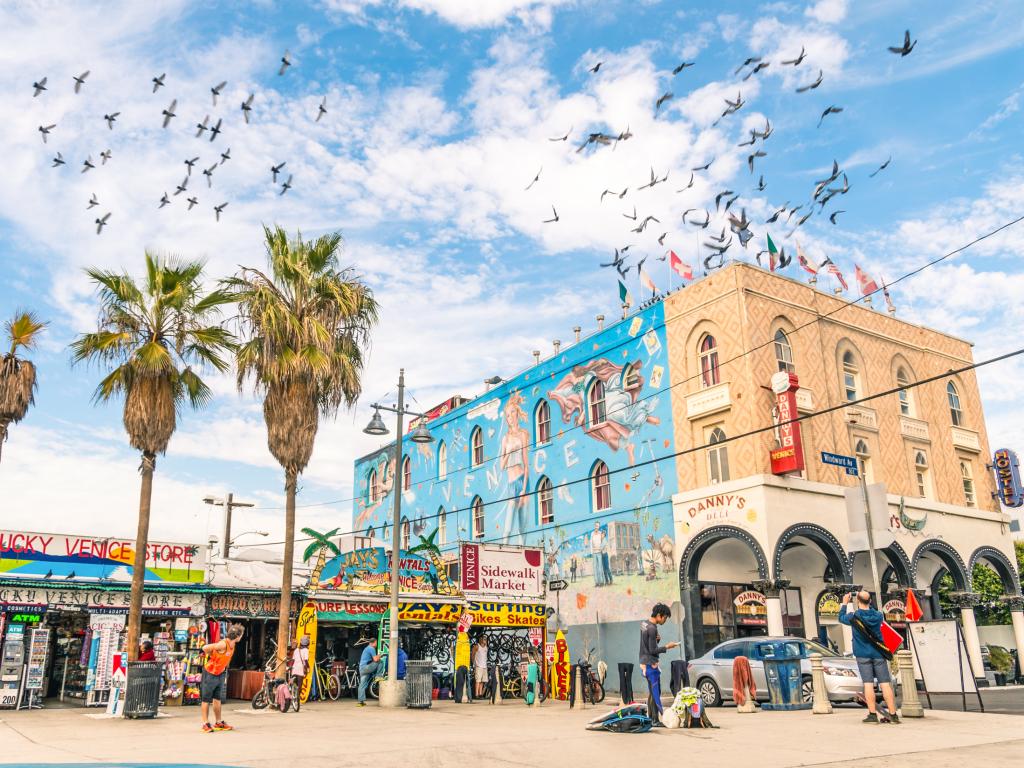 High Season for Tourists (June to August)
The peak season for tourists is during the summer months from late May to the Labor Day Weekend at the beginning of September. While these months are hot and June can be foggy and overcast, these are the months when American and European schools break up for the summer and the general summer break season starts.
Hotel availability in Los Angeles and some of the National Parks around California tend to be low and the best ones get booked up many months in advance for July. Prices are higher, especially for AirBnB and other alternative accommodation options.
Shoulder Seasons (March to May and September to November)
May and September are transitional months with some of the summer tourists coming just before or after the main peak season. The real shoulder season is between March and April and from October to November.
The weather holds up very well and it is still very warm during these months. Rainfall is low or non-existent and a lot of the more savvy travelers come to Los Angeles during the shoulder season to avoid the crowds, avoid the summer heat and get better value for money on flights and hotels.
Low Season (December to February)
The relatively cooler period over the 3 winter months is also the time when Los Angeles does get some rain. This is the lowest season in Los Angeles with fewer tourists visiting. Over Christmas more snowy and festive destinations tend to be popular with families and January and February in L.A. is awards season with one gala after another coming to town including the Oscars and the Grammys.
There's a lot of events on around the city, but a lot of these are closed or restricted to the public and you are better off watching some of these on T.V. as you won't be able to get into or even near these award nights.
Best time to visit Los Angeles for the beaches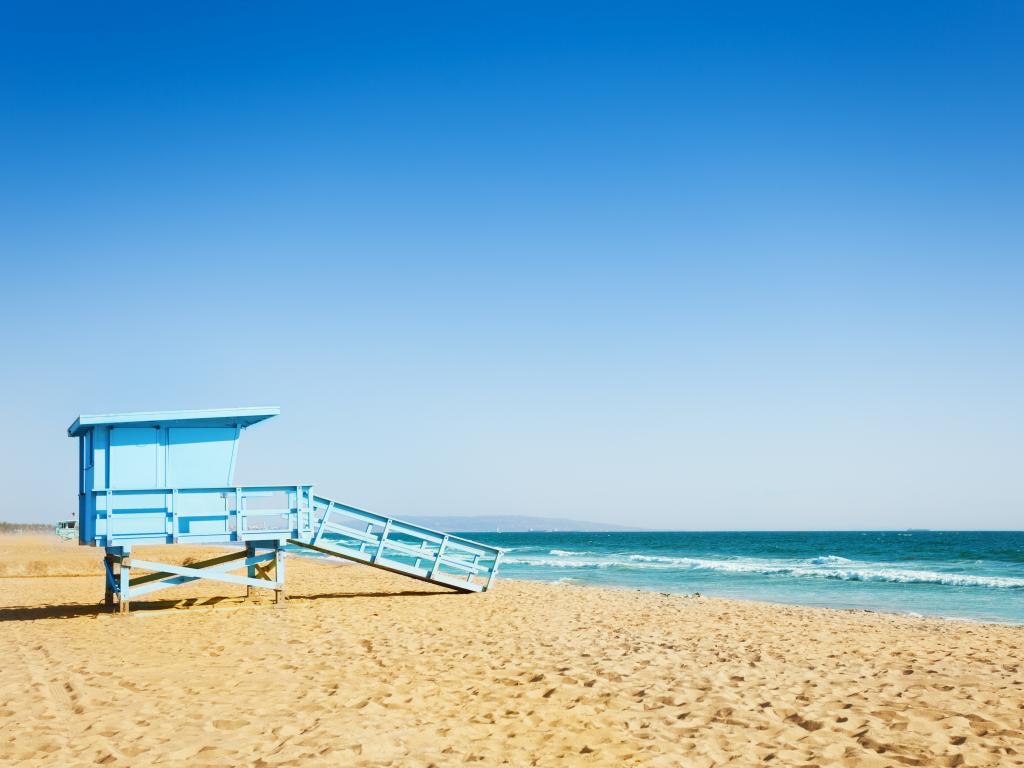 Los Angeles beaches are iconic and you'd really be missing out if you came and didn't come to some of these. From the long stretch of sand at Malibu to Santa Monica, Venice and Long Beach, it's a great idea to devote some time during your trip to relaxing on the sand.
The best time to come for the beaches is in September and October. The beaches around Los Angeles are considerably less crowded than during the peak tourist season in the summer and the weather is still warm with September the second hottest month of the year after August.
The ocean water around Los Angeles is cool all year round - temperatures tend to be in the low 60s (17 to 18 °C) for most of the year. In August the water peaks at 68 °F (20 °C) and stays warm for the whole of September and October, dropping only to 66 °F (19 °C) by Halloween.
Weather in Los Angeles across the year
Average monthly temperature and rainfall for Los Angeles
Average temperature highs and precipitation
Data sourced from U.S. NOAA Climate Data
Month
Temperature
Rainfall
January
68.2 °F / 20.1 °C

---

3.12 in / 79 mm

---

February
68.6 °F / 20.3 °C

---

3.80 in / 97 mm

---

March
70.2 °F / 21.2 °C

---

2.43 in / 62mm

---

April
72.7 °F / 22.6 °C

---

0.91 in / 23 mm

---

May
74.5 °F / 23.6 °C

---

0.26 in / 7 mm

---

June
78.1 °F / 25.6 °C

---

0.09 in / 2 mm

---

July
83.1 °F / 28.4 °C

---

0.01 in / 0 mm

---

August
84.4 °F / 29.1 °C

---

0.04 in / 1 mm

---

September
83.1 °F / 28.4 °C

---

0.24 in / 6 mm

---

October
78.5 °F / 25.8 °C

---

0.66 in / 17 mm

---

November
72.8 °F / 22.7 °C

---

1.04 in / 26 mm

---

December
67.7 °F / 19.8 °C

---

2.33 in / 59 mm

---
Los Angeles weather by month
Los Angeles weather in January: January is the start of the 2-month rainy season in Los Angeles, although it typically will only rain on one day in 5. The rest of the time, skies are clear and bright which means that despite being the middle of the winter, daily highs average over 68 °F (20 °C). Average temperature: 58.0 °F / 14.4 °C. Average precipitation: 3.12 in / 79 mm.
Los Angeles weather in February: February is the wettest month of the year with 3.8 inches (97 mm) of rainfall. Together with the cool temperatures, this is the worst month for weather in Los Angeles. Temperatures in February can swing day to day and vary a lot between the coast and further inland. It almost never drops below freezing with average daily lows of 49.3 °F (9.6 °C). Average temperature: 58.9 °F / 14.9 °C. Average precipitation: 3.80 in / 97 mm.
Los Angeles weather in March: March brings the end of the wet winter season with the rain petering out towards the end of the month. Temperatures remain mild although daily averages increase towards 62 °F (16.7 °C) as March progresses. March skies tend to be clear of fog which makes it a good time to visit Los Angeles. Average temperature: 60.6 °F / 15.9 °C. Average precipitation: 2.43 in / 62 mm.
Los Angeles weather in April: Temperatures in L.A. begin their annual climb in April as the seasons change. Rains are largely gone and the nights become warmer with daily lows averaging 53.5 °F (11.9 °C). Daily highs rise to 72.7 °F (22.6 °C) making for pleasant daytime weather. Average temperature: 63.1 °F / 17.3 °C. Average precipitation: 0.91 in / 23 mm.
Los Angeles weather in May: As the rain season has ended, late May is known for the arrival of the summer fog. Not as bad as the fogs that affect Northern California, these usually don't last as long. Later on in May, daily highs can reach the high 80s (over 30 °C). Average temperature: 65.8 °F / 18.8 °C. Average precipitation: 0.26 in / 7 mm.
Los Angeles weather in June: June weather in Los Angeles is a mixed bag. The temperatures warm to daily highs of 78.1 °F (25.6 °C) and the dry season is in full swing, but the June Gloom morning fog arrives in earnest. It tends to clear towards the evening though and night times are mild with daily lows of 60.3 °F (15.7 °C). Average temperature: 69.2 °F / 20.7 °C. Average precipitation: 0.09 in / 2 mm.
Los Angeles weather in July: July weather gets better as the month progresses, but it's generally a great month in Los Angeles. The June fog burns off earlier in the day and daily highs average at 83.1 °F (28.4 °C). July is the driest month with rain only happening on one day every 4 years or thereabouts. Average temperature: 73.3 °F / 22.9 °C. Average precipitation: 0.01 in / 0 mm.
Los Angeles weather in August: August is the hottest month in Los Angeles with daily highs averaging 84.4 °F (29.1 °C) with a few days during the month going over 90 °F (29.1 °C). The June Gloom has largely worn off and only occasional mornings have fog in August and most summers there is no rain at all during the month. Average temperature: 74.3 °F / 23.5 °C. Average precipitation: 0.04 in / 1 mm.
Los Angeles weather in September: September might just be the best month for weather in Los Angeles. Daily highs stay very warm at 83.1 °F (28.4 °C) and early in the month, expect a few days to top the 90 °F mark (32.2 °C). While the Pacific Ocean is always cold, the water is at its warmest in September and the hot daytime temperature makes it worth taking a dip. Average temperature: 73.1 °F / 22.8 °C. Average precipitation: 0.24 in / 6 mm.
Los Angeles weather in October: Weather begins declining in October with daily temperatures averaging 6 degrees lower than September at 68.6 °F (20.3 °C) The phenomenon of Santa Ana winds can make a huge difference to how it feels though as hot air from the deserts blows towards the ocean making it feel much hotter. With rain still not arriving, October can be a surprisingly great month to visit Los Angeles for the weather. Average temperature: 68.6 °F / 20.3 °C. Average precipitation: 0.66 in / 17 mm.
Los Angeles weather in November: While Santa Ana winds can still make a positive impact in November, the weather becomes a lot cooler with nighttime lows dropping below 50 °F (10 °C) towards the end of the month. Last week of November can see some rain so pack your umbrella. Average temperature: 62.4 °F / 16.9 °C. Average precipitation: 1.04 in / 26 mm.
Los Angeles weather in December: December is the coolest month of the year in Los Angeles with daily maximums falling to 67.7 °F (19.8 °C) although that's still pretty warm by most people's standards! The start of the winter rainy season means there will be occasional rainy days, but that rain also clears any ocean fog making the remaining days very bright and sunny. Average temperature: 57.6 °F / 14.2 °C. Average precipitation: 2.33 in / 59 mm.
Los Angeles events and things to do by month
If you want to explore the fun side of Los Angeles and attend some of the amazing events and festivals that take place in the city throughout the year, here's a breakdown on the best months to visit to see the best music, parades and food markets.
January in Los Angeles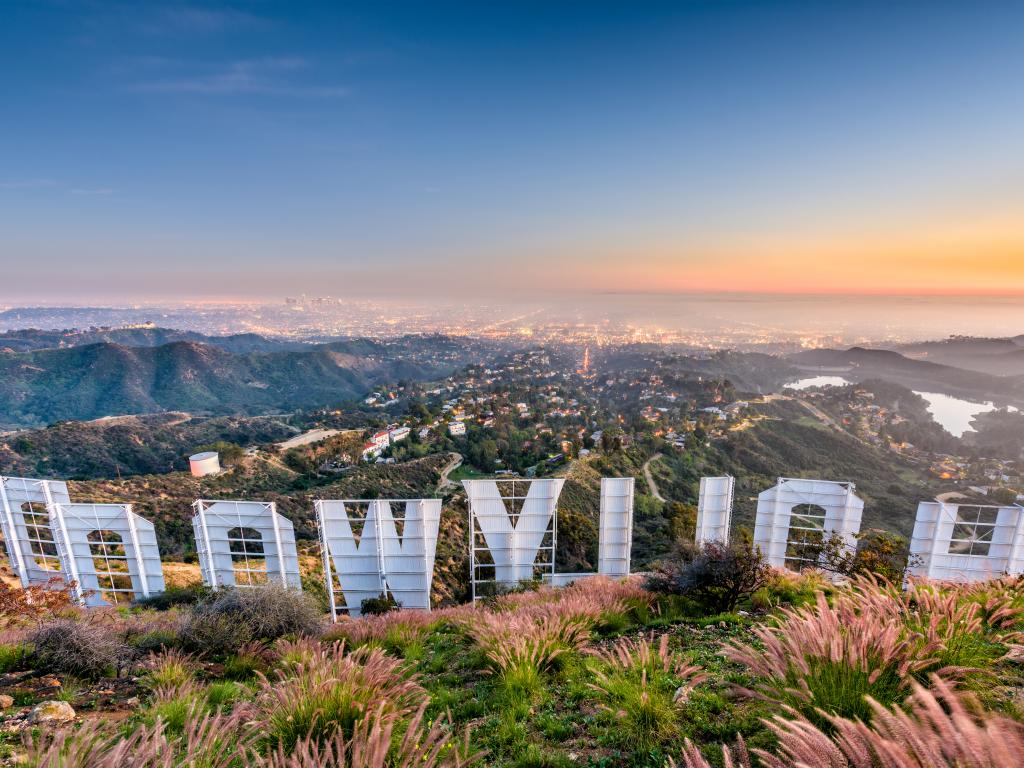 February in Los Angeles
March in Los Angeles
L.A. Marathon - Popular race from downtown Los Angeles to Santa Monica in early March - the runners start before 7 a.m. so set your alarm or you'll miss it!
Latin Food Fest - Popular celebration of Hispanic food and culture at the end of March with restaurants and famous chefs presenting everything from tacos to tequila.
April in Los Angeles
Fiesta Broadway – Happens a few days before the real Cinco de Mayo, this street party with Latin American music on two music stages and local food attracts 200,000 visitors.
Original Renaissance Pleasure Faire - This unique faire has moved around different parts of Los Angeles and California before settling in its current Irwindale location. Since 1963, the faire recreates a 1580s event from Elizabethan England, complete with costumes, stage performances and food. It runs from early April to mid-May.
May in Los Angeles
RuPaul's DragCon - The world's biggest drag event with stage performances, drag acts from around the world and contests in early May.
Long Beach Pride - Annual Pride parade in the Long Beach neighborhood of Los Angeles - not quite as big and famous as the one 30 miles further north in West Hollywood, but a great event organized by and for the local LGBTQ+ community.
Beverly HIlls ArtSHOW - A weekend gathering of artists from around the country who display their art ranging from watercolors to sculpture along Santa Monica Boulevard from Rodeo Drive to Rexford Drive.
June in Los Angeles
July in Los Angeles
4th of July Block Party - The free party to celebrate July 4 with concerts from early afternoon through to the spectacular evening fireworks in Grand Park, downtown Los Angeles.
Anime Expo - The 4-day event in early July is all about Japanese pop culture, complete with cosplay, dance and music performances, K-pop, anime and a lot more.
dineL.A. Restaurant Week - The summer version of this event that runs twice a year with over 300 restaurants all over Los Angeles offering prix fixe meals at a huge discount to their standard menu.
August in Los Angeles
Nisei Week Japanese Festival - Annual festival celebrating Japanese American culture in Little Tokyo over the course of a month which offers everything from fashion shows to the World Gyoza Eating Championship.
Long Beach Jazz Festival - Very popular jazz event over 3 days in August - make sure you get your tickets well in advance as these can sell out very quickly.
Beverly HIlls Food and Wine Festival - top chefs and restaurants from Los Angeles and New York come together in mid-August. Tickets are expensive pushing $200, but include all the food and drink. This is the only festival I know with an official dress code of Sexy Casual.
September in Los Angeles
October in Los Angeles
AIDS Walk Los Angeles - The world's first AIDS Walk is still going strong after 35 years, raising funds and highlighting the fight against AIDS for the 60,000 living with it in the Los Angeles County.
Halloween Carnaval - Live music, amazing costumes and bags of fun along the Santa Monica Boulevard - note that you have to dive into one of the bars and clubs along the way if you want to have a drink.
November in Los Angeles
L.A. Auto Show - One of the best auto shows in the world happens over 10 days at the end of November - known for a number of world debuts for major manufacturers and a focus on electric cars.
Los Angeles Coffee Festival - A 3-day event dedicated to everything coffee. There's tastings, coffee master classes and even coffee art!
December in Los Angeles
Marina del Rey Holiday Boat Parade - A fireworks display marks the start of the evening boat parade where vessels big and small pass decorated in Christmas lights. Best of all it's free to attend!
Hollywood Christmas Parade - The festive annual parade is a perfect family occasion running along Hollywood Boulevard from the Chinese Theater and then coming back along Sunset Boulevard.
Decibel Beer and Metal Fest - If you want a break from all the elves and reindeer, the Beer and Metal Fest in Santa Ana does exactly what it says on the tin - expect loud music and plenty of craft beer.