Road Trip from Los Angeles to Lake Arrowhead and Big Bear Lake
If you're up for a short but incredible scenic adventure, then the trip from Los Angeles to Lake Arrowhead and Big Bear Lake is a real get-back-to-nature experience for anyone looking to escape city life.
The 100-mile road trip from Los Angeles to Lake Arrowhead and Big Bear Lake takes 2 hours and 20 minutes to drive. Key stops include Gold Mountain, Wildwood Park and Green Valley Lake as well as Delamar Mountain, Keller Peak and Boulder Bay Park.
There are a number of other great things to see and do on this journey, so please read on until the end to discover all the fantastic elements of this wonderful drive from Los Angeles to Lake Arrowhead and Big Bear Lake - including where to stay close by and the best time of year to travel.
How far are Lake Arrowhead and Big Bear Lake from Los Angeles and how long will the road trip take?
The best route from Los Angeles to Lake Arrowhead and Big Bear Lake spans a distance of just over 100 miles and takes 2 hours and 20 minutes of non-stop driving to reach the final lake.
From Los Angeles, most of the drive towards Lake Arrowhead and Big Bear Lake is pretty much a straight road. So this means the route is a relatively easy one to complete.
While you could easily do a return trip from Los Angeles in a day, with so many points of interest en route, you really should take a couple of days and make a couple of overnight stops to really appreciate the views.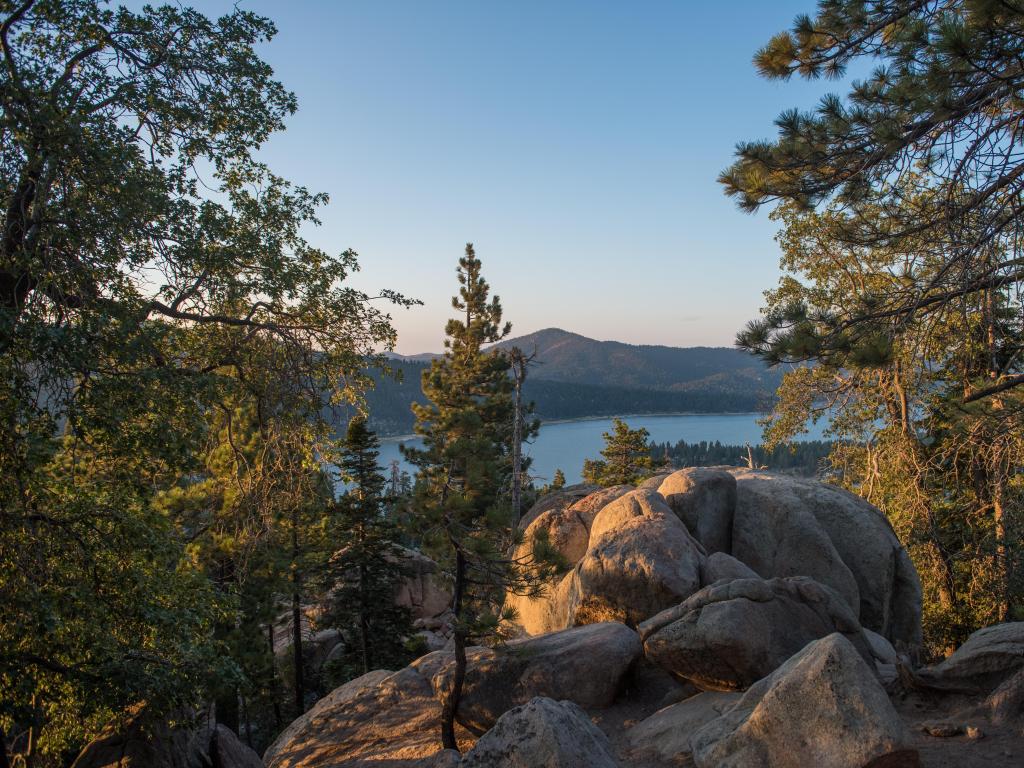 Best road trip route from Los Angeles to Lake Arrowhead and Big Bear Lake
There are a few ways to get to the Rim of the World Scenic Byway from Los Angeles but the one we would recommend, along Route 210, is also the quickest.
This simple route allows makes the drive pretty straightforward - giving you plenty of opportunities to check out a range of sights and attractions along the way.
Road trip route from Los Angeles to Lake Arrowhead and Big Bear Lake
Leave Los Angeles on US-101, before taking Interstate 10 east until you exit at 31B and follow the I-605 north a short distance. Take I-210 and continue east alongside the stunning Mount San Antonio.
You could spend some time visiting San Bernardino, where you can visit the nearby San Nernardino National Forest, or follow CA-18 (Rim of the World Scenic Byway) to Lake Arrowhead.
Continue following the road through Running Springs and Green Valley Lake, before arriving at your destination of Big Bear Lake.
From here you're close to San Gorgonio Mountain, or if you're looking to extend your trip further, you could head over to the Joshua Tree National Park, or Palm Springs, via the San Gorgonio and Mt San Jacinto State Park.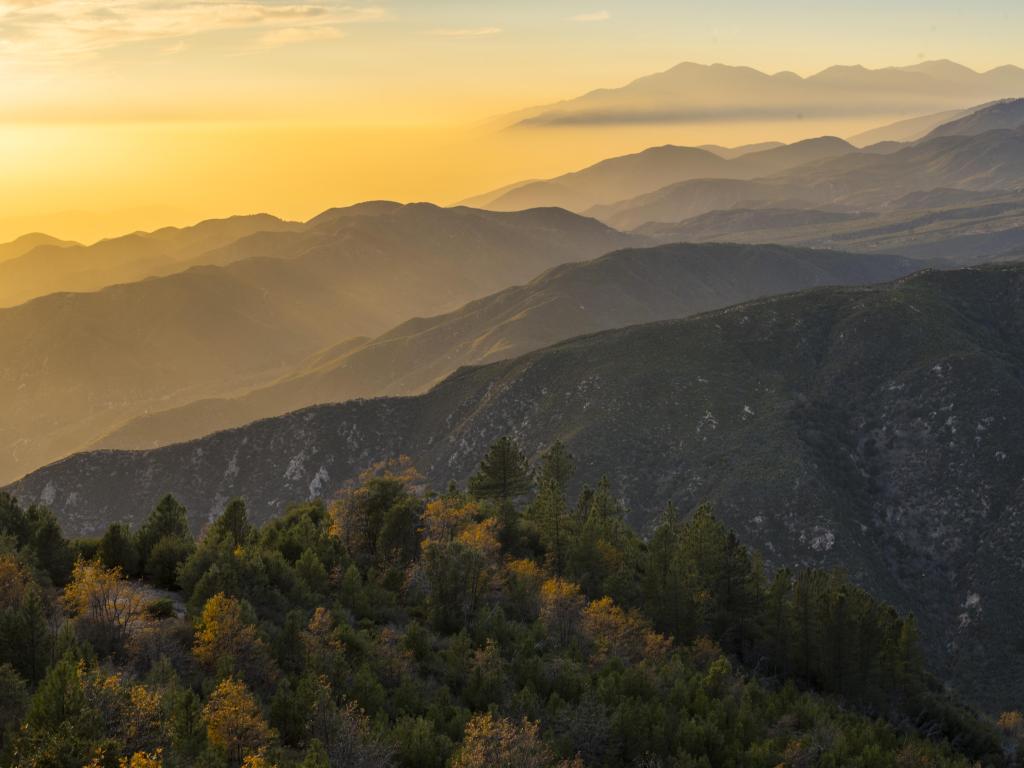 Best places to stop between Los Angeles to Lake Arrowhead and Big Bear Lake
If you are looking to extend your trip from Los Angeles to Lake Arrowhead and Big Bear Lake with a couple of overnight stops en route, there are lots of great places to choose from.
Of all the great scenic locations you'll pass, these are the ones you won't want to miss out on:
Get back to nature at Lake Arrowhead
While you could complete this trip easily in a day, a much better option is a stopover near at least one of these fantastic lakes you'll pass. And with Lake Arrowhead just a 40 minute drive from Big Bear Lake, staying in this area is an excellent idea.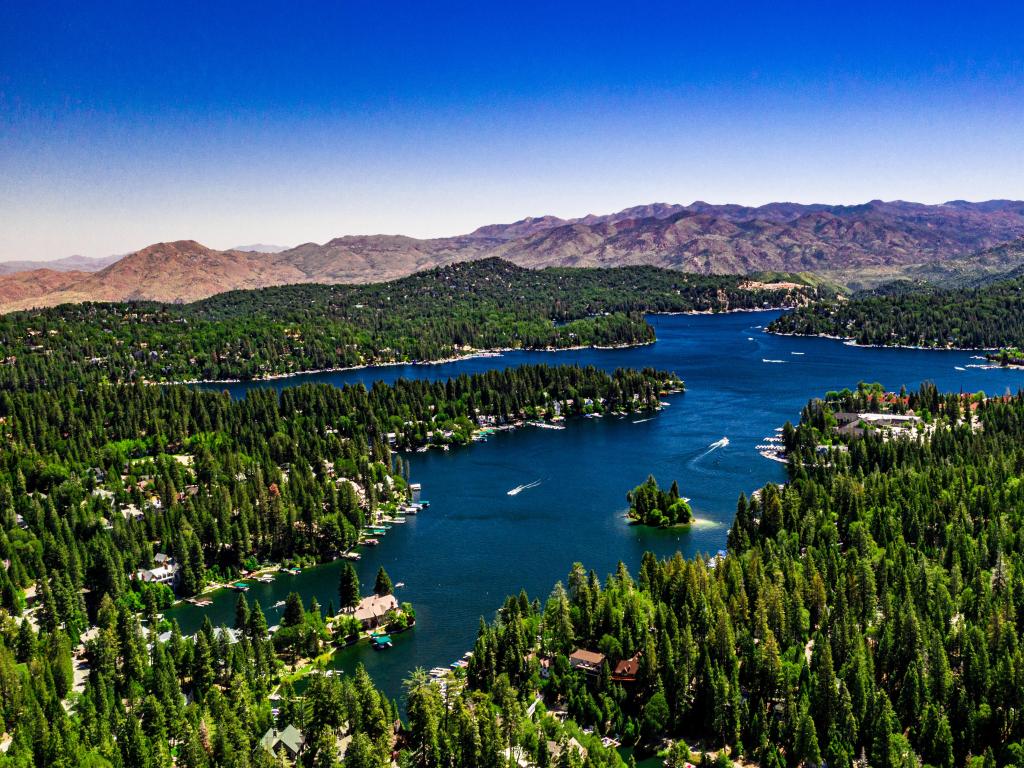 Iconic Lake Arrowhead is situated around the San Bernardino Mountains of San Bernardino County, California. Visitors can enjoy the nearby San Bernardino National Forest and the eponymous Lake Arrowhead Reservoir.
This area has its fair share of very good hotel and overnight accommodation options. But for luxury, location and views, UCLA Lake Arrowhead Lodge is a great option.
This 4-star hotel is close to the center of Lake Arrowhead and offers an onsite restaurant, outdoor swimming pool and a relaxing hot tub. Guests can enjoy the beautiful gardens or simply relax in the beautifully presented rooms and enjoy mountain views.
As an added bonus, there's also free private parking onsite and great options for hiking right on your doorstep. It's a real get back to nature resort and an ideal place to relax before embarking on the final stretch of your trip.
A breathtaking stay at Big Bear Lake
The best way to experience Big Bear Lake is to stop for at least one night. This small city in Southern California sits on the banks of fish-filled Big Bear Lake. It's known for Bear Mountain ski resort, with its terrain parks and learner slopes, and family-friendly Snow Summit ski resort.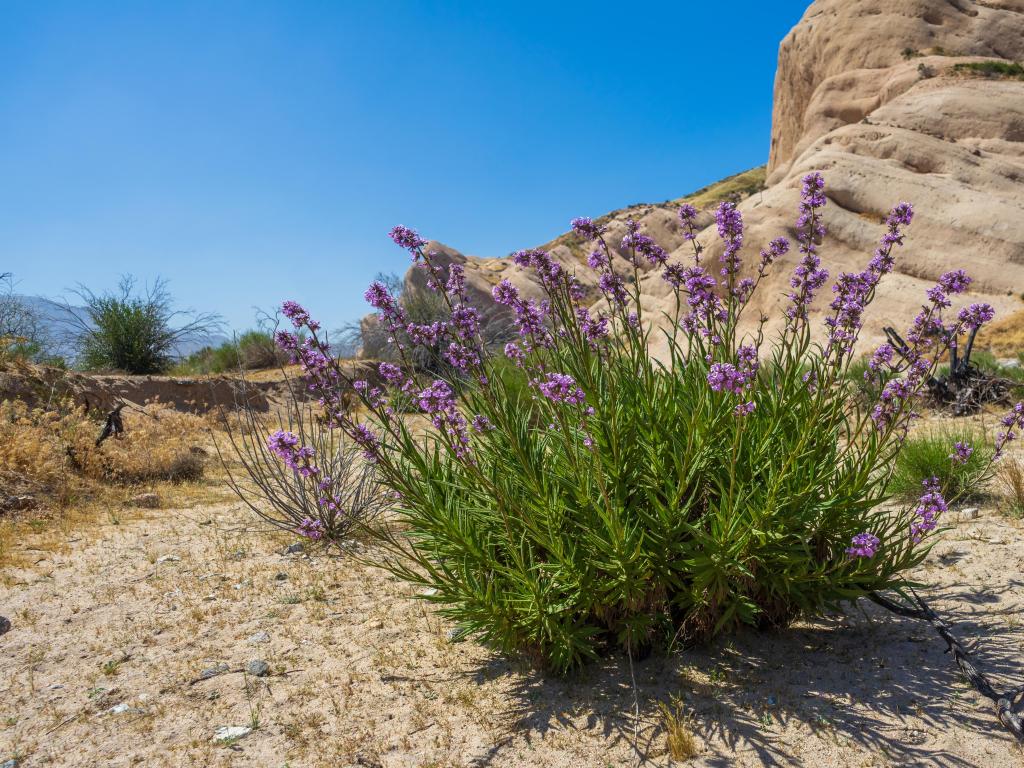 You don't have to be a lover of winter sports though, Big Bear Lake Village also features boutiques, gift shops and restaurants. For nature lovers, the rugged San Bernardino National Forest with its mountain trails surround the city.
There are plenty of options for hotels in this region, but one of the best is the Bluegreen Vacations Big Bear Village. This resort is just a 10 minute walk to the Big Bear Lakeshore and you're only 15 minutes drive away from skiing at the Snow Summit and Bear Mountain.
The accommodation itself is beautiful presented with stylish rooms equipped with a spa bath and two fireplaces. There's also a seasonal outdoor swimming pool and free parking onsite.
After exploring the stunning nearby scenery, you can relax at the resort's poolside terrace or simply unwind at your own private balcony - what a perfect way to enjoy watching the sun set after the perfect road trip.
Things to see on a road trip from Los Angeles to Lake Arrowhead and Big Bear Lake
With such a variety of things to see and do on a road trip from Los Angeles to Lake Arrowhead and Big Bear Lake, you could easily spend several days seeing them all.
However, if you are pressed for time, here's a list of some of the best things this trip has to offer: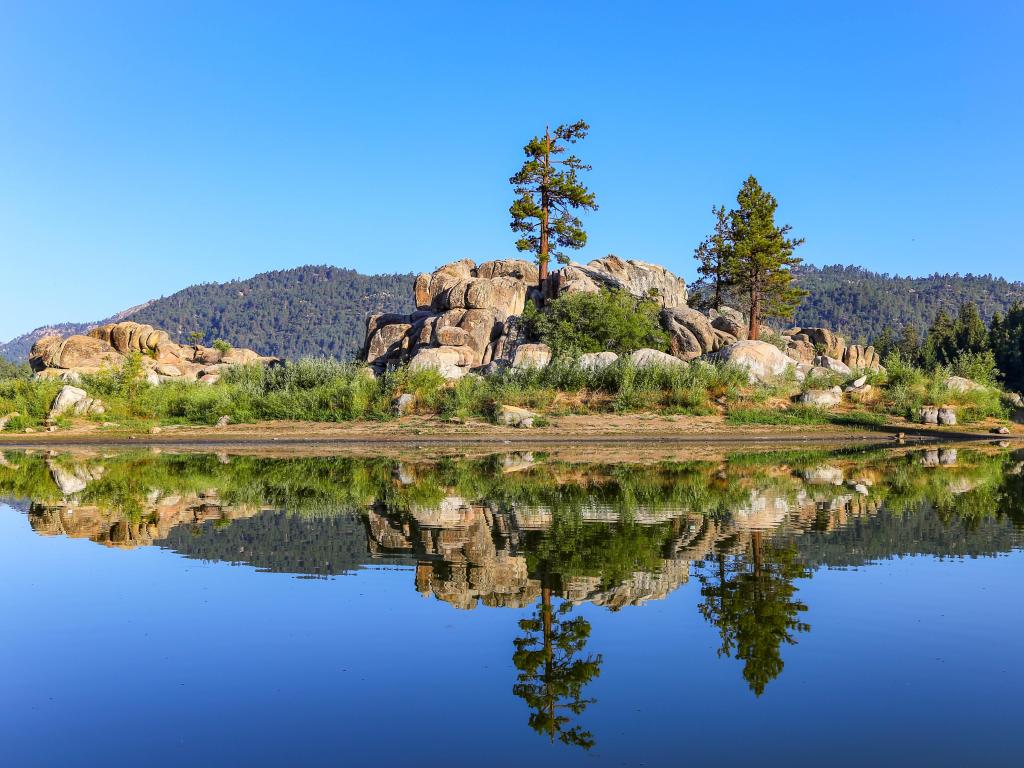 Huntington Library - Famous for its collections of papers by George Washington and Thomas Jefferson, there's also a nice art museum and botanical gardens to see here too.
Marshall Canyon Golf Course – Discover this beautiful 18-hole golf course, established in 1966, and located in the foothills above La Verne in California.
Claremont – Explore this lovely college town with a stunning location, friendly vibe, and quaint architecture. It also offers an eclectic range of shops, cafes, restaurants, and bars.
Rancho Cucamonga – This city is found on the historic Route 66. Home to the Pacific Electric Inland Empire Trail, Sapphire Falls, and the Joseph Filippi Winery.
San Bernardino National Forest – A great place to get in touch with nature, this forest is close to a million acres in size and features gorgeous pine trees and the Big Bear Lake. It's a lovely spot to fish or hike.
Wildwood Park – Discover this picturesque park with plenty of nature hikes, biking and horseback riding opportunities. It's a great place to escape the city and enjoy nature.
The Arrowhead Springs Hotel - Grandiose 69-room white hotel standing imperiously over the San Bernardino Valley. Former haunt of major Hollywood Celebrities like Charlie Chaplin, Judy Garland and Clark Gable.
Rim of the World Viewpoint – This beautiful scenic lookout on highway 120 has incredible sweeping views of the stunning Californian landscape.
Red Rock Scenic Overlook – Offering vistas of the 'front range' of the San Bernardino National Forest and well into the valleys, there's also great nearby trails offering amazing views.
Heaps Peak Arboretum – Discover this unique arboretum and its botanical gardens with a diverse collection of native trees, shrubs, wildflowers, and other plants.
Sky Park at Santa's Village – A fantastic outdoor adventure park offering biking, climbing, zip lining and Christmas themed entertainment.
Green Valley Lake – Surrounded by national forests, this picturesque town, which is located at an elevation of 7000 feet, has a beautiful lake that is great for swimming and fishing.
Keller Peak – Hike up to and enjoy the view from the oldest fire lookout in the San Bernardino Mountains. It offers superb views right across the San Bernardino valley.
Butler Peak – Another fire lookout, this time located between the towns of Green Valley Lake and Fawnskin. It offers spectacular 360 degree views of San Gorgonio Peak, the Big Bear Valley, Lake Arrowhead, Apple Valley, and the Inland Empire.
Snow Valley Mountain Resort – A Popular family friendly ski resort in Running Springs, it's also the oldest continually operating ski resort in Southern California.
Boulder Bay Park – A great place for fishing, canoeing, and kayaking in the summer. If you're a fan of winter sports, it also a great place for sledding in the snow in the winter.
Delamar Mountain – A prominent peak near Big Bear City, Delamar Mountain features a 12-mile trail with stunning views of scenic wildflowers and trees.
Bertha Peak Trail – A 7 mile dog-friendly trail near Big Bear Lake that also showcases a stunning lake. It's popular for those who enjoy hiking or running.
Gold Mountain - A notable peak northeast of Big Bear Lake which is popular for hiking. It also offers sensational panoramic views from the top of Big Bear, Sugarloaf Mountain and the San Gorgonio massif.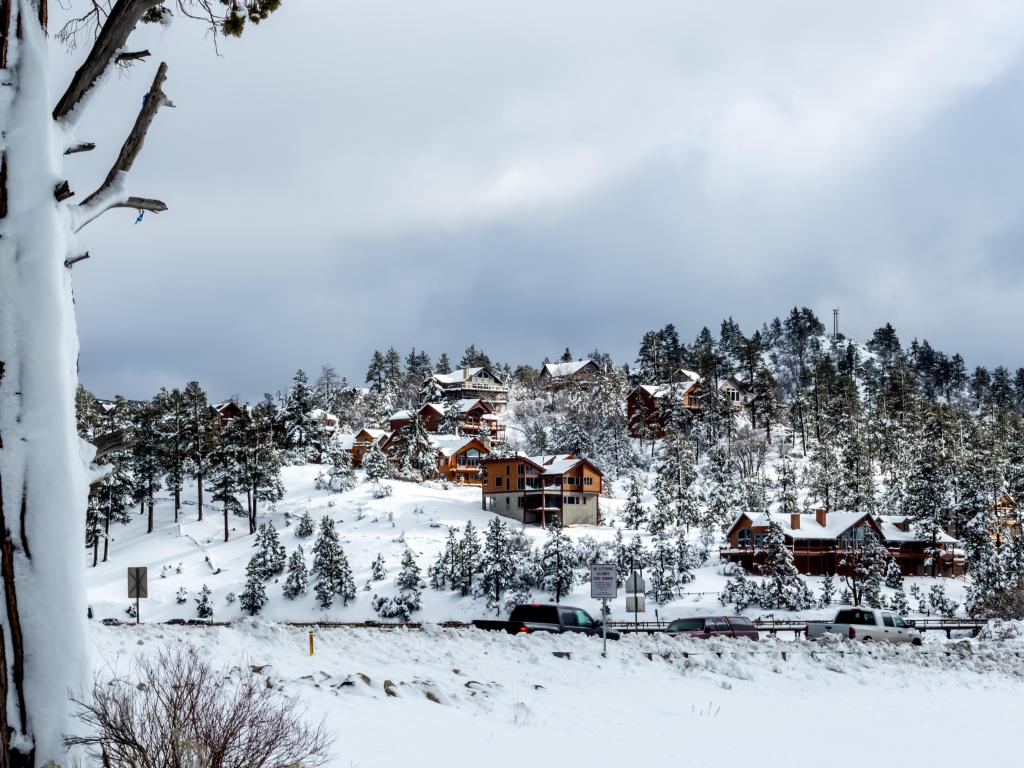 Best time to go on a road trip from Los Angeles to Lake Arrowhead and Big Bear Lake
The best time to go on a road trip from Los Angeles to Lake Arrowhead and Big Bear Lake very much depends on what you would like to get out of the experience as both places are very good year round destinations.
If you are heading out specifically for the snow, then the best time to visit is between late December and late February. With temperatures averaging between 14 and 22 degrees Fahrenheit, you'll be able to enjoy winter sports and skiing.
That said, with plenty of snow in winter, you will find the ski resorts are likely to be busy and you might find some roads difficult to travel. If you'd rather avoid the coldest months, you could make the trip in summer and instead make the most of the fantastic forests and parks en route.
Summer in this region isn't quite as hot as some parts of California can get. Expect warm days in the 80s but cooler in the evenings into the high 50s. The great thing about this trip is that you can escape the busy cities and cool off in the stunning lakes.
If you really want to beat the crowds, then planning your journey between the Spring or Fall is a great option. As well as avoiding the huge number of tourists, you will also experience beautiful wildflowers or autumnal colors.
Finally, if you'd like to combine your trip with a festival or two, then Big Bear Lake has plenty to choose from. Whether you aim to arrive in time for the 4th of July celebrations or Oktoberfest between September through to November, you'll be sure of an unforgettable trip.