Road Trip from Los Angeles to Mount Rushmore
Yearning for a bit of an adventure? Then an epic trip from Los Angeles to Mount Rushmore will give you plenty of opportunities to shake off the cobwebs and enjoy some of the most iconic cities, legendary landmarks and exciting attractions the United States has to offer.
The 1,310-mile road trip from Los Angeles to Mount Rushmore takes about 19 hours and 30 minutes to drive. Stop off points can include Las Vegas, the Grand Canyon, Salt Lake City, San Bernardino National Forest, Red Rock Canyon and the Grand Canyon.
There are plenty more fantastic things to do and points of interest to explore on this trip. So please keep reading until the end to find out all you can see and do on this fabulous drive.
How far is Mount Rushmore from Los Angeles and how long will the road trip take?
Comparison of road trip route options between Los Angeles and Mount Rushmore

| Route | Distance | Driving Time |
| --- | --- | --- |
| Utah Route | 1,310 miles | 19 hours 30 minutes |
| Colorado Route | 1,440 miles | 21 hours 50 minutes |
Los Angeles and Mount Rushmore are separated by a distance of 1,310 miles which will take you 19 hours and 30 minutes of nonstop driving before reaching the famous national memorial in South Dakota. This does not account for any detours you might want to take.
This straightforward drive mostly takes place on Interstate 80 (I-80) and passes through the vibrant Salt Lake City in Utah as well as past the beautiful and rugged mountain scenery of Wyoming.
There is another route that passes through the picturesque town of Moab, the fantastic sights of Denver and through some of the more stunning national parks and forests of Colorado.
The Colorado route mostly follows interstates as well, making it a smooth and enjoyable trip. It will take you a few extra hours to drive, covering 1,440 miles in less than 22 hours. However, the stunning sights and attractions you will enjoy will make up for the relatively longer drive.
As both routes cover vast distances, we recommend taking at least a week to make this journey an unforgettable experience, even though this trip can be done over a period of 3-4 days if you have time constraints.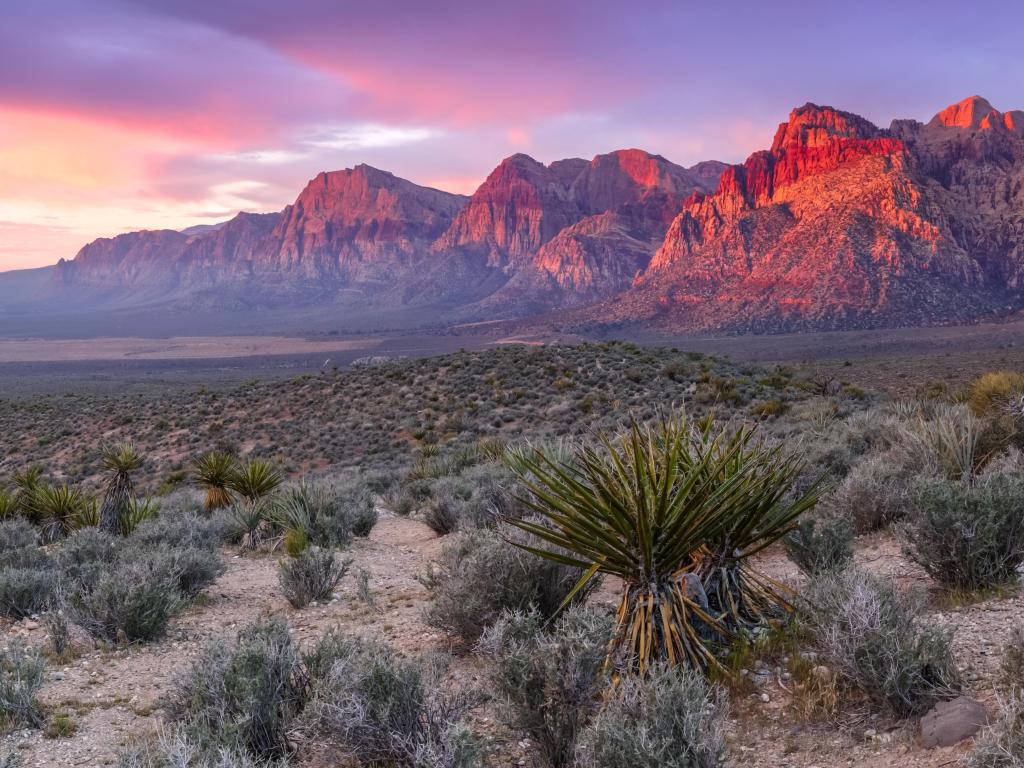 Best road trip route from Los Angeles to Mount Rushmore
What is great about setting off on such an epic road trip is that there is no such thing as a "best" route and how to get to your destination will depend solely on your preferences!
Both of our recommended routes will take you through some legendary cities like Las Vegas, and some of the most scenic parks and forests before taking you to possibly one of the most famous sights in the world; Mount Rushmore.
As they are both fairly uncomplicated drives on interstates, taking these routes also enables you to easily visit lots of different cities, towns, sights and attractions along the way.
How to drive from Los Angeles to Mount Rushmore
The map above shows our suggestions for the best road trip routes between Los Angeles and Mount Rushmore. Keep reading for detailed descriptions of both routes, where to stay on either, and the best things to do on the way.
Utah Route
Out of Los Angeles, make your way along the Interstate 10 (I-10) and take Exit 58A for Interstate 15 (I-15) as you drive through San Bernardino and Angeles National Forests.
Follow the interstate and you will have the option to make a detour to Death Valley National Park by taking Exit 246 for CA-127 just before you reach Mojave National Preserve.
If not taking this detour, drive past Mojave National Preserve to reach the neon lights of Las Vegas. Here you can visit Red Rock Canyon National Conservation Area before leaving the city.
Just before you reach Zion National Park, you can take Exit 16 for UT-59 and then AZ-389 to visit the Grand Canyon. Turning left onto US-89A past Freedonia will take you to this magnificent national park.
If you choose to not visit the Grand Canyon, following I-15 will then take you past Zion National Park and Dixie National Forest. Drive past Sulphurdale and into Salt Lake City past Utah Lake.
After your visit to the city, follow Interstate 80 (I-80) to drive past Ashley National Forest. Past Rock Springs, you will have the option to detour the famous Dinosaur National Monument by following US-191.
Take Exit 211 as you approach Rawlins in Wyoming. This will take you on US-287 and then WY-220, where you will have the opportunity to admire Casper Mountain.
Past the city of Casper, merge onto Interstate 25 (I-25) and take Exit 210 for WY-259 and then WY-387. Drive through Thunder Basin National Grassland and follow US 16-E past Newcastle to reach your destination at Mount Rushmore through Black Hills National Forest.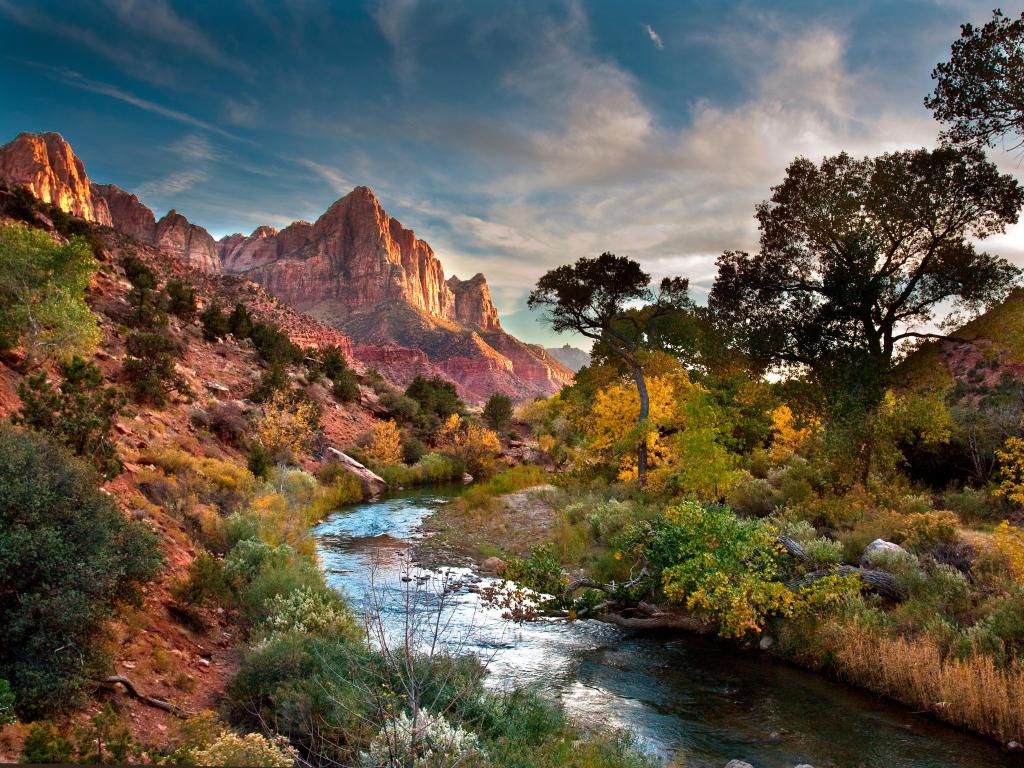 Colorado Route
Follow the same directions as the Utah Route until you reach Sulphurdale, and take Exit 132 for Interstate 70 (I-70). Drive through the stunning scenery of Monroe and Joseph Peaks.
You will have the option to visit Capitol Reef National Park and Manti-La Sal National Forest before reaching Moab by taking Exit 182 for US-191. Drive past Arches National Park to reach the city.
After you visit Moab, follow the same route back to get back on I-70 and continue following the interstate. You will drive past the breathtaking landscapes of McInnis Canyons as well as the White River, Arapaho and Roosevelt National Forests before reaching Denver.
After your visit, follow I-25 out of the city. Here, you can take Exit 257 for US-34 to visit the fantastic Rocky Mountain National Park.
If not making this detour, keep following I-25 towards Fort Collins. Take Exit 17 for US-85 past Ranchettes. Driving past Wind Cave National Park, you will arrive at your destination through Black Hills National Forest.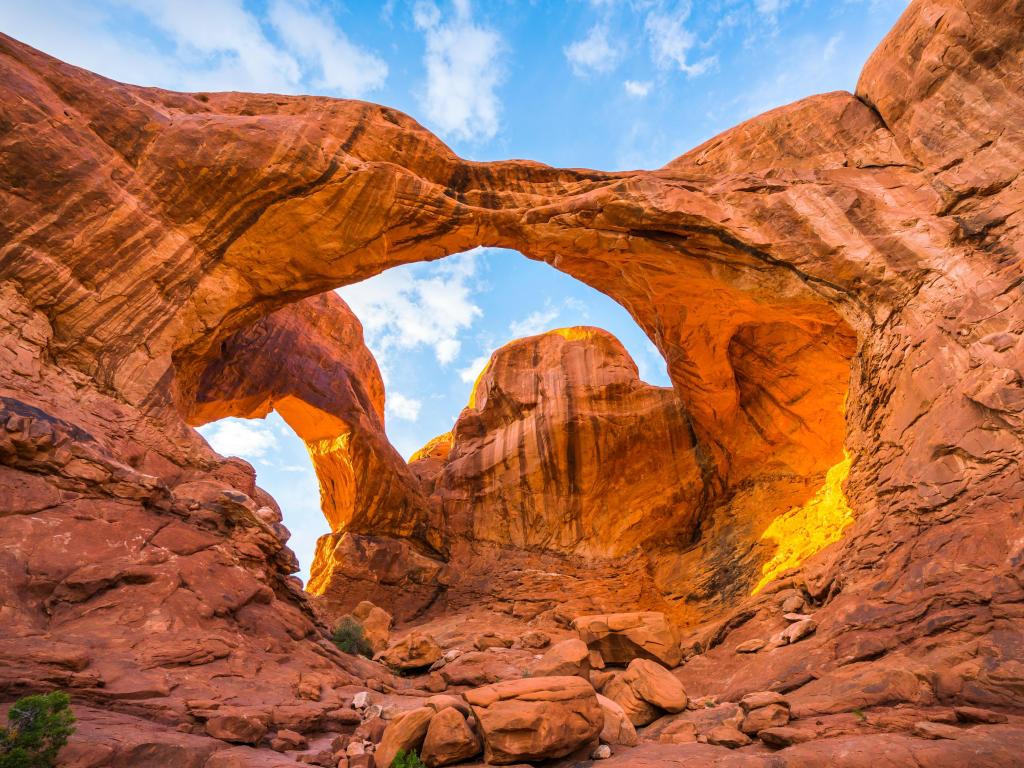 Best places to stop between Los Angeles to Mount Rushmore
The mammoth road trip from Los Angeles to Mount Rushmore provides plenty of opportunities for detours and overnight stays.
When planning to undertake an excursion like this, you might want to check our top recommendations for where to stop.
Try your luck in Las Vegas
Located about 5 hours and 20 minutes from Los Angeles (via either route), Las Vegas is the perfect stop for an overnight stay. You will find something new to explore and enjoy in this fast-paced, neon-lit city, even if you have visited before.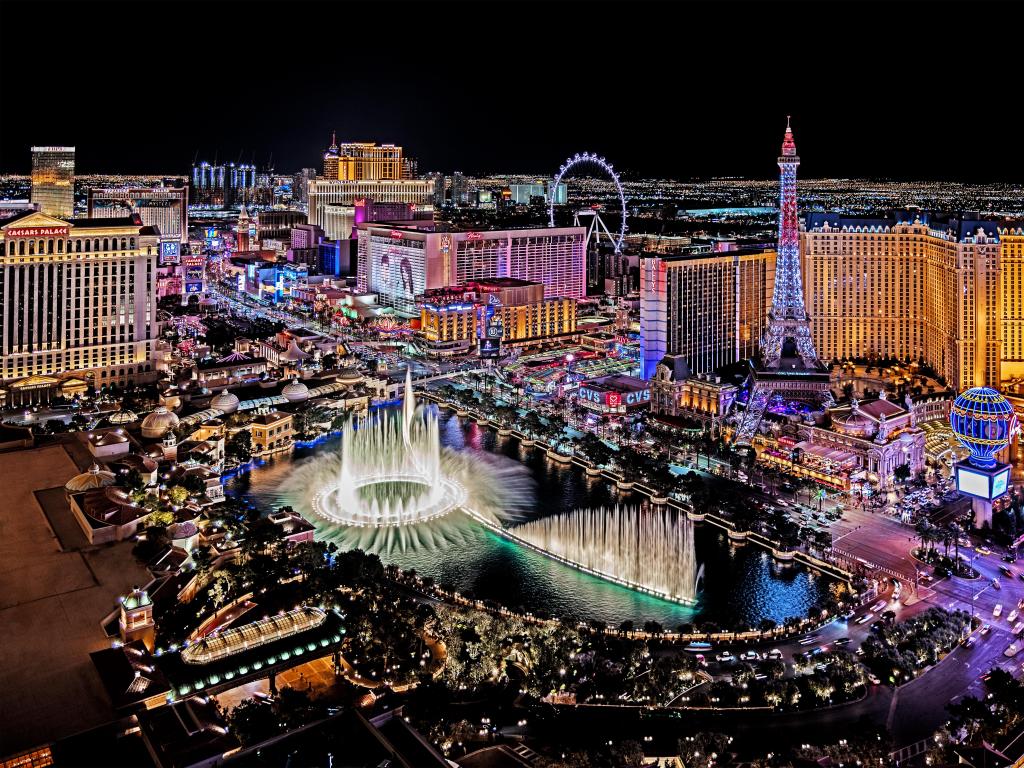 You won't be short of choices for accommodation in Vegas, but nothing can top The Bellagio when it comes to luxury and glamour. This legendary hotel, seen in movies more than most actors, offers the best of the best when it comes to a stay in Sin City.
You might want to stay in and enjoy the casino on-site or head out to explore the city. Located in the heart of the strip, this luxury 5-star resort is close to all the major tourist attractions including the High Roller, MGM Grand, Freemont Street and the Stratosphere Tower.
If you are looking for something different to do with your day, you can take a short drive to the Red Rock Canyon National Conservation Area. This park is so close to the city but couldn't be more different with its tranquil hiking trails and fascinating geological formations.
Whether you choose to explore the vibrant city or the beautiful outdoors, you will want to rest and relax in utmost comfort after a long day. The hotel boasts five courtyard swimming pools, lush botanical gardens, a world-class spa and numerous dining options to suit most palates.
Explore the history of Salt Lake City
Salt Lake City is about 10 hours away from Mount Rushmore National Memorial via our Utah Route and is the perfect stop before the last leg of your trip. The state capital of Utah is known for its rich history and fantastic world-class ski resorts.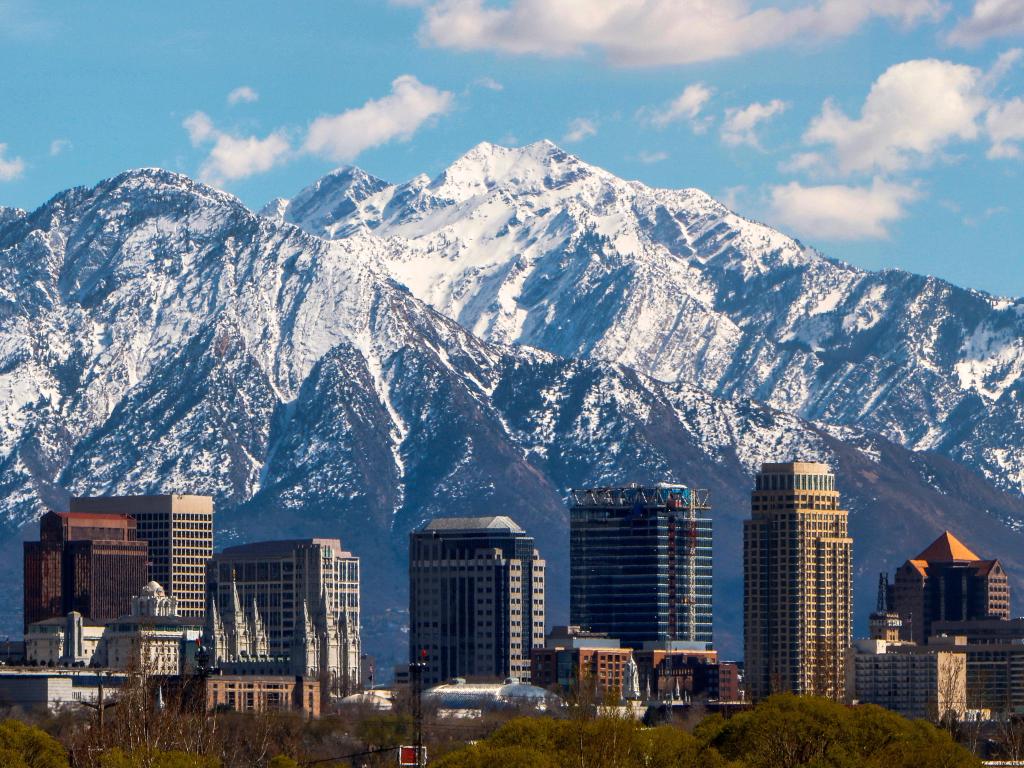 The city offers many excellent hotel options for the visitor and of the best of them is the Grand America Hotel with its chic décor, beautifully appointed rooms with balconies to admire the views from and top-notch amenities such as a fabulous spa.
Situated in the vibrant downtown center, the hotel is close to the area's main attractions including Temple Square, the Natural History Museum, Hogle Zoo and the Joseph Smith Memorial Building.
If you are visiting in winter, you might want to check out some of the world-famous ski resorts in the area. Alta Ski Area is one of the most popular winter sports centers in Utah and is only about 30 minutes' drive from the hotel.
After your adventures on the slopes or in the city, you can try one of the many eateries and bars downtown for a night out, or head to the hotel to unwind in one of the pools or the spa before heading to the upscale Garden Café for a cocktail or a meal.
Take in the view of the rugged mountains in Denver (Colorado Route)
Known as the "Mile High City", Denver is located about 6 hours away from Mount Rushmore and is adjacent to the famous Rocky Mountain National Park. This scenic and cultural city offers something for everyone.
Rocky Mountain National Park is one of the most visited national parks in the country and it is easy to understand why; its majestic scenery of snow-capped peaks and lush valleys is breathtaking. It also offers opportunities for outdoor activities such as hiking and rock climbing.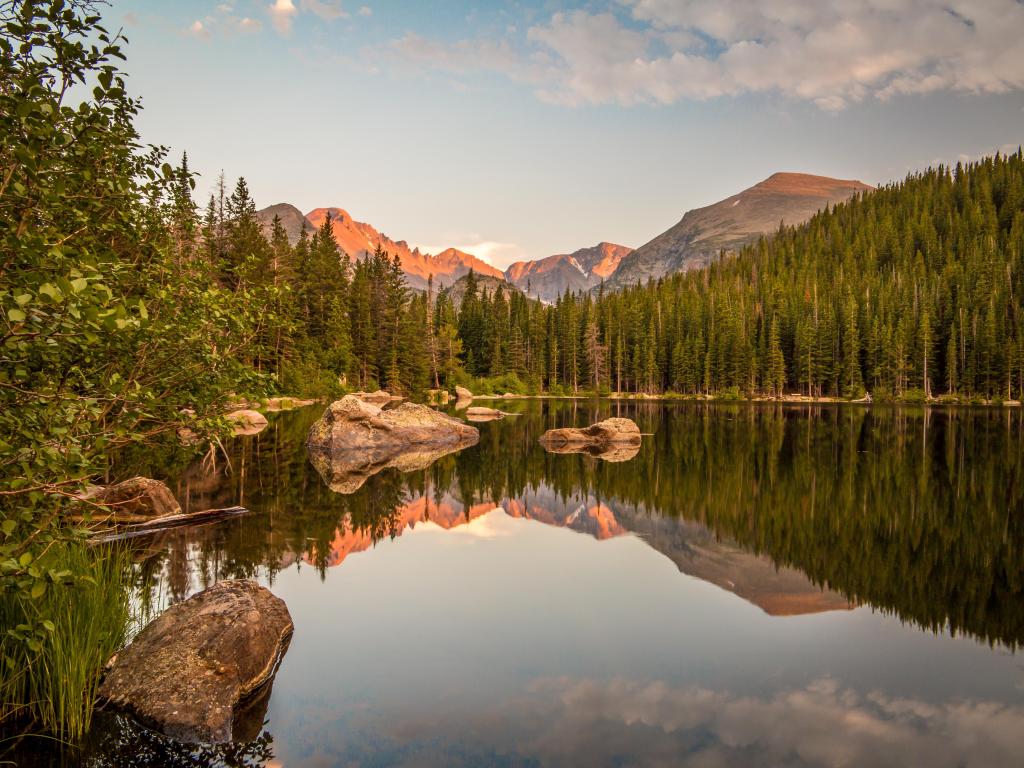 If you are feeling less adventurous but still want to admire the mountain scenery, Limelight Hotel Denver will be the perfect choice of accommodation for you, with its stunning views and luxurious interiors.
Located in the heart of downtown, you will be able to visit Larimer Square, the Museum of Contemporary Art Denver Confluence Park, and the Centennial Gardens on foot for an easy-going day of stimulating activities.
Make sure to sample a local beer while you are exploring downtown as Denver is famous for its local breweries. You might want to skip the meal options while out and head to the hotel instead to dine at one of its popular restaurants. Just make sure to make reservations!
Things to see on a road trip from Los Angeles to Mount Rushmore
There are so many things to see and do on this road trip of a lifetime from Los Angeles to Mount Rushmore that deciding where to visit can seem a bit daunting at first.
The routes incorporate a wide range of cities, towns, tourist attractions and places of outstanding beauty, so many that you could easily spend a month visiting them all.
If you only have a short timeframe available to you though, worry not. We have drawn up this list of some of the most interesting spots to visit.
Both Routes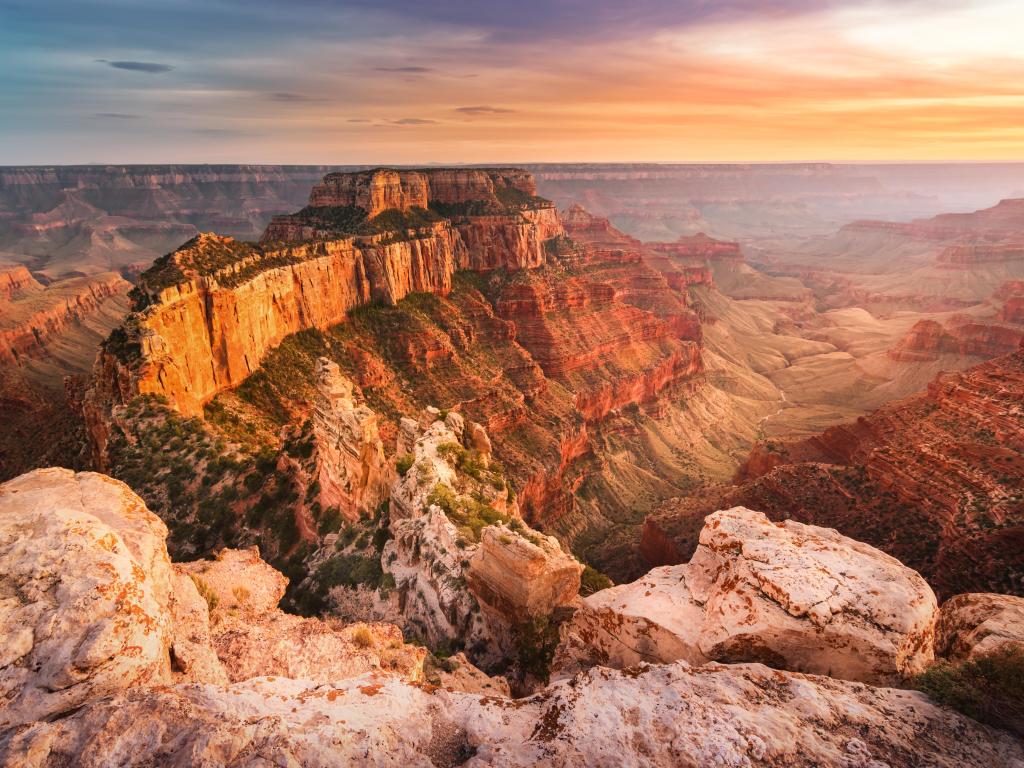 San Bernardino National Forest, Big Bear - A stunning forest with magnificent palm trees that spans almost a million acres. Great spot for fishing, hiking and being at one with nature.
Mojave National Preserve, Essex - Wonderful desert terrain in Southern California that features cinder cone volcanoes, impressive sand dunes, a big forest of Joshua trees, and endless patches of spring wildflowers.
Death Valley National Park, California and Nevada - Largest national park in the continental USA, covering over 5,270 square miles. Simultaneously North America's driest and hottest spot, has recorded the highest temperature of 134 degrees Fahrenheit.
Red Rock Canyon National Conservation Area, Las Vegas - Located in the Mojave Desert, this conservation area is known for its towering red sandstone peaks, the Keystone Thrust Fault, and fascinating Native American petroglyphs. It also boasts splendid panoramic views along a 13-mile scenic drive. You might need to make a reservation for a timed-entry slot, so check the official website before traveling.
Las Vegas, Nevada - Glitzy strip of bright lights and hedonistic fun in the heart of the Nevada desert. Known for its gambling opportunities, world-class entertainment, luxury hotels and many famous tourist attractions.
Lake Mead National Recreation Area, Boulder City - America's first and largest national recreation area. Spread across 1.5 million acres, this fantastic landscape of mountains, valleys, canyons and two lakes is an excellent location to swim, hike, fish, boat, cycle and camp.
Hoover Dam, Nevada - Straddling the Arizona/Nevada border this impressive and iconic feat of engineering, which was completed in 1936, is the most-visited dam in the world.
Grand Canyon National Park, Arizona - One of America's most recognizable sights, these layered formations of red rock showcase millions of years of geological history. Check out the magnificent views from Mather Point and the Yavapai Observation Station.
Cedar City, Utah - 'The Gateway to Utah's National Parks'. An excellent spot for hiking, skiing, biking, boarding and stargazing. Also known for its impressive attractions like the Cedar City Utah Temple and Cedar Breaks National Monument as well as for hosting an annual Shakespeare Festival and the Utah Summer Games.
Zion National Park, Utah - Utah's first national park, you can follow the footsteps of the native people and pioneers as you marvel at the massive colorful sandstone cliffs. If you'd like to hike up to Angels Landing, you will need a permit and will need to make a reservation. Check the Zion National Park's website for more details.
Dixie National Forest, Utah - Stretching 170-miles across southern Utah, this forest is the home to Red Canyon, which is one of the most spectacular colored cliff canyons in the state.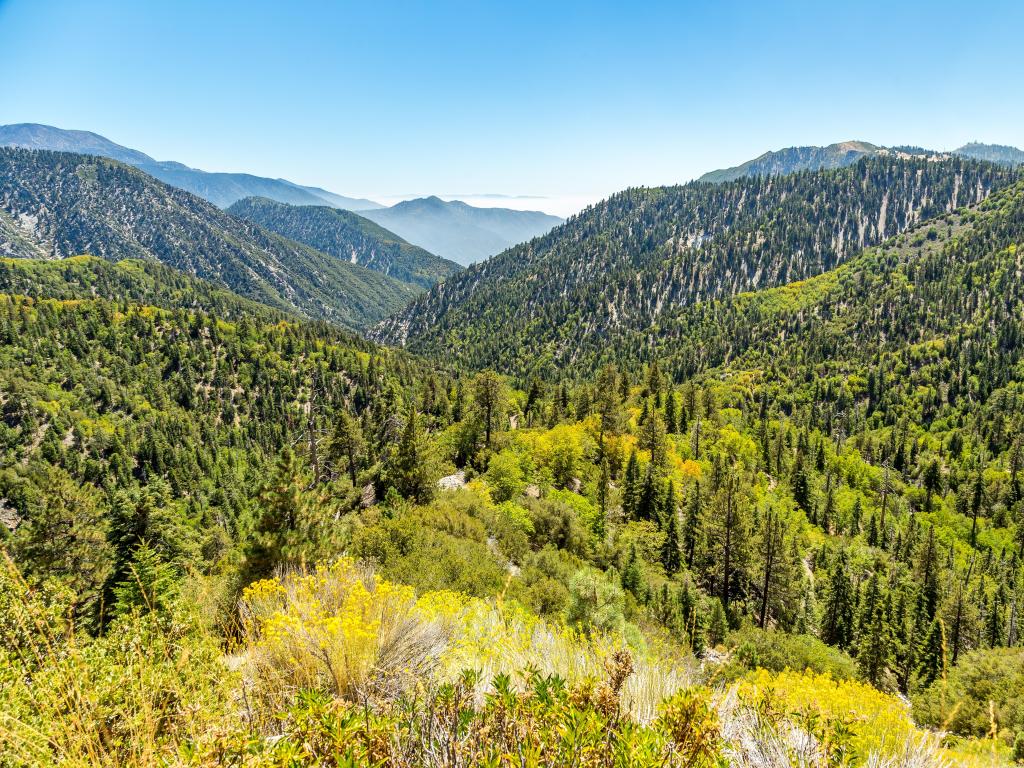 Utah Route
Fishlake National Forest, Richfield - A beautiful forest replete with majestic aspen trees, lush mountain meadows and the largest natural mountain lake in Utah. A great spot for fishing and birdwatching, as well as spotting elk, deer, black bears, cougars and moose.
Provo, Utah - Home to Brigham Young University and a number of exceptional museums. Overlooked by Y Mountain, which can be accessed via a number of hiking trails and showcases fantastic panoramic city views.
Salt Lake City, Utah - State capital of Utah. Known for being the religious center of the Mormons and its fabulous skiing and outdoor recreational opportunities.
Great Salt Lake, Utah - The largest saltwater lake in the Western Hemisphere, offering plenty of sailing, kayaking, hiking, biking and birdwatching opportunities.
Casper Mountain, Wyoming - Iconic peak in central Wyoming, boasting dense forests, sensational views and hundreds of species of flora and fauna.
Bighorn National Forest, Sheridan - The sister range of the Rocky Mountains, spread across 1.1 million acres. Features imperious snow-capped mountains, alpine meadows, jagged cliffs and breathtaking lakes.
Black Hills National Forest, South Dakota - 1.2 million stunning acres of outstanding natural beauty. Featuring forested hills and mountains, it is an excellent place for hiking, biking and running along its many miles of trails.
Wind Cave National Park, South Dakota - One of the longest and most complex caves in the world, noted for its sensational calcite formations which are better known as boxwork.
Crazy Horse, Rapid Creek - Mountain monument still under construction in the Black Hills of Custer County, South Dakota. Once finished it will depict the Oglala Lakota warrior, Crazy Horse, sitting on a horse while pointing to his tribal land.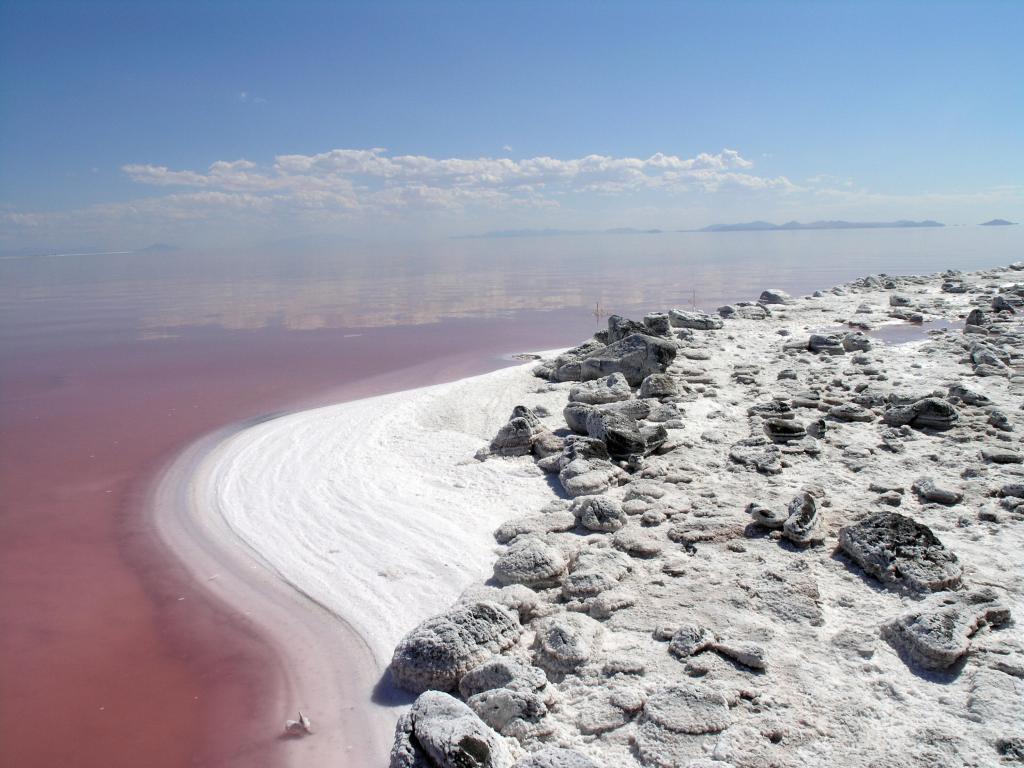 Colorado Route
Capitol Reef National Park, Utah - There are many ways to experience this hidden treasure filled with cliffs, canyons, domes, and bridges with opportunities for road tours, camping, hiking, and even horseback riding.
Manti-La Sal National Forest, Utah and Colorado - Surrounded by La Sal and Abajo Mountain ranges, you can hone your photography skills as you hike through this stunning forest. Adventurous visitors also have opportunities to mountain climb.
Moab, Utah - Located nearby Arches National Park and known for its beautiful views of the Colorado River and unique geological formations, the charming city of Moab is the home to the Moab Museum of Film and Western Heritage, Moab Giants Dinosaur Park, and Dead Horse Point State Park.
McInnis Canyons National Conservation Area, Fruita - This area is home to many jaw-dropping natural wonders, and offers fantastic opportunities for hiking, wildlife watching and photography.
White River National Forest, Colorado - A world-famous idyllic recreation destination which is home to the popular Maroon Bells and Hanging Lake, 11 ski resorts, 10 peaks over 14,000 feet, and eight wilderness areas.
Arapaho and Roosevelt National Forests, Denver - Visitors of all ages can enjoy hiking trails of various difficulties and opportunities for hiking, biking, camping and fishing.
Rocky Mountain National Park, Colorado - One of the most visited mountains in the USA with the majestic scenery of snow-capped peaks and lush valleys. Keep in mind that the national park uses a timed entry permit system. Please check the national park's website to see if you need to make a reservation before your visit.
Glenwood Caverns Adventure Park, Glenwood Springs - "America's Only Mountaintop Theme Park" is the home to the fascinating cavern system where you can explore the underground landscape and enjoy rides. There is something for everyone in this adventure park.
Denver, Colorado - Known as the "Mile High City", Denver is situated amongst imposing mountain ranges and is home to many urban attractions such as local breweries, Larimer Square, the Museum of Contemporary Art Denver Confluence Park, and the Centennial Gardens as well as famous ski resorts if you are visiting in winter.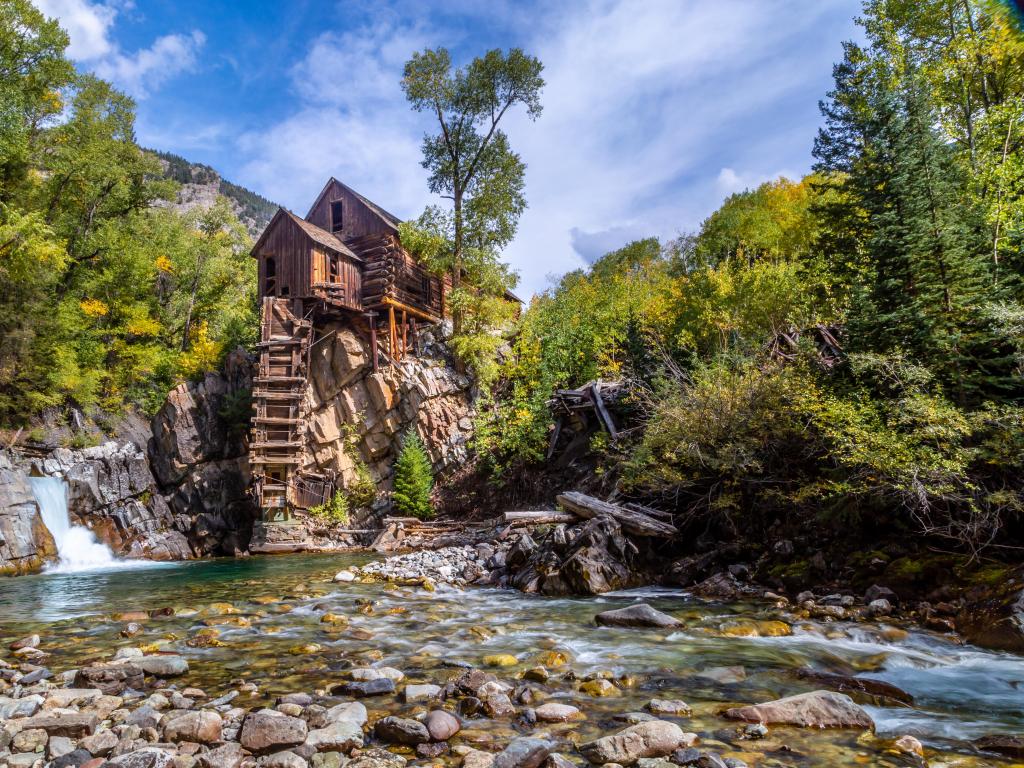 Best time to go on a road trip from Los Angeles to Mount Rushmore
A road trip from Los Angeles to Mount Rushmore can be completed all year round.
The most popular time to visit Mount Rushmore is between June and August. The weather is usually mild at this time of the year with temperatures around 75 degrees Fahrenheit. However, traffic congestion and hotel prices tend to increase during this peak period.
During the winter visitor numbers will be significantly lower, though adverse weather conditions like snow could make parts of the route dangerous to traverse. You may also find that certain tourist attractions might be closed too.
If you do decide to go there in the winter, it's a good idea to take your snow chains with you. Especially if you plan to detour to one of the many national parks along the way. Pack warm as well, as the temperatures are known to fall below 25 degrees Fahrenheit.
The best time to visit Mount Rushmore is between April and May, or September and October when the weather is pleasant with temperatures around 55-65 degrees Fahrenheit. It won't be as busy in the spring or fall and hotel prices are likely to be at a cheaper off-peak rate too.
It goes without saying that weekends and holiday times, especially around city areas and main tourist attractions, are busier times to undertake this trip.
If you don't mind the crowds, you can try to plan your trip around the 4th of July to admire the magnificent fireworks at the Mount Rushmore National Memorial.