Road Trip from Los Angeles to Palm Springs
A road trip from Los Angeles to Palm Springs is a wonderfully scenic drive through some of the most beautiful parts of the Golden State, and a perfect way to relax and unwind, whilst taking in the sights of the Coachella Valley.
The 110-mile road trip from LA to Palm Springs takes 2 hours and 45 minutes. Key stops include Mount Baldy, Rancho Cucamonga, Mt San Jacinto State Park, San Bernardino National Forest, Rim of the World Scenic Byway, Lake Arrowhead, and Big Bear Lake.
There is an abundance of great things to see and do on this delightful journey, so read on until the end to find out more about these, plus the best route to take, where to stay, and the best time to make the journey.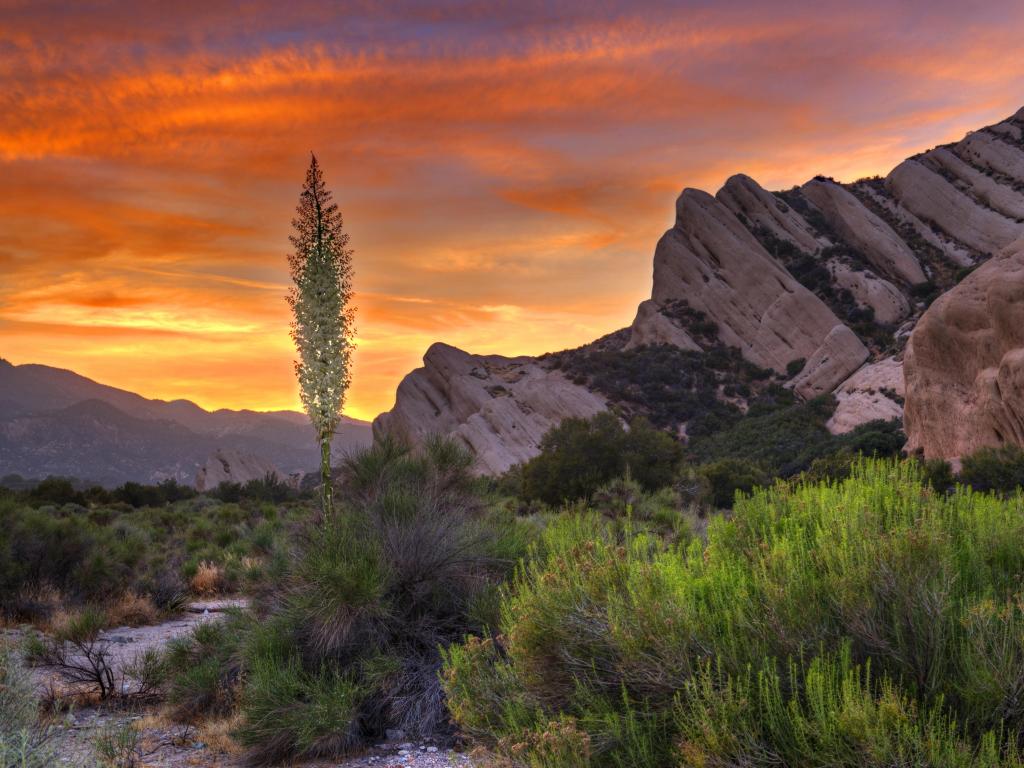 How far is Palm Springs from Los Angeles and how long will the road trip take?
The most direct route from Los Angeles to Palm Springs is about 110 miles and will take around 2 hours and 45 minutes without accounting for the many wonderful detours and sights you'll wish to see on the way.
You could easily complete a trip to Palm Springs from Los Angeles in a day. But with so many enchanting scenic views and interesting attractions to visit along the way, we advise taking at least two or three days to make the trip.
Best road trip route from Los Angeles to Palm Springs
There are a few different ways to get to Palm Springs from Los Angeles, and our recommended route will largely involve you traveling on Interstate-10 (I-10), which is also the most direct option.
This route allows you to maintain a steady course towards Palm Springs, yet also gives you plenty of flexibility to visit any of the main sights and attractions that lie in wait along the way ranging from stunning national forests to beautiful cities.
Road trip route from Los Angeles to Palm Springs
From Los Angeles, join Interstate 10 and take a left onto Interstate 605 N to Azusa and onto the Azusa Wilderness Park where you can explore the dramatic natural scenery and take a hike and discover the San Gabriel Canyon.
Continuing along this route takes you into the Angeles National Forest with an abundance of trails and waterfalls to discover. Back on I-10, continue eastwards where you can detour to visit the lovely cities of Claremont and Rancho Cucamonga.
Take a right onto Interstate 15 S and take a detour to California Citrus State Historic Park. A unique place where you can learn about the history of California's great citrus boom and sample various fruits and take a free tour.
Following this direction, you'll arrive at San Bernardino. From here it's well worth taking a detour along the Rim of the World Scenic Byway to see the San Bernardino National Forest, the Rim of the World Viewpoint, Lake Arrowhead, and Big Bear Lake.
After re-joining I-10, you'll soon reach the town of Cabazon, where you can marvel at the Cabazon Dinosaurs--the biggest of their kind in the world.
North of Cabazon, you can learn all about Native American history at the fascinating Morongo Reservation. Located below the beautiful San Gorgonio and the San Jacinto Mountains, the reservation spans 35,000 acres overlooking the vistas of the Banning Pass.
Continuing along the I-10 and take the right fork onto the CA-111. You'll soon pass the Angel Cove Monument and Desert Palisades before arriving in Palm Springs.
Best places to stop between Los Angeles to Palm Springs
To make the most of your trip from Los Angeles to Palm Springs, extending it over several days is highly recommended and there are many engaging places en route where an overnight stay will give you plenty of chance to explore further.
Our recommendations offer the best of both worlds, with luxury stopovers nestled in the most scenic locations.
Breathe in the beauty of Big Bear Lake
Big Bear Lake is a beautiful spot to spend a day or two and an ideal place to stay is the Bluegreen Vacations Big Bear Village. Ideally placed for a relaxing stroll down to the shores of nearby Big Bear Lake, only 10 minutes away.
All rooms are beautifully presented, with each having two fireplaces making it wonderfully cozy in the winter months. And what better way to unwind than with an indulgent spa bath! Enjoy the scenic grandeur and breathe the crisp mountain air from your own private balcony.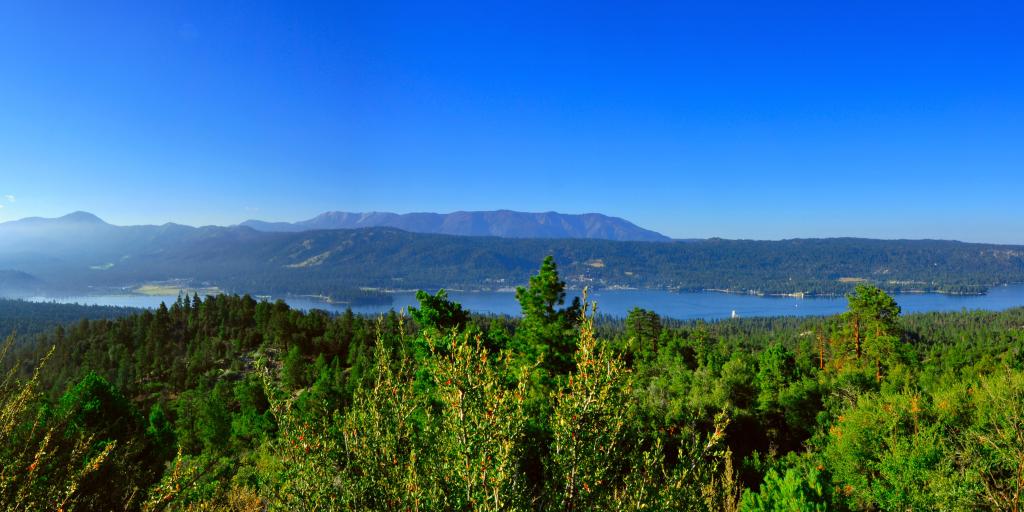 If you like to keep active, you'll be spoilt for choice with the lake offering water skiing, wakeboarding, ziplining, and kayaking. If you prefer to stay on dry land, you can enjoy horseback riding or take a hike on one of the many mountain trails.
Nearby, take an authentic bobsled experience at The Alpine Slide at Magic Mountain, where you can take a scenic chairlift ride to the top before navigating your way down the concrete track.
For those looking to ski at the Snow Summit and Bear Mountain, this is an ideal location being only a 15-minute drive away.
In Big Bear Lake village you can spend a fantastic afternoon visiting the local boutiques and gift shops before enjoying delicious local cuisine in one of the cafés or restaurants.
Where to stay once you reach Palm Springs
Once you've completed your journey and made it to Palm Springs, you'll want to stay somewhere that rounds off the trip in style, and the luxurious Ritz-Carlton, Rancho Mirage is the place to do just that. This desert resort blends tradition with the style and glamour of Palm Springs.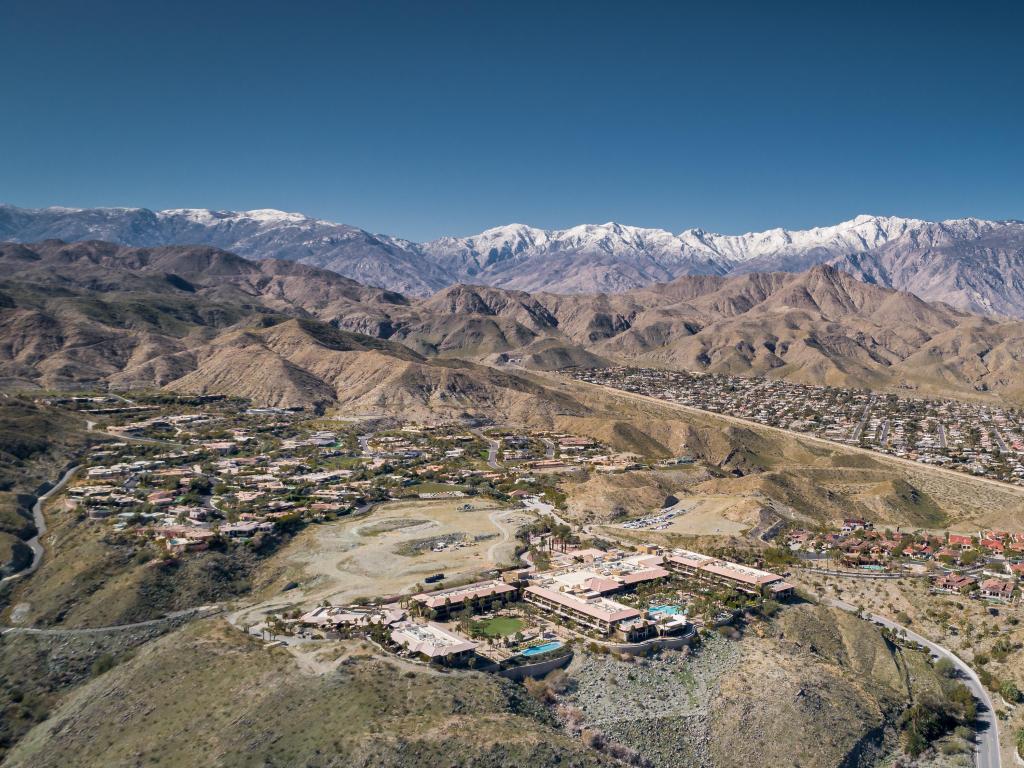 This place has a sophisticated and stylish décor that captures the desert-inspired opulence of Palm Springs. The stylish rooms that speak luxury are equipped with large tubs to take a relaxing soak and melt all your troubles away.
Dining at the Ritz-Carlton is an experience in itself, where you can take a table with views over the Coachella Valley, tasting seasonal cuisine using the finest local ingredients complemented perfectly with the best offerings of the local wineries.
Experience a holistic desert Spa sensation, nestled into the hillside with stunning views over the valley. With 16 treatment rooms, plunge pools, a state-of-the-art fitness center, two swimming pools, VIP style cabanas and poolside dining.
Situated less than 45 minutes away from the area's main attractions, you'll be spoilt for choice of things to do, with the natural beauty of the Joshua Tree National Park and Tahquitz Canyon excellent options to explore the area's rugged natural landscapes.
The Palm Springs Aerial Tramway is one of the most popular attractions in the local area. Take a ride on the world's largest rotating tram car which travels over 2 and a half miles along the breathtaking cliffs of Chino Canyon, with spectacular vistas of the valley below.
Things to see on a road trip from Los Angeles to Palm Springs
Your starting point and destination might be separated by a relatively short distance, but there are so many things to see and do on a road trip from Los Angeles to Palm Springs that you could easily spend a couple of weeks visiting them all.
However many days you choose to dedicate to this memorable trip, our recommendations of the most interesting and memorable places to see will be invaluable in planning your itinerary.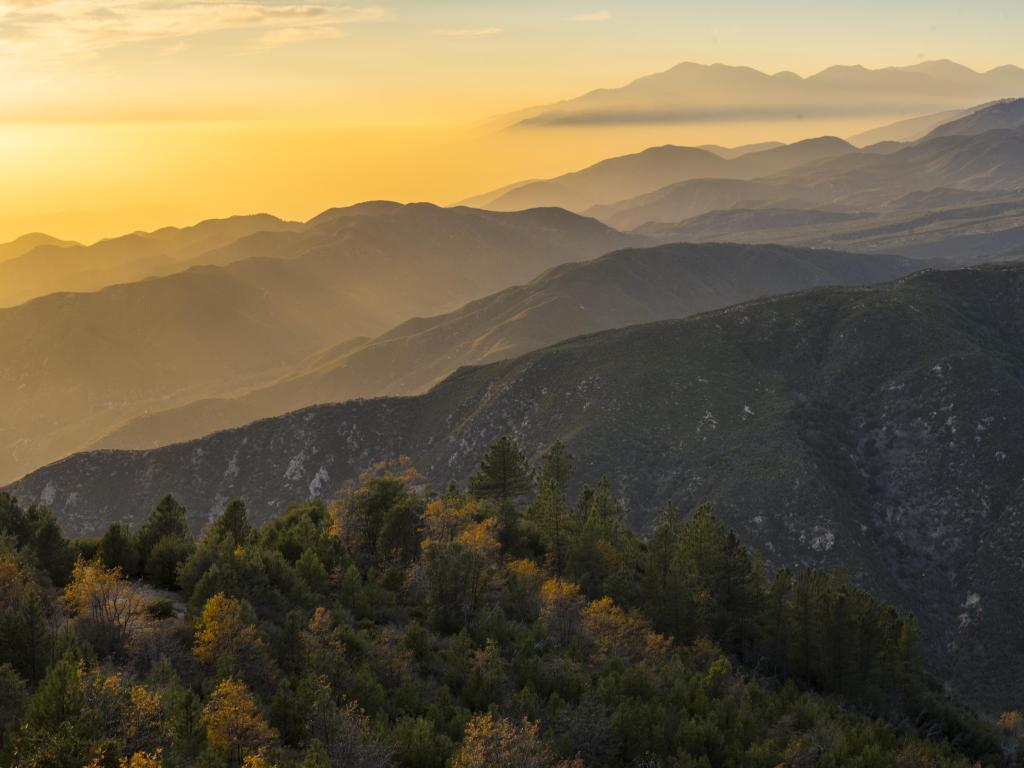 Huntington Library, Museum and Botanical Gardens – Library with a famous collection of papers by George Washington and Thomas Jefferson. This complex also houses an interesting art museum and beautiful botanical gardens.
Marshall Canyon Golf Course – Stunning 18-hole golf course nestled in the picturesque foothills located above La Verne.
Claremont, California – Congenial college town with a gorgeous setting, cool vibe, and charming architecture. Boasts a hip and cool selection of shops, cafes, restaurants, and bars.
Mount Baldy – Renowned for its awesome skiing and snowboarding landscape, this resort provides opportunities for moonlight hikes, zip-lining, disc golfing, and many other enjoyable activities.
Rancho Cucamonga, California – City situated on the historic Route 66 whose attractions include the Pacific Electric Inland Empire Trail, the Joseph Filippi Winery, and Sapphire Falls.
Diamond Valley Lake – Large and stunning man-made off-stream reservoir. Popular for fishing, hiking, and picnics.
Box Springs Mountain Reserve Park – Beautiful 3400-acre park, nestled on the side of a mountain which straddles both the Moreno Valley and Riverside.
San Bernardino National Forest – Forest that is close to a million acres in size. Boasts imperious pine trees and is a lovely spot to fish, hike and reconnect with nature.
Wildwood Regional Park – Attractive park with many trails for hiking, biking, and horseback riding. You can take a break here to stretch your legs and relax under the beautiful California sun.
The Arrowhead Springs Hotel – Former hang out of 1940s Hollywood elite like Clark Gable, Judy Garland, and Charlie Chaplin, this grand 69-room white hotel shines like a beacon over the San Bernardino Valley.
Rim of the World Viewpoint – Wonderful scenic lookout, reached via the Rim of the World Scenic Byway, which offers incredible vistas of the surrounding mountainous and forest landscape.
Red Rock Scenic Overlook – Lookout that showcases magnificent views of the 'front range' of the San Bernardino National Forest that go well into the valleys.
SkyPark at Santa's Village – Fun outdoor Christmas-themed adventure park with biking, climbing, zip-lining, and entertainment.
Morongo Reservation - Spans more than 35,000 acres and overlooks the vistas of the Banning Pass. Features the fascinating Malki Museum which proudly showcases Native American culture.
Lake Arrowhead – Stunning Mountain Lake setting that boasts incredible scenery and wildlife, which offers plentiful opportunities for hiking, backpacking, bicycling, fishing, and both water and snow skiing.
Big Bear Lake – Southern California's largest recreation lake and a haven for fishing, hiking, kayaking, paddle boarding, and swimming, as well as skiing and other snow-based activities.
Oak Glen Preserve – Nestled at the foot of the San Bernardino Mountains, home to a botanical garden and Children's Outdoor Discovery Center, with an excellent network of hiking trails that lead into lush wetlands.
Mt. San Jacinto State Park – A top spot for hiking, especially up to the top of Mt San Jacinto, this beautiful park features stark desert and forest scenery that will take your breath away.
Best time to go on a road trip from Los Angeles to Palm Springs
A road trip from Los Angeles to Palm Springs can be undertaken all year round. Determining what you would most like to experience will allow you to decide the best time to travel.
Making the trip in springtime will allow you to beat the crowds and enjoy more comfortable temperatures. The wildflowers will be coming into bloom, and you can enjoy the great outdoors and breathe in the crisp clean spring mountain air.
A visit to Palm Springs at this time of year will allow you to enjoy the Swing' n Dixie Jazz Festival where jazz musicians from all over the country come to perform. The Coachella Valley Music and Arts Festival takes place in April with several stages hosting continuous live music.
Summer temperatures in this area aren't as hot as in other parts of California, and the mountainous areas are a mecca for mountain bikers and hikers alike. Expect highs in the 80's and lows in the 50s. Big Bear Lake itself can reach 70 degrees Fahrenheit, making swimming even more enjoyable.
If you make the trip in the fall, you can time your trip to enjoy the Big Bear Lake Oktoberfest, rated Southern California's top Oktoberfest, a true celebration of German music, food, entertainment, and beer.
In the winter months, the area is very popular, and the ski resorts will be busy. Temperatures average around 15 to 20 degrees Fahrenheit and the mountains will look truly resplendent in their fresh white coats of snow.
Whenever you decide to make this incredible journey, there are so many things to see and do along the way that it is sure to be unforgettable at any time of year.