Road Trip from Los Angeles to Santa Barbara
If you're in the mood for a quick yet impossibly scenic adventure, consider doing the road trip from Los Angeles to Santa Barbara. Connecting these iconic California cities is a beautiful stretch of coastal land, and you'll want to explore every inch of it.
The 100-mile road trip from Los Angeles to Santa Barbara takes about 2 hours of non-stop driving. Along the way, key stops include Point Dume, Point Mugu and Topanga State Parks, as well as the cities of Ventura, Santa Monica, Oxnard, and Malibu.
There are a number of fantastic sights and places of interest to see across this route, so be sure to read until the end to find out all about them.
How far is Santa Barbara from Los Angeles and how long will the road trip take?
Los Angeles is separated from Santa Barbara by a distance of about 100 miles. In theory, you could do the drive in about two hours and explore Santa Barbara the same day.
If you want to, however, you could easily turn this road trip into a longer excursion that takes place over the course of two or three days, if not more.
The trip will have you sticking to the Pacific Coast for the majority of the drive, meaning you'll be passing through a famous city or an iconic park at every step.
Despite the drive's short length, the number of tourist traps along the way means you may run into some traffic, especially around the Malibu area. Thankfully, there are plenty of detours you can make to kill time if you get caught up in a traffic jam,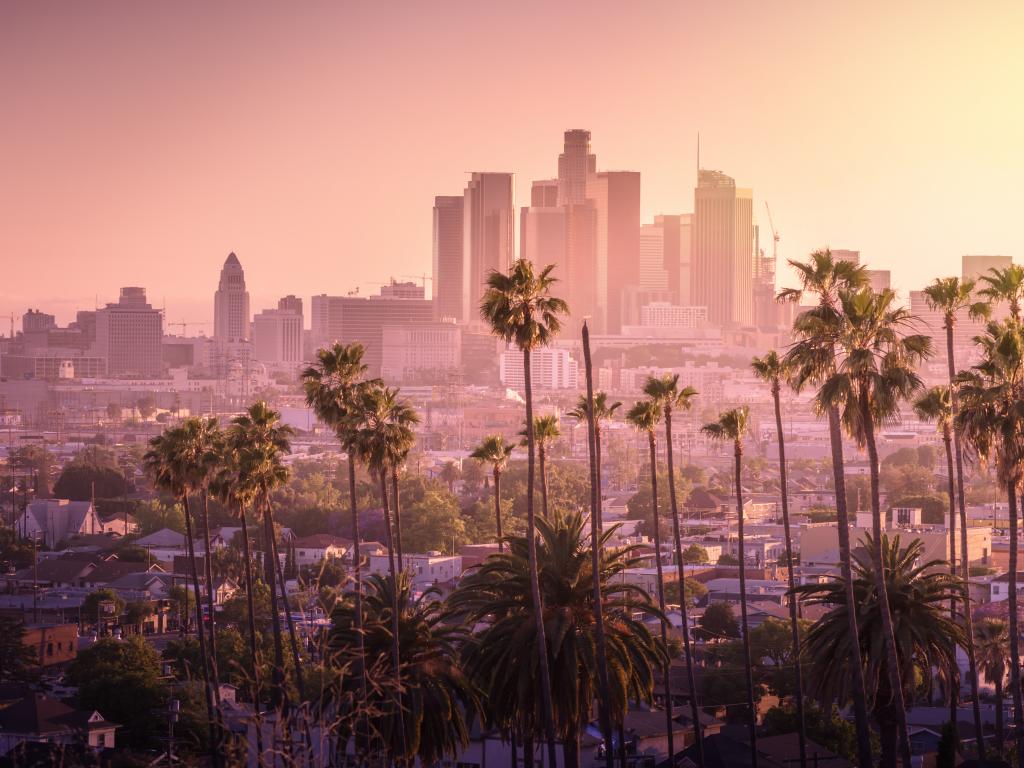 Best road trip route from Los Angeles to Santa Barbara
The most direct route for a road trip between Los Angeles and Santa Barbara is along Route 101. That said, it is highly recommended you incorporate stretches of the Pacific Coast Highway into the drive, as this will make the journey even more interesting.
Driving this section will give you the chance to visit some cool coastal towns and cities and see many other fantastic sights and tourist attractions within Southern California.
Road trip route from Los Angeles to Santa Barbara
From Los Angeles, take Interstate 10 towards the coast to Santa Monica. From there, the Pacific Coast Highway will lead you along a fantastic stretch of coastline towards Malibu and Point Mugu State Park. You'll also pass Santa Monica Mountains National Recreation Area to the north.
Once you pass Point Mugu Beach, you will start to head inland until you join Route 101 just past Oxnard. This will guide you all the way to Santa Barbara, passing by the likes of Ventura and Carpinteria along the way.
Best places to stop between Los Angeles and Santa Barbara
There are a number of wonderful options for a stop-off or overnight stay on a road trip from Los Angeles to Santa Barbara.
If you're thinking of booking a hotel, here are some of your very best options:
Enjoy the beaches of Malibu
Glamorous Malibu is a great destination for your first overnight stop, and it has no shortage of amazing resorts. Still, the Surfrider Malibu stands out with its superb interior and that unmistakable view of the Pacific Ocean.
Positioned just a few short steps from the beach, this place offers you fantastic access to the golden sands of Malibu. If you would prefer to admire it from afar, the hotel boasts a wonderful roof deck bar and restaurant, where you can look out to Malibu Pier, cocktail in hand.
Every room in this hotel is breathtaking, especially when coupled with the amazing window views. Chicly styled, the suites are all furnished with teak beds that come fitted with the finest Bellino linens.
The hotel is definitely expensive, as is usually the case with Malibu resorts, but you can't really put a price on a view so epic or a room that cozy.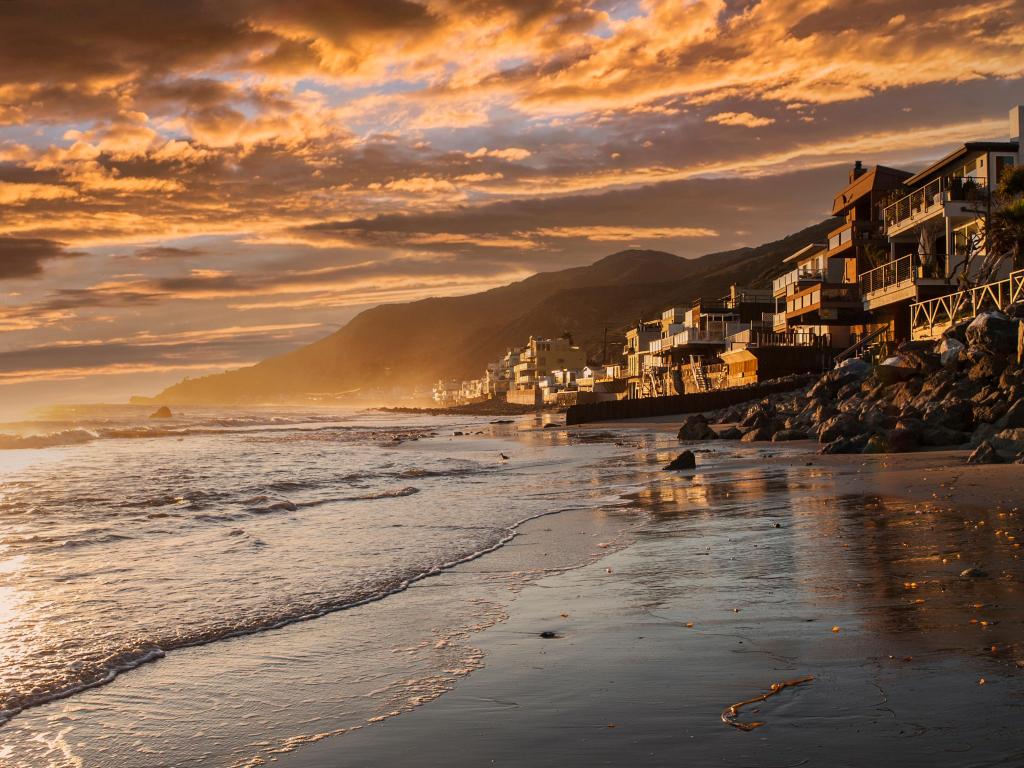 Listen to the sounds of the ocean in Oxnard
Oxnard is an understated but beautiful city you'll be driving through on the road trip from Los Angeles to Santa Barbara, making it the perfect choice for an overnight stop. The best hotel here is definitely Embassy Suites Mandalay Beach, courtesy of that amazing patio view.
The rooms are simple, yet elegant, and they boast incredible views of the beach, which is right by the resort. If the ocean waters are looking cold, you can always enjoy yourself in the fabulous on-site swimming pool or hot tub.
Chances are you'll be sweating in the California heat anyway, but if you have the energy, another way to kill time here is to work out at the fabulous gym or even go for a game of tennis.
Just a few short miles from the cafes, restaurants, and bars of the downtown area, this all-suite resort is also in close proximity to the Channel Island Harbor, meaning you'll be right in the eye of the storm in terms of fun activities in Oxnard.
Despite having virtually everything you could think of, this hotel is extremely affordable, cementing its title as the best hotel in town by a mile.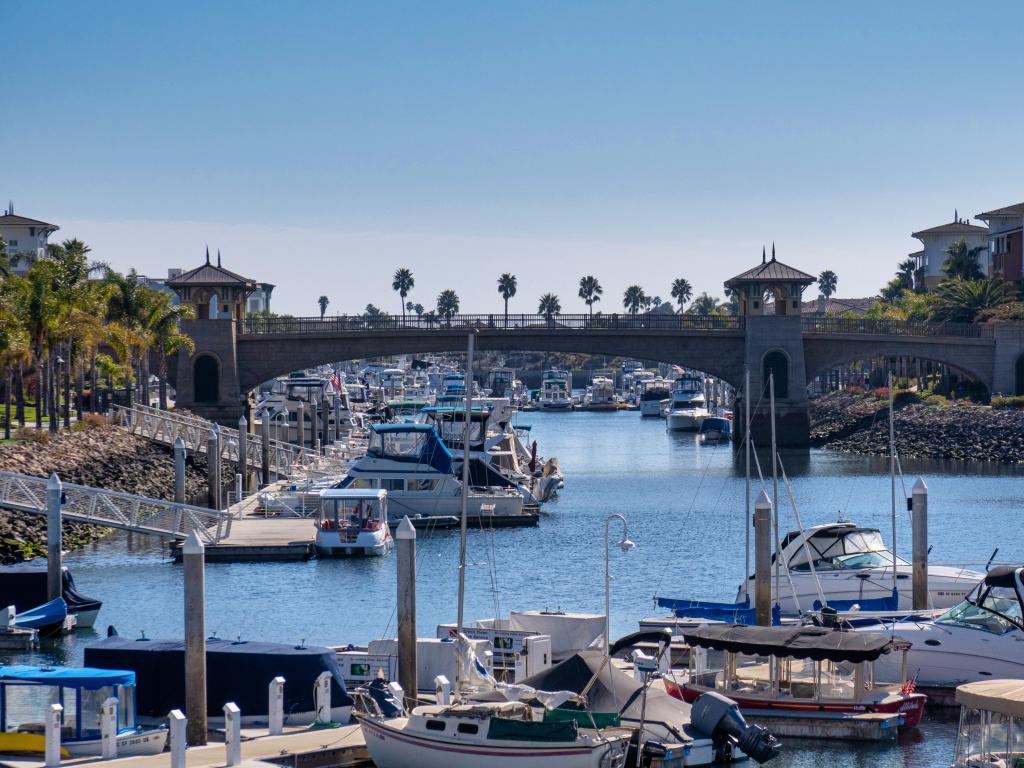 Things to see on a road trip from Los Angeles to Santa Barbara
Despite being separated by less than 100 miles, there are so many things to see and do on the road trip from Los Angeles to Santa Barbara. You could easily break the journey up into a weekend day excursion or longer if you wanted to.
Should you wish to do this, or even if you just fancy a couple of stop-offs along the way on a day trip, here are some of some of the main places you could visit.
Santa Monica – Laidback, sophisticated, and trend-setting coastal city known for its vibrant boulevard, landmark pier with a famous amusement park, Muscle Beach, and an amazing foodie scene.
Will Rogers State Historic Park - Former estate of American humorist Will Rogers, located in the Pacific Palisades area of the Santa Monica Mountains. The 31 room ranch house also features a stable, riding ring, golf course, and polo field.
Getty Villa – Outstanding museum displaying over 4,000 years of ancient culture, including art from Greek and Roman times. The estate also showcases stunning gardens and an impressive outdoor amphitheater.
Topanga State Park - State park located in the Santa Monica Mountains. Features 36 miles of trails that showcase geologic formations like earthquake faults, marine fossils, volcanic intrusions, and sedimentary formations, as well as splendid views of the Pacific Ocean.
Tuna Canyon Park – Excellent hiking spot in the western Santa Monica Mountains. Conveys picturesque views of the Pacific Ocean across 1,255-acres of the rugged state park.
Santa Monica Mountains National Recreation Area – Another great hiking spot across a fabulous mountainous terrain. Major sights of interest include the magnificent Escondido Falls and the imperious 3000-foot high Sandstone Peak.
Solstice Canyon – Former home of a space facility during the 1960s and early 1970s. This park is located within the Santa Monica Mountains National Recreation Area and is a great place for hiking beside a flowing creek in a wide canyon.
Malibu – World famous city on the Pacific coast that is well known for its A-list celebrity residents, pristine beaches, excellent nightlife and restaurants, and spectacular hiking trails.
Point Dume – Jutting out into the Pacific Ocean, this promontory on the coast of Malibu provides wonderful views of Santa Catalina Island and the Palos Verdes Peninsula.
El Matador Beach – Stunning beach that allows for terrific views of Malibu's iconic coastal bluffs. Made famous in the film The Notebook from the scene when Allie pretends to be a bird on the beach.
Lake Eleanor Sentinel – Shimmering freshwater lake that lies beneath a giant volcanic formation known as the Lake Eleanor Sentinel. Set within a stunning wildland habitat that boasts a number of beautiful hiking trails.
Malibu Springs Trail – Wonderful hiking trail which guides you to spectacular views of some of the highest peaks within the Santa Monica Mountain range.
Sycamore Cove Beach – Gorgeous beach on a southwest-facing sandy cove that is best known for housing an excellent campground and a marvellous collection of hiking trails.
Point Mugu State Park - Located in the heart of the Santa Monica Mountains, this outstanding state park boasts a stunning 5-mile ocean shoreline terrain of sandy beaches, sand dunes, craggy hills, and rocky bluffs.
Oxnard State Beach Park - Picturesque family-friendly 62-acre beachfront park with well-kept lawns, a children's playground, picnic area, and direct access to a magnificent beach.
Ventura – Lively coastal city with a quaint pier and breathtaking harbour. Also home to the historic Mission San Buenaventura, lovely botanic gardens, a vibrant cultural scene, and a number of very good cafes, bars, and restaurants.
Rincon Point - Popular surfing spot, known as the 'Queen of the Coast'. Home of the annual Rincon Classic surfing competition. Regarded by many to be the classic California point-break.
Carpinteria – Proud home of the 'World's Safest Beach', this pleasant coastal community also has a great vibe and impressive mountain views.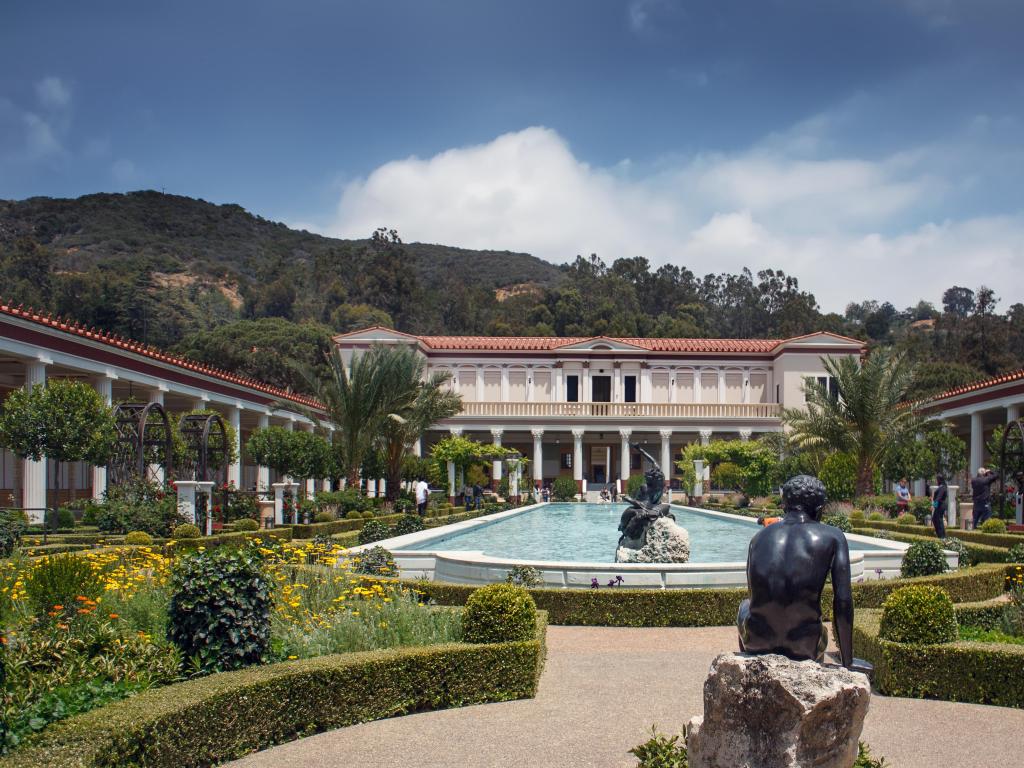 Best time to go on a road trip from Los Angeles to Santa Barbara
Southern California enjoys over 300 days of sunshine every year, so you can partake in a road trip from Los Angeles to Santa Barbara at pretty much any time.
If you want to enjoy the best views of the coastline, August to October are great months to go as the weather is warm and the skies tend to be bluer then too.
While the weather will be at its hottest between July and August, with it being the height of the summer, you will run the risk of experiencing heavier traffic. Hotel prices will be at their most expensive too, so book well in advance if you want a chance at a discount.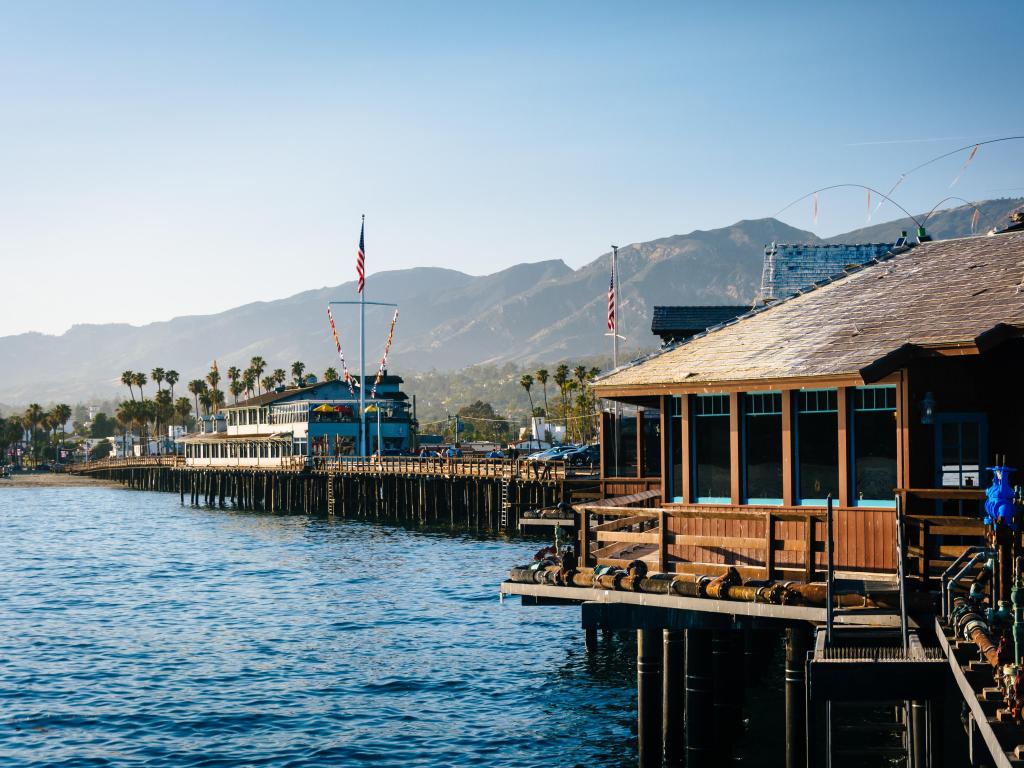 You are more likely to experience rain during the period of December to March, so you might want to check the weather forecast before heading off at this time.
By and large, you are more likely to experience traffic jams during rush hour, at weekends, and on the holidays, so you should be mindful when traveling at these times.
The Pacific Coast Highway is always a popular route for locals, so irrespective of when you go, you may hit a bit of traffic somewhere along the way.
That said, if you can leave during the week and outside of rush hour, especially when children are in school, you should be able to complete the journey without too many disruptions.