Road Trip From Los Angeles To Sedona
If you're looking to go on an adventure with Los Angeles as a starting point, then a road trip from LA to Sedona, one of Arizona's crowning jewels, is definitely worth considering. On top of the red rock formations near the town, you'll have plenty of things to check out on the drive there.
The road trip from Los Angeles to Sedona takes around 7 hours and 30 minutes of driving without stops. If you break up the trip into 2 days or more, you can visit Joshua Tree National Park, Phoenix and Salton Sea or explore a section of the historic Route 66.
Continue reading to get an idea of what you can expect to see on the drive to Sedona!
How far is Sedona from Los Angeles and how long will the road trip take?
The road trip from Los Angeles to Sedona is between 480 and 490 miles, depending on the route you choose. The two most straightforward routes pass through Phoenix and Flagstaff, respectively, and both can get you to Sedona in 7 to 7 hours and 30 minutes. If you leave early enough, you can definitely make the trip in a day.
Route
Distance
Driving Time
Fastest Route


(via I-10 E)

480 miles
7 hours 15 minutes
Shortest Route


(via I-40 E)

490 miles
7 hours 40 minutes
With that said, you're better off taking a couple of days or more to do some sightseeing - although you'll be driving through a lot of desert terrain, these two routes can hardly be called desolate.
On top of being slightly quicker, the I-10 route is considerably more scenic as a whole. The most scenic part of this itinerary would definitely be the final stretch (past Phoenix), as it beautifully incorporates the area's trademark red rock and sandstone formations into your trip.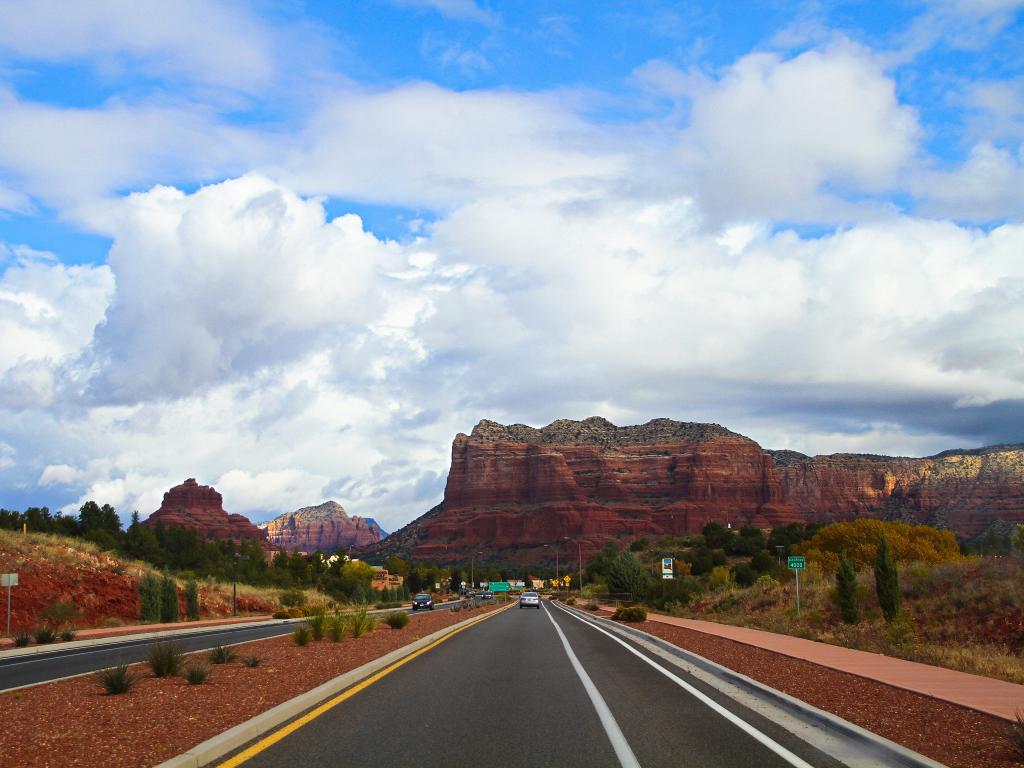 For something a little bit different, you can take the I-40 – it has its share of notable landmarks, and the Flagstaff-Sedona portion of the drive is quite rich in landmarks and activities. Also, a detour from Flagstaff to Grand Canyon NP is not out of the question if you have some time.
Best road trip route from Los Angeles to Sedona
Ultimately, if you stick to the main route, the I-10 has more to offer in terms of sights and landmarks, making it the better choice for a road trip from Los Angeles to Sedona in most cases. If you're not willing to make detours, certain parts of the I-40 route can feel a bit barren.
What's great about these two routes, however, is that they work great in conjunction – they have virtually no landmarks in common (outside the Sedona area, anyway), so if you want to change things up, you could definitely take one on the way there and the other on the return trip to LA.
How to drive from Los Angeles to Sedona
The map above shows our suggestions for the best road trip routes between Los Angeles and Sedona. Keep reading for detailed descriptions of both routes, where to stay on either, and the best things to do on the way.
The Fastest Route (I-10)
Leave Los Angeles along the I-10, past San Bernardino Forest and through Palm Springs. Not long after passing the colossal Joshua Tree National Park on your left and Salton Sea on your right, you'll drive over the Colorado River and into Arizona.
Continue along the interstate past Kofa National Wildlife Refuge and head towards Phoenix. You can make a stop at the capital and then leave going north along the I-17, or avoid driving through the heart of the city by taking the so-called Loop 303 into the aforementioned interstate. Either way, drive along Tonto National Forest, and past Lake Pleasant and Montezuma Castle National Monument.
Continuing north on the interstate, you'll eventually reach State Route 179, also known as the Red Rock Scenic Byway. Along this route, you'll see plenty of beautiful rock formations, as well as Red Rock State Park and Coconino National Forest, just before reaching Sedona.
The Shortest Route (I-40)
Leave Los Angeles on the I-15, between Angeles and San Bernardino National Forests. In Barstow, switch over to the I-40 and follow it past Rodman Mountains Wilderness Area and the Mojave National Preserve.
Right outside Needles, drive across the Colorado River and through the Havasu National Wildlife Refuge into Arizona. Make a temporary switch to the iconic Route 66 if you want to stop at Kingman, or continue along the interstate.
Driving through Ash Fork and Williams, you'll soon get to Flagstaff, not far from Humphrey's Peak to the north and Walnut Canyon National Monument further east. Take the I-17 south past the beautiful Fort Tuthill County Park, and you'll soon segue into State Route 89A. Follow this scenic route through Slide Rock State Park and into Sedona.
Best places to stop between Los Angeles and Sedona
Ideally, you'll want to make at least one or two overnight stops when driving from Los Angeles to Sedona. Regardless of the route, there won't be much high-end accommodation until the later portion of the drive, but once you reach the larger cities, you can find some truly incredible places to stay.
Make the most out of Phoenix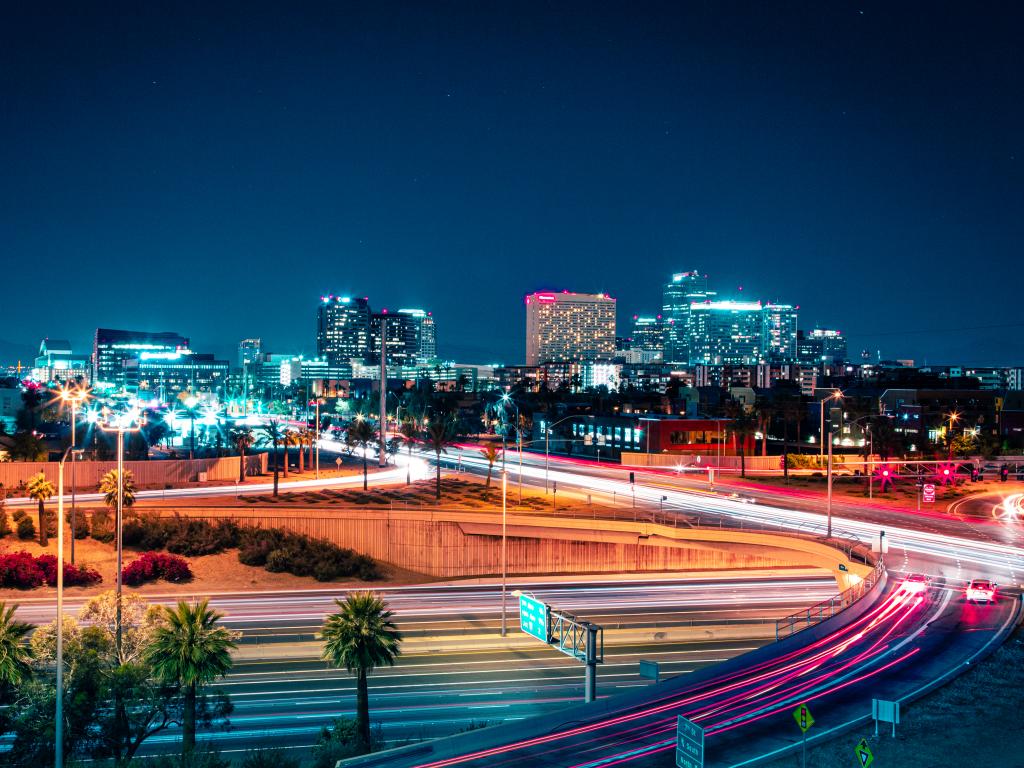 When it comes to picking must-see stops on the way to Sedona, Arizona's capital is a no-brainer. There are plenty of incredible hotels to choose from here, but one that really stands out is the Royal Palms Resort and Spa.
A five-minute tour is all it takes to fall in love with this place – this Spanish-style resort boasts immaculate courtyards and gardens, endlessly romantic dining areas, a huge outdoor swimming pool, and a breathtaking view of Camelback Mountain – you couldn't ask for anything more!
After settling into your sleek, luxurious room, you can enjoy the view from your balcony or head to the spa for a relaxing massage after a long day of traveling. In the evening, enjoy a leisurely stroll around the premises and take in the beautiful greenery that covers every corner of the property.
This hotel is a member of Historic Hotels of America for a good reason, so although it's costly, it's definitely worth the price of admission.
Relax and unwind at Flagstaff
Although Flagstaff isn't too far from Sedona, it has plenty of spots worth looking into, especially if you're willing to deviate from your route to see some landmarks in the (semi) vicinity.
The best hotel in Flagstaff would have to be Little America Hotel – whenever you're not out hiking or canyoneering, you'll feel right at home in this amazing resort.
Located in a beautiful ponderosa pine forest, simply walking around the property is a treat. If you've had enough walking for one day, though, you can rest your bones in the jacuzzi or beat the Arizona heat in the large swimming pool. Alternatively, keep the momentum going and hit the fitness area for a quick workout, or enjoy a meal at the Little America Restaurant.
You'll definitely want something to remember Flagstaff by, and the on-site gift shop has you covered – from extravagant summer clothing to board games for a simple way to kill an evening, there's something for everyone here.
On top of covering all the amenities you could want and need, the hotel is within walking distance of many notable Flagstaff locales – it's a rather expensive resort, but the price is fair, all things considered.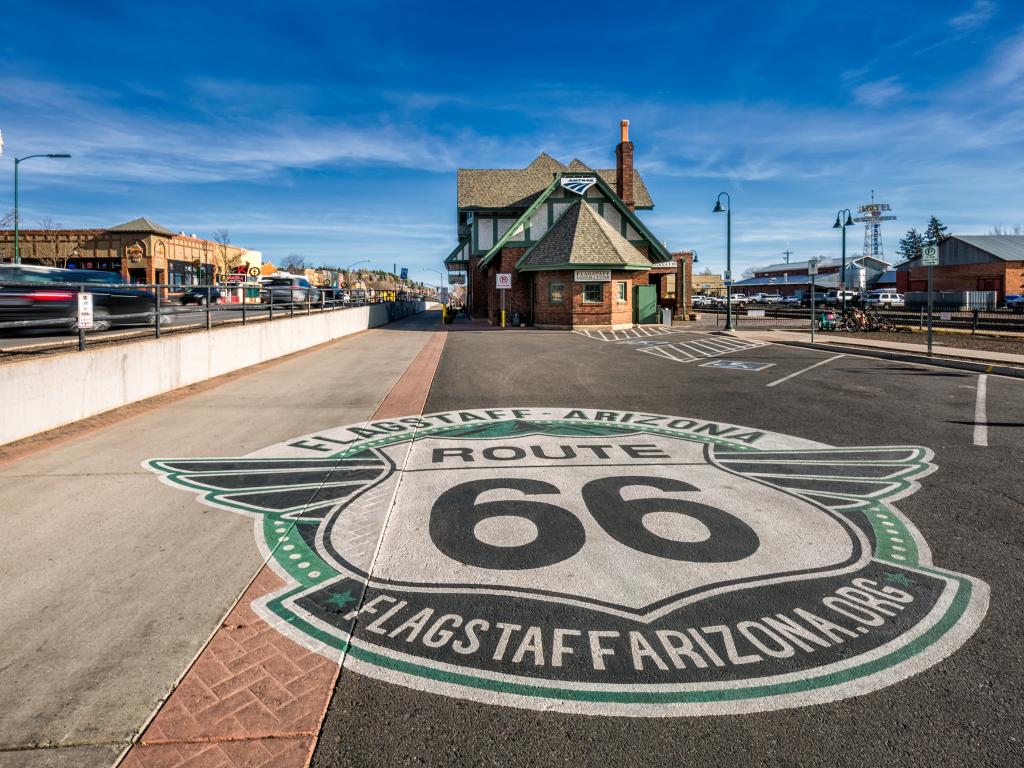 Things to see on a road trip from Los Angeles to Sedona
Between its nature preserves and activity-laden major cities, the road trip from Los Angeles to Sedona is best enjoyed over a period of one or two weeks – the closer you get to Sedona, the more there is to see.
Here are some of the places you can't afford to miss out on:
Joshua Tree National Park – a vast expanse of desert wilderness, hiking areas, campgrounds, and the titular Joshua trees
Palm Springs - an oasis in the middle of a desert sitting between Joshua Tree and San Jacinto Mountains comes with luxury hotels, golf courses and pristine grass lawns.
Cibola National Wildlife Refuge –a beautiful refuge straddling the Colorado River, home to green plains, ridges, and indigenous animals
Kofa National Wildlife Refuge – spanning over 600.000 acres, many desert bighorn sheep and dozens of bird species call this place home
Lake Pleasant,McDowell, Lost Dutchman & Usery Mountain Regional Parks – popular hubs for recreational/outdoor activity in the Phoenix area (although the full list is much longer!)
Tonto National Forest –Arizona's largest national forest spans nearly 3 million acres of beautiful flatlands and highlands alike
Montezuma Castle National Monument – the remnants of cave dwellings made over 3000 years ago by the Sinagua people
The Crack at Wet Beaver Creek – a rocky area by a creek with lots of trees and shading, popular among local hikers
Jerome State Historic Park –a testament to the rich mining history of the now-scarcely populated town of Jerome; this park features the famous Douglas Mansion
Red Rock State Park –contains a long system of trails that lets you experience Old Creek's greenery and Sedona's gorgeous rock formations
Devils Bridge Trail – a beautiful combination of red rocks and forests, and it makes for a relatively easy hike to boot
Chapel of the Holy Cross – an elevated chapel nestled between Sedona's buttes
Coconino National Forest – featuring mountains, flatlands, deserts, and ponderosa trees, few places in America are as geologically diverse as this forest
Mojave National Resort – this section of the Mojave desert is distinguished by its volcanic formations, sand dunes, and dramatic elevation changes
Havasu National Wildlife Refuge – the easy access to the Colorado River's water on a hot summer day attracts a slew of animals to this area
Kingman – the longest stretch of what's left of the historic Route 66 can be found downtown
Flagstaff – thanks to its proximity to Humphreys Peak, Grand Canyon NP, and Meteor Crater, among other attractions, this city and its surroundings are not to be missed
Slide Rock State Park – an almost oasis-like spot, this preserve features an apple orchard and a natural rock water slide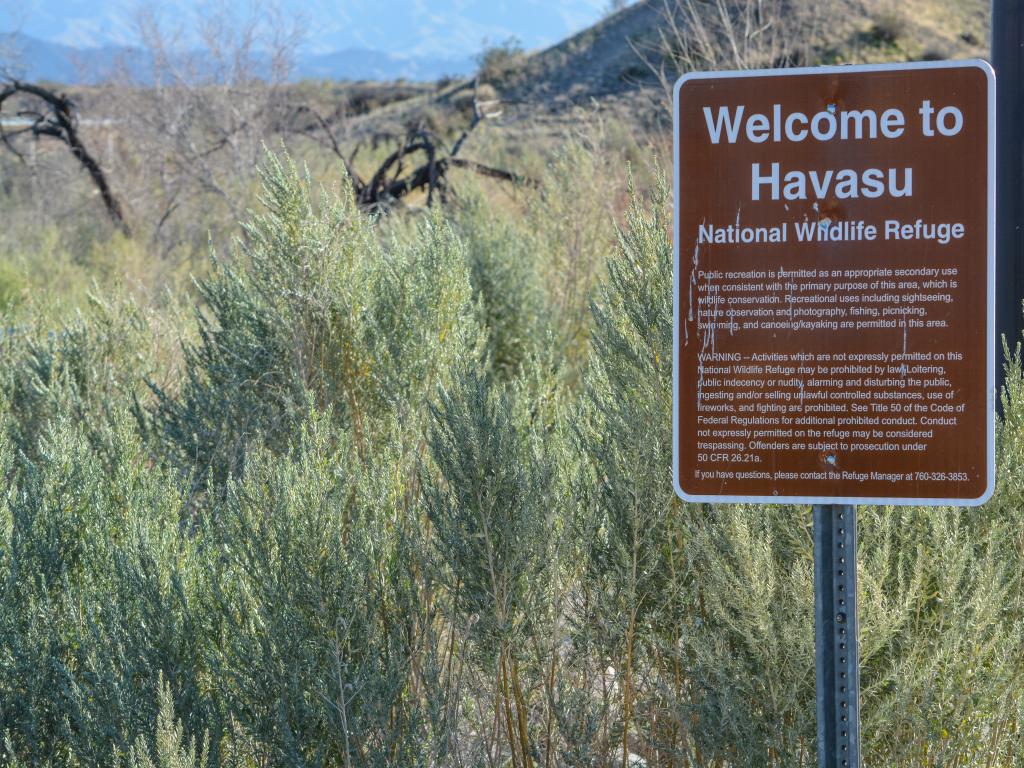 Best time to go on a road trip from Los Angeles to Sedona
Because the town thrives on outdoor activity, the best time to visit Sedona would be when the weather's warm, but not scorching – summer temperatures here tend to hit 90 to 95 degrees. In addition, driving through some of Arizona's driest regions in triple-digit temperatures isn't too advisable.
Spring and fall temperatures, on the other hand, are much more pleasant, making these seasons ideal for hiking and other outdoor activities. With that said, tourists trying to avoid the heat will also flock to Sedona around this time, so expect prices to be higher.
If you'd prefer to avoid crowds, winter is actually a great time to visit too – daytime temperatures are quite pleasant, and while chilly, the nights are definitely manageable. You will sometimes get thin layers of snow in the winter, but that only adds to the atmosphere and shouldn't deter you from hiking and exploring.