Road Trip From Los Angeles To Zion National Park and Bryce Canyon
If you're from the City of Angels and are in the market for epic mountains, breathtaking forests, and one of the most beautiful canyon stretches in all of America, you should definitely consider a drive from Los Angeles to Zion National Park.
The road trip from Los Angeles to Zion National Park takes 6 hours, and on top of driving through the amazing Las Vegas, you'll be passing captivating parks and reserves en route. Consider spicing up the trip with a detour to Bryce Cannon as well.
Continue reading to get an idea of what this Los Angeles – Zion NP route has to offer.
How far is Zion National Park from Los Angeles and how long will the road trip take?
The road trip from Los Angeles to Zion National Park spans 430 miles and takes just over 6 hours with the standard gas and lunch breaks. This means you can take off in the morning and make it to Zion reasonably early, even with one or two longer stops.
However, there are simply too many amazing places to check out on the way, so to really make the most of this trip, you should make at least one overnight stop at Las Vegas (essentially the midpoint of the route) or even at one of the smaller towns near a major park.
You'll generally be driving through desert terrain, so congestion shouldn't be a problem for the most part. Bear in mind, however, that leaving Los Angeles or driving through Las Vegas on a weekend or holiday could get you stuck in traffic, adding an hour or two to your travel time.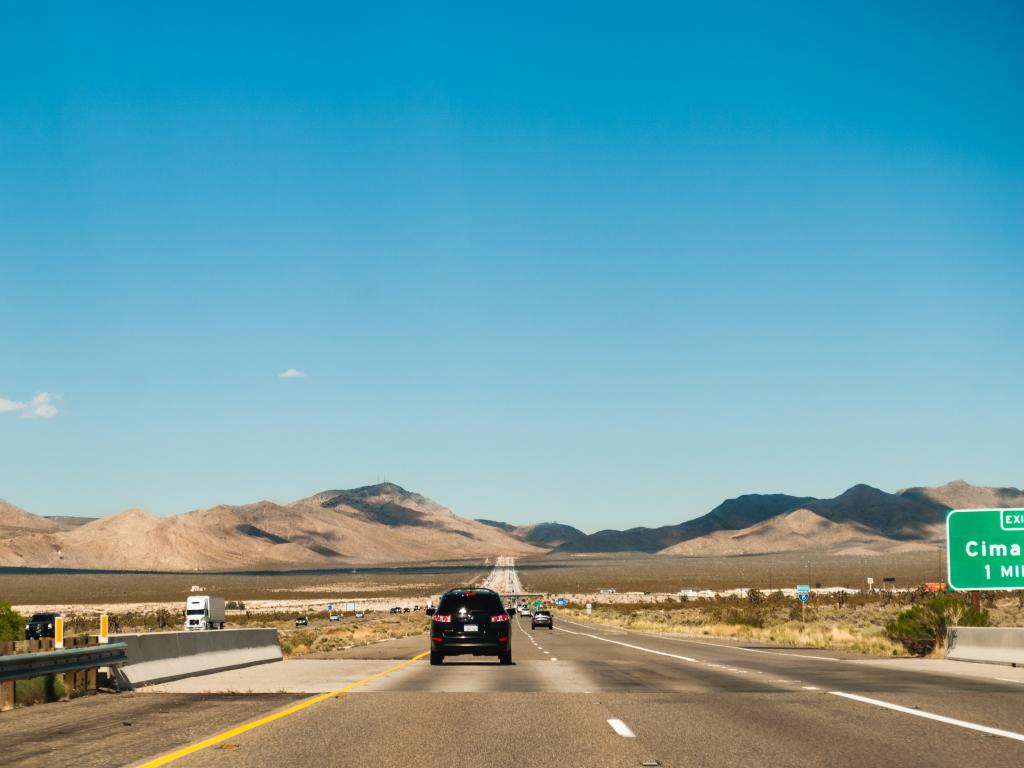 Best road trip route from Los Angeles to Zion National Park
The quickest and most scenic route from LA to Zion National Park follows the I-15 up until the last few miles. On top of being quick and convenient, this route will give you plenty to look at along the way.
If you'd like to hike up to Angels Landing, you will need a permit and will need to make a reservation. Check the Zion National Park's website for more details.
Road trip route from Los Angeles to Zion National Park
Take the I-15 north out of Los Angeles through Angeles/San Bernardino National Forests. Driving between Mojave National Preserve and Death Valley National Park, it's only a matter of time before you reach Las Vegas – check out Red Rock National Conservation Area and Lake Mead while you're here.
Further up the interstate, you'll pass by the Valley of Fire State Park and the Grand Canyon-Parashant National Monument. Driving past Red Cliffs National Conservation Area and Quail Creek State Park, you'll soon segue into State Route 9 and reach Zion National Park.
For an added treat, consider visiting Bryce Canyon National Park, a beautiful spot that's almost invariably worth the detour. Follow the State Route 9 from Zion's east entrance to Mt Carmel Junction and into US-89. Stay on this route north past Dixie National Forest, make a right into Scenic Byway 12, and from there, another right into SR 63 to get to Bryce Canyon.
Best places to stop between Los Angeles and Zion National Park
For people who appreciate the elegance of a desert trip, there's far too much to see along this route to power through it in one day – you'll definitely want to consider booking a hotel and exploring at your own pace. Here are some stops worth considering:
Experience a Cozy Getaway at The Inn at Death Valley
Despite its reputation as one of the hottest places on earth (and almost certainly, the hottest in all of America), there are some incredibly luxurious resorts here that'll make you feel like you're in an oasis. With that said, the best one by a long shot would be The Inn at Death Valley.
If you've ever wondered where the rich and famous go on vacation, this place has historically been one of the big ones! Needless to say, the rooms are flawless, and any amenity you can think of, the Inn has it – a sauna, a fitness center, golf and tennis courts, park-like areas featuring genuine greenery in the middle of the desert, and so much more.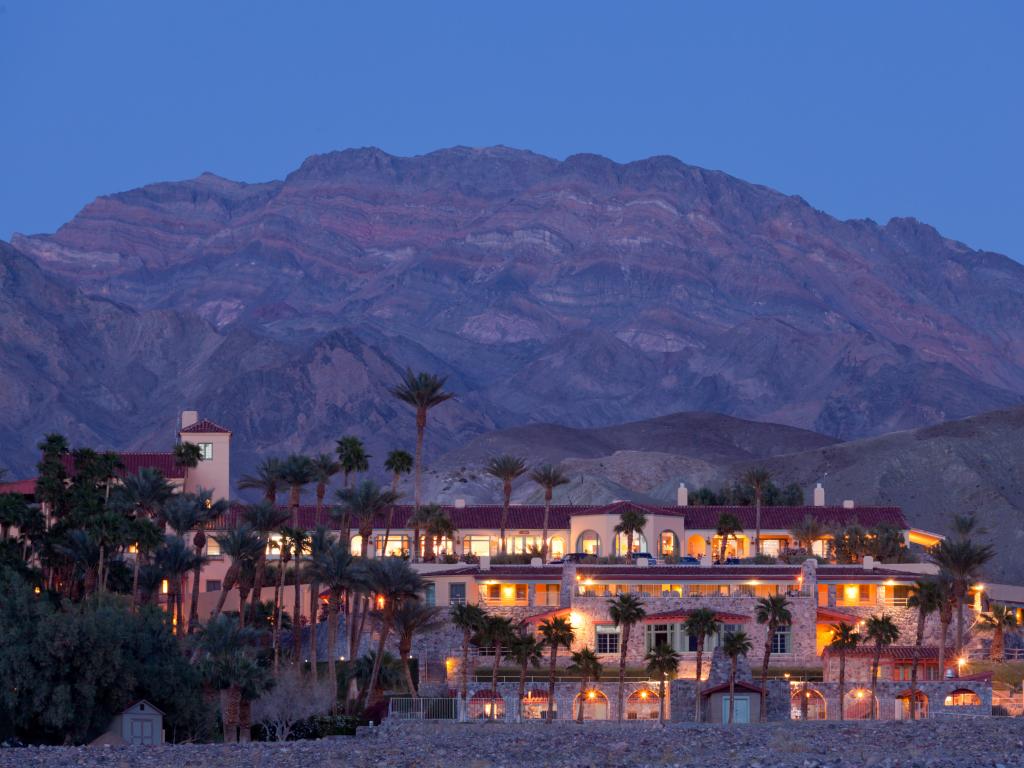 The breathtaking view of the Death Valley sunset from the gigantic swimming pool should be enough to sell you on this hotel. You can do it all here - spend a romantic evening by the pool and fire pit, enjoy a delicious all-American meal at the on-site restaurant, and have a toast at the bar in honor of your best vacation yet.
The hotel is expensive, as you might imagine, but you can relax knowing that no corners are being cut and everything you've signed up for, and more, will be accounted for.
Take Elegance to the Next Level at The Venetian (Las Vegas)
Conveniently located in the middle of your route and filled to the brim with amazing things to do, there's virtually no reason not to spend at least one night in Las Vegas. You can't go wrong with any of the hotels here, but The Venetian is a strong contender for the best in the city.
This hotel will make you forget you're on the Las Vegas Strip at all thanks to its distinct Venetian theme – beyond just the breathtaking décor and architecture, you can go on an indoor or outdoor gondola ride and teleport to Southern Europe for a few glorious minutes.
From extravagant bars and dining areas to state-of-the-art spas, swimming pools, and fitness areas, this hotel truly has it all. If all of this doesn't make you feel like royalty, ordering top-notch food to your stunning luxury suite certainly will.
Las Vegas prides itself on its nightlife, and the options at this hotel are endless. If you're feeling lucky, go down to the casino and play a game, or opt for something more casual and explore the Grand Canal Shoppes, featuring 150 boutiques.
If you're not much of a gambler and don't usually make impulsive purchases, your stay at The Venetian will turn out a lot cheaper than you might think – although it's certainly pricy, you really get plenty of bang for your buck.
Things to see on a road trip from Los Angeles to Zion National Park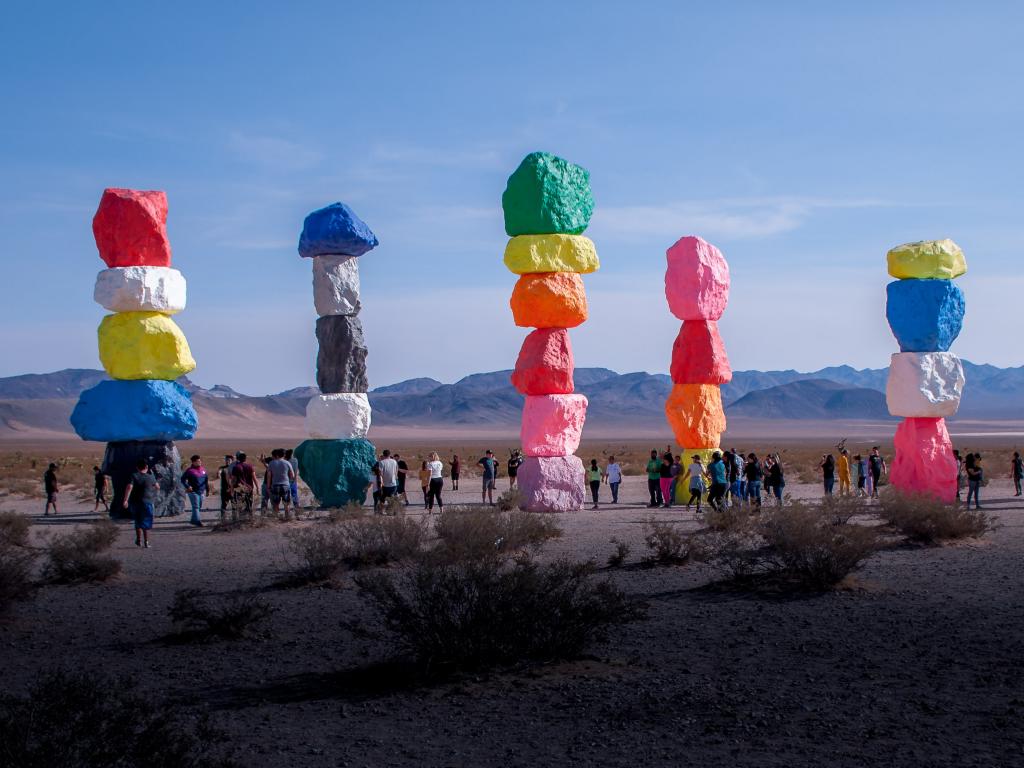 Zion National Park alone could take days to fully explore, but there's no shortage of amazing places along this route that deserve your full attention. If you have the time and facilities to do so, you should definitely consider devoting at least a week to this route, if not more. Here's a relatively comprehensive list of places to look out for:
Death Valley National Park – featuring mountain tops over 10,000 feet tall as well as Badwater Basin, the lowest point in N. America, this park's reputation precedes it
Mojave National Preserve – a beautiful preserve featuring sand dunes, extinct volcanoes, and Joshua trees
Seven Magic Mountains – an art installation meant to introduce color to Nevada's vast desert expanse
Sloan Canyon National Conservation Area – home to wildflowers and rugged, rocky terrain, you'll find countless petroglyphs scattered across this conservation area
Red Rock Canyon National Conservation Area – characterized by its signature red rocks, this is an extremely popular are among hikers and rock climbers. You might need to make a reservation for a timed-entry slot, so check the official website before traveling.
Las Vegas – an international juggernaut in terms of entertainment venues, night life, art scenes, and of course, gambling
Lake Mead – the coastline spanning hundreds of miles is perfect for recreational activities and will make you forget you're in a desert
Valley of Fire State Park – home to the Aztec Sandstone, which looks like it's on fire when the sunlight is harsh
Grand Canyon-Parshant National Monument – an open, remote section of the Grand Canyon with no roads or crowds, this monument is as remote as it gets
Red Cliffs National Conservation Area – with two wilderness areas and over a hundred miles of hiking trails, this area is any outdoorsman's dream come true
Sand Hollow State Park – beautiful red rocks and red sand beaches are the defining features of this park, and the crystal-clear reservoir is perfect for swimming and cliff jumping
Snow Canyon State Park – a unique park perfect for hiking, known for its dunes and lava tubes
Zion Canyon –arguably the highlight of Zion National Park, this is a strong candidate for the most scenic part of the itinerary
Dixie National Forest – this gigantic forest is famous for its colorful cliffs, high-altitude forests, and innumerable recreation opportunities
Bryce Canyon National Park – the eponymous Bryce Canyon is actually a complex of natural amphitheaters made up of hoodoos, thin rock protrusions found in badlands
Best time to go on a road trip from Los Angeles to Zion National Park
The best time for a road trip from Los Angeles to Zion National Park depends on what you're after – the park is open to the public all year round, but it gets most of its visitors from April to October. Throughout this period, you can take a shuttle along the so-called Zion Canyon Scenic Drive.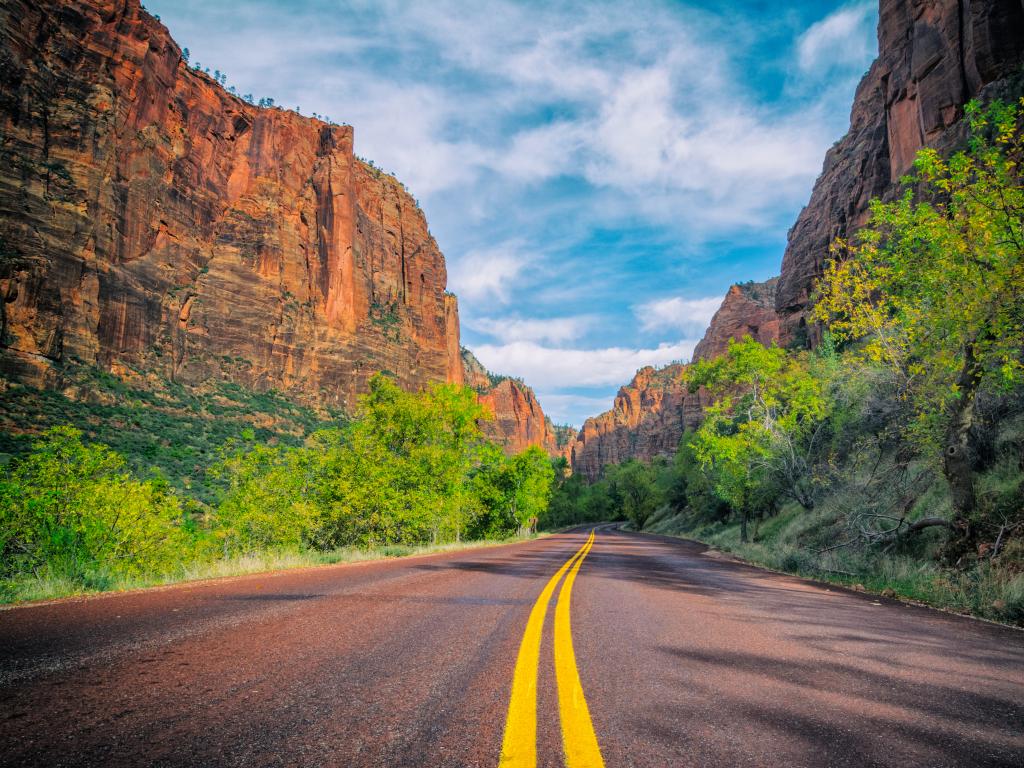 Visiting in spring definitely has its upsides – the park looks great and the weather is warm but not overbearing, although spring runoff can make hiking a challenge. Also, the areas with higher elevation (which there are plenty of) might still have snow, rendering them inaccessible in early-to-mid spring.
Summer is almost always a great time to visit a national park, and in many ways, Zion is no exception – on top of looking amazing, the park is bustling with activity around this time. The issue is that temperatures in summer can often hit 100 degrees (especially in July), making hiking and demanding physical activity ill-advised.
There are benefits to visiting in winter too – the Zion Canyon Scenic Drive can only be done via shuttle from April to October. Once the shuttles are discontinued, you're allowed to use your own vehicle to explore this beautiful stretch of road at your own pace. With that said, winter temperatures often dip below freezing at night, and you can expect many of the trails to be closed.
By process of elimination, the best season to visit Zion would have to be fall, as temperatures and hiking conditions are optimal this time of year. On top of that, the fall colors make the park look amazing, and although crowds are still present, they're less prevalent than in the summer.