Road Trip from Memphis to Denver
This epic road trip from Memphis to Colorado takes you through distinct landscapes where you'll travel through lush woods before arriving at Colorado's iconic red rocks and mountains. On route, you'll pass through vibrant cities and breathtaking snow-capped mountain views.
The road trip from Memphis to Colorado takes 28 hours to drive and will cover 1,640 miles. The notable stops are Little Rock, Oklahoma City, Shamrock, Albuquerque, Santa Fe, Colorado Springs, Ozark National Forest and Rio Grande National Forest.
Keep reading to discover the different routes you can take from Memphis to Denver. We have included helpful recommendations for stopovers, things to see and the best time to set off on this unforgettable adventure!
How far is Denver from Memphis, and how long will the road trip take?
Comparison of road trip routes between Memphis and Denver

| Route | Distance | Driving Time |
| --- | --- | --- |
| Direct Route | 1,090 miles | 16 hours |
| The Texas 66 Route | 1,640 miles | 28 hours |
| The Cowboy Trail Route | 2,050 miles | 35 hours |
We have 3 possible routes that you take on your road trip to Denver from Memphis. The far longer of the three is the Cowboy Trail Route which spans 2,050 miles and will take you 35 hours of non-stop driving. This route takes you through historic Wild West towns and vast plains.
If you are short on time, the Texas 66 Route is slightly shorter, taking 28 hours of driving and spanning 1,640 miles. This route is full of natural beauty and unique landscapes.
The last option is the Direct Route which will take 16 hours and 1,090 miles of driving. If you choose this route, you will reach your destination faster, however, you will miss out on some of the best sights that this road trip has to offer.
Since you'll be covering an impressive mileage on this trip, we recommend taking between seven and nine days to complete this trip to ensure that you have plenty of time to see all the fabulous attractions on the route.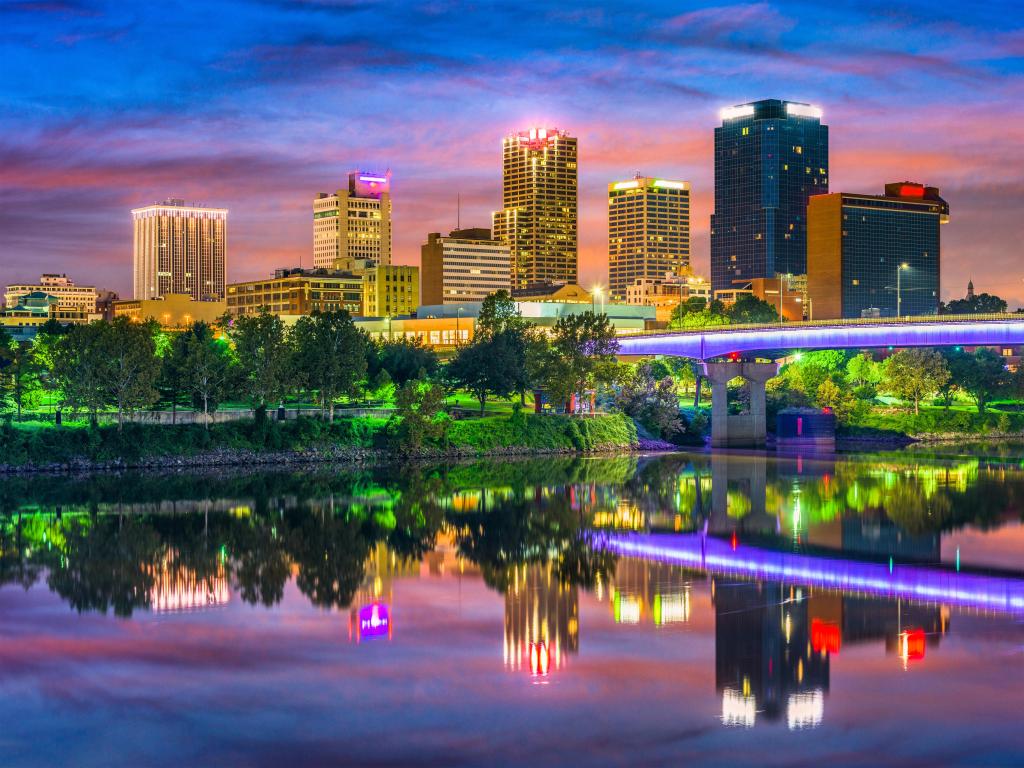 Best road trip route from Memphis to Denver
Within these two wonderful route options, you are sure to find one that will suit all your road trip priorities. The Texas 66 Route is an all-American road trip. Packed full of natural beauty, you'll see the unique landscapes of the Ozarks, Rio Grande, and the Red Rocks of Colorado.
What's more, you get to cruise along surviving stretches of the legendary Route 66 in the Texas Panhandle where historic landmarks of the Mother Road remain.
On the other hand, the Cowboy Trail Route takes you through historic Wild West towns with vast plains before meeting the mountainous forests of Colorado.
Along the route, you'll take a detour to visit Music City, Nashville, and explore well-known cities with an abundance of landmarks, culture, and history.
If you are visiting Rocky Mountain National Park, keep in mind that the national park uses a timed entry permit system. Please check the national park's website to see if you need to make a reservation before your visit.
The Texas 66 Route
Starting in Memphis, head west on Interstate 40 (I-40) and follow it until you reach Little Rock, a charming city in Mississippi known for its natural beauty and Pinnacle Mountain State Park.
From Little Rock, rejoin the interstate and head towards Ozark National Forest until you reach Oklahoma City, the perfect place on this route to embrace the wild west.
Follow the interstate to Amarillo, a popular stop along Route 66 which is home to many well-known theatres and art shoes. Then, head to Albuquerque and towards Santa Fe. With Pueblo-style buildings and a booming art scene, Santa Fe is a must on this road trip.
The route will then take you to Rio Grande National Forest and then to the wonderful city of Colorado Springs. While visiting Colorado Springs, take time to get outdoors and appreciate nature. To reach Denver, the final stretch of this journey will be on I-25 North.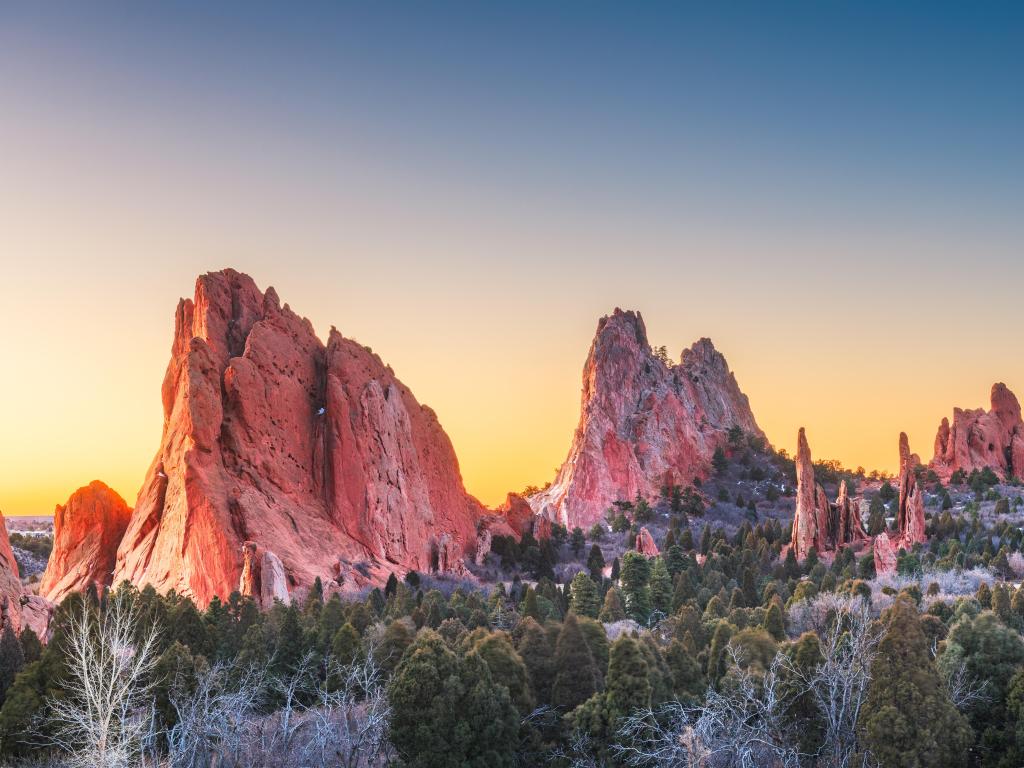 The Cowboy Trail Route
Start out by getting on I-40 in Memphis and head to Nashville, the birthplace of country music. If you've visited before and want a faster drive time, you can skip this detour by going North on I-55 where you'll meet St Louis to continue the journey.
Otherwise, follow the interstate until you Mammoth Cave National Park. Located in Kentucky, this national park contains the world's longest-known cave system.
You will then head north until you reach Louisville and head towards St. Louis in Missouri. Known for the iconic Gateway Arch, St. Louis is often referred to as the gateway to the west.
Upon reaching Kansas City, you will start driving on one of the longer stretches of the journey to Carhenge, a quirky tourist spot which replicates England's mysterious Stonehenge in a playful manner.
Head to Medicine Bow-Routt National Forest. This epic forest extends from north-central Colorado to central Wyoming. After this, head towards the city of Boulder, located at the base of the Rocky Mountains. For the final stint of the journey, travel on US-36.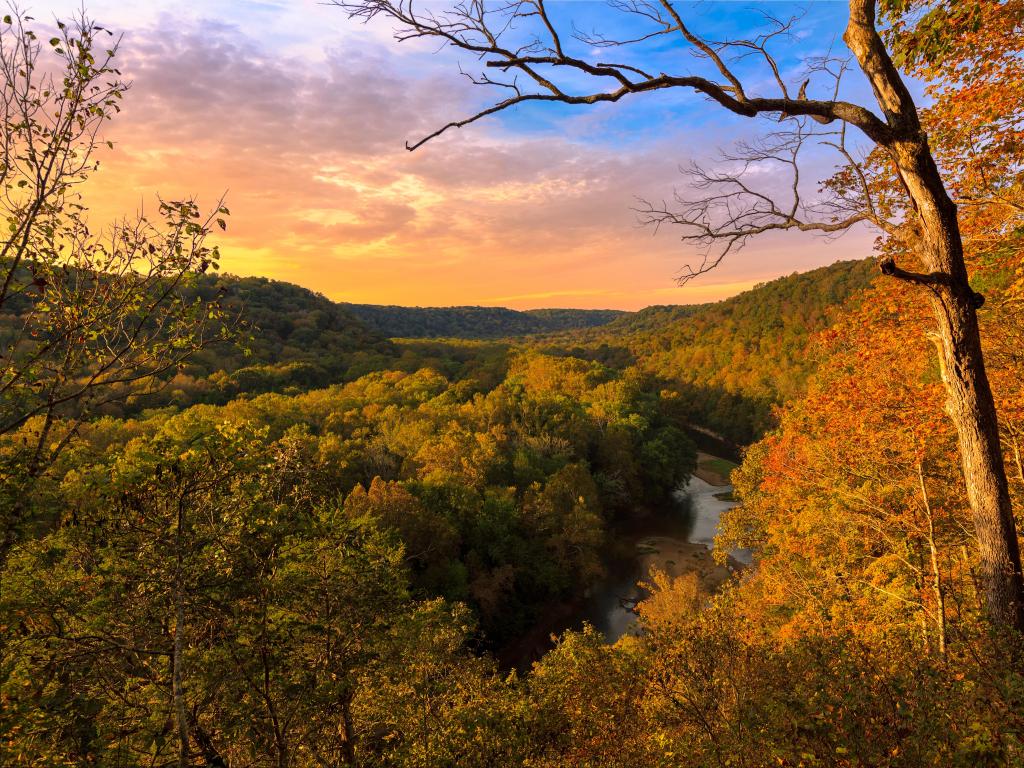 Best places to stop between Memphis and Denver
Considering how long this road trip from Memphis to Denver is, you're going to need to make a few stops along the way. Luckily this road trip is packed full of fun cities and scenic attractions so there is plenty to choose from.
A historic stop in Amarillo
Located halfway into your journey to Denver, an overnight stop at Amarillo is a benchmark on your road trip on the Texas 66 Route. Amarillo is a favorite destination to visit in the Texas Panhandle, home to an impressive stretch of the legendary Route 66.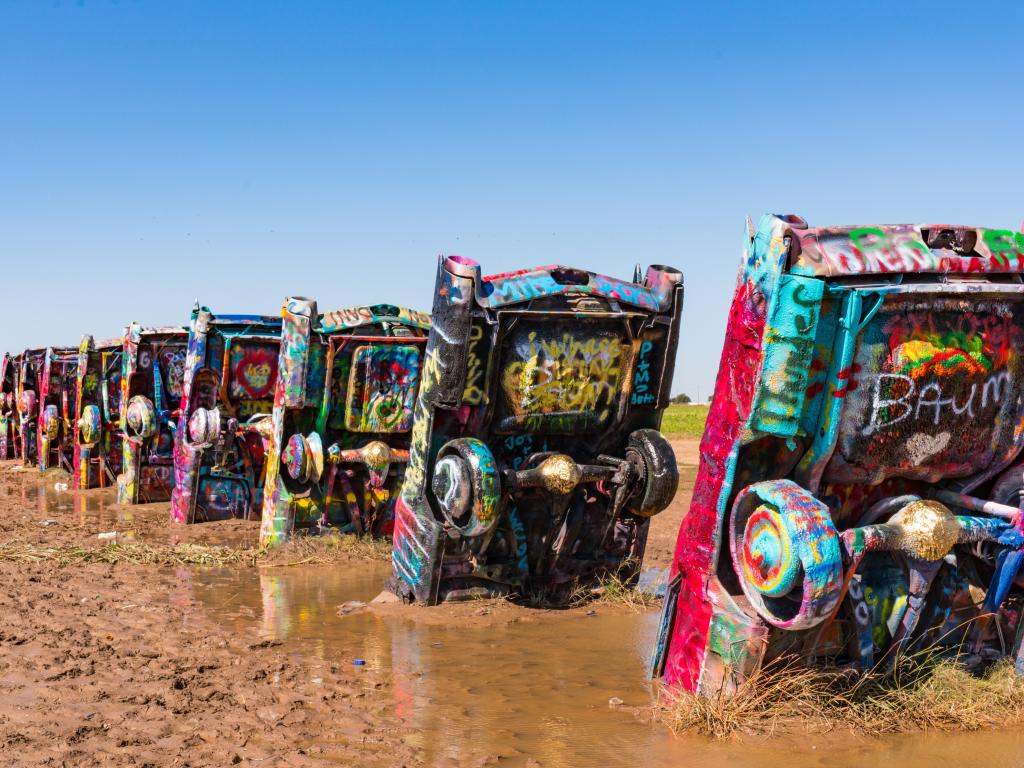 For outdoor adventure while visiting this fascinating city, travel south of Amarillo to Palo Duro Canyon State Park. As the second largest canyon in the USA, you can explore this epic canyon on foot or by bike. You can even take a guided horse or drive.
After an exhilarating day outdoors or exploring the city, we recommend staying at The Barfield, Autograph Collection to re-energize. This boutique hotel has a stunning outdoor patio to enjoy the Texas sun upon your arrival and a restaurant for a well-deserved meal.
If you'd like to venture out instead, this hotel is in Downtown Amarillo on Historic Polk Street. There are wine bars, restaurants and the Amarillo City Hall a stone's throw from the property for a fabulous evening out.
Amarillo Zoo and the American Quarter Horse Hall of Fame are just a short drive away, so you can easily spend some time there before you set off on the road again.
Before leaving the city, make sure not to miss a quirky photo opportunity in the Cadillac Ranch, an art installation that's free to view with 10 Cadillacs with the front end buried into the ground.
Explore the best of the arts and culinary experiences in Kansas City
Kansas City, located around halfway into the Cowboy Trail Route, has something to offer for everyone: history, a thriving art scene, jazz music, and not forgetting world-famous barbeque food, which you must sample during your stay.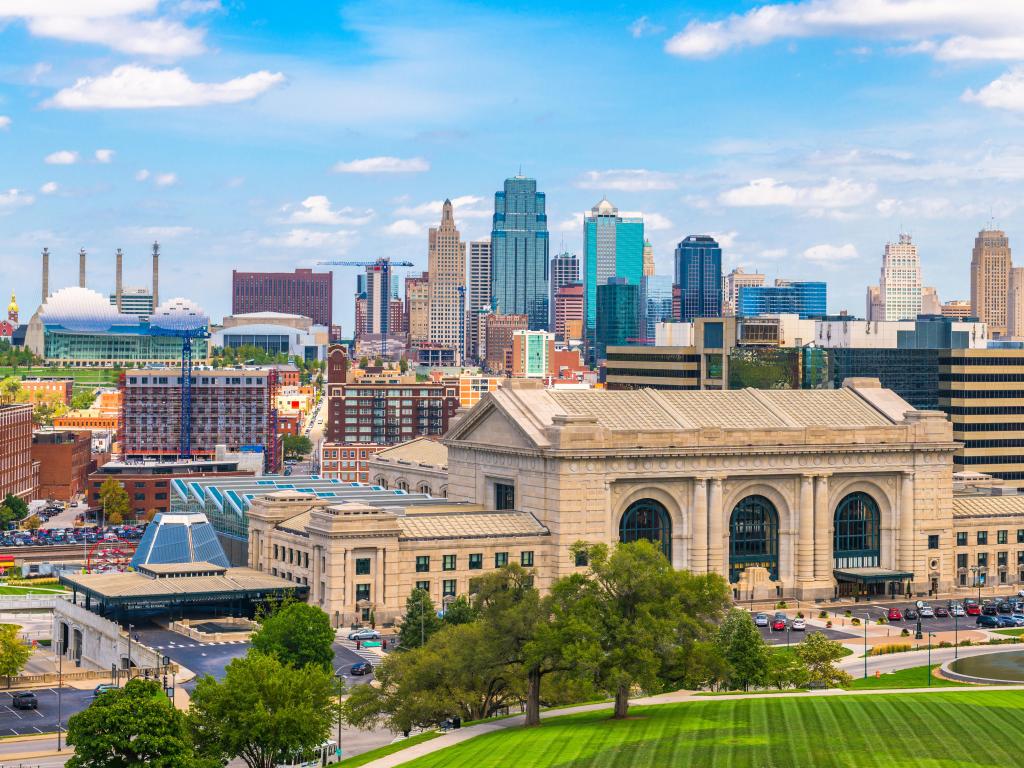 You can explore the thriving art scene in Kansas City. The Crossroads Art District has unique studios and galleries with a monthly showcase called First Friday. For a more comprehensive collection, the Nelson-Atkins Museum of Art features art from around the world.
Delve into the Kansas City jazz scene at the Historic 18th & Vine Jazz District. Here there are famous music clubs and the American Jazz Museum, not forgetting more of the legendary barbecue joints.
While visiting Kansas City, there is no better place to stay than Loews Kansas City. This hotel has all the facilities you need to rest after your long drive. A swimming pool and jacuzzi are open all day and there are even massage treatments available at an extra charge.
When you step out, you will find plenty of cafes, taverns, and restaurants within yards of the hotel. The National World War I Museum is only a short distance away, making this hotel the perfect base to see all the sights during your stay.
Where to stay when you reach Denver
Once you reach Denver, we recommend staying at the fabulous Four Seasons Hotel Denver. At the Four Seasons, you will live in 5-star luxury as you enjoy state-of-the-art spa facilities and a rooftop pool.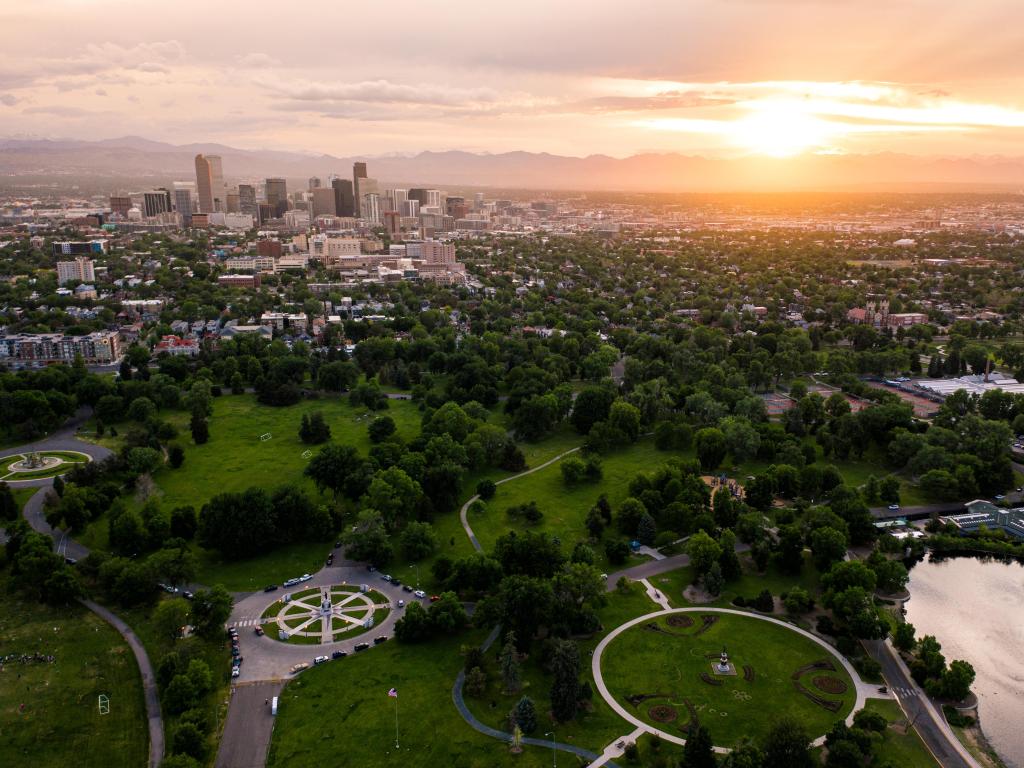 Fine dining is on-site at the EDGE restaurant, and you can even treat yourself to breakfast in bed through the room service option. The hotel is situated in the heart of Denver with Larimer Square just a stone's throw away and the Museum of Contemporary Art just a short walk from the property.
Things to see on a road trip from Memphis to Denver
No matter which route you choose to take, there is an endless supply of sights and attractions to see along the way. From unique cities to beautiful national parks, this road trip from Memphis to Denver is packed full of fun activities.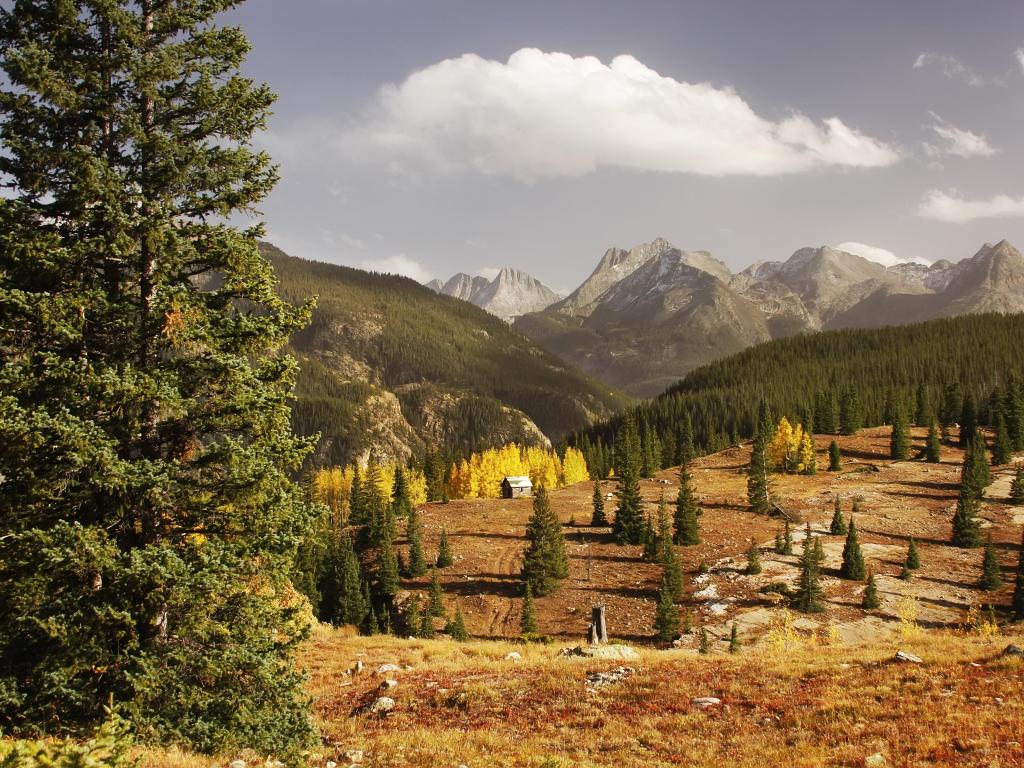 The Texas 66 Route
Little Rock, Arkansas - Little Rock is a city surrounded by natural beauty. In particular, Pinnacle Mountain State Park. Here, you can hike the mountain and the various signposts direct you to different adventures.
Ozark National Forest, Arkansas - This route takes you through the Ozark Mountains, where you'll find trailheads to walk. We recommend visiting Boston Blue Hole for a quiet and scenic swimming hole.
Oklahoma City, Oklahoma - The National Cowboy & Western Heritage Museum features artwork and artefacts from the Wild West. For a taste of 'The Big Friendly', head to Bricktown, where old warehouses have been renovated into restaurants, pubs, and shops.
Shamrock, Texas - Cruise along Historic Route 66 at Shamrock. Stop at U-Drop Inn built in 1936 to cater for the Mother Road. Don't forget to drop in at the Pioneer West Museum.
Groom, Texas - A quirky attraction is the Britten Leaning Water Tower on Route 66. At Groom, it's easy to stop and take a pic of the lop-sided water tower.
Albuquerque, New Mexico - With its European influence, the Old Town is exotic. For Breaking Bad fans, you can tour many filming locations on a guided tour.
Santa Fe, New Mexico - A Spanish colony dating back to 1610, with Pueblo-style buildings and a booming art scene, Santa Fe is a must-see for culture. It's home to the Georgia O'Keeffe Museum which contains over 3,000 works.
Rio Grande National Forest, Colorado - A fun way to experience the Rio Grande is on the Revolution Rail at South Fork. Here you'll pedal on a rail track through vistas.
Colorado Springs, Colorado - Drive through the Garden of the Gods, which has breathtaking rock formations. Don't forget to stop at Balanced Rock which is the gravity-defying 700-ton rock.
The Cowboy Trail Route
Nashville, Tennessee - Visit the Grand Ole Opry, the Country Music Hall of Fame and then enjoy the nightlife on Broadway where you can hear the Nashville sound first-hand.
Mammoth Cave, Tennessee - Take a guided tour of Mammoth Cave. There are extensive tours or shorter tours to suit where you'll explore the longest known cave system in the world.
Louisville, Kentucky - Here, you can experience the historic charm of Whiskey Row. At night take a steamboat along the Mississippi where you'll watch the sunset and enjoy live music while sipping on a cocktail.
St. Louis, Missouri - You must visit the iconic Gateway Arch. You can even travel to the top by tram for panoramic views of the city and beyond.
Columbia, Missouri - Rock Bridge Memorial State Park, just minutes from Columbia, allows tourists to trek and bike to caves, the rock bridge, and sinkholes. Remember to see the Devil's Icebox - a sinkhole with an underground stream.
Omaha, Nebraska - Discover Omaha's Old Market. The neighborhood is old, featuring art galleries, restaurants, and cocktail bars. St. Cecilia Cathedral, with its Spanish Renaissance style dating back to 1905, takes you deeper into history.
The Cowboy Tail, Nebraska - The road from Norfolk to Valentine follows the Cowboy Trail, an old railway line now used for bicycling, walking and horseback riding. Walk across Valentine Bridge and stop at the small towns en route.
Cheyenne, Wyoming - Take a self-guided tour of historic Cheyenne. Download a free brochure so you don't miss any of the landmarks. After, stop at Carhenge to witness a wacky landmark.
Medicine Bow-Routt, Wyoming - Take in lakes surrounded by pine trees at Medicine Bow Routt National Forest. We recommend the Zirkel Circle trail for spectacular views of Gilpin Lake.
Boulder, Colorado - In the foothills of the Rocky Mountains, Boulder is a city with many dramatic hikes. Try Boulder Falls, it's on the route, accessible and there's an impressive 70ft waterfall.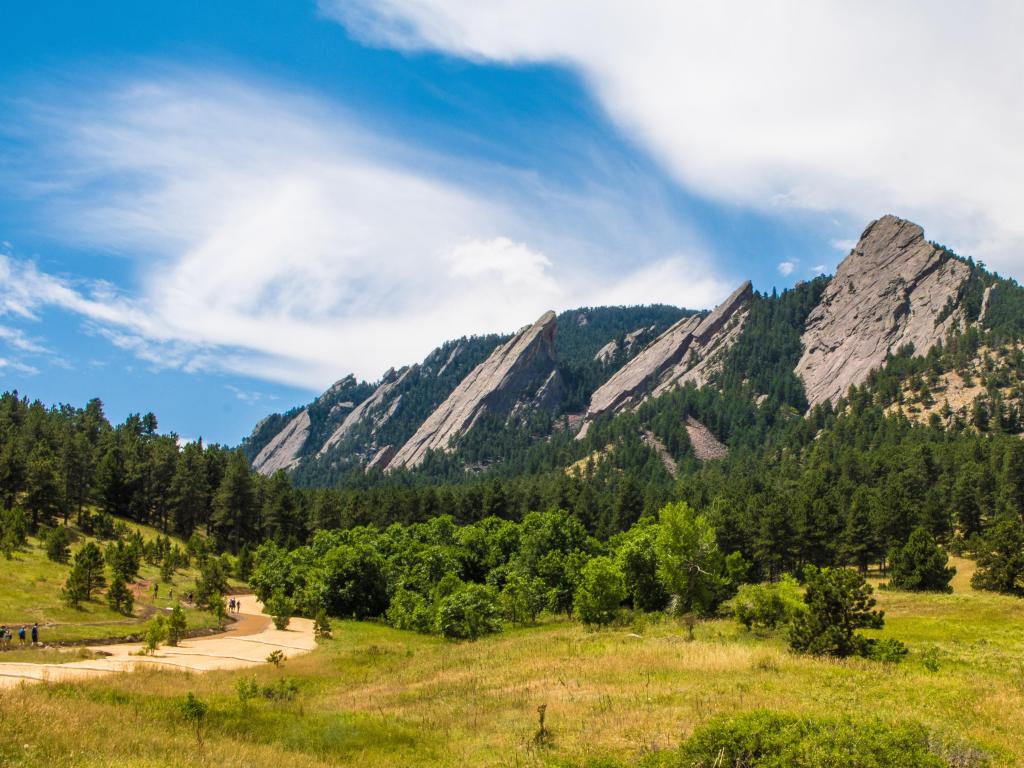 Best time to go on a road trip from Memphis to Denver
Denver is a city of four seasons. The summers are hot and sunny, and in winter it's cold with plenty of snowfall. Temperatures in a typical year vary between 22 degrees Fahrenheit and 89 degrees Fahrenheit. Although the weather is changeable, tourism is all year round.
July and August are the hottest months. Temperatures average 75 degrees Fahrenheit and 73 degrees Fahrenheit, respectively. The hot season ranged from June to September. Hiking and other outdoor activities are popular during this time of year.
January, February, and December average between 32 degrees Fahrenheit and 35 degrees Fahrenheit. The best months for snow are November through February.
If you are planning on visiting some winter resorts and take advantage of the abundant snow sports options around the city in these colder months, ensure you plan ahead and keep up to date with weather reports.
If you are looking for milder weather, September has an average temperature of 65 degrees Fahrenheit, which makes it a great time to visit. It's also the clearest month, so the lack of clouds makes for pleasant viewing of the surrounding Rocky Mountains.
Denver hosts festivals and events all year round. If you visit in July, you will be able to participate in Cherry Creek Arts Festival, which is one of the biggest juried art festivals in the USA, and features great food, music and shows.