Best Time To Visit Memphis
Memphis is one of the greatest musical cities in the world. From Elvis to B.B. King, dozens of the world's most famous musicians have lived, recorded and performed in the city and you can listen to the next generation of artists up and down Beale Street. But you may wonder when the best time of the year to come to Memphis is.
The best time to visit Memphis is from September to mid-October. The busy summer season is over so there are fewer tourists around after Labor Day and the weather is perfect with daily highs at around 80 °F (27 °C).
Read on to get all the details about what's on in Memphis throughout the year, what the weather is like month by month and when the best time to visit Memphis is depending on what you're looking for.
When should you go to Memphis?
When to visit Memphis - Summary
Best Time for Good Weather: The best weather in Memphis is in September and October. The summer heat is gone and these are the two driest months of the year with daily highs above 68 °F (20 °C) through to late October. April and May are also good weather months, although you may catch a few days of rain on your way around Memphis.
Best Time for Sightseeing: Sightseeing in Memphis is best in the spring and fall. The main attractions can get very busy in the summer months - we once had to wait an hour and a half in the scorching heat of the parking lot of the Lorraine Motel before getting inside. September to October and March to April are the best sightseeing months.
Best Time for Saving Money: November and February are the cheapest months to come to Memphis. With the tourist season at its lowest and few major events in the city, hotel and flight prices are usually best in these months. Any time from October to mid-April is considerably better on the wallet than during the summer months when tourists flock to Memphis.
Best time to visit Memphis
Best Time for seeing the Mississippi: There are a lot of things to see and do around Memphis, but don't overlook the Mississippi River that flows right through the city. There are events on the river that happen during the summer and if you want to get in the water or walk along one of the waterfront parks, coming from May to October is best. A lot of the Memphis in May events happen on the river bank so you can join in for the festival atmosphere or take a stroll through Tom Lee Park in the quieter month of September instead.
Best Time for Museums and Activities: While museums and main sights remain open throughout the year, some of the outdoor activities are only available during the summer months. Mud Island and the summer concert series at the Levitt Shell and the Botanic Gardens all happen from June to August so this is the best time to visit.
Best Time for Concerts and Music: September and October are the two months in the year when concerts, live music events and festivals seem to be happening all the time in Memphis. There's the Delta Fair & Music Fest, Soulsville USA, Gonerfest and the Mempho Music Fetsival as well as neighborhood events such as the Cooper-Young Festival. Memphis in May is another huge series of events in May that includes the Beale Street Music Festival. Also remember that Beale Street is buzzing all year round with live music in clubs every day of the week.
Best Time for Families and Kids: October and April are great in terms of having milder weather and it being comfortable for kids to see the sights. December in Memphis is also great with a lot of big family-friendly Christmas-themed events around the city.
Best time to Avoid Crowds: Memphis is at its busiest from early May through to the Labor Day Weekend at the beginning of September. The usual summer tourist crowds start early with the massively popular Memphis in May festival. To avoid the crowds, visit from mid-September to April with November and February the quietest months in terms of visitors.
Memphis travel seasons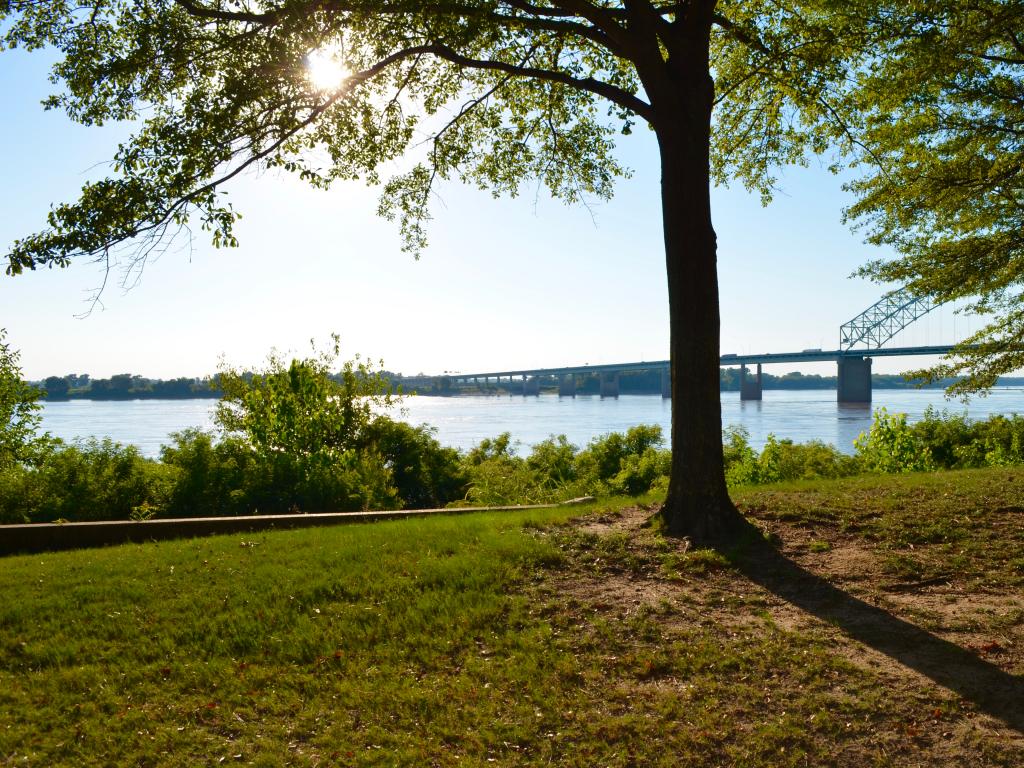 High Season for Tourists (May to August)
May and June are busy tourist months with the Memphis in May Festival bringing in visitors from far and wide and the summer break season starting in June. Although July and August are hot and humid, the tourist season remains high as tourists come to Memphis for their summer vacation.
As with many U.S. cities, the tourist season sharply ends around Labor Day with kids having to go back to school and the end of the summer vacation season.
Shoulder Seasons (March to April and September to November)
While the weather still holds up, visitors continue coming to Memphis, but not in anywhere near the same numbers as over the summer months. You'll find that queues in popular tourist sites are shorter and it's easier to get a restaurant reservation.
Low Season (December to February)
Late November to February is the low season for tourism in Memphis. Christmas-themed events mainly attract the locals and there are fewer events and festivals during the winter. Early January sees an increase in visitors celebrating Elvis's birthday, but this is generally the quiet part of the year.
Best time to visit Memphis for the Blues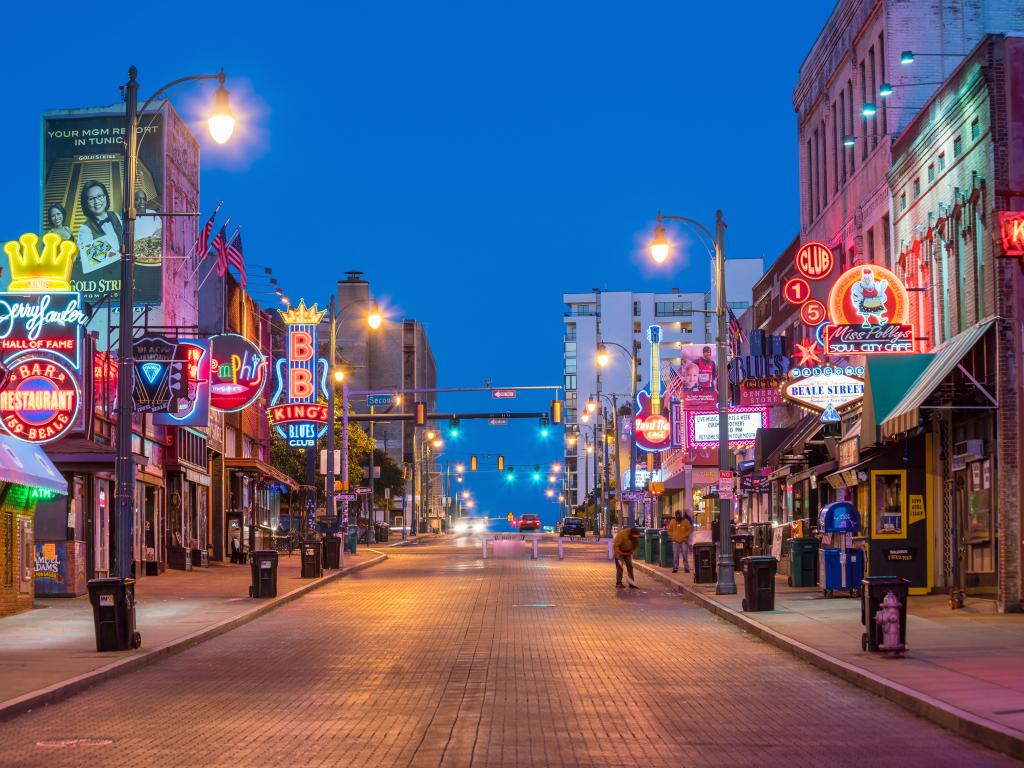 Listening to amazing blues is probably the best reason to visit Memphis. In general, there is not a bad month to come if you want to visit the numerous bars with live music along Beale Street or other parts of town. There are shows every night and the quality of the music is very high.
To get the most out of your visit, you can come during one of the major blues events - the Memphis in May Festival and the Blues Music Awards are in May, the Blues on the Bluff day is in July and the International Blues Challenge happens in January.
If the dives along Beale Street are where you want to spend your time (and we would very highly recommend it), then any time from September to April is good. The summer tourist crowds are gone, so it's easier to get a table or a seat at the bar and listen to amazing blues all night long.
Weather in Memphis across the year
Average monthly temperature and rainfall for Memphis
Average temperature highs and precipitation
Data sourced from U.S. NOAA Climate Data
Month
Temperature
Rainfall
January
47.8 °F / 8.8 °C

---

3.98 in / 101 mm

---

February
52.8 °F / 11.6 °C

---

4.39 in / 112 mm

---

March
62.0 °F / 16.7 °C

---

5.16 in / 131 mm

---

April
71.9 °F / 22.2 °C

---

5.50 in / 140 mm

---

May
79.9 °F / 26.6 °C

---

5.25 in / 133 mm

---

June
87.0 °F / 30.6 °C

---

3.63 in / 92 mm

---

July
90.4 °F / 32.4 °C

---

4.59 in / 117 mm

---

August
90.0 °F / 32.2 °C

---

2.88 in / 73 mm

---

September
83.5 °F / 28.6 °C

---

3.09 in / 78 mm

---

October
73.2 °F / 22.9 °C

---

3.98 in / 101 mm

---

November
61.4 °F / 16.3 °C

---

5.49 in / 139 mm

---

December
50.4 °F / 10.2 °C

---

5.74 in / 146 mm

---
Memphis weather by month
Memphis weather in January: January is the coldest month in Memphis with freezing temperatures overnight. Daily lows average 29.9 °F (-1.1 °C) and even the daily highs stay low with most days not breaking 50 °F (10 °C). Memphis usually receives a bit of snow in January averaging only a couple of inches (5 cm) but it can get icy throughout the month with temperatures hovering either side of the freezing point. Average temperature: 38.9 °F / 3.8 °C. Average precipitation: 3.98 in / 101 mm.
Memphis weather in February: February remains cold with average temperatures only marginally warmer than January. The slight warming does mean snow is rare, but the relatively humid climate can make it feel a lot colder than it is. Average temperature: 43.1 °F / 6.2 °C. Average precipitation: 4.39 in / 112 mm.
Memphis weather in March: Spring arrives in full force in March and the temperatures rise sharply to daily highs of 62 °F (16.7 °C). Spring in Memphis is a severe weather season with March being the most volatile month. Tornadoes and thunderstorms are likely. March is the first of the 3 wettest months although humidity is at its lowest through the year. Average temperature: 52.5 °F / 11.4 °C. Average precipitation: 5.16 in / 131 mm.
Memphis weather in April: April continues the warming up of Memphis with temperatures jumping another 10 degrees to daily highs of 71.9 °F (22.2 °C). Volatile spring weather means weather can change a lot day on day and with April being the wettest month (excluding the December sleet/snow), expect frequent rain. Average temperature: 62.0 °F / 16.7 °C. Average precipitation: 5.50 in / 140 mm.
Memphis weather in May: While the rainfall continues into May, the weather improves significantly towards the end of the month with warm days and nights. Daily lows average 61.3 °F (16.3 °C) making the evenings pleasantly warm. Expect a few days at the end of the month to reach into the high 80s (over 30 °C). Average temperature: 70.6 °F / 21.4 °C. Average precipitation: 5.25 in / 133 mm.
Memphis weather in June: Summers in Memphis are hot and humid and June is the first month of the summer heat. Expect a few days in the month to break the 90 °F (32 °C) mark and the prevailing winds from the Gulf of Mexico to bring humidity into the air. Average temperature: 78.0 °F / 25.6 °C. Average precipitation: 3.63 in / 92 mm.
Memphis weather in July: July is the hottest month of the year with daily highs averaging 90.4 °F (32.4 °C). With humidity levels still high and periods of temperatures hitting above 95 °F (35 °C), make sure you wear sunscreen and carry a bottle water with you as it will feel hot. Average temperature: 81.5 °F / 27.5 °C. Average precipitation: 4.59 in / 117 mm.
Memphis weather in August: August weather stays hot and dry with the month seeing the lowest amount of rainfall in the year. Even the lows at night average 71.2 °F (21.8 °C). Take care if you're walking around the city, or queuing outside for the National Civil Rights Museum as the sun can feel very hot. Average temperature: 80.6 °F / 27.0 °C. Average precipitation: 2.88 in / 73 mm.
Memphis weather in September: September stays hot and dry with temperatures only beginning to ease towards the end of the month. September is also the most humid month which can make it feel as hot as June to August. Average temperature: 73.0 °F / 22.8 °C. Average precipitation: 3.09 in / 78 mm.
Memphis weather in October: The fall season arrives in the middle of October. Both, the temperature and humidity reduce significantly from September making it feel a lot cooler with daily lows dropping to 51.3 °F (10.7 °C). It can also get wet towards the end of month as the autumn rains start. Average temperature: 62.3 °F / 16.8 °C. Average precipitation: 3.98 in / 101 mm.
Memphis weather in November: November is a transitional month from the warm summer months into winter. As the first frosty days arrive in the middle of the month, the leaves turn bright colors and the damp cooler days make it feel like proper fall. Average temperature: 51.8 °F / 11.0 °C. Average precipitation: 5.49 in / 139 mm.
Memphis weather in December: The winter sets in earnest in December with temperatures dipping and daily lows averaging just 32.7 °F (0.4 °C). Expect cold rain, sleet and a little bit of snow towards the end of the month with December having the highest precipitation of the year. Average temperature: 41.6 °F / 5.3 °C. Average precipitation: 5.74 in / 146 mm.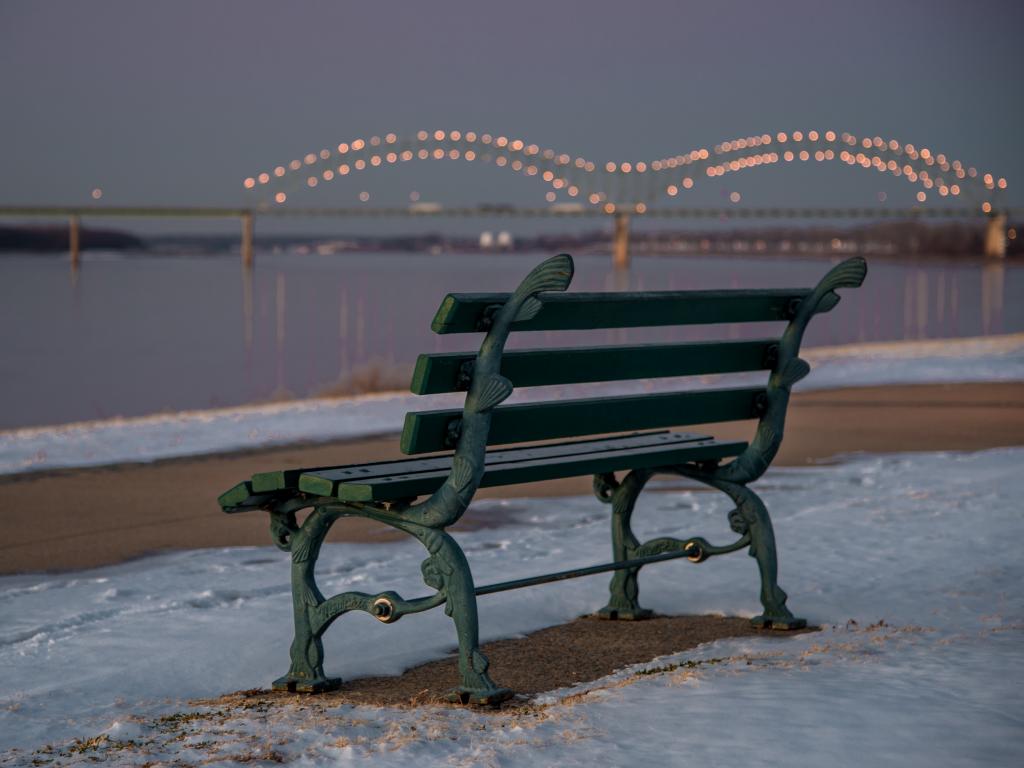 Memphis events and things to do by month
January in Memphis
February in Memphis
March in Memphis
April in Memphis
May in Memphis
June in Memphis
July in Memphis
4th of July Fireworks on the River – Memphis celebrates the National Holiday in style with fireworks over the Mississippi River hosted by the Mud Island River Park that you can watch from park locations all along the river or from the island itself.
WEVL Blues on the Bluff – The family blues day takes place in the grounds of the Metal Museum. It's a bring your own chair type of event where you can relax under a tree, listening to great music.
August in Memphis
Elvis Week – A busy week of events celebrating the life of Elvis Presley. The week kicks off with a Candlelight Vigil at the Gates of Graceland and events include the Ultimate Elvis Tribute Artist Contest.
September in Memphis
October in Memphis
November in Memphis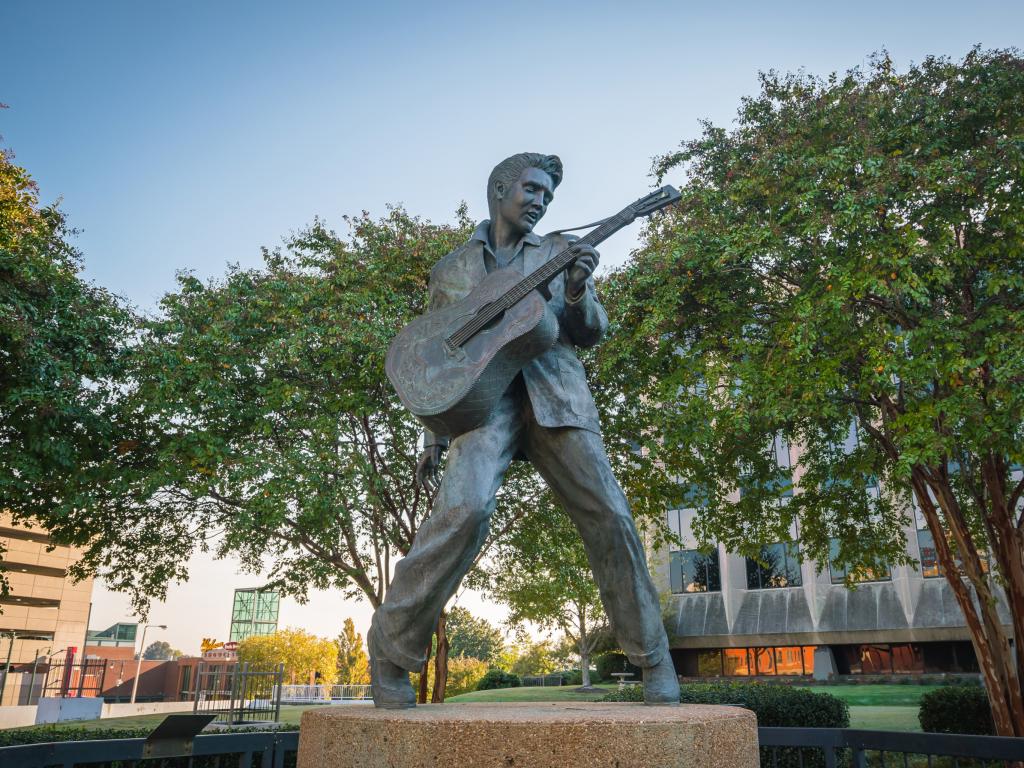 Indie Memphis Film Festival – A week-long festival celebrating independent film at the beginning of November or end of October with almost 300 films and screenings in venues around Memphis.
Graceland Lighting Ceremony – The Christmas lights are traditionally turned on in late November in a ceremony with music and Christmas cheer.
December in Memphis