Road Trip from Memphis to Nashville
Tennessee is famous for its blues, soul and rock 'n' roll, and this road trip from Memphis to Nashville takes in the state's rich musical heritage and historic towns. This short but iconic musical road trip takes you through some of the country's most evocative landscapes and cultural historic sites.
The 220-mile road trip from Memphis to Nashville takes 3 hours 30 minutes to drive. Highlights on the way include Jackson, Natchez Trace State Forest and Chickasaw State Park; or Muscle Shoals, Mt. Pleasant and Carnton if you take a slight detour.
This road trip is short but packs a scenic punch - it's ideal for a day or weekend trip. Read on for our guide to making the most of it including two route options to choose from, our recommended overnight stops, plus our favorite things to see along the way.
How far is Nashville from Memphis, and how long will the road trip take?
Comparison of road trip routes between Memphis and Nashville

| Route | Distance | Driving Time |
| --- | --- | --- |
| Direct Route | 220 miles | 3 hours 30 minutes |
| Muscle Shoals Route | 275 miles | 5 hours |
The road trip from Memphis to Nashville is 220 miles long and takes 3 hours and 30 minutes to drive, not accounting for any stops along the way. This Direct Route is the quickest way to get to Nashville and stays on one road for most of the drive, with just one stop in Jackson.
If you have time for a detour, the Muscle Shoals Route takes you into the neighboring states of Alabama and Mississippi. This route is 275 miles in length and will take around 5 hours to drive.
While you could complete this drive in a single day, we recommend taking two days or longer to fit in at least one overnight stop.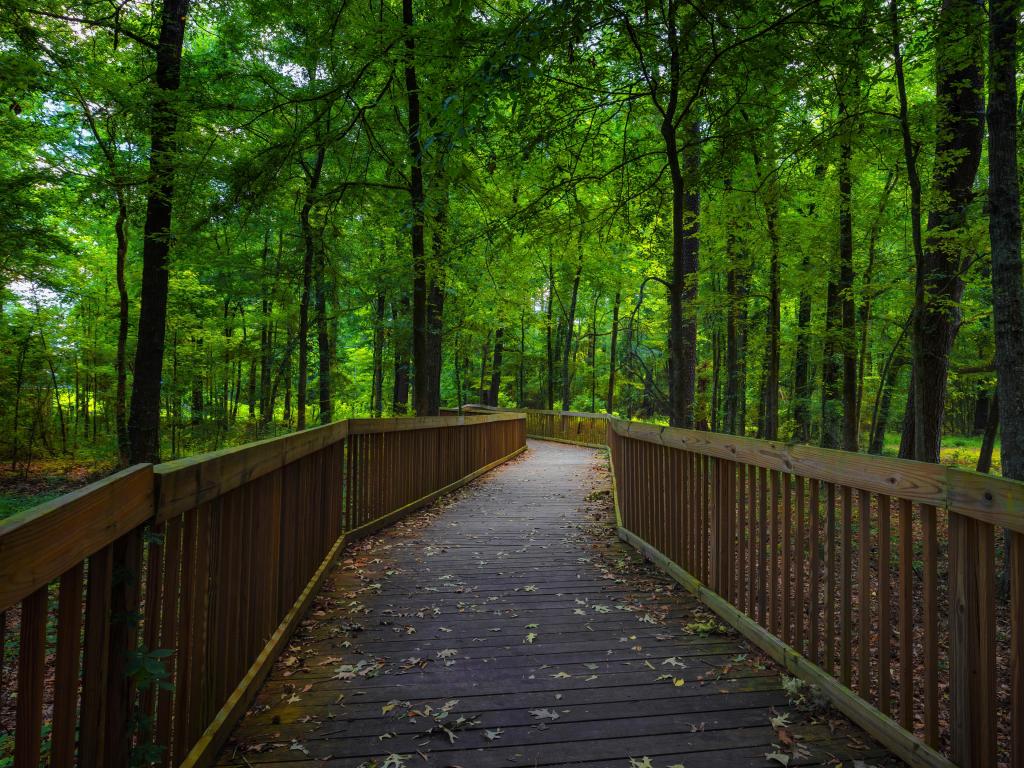 Best road trip route from Memphis to Nashville
This quick trip offers two distinct routes, both with their own advantages.
If you're looking to get straight to Nashville, the Direct Route passes through some pleasant open landscapes, including a stretch through Hatchie National Wildlife Refuge. Along the way you can stop in Jackson for a taste of old and new Tennessee.
If you've already ticked Jackson off of your bucket list or have slightly more time, you might want to detour via Muscle Shoals, a small town along the Tennessee River known for its historical significance in the American music industry. You can also stop at Mount Pleasant, a historic city perfect for a day or few hours' exploration.
You can also make a detour to the scenic Natchez Trace Parkway if you are following the Muscle Shoals Route. Click here for our detailed guide on the ultimate drive on Natchez Trace Parkway.
Either way, you end up in Nashville, known in the United States as the "Music City" for its vibrant musical past and present.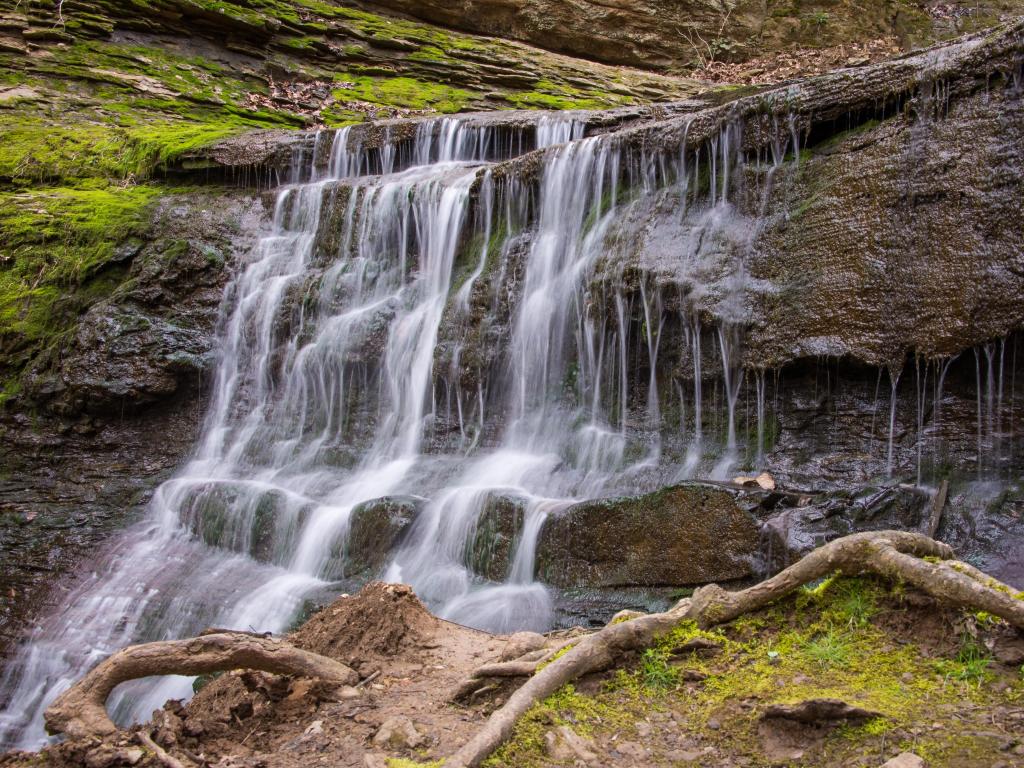 The Direct Route from Memphis to Nashville
From Memphis, take I-40 east to Jackson, with the opportunity to stop and stretch your legs in the Hatchie National Wildlife Refuge.
Rejoin I-40 to reach Jackson. After taking some time to explore the quaint architecture and its great range of antique shops, rejoin the I-40 and follow it all the way to Nashville.
The Muscle Shoals Route
Take I-40 out of Memphis and merge on to I-240 east. Exit onto TN-385 and take US-72 east to cross into Alabama and follow signs for Muscle Shoals.
Once you've soaked up the musical history of this small city, cross the Tennessee River and follow signs for US-72. Turn left onto US-43 and follow the road north to Mount Pleasant.
From there, take US-43 north, towards the city of Columbia, TN. Once you've skirted Columbia, turn left onto US-31 heading north and then join TN-396 which will take you to the I-65. Follow I-65 north for just half an hour, directly into the heart of Nashville.
Best places to stop between Memphis and Nashville
Over the short distance of between 220 and 275 miles, you can pack in a few stops to help break up the journey.
Whether you want to discover vibrant Jackson or the quieter destinations of Muscle Shoals and Mount Pleasant, we've picked out some of the best overnight options if you choose to split the trip up over a couple days.
Get a sense of history in Jackson
About halfway along the Direct Route is the city of Jackson, midway between Nashville and Memphis and a great spot to spend a night exploring.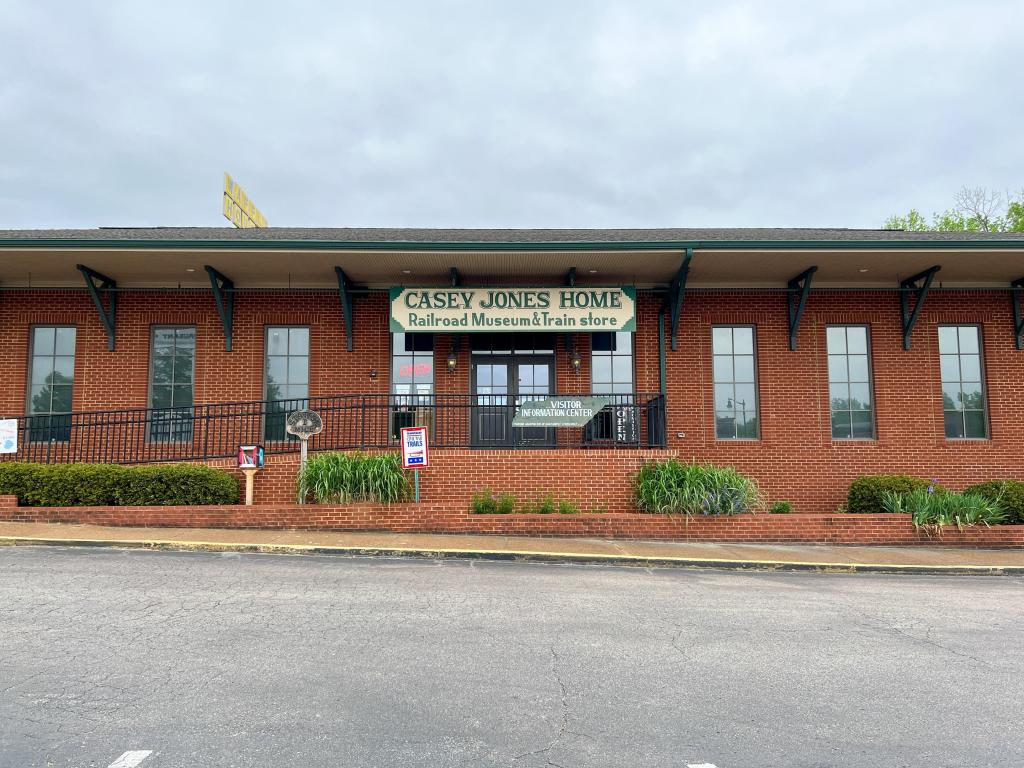 Jackson has the lively energy of a college town, as it is home to three universities with large student populations. It's also known as the birthplace of the rockabilly blues, and is host to tons of cute shops, antique stores, and quaint restaurants.
Take a shopping trip through Carriage House Antique Market, which boasts over a hundred vendors selling unique and vintage finds.
Other historical attractions include Pinson Mounds State Archaeology Park, home to more than a dozen Native American mounds as well as walking trails and a museum. And you don't have to be familiar with the folk hero to enjoy the Casey Jones Village, where you'll find delicious treats, a railroad museum and cute shops.
To make the most of your stay, book a room at Springhill Suites by Marriott, a stylish chain hotel with an outdoor pool. They offer a complimentary continental breakfast and a fitness center, as well as free parking on site.
The hotel is located just a few miles from Casey Jones Village, and is near to the highway, so travelers can easily get back on the route in the morning.
Discover music legends in Muscle Shoals
Located right by the Tennessee River, Muscle Shoals is about halfway along the Muscle Shoals Route and provides a calming respite from the road.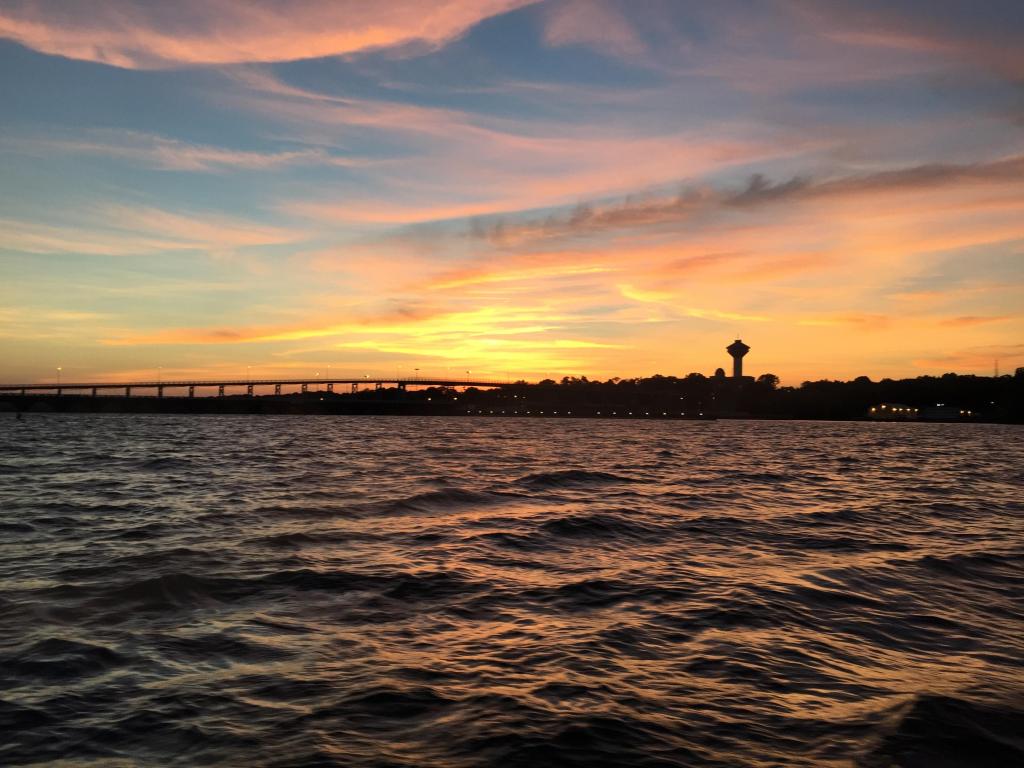 Muscle Shoals is a small city known for its significance within the history of America's music industry, having earned the moniker "The Hit Recording Capital of the World". Some of the artists who have recorded hits here include Aretha Franklin, Paul Simon and the Rolling Stones.
If visiting Muscle Shoals, FAME Recording Studios are a must-see, to stand in the place where America's most celebrated artists recorded some of their greatest hits.
Another local attraction is Frank Lloyd Wright Rosenbaum House - famed architect Frank Lloyd Wright designed this beautiful home which is open for tours.
For a relaxing overnight stay, Marriott Shoals Hotel & Spa is located right on the Tennessee River and boasts a lagoon-style outdoor swimming pool. This four-star spot offers 24h room service and the chance to eat at a revolving restaurant with panoramic river views.
The hotel is located right by the water and near Veterans Memorial Park, offering some calm from the city of Muscle Shoals. They offer free parking and it's near Helton Drive, which will take drivers straight back onto the route in the morning.
Where to stay when you reach Nashville
There is so much to see and do in Music City, it's worth taking the time to find a comfortable and convenient base from which to explore.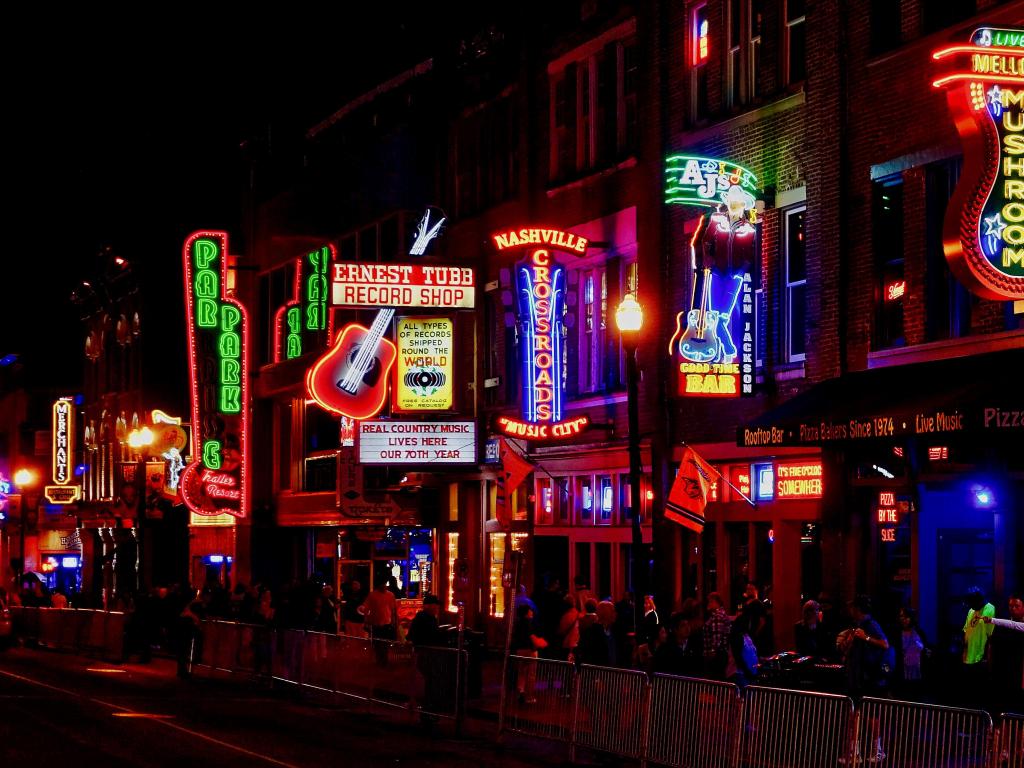 The Hermitage Hotel is a luxurious and beautifully decorated place to stay, with an iconic exterior that reflects the city's rich and vibrant history.
The hotel offers private parking, which is always an important consideration on a road trip stop. Even more enticing, though, is the hotel's decor: a sumptuous display of timeless beauty. This historic venue dates from the early 1900s, and is the only hotel in Tennessee designated as a National Historic Landmark.
For when you want to head out on the town, it's located near many signature Nashville attractions including the Bridgestone Arena, Johnny Cash Museum and Nissan Stadium, as well as the Ryman Auditorium.
Things to see on a road trip from Memphis to Nashville
This trip offers the chance to explore some of Tennessee's undiscovered parks and forests, as well as some niche museums showcasing southern history. Read on for a round-up of recommended points of interest.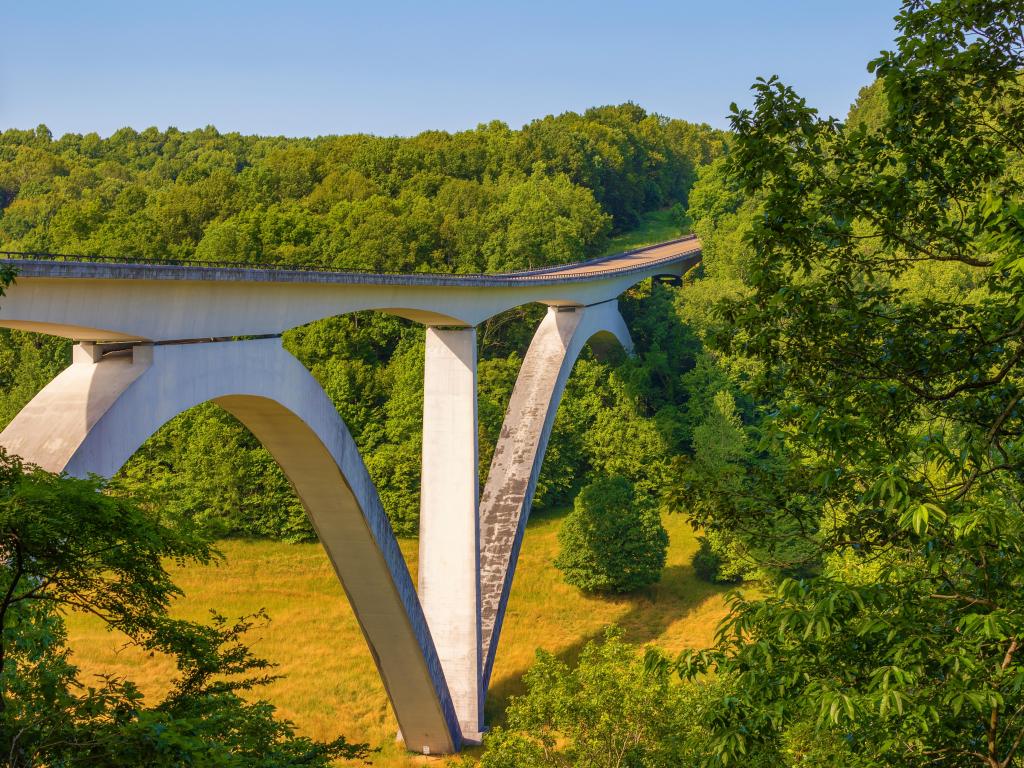 The Direct Route
Hatchie National Wildlife Refuge - Explore over 11,000 acres of wildlife, which is open for nature-viewing as well as outdoor sports.
Pinson Mounds State Park - This interesting museum and archeological site is home to several Native American mounds, and boasts exhibits showing Indigenous artifacts.
Chickasaw State Park - A humble state park about an hour off-route, perfect for a stretch of the legs or a dip in the serene lake waters.
Natchez Trace State Park and Forest - This forested park spans over 48,000 acres and boasts equestrian trails, lakefront cabins and stunning scenery.
Patsy Cline Plane Crash Memorial - Visit the site of this tragic plane crash that took the lives of one of country music's most venerated artists, Patsy Cline.
Coal Miner's Daughter Museum - This small and unique museum houses memorabilia from the iconic Sissy Spacek and Tommy Lee Jones-led film "Coal Miner's Daughter".
Natchez Trace Parkway Bridge - Take a photo with this beautiful concrete bridge crossing through Natchez Trace Park, located just 30 minutes off-route.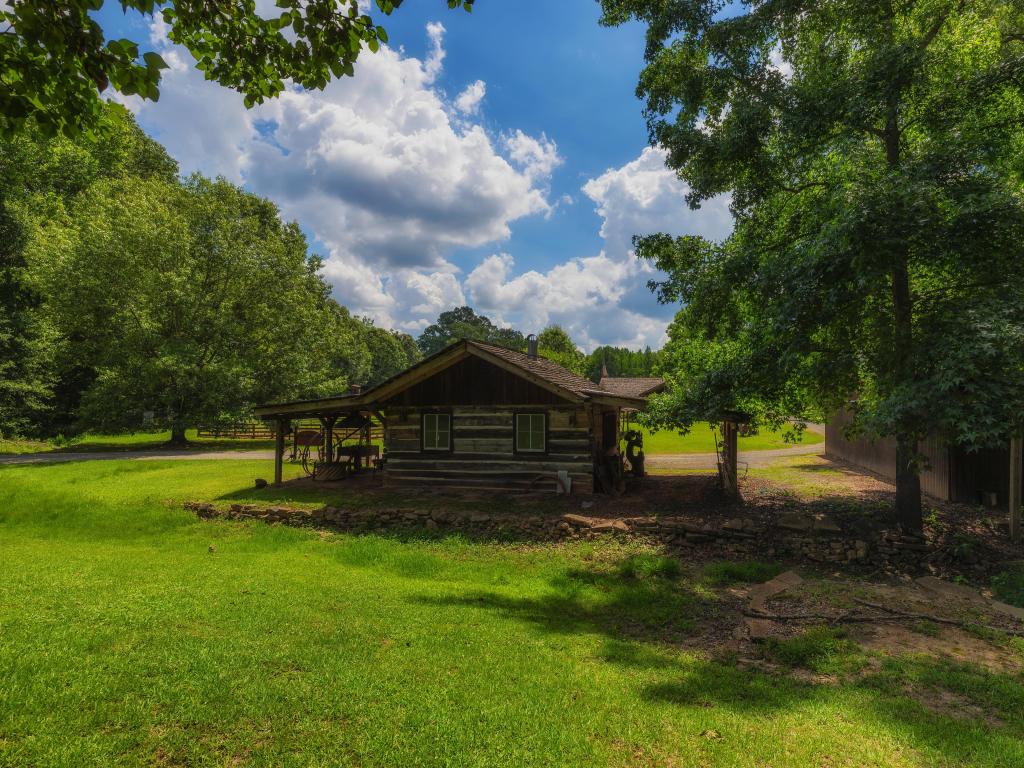 The Muscle Shoals Route
Buford Pusser Museum - This small but interesting museum explores the life and legacy of Buford Pusser, an important figure in law enforcement.
J P Coleman State Park - Take a dip in the waters of Pickwick Lake or enjoy a walk through the beautiful park landscapes.
Red Bay City Water Park - Perfect for families, this water park is located about 30 minutes off-route and offers several waterslides to cool you down on a hot southern day.
Cook Museum of Natural Science - Take in exhibits on zoology, geology, palaeontology and natural art at this contemporary museum, about an hour off-route.
Rippa Villa - Enjoy a guided tour through this historic 19th-century mansion still boasting original antique furnishings.
President James K Polk Home and Museum - While he may not be the most famous President, this historic home and museum is certainly worth exploring. Discover the life of this former president and take in the beautiful gardens on his property!
Carnton - This former cotton plantation was also a Civil War battle site in 1864; explore this troubling part of American history through a guided tour of the house and grounds of this plantation.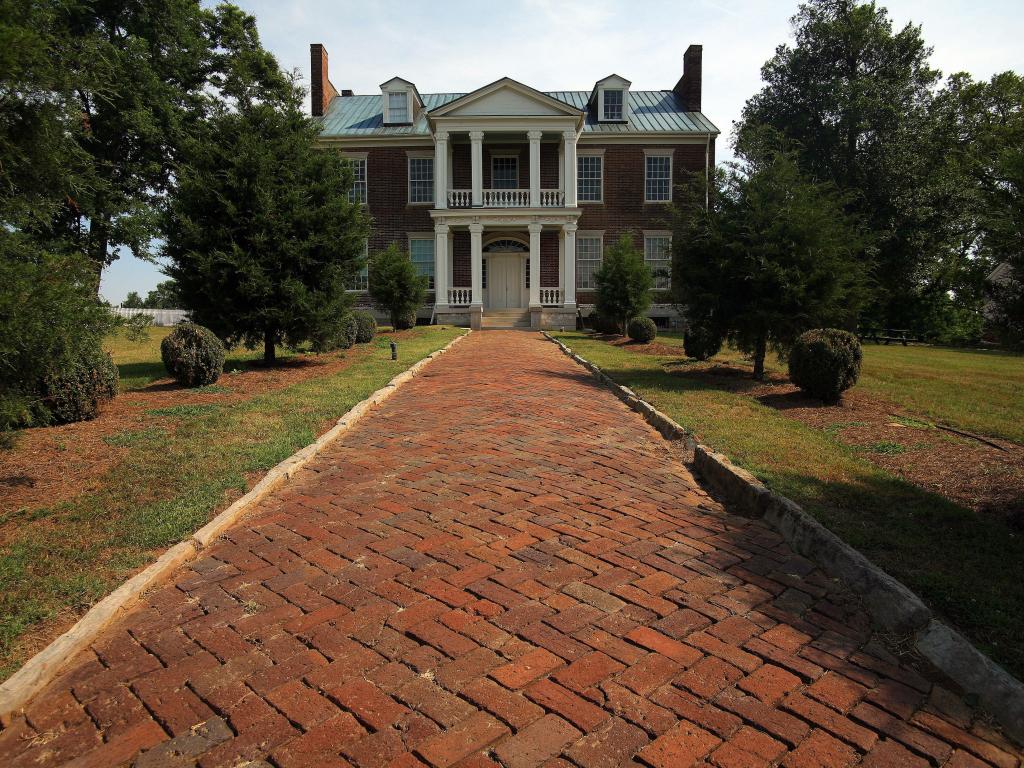 Best time to go on a road trip from Memphis to Nashville
The best time to visit Nashville is during the summer or surrounding months, as the winter tends to get quite cold.
That being said, there are cultural offerings all year which can make any trip to Nashville worth taking, and if you're looking for a tourist-free experience, then winter can be a great time to make the trip to this legendary city.
Summers in Nashville can be muggy and hot, with a humidity rating of just under 80%. Temperatures during the hotter months range between 62 and 90 degrees Fahrenheit.
Summer is Nashville's busiest tourist season, so expect lots of exciting activities, but also note that accommodation and attraction prices may be slightly higher.
Winters in Nashville tend to be on the colder and drier side, with temperatures ranging between 31 and 48 degrees Fahrenheit. This season is the least busy in regard to tourism, meaning that hotels may be offering lower prices.
While the outdoors may be chilly, the indoors are always lively in the Music City, so you'll be able to find tons of activities to enjoy regardless of the weather.
Spring and fall are Nashville's tourism shoulder seasons, meaning that if you visit during this time, you'll be able to enjoy many of the same activities as during peak season without the large crowds. However, it's worth keeping in mind that spring can bring a little more rain than other seasons.
As you'd expect, there are musical events year-round that can provide a reason to visit. January sees the Battle of New Orleans Anniversary Festival, the Music City Brewers Festival happens in July and in August is the Tennessee State Fair.
The Americana Music Festival takes place in September, followed by Nashville Oktoberfest and the Nashville Christmas Parade in December.